This Middle Eastern Potato Chop Recipe features crispy potato patties, filled with perfectly seasoned ground beef, Italian parsley, and onion filling.
Serve these tasty potato patties with a Middle Eastern Salad, and plenty of Pickled Turnips!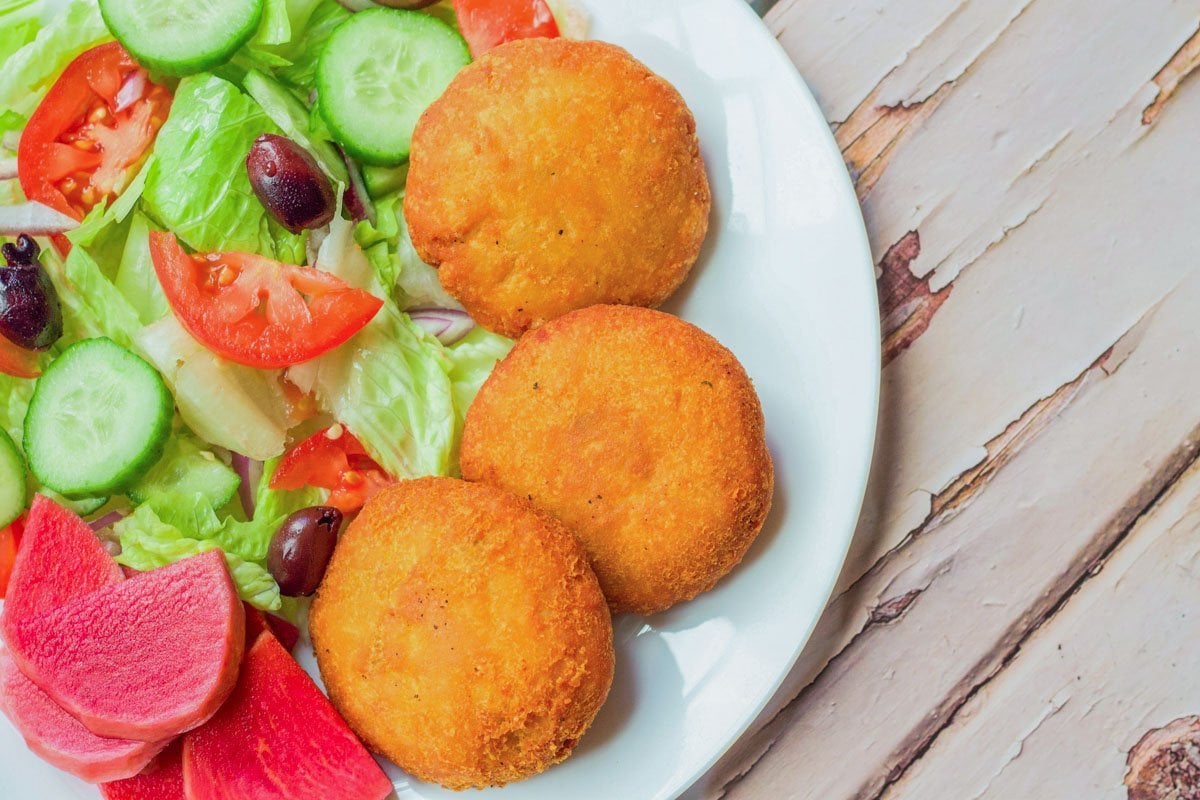 To be precise, these meat-filled potato patties are pronounced "Poteta Chap" in Assyrian. That doesn't exactly sound Assyrian, does it?
The word for "potatoes" in Assyrian is "Kirtopeh."
However, it is possible that Assyrians picked up this term during the British colonization of Iraq during WWI. Or it could very well be the Arabic word for "potatoes," which is "batata."
The second part of the name, however, makes a little more sense. The word "chap" sounds similar to "Chapeh," which means "Clapping" in Assyrian.
When making Potato Chop, you use a clapping motion to shape the patties. So the name of this recipe would be a description of how these potato patties are made.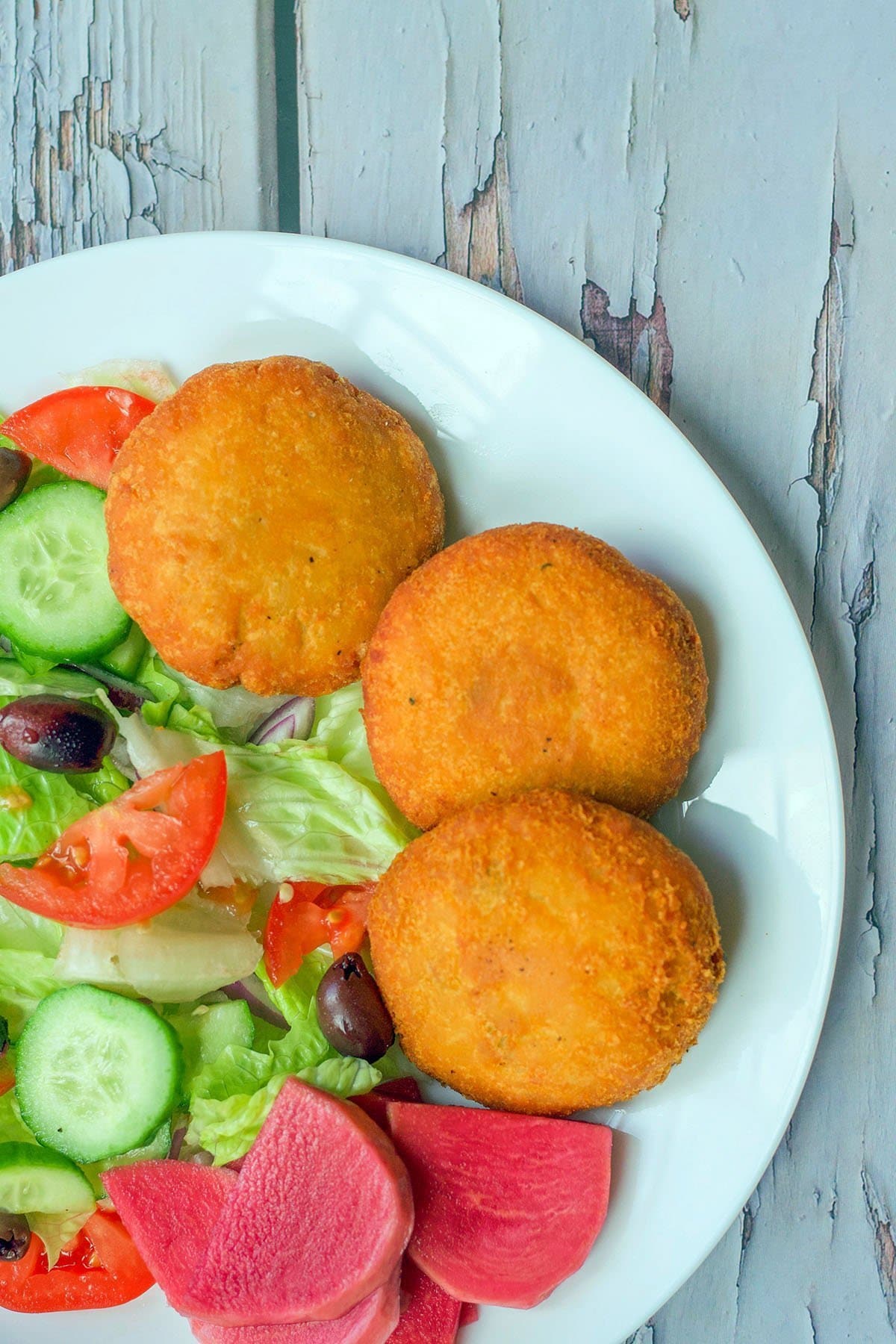 Why This Recipe Works
My sister, Beni, is a wonderful cook; It was Beni who first shared this recipe with me.
She is also the one who showed me how to make Hareesa using a crockpot. I guess you could say she likes to simplify recipes, which is always a good thing, right?
I first shared this recipe in my cookbook, Mom's Authentic Assyrian Recipes, which I published in 2008. Since then, I have made a few minor changes.
One of the changes I've made is adjusting the spices; I no longer add curry and add cayenne pepper instead. I also increased the amount of filling, so that you don't end up with extra potato mixture.
In my opinion, it's better to be left with extra filling, than extra potato dough. The extra filling can be enjoyed wrapped in a tortilla, inside Pita Bread, or mixed in with some rice.
How to Make This Recipe
Cook filling ingredients (ground meat, onions, spices, and parsley) then allow to cool.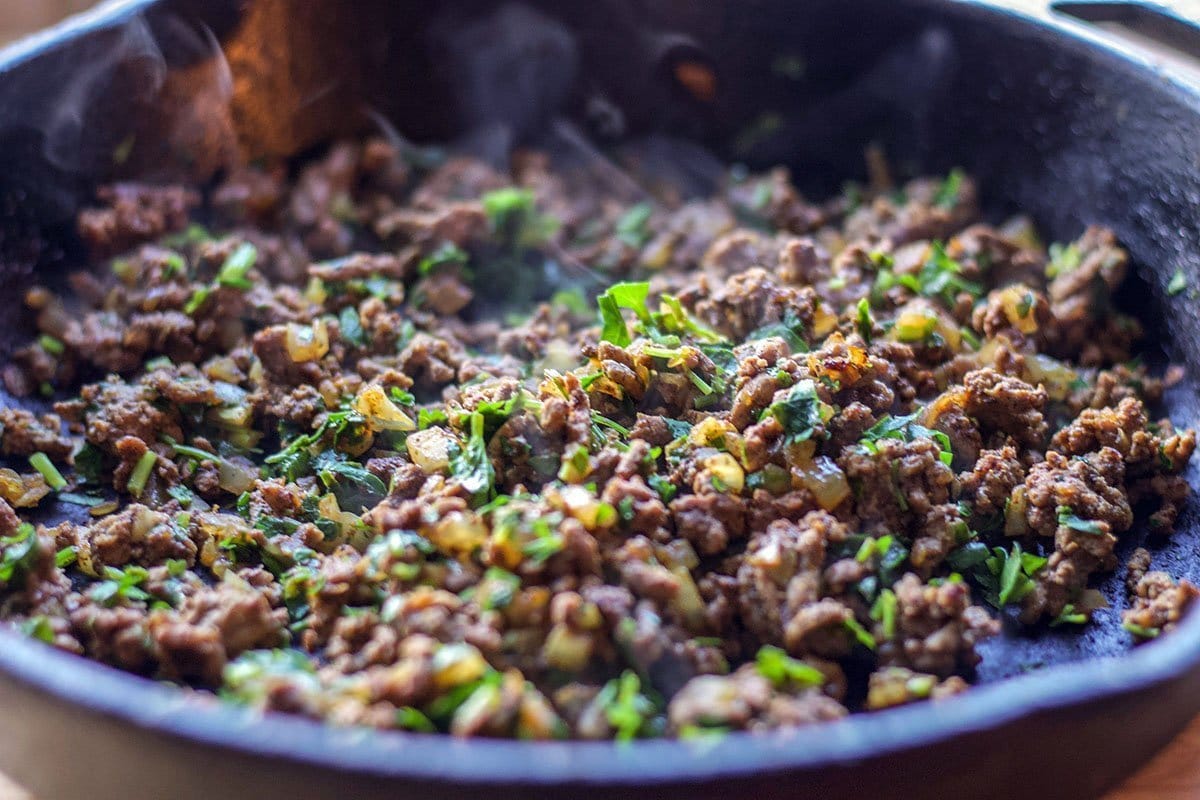 Mix the entire box of Idaho Potato Flakes, eggs, salt, and warm water by hand to form the potato-dough.
Stuff golfball-sized ball of the potato dough with one heaping tablespoon of filling.
Flatten the filled dough balls between your palms into a disc, using a back and forth clapping motion. Wetting your hands first is helpful.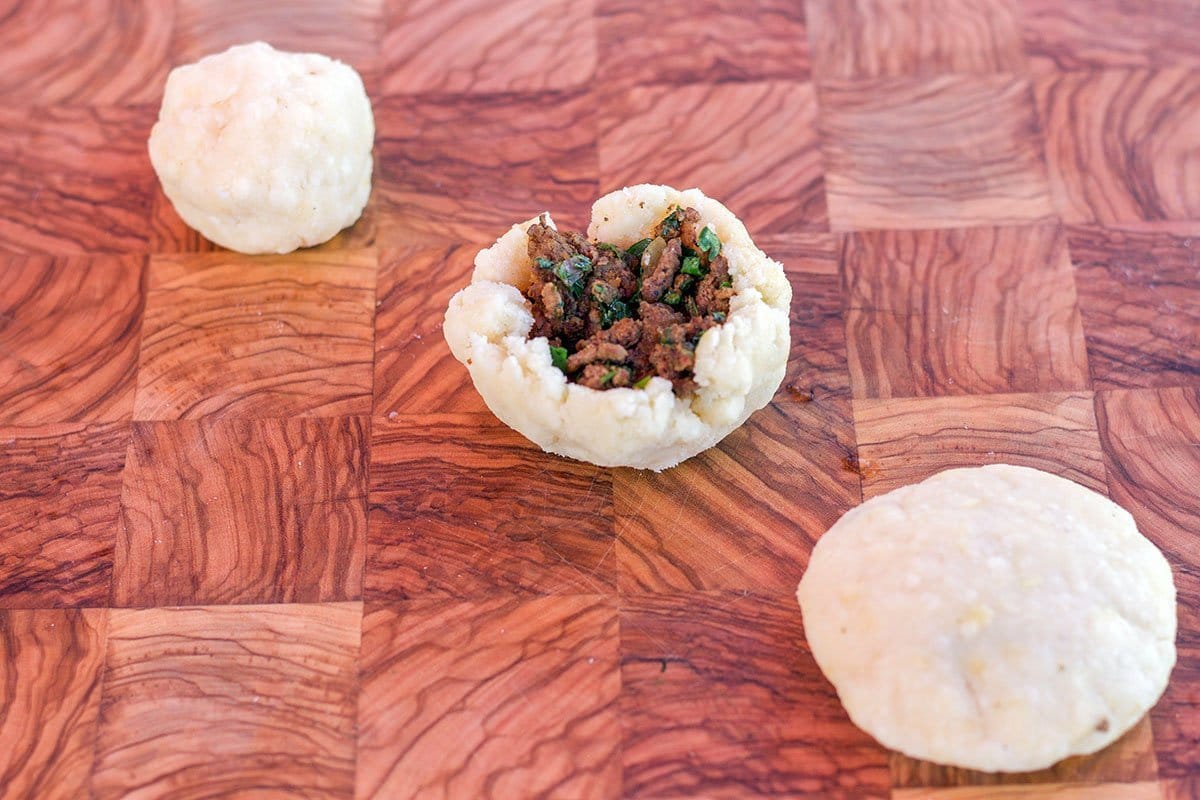 Heat vegetable oil to 375 degrees, or until immediate bubbles form when you add the patties to the oil.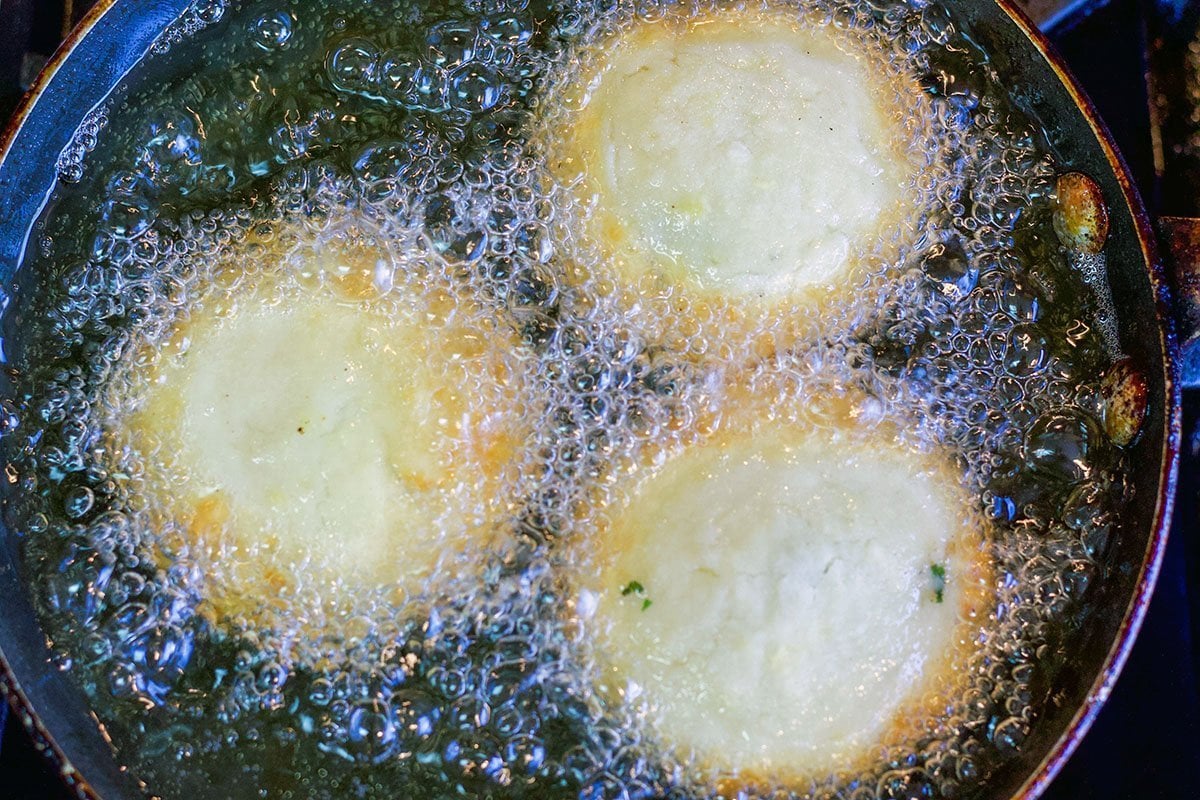 Brown a few patties at a time in the oil, only turning once, when the edges begin to brown.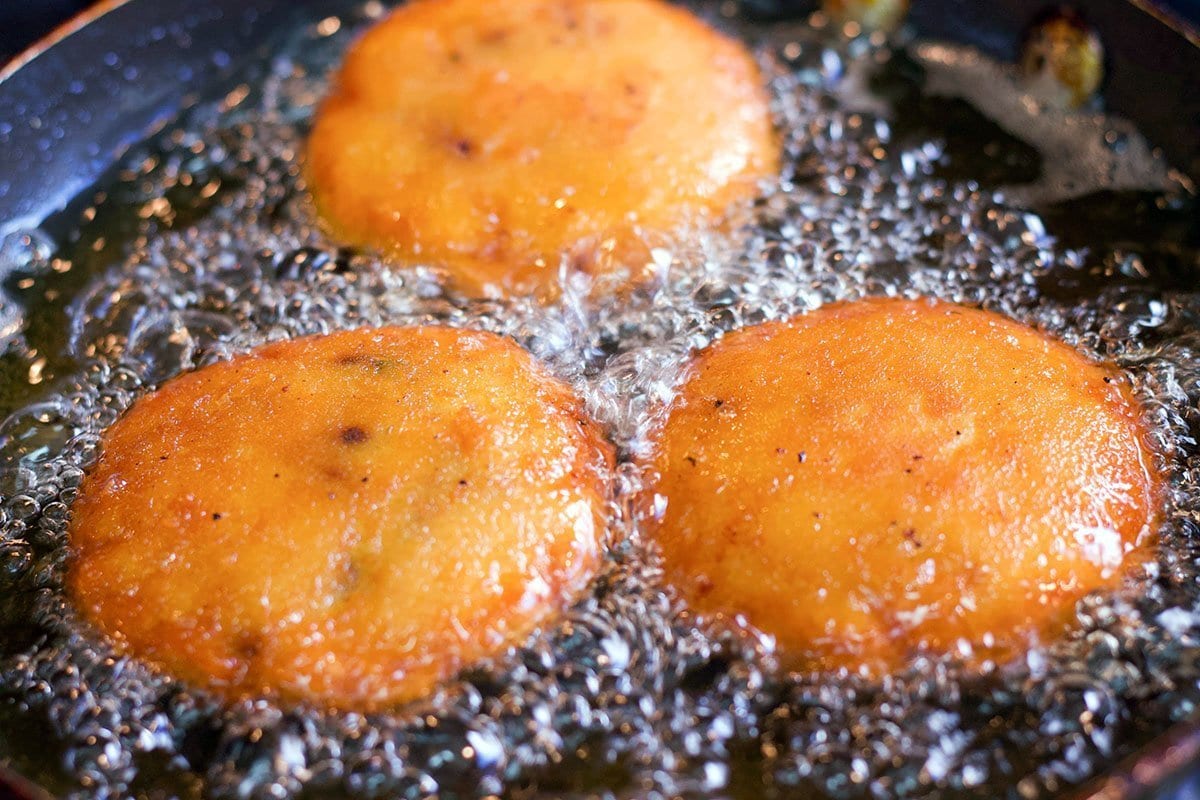 Flip patties one at a time, and cook until golden brown. This whole process should take approximately 5 minutes.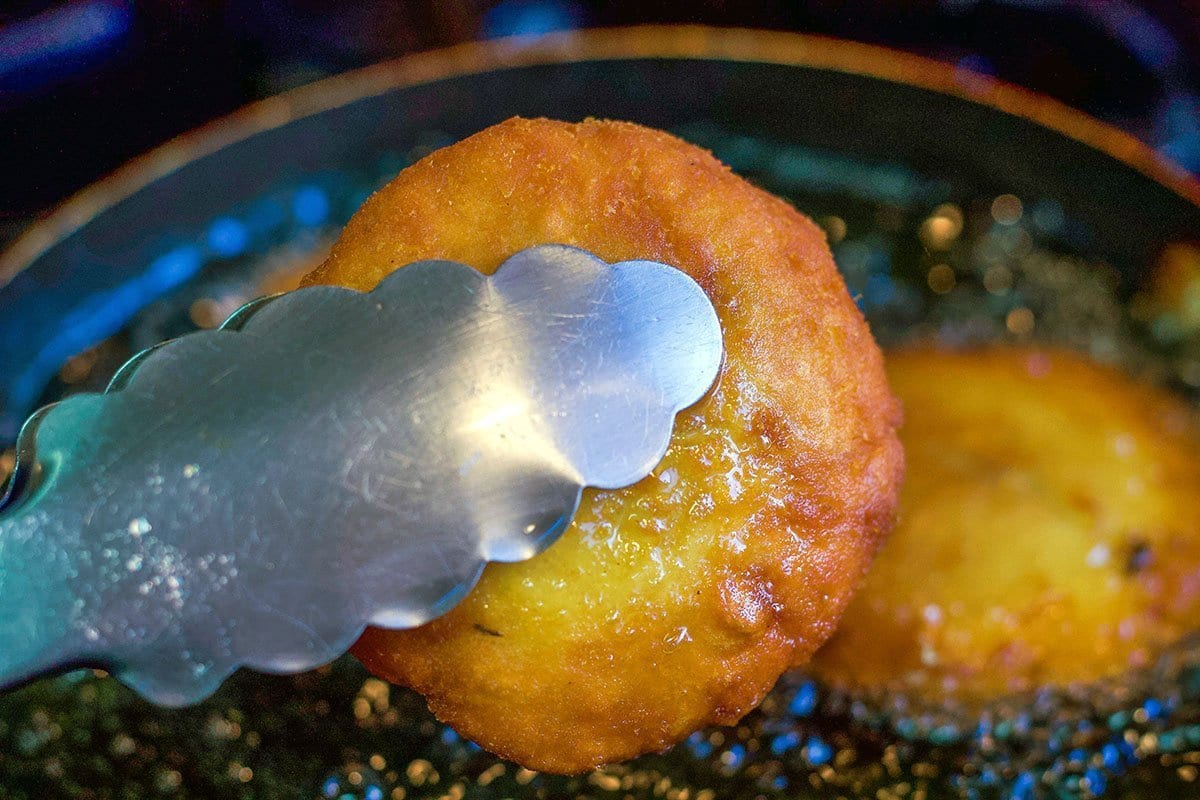 Drain on paper towels.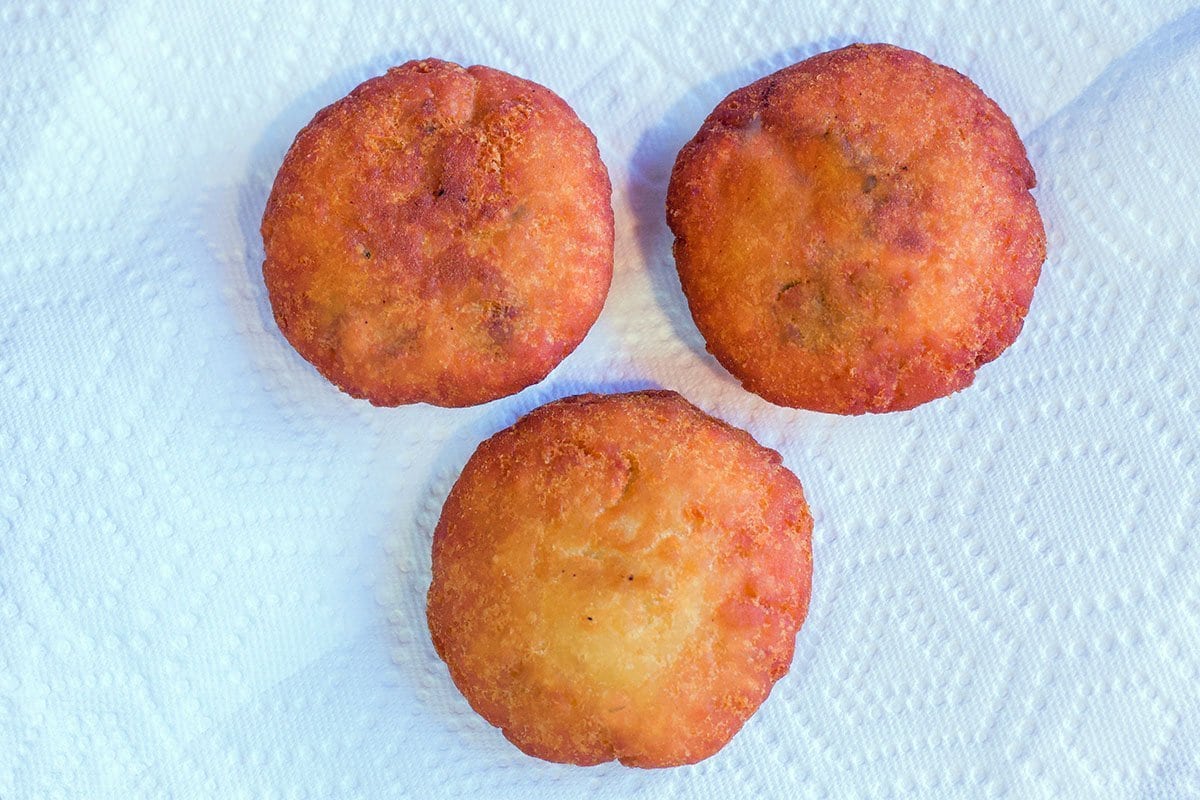 Repeat with the remaining potato chop.
Breaded Potato Chop
Although my potato chop recipe has never contained bread crumbs, some do add them (my sister, Rosa, for example).
This is done by first dipping the potato chop in eggs, and then in breadcrumbs. Mom would have never approved of this method.
Honestly, I've tried making them both ways, but I prefer them without breadcrumbs.
While the bread crumbs give you slightly crunchier texture, the potato chop leave behind burned crumbs in the oil.
These crumbs then stick to the other potato chop being fried. The end results are not very attractive.
My other issue with using bread crumbs is that it throws off the dough to filling ratio.
You end up with too much potato/breading and not enough meat filling. But hey, try it both ways and see what you prefer!
Vegetarian Potato Chop.... say what?
So I've shared before that both of my kids are picky eaters. And when I say "kids," I'm talking 20 and 24-year-olds!
But I'm a sucker for altering the recipes to please everyone in the house (I don't recommend doing that unless you love cooking).
In order to get my daughter, Nena, to eat Potato Chop, I replace the meat filling with cheddar cheese. What's better than cheesy potatoes, right?
If you have picky eaters or vegetarians at home, try these Cheese-Filled Potato Chops!
Using Potatoes Instead of Potato Flakes
Even though this recipe is perfect just the way it is, there are those who might prefer using the method their moms used to make Potato.
If this describes you, here are the steps to making the potato dough using real potatoes. The filling mixture will be the same.
Boil approximately 2 lbs. of Russet or Idaho potatoes (approximately 6 large potatoes) until tender, drain and cool.
Peel potatoes, then use a potato ricer, or masher to mash the potatoes.
Add 2 Tablespoons of starch, 1 teaspoon salt, and 1 egg to the mashed potatoes.
Knead the dough until the ingredients are fully incorporated.
Assemble the patties as described in the recipe card instructions below.
Baked Potato Chop
You can bake Potato Chop as well, but just so you're aware, they definitely taste better fried! There is also a chance that the patties might open up as they bake. But to give this a try, follow these simple steps:
Place the Potato Chop on a greased baking sheet.
Brush the tops with vegetable oil.
Bake at 450° for 20 minutes, or until golden in color.
For an even easier version, divide the potato mixture in half. Press half of the dough inside a buttered baking dish. Spread the meat mixture evenly over the potatoes.
Carefully spread the remaining potato dough over the filling mix, and brush the top with melted butter. Bake at 450° for 20 minutes.
Can Potato Chop be Frozen?
When you freeze Potato Chop, they inevitably retain moisture, which makes them fall apart when fried.
A better option is to refrigerate the patties if you need to make them a few days ahead of time.
Alternatively, they can be fried first then frozen. The patties can then be defrosted before reheating in a toaster oven.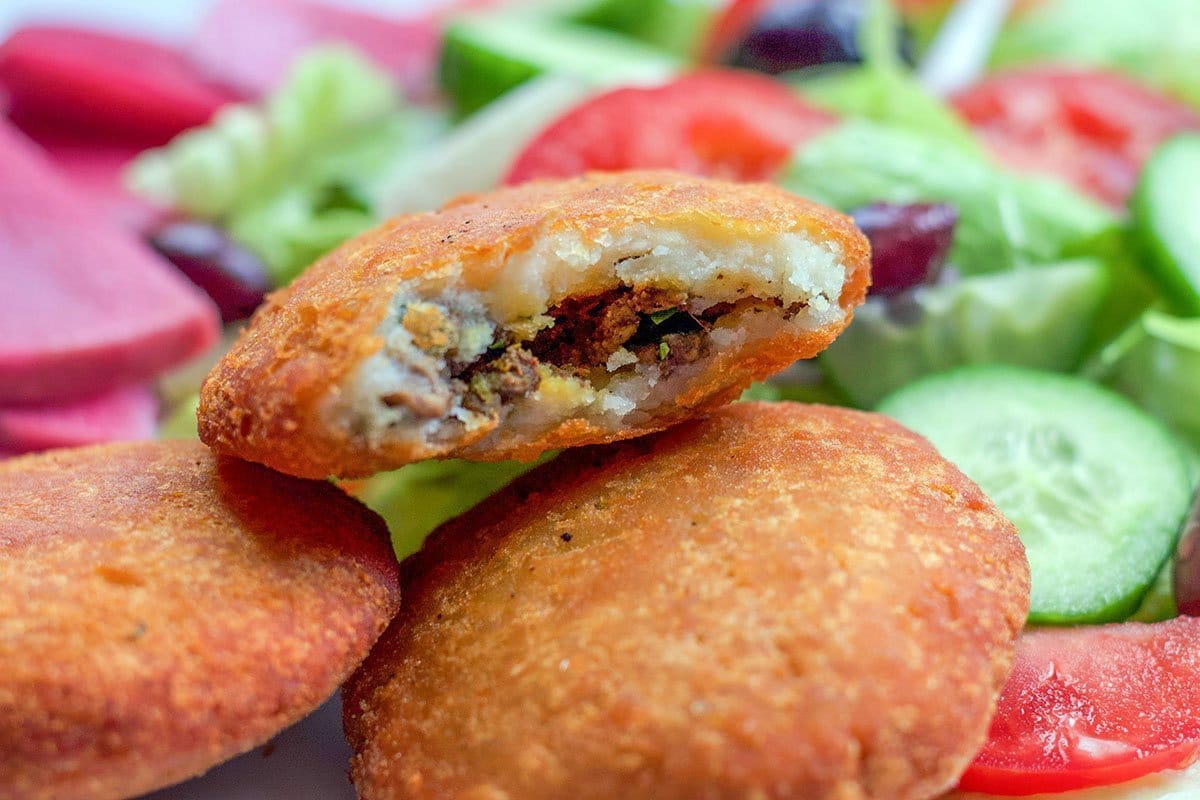 Other Meat-Filled Potato Patty Recipes
I am always amazed at how similar recipes are prepared by various cultures. This Potato Chop recipe is certainly no exception.
Recently, I asked Chef Mireille about a possible similar Indian recipe, also called "Potato Chop."
Although she wasn't personally familiar with that recipe, she introduced me to a Cuban meat-filled potato patty recipe called "Papas Rellanas."
These patties look identical, but the meat filling is spiced differently. Come to think of it, what is a Shepherd's Pie if not a larger, baked version of Potato Chop?
---
Related Recipes
---
Love this recipe? Please leave a 5-star 🌟rating in the recipe card below and/or a review in the comments section further down the page.

Stay in touch with me through social media @ Instagram, Pinterest, and Facebook. Don't forget to tag me when you try one of my recipes!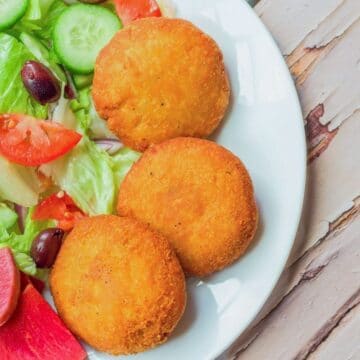 Potato Chop Recipe
Classic Potato Chop taste, made with potato flakes. Same great taste but without the hassle!
Print
Pin
Rate
Ingredients
Filling:
¾

lb.

ground beef

(lean)

1

small

onion

(minced)

¾

teaspoon

salt

½

teaspoon

black pepper

½

teaspoon

paprika

½

teaspoon

allspice

¼

teaspoon

cayenne pepper

(optional)

⅓

cup

Italian parsley

(chopped)
Potato Dough Mixture:
13.75

oz. box

Idaho mashed potatoes

2

large

eggs

1

teaspoon

salt

3

cups

warm water
Other:
vegetable oil

(for frying)
Instructions
Filling:
Fry meat and minced onion in a pan, until meat is no longer pink.

Add spices, and chopped parsley and cook for a few additional minutes. Set aside to cool off.
Potato Mixture:
Pour entire contents of mashed potato flakes in a large bowl, along with the salt.

Beat two eggs, and add to the potatoes, along with 3 cups of warm water.

Using your hands, mix the potato ingredients until thoroughly combined. The texture should be that of mashed potatoes.
Assembly:
Take golf-sized portions of the potato mix and flatten into a disc and then a bowl shape. (see pictures)

Fill the potato "bowl" with approximately one tablespoon of filling.

Seal the potato dough around the filling and flatten into a patty. Wetting your hands helps.

Continue until you have 20-24 patties.

Heat oil to 375-degrees. Add two to three patties to the pan and fry until the edges begin to brown.

Carefully flip to the other side using tongs, and fry until both sides are a deep golden brown.

Drain on paper towels. Serve as appetizers or as a meal, with a salad on the side.
Notes
Calorie information is for unfried Potato Chop. It's hard to predict the amount of oil that will be absorbed during frying. 
Nutrition
Calories:
105
kcal
|
Carbohydrates:
15
g
|
Protein:
5
g
|
Fat:
3
g
|
Saturated Fat:
1
g
|
Cholesterol:
25
mg
|
Sodium:
218
mg
|
Fiber:
2
g
|
Sugar:
1
g
This recipe was originally published on 3/10/2019 and edited on 11/21/19 by reducing the amount of onion by half.