Mashed Potatoes, who doesn't love them? Creamy and filling— the ultimate comfort food. But this Tasty Mashed Potatoes recipe is not like anything you've tried before! Unless you're Assyrian, of course.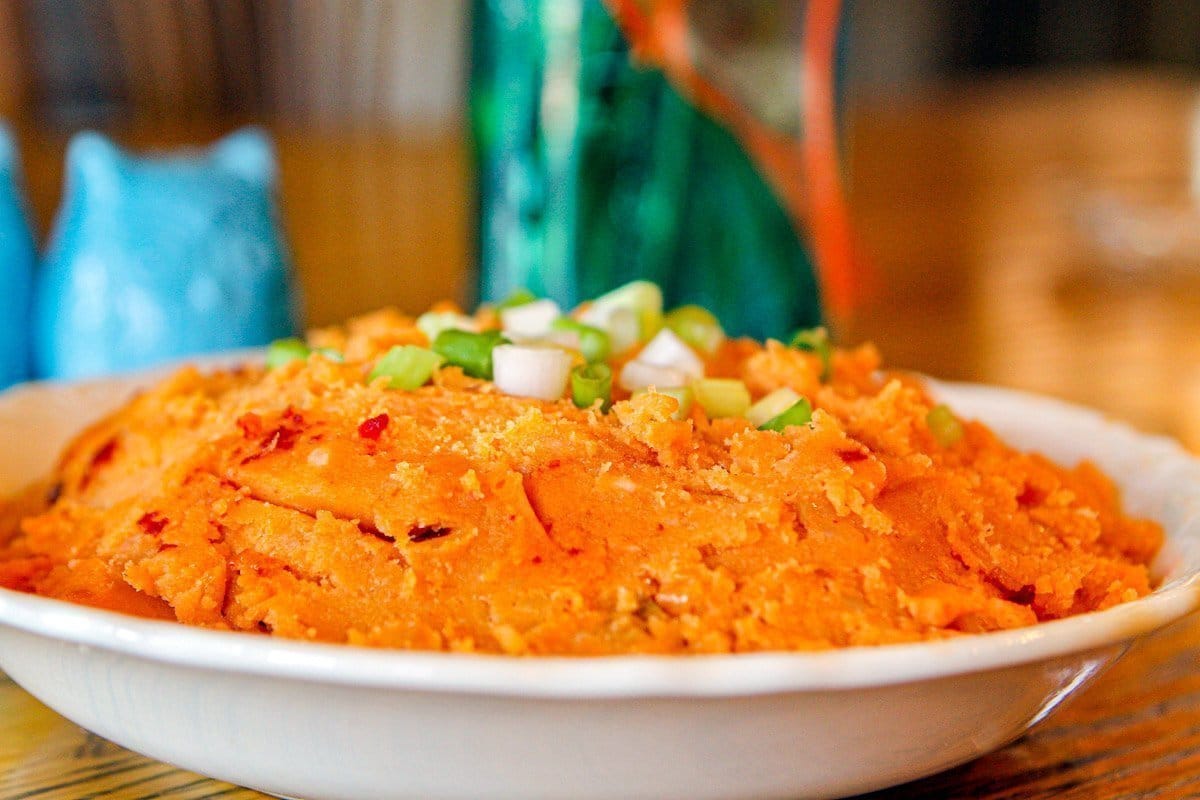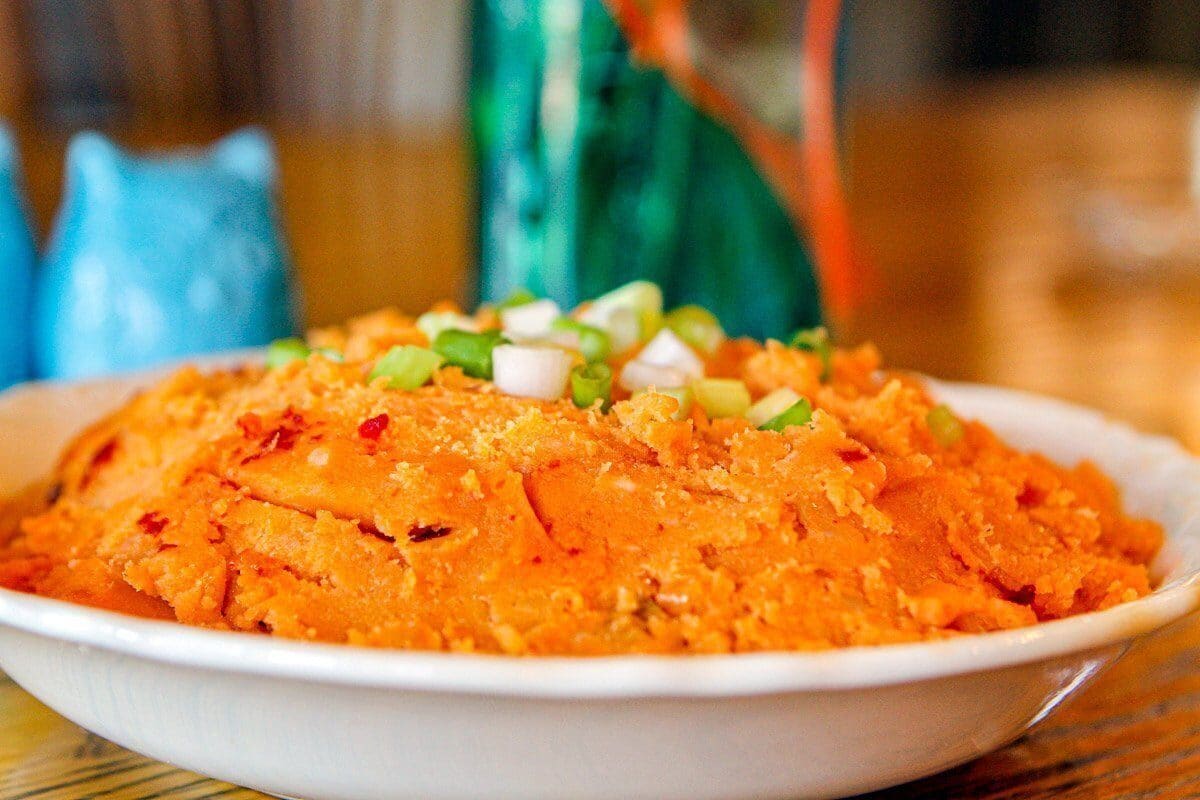 For one thing, the mashed potatoes are orange! They get their beautiful color from a small amount of tomato paste that mixed in, along with caramelized onions.
This dish is called "Merchanos" in Assyrian. The word is derived from the Assyrian word "Mreecha" or "smashed."
We Assyrians love our potatoes! In fact, we use them in all kinds of recipes. This includes Biryani, Potato Chop, and Vegan Lentil Soup (Aadas).
However, this Tasty Mashed Potatoes recipe is definitely one of my favorites.
Healthy Mashed Potatoes with Olive Oil
What I love about this recipe is how simple it is to prepare. I also appreciate the fact that it's not loaded with heavy butter or cream.
Instead, a small amount of olive oil is used. This combination of flavors is fantastic and makes Merchanos an excellent side dish.
Mom used to make these Tasty Mashed Potatoes a lot, especially when she was fasting or refraining from eating meat, which was every Wednesday and Friday.
Not only did she eat them as is, she even stuffed them inside Pita Bread. You know, because the potatoes on their own didn't provide her with enough carbs, she had to add bread. Sure do miss her!
What to serve with "Merchanos"
Treat these Tasty Mashed Potatoes like any other mashed potatoes recipe.
By this, I don't mean to load them with gravy. Instead, serve them with a protein selection and a vegetable.
Some protein possibilities that come to mind include Sumac Chicken, Smoked Brisket, Lamb Kabobs, or even hamburgers.
For the vegetable, consider Tabouli or Fattoush Salad, or Cheesy Brussel Sprouts. Now that's what I call a balanced meal. Unlike mom's mashed potato sandwiches!?
How to Make these Tasty Mashed Potatoes
So how do you make Assyrian Mashed Potatoes? Unlike many Assyrian dishes, this recipe is actually quite easy. Let's take a look at the simple steps:
Ingredients
4 medium potatoes (peeled)
2 tsp. salt (divided)
1 T. butter (optional)
2½ T. olive oil
1 medium onion (diced)
1½ T. tomato paste
2 scallions (chopped)
Directions
Boil potatoes until tender, then mash.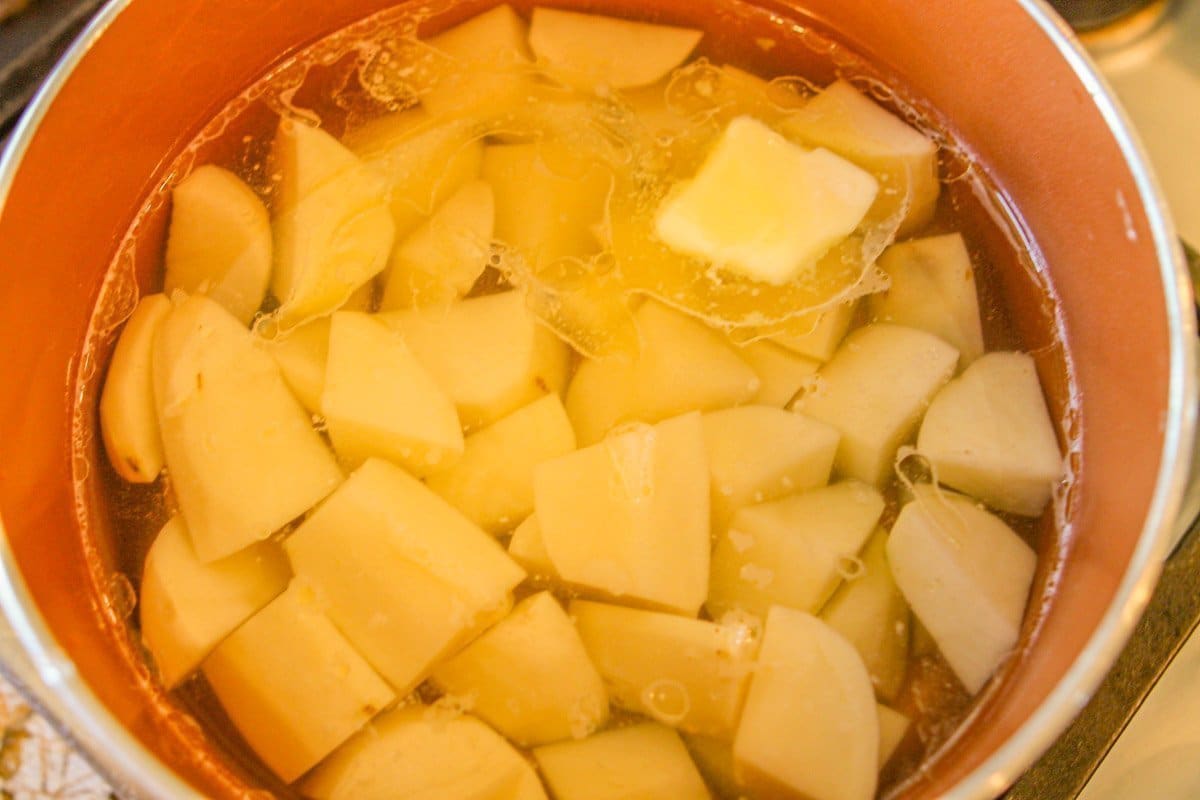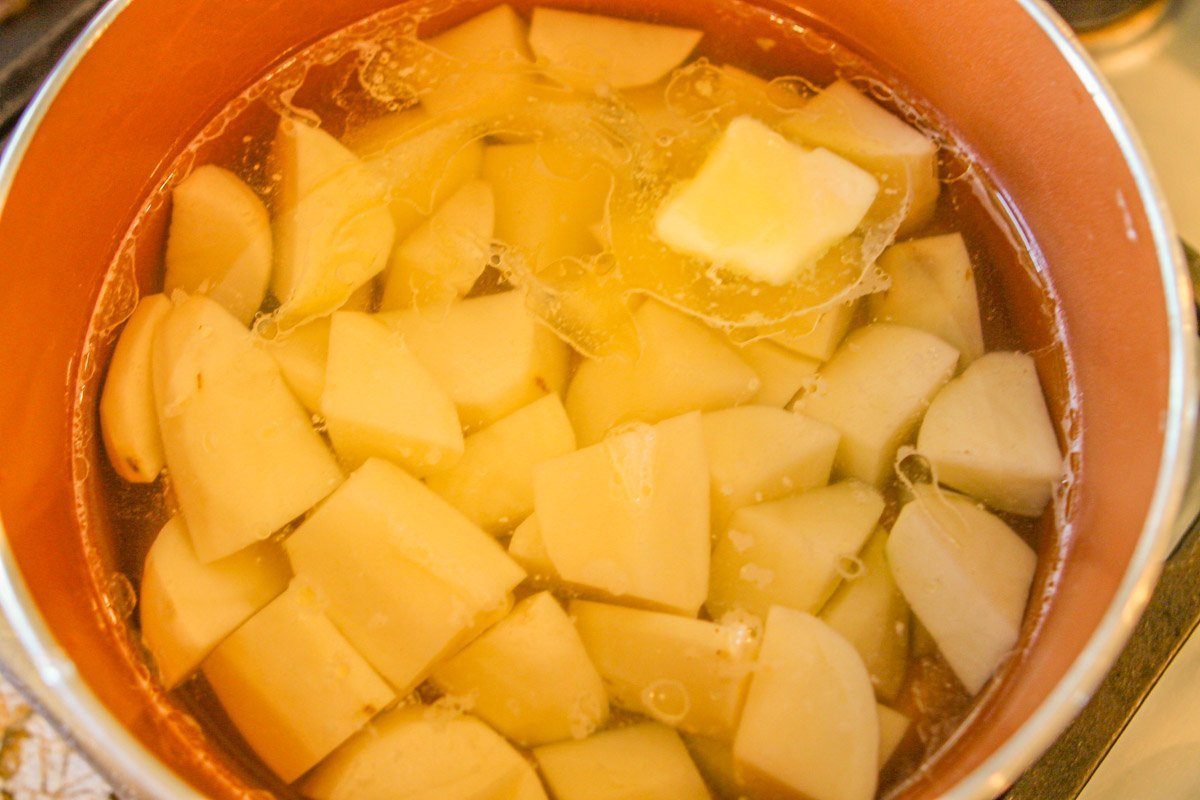 Caramelize chopped onion in olive oil, stir in the tomato paste.
 Add the onion and tomato paste mixture, along with salt, to the mashed potatoes. Stir until completely blended.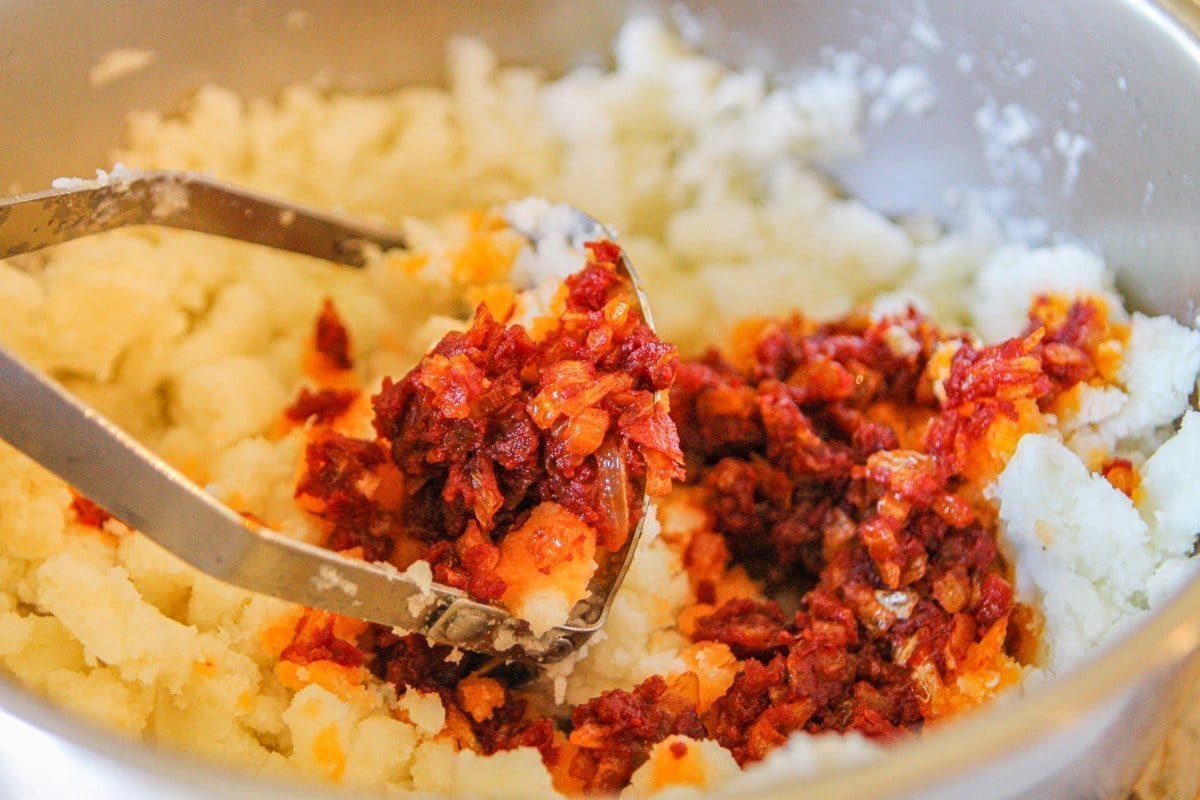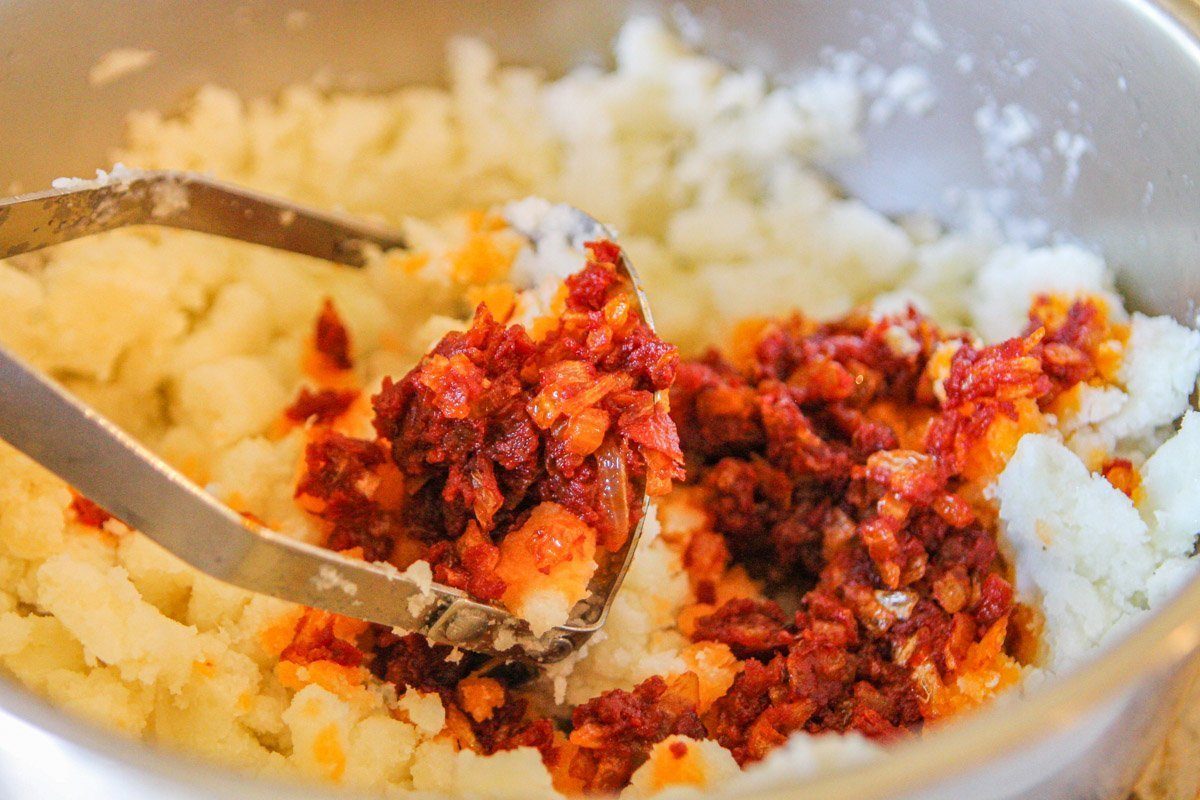 Top with scallions and enjoy!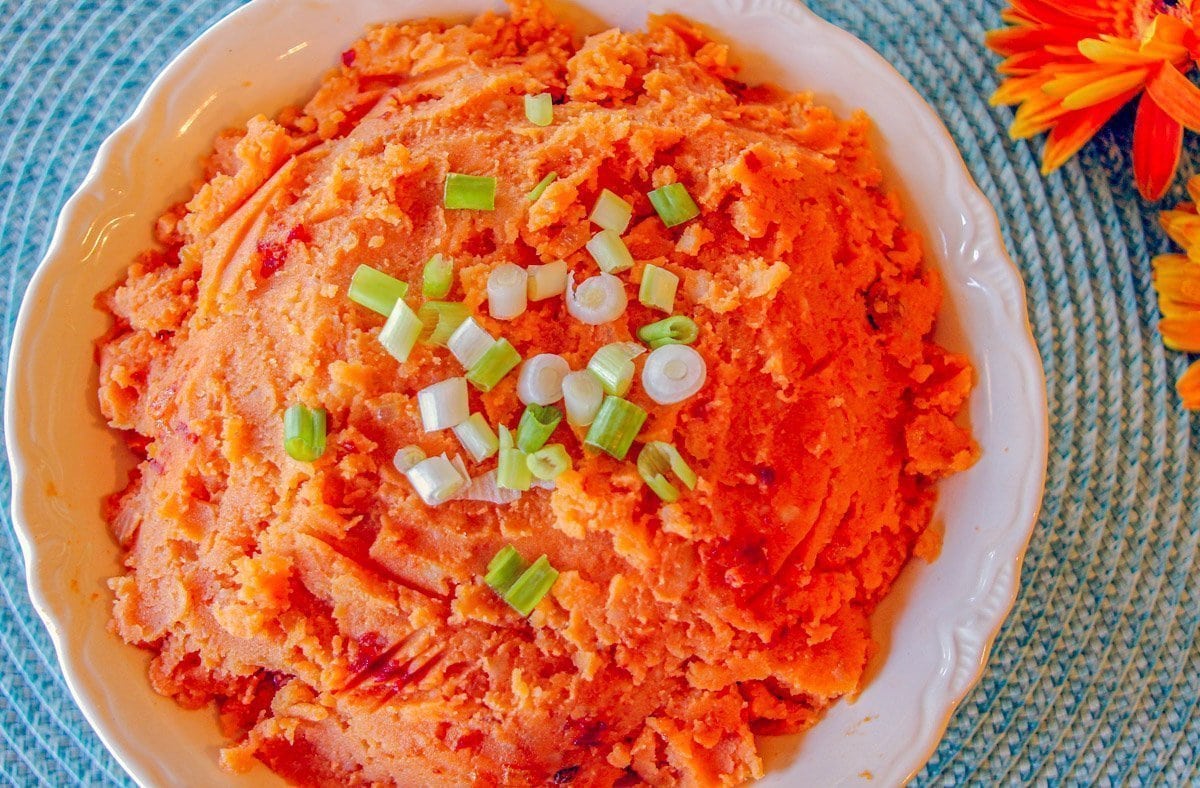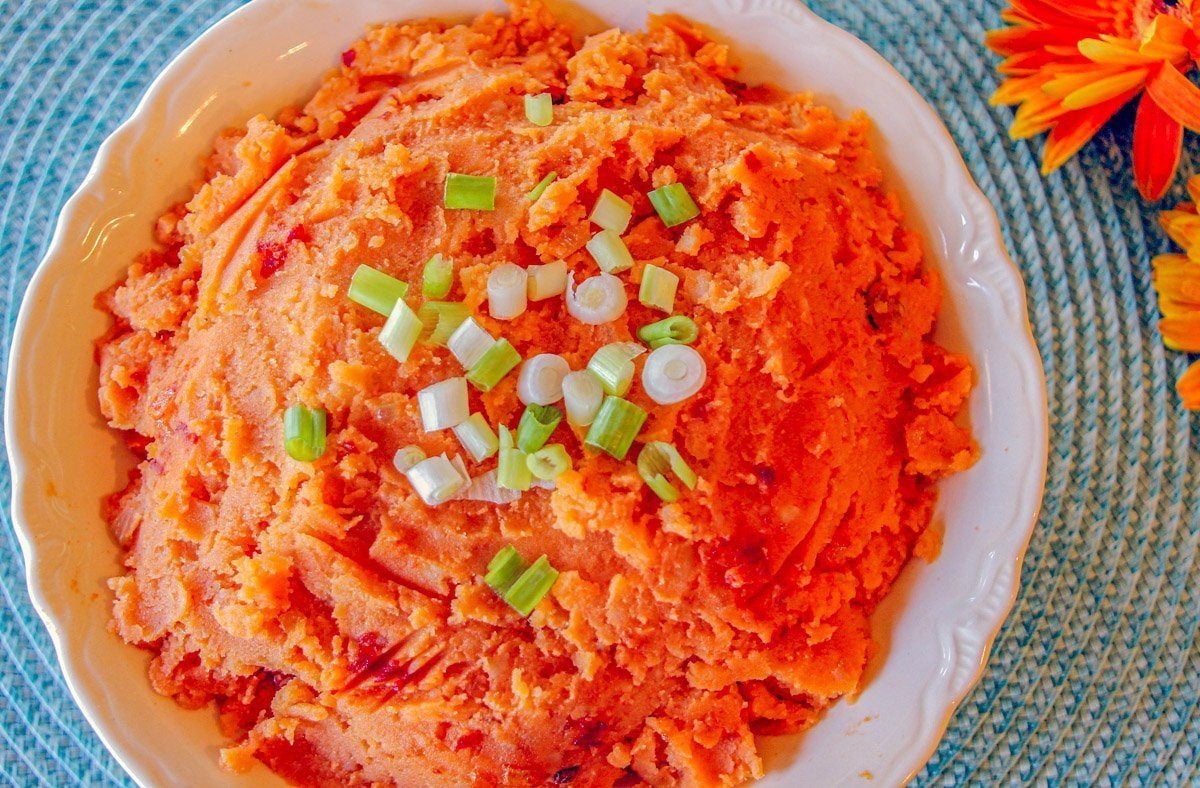 Recipe Modifications
Although these mashed potatoes are perfect just the way they are, here are some tasty ways to alter this recipe.
Add a few cloves of garlic to the boiling potatoes and mash with the potatoes.
Minced garlic can be added to the onions at the same time you add the tomato paste. Sauté for a minute before adding to the potatoes.
Sprinkle a teaspoon or two of paprika in with the tomato paste.
Sneak in a few tablespoons of butter when mashing the potatoes (I promise not to tell)!
Add a little chicken or vegetable broth for an even creamier texture.
Stay in touch with me through social media!
Tried this recipe? Snap a picture and tag #hildaskitchenblog on Instagram.
Like my page on Facebook.
Do you Pinterest? Pin & share this recipe!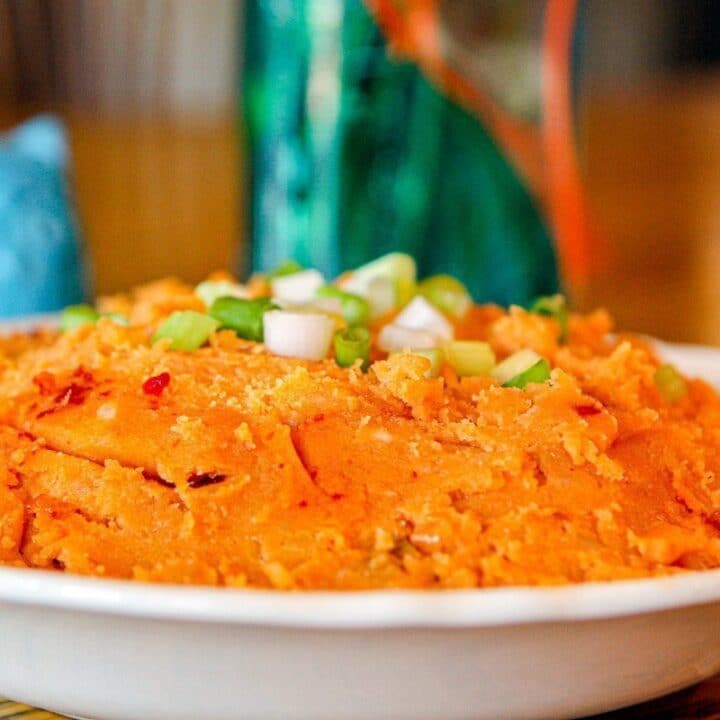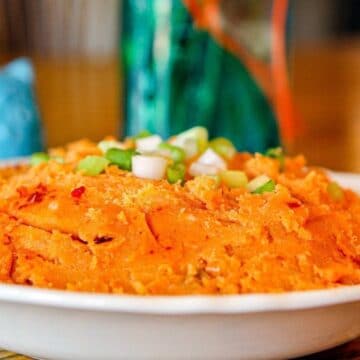 Tasty Mashed Potatoes, Assyrian Style (Merchanos)
Assyrian-style mashed potatoes (with olive oil, carmelized onions, and tomtato paste)
Print
Rate
Ingredients
4

medium

potatoes

(peeled)

2

tsp.

salt

(divided)

1

T.

butter

(optional)

2½

T.

olive oil

1

medium

onion

(diced)

1½

T.

tomato paste

2

scallions

(chopped)
Instructions
Roughly chop potatoes and place in a medium-sized pot.

Add enough water to cover the potatoes, along with butter, and one teaspoon salt.

Cover and bring to a boil. Simmer until the potatoes are tender, or approximately 20 minutes.

Meanwhile, fry the onion in oil until caramelized. Stir in tomato paste and mix to combine. Cook one additional minute.

Drain potatoes and mash until smooth. Add the onion and tomato paste mixture, stirring until completely blended. Serve in a bowl, topped with chopped scallions, if desired.
Nutrition
Calories:
240
kcal
|
Carbohydrates:
33
g
|
Protein:
4
g
|
Fat:
12
g
|
Saturated Fat:
3
g
|
Sodium:
1183
mg
|
Fiber:
4
g
|
Sugar:
4
g