So, what are you having for dinner tonight? Would you like a suggestion? If so, let me introduce you to Scott's favorite dinner; Pork Chops and Potatoes Casserole! If you look up the definition of comfort food, you just might find a picture of this recipe. After all, how can you go wrong with tender pork chops smothered in creamy, cheesy potatoes? The only thing better than the creamy potatoes might be the crunchy French fried onions. I love that this recipe can be prepared under 30 minutes (not counting the time in the oven). Not only do you have a delicious entree, but a side dish as well!
Pork Chops and Potatoes Casserole
This Pork Chops and Potatoes Casserole recipe is near and dear to my heart. I found the recipe in a Women's Circle Creative Cooking magazine. The magazine dates back to 1992, the same year I got married. My cooking skills have come a long way since then. Although I have made many modifications to the recipe since then, it still remains one of Scott's favorites. I've prepared this dish for many of our church families over the years, some celebrating a new birth, and others needing some comfort. I've passed this recipe on to many of those families along the way. Now I'm happy to be sharing it with you!
 
Variations of  This Recipe
There are many variations of this pork chops and cheesy potatoes recipe online. Many use thinly sliced potatoes instead of hash browns. Some use fresh onions, instead of French fried onions. Occasionally, a different soup is used (such as cream of chicken or cream of asparagus soup). Some recipes leave out the sour cream and use less cheese. So, why am I sharing this information with you? I guess I want to remind you that no recipe is set in stone. Stay flexible, and use the ingredients you have at home. Believe me, it will be delicious either way!
If you enjoy spicy food, serve this with my spicy home-made chili sauce on the side!
Do you Pinterest? Please Pin & Share!
---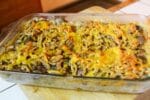 Pork Chops and Potatoes Casserole
Tender pork chops, with crispy, cheesy topping and cheesy potatoes.
Ingredients
1

T.

vegetable oil

6

pork chops

1

tsp.

salt

1/2

tsp.

black pepper

1/2

tsp.

garlic powder

5

hash brown patties

1

can

condensed cream of mushroom soup

1/2

cup

milk

1/2

cup

sour cream

1-1/2

cup

sharp cheddar cheese

(divided)

1-1/2

cups

French fried onions

(divided)
Instructions
Preheat oven to 375 degrees F

Heat the oil in a frying pan. Season pork chops with salt, pepper, and garlic powder, and add to the pan.

Brown pork chops on both sides, then set aside.

Add hash browns to the same pan, and brown on both sides.

Mix cream of mushroom soup, milk, and sour cream. Add to a 9" X 13" glass casserole dish. Break up the hash browns and add to the casserole dish, along with 1 cup shredded cheese, and 1 cup fried onions. Mix until all the ingredients are combined.

Smooth out the potato mixture, and cover with the pork chops. Cover with aluminum foil and bake for 30 minutes.

Remove casserole dish from the oven. Carefully remove the foil. Sprinkle with the remaining 1/2 cup of French fried onions, and 1/2 cup of shredded cheese.

Bake, uncovered until the cheese is melted, and the fried onions are browned.

Serve the pork chops with a helping of the cheesy potatoes on the side. Enjoy!
Nutrition Facts
Pork Chops and Potatoes Casserole
Amount Per Serving
Calories 470
Calories from Fat 261
% Daily Value*
Total Fat 29g 45%
Sodium 1330mg 55%
Total Carbohydrates 10g 3%
Protein 43g 86%
* Percent Daily Values are based on a 2000 calorie diet.