This Vegan Red Lentil Soup is a staple in the Middle Eastern diet. In fact, most Middle Eastern cultures have their own version of this hearty soup. Assyrians call this soup "Tlokheh," while in Arabic it is called "Aadas." Mom cooked this soup at least once a week, it was one of her favorites. She would usually prepare it on Wednesday and have it again on Friday; the two days she would abstain from eating meat. Many in the Orthodox faith do the same.
Vegan Red Lentil Soup Ingredients
The following ingredients are almost always present in this soup:
Red Lentils
Rice
Vermicelli Noodles
Speaking of vermicelli, did you know that "vermicelli" means "little worms" in Italian? Just a fun little fact.
The spice combination used in the soup varies depending on the region, including the following:
My mom's version has curry, paprika, and cayenne pepper, for a little extra kick. Mom also liked to add diced potatoes, which isn't traditional. However, I think potatoes are a great addition; they make the soup even more filling.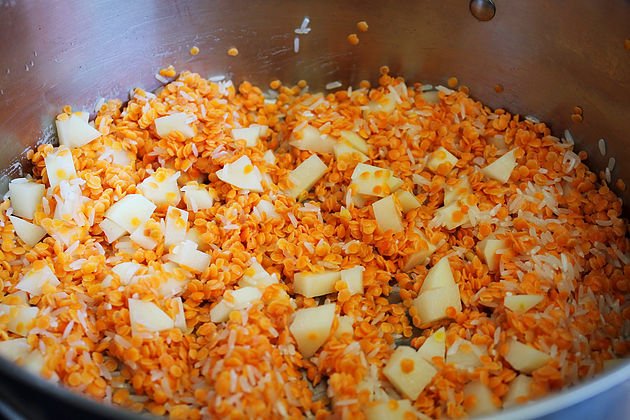 Serving Suggestions
To be honest, this soup is so filling that you don't really need to serve it with anything else. Especially the way my mom prepared it, with the addition of potatoes. However, some freshly baked pita bread couldn't hurt!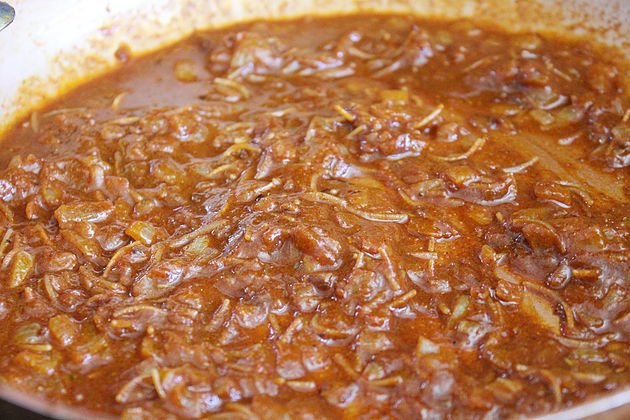 Memories of Mom
Preparing this soup always reminds me of my mom. One particular memory associated with this recipe always leaves me a little sad. I remember when mom was having chemo treatments for her breast cancer. It was a few months before she passed away. I cooked this soup at home and brought some to her house for dinner. She was so happy to receive it, you'd think I'd prepared a huge feast. Mon had been craving Lentil soup but didn't have the energy to cook. She asked how I knew that she had been craving it; I responded that God knew. I sure do miss her! Do you have someone special that you can share this soup with? Go spread some love in mom's honor.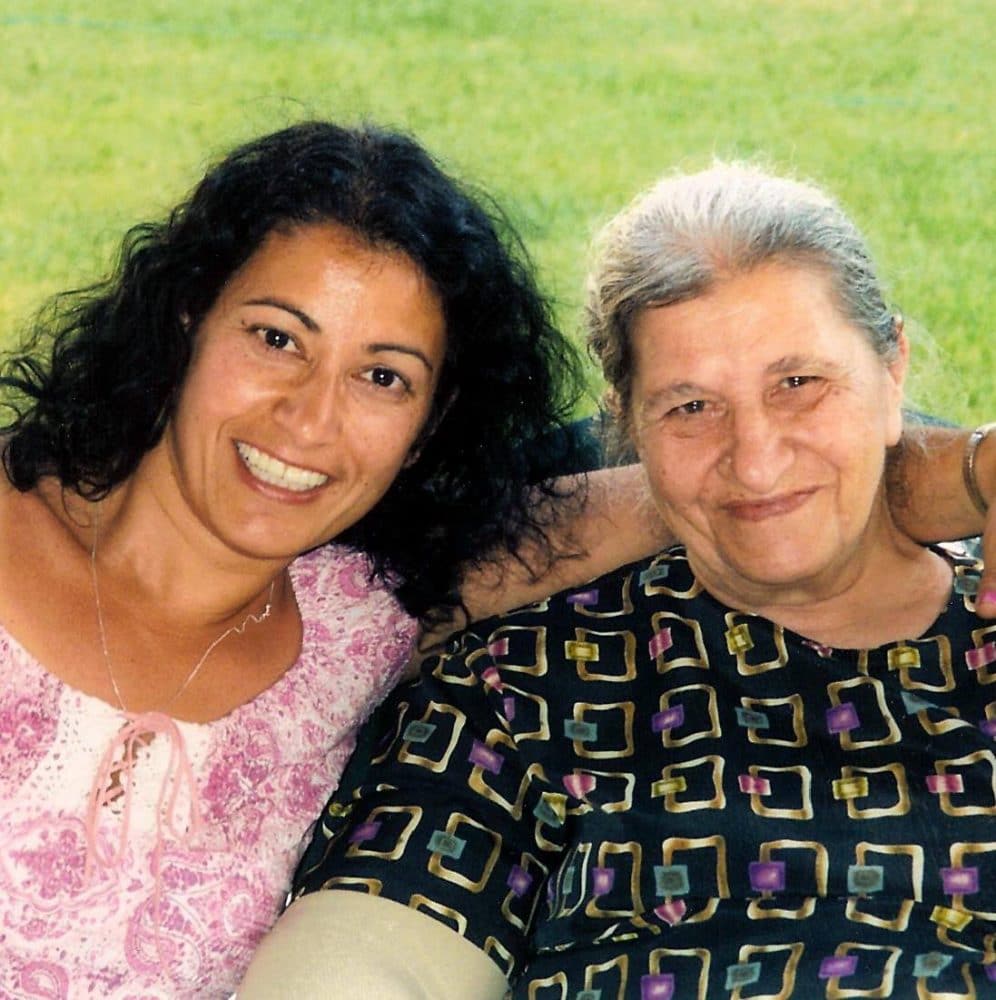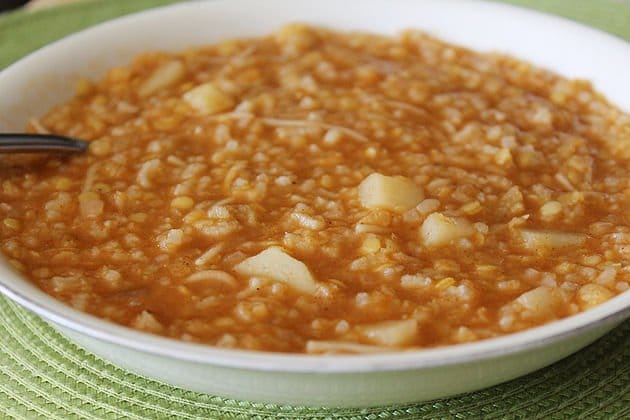 Do you Pinterest? Please pin & share!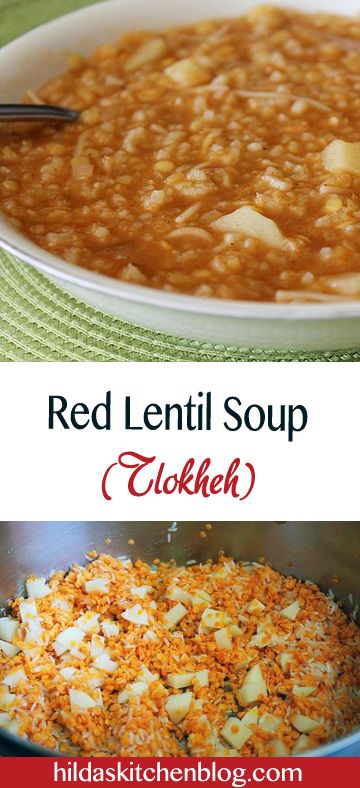 ---
If you love this Vegan  Lentil Soup Recipe, please give it a 5-star rating!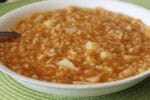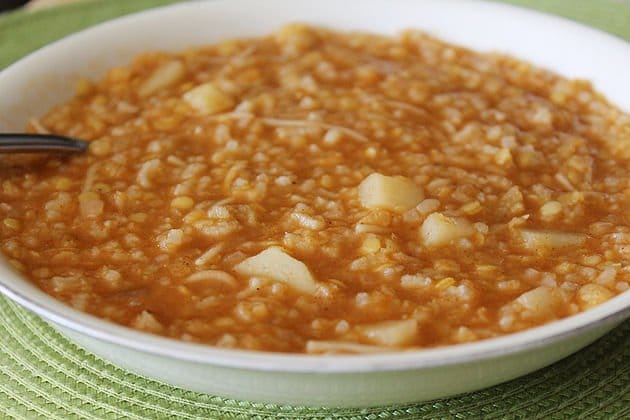 Vegan Red Lentil and Curry Soup (Tlokheh/Aadas)
Thick and hearty lentil soup, known as "Aadas," or "Tlokheh," in the Middle East.
Cuisine:
Assyrian, Middle Eastern
Ingredients
1

medium

potato

(diced)

1

cup

red lentil

1/4

cup

rice

2

T

olive oil

1

small

onion

1/2

cup

vermicelli noodles

1

T

tomato paste

1 1/2

tsp

salt

1

T

curry

1 1/2

tsp

paprika

1/4

tsp

cayenne

(optional)
Instructions
Dice the potato and add to a strainer, along with the lentil and rice. Wash thoroughly and add to a 5 QT Dutch oven.

Add three cups of water, and bring to a boil. Lower the temperature, then simmer, covered, for approximately 20 minutes.

Heat olive oil in a saucepan, and sauté the onion and vermicelli noodles until the onion is soft and the noodles are brown.

Add the remaining ingredients to the saucepan, along with one cup of water. Stir until it all comes together.

Add the saucepan ingredients to the rice, potato and lentil mixture, along with two cups of water. Stir to combine, bring to a boil, then lower the heat and simmer for 20 minutes.

If the soup gets too thick, just add more water until it reaches the desired consistency.
Nutrition Facts
Vegan Red Lentil and Curry Soup (Tlokheh/Aadas)
Amount Per Serving
Calories 263
Calories from Fat 72
% Daily Value*
Fat 8g12%
Cholesterol 0mg0%
Sodium 588mg26%
Carbohydrates 40g13%
Protein 10g20%
* Percent Daily Values are based on a 2000 calorie diet.