Booshala (also spelled Boushala) is the Assyrian equivalent to chicken soup. It is believed that this nutritious yogurt soup can relieve cold and flu symptoms, and quicken recovery.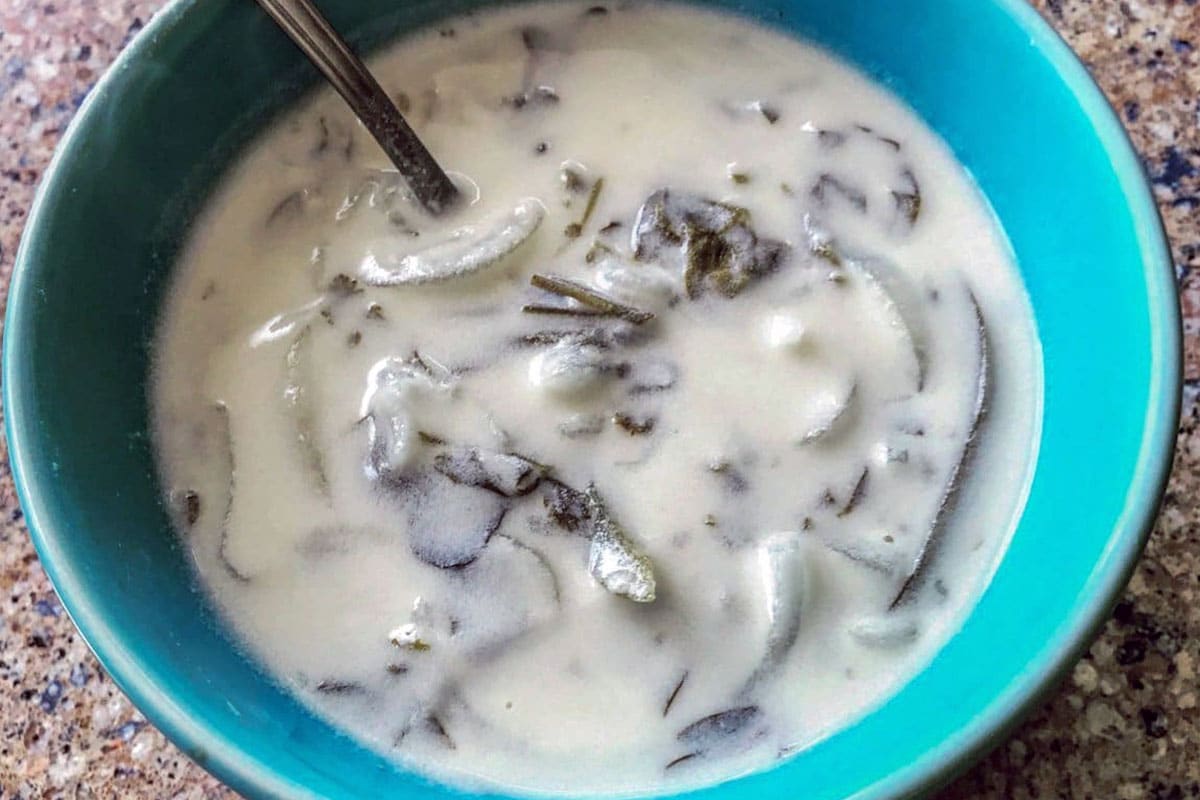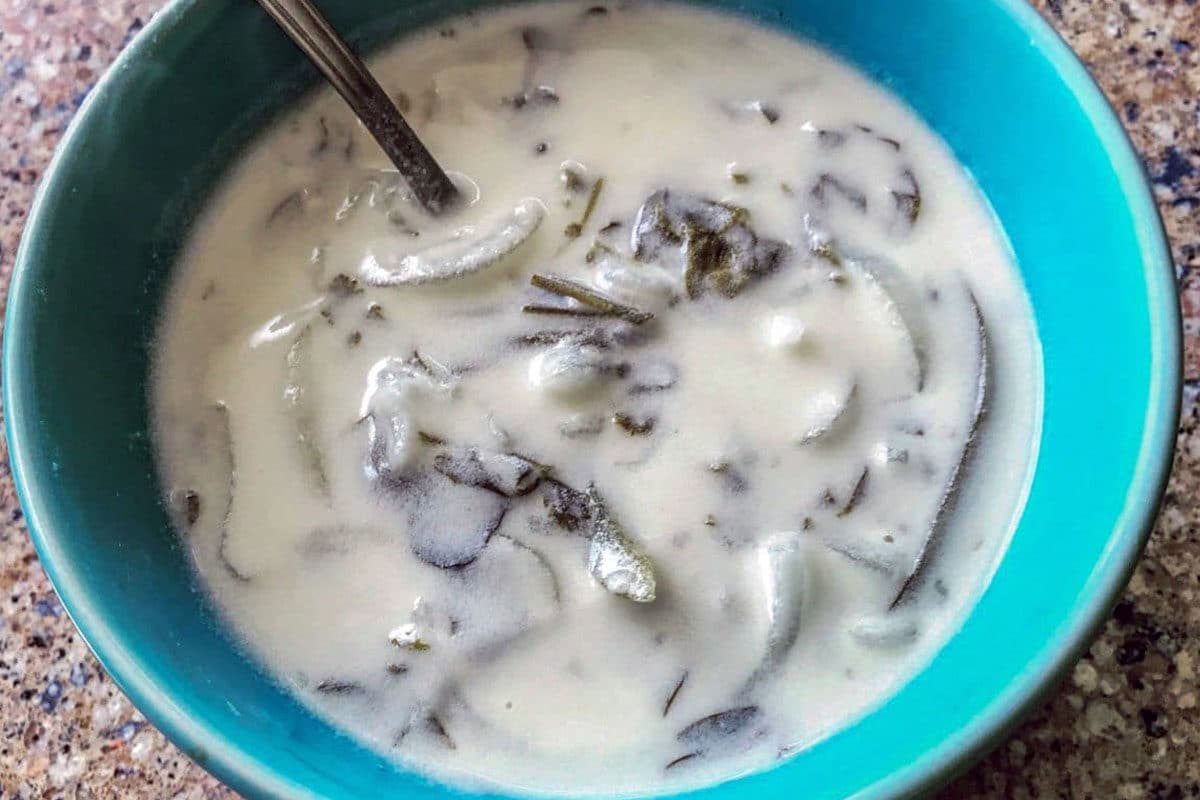 In fact, I recall mom making this soup anytime one of us was sick. She made it the way I like it too, extra spicy! I always felt better after eating a bowl.
Was it due to Booshala's nutrient-rich ingredients? Or the spiciness of the peppers that always cleared out my nose?
Either way, I'm a firm believer that if you're under the weather, this soup can have you on the road to recovery in no time!
Booshala Ingredients
I highly recommend that you make this soup with home-made yogurt (mesta in Assyrian).
However, if you prefer to use store-bought yogurt, make sure to use Middle Eastern or Greek yogurt.
The key is to use a slightly sour-tasting yogurt. You will notice that most of the remaining ingredients can be found at your local grocery store.
Well, with the exception of purslane.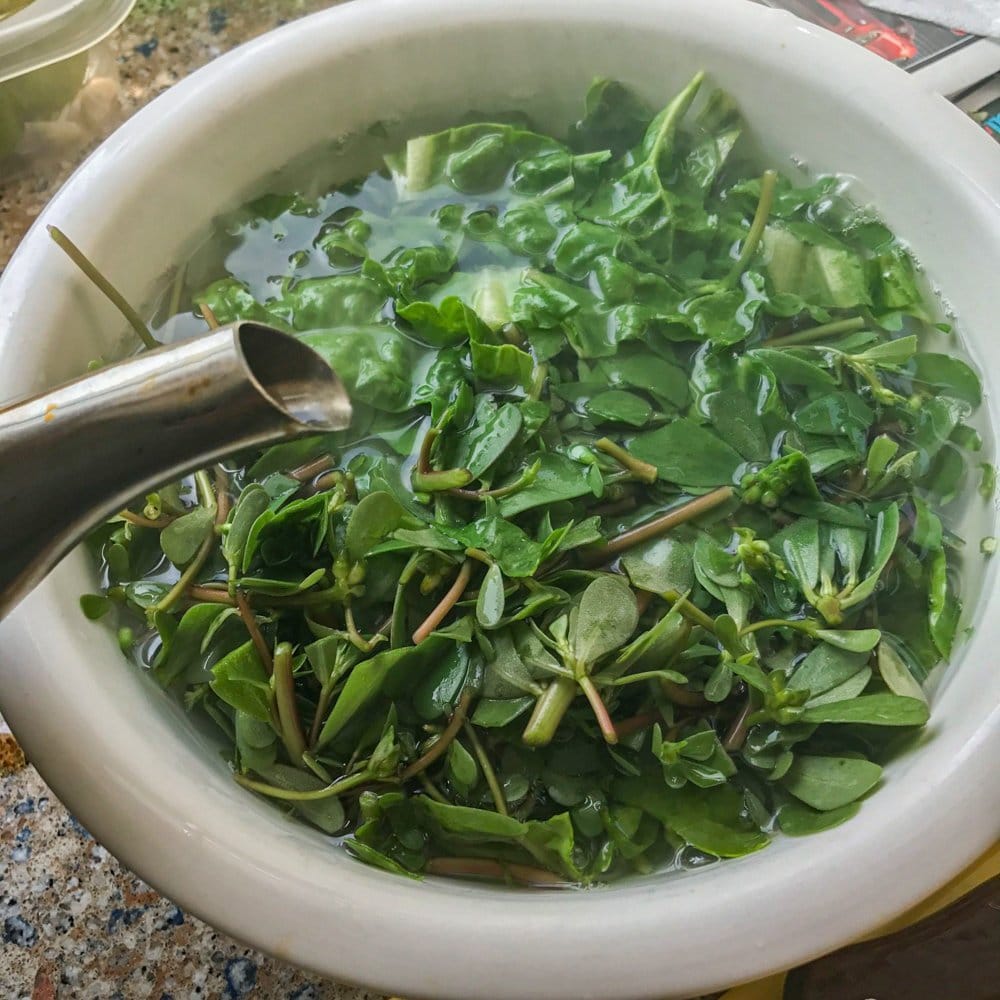 Purslane? What Do You Mean Purslane?
Purslane is an edible succulent, with a slightly sour taste. It can be eaten as is, steamed, or fried.
Nutritionally, it has six times more vitamin E than spinach and seven times more beta-carotene than carrots.
Luckily, you will most likely be able to find some growing in your garden, or between the cracks of your driveway.
Purslane is considered to be a weed, but now you are in on the secret; purslane is amazingly good for you!
If you can't get your hands on some, don't panic, you can still make this soup without it.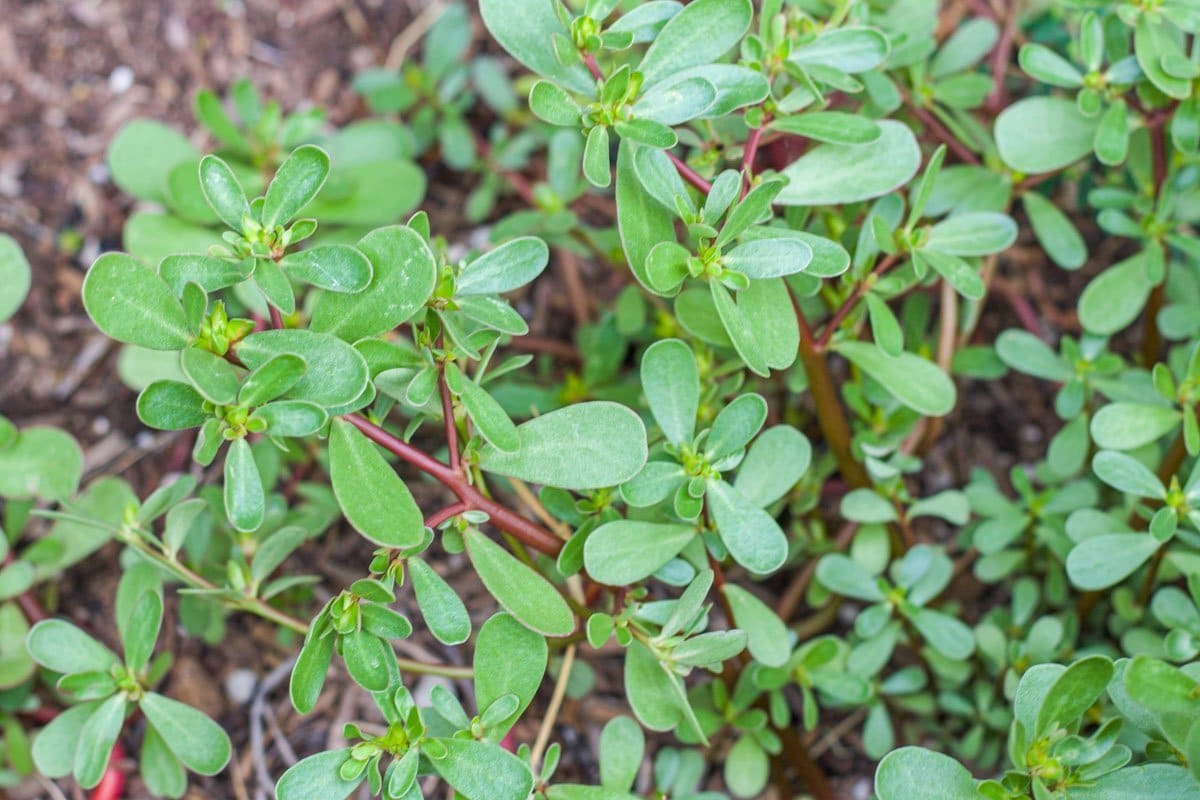 Cooking with Beni
You'll notice by the photos that my sister, Beni, is stirring the Booshala.  I cooked this soup last year (2017) when I was visiting her in Chicago.
I always love spending time in Beni's kitchen! In fact, I'm looking forward to my trip later this month.
I'm sure we'll not only create delicious food, but also wonderful memories!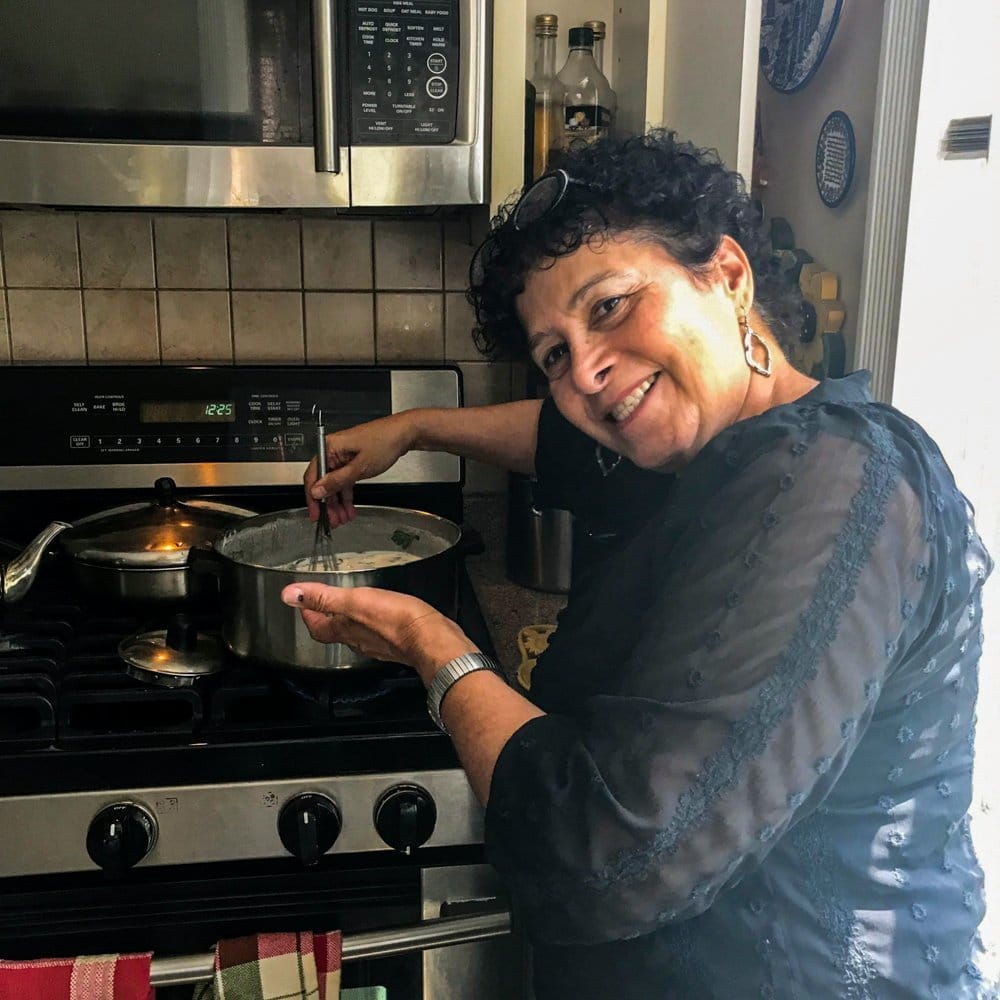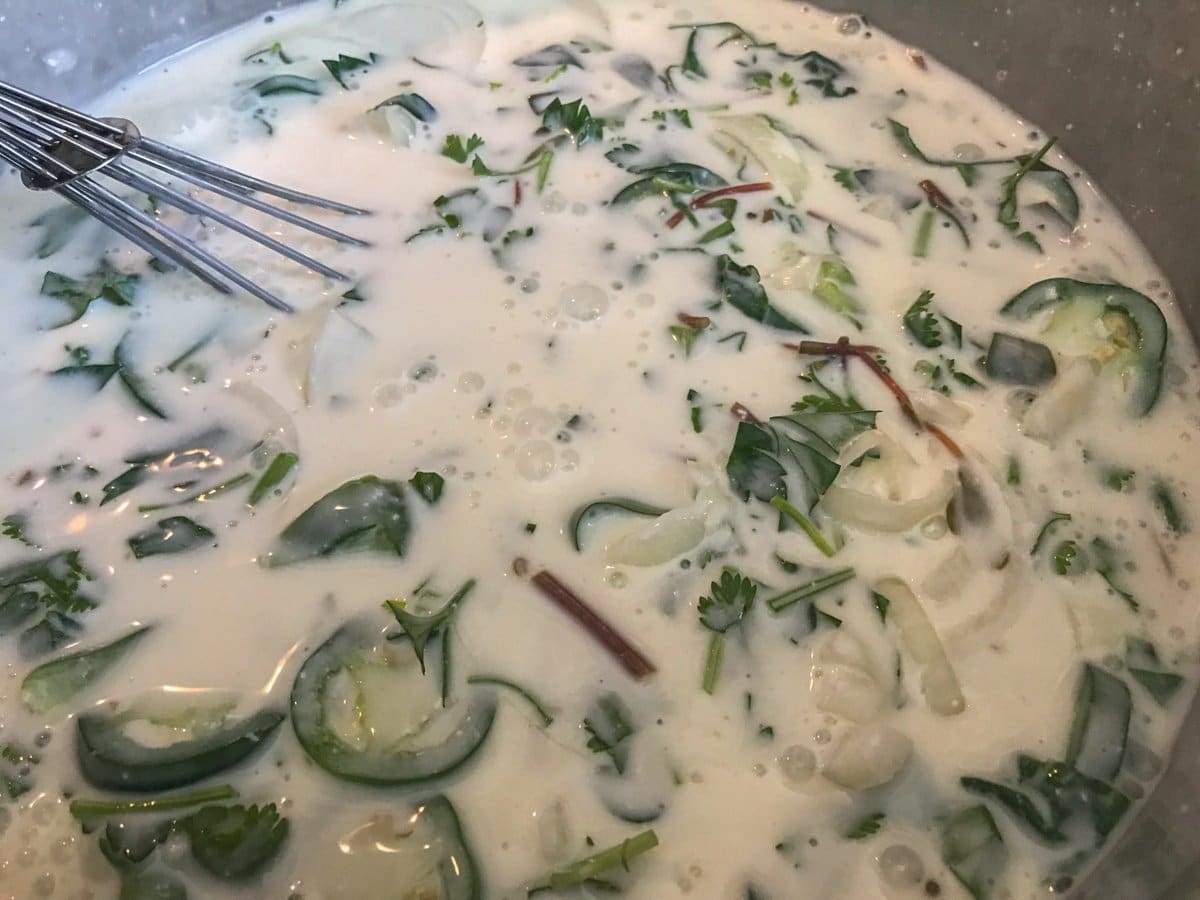 If you like soups, be sure to check out the following recipes:
Don't forget to check out my Classic Middle Eastern Food Combinations.
Stay in touch with me through social media!
Tried this recipe? Snap a picture and tag #hildaskitchenblog on Instagram.
Like my page on Facebook.
Do you Pinterest? Pin & share this recipe!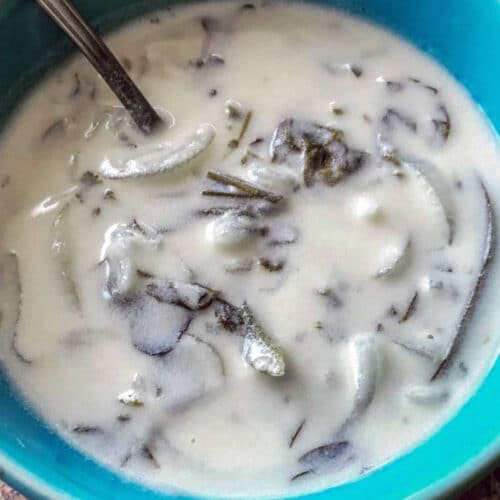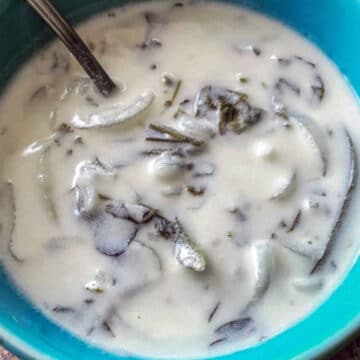 Spicy Yogurt and Herb Soup (Booshala)
An Assyrian soup called "booshalah." This creamy yogurt and herb soup is the perfect soup to nurse you back to health!
Print
Rate
Ingredients
1

cup

Swiss chard

1

cup

purslane

4

cups

home-made yogurt

(or store-bought Greek yogurt)

1

tsp.

salt

1/2

tsp.

citric acid

1/4

cup

flour

4

cups

water

1/2

cup

Italian parsley

1/2

cup

cilantro

1/2

large green pepper

2

jalapeno peppers

1

medium

onion

1/4

cup

jasmine rice

1

tsp.

dried mint
Instructions
Whisk yogurt, salt, citric acid, and flour in a large bowl.

Wash and chop the Swiss chard, and the purslane, and add to a deep bowl.

Pour enough boiling water over the Swiss chard and purslane to completely submerge. After five minutes, drain the water and rinse the Swiss chard and purslane with cold water. Squeeze to remove the excess water.

Chop the parsley, cilantro, green peppers, jalapeños, and onion.

Gradually add four cups of water into the yogurt. Whisk until thoroughly mixed.

Stir the Swiss chard, purslane, and the remaining herbs and vegetables into the yogurt.

Finally, add the rice into the soup.

Stir constantly, over a medium flame, until the mixture comes to a boil. If you don't, it will separate.

Stir occasionally during cooking, until all the vegetables and the rice are tender. If it becomes too thick, add more water to achieve the preferred consistency.

Booshala may be served hot or cold. I prefer hot! Not only when it comes to spiciness, but also in temperature!
Notes
When I cooked booshala in Chicago with Beni, she said she remembers our mom adding an egg to the recipe. The egg would be added in step one above. When mom shared the recipe with me, she did not add an egg (unless she did it behind my back so that I wouldn't have all her secrets... which wouldn't surprise me). The egg is supposed to bind the soup together and discourage separation. Try it both ways and see which way you prefer.
Nutrition
Calories:
213
kcal
|
Carbohydrates:
22
g
|
Protein:
9
g
|
Fat:
6
g
|
Saturated Fat:
3
g
|
Cholesterol:
21
mg
|
Sodium:
417
mg
|
Fiber:
1
g
|
Sugar:
16
g