Break out the chips; we're making salsa! I find that there are two types of people in this world; those that like red salsa, and those that prefer green salsa. And by "green," I'm referring to "roasted tomatillo salsa," also known as "salsa verde." I find myself in the green salsa category. I've mentioned "Mariettas" in previous posts; it's our family's favorite local restaurant. They have the best Mexican food, including their amazing salsa. Although they serve the red salsa with their freshly fried tortilla chips, I always request their roasted tomatillo salsa. I absolutely love it!  This is my attempt at recreating their salsa verde recipe, only spicier.
Are Tomatillos the Same as Tomatoes?
Tomatillos and tomatoes are not the same fruit. Tomatillos are also known as husk tomatoes, Mexican ground-cherries, and Mexican green tomatoes. As those names suggest, tomatillos are native to Mexico, and Central America. Tomatillos have a protective husk, that needs to be stripped away before they can be eaten. Although you can eat them raw, they are more commonly cooked like in Chili Verde, and this roasted tomatillo salsa. Tomatillos are more sour in flavor than tomatoes but sweeten on the vine if not picked too early.
My Roasted Tomatillo Salsa Recipe
To make roasted tomatillo salsa, I start by roasting the tomatillos, peppers, and garlic. You can make the salsa with raw tomatillos, but I prefer the richness that charring the tomatillos adds. The same goes for the garlic and Serranos. You can also adjust the spiciness of the recipe based on your taste. I use three Serranos, which is almost not spicy enough for us. Your family may prefer one or two peppers, so adjust accordingly. Feel free to substitute jalapeños for the Serranos. Most tomatillo salsa recipes don't call for avocados, but I find that avocados add a creamier texture. If the salsa is too thick, you can add water to thin it out. Stir in 1/4 cup of cold water at a time, until you reach the desired consistency.
Salsa Verde Serving Suggestions
The most obvious way to serve this roasted tomatillo salsa is with corn chips. But let's not stop there; there are many other possibilities. Some of these possibilities include enchiladas, fajitas, California Burritos, and Breakfast Burritos. You can also mix this salsa with scrambled eggs, or use it as a base for cooking Chili Verde.
Do you Pinterest? Please pin and share this post!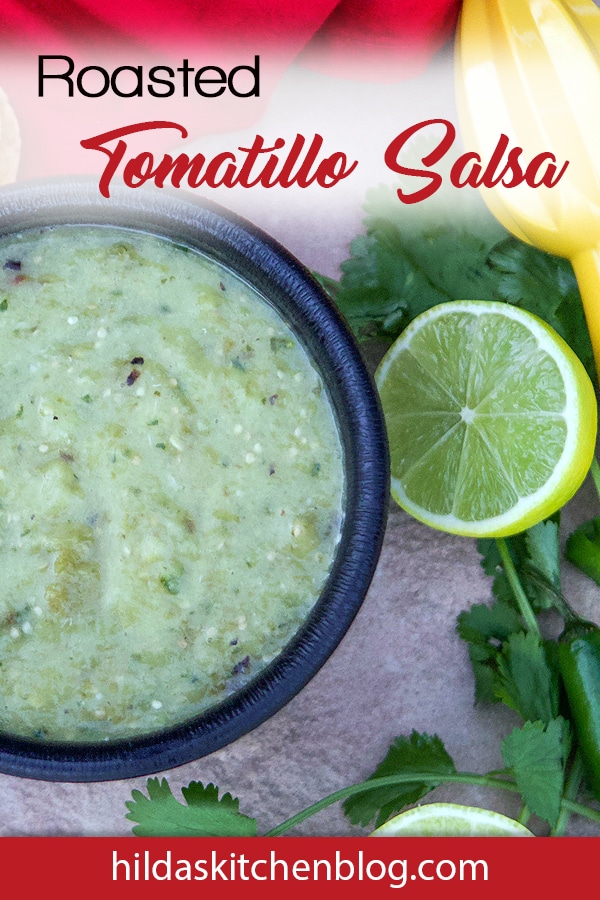 ---
Roasted Tomatillo Recipe
Creamy roasted tomatillo salsa.
Course:
Appetizers, Condiments
Ingredients
1-1/2

lbs.

tomatillos

3

serrano peppers

(or less)

4

cloves

garlic

1

T.

olive oil

1/2

cup

chopped cilantro

1

medium

onion

1

avocado

1

medium

lime

(juiced)

1

tsp.

salt
Instructions
Turn oven broiler to high while you prepare the tomatillos.

Peel and wash tomatillos, then slice in half.

Line a pan with foil, then add tomatillos, sliced side down.

Add unpeeled garlic cloves, and whole Serranos.

Sprinkle with one tablespoon olive oil, and place under the broiler until charred (approximately five minutes).

Meanwhile, place peeled and quartered onion, cilantro, avocado, lime juice, and salt in a blender.

Carefully transfer the peeled garlic, tomatillos, Serranos, and the rendered juices into the blender. If your blender is not large enough, you can do this in batches.

Pulse until you reach the desired texture. Add a little water to thin out, if desired. Serve with tortilla chips, or as a side to any Mexican meal.
Nutrition Facts
Roasted Tomatillo Recipe
Amount Per Serving
Calories 37
Calories from Fat 18
% Daily Value*
Total Fat 2g 3%
Cholesterol 0mg 0%
Sodium 196mg 8%
Total Carbohydrates 6g 2%
Protein 1g 2%
* Percent Daily Values are based on a 2000 calorie diet.