If you love chips and salsa, you will be addicted to this smoky, spicy, and oh so tasty Roasted Salsa Recipe. This salsa goes perfectly in my California Burrito recipe.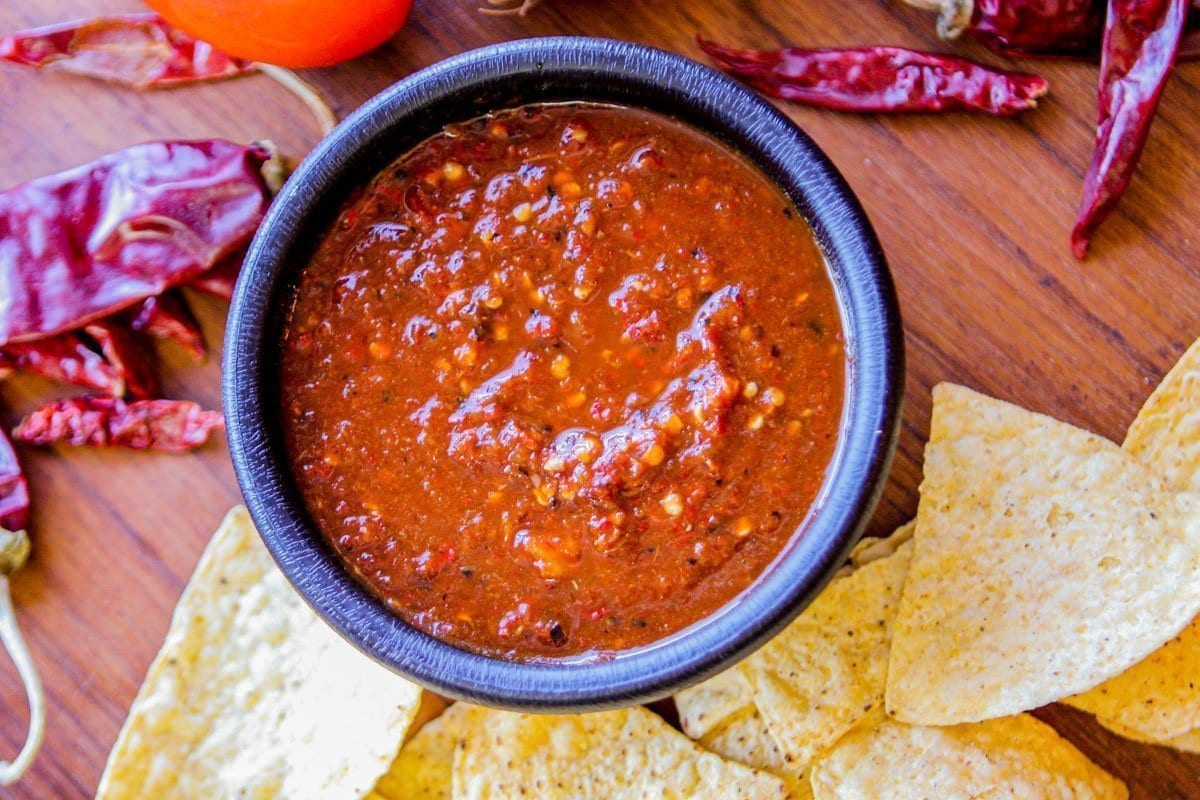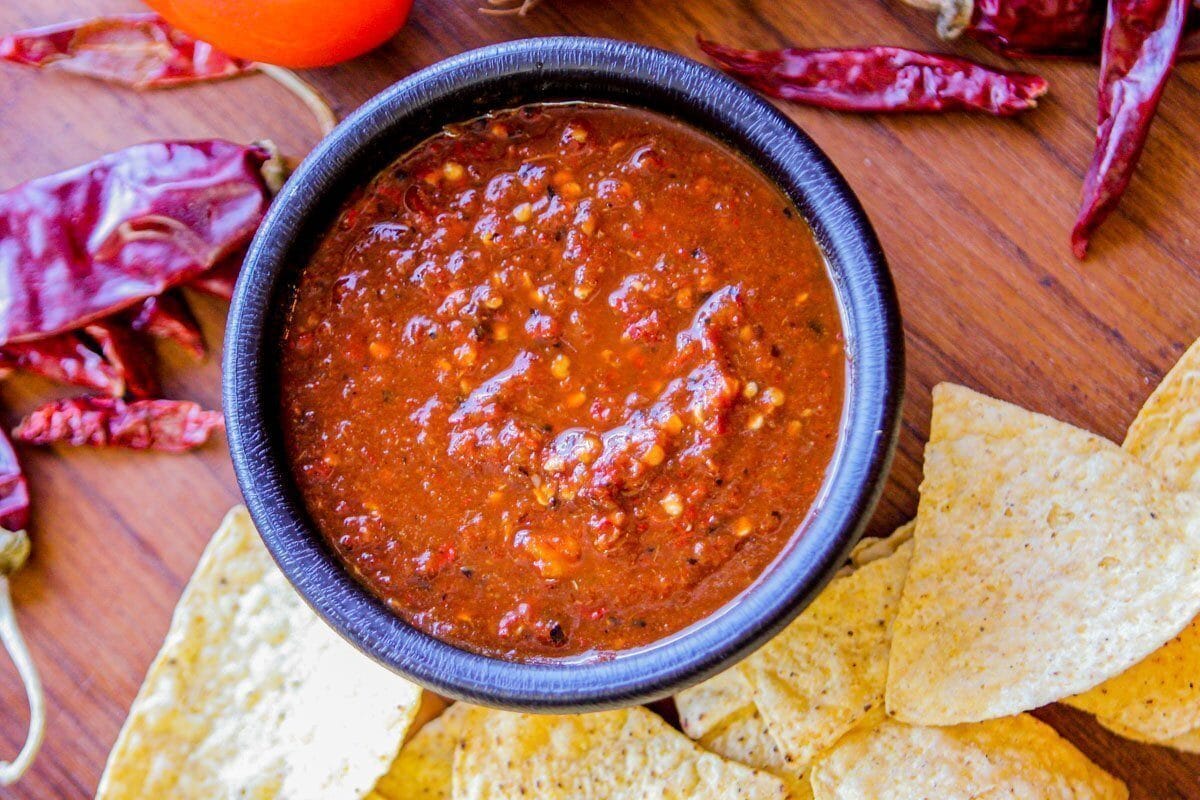 Charred Arbol chiles are the star of the show and lend an intense flavor that's hard to duplicate. The roasted garlic, onion, and diced tomatoes round off the taste of this salsa beautifully.
Although simple on their own, the ingredients used in this salsa recipe really complement one another. So if you're looking for a smoky salsa with some kick, look no further!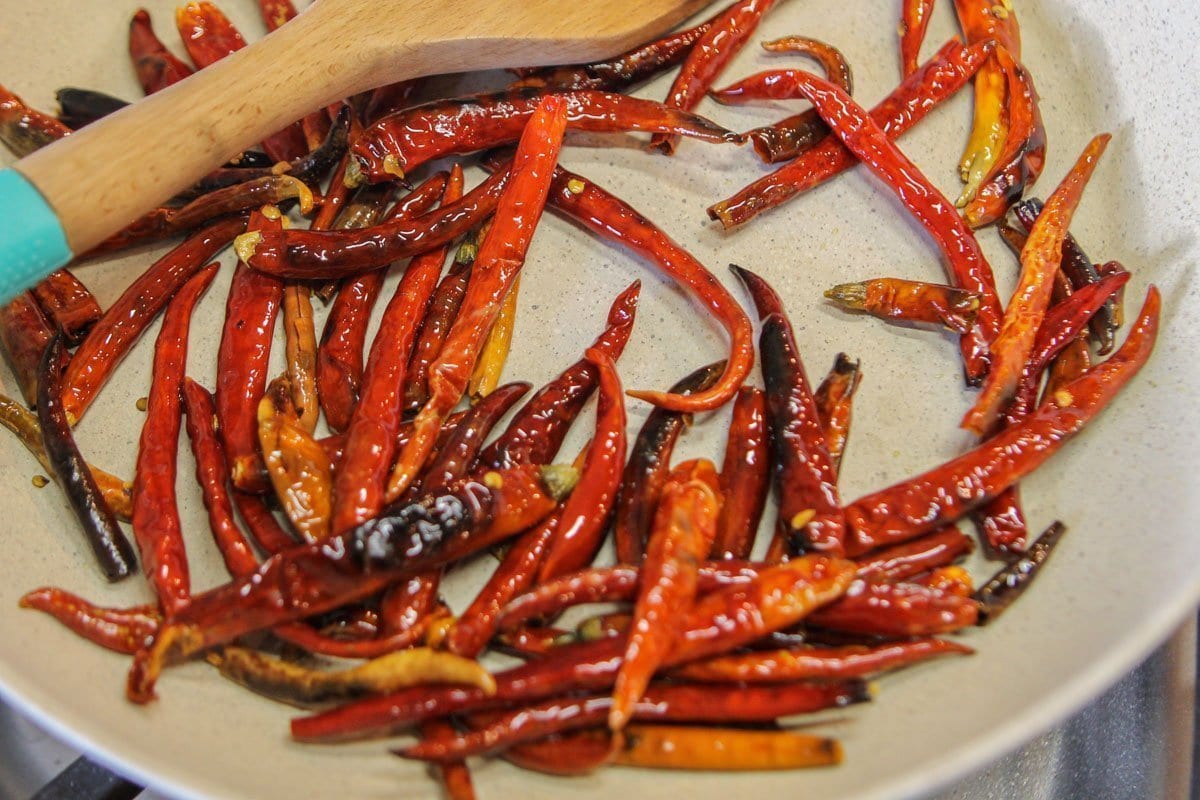 Arbol Chile Salsa
The first time I had Arbol Chile Salsa was at my friend, Sonia's house. When I asked Sonia for the recipe, she said the main ingredients were dried Arbol chiles, garlic, and a few California chiles.
Sonia explained that she roasted the peppers and garlic, then emulsified them in hot water. Although I didn't get the exact measurements, I had enough information to get me started.
I made the salsa a few times and then forgot about the recipe over time. Until recently, when we were having friends over for California Burritos.
I wanted to add some spicy salsa inside the burritos, instead of my usual tomato-based salsa (which would have made the burritos too soggy).
Upon recreating the roasted salsa recipe, I found it was better than I remembered. Luckily, I had decided to measure the ingredients and write down the steps (a food blogger habit, for sure).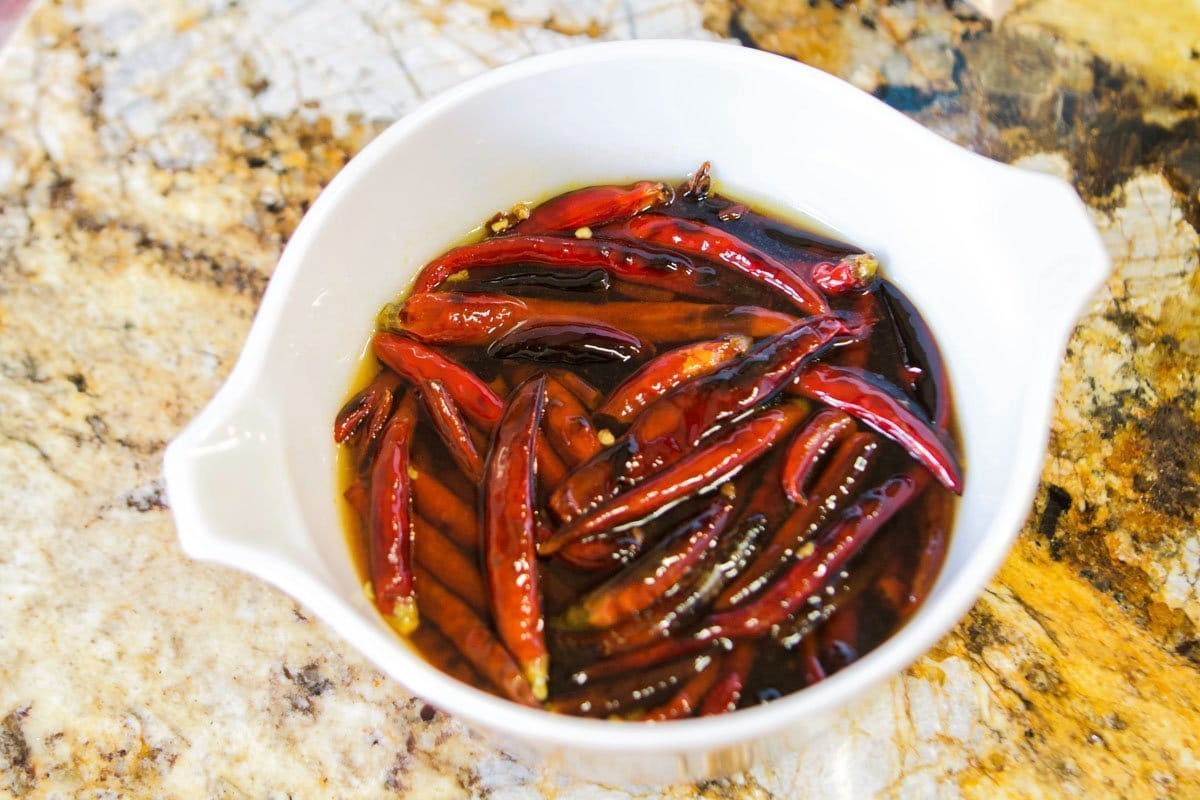 Roasted Salsa Ingredients
The main ingredient in this Roasted Salsa Recipe is Arbol Chiles, which range from 15,000 to 30,000 SHU on the Scoville Scale (see below for more info).
What this basically means is this salsa is not for the weak of heart. Although there are other chiles that are much spicier, I would definitely consider this salsa on the spicy side.
Arbol Chiles give this salsa a fantastic, rich flavor, that according to my sister-in-law, Kim, is quite addicting. Although her mouth was on fire, she couldn't stop eating it!
Besides Arbol Chiles, garlic, onions, and tomatoes are added to mellow out the spiciness a bit. If you want to try mixing things up a bit, here are some ways you can alter the recipe...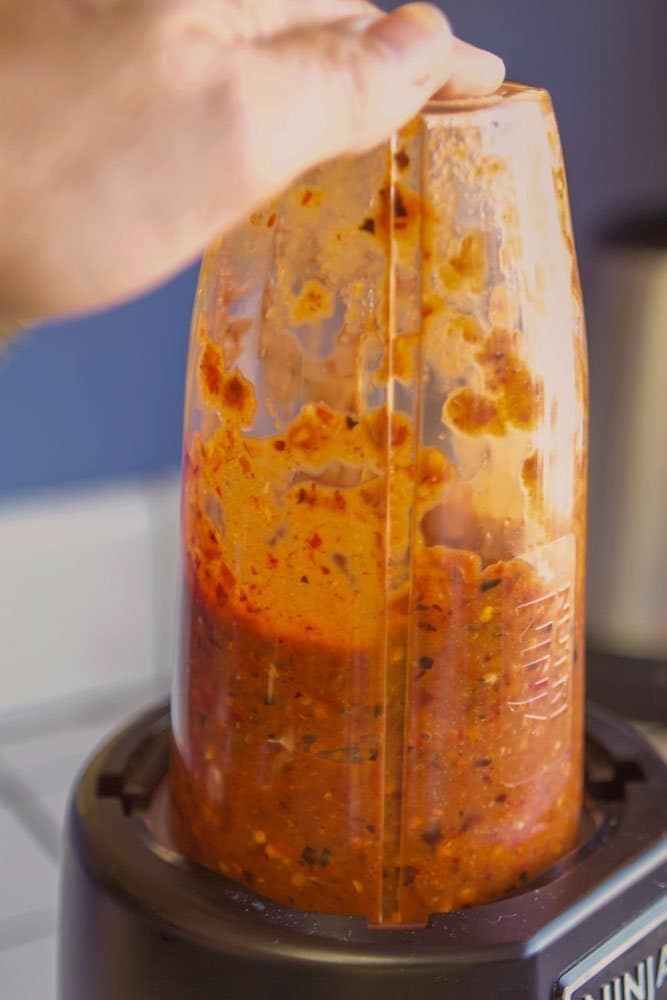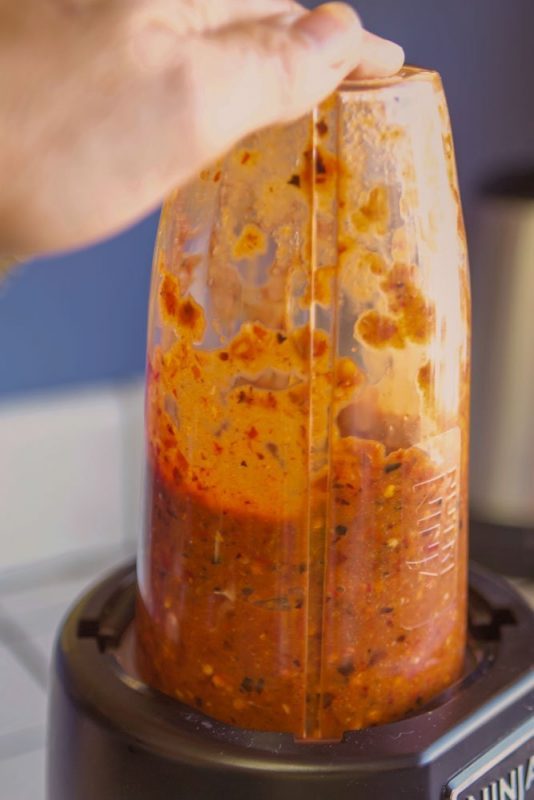 Optional Roasted Salsa Ingredients
Replace canned tomatoes with 3 broiled Roma tomatoes.
Add fresh lime juice instead of vinegar.
Replace some of the Arbol Chiles with milder dried chiles such as Pascilla peppers, Guajillo chiles, or Ancho chiles.
Add a teaspoon of sugar to balance out the acidity of the salsa.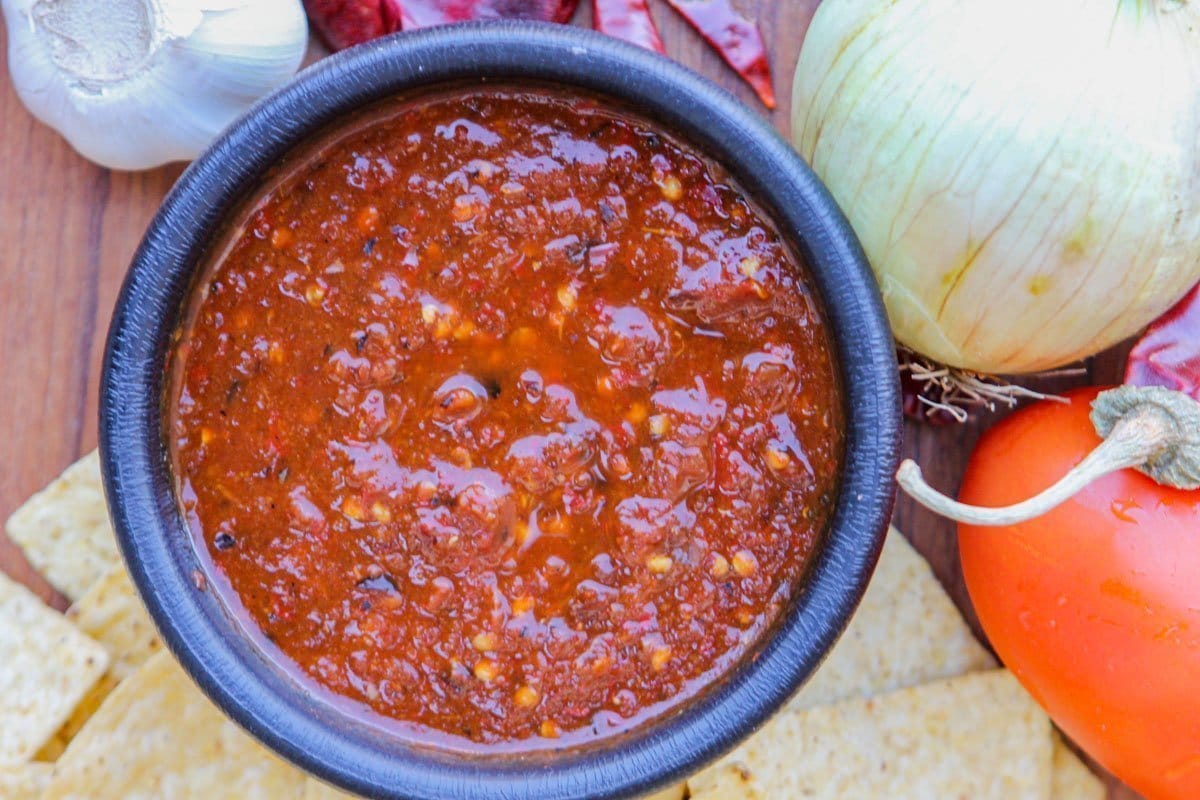 Interesting Hot Sauce Facts
The best way to stop your mouth from burning after consuming spicy food is by drinking milk. Milk contains a protein called Casein, which breaks down the bonds between Capsaicin (the active component of chili peppers).
The spiciness of peppers is measured in SHU = Scoville Heat Unit. The Scoville Heat Unit is named after an American pharmacist, Wilbur Scoville, who created it. SHU measures the concentration of capsaicin in one cup of mashed pepper, and how many cups of sugar water is required to dilute it. For a more detailed explanation of how this works, Check out this informative post.
The Carolina Reaper is currently the hottest pepper in the world at 2,200,000 SHU. The Trinidad Moruga Scorpion comes in 2nd place at 2,009,231 SHU. And 7 Pot Douglah is the third hottest, measuring at 1,853,986 SHU.
Tabasco Hot Sauce is credited with being the oldest hot sauce brand, dating back to 1868.
You may also enjoy the following recipes:
Stay in touch with me through social media!
Tried this recipe? Snap a picture and tag #hildaskitchenblog on Instagram.
Like my page on Facebook.
Do you Pinterest? Pin & share this recipe!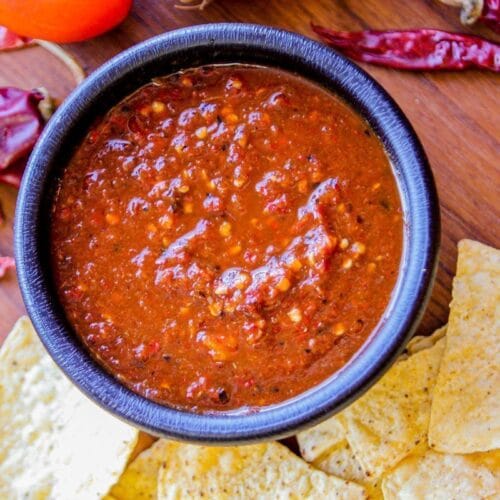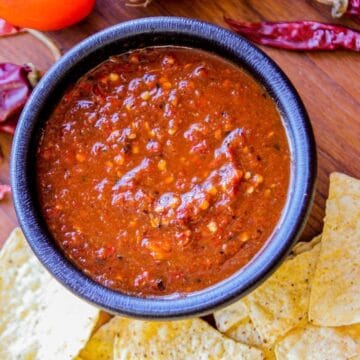 Roasted Salsa Recipe
Spicy, smoky, and delicious Arbol Chile Salsa recipe.
Print
Rate
Ingredients
1

tsp

oil

2

cup

Arbol Chiles

6

cloves

garlic

1

14.5 oz

canned diced tomatoes

1

small

yellow onion

1

T

red wine vinegar

1

tsp.

salt

¼

tsp

cumin
Instructions
Break stems off of Chiles and add to measuring cup until you have two cups of chiles.

Add oil to a hot pan and roast chiles until they start to blacken.

Place charred chiles in a bowl and cover with two cups of boiling water. Allow to stand for fifteen minutes until chiles rehydrate/soften. Stir and push chiles down into the liquid periodically.

Meanwhile, add onion and garlic to the same pan. Roast for a few minutes until they begin to blacken. Remove from pan and add to a blender, along with the tomatoes, and blend.

Add chiles to the blender, and puree until the desired consistency is reached. Add liquid that chiles were in to dilute the salsa further, if desired.

Mix in vingerar, salt, and cumin. Adjust seasoning to your preference. Break out the chips and enjoy!
Nutrition
Serving:
2
g
|
Calories:
22
kcal
|
Carbohydrates:
3
g
|
Protein:
0
g
|
Fat:
0
g
|
Sodium:
170
mg
|
Potassium:
84
mg
|
Sugar:
2
g