For the past few years, my pepper plant has been going crazy! It's more like a bush, really (see photo below). Last year I dried the peppers and we ate them as a side with Mexican food. This year I wanted to try making something different with them. I roasted the peppers, along with a large head of garlic, and an onion. The result was this tasty and Spicy Chili Sauce. I was surprised not only how easy it was to make, but how delicious it turned out. In fact, I liked it enough to share it with you!
How Do You Make Spicy Chili Sauce?
Who doesn't love some good homemade Spicy Chili Sauce, right? The men in my family are hot sauce connoisseurs! My husband, Scott, and my son, Scotty, use chili sauce on everything! After looking into the process of making hot sauce, I was amazed at how simple it was. Since nothing beats home-made, I thought I'd toss my hat in the ring and come up with my own recipe. As you might know, the main ingredient in hot sauce is chilis. They obviously add the spiciness needed. Vinegar is also required to act as a preservative. Additionally, if using very hot chilis, you may need to add tomatoes, tomatillos, or carrots to balance out the heat. Finally, garlic, onions, and spices can be used to perfect the flavor of the sauce.
Spicy Chili Sauce Serving Suggestions
Taking the extra time to make your own Spicy Chili Sauce is always worth the effort! This sauce is very versatile and can be served with breakfast foods such as scrambled eggs. The sauce also goes great with Mexican dishes, like my Mexican Lasagna and chicken fajitas. I love stirring some in stews to add additional flavor. Chili sauce is also a great addition to ramen and other noodles. I like to add a few drops of hot sauce to my home-made guacamole too. As you can see, the possibilities are truly endless. So if you have an abundance of peppers in your garden, give this chili sauce recipe a try, and let me know what you think!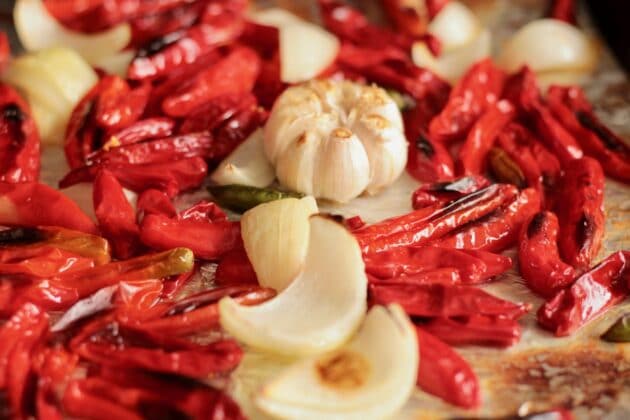 For other great recipes, check out the following posts: Tahini Sauce, Chimichurri Sauce, Enchilada Sauce, and Tomatillo Salsa.
Do you Pinterest? Please consider pinning and sharing!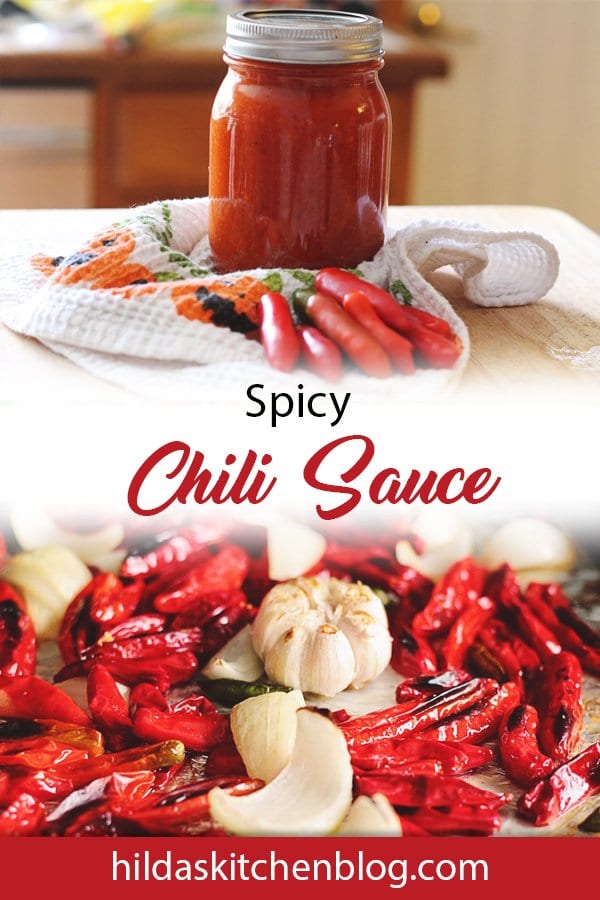 ---
If you love this Spicy Chili Sauce recipe, please give it a 5-star rating!
Spicy Chili Sauce
Spicy red chili sauce made with homegrown Serrano peppers.
Course:
Appetizers, Side Dish, Snacks
Ingredients
1

lb.

red serrano peppers

1/2

medium

white onion

chopped in fourths

1

bulb

garlic

2

T.

olive oil

1

T.

salt

1

medium

lime

3

T.

vinegar
Instructions
Rinse and dry one pound of serrano peppers and add to a foil-lined cookie sheet. Slice the tip off of a bulb of garlic and place on the tray. Arrange the chopped onion on the tray and pour the olive oil over everything on the tray, making sure to pour some over the exposed ends of the cloves of garlic. Sprinkle with half of the salt.

Place the tray in the oven and broil on low until everything is starting to char. Check frequently to avoid burning. I pull the tray out every few minutes, removing the peppers that are charred and placing the tray back in the oven until the onion and garlic are also charred.

Add the peppers and onion along with the remaining salt in a blender or food processor. Squeeze the garlic cloves out of the bulb and add to the blender. Add one to two cups of water and blend until you reach the desired consistency.

Mix in the juice of one lime and the vinegar.

Pour the sauce into the jars and store in the refrigerator until cool enough to enjoy. Serve with chips or your favorite Mexican meal.
Nutrition Facts
Spicy Chili Sauce
Amount Per Serving (1 oz)
Calories 15
Calories from Fat 9
% Daily Value*
Total Fat 1g 2%
Cholesterol 0mg 0%
Sodium 220mg 9%
Total Carbohydrates 1g 0%
Protein 0g 0%
* Percent Daily Values are based on a 2000 calorie diet.