What if I was to tell you that you could make restaurant-quality sheet pan chicken fajitas right at home? Would you be interested? If the answer is yes, keep reading! I don't know about you, but I'm the kind of person that doesn't like to attract too much attention to myself. This is why I don't order fajitas at a Mexican restaurant. When you order fajitas, you are literally the center of attention. The loud sizzling noise, and the smoke emanating from the hot cast iron pan really get everyone's attention, as the fajitas make their way to your table. Not to mention, the fajita's amazing aroma! This is one of the many reasons I prefer eating in, to eating out.
A Little Fajita History
You might think that fajitas originated in Mexico, but you'd be wrong! The credit actually goes to Mexican ranch hands in west Texas, who were called "vaqueros." As part of their pay, the ranch hands were given the tough parts of the butchered cows, including the skirt steak. The vaqueros grilled the skirt steak, which they called "arracheras." The word "fajita" was derived from the Spanish word "faja" which translates "strip" or "belt." The strips of skirt steak were thought to resemble a leather belt, hence the name. So technically, the word fajitas only refers to beef fajitas. However, over the years, it's become an all-encompassing name to describe beef, chicken, shrimp, and vegetable fajitas.
Tools Required For This Sheet Pan Chicken Fajitas
Sheet pan recipes are known for their ease and convenience. It wouldn't make sense if we had to purchase a bunch of fancy kitchen gadgets to prepare them. I would, however, like to offer a few suggested items. A sharp knife, for all the slicing and chopping that's required. Cutting board to do all your chopping on, and a cookie sheet to cook the fajitas on. A juicer would also be handy for juicing the limes. I recently acquired the vintage juicer seen in the pictures below. I absolutely love it, and can't believe I never owned one before. It's made juicing a pleasure, instead of a dreaded task!
Consider serving this recipe with Creamy Guacamole, Mexican Spanish rice, and hot pickled carrots.
For another great Mexican recipe, check out my Carne Asada recipe.
Do you Pinterest? Please Pin & Share!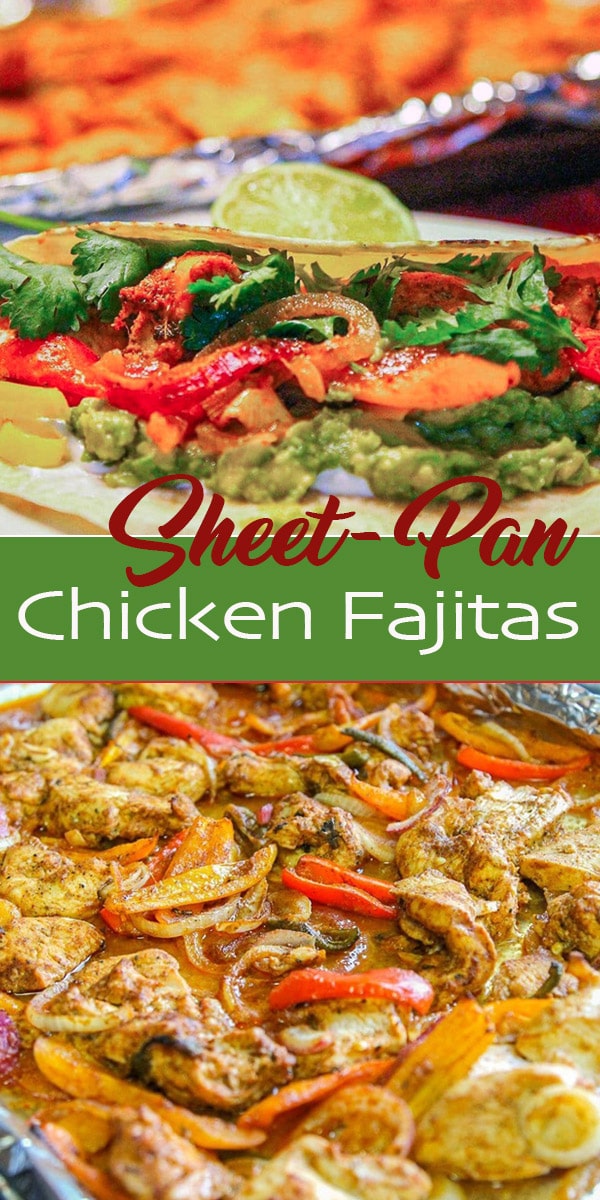 ---
Sheet Pan Chicken Fajitas
Easy sheet pan fajita dinner recipe
Ingredients
Fajitas
2

lbs.

chicken breast

12

oz.

bell peppers

(yellow, red, and green mixture)

1

small

onion

1

small

purple onion

8

cloves

garlic
Marinade
1/3

cup

lime juice

1/3

cup

olive oil

1

T.

red wine vinegar

2

tsp.

salt

1

tsp.

black pepper

2

tsp.

chili powder

2

tsp.

smoked paprika

1/2

tsp.

cayenne pepper

1

tsp.

cumin

1

tsp.

garlic powder

1

tsp.

oregano
Instructions
Slice chicken into thin strips, set aside.

Next, slice peppers into strips. I snuck in some jalapeños because as I've mentioned in previous posts, we love spicy food.

Lastly, slice onions and garlic into thin slices.

Add the chicken and vegetables to a large bowl.

Juice enough fresh limes to equal 1/3 of a cup. I juiced two limes to get that amount. It will depend on the size of the limes.

Add lime juice and other marinade ingredients in a small bowl. Whisk to combine all the ingredients, then pour over the chicken and vegetables.

Transfer the fajita mixture into a large ziplock plastic bag and seal. Marinate for a few hours.

Preheat oven to 400 degrees F

Line a cookie sheet with foil, then add the contents of the bag, including the juices.

Cook in pre-heated oven for 25 minutes.

Broil the fajitas for up to five minutes to char the vegetables. Keep an eye on the pan, to make sure the vegetables don't get burned.

Serve with warmed tortillas, sour cream, guacamole, lime wedges, shredded cheese, cilantro and salsa.