A while back, I posted about a friend from church who gave us some goat meat. Don't you wish you had a friend like that? I used the ground meat to make some outrageously delicious goat kabobs. I've been saving the roast to prepare for my sister-in-law, Alison. She loves goat meat as much as I do. Last night, Alison came over for dinner, so I prepared this delicious goat curry stew for her. If you don't have access to goat meat, you can easily substitute lamb or mutton. Speaking of mutton, there's a word you don't see too often on American menus. Let's look into this mysterious meat…
What Kind of Meat is Mutton?
At one time, mutton was quite popular in the U.S. But gradually, mutton was replaced by more popular meats such as beef and pork. But in countries like India, where beef isn't consumed, and the Middle East, where they don't eat pork, mutton is quite popular. You may be wondering "what exactly is mutton?" The word "mutton" refers to lambs that are generally 2-3 years old. Whereas "lamb" refers to sheep that are under a year old. I should also mention that "spring lambs" are lambs under three months old (poor babies). Of the three, spring lambs are the most tender and delicious, followed by lamb, with mutton being the least tender, and most gamey. The fact that Americans generally don't like gamey meat, might explain why mutton is not very popular in America. However, it is slowly making a comeback, as Americans are becoming more open to trying new foods.
Goat Curry Stew Recipe
While researching goat recipes, I came upon various recipes for Jamaican goat curry, Indian goat curry, and Birria de Chivo (Mexican braised goat). As I compared the recipes, some ingredients stood out to me. Slowly I honed in on the ingredients that I knew would meld together beautifully to make my goat curry stew. I then added a few ingredients of my own. Although curry was a given, I scaled way back, as some recipes used nine tablespoons in their goat curry stew! To add heat to the dish, I planned on using a chocolate habanero, which I had plucked from my garden. Unfortunately, Alison informed me that it exceeded her heat threshold. Instead, I used five  Aarbol Chilis, which ended up being a great compromise. To lend creaminess to the stew, I added coconut milk. In the end, the stew was absolutely amazing, as was the company.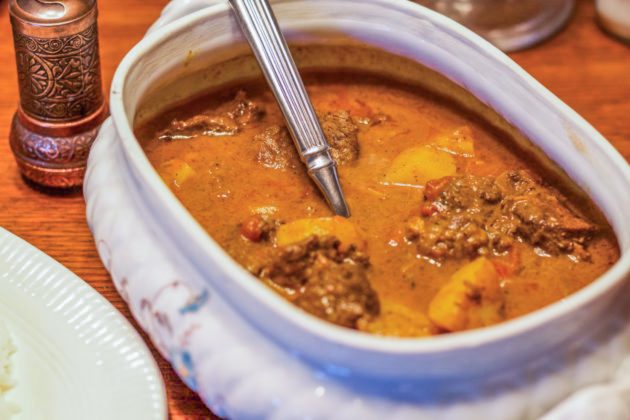 Do you Pinterest? Please pin and share!
---
Don't forget to check out my  Classic Middle Eastern Food Combinations.
Goat Curry Stew
A hearty goat curry/stew, inspired by Jamaican goat curry.
Ingredients
2

lbs.

goat or lamb meat

2" cubes

4

cloves

garlic

crushed

1/4

cup

curry powder

1

T.

allspice

2

tsp.

salt

1

tsp.

black pepper

1

tsp.

ginger

1

tsp.

dried thyme

2

T.

oil

1

medium

onion

chopped

1

14.5 oz can

crushed tomatoes

1

13.5 oz can

coconut milk

(low fat)

2

cups

chicken broth

3-5

dried arbol chilis

(optional)

2

medium

potatoes
Instructions
Chop meat into chunks and place in a large ziplock bag, along with the crushed garlic.

Mix curry, allspice, salt, black pepper, ginger, and thyme until combined. Add the spices to the bag and mix thoroughly to infuse into the meat. Marinade a few hours, or overnight.

Heat half the oil in a Dutch oven, and sear half the meat on all sides. Remove meat from the pot, and repeat with the remaining oil, and meat.

Add the onion and cook until soft. Add the meat that was set aside back into the pot.

Add crushed tomatoes, coconut milk, chicken broth, and dried arbol chilis. Bring to a boil, then reduce the heat to low, cover, and simmer for 1-1/2 hours.

Chop potatoes and add to the curry. Cover, and cooking for an additional 30 minutes.

Serve stew over white rice.
Nutrition Facts
Goat Curry Stew
Amount Per Serving
Calories 326
Calories from Fat 108
% Daily Value*
Total Fat 12g 18%
Cholesterol 90mg 30%
Sodium 1015mg 42%
Total Carbohydrates 15g 5%
Protein 35g 70%
* Percent Daily Values are based on a 2000 calorie diet.