If you've been following my blog for a while, maybe you've noticed that I LOVE rice! If I was going to be stranded on an island (and didn't care about gaining weight) rice would easily be my food of choice. Luckily, you don't have to be stranded on an island to enjoy this creamy and satisfying coconut rice.
The Origins of Coconut Rice
Although most Assyrians will argue that they were the first ones to make Baklava, Dolma, Hareesa, and even beer, they don't claim coconut rice as their own. No, the credit most likely goes to places like India, Thailand, and Africa. But no matter who was the first to combine these two ingredients, rice, and coconut milk, I'll forever be grateful that they did. The countries mentioned, and many others, all have their own version of coconut rice. Some add onions, garlic, and raisins. While others mix in tomato paste, for a totally different taste. Puerto Ricans win the prize as far as I'm concerned. They serve it as a dessert, sweetened with sugar, shredded coconut, vanilla, and rum. Can you say YUM?
My Take on Coconut Rice
This creamy coconut rice recipe has twists and turns of its own. To add a Middle Eastern twist, I've included some of my favorite spices like cardamom, cinnamon, and ginger. I prefer to use jasmine rice in this recipe, it just seems to turn out perfectly every time. I'm also partial to recipes that intertwine both sweet and spicy flavors. To accomplish this, I cook the rice with a few spicy chilis mixed in and top it with sweet raisins. If you want to take it to the next level, add toasted nuts along with the raisins. Not sure what to serve this rice with? Try serving it with Barbecued Sumac Chicken.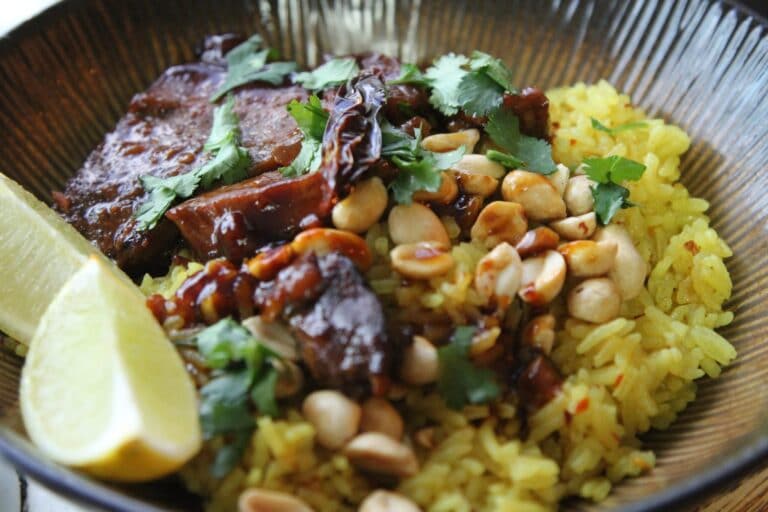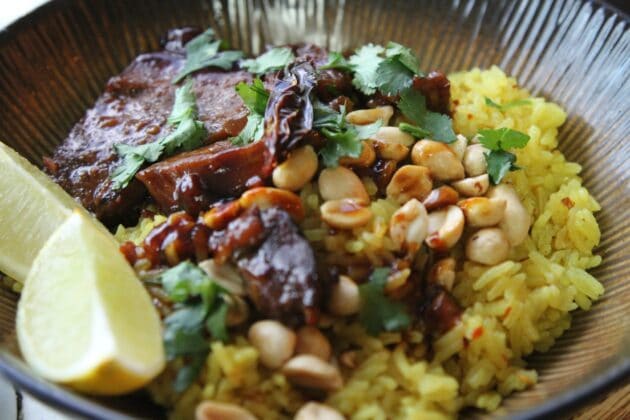 Do you Pinterest? Please help a girl out by pinning and sharing!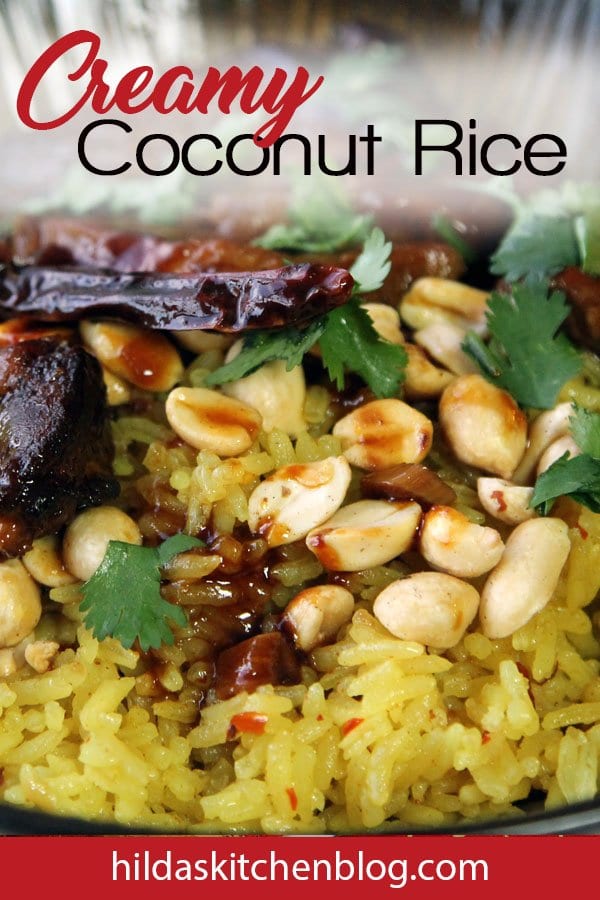 ---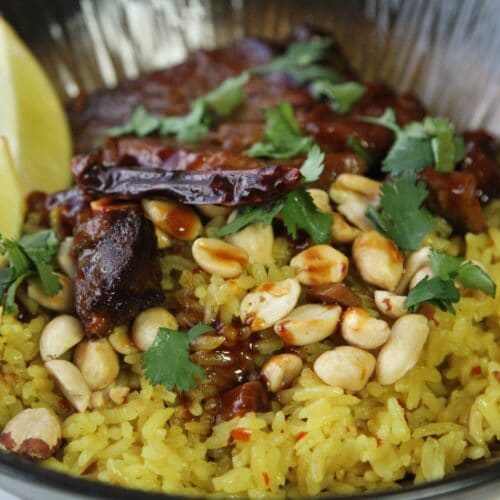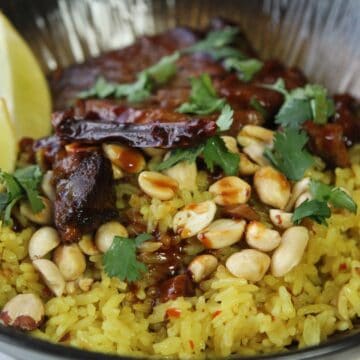 Coconut Rice
Creamy Coconut Rice, great with any Asian meal.
Print
Rate
Ingredients
1

cup

jasmine rice

1

13.5 oz

canned coconut milk

1/3

cup

water

3/4

tsp.

salt

1

tsp.

crushed red pepper

(optional)

1/4

tsp.

turmeric

1/2

tsp.

ginger

1/4

tsp.

cardamom

1/4

cup

sliced almonds

(or shelled peanuts)

1/4

cup

raisins

(optional)

2

T.

chopped cilantro

(optional)
Instructions
Rinse rice and add to a medium-sized saucepan. Add water, and the remaining spices.

Microwave solidified coconut milk for 30 seconds, for easier blending. Add to the rice.

Stir the contents of the saucepan as you bring them to a boil. I added a few chilis, feel free to leave them out if you don't like your food extra spicy.

Reduce the heat to low, cover, and simmer for ten minutes. After ten minutes, remove the lid and stir the rice. Cover and cook for 10 additional minutes.

Meanwhile, toast almonds or peanuts in a hot pan. If using raisins, toast them along with the nuts.

Fluff rice with a fork before serving. Don't forget to remove those cardamom pods if you used them!

Serve coconut rice topped with nuts, raisins (if using), and chopped cilantro.
Nutrition
Calories:
513
kcal
|
Carbohydrates:
85
g
|
Protein:
9
g
|
Fat:
18
g
|
Saturated Fat:
9
g
|
Cholesterol:
0
mg
|
Sodium:
953
mg
|
Fiber:
7
g
|
Sugar:
0
g