I'm sure you've heard of upside-down pineapple cake, but have you heard of upside-down rice before? If not, I'm here to tell you all about it! This upside-down cake is known by many names, including: "makloubi," "maklouba," and "maglouba." Makloubi is definitely not a beginner recipe. It's not necessarily hard to make, it just requires a lot of steps. The hardest part of the recipe is the last step; flipping the rice over onto the serving dish, without scattering the rice.

Makloubi Rice
Makloubi is an Arabic word meaning "upside-down." It is popular throughout the Middle East. That fact that it's flipped to reveal the delicious ingredients on the bottom makes this recipe quite the show-stopper. Layers of vegetables and meat are placed inside a Dutch oven, followed by the rice. This mixture is then compressed to take on the shape of a pot. The "cake" is then flipped over, to present a cake-like rice dish, covered in beautiful layers of vegetables and meat.
\
Makloubi 
Ingredients
Makloubi is usually made with rice, meat (lamb, beef, or chicken), vegetables (eggplant, onions, peppers, potatoes, and tomatoes), and spices. This recipe can easily be converted to a vegetarian recipe by leaving out the meat and adding extra veggies. However, since meat is usually my favorite part of any recipe, I'm including lamb in this version. Feel free to leave it out, or substitute with beef or chicken. The rice is usually either cooked in a tomato sauce, or in a broth and spice mixture. Makloubi is usually served with Middle Eastern salad or "zalata."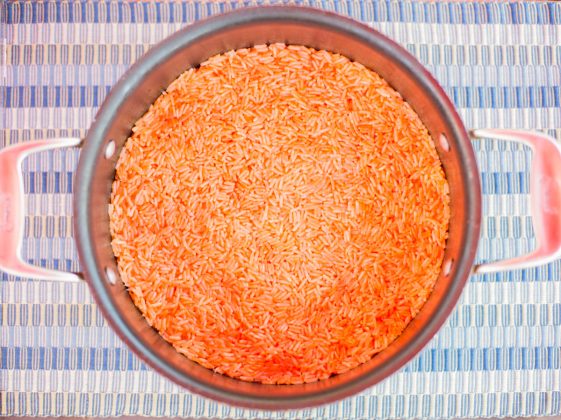 The Art of Flipping the Makloubi
As mentioned earlier, there are a lot of steps required for this recipe. I guess it's the Middle Eastern equivalent of lasagna. First, you have to cook the meat, then soak the rice, slice and fry the vegetables, and layer everything in the pot. But the biggest hurdle comes from the very last step, flipping the rice onto a flat plate or tray. I'm including a video of my sister, Rosa, flipping the makloubi that she prepared while visiting my mom in San Diego in 1992. It's a bitter-sweet video because it captures both a fun day spent cooking with my sister and getting a glimpse of mom, sitting in her chair, smiling. Unfortunately, I didn't get more of mom in the video. She passed away a month later.
You may also enjoy the following recipes: Healthy Bulgur Pilaf, Chickpea Rice, and Assyrian Vermicelli Rice.
Do you Pinterest? Please pin and share!
---
Don't forget to check out my  Classic Middle Eastern Food Combinations.
Makloubi (Upside-down Rice)
Iraqi-style Makloubi (upside-down rice) recipe
Cuisine:
Assyrian, Middle Eastern
Ingredients
1

lb.

lamb or beef

(cubed in 2" pieces)

3

cups

jasmine rice

1

medium

onion

sliced

3

mini

sweet peppers

(red, yellow, and orange) sliced

1

large

potato

2

medium

eggplant

(sliced)

1-1/4

tsp.

allspice

(divided)

1/4

cup & 2 T.

vegetable oil

(divided)

1

T. & 1/4 tsp.

salt

(divided)

3

T.

butter

1/2

6 oz can

tomato paste

nonstick cooking spray

1

large

tortilla
Instructions
Wash the meat and add to a 5-qt. pot. Add 4 cups of water and boil, covered, until foam comes to the surface. Pour water out and rinse the meat and the pot. Return the meat to the pot, and add 4 cups of fresh water. Cover, and cook for 30 additional minutes. Soak rice in cold water while the meat cooks for the last 30 minutes.

After slicing the onion, peppers, and eggplant sprinkle with 1 teaspoon allspice, and 1 teaspoon salt.

Heat 1/4 cup oil in a medium-sized pan. Fry the onion and peppers until soft, set aside.

Next, fry the eggplant, adding more oil if necessary. If you prefer, you can spray the eggplant with cooking spray and bake in the oven instead.

Sprinkle potatoes with 1/4 teaspoon allspice and 1/4 teaspoon salt. Fry the potatoes, and drain on paper towels. Use more oil, as needed.

When the meat is tender, remove from the pot and add to the fried vegetables. Reserve the remaining broth.

Melt butter in the same pot. Add 2 tablespoons oil, 2 teaspoons salt, and 3 cups of reserved broth. If you don't have enough broth, add enough liquid to equal 3 cups. Add tomato paste and stir, over medium flame, until the tomato paste is dissolved.

Strain the rice and add to the pot with the tomato sauce. Stir to combine, then cover and cook on low, for 25 minutes, or until tender. Stir a few times during the cooking process.

Spray the bottom and sides of a 6-qt. Dutch oven with nonstick cooking spray. Place the tortilla on the bottom. The tortilla helps to keep the ingredients in place. Layer the meat, and vegetables over the tortilla. Add cooked rice and press down to compress it as tightly as possible. Reheat over low heat for an additional 10 to 15 minutes.

Cover the pot with a large platter. Quickly flip the pot over onto the platter to un-mold the rice. Remove the tortilla, and serve.
Nutrition Facts
Makloubi (Upside-down Rice)
Amount Per Serving (6 g)
Calories 448
Calories from Fat 225
% Daily Value*
Total Fat 25g 38%
Cholesterol 15mg 5%
Sodium 1312mg 55%
Total Carbohydrates 36g 12%
Protein 21g 42%
* Percent Daily Values are based on a 2000 calorie diet.