Chickpea rice always reminds me of my mom; I guess a lot of Assyrian dishes do. But this one in particular, since she ate it on a regular basis. Although I LOVE chickpea rice, I rarely cook it. Why you ask? The same old sad reason, because I'm usually watching my carbs. I miss the days when I could eat anything I wanted and not worry about the consequences. But this blog post isn't about what I can or can't eat, so let's get you that recipe!
What's the Difference Between Chickpeas and Garbanzo Beans?
Chickpeas are known as "khirtimaneh" in Assyrian. Sometimes "chickpeas" are referred to as "garbanzo beans." The names are interchangeable, however, "garbanzo" is their Spanish name. Although novice cooks might think chickpeas come from a can, you can actually enjoy them fresh out of their pods. Maybe you've passed by them in the grocery store and didn't even know it. Chickpeas can also be purchased in their dry form. Dried chickpeas are great for making falafel. The only thing to be aware of is hat you have to soak them the night before. Of course, when you're short on time, canned garbanzo beans are another option. Chickpeas are a wonderful addition to the vegetarian diet and a good way to get some protein in!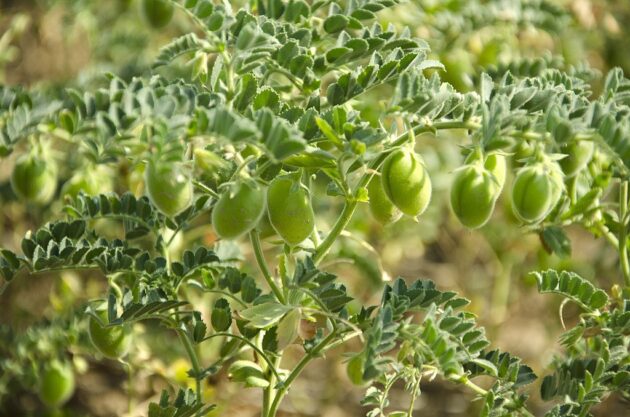 Chickpea Rice
Assyrians enjoy rice, lots and lots of rice. Plain white rice is usually served topped with various stews. There are rice dishes that are a complete meal in themselves, such as biryani, and "Maklouby" is a rice dish that has meat, eggplant, peppers, and onions layered on the bottom of the pot. The rice is added over the meat and vegetables. Once cooked, the rice is flipped onto a larger plate, revealing the yumminess underneath. We also make vermicelli rice, Bulgur Pilaf, and "girdu," which is rice cooked in yogurt. But for those days when you are fasting, and Assyrians do a lot of fasting, chickpea rice fits the bill. Especially when it's served with Middle Eastern salad. Chickpeas add protein and extra flavor to otherwise boring rice. Of course, if you are not fasting, you can serve this rice with a side of kabobs. Also, consider serving this rice with some pickled turnips on the side; pure deliciousness!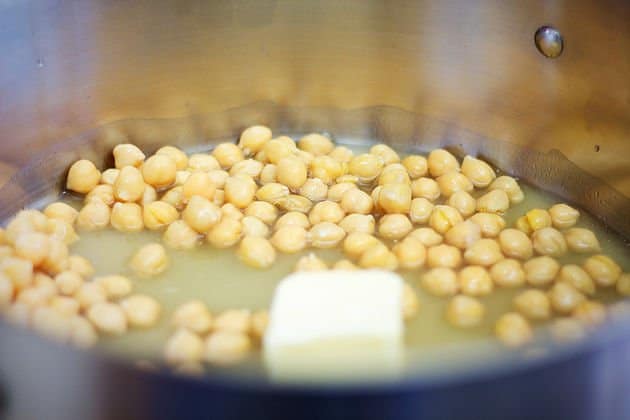 Do you Pinterest? Please Pin & share!
---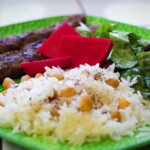 Rice with Chickpeas (Riza't Khirtimane)
Assyrian rice dish with garbanzo beans.
Cuisine:
Assyrian, Middle Eastern
Ingredients
1

15 oz

chickpeas

canned

2

T.

butter

1

tsp.

salt

2

cups

jasmine rice
Instructions
Empty the can of chickpeas into a medium-sized pot, including the liquid. Add butter and salt, while stirring over medium heat.

Rinse, then drain the rice in a strainer and add to the same pot.

Add enough water to cover the rice by approximately 1/4"—1/2". If you prefer precise measurement, the liquid should equal two cups total. Stir and bring to a boil, then cover and cook over low heat for approximately 25 minutes. (I used to have such a hard time cooking rice. My mom finally shared that I was adding more water than necessary. Remember, you can always add more water if necessary, but if you add too much, there's no going back)!

Stir a few times while it's cooking.

Serve accompanied by a salad, pickled turnips (link in notes), and kabobs. The rice is sprinkled with sumac (optional step, but goes great with kabobs!)
Nutrition Facts
Rice with Chickpeas (Riza't Khirtimane)
Amount Per Serving
Calories 520
Calories from Fat 72
% Daily Value*
Fat 8g12%
Sodium 950mg41%
Carbohydrates 98g33%
Protein 12g24%
* Percent Daily Values are based on a 2000 calorie diet.