"Masgouf" has to be one of my favorite words! Besides being a cool word, it also happens to be the national dish of Iraq. Assyrians don't generally cook a lot of seafood dishes, at least my mom didn't. I'm very glad Masgouf was an exception.
What Fish is Used to Cook Masgouf?
My family lived in Iraq in the early 1970s. We actually lived there until I was ten years old. We came to the United States in 1976. Back then, we ate Masgouf regularly.
The fish my dad used to bring home was tastier than any fish I've had since. Although carp aren't known for being a desirable fish to consume in America, Iraqi carp was quite delicious. At least they used to be back then.
The fish was caught straight out of the Euphrates River after all. If you know your Bible trivia, then you know that the Euphrates ran through the Garden of Eden. Perhaps that has something to do with it?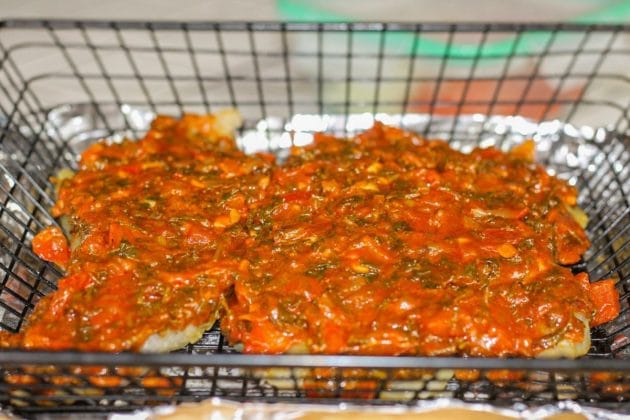 Childhood Memories
I remember when dad would come home from the market, with a large carp in hand. The fish would be handed over to my mom, who excitedly did her magic.
She began by butterflying the beautiful fish. Later she worked on the sauce, while dad prepared the fire pit outside. After mom seasoned the fish and smothered it with the sauce, dad would carefully suspend it over the fire, using two stakes.
I can still remember the heavenly aroma! When it was time to eat, we would spread a blanket on the ground, and enjoy the meal outside. Mom always served this dish with her Vermicelli Rice.
Eating masgouf always takes me back to those simpler days gone by; oh how I miss them!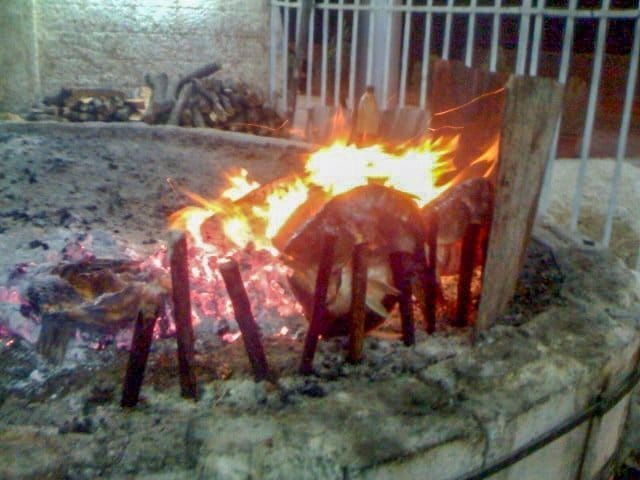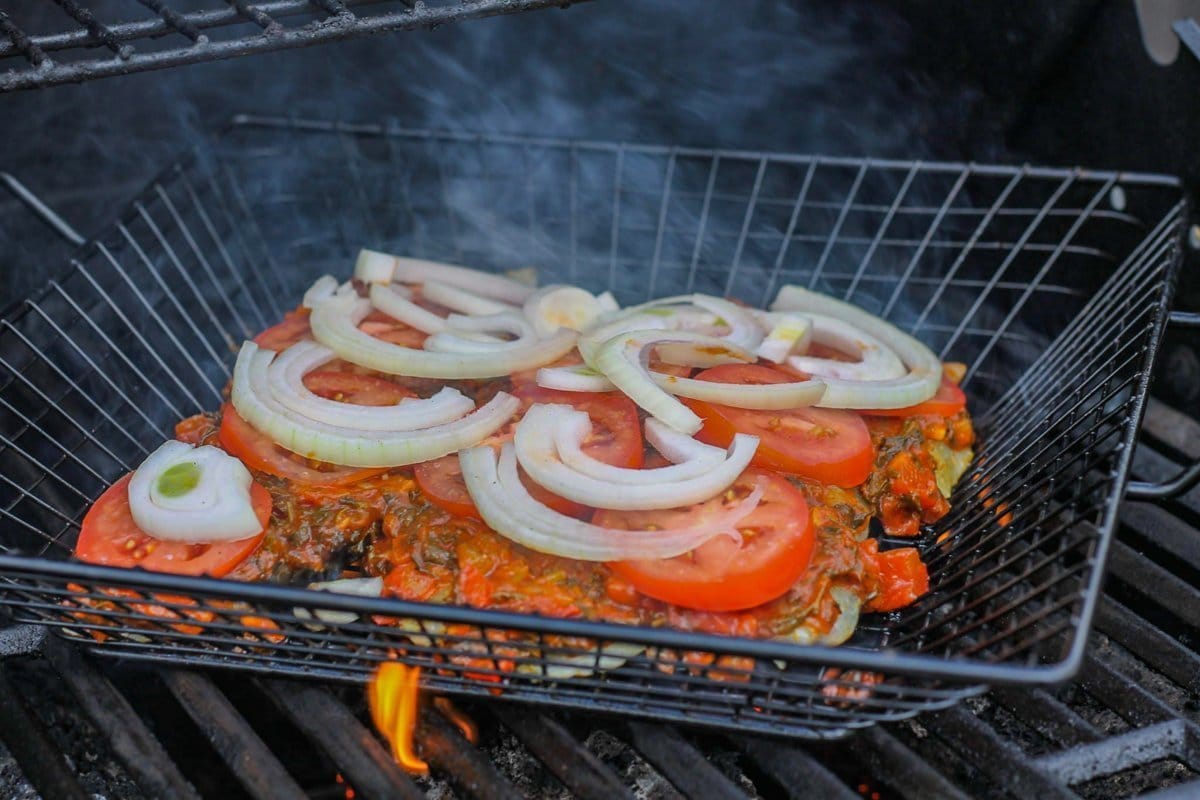 Since I don't currently have a fire pit to cook masgouf the proper way, I use the second best thing, a grill basket.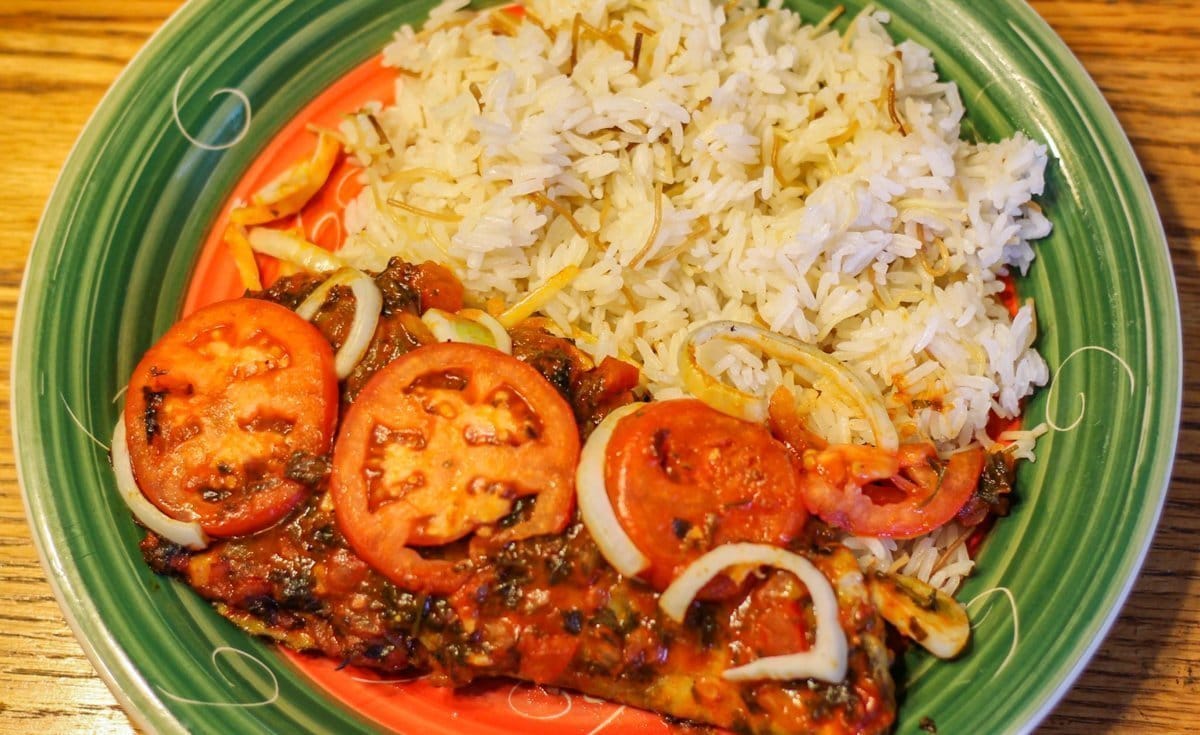 Do you Pinterest? Please pin & share!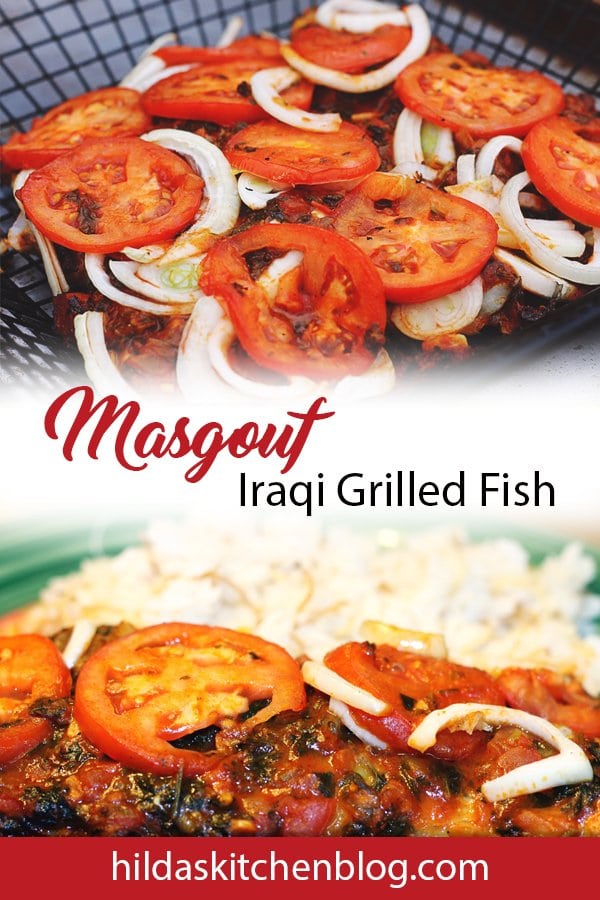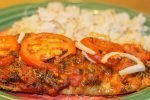 Masgouf / Iraqi Grilled Fish
Iraq's International Dish, Masgouf; carp, grilled over an open fire, with a spicy tomato-based sauce.
Cuisine:
Assyrian, Middle Eastern
Ingredients
1

lb.

white fish fillets

2

tsp.

salt

divided

2

tsp.

curry

divided

1

large

onion

2

cloves

garlic

3

T.

vegetable oil

2

medium

tomatoes

1 1/2

cups

chopped parsley

1/2

6 0z. can

tomato paste

2

T.

vinegar

2

T.

lemon juice

1/2

cup

water

1/2

tsp.

cayenne pepper

optional
Instructions
Wash fish fillets and pat dry. Rub with one teaspoon salt and one teaspoon curry. Place on grill-safe pan or tray that's been covered with foil. Cover, to keep the fish from drying out and refrigerate until ready to cook.

Sauce: Chop half of the onion, along with the cloves of garlic, and sauté in vegetable oil until translucent.

Chop one of the tomatoes and add to the same pan, along with the parsley, tomato paste, vinegar, lemon juice, water, and cayenne pepper, if using. Stir until all the ingredients come together to form a nice, rich sauce. Simmer for approximately five minutes and set aside to cool.

Slice the remaining onion and tomato. Remove the fish from the refrigerator and smother with the tomato sauce.

Arrange the sliced tomatoes and onions on top of the sauce. I grilled the fish in a grill basket to achieve that classic smokey masgouf flavor, but you can also bake it in the oven.

Heat your barbecue grill, and once hot, add the fish. Cook for approximately 20 minutes, or until the sauce is bubbly and the fish is cooked.

I flipped the tomatoes over halfway through, so they would soak up the flavor of the sauce and cook more. In the future, I plan on purchasing one of those grill baskets that have a handle and can be flipped over to the other side. That type of basket would have helped to cook the tomatoes evenly.

Traditionally masgouf is served with white rice, topped with the tangy tomato sauce.
Nutrition Facts
Masgouf / Iraqi Grilled Fish
Amount Per Serving
Calories 440
Calories from Fat 198
% Daily Value*
Fat 22g34%
Cholesterol 0mg0%
Sodium 2388mg104%
Carbohydrates 21g7%
Protein 43g86%
* Percent Daily Values are based on a 2000 calorie diet.