"Masgouf" is Iraq's National Dish. The word "Magouf" means "covered" in Arabic so this recipe really lives up to its name! Fresh carp is butterflied and smothered in a delicious spicy tomato sauce and cooked suspended over hot coals. Assyrians don't generally cook a lot of seafood dishes, at least not in my extended family. However, I'm very glad that Masgouf was an exception, which is always served over a bed of Vermicelli Rice.
About this Masgouf Recipe
In the early '70s, my family lived in Iraq. We actually lived there until I was ten years old. We moved to the United States in 1976. Back then, mom prepared Masgouf quite regularly.
I remember back when my father would come home from the market, with a large carp in tow. The fish would be handed over to my mom, who would work her magic to prepare the BEST Masgouf I've ever tasted.
Mom began by butterflying the beautiful, large carp. Next, she worked on the sauce, while my father prepared the firepit outside.
After mom seasoned the fish and smothered it with sauce, dad would carefully suspend the thing of beauty over the fire.
Isn't it crazy that I can still smell the heavenly aroma?
When it was time to eat, we would spread a blanket on the ground. The Masgouf was the star of the show, while Vermicelli Rice was always served on the side. Both were placed in the center of the blanket. Our entire family (nine in total) would sit in a large circle around the meal. We feasted like kings, under the stars.
How to Make This Recipe
Preparing the Fish
Wash fish under running water and pat dry.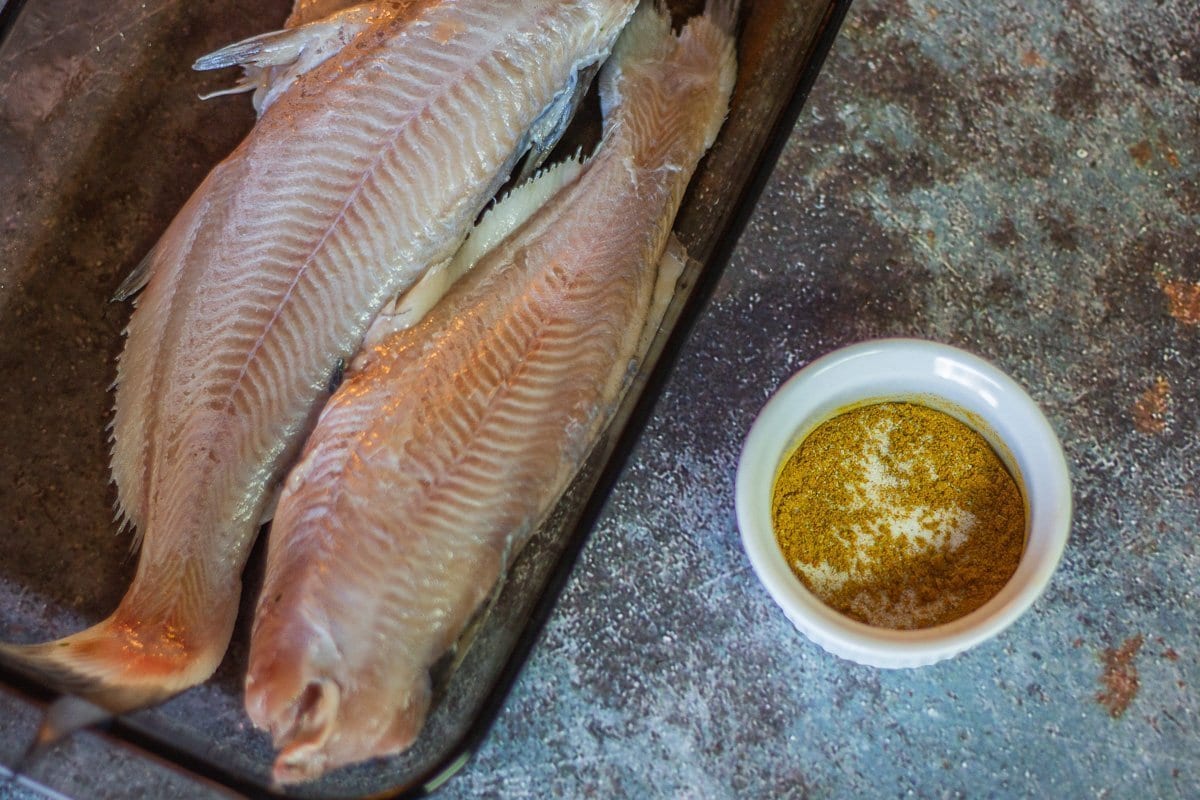 Rub salt and curry into fish and set aside as you prepare the sauce.
Preparing the Sauce
Chop half of the onion, along with the cloves of garlic and sauté in vegetable oil.
Chop one of the tomatoes and add to the same pan, along with the parsley, tomato paste, vinegar, lemon juice, water, salt, curry, and cayenne pepper.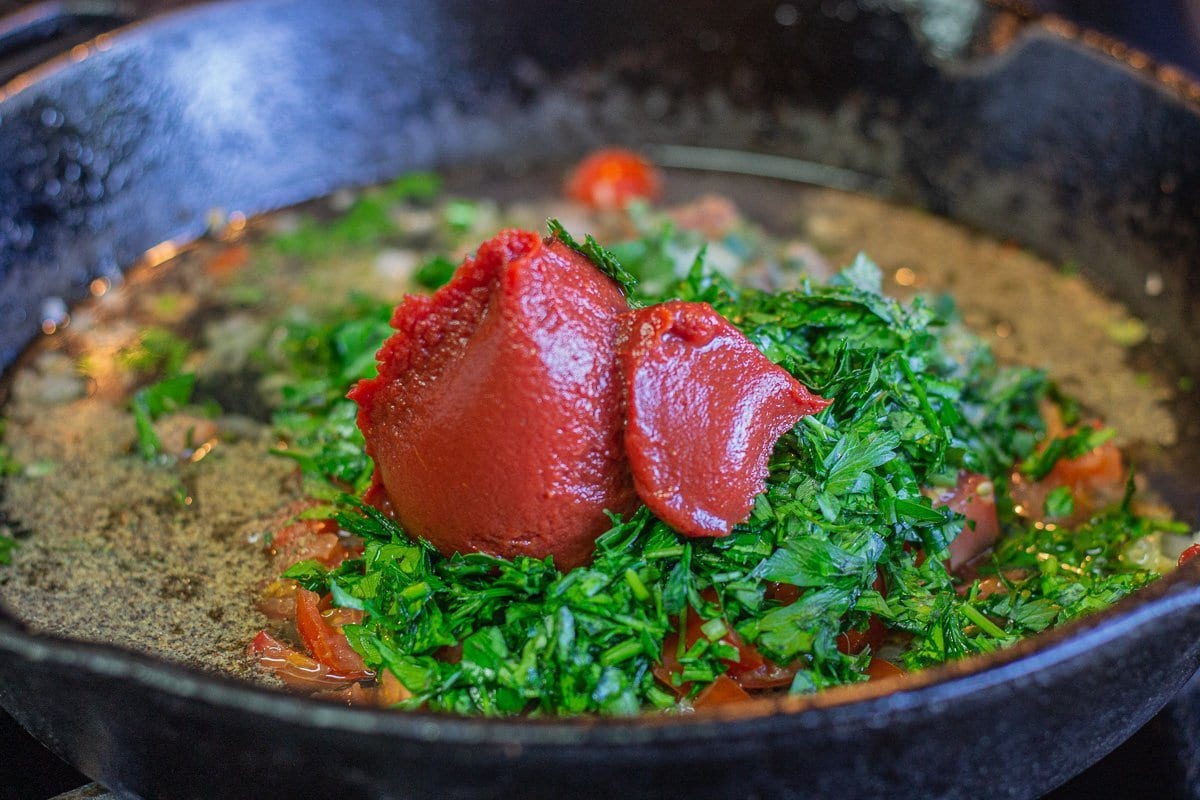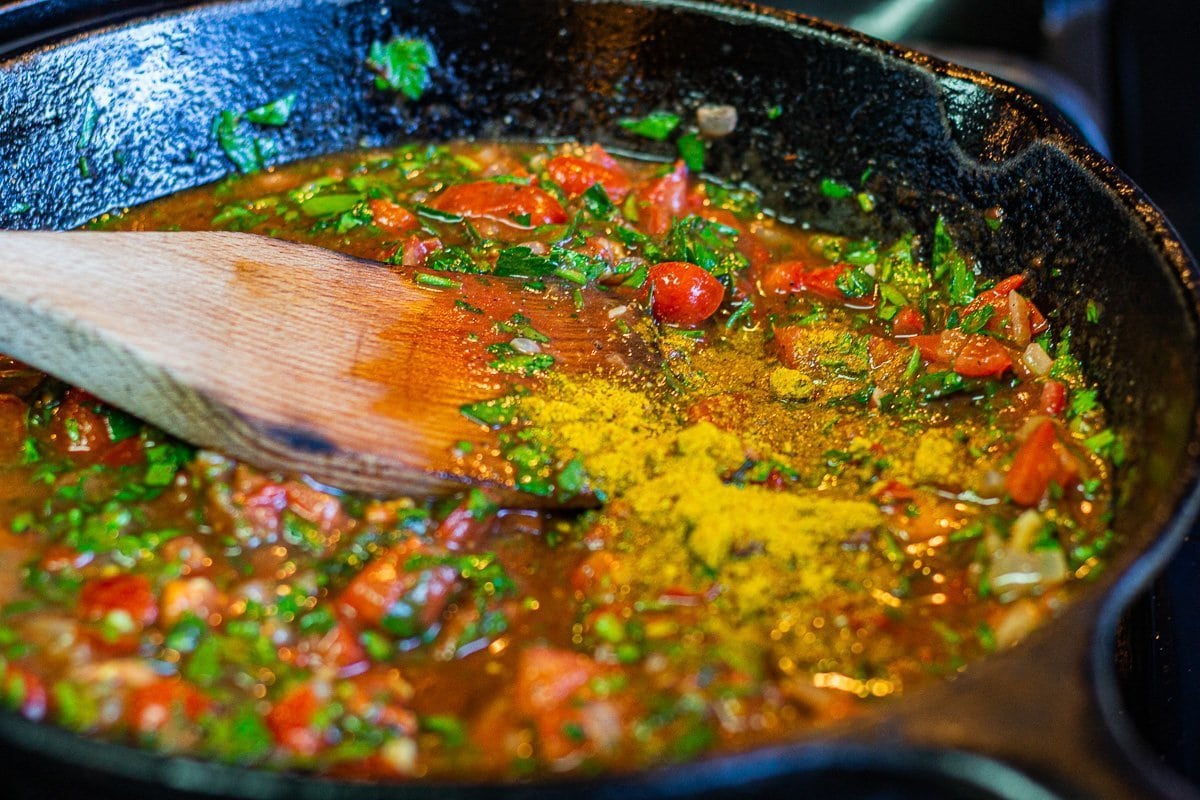 Stir until all the ingredients come together to form a rich sauce.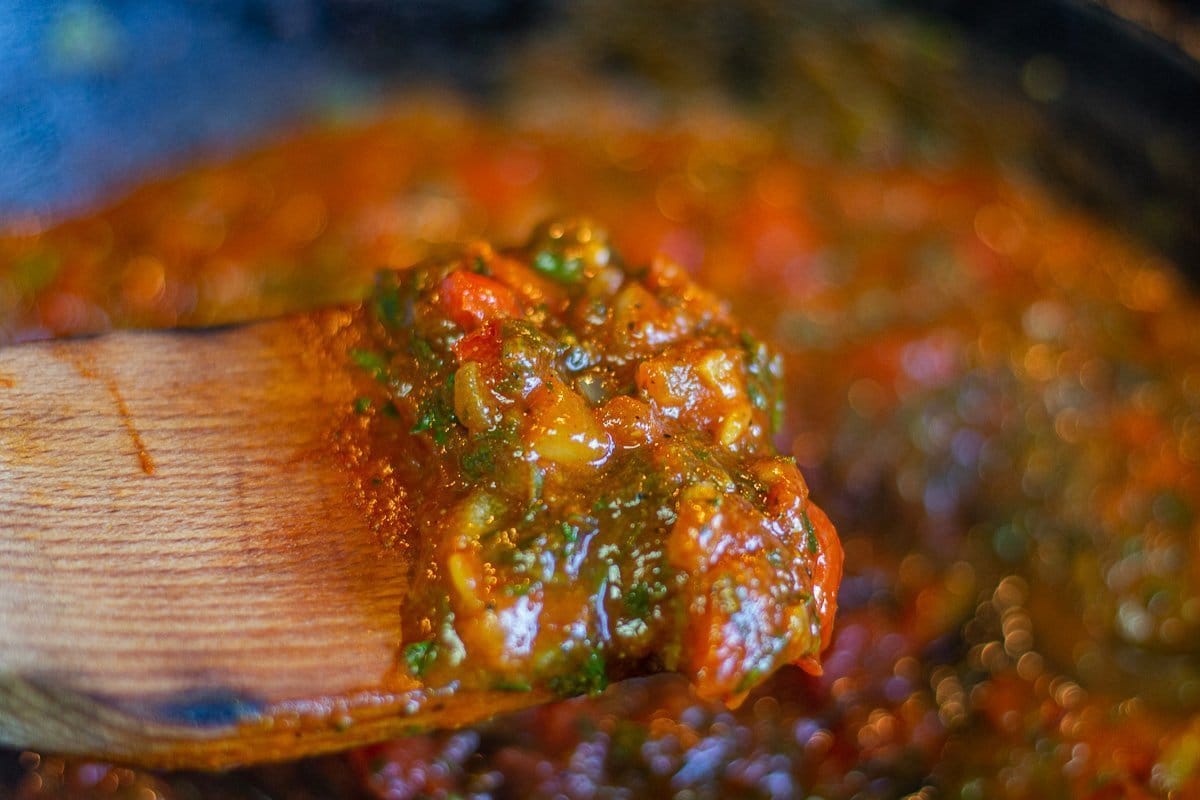 Simmer for five minutes.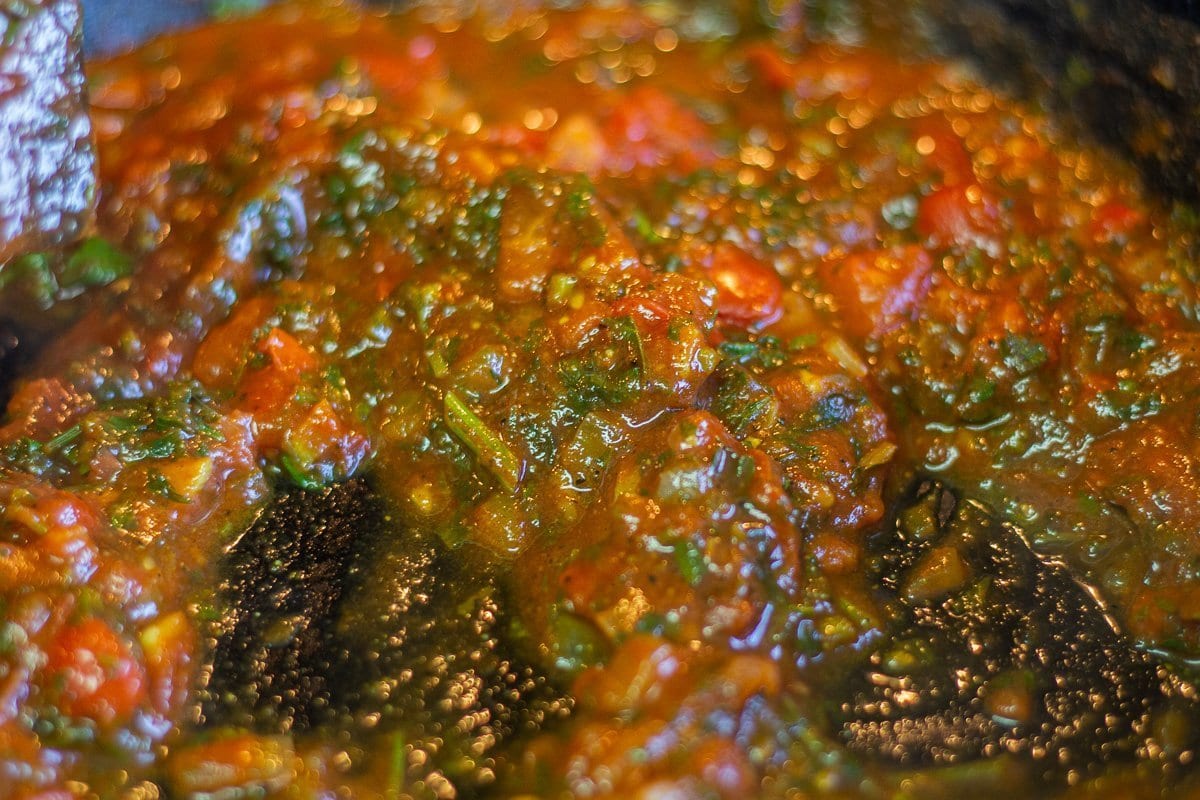 Cooking the Fish
Smother the fish with the tomato sauce. Slice and arrange the remaining tomatoes and onions on top of the fish.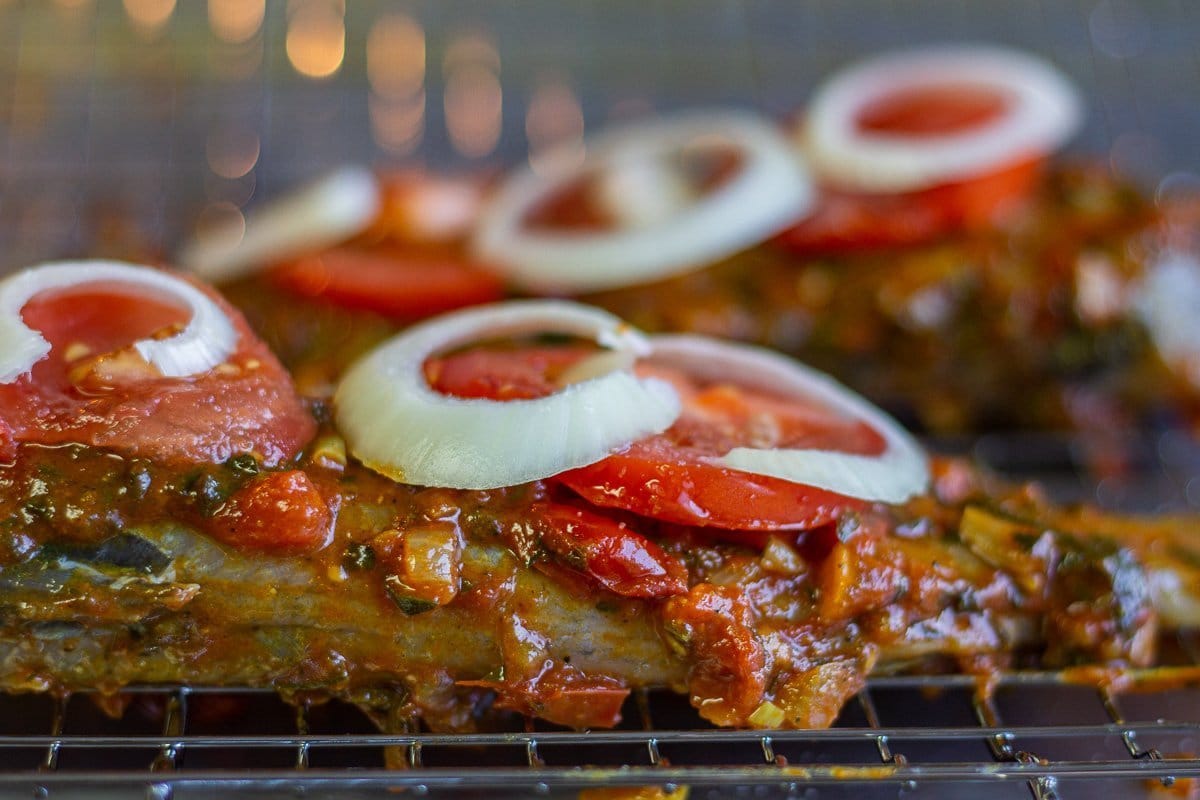 Grill the fish in a grill basket for 20 minutes, flipping halfway.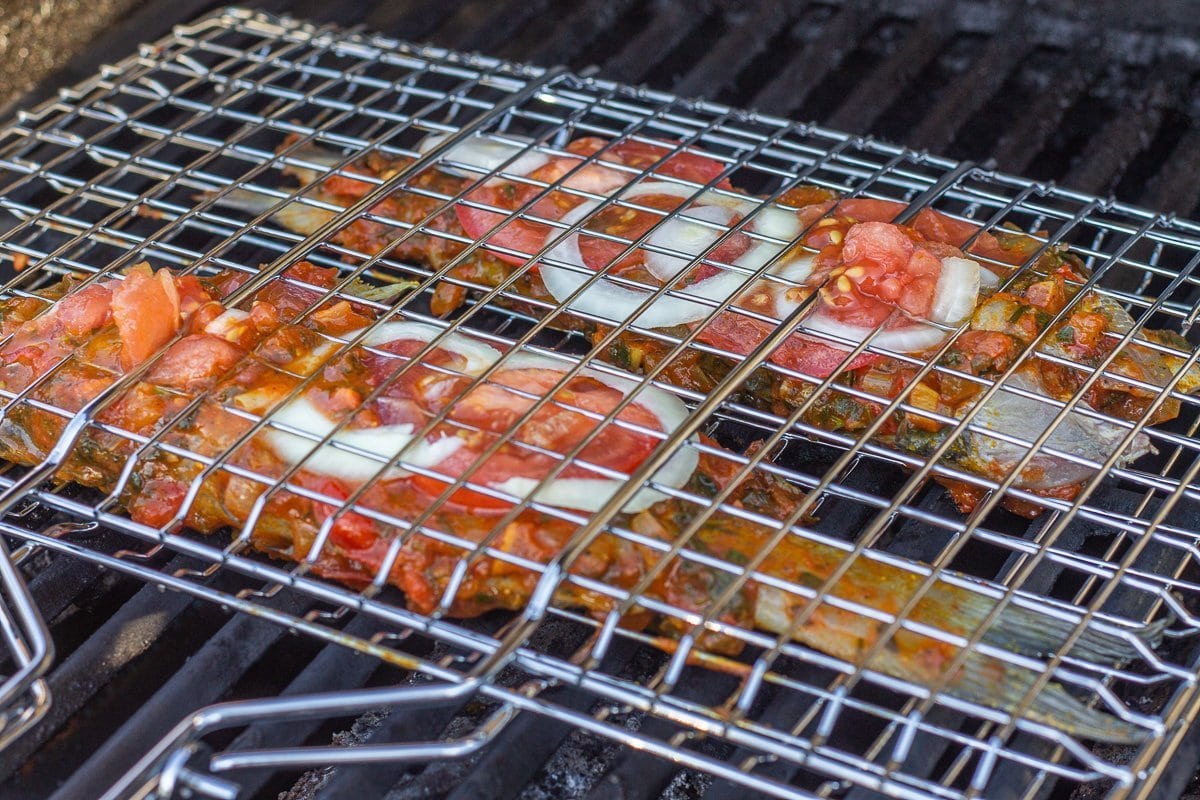 If you prefer, bake in the oven for 30 minutes at 375-degrees F. Broil for a few minutes before serving.
Recipe FAQs and Expert Tips
What Fish is Used to Cook Masgouf?
In Iraq, carp is used to make Masgouf. The large carp mom used to make masgouf was tastier than any fish I've had since.

Although carp isn't a fish known for being highly desirable in America, Iraqi carp was actually exceptional. At least they used to be back in the early '70s when we lived in Iraq.

After all, the carp was
caught straight out of the Euphrates River. If you know your Bible trivia, then you are aware that the Euphrates River ran through the Garden of Eden. Maybe that had something to do with how good it tasted?

These days I use any mild white fish. This includes tilapia, catfish, or lingcod (when I can get my hands on some).
What's the Traditional Way of Preparing Masgouf?
Back in Iraq, the masgouf would be suspended over two stakes and cooked over a fire. This image depicts the way it's cooked. The only thing missing is the sauce that masgouf is normally smothered with.

These days I prepare masgouf in the oven or barbecue it using a grill basket. No matter what method I use to cook the Masgouf, or who I'm enjoying it with, it always takes me back to those simpler days gone by; oh how I miss them.

These days when I prepare masgouf, it's not as an elaborate of an experience. I'm usually eating it alone, or maybe with a friend or two. But instead of dwelling on the past, I look forward to creating new memories with old and new friends!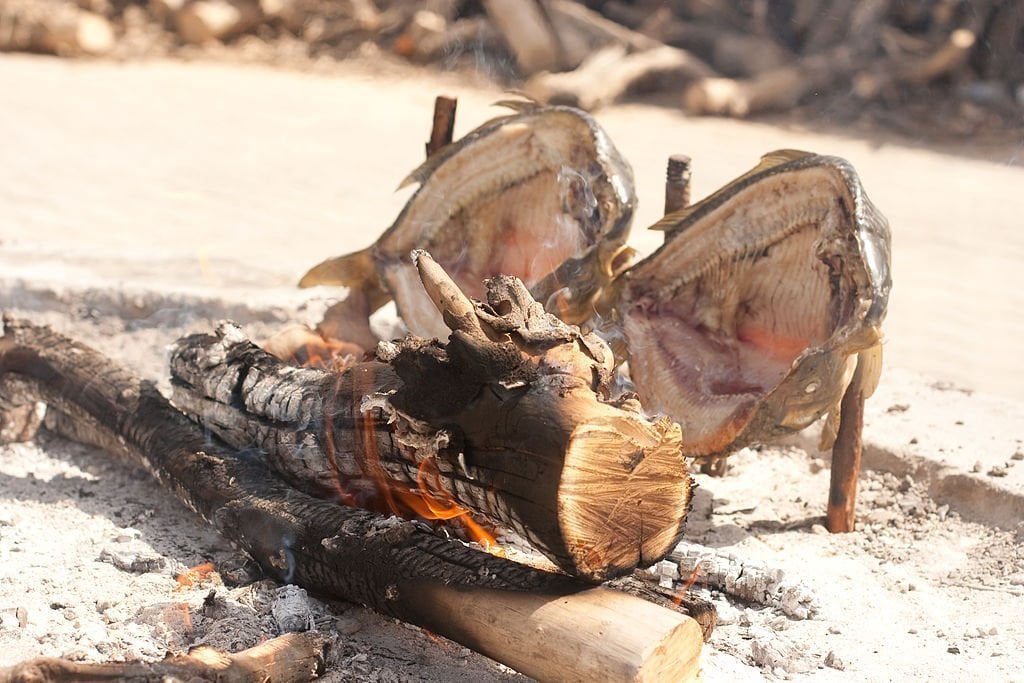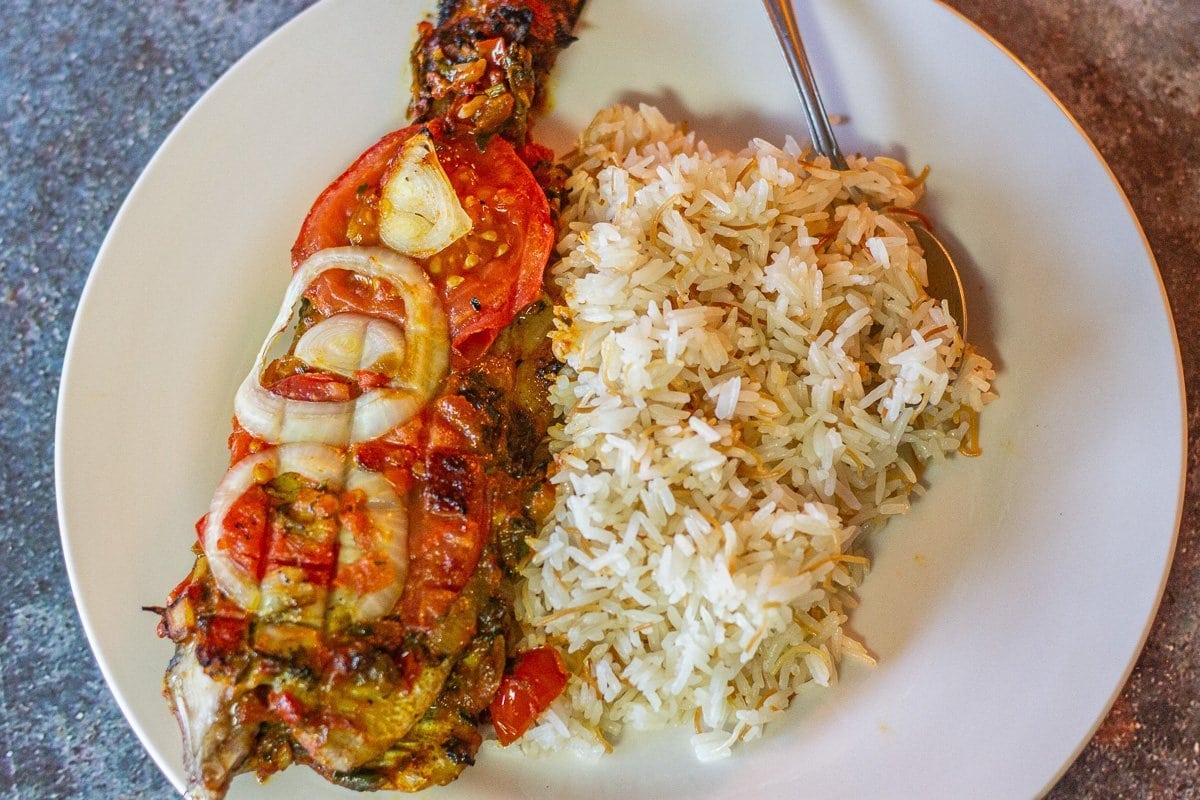 ---
Related Recipes
---
Love this recipe? Please leave a 5-star 🌟🌟🌟🌟🌟rating in the recipe card below & a review in the comments section further down the page.

Stay in touch with me through social media @ Instagram, Pinterest, TikTok, and Facebook. Don't forget to tag me when you try one of my recipes!
📖 Recipe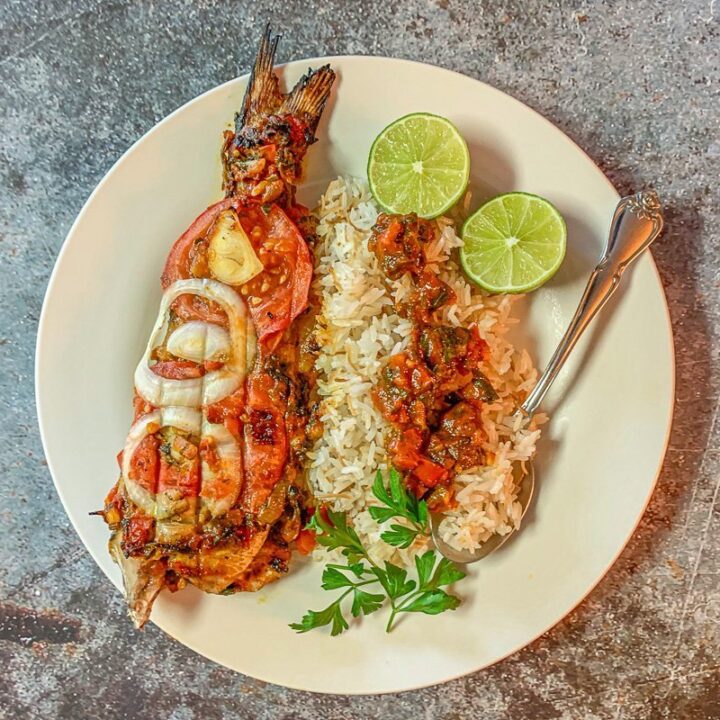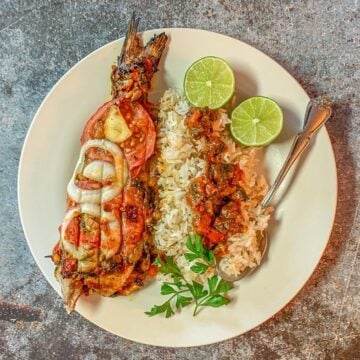 Masgouf / Iraqi Grilled Fish
Iraq's International Dish, Masgouf; carp, grilled over an open fire, with a spicy tomato-based sauce.
Print
Rate
Ingredients
1

lb.

white fish fillets

2

tsp.

salt

divided

2

tsp.

curry

divided

1

large

onion

2

cloves

garlic

3

T.

vegetable oil

2

medium

tomatoes

1 ½

cups

chopped parsley

½

6 0z. can

tomato paste

2

T.

vinegar

2

T.

lemon juice

½

cup

water

½

tsp.

cayenne pepper

optional
Instructions
Wash fish fillets and pat dry. Rub them with one teaspoon salt and one teaspoon curry.

Place the fish on a grill-safe pan or tray that's been covered with foil. Cover, to keep the fish from drying out and refrigerate until ready to cook.

Sauce: Chop half of the onion, along with the cloves of garlic, and sauté in vegetable oil until translucent.

Chop one of the tomatoes and add to the same pan, along with the parsley, tomato paste, vinegar, lemon juice, water, remaining salt, and curry.

Add cayenne pepper, if using. Stir until all the ingredients come together to form a nice, rich sauce. Simmer for approximately five minutes and set aside to cool.

Slice the remaining onion and tomato. Remove the fish from the refrigerator and smother with the tomato sauce.

Arrange the sliced tomatoes and onions on top of the sauce. I grilled the fish in a grill basket to achieve that classic smokey masgouf flavor, but you can also bake it in the oven.

Heat your barbecue grill, and once hot, add the fish. Cook for approximately 10 minutes. Flip halfway through.

Served with white rice, topped with the tangy tomato sauce.
Nutrition
Calories:
440
kcal
|
Carbohydrates:
21
g
|
Protein:
43
g
|
Fat:
22
g
|
Saturated Fat:
3
g
|
Cholesterol:
0
mg
|
Sodium:
2388
mg
|
Fiber:
7
g