Who doesn't love a piece of beautifully charred, perfectly seasoned, Grilled Jerk Chicken? Lately, it's been really helping me stick to my low-carb diet. Before we get to the recipe, here are some interesting facts about this tasty chicken. According to Wikipedia, the word "Jerk" comes from the Spanish word "Charqui." This word was used to describe dried or "Jerked" meat. It is also where we got the word "Jerky."  Jerk chicken was developed in Jamaica. Escaped African slaves, fleeing from British soldiers, fled into Jamaica's mountains. Once there, they used resources available to them to survive. Local spices were used to season the wild hogs that they captured, and roasted over open flames to make jerk pork. Over time, other meats were used, like chicken. These days jerk-stands litter the streets of Jamaica, at least that's what I hear…
Our Jamaican Honeymoon
You're probably expecting a lovely, romantic story about my Jamaican honeymoon. I wish I had one for you. My husband and I both worked at a local county jail when we first met. How many people can say they met in jail? After dating for three months, he asked me to marry him. He even presented me with a ring made with a twig and a pull-tab from a beer can. Romantic, right? We waited another fifteen months until we said: "I do." Unfortunately, we might have waited a bit too long. Both of our vacation requests were denied because the county had a vacation freeze. They didn't care about our Jamaican dream. We had a lovely weekend in Tahoe, and we're back to work a few days later!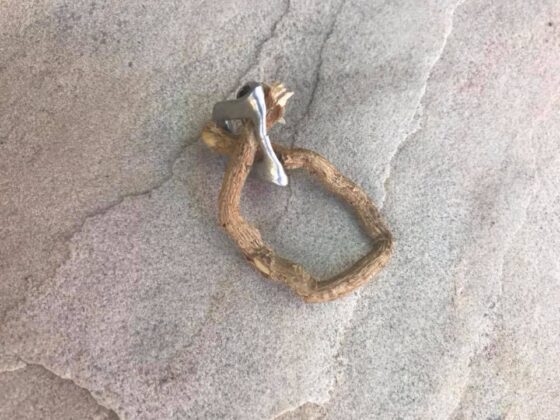 Grilled Jerk Chicken Serving Suggestions
This Grilled Jerk Chicken goes great with my Creamy Coconut Rice recipe. The spiciness of the Grilled Jerk Chicken pairs wonderfully with the sweetness and creaminess of the coconut rice. To complete this great meal, consider throwing some corn on the grill while you have the barbecue going!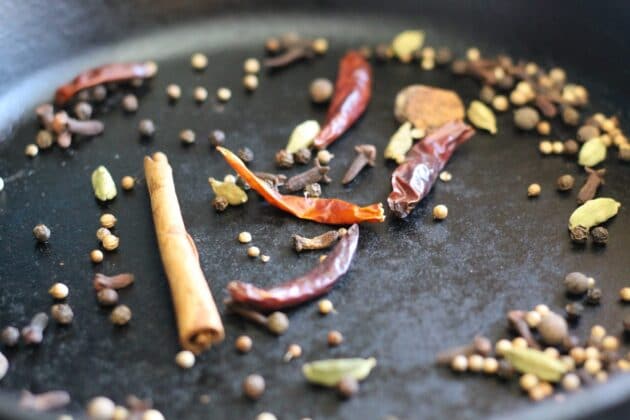 Special Tools Needed
A spice grinder comes in very handy for this recipe. You can use a coffee grinder like I do, just make sure you give it a thorough cleaning before making your next cup of coffee. I don't want to receive any nasty comments about jerk-flavored coffee! I also love my cheese grater/lemon zester, it's perfect for grating nutmeg. By the way, if you're still using nutmeg powder, please do me a favor and go dump it in the trash. Until you smell the amazing aroma of freshly grated nutmeg, you won't know what you're missing! Another thing I recommend is a food processor. I use mine to make chili sauce, salsa, hummus, tahini paste and much more!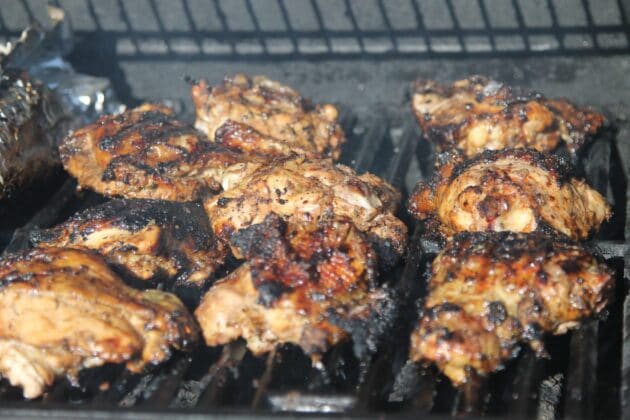 Do you Pinterest? Please help a girl out by pinning and sharing!
---
Grilled Jerk Chicken
Authentic Jerk Chicken that you can make at home.
Ingredients
Spices
1/2

cinnamon stick

1/2

nutmeg

whole

1

tsp.

peppercorns

whole

1

tsp.

cloves

whole

1/2

tsp.

cardamom pods

1

tsp.

allspice

whole

5

Arbol chilis

dried
Herbs & Vegetables
1

inch

ginger

peeled

6

cloves

garlic

1

medium

onion

1

handful

thyme

2

serrano peppers

3

scallions
Marinade
3/4

cup

soy sauce

1/4

cup

teriyaki sauce

1/4

cup

brown sugar

1/4

cup

lime juice

1/4

cup

apple cider vinegar

3 to 4

lbs.

chicken pieces
Instructions
Spices: Toast all the spices, including the Arbol chilis, in a hot skillet, until aromatic.

When cool enough to handle, break the cinnamon stick into a few pieces and add to the coffee grinder. Add the remaining contents of the skillet, except for the nutmeg.

Pulse the contents of the mill until the ingredients are ground finely.

If you find some larger pieces remaining, sift the contents of the grinder. Grate the nutmeg into the spice mix.

Marinade: Chop the vegetables, and add to a food processor. Top with the marinade ingredients, and spices. Pulse until everything is finely chopped.

Place chicken pieces in a large ziplock bag. Pour the marinade over them. Seal the bag, and make sure the marinade is evenly distributed between the chicken pieces. Refrigerate for a minimum of two hours or overnight.

Grill chicken over medium heat. Rotate the chicken as needed, until it's cooked all the way through. Make sure you allow the chicken to char, because it's not jerk chicken unless it's charred!
Nutrition Facts
Grilled Jerk Chicken
Amount Per Serving
Calories 589
Calories from Fat 144
% Daily Value*
Total Fat 16g 25%
Cholesterol 182mg 61%
Sodium 3133mg 131%
Total Carbohydrates 26g 9%
Protein 70g 140%
* Percent Daily Values are based on a 2000 calorie diet.