If you're looking for a relatively simple and healthy coleslaw recipe, you've come to the right place! Besides being very easy to prepare, this oil and vinegar coleslaw is actually good for you!
Never thought you'd hear that about coleslaw, did you? We are saying goodbye to gobs of mayo, and loads of sugar that coleslaw is usually loaded with. Instead, we are using vinegar, lemon juice, a small amount of oil, and a touch of honey for sweetness.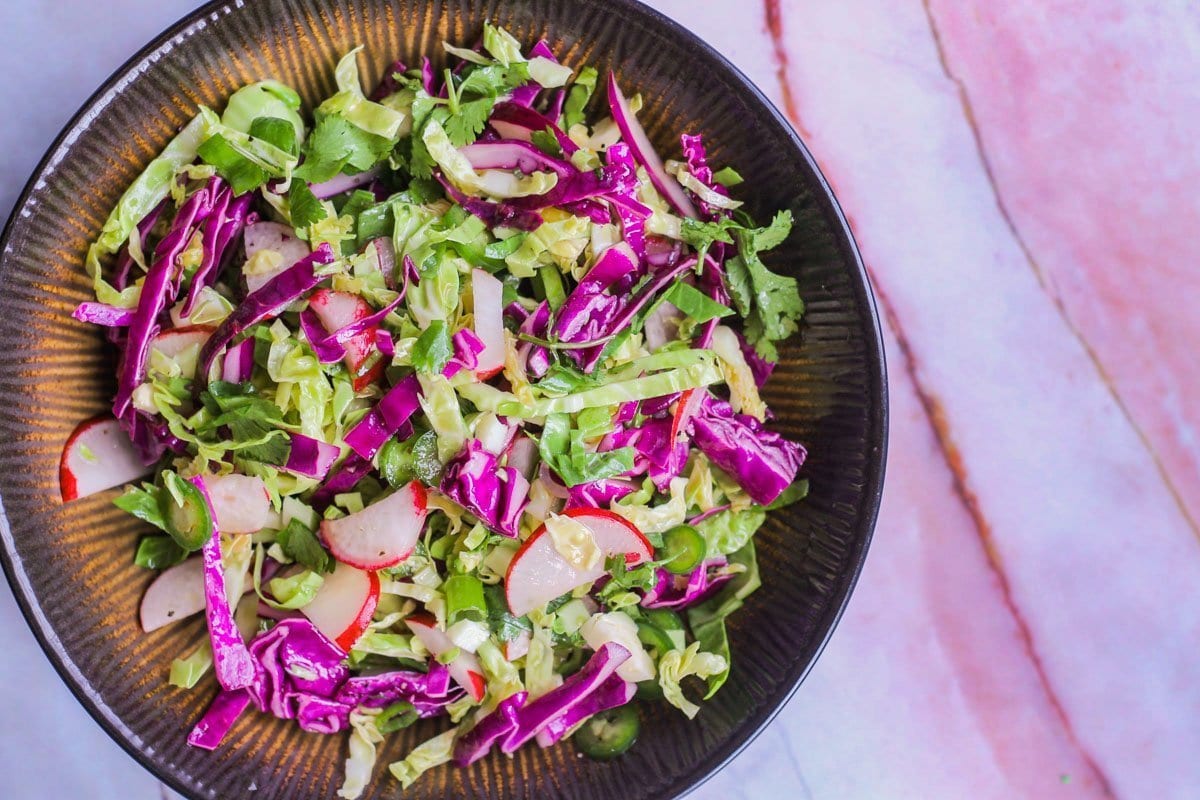 Oil and Vinegar Coleslaw
"Coleslaw" is a Dutch term meaning "cabbage salad" According to The Joy of Cooking, raw cabbage is the only consistent ingredient in coleslaw; and here I am replacing the green cabbage with Brussel sprouts! However, in my defense, Brussel sprouts are in the cabbage family, so I'm not that out of line.
Although most American coleslaw is mayonnaise-based, it's not the case in the rest of the world. Coleslaw is served in other countries as well, but usually with a vinegar-based dressing, similar to this recipe.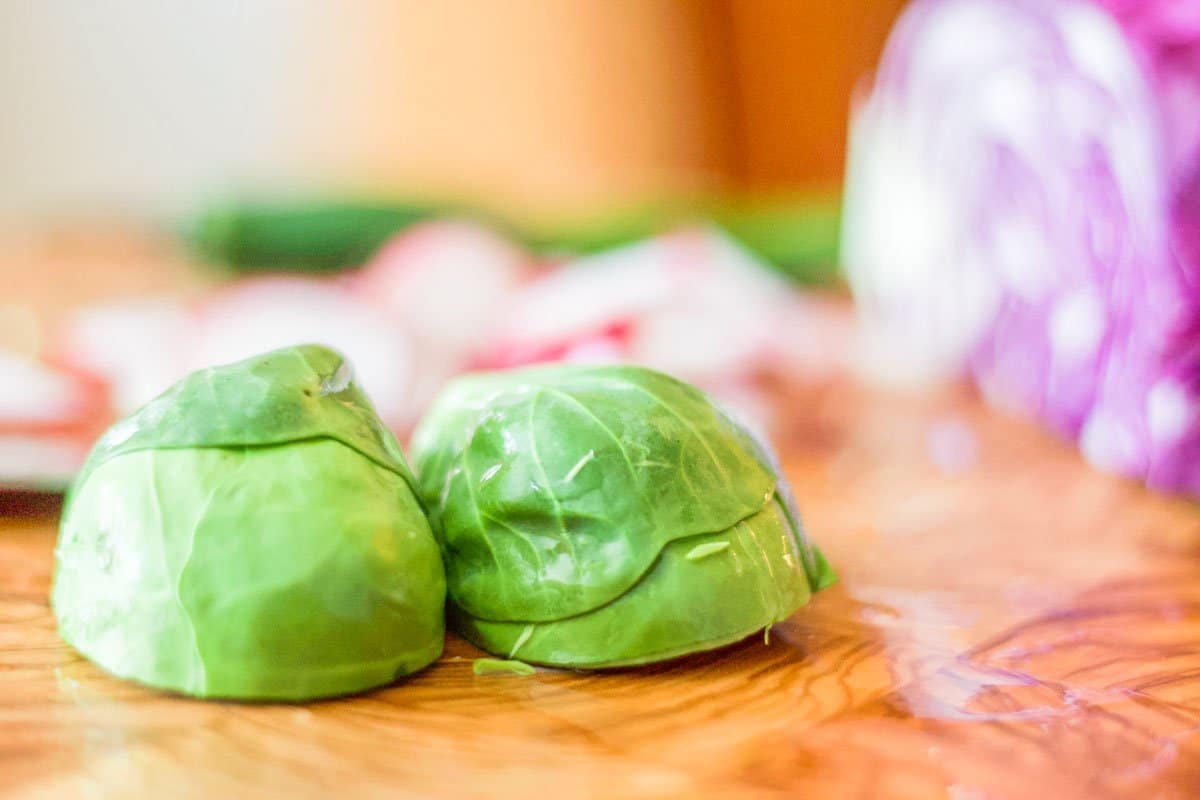 What Ingredients Are in Coleslaw?
Besides cabbage, carrots are probably the next most popular ingredient in coleslaw. You'll notice I left the carrots out of this recipe. Although I had every intention of adding them, I realize after putting this recipe together that I left them in the fridge. And guess what? I didn't miss them at all!
You can certainly shred some carrots in your slaw if you prefer. Other popular ingredient options include pineapple, pickles, raisins, and even bacon…what doesn't taste better with bacon, right? For a low carb friendly version, you can omit the honey, and add some Truvia instead. One to two packets should do it!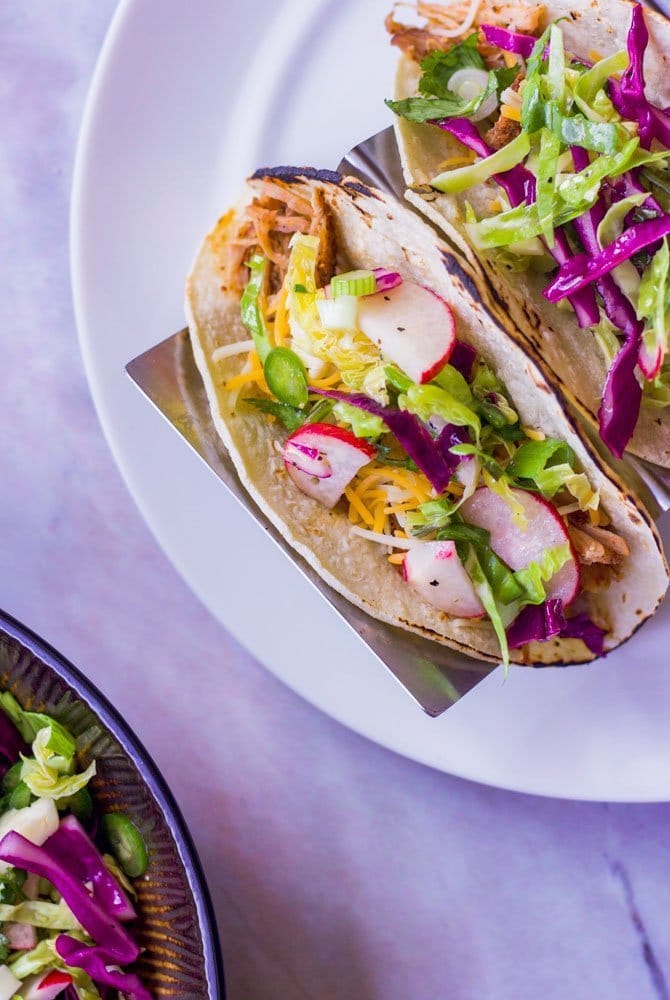 What Should You Serve with Coleslaw?
This vinegar and oil coleslaw is one of those recipes that can be served with a wide range of dishes. For example, you can serve this coleslaw over Pulled Pork or Corned Beef Tacos.
Or perhaps you can mound the coleslaw on your favorite burger recipe? You can also serve this slaw on the side with Grilled Chicken, or even Smoked Beef Brisket.
Dare I suggest that you can even have this coleslaw as your main meal; Perhaps topped with some protein? Add it in your burrito, or over some rice. How about you? Care to share your ideas with the rest of us?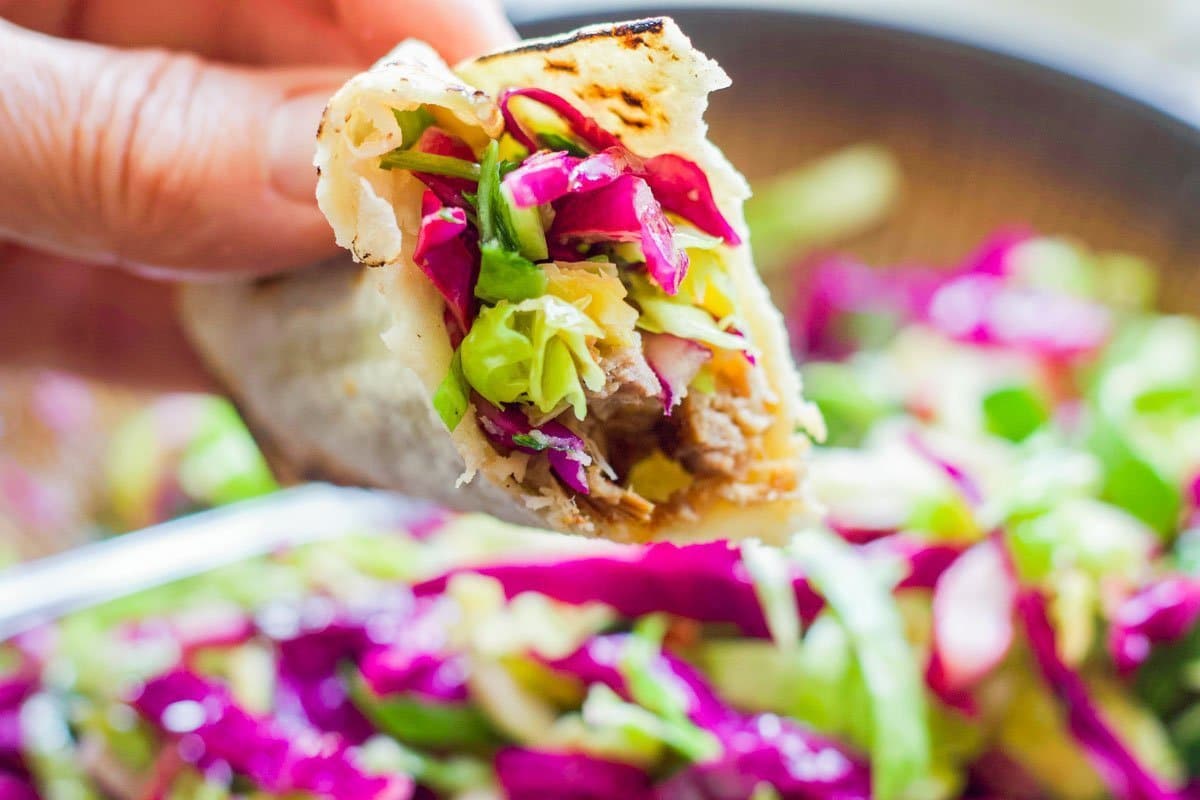 Do you Pinterest? Please pin and share this post!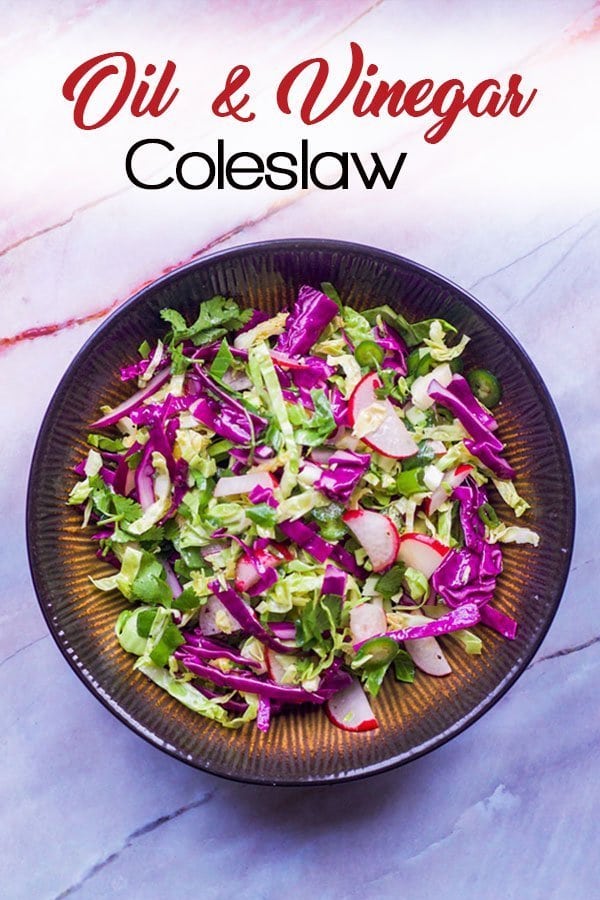 You may also enjoy the following salad recipes: Middle Eastern Chickpea Salad, Healthy Broccoli Salad, Rotisserie Chicken Salad, Tabouli, Fattoush Salad,, and Pomegranate Quinoa Salad.
If you love this recipe, please give it a five-star rating!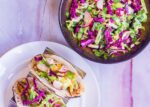 Oil and Vinegar Coleslaw Salad Recipe
Light and healthy Oil and Vinegar Coleslaw Salad Recipe
Ingredients
Coleslaw Mix:
1

cup

red cabbage

(shredded)

2

large

Brussel sprouts

(shredded)

3

scallions

(diced)

3

radishes

(cut in half & sliced)

2

T.

cilantro

(chopped)

1

serrano pepper, sliced

(optional)
Dressing:
2

T.

vegetable oil

1

T.

white wine vinegar

1

T.

fresh lemon juice

1

T.

honey

1/2

tsp.

salt

1/4

tsp.

black pepper

1/4

tsp.

mustard powder
Instructions
Add prepared vegetables and herbs in a medium-sized bowl.

Whisk dressing ingredients until thoroughly combined, and pour over the coleslaw mix.

Toss coleslaw to coat with dressing. Chill before serving.
Nutrition Facts
Oil and Vinegar Coleslaw Salad Recipe
Amount Per Serving
Calories 108
Calories from Fat 63
% Daily Value*
Fat 7g11%
Cholesterol 0mg0%
Sodium 457mg20%
Carbohydrates 10g3%
Protein 2g4%
* Percent Daily Values are based on a 2000 calorie diet.