A few weeks ago, a friend from church posted on Facebook, asking if anyone had a meat grinder he could borrow. After reading some of the comments, it quickly became apparent that this transaction involved goats. After contacting him, Austin informed me that he had raised a couple of goats for butchering. He needed the grinder to process the burger. Unfortunately, my grinder was the kind that attaches to a kitchen aide. I'd never used it for a big job like this one. However, I told Austin he was welcome to give it a shot. It turns out that the grinder did the job beautifully! Austin was sweet enough to share some goat meat in return. As a result, I came up with this goat kofta kabob recipe.
What Does Goat Meat Taste Like?
Austin shared that most people he'd talked to weren't very interested in trying goat meat. He continued, "but if you'd like, I can give you some." I replied, "are you kidding? I'm Assyrian! I'd love some goat meat!" Truthfully, I'd never tried goat meat, but I've always imagined that I'd love it. I assumed it would taste similar to lamb. Goat meat is pretty lean, so Austin added 15% pork fat to bind the meat together. This weekend, Austin dropped off some burger and a roast for us to try. I cooked a small portion in a pan because I couldn't wait to find out how it tasted. Well, it turns out that goat tastes more like beef than lamb. I am officially hooked!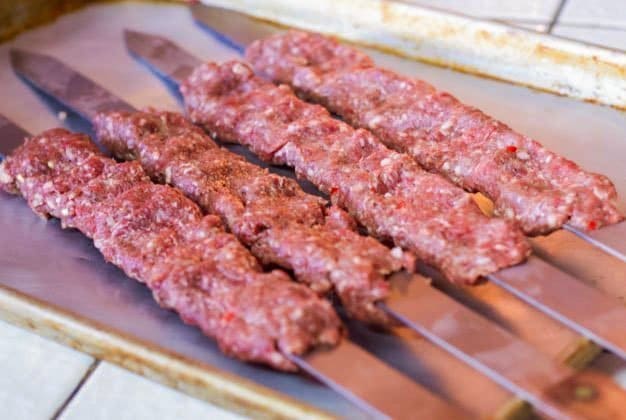 Goat Meat Recipes (Goat Kofta Kabob)
Since then, I have spent a lot of time searching for goat recipes online. I learned that goat meat is sometimes referred to as "chevon," which is actually a French word. I suppose it sounds fancier and maybe more intriguing than "goat meat." I wasn't able to find too many goat meat recipes online. The majority of the recipes were for Jamaican jerked goat, and goat stew. I decided to take it as a challenge to come up with my own goat recipes. This goat kofta kabob recipe is the first of hopefully many recipes to come. I only foresee one problem; who's going to supply me with more goat meat? 😉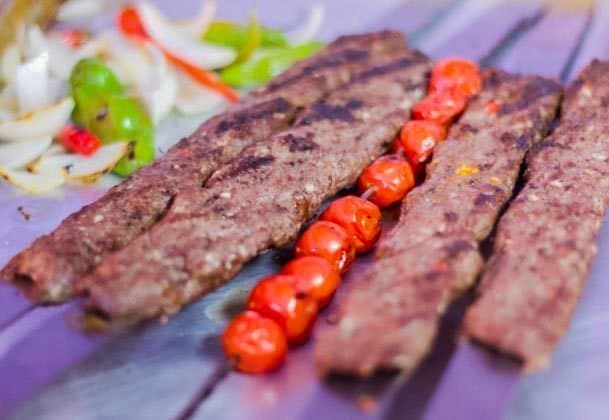 Kabob Serving Suggestions
Kabobs are traditionally served with white rice, or vermicelli rice, along with grilled vegetables. If you prefer, you can serve the kabobs with dilled rice. Better yet, wrap some fresh pita bread around the kabobs, and make yourself a Middle Eastern sandwich. Some sliced tomatoes, onion, and pickled mangos should round off the sandwich nicely!
Do you Pinterest? Please Pin & Share!
---
Don't forget to check out my Classic Middle Eastern Food Combinations.
Goat Kofta Kabobs (kebabs) Recipe
Succulent ground goat kabobs, perfect with white rice, or a green salad.
Ingredients
1

lb.

ground goat meat

1

tsp.

salt

1

tsp.

sumac powder

1/2

tsp.

black pepper

1/2

tsp.

allspice

1/8.

tsp.

ground cloves

1/8

tsp.

cinnamon

1/4

cup

white onion

minced

1

medium

cayenne pepper

minced (optional)
Instructions
Mix ground goat meat with spices.

Add in minced onion, and cayenne pepper.

Run meat through a meat grinder.

Allow to marinate in the refrigerator at least a few hours, or overnight. Form onto four flat kabob skewers.

Grill kabobs until cooked to your liking, turning only once. Don't overcook.
Nutrition Facts
Goat Kofta Kabobs (kebabs) Recipe
Amount Per Serving
Calories 370
Calories from Fat 261
% Daily Value*
Fat 29g45%
Sodium 660mg29%
Carbohydrates 8g3%
Protein 21g42%
* Percent Daily Values are based on a 2000 calorie diet.