Have you ever tried pineapple chips? If not, let's do something about it! Last Fall, Nena tried pineapple chips for the first time; it was love at first bite. Afterward, she kept asking me to get more. What's a mother to do? I looked online and found that they were ridiculously priced. So I thought, how hard can it be to make some myself? After all, I'm a food blogger, for crying out loud! Turns out I was right; with the right gadgets, they are super easy to make!
A Gourmet Gift
Last Thanksgiving, my son was training at Camp Pendelton, after completing boot camp earlier in the month. To our delight, he was allowed to come home for Thanksgiving, and bring a friend along. We had a wonderful visit with our son, and his friend, Jared. A few weeks later, we received a lovely gourmet gift box from Jared's family, to thank us for having him. The box contained delicious treats like chocolates, nuts, dried fruit, and wine (my personal favorite). Tucked amongst those goodies was a small bag of pineapple chips. It was then that Nena tried them for the first time. She has had a craving for them ever since.
Pineapple Chips Recipe 
You only need one ingredient for this recipe! All you need is a pineapple… ok, that AND a mandoline slicer. I requested this particular model from the manufacturer, which happens to be "Gossip." I wanted to try it out for this recipe; and promised to mention it in a future post, if I liked it. Luckily, I don't just like it, I love it! If you don't have one, get one! The other item that you will need is a dehydrator. I use my dehydrator on a very regular basis to dry fruit, herbs, and to make jerky. Sure you can use a knife and an oven if you absolutely have to, but I'm all about having fun in the kitchen. Sometimes that requires cool gadgets!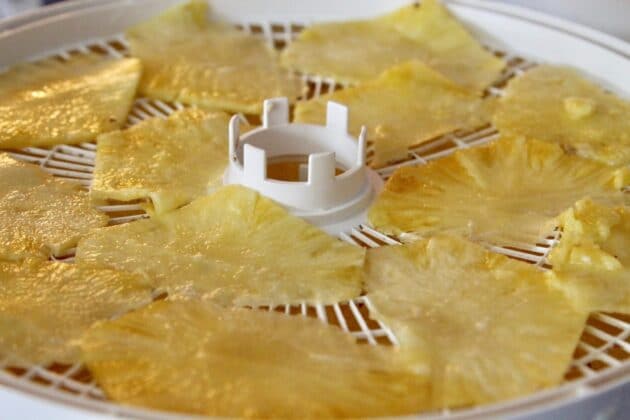 Don't you think these pineapple chips look like pressed poppies? If you like to bake, you can use them to embellish frosted cakes or cupcakes.
For other healthy snack ideas check out the following posts: Spiced Almonds, Game Jerky, Homemade Granola, and Stuffed Dates.
Do you Pinterest? Please help a girl out by pinning and sharing!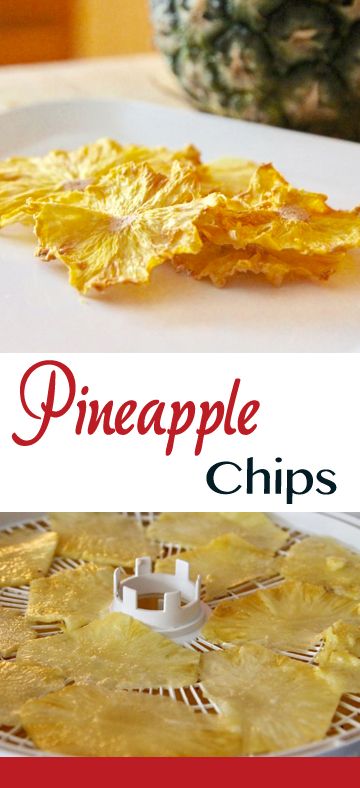 ---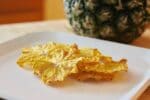 Pineapple Chips
Paper-thin pineapple chips are a perfect answer to your sweet cravings.
Instructions
Slice the top and sides off of the pineapple with a sharp knife. Leave the bottom intact. You will need a non-slippery surface to hang on to as you slice the pineapple.

Using a mandoline slicer, slice the pineapple as thin as possible. If you don't have one, you can use a sharp knife instead. Just be sure to cut the slices as thinly and evenly as possible.

Place the slices on a dehydrator, leaving some space between the slices for air circulation. Once the racks are full, cover with the dehydrator lid and choose the vegetable/fruit setting. On my dehydrator, it's set to 135 degrees F.

Begin checking the pineapple chips after 3 hours. Mine were ready after 4 hours. The chips are supposed to be crispy, but if you prefer them more pliable, remove them sooner.

The chips will get crisper as they cool, so don't expect them to be crisp before removing them, or you'll overcook them. They're almost too beautiful to eat... get over it, and eat them!
Nutrition Facts
Pineapple Chips
Amount Per Serving (0.5 oz)
Calories 50
% Daily Value*
Total Fat 0g 0%
Cholesterol 0mg 0%
Sodium 0mg 0%
Total Carbohydrates 12g 4%
Protein 0g 0%
* Percent Daily Values are based on a 2000 calorie diet.