If you're looking for a list of red white and blue desserts, you're in the right place! We've rounded up 35 sweet treats perfect for the Fourth of July, Memorial Day, Labor Day, or any day you're feeling patriotic!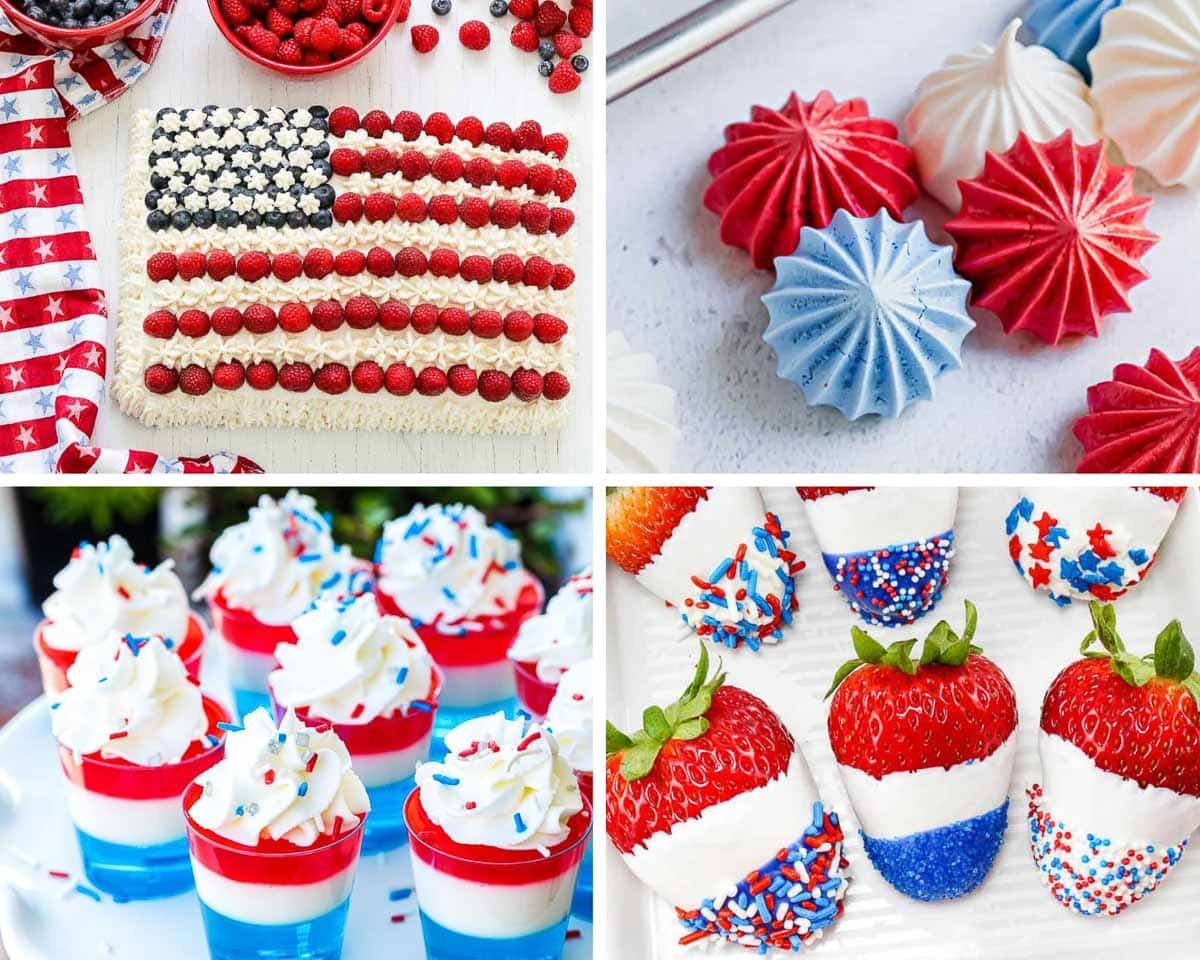 These patriotic desserts are perfect for a picnic, backyard barbecue, or any other Fourth of July celebrations you have planned. Whether you're looking for an easy recipe you can whip up at the last minute or a unique dessert to impress your guests, you'll find it here!
🇺🇸Why Do We Celebrate The 4th of July?
For those who may be unfamiliar, the 4th of July is a patriotic holiday in the United States. This holiday pays tribute to the day the USA gained its independence from Great Britain. This is why it's also commonly referred to as "Independence Day."
Typically, we spend the day with friends and family, hanging out by the pool, barbecuing some delicious grilled chicken, burgers, and hot dogs. The day is wrapped up by a sweet red, white, and blue dessert and enjoying fireworks with family and friends!
Cakes & Bakes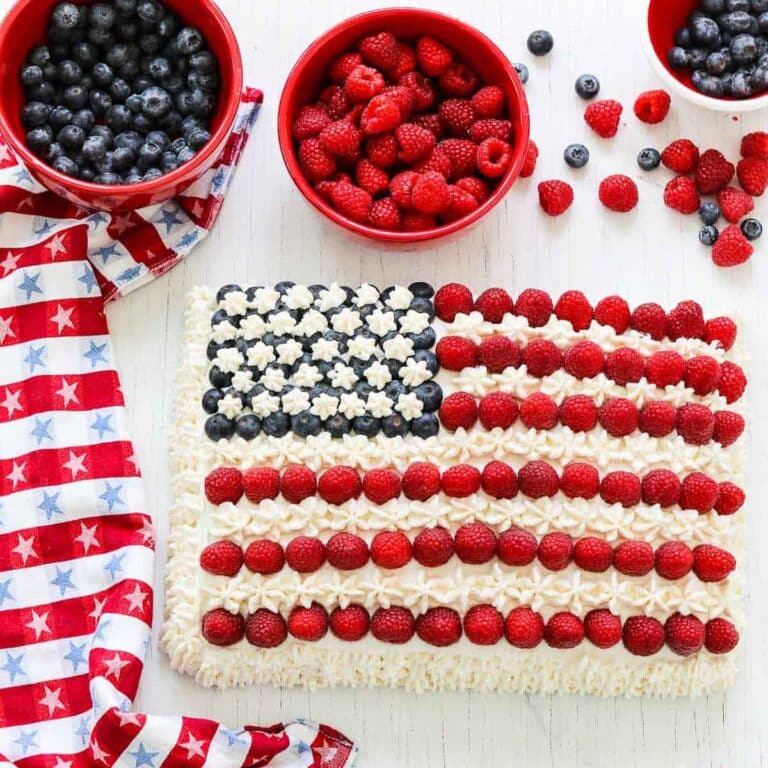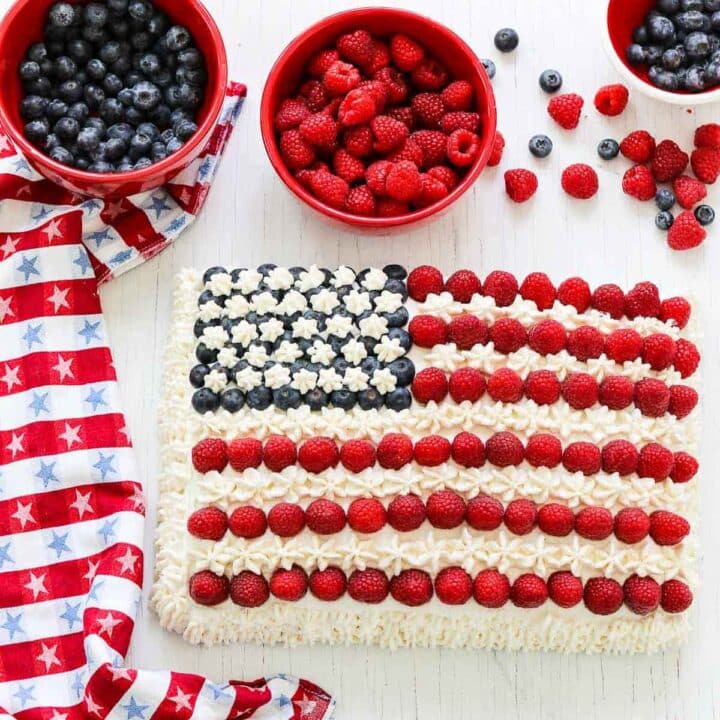 This American Flag July 4th Cake features fresh raspberries and fresh strawberries and a dreamy buttercream frosting. What could be more patriotic than a flag cake?
---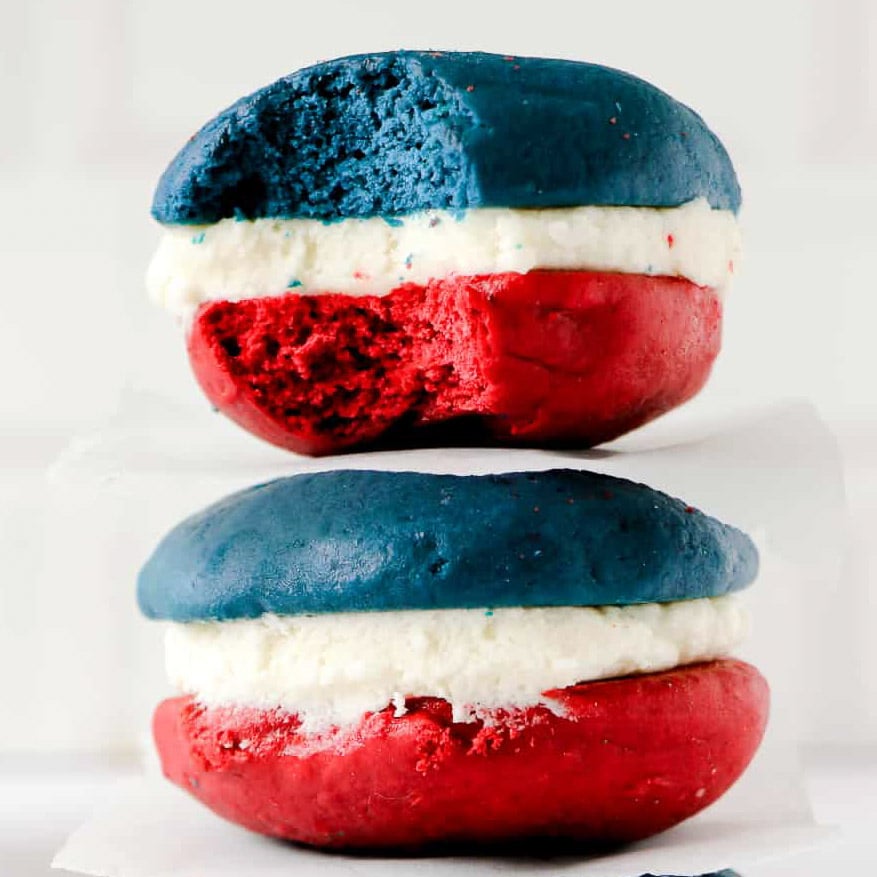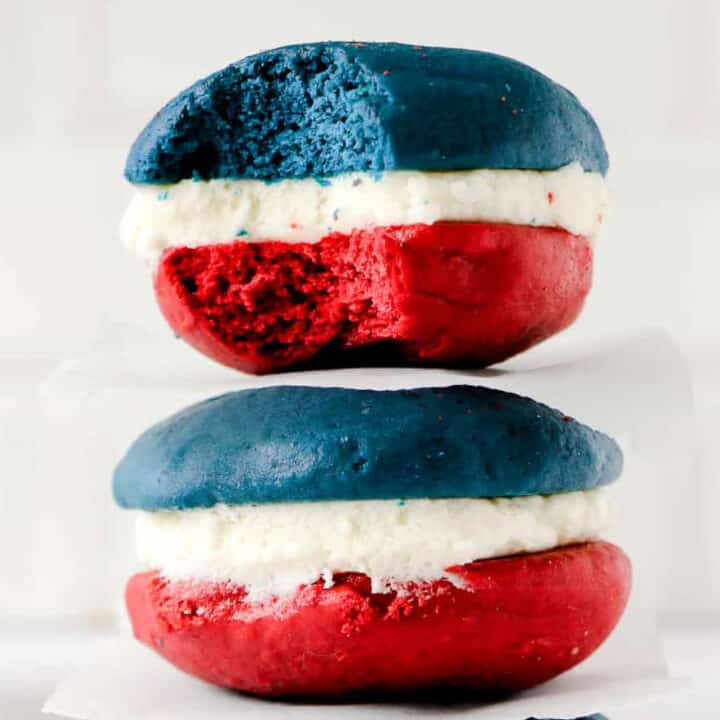 These fluffy, creamy Patriotic Whoopie Pies make great reasonably-portioned desserts. This recipe yields 12 servings, so it's perfect for 4th of July barbecues and parties.
---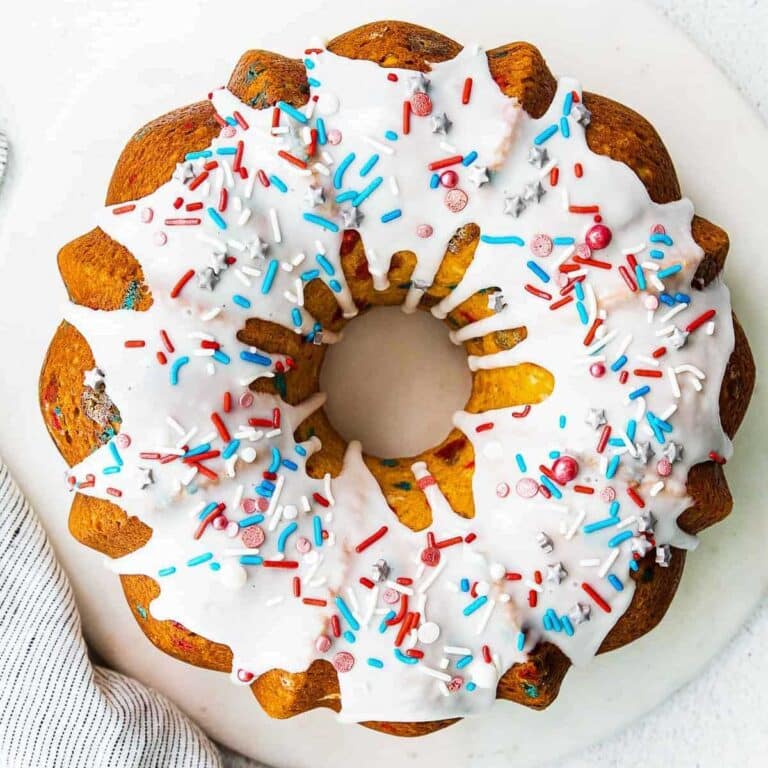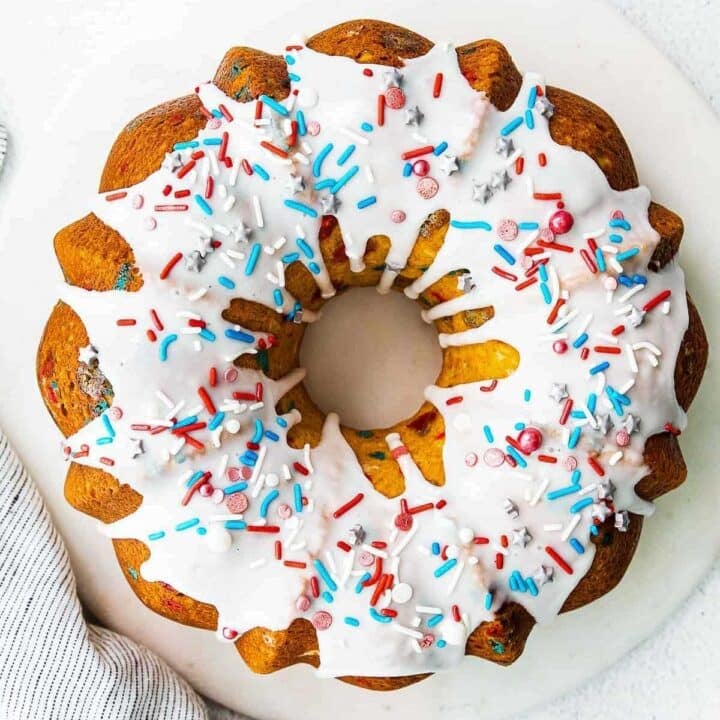 4th of July Bundt Cake is an easy cake to make with simple ingredients, but it sure is the focal point of any BBQ or dinner spread! This cake is decorated with red, white, and blue sprinkles. It's not only gorgeous but tastes great too!
---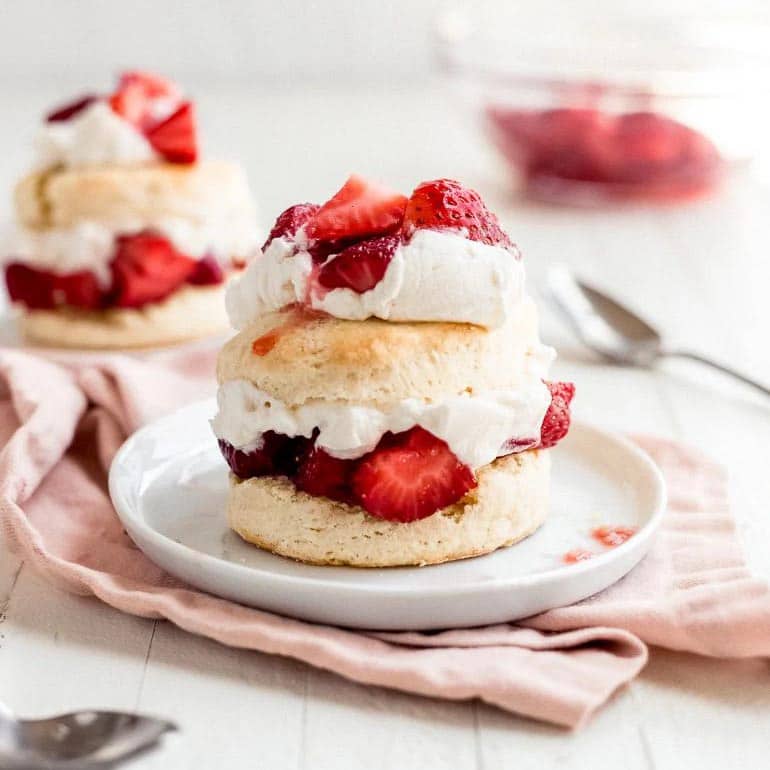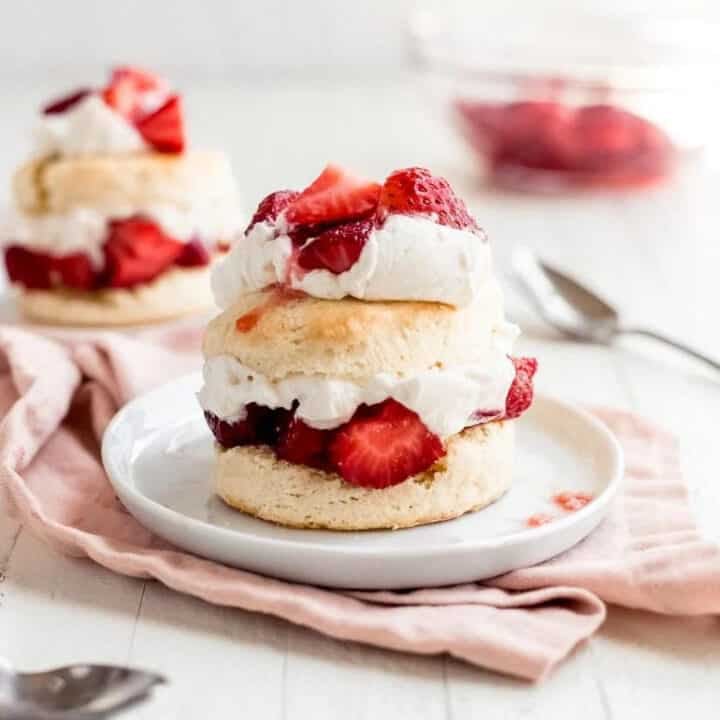 Strawberry Shortcake is a classic for a reason, and the 4th of July is a perfect excuse to indulge! This summer dessert is light, fresh, and can be made in under an hour. You will love every bite!
---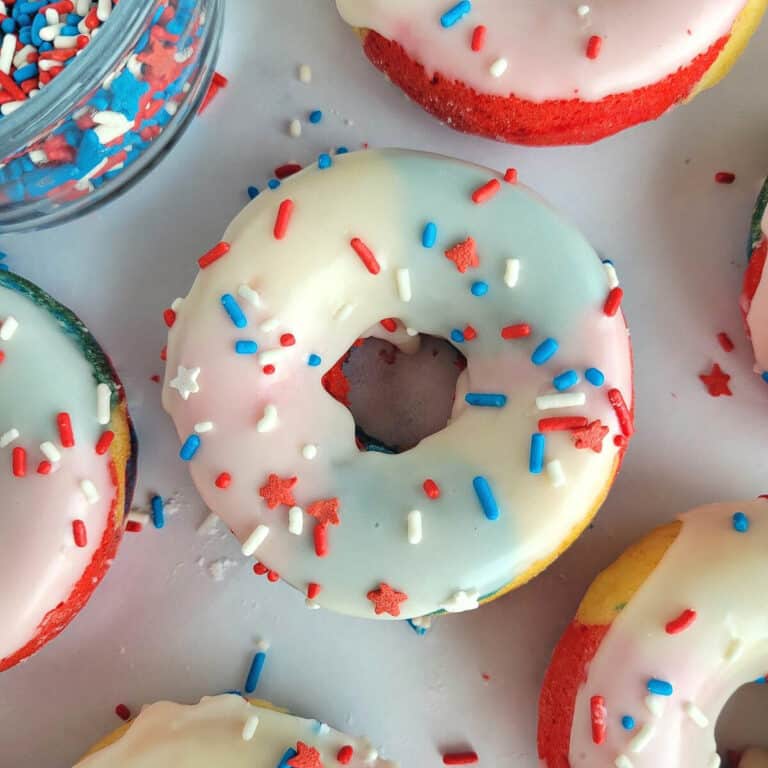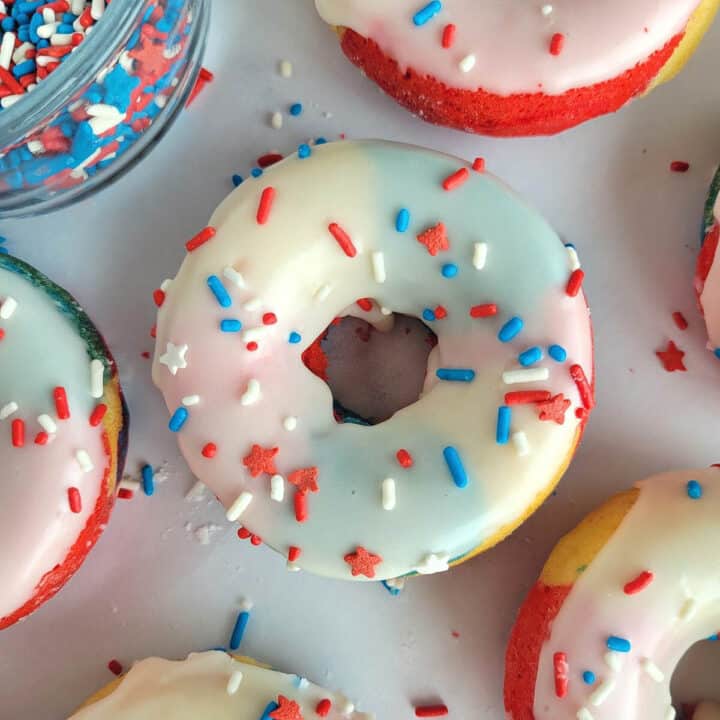 These 4th of July Cake Donuts are baked, not fried, which makes them a quick and easy dessert to whip up! The moist cake-based donuts are glazed to perfection and topped with festive sprinkles, for a bit of extra flair!
---
Sweet Treats to Beat the Heat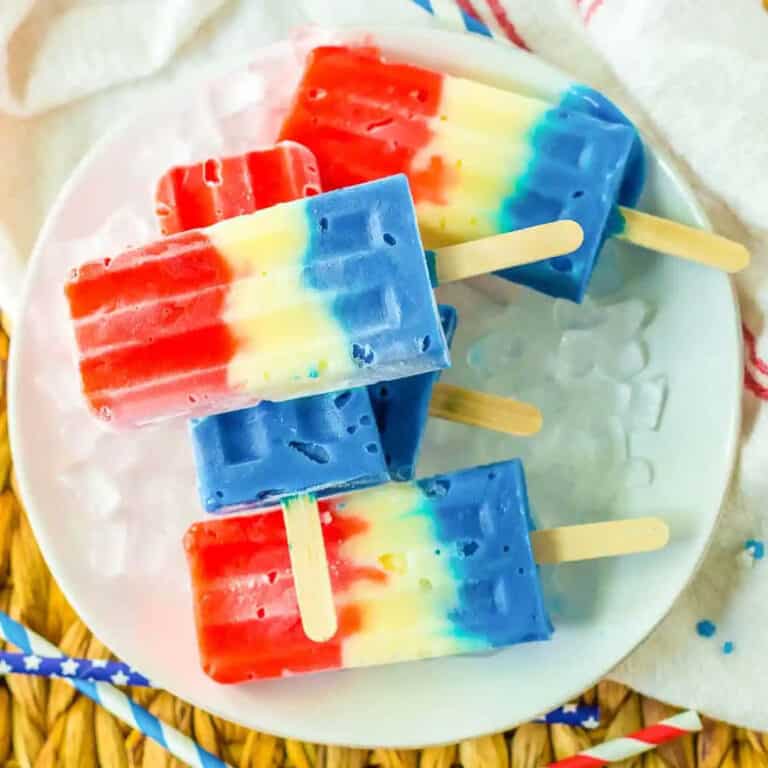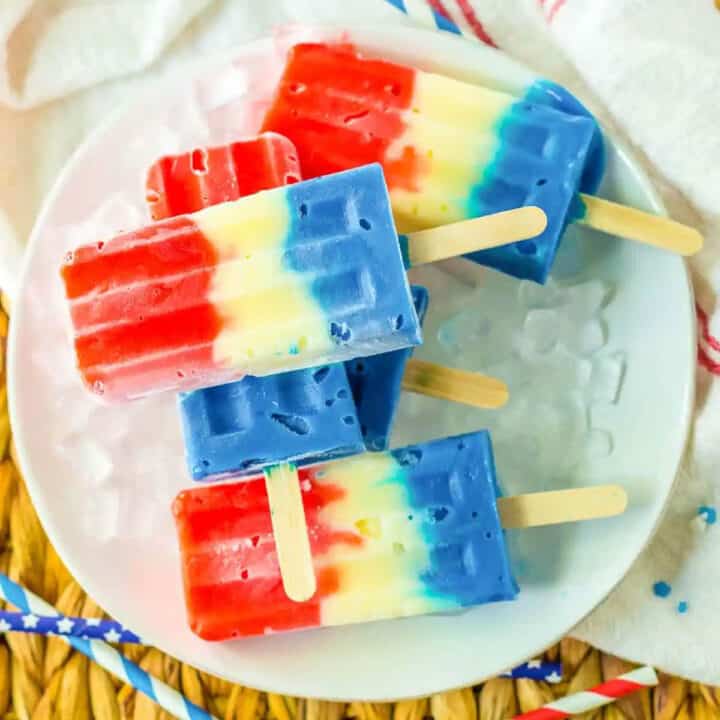 These red white and blue popsicles are a simple treat children of all ages can enjoy! They only require 3 ingredients and prep time only takes 5 minutes!
---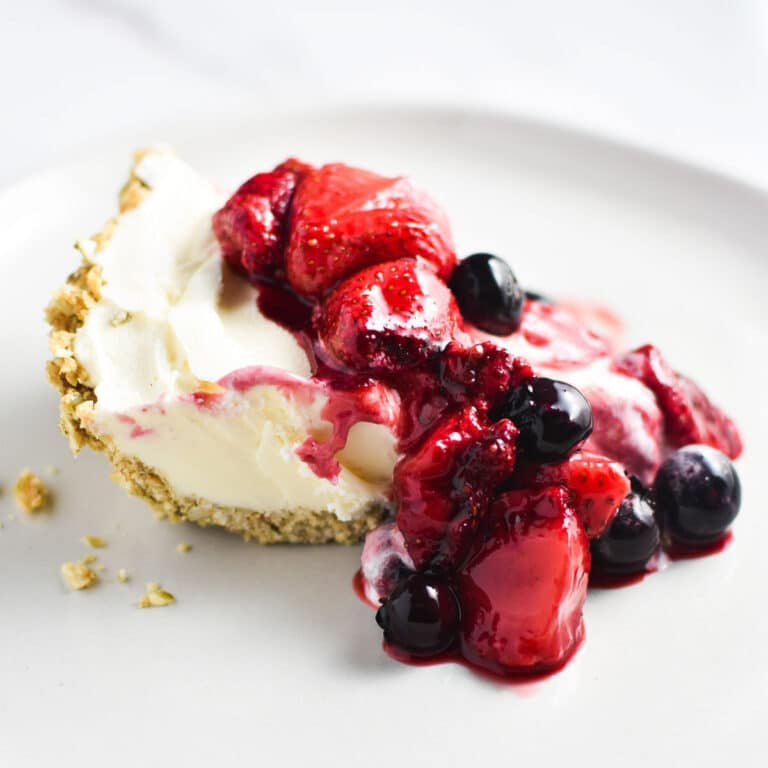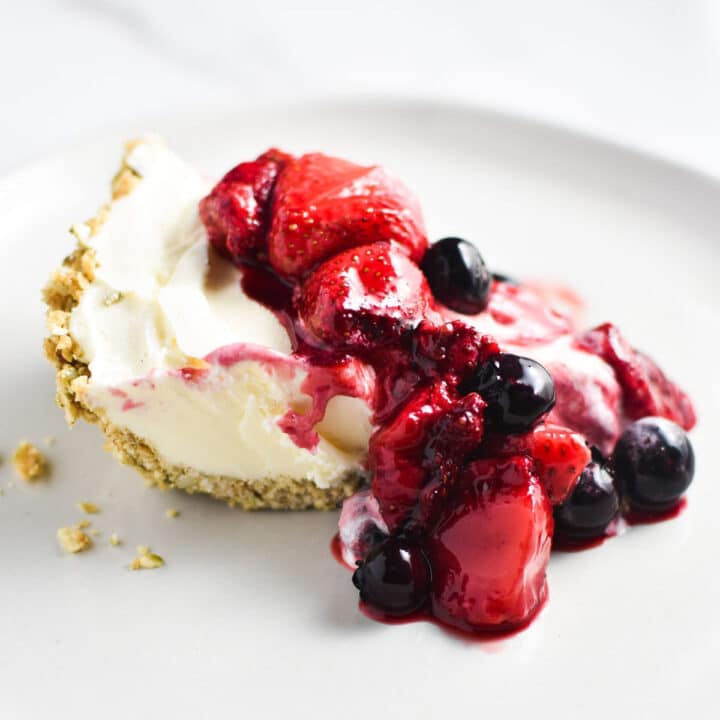 Vanilla Ice Cream Pie is a great dessert for the 4th! After all, what's more American than pie? The crust is gluten-free, and can be made dairy-free by subbing your favorite dairy-free ice cream!
---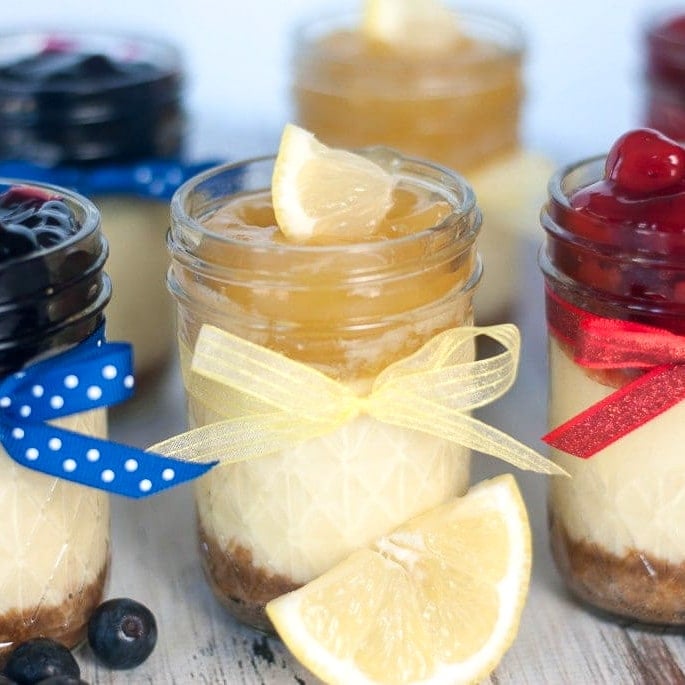 Individual Freezer Cheesecakes make the perfect desserts! They're nice and cold, decadent, and so easily customizable! This way everyone can have their favorite toppings!
---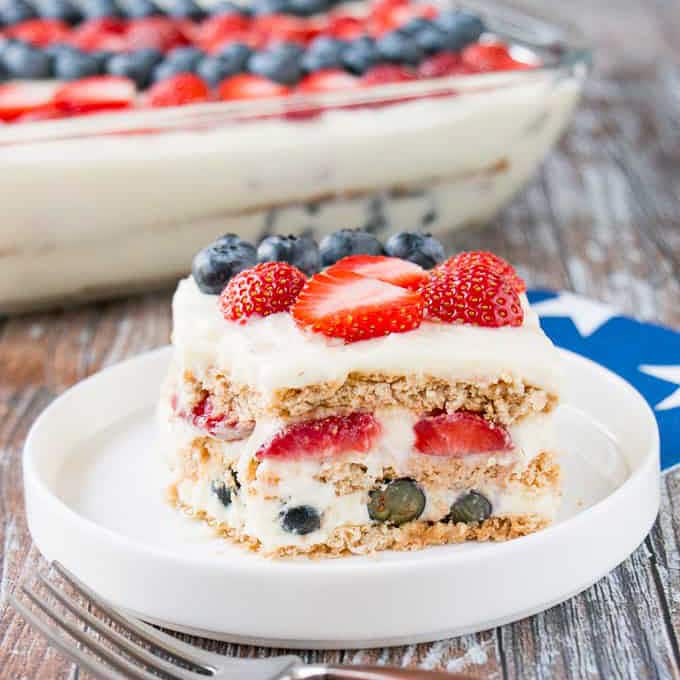 4th of July Icebox Cake is creamy, crunchy, and oh so cool! Icebox cake is an American classic, dating back to the 1920s! What better way to celebrate the history of the USA?
---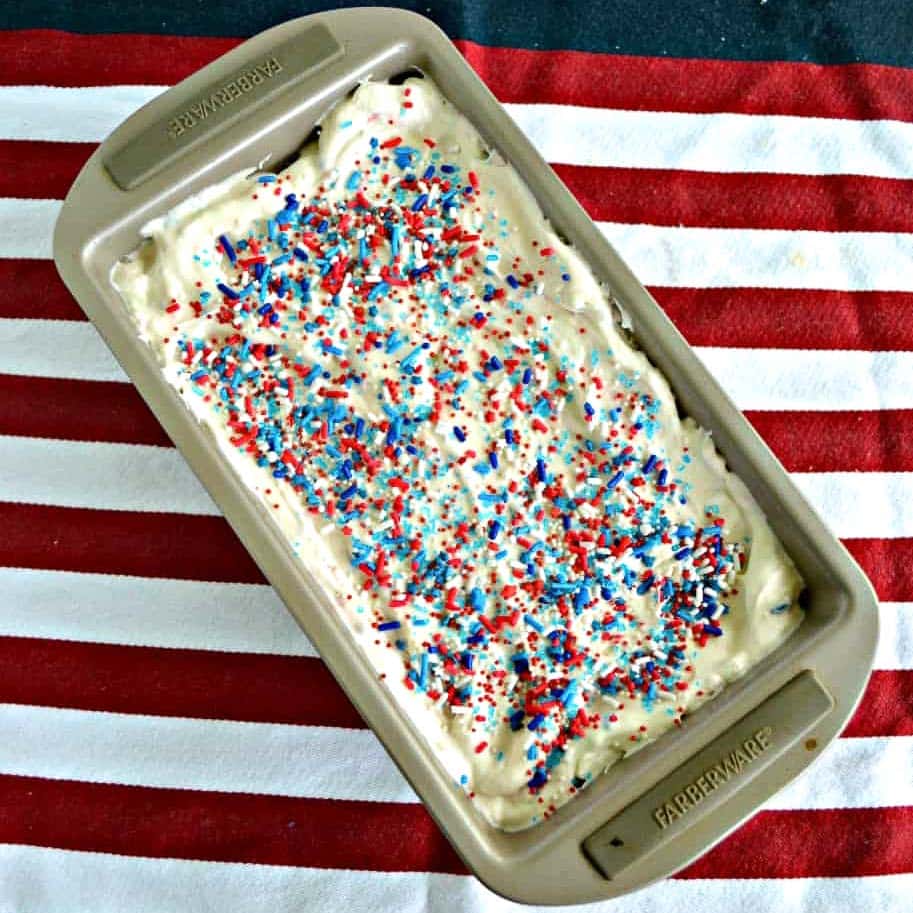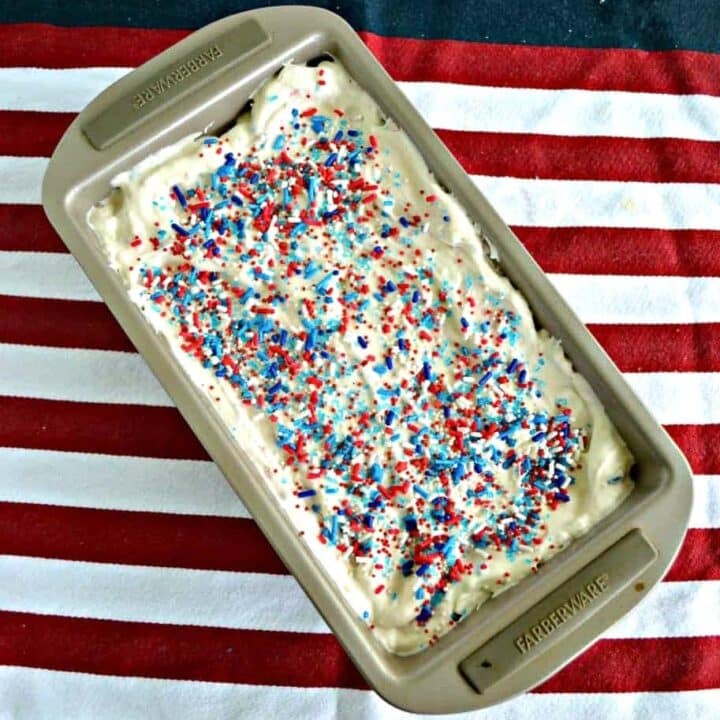 This No Churn Patriotic Funfetti Ice Cream is great if you want to try your hand at making your own ice cream. All you need to do is mix the ingredients & freeze! Simple and delicious!
---
Red White and Blue Cookies & More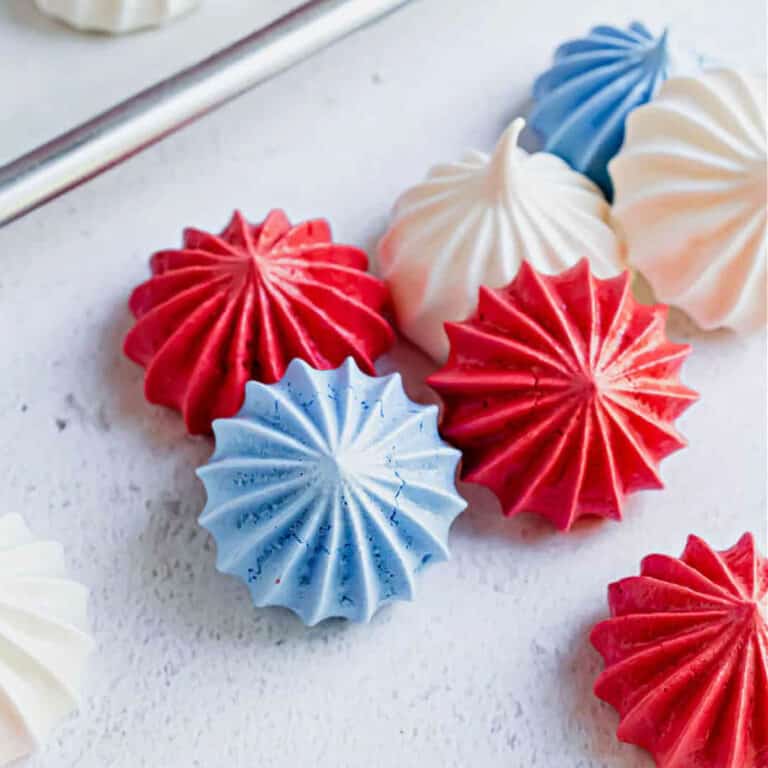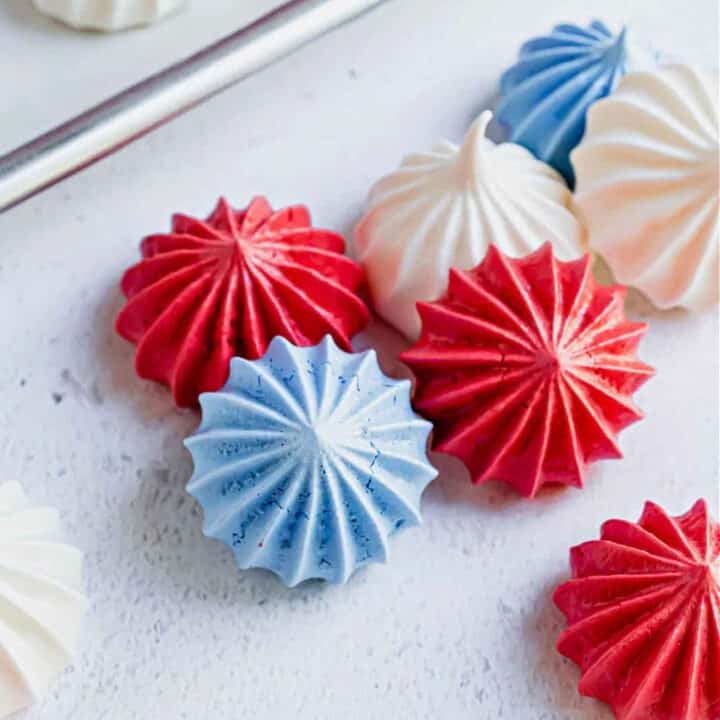 4th of July Meringue Cookies are light and airy, and melt in your mouth! This recipe yields a batch of 60 meringues, and each one is only 16 calories!
---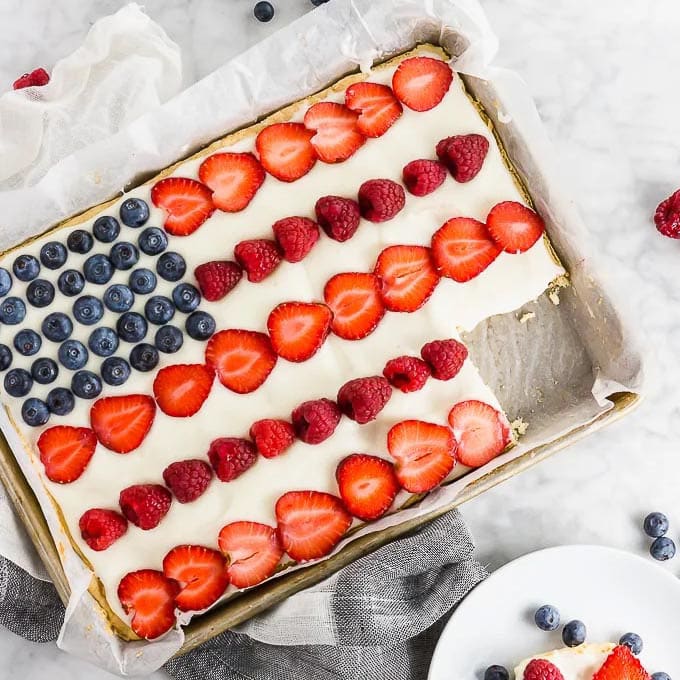 Gluten-Free American Flag Cookie Cake is the best of both worlds! Is it a cookie? Is it a cake? Whatever you think, it's delicious and a great option for both those with or without gluten sensitivities!
---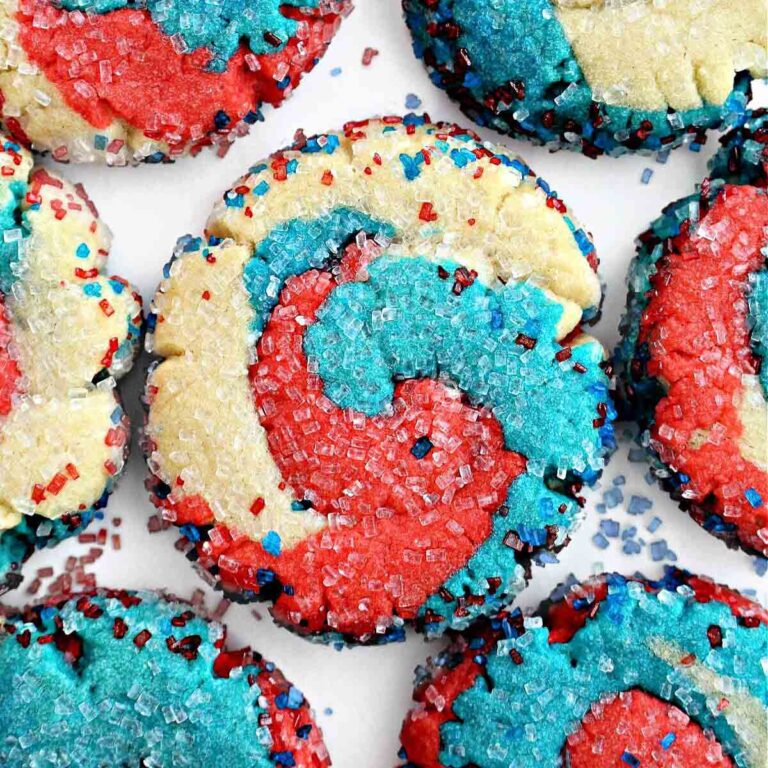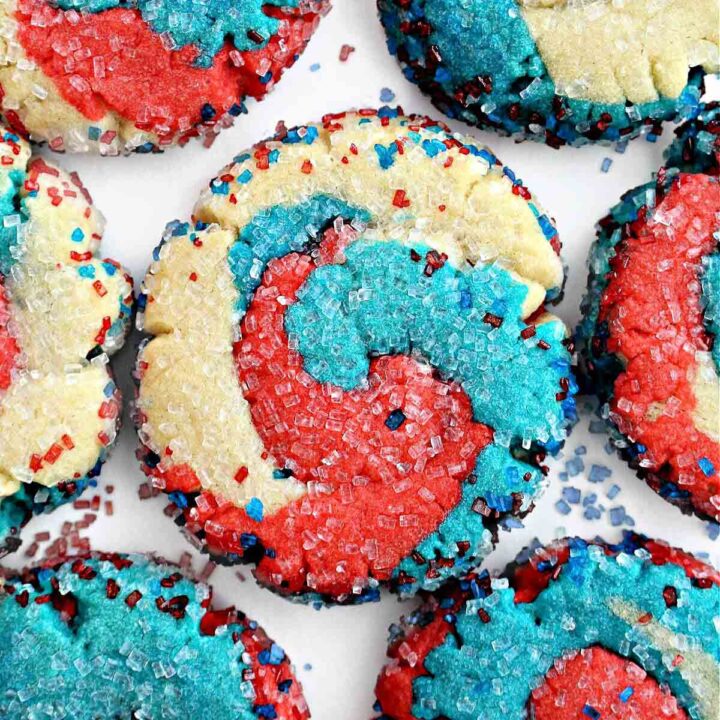 These 4th of July Cookies are a classic we all know and love, but this recipe is great because it's made using heat-resistant ingredients. The sun won't be ruining these sweet treats!
---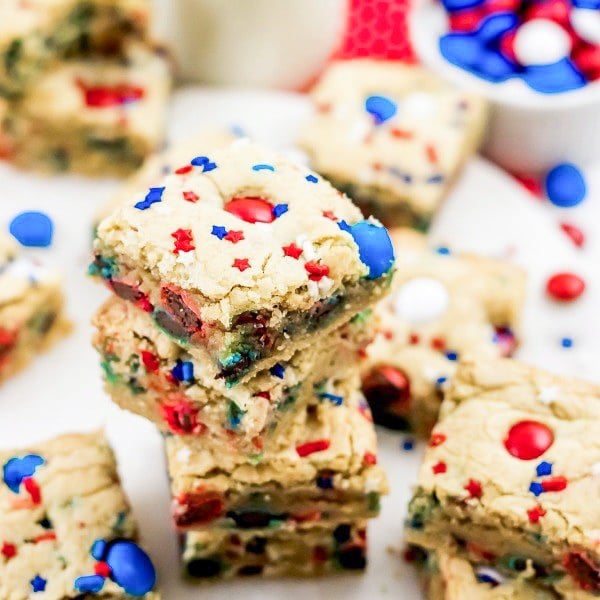 If you've never made blondies, they're super simple and easily customizable! This Fireworks Blondies Recipe is the perfect recipe to get started with, and one cookie lovers will thank you for.
---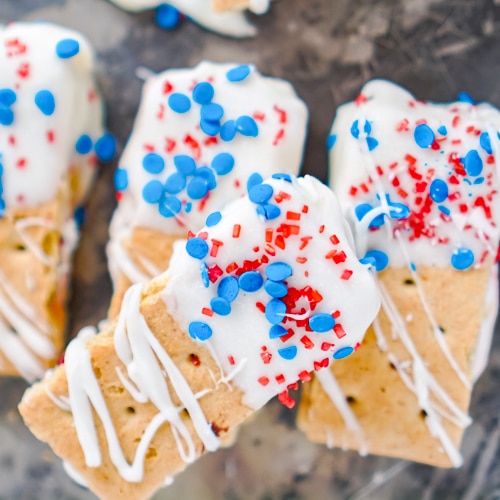 4th of July Smore Bars are a great way to honor the great American outdoors by bringing the camping experience indoors! You can make these in the microwave, which is so convenient!
---
Desserts To Make With Kids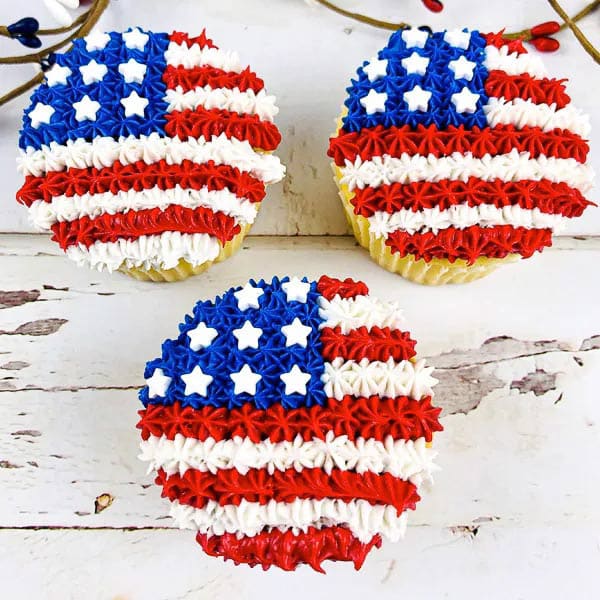 American Flag Cupcakes are beautiful, delicious, and fun to make! The simplicity of this recipe makes it a great dessert to make with kids, and can easily be subbed with your favorite cake mix!
---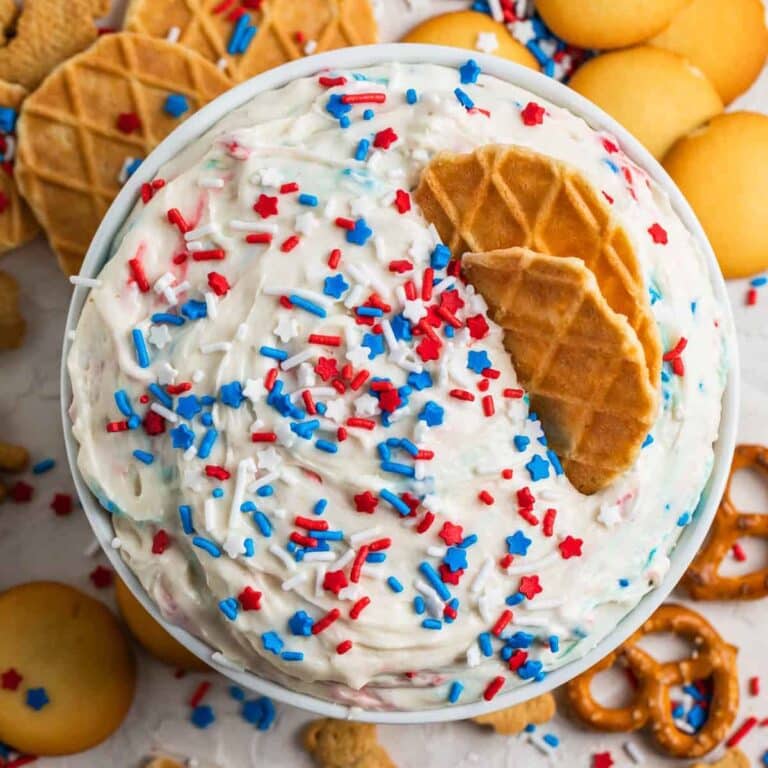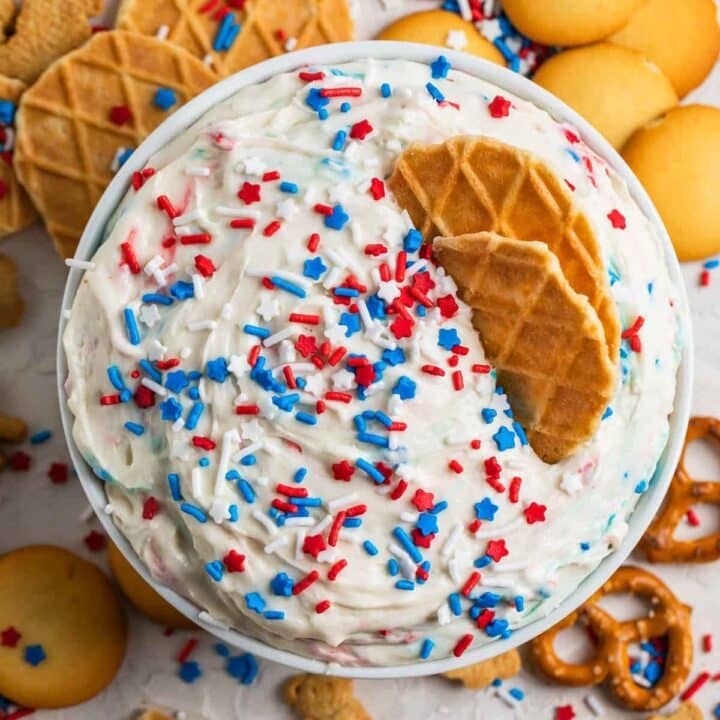 This easy 5-minute Red White and Blue Funfetti Dip is a fast and tasty treat perfect for kids, or nostalgic 90s kids who grew up on Dunkaroo dip! Pair it with your favorite cookies for a simple festive dessert!
---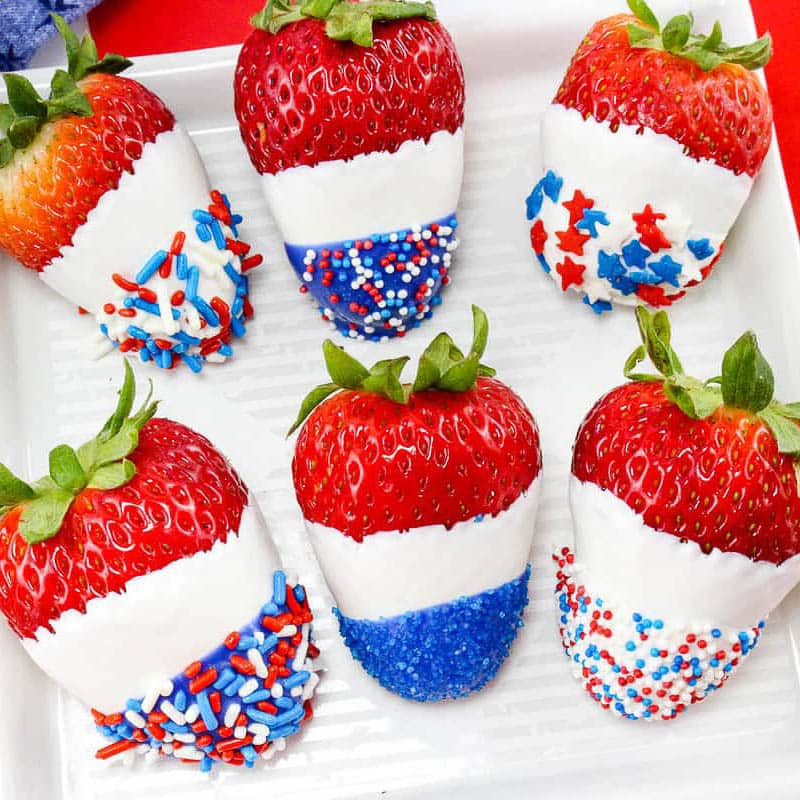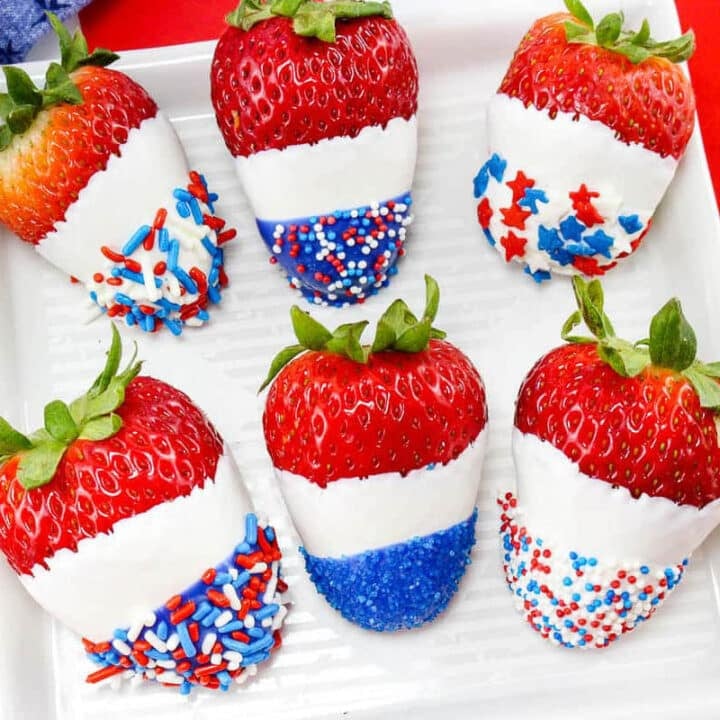 Patriotic Chocolate Covered Strawberries are a simple, colorful, and crowd-pleasing dessert that can be whipped up in a matter of minutes! This is a fun one for the kids to help make, too!
---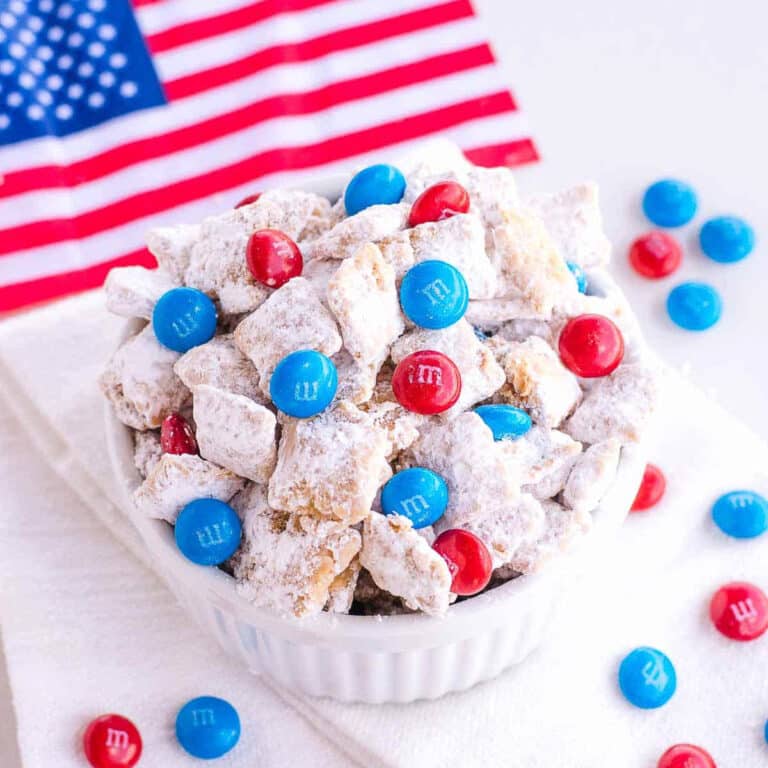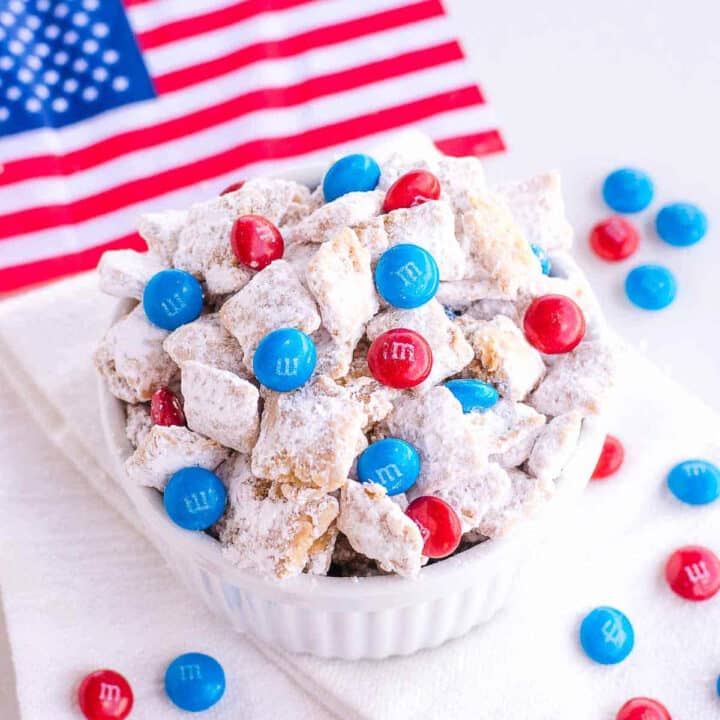 4th of July Puppy Chow is a great sweet treat for snacking around the house or on the go! It only needs 5 simple ingredients, takes 30 minutes to make, and can be prepared ahead of time!
---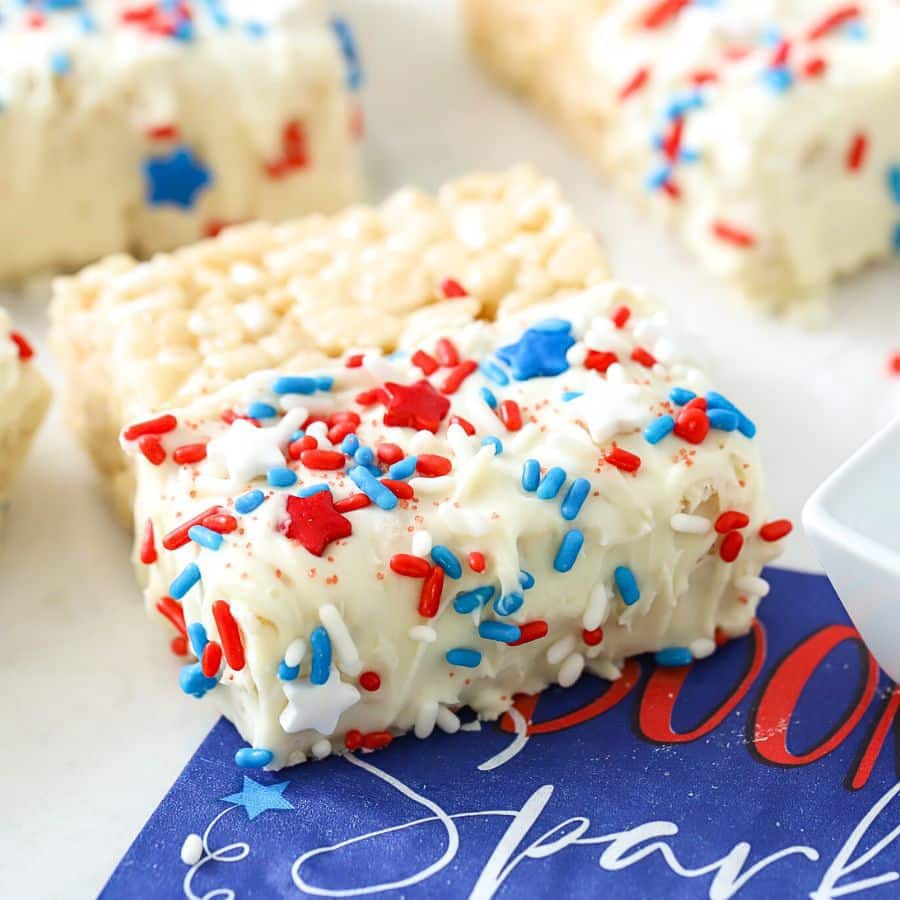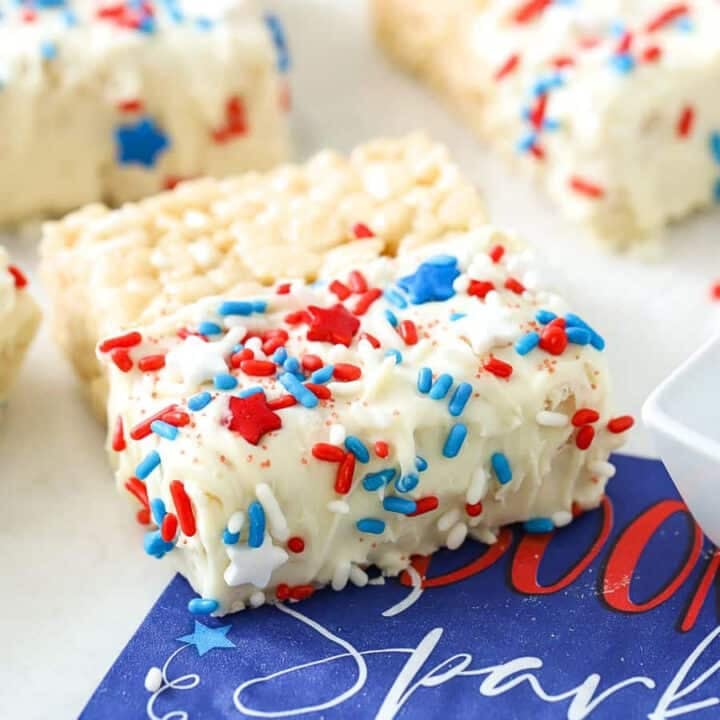 Celebrate Independence Day in style with these irresistible 4th of July Rice Krispie Treats! These simple and easy red, white, and blue marshmallow delights are crisp & chewy and take only minutes to prep.
---
No Bake Red White and Blue Desserts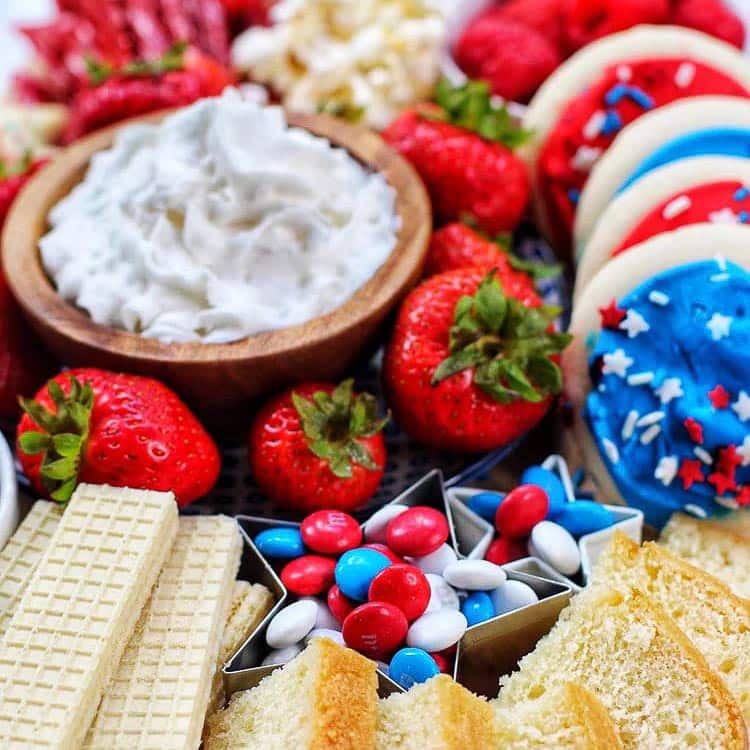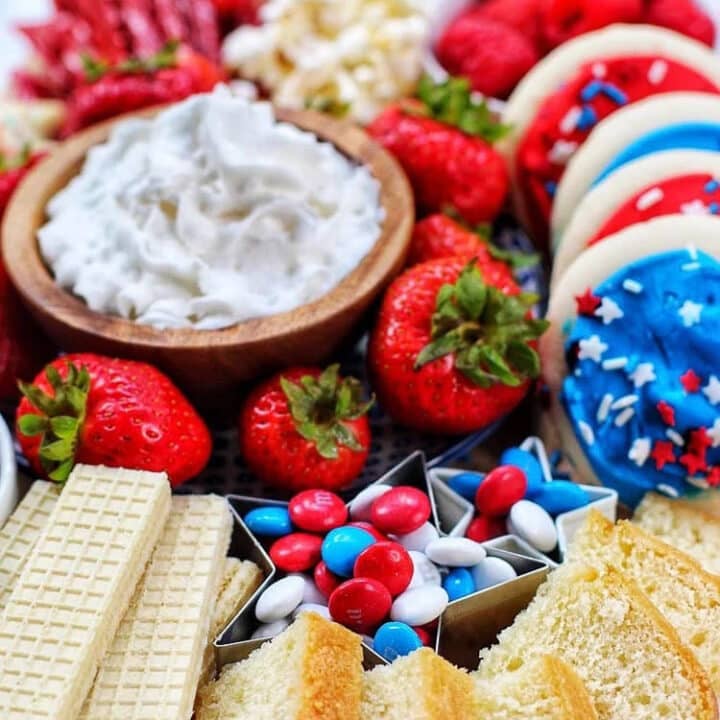 Everyone loves a charcuterie board, and this 4th of July Dessert Board is nothing but sweets! This red white and blue dessert is perfect for entertaining and can be easily customized!
---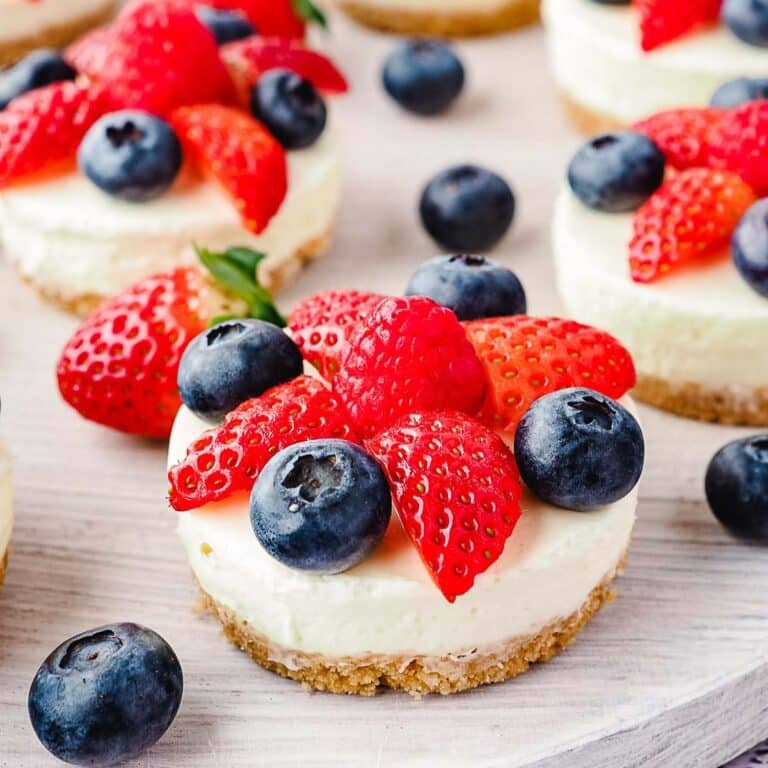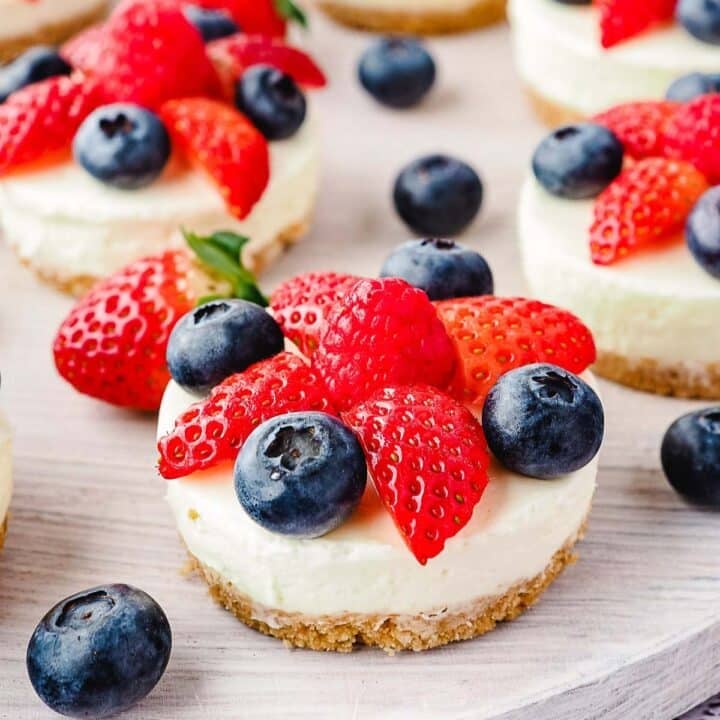 No Bake Mini Cheesecakes are decadent, fruity, and so easy to make! This recipe yields 12 mini cheesecakes, making this a great dessert option for parties and get-togethers!
---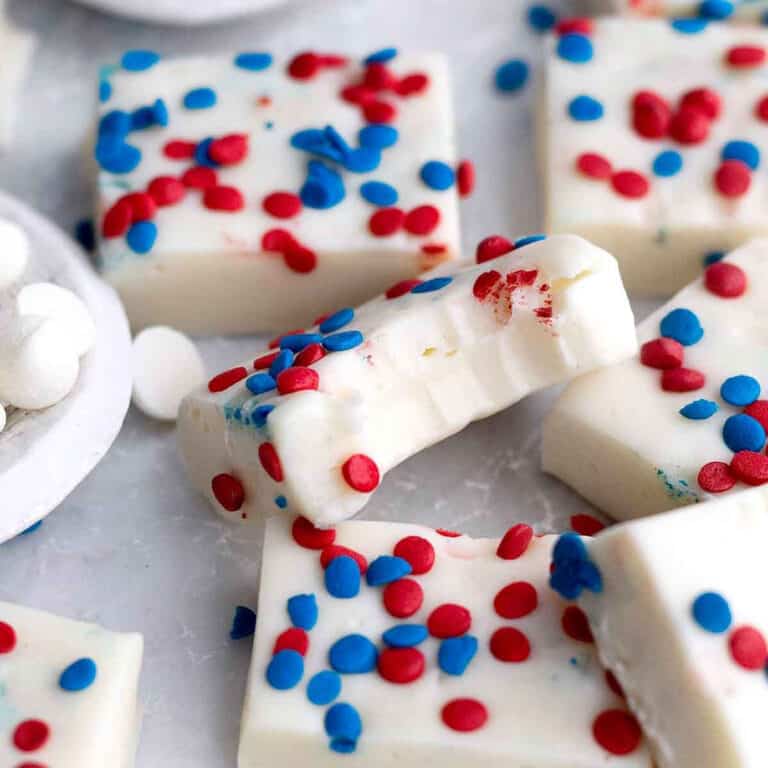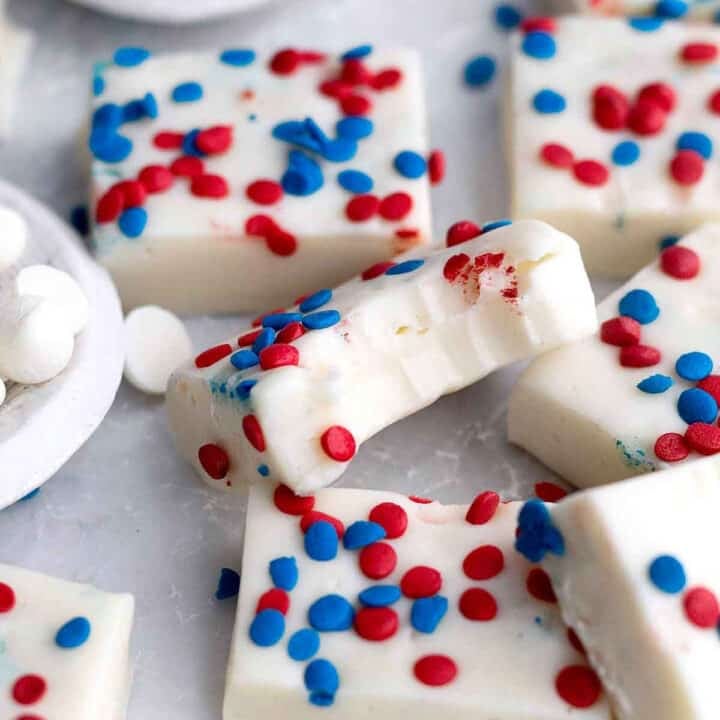 This White Chocolate Fudge is creamy, sweet and so easy to make! With just 5 ingredients, it only takes 5 minutes to make and is delish! It's gluten-free, nut-free, eggless, and can easily be vegan.
---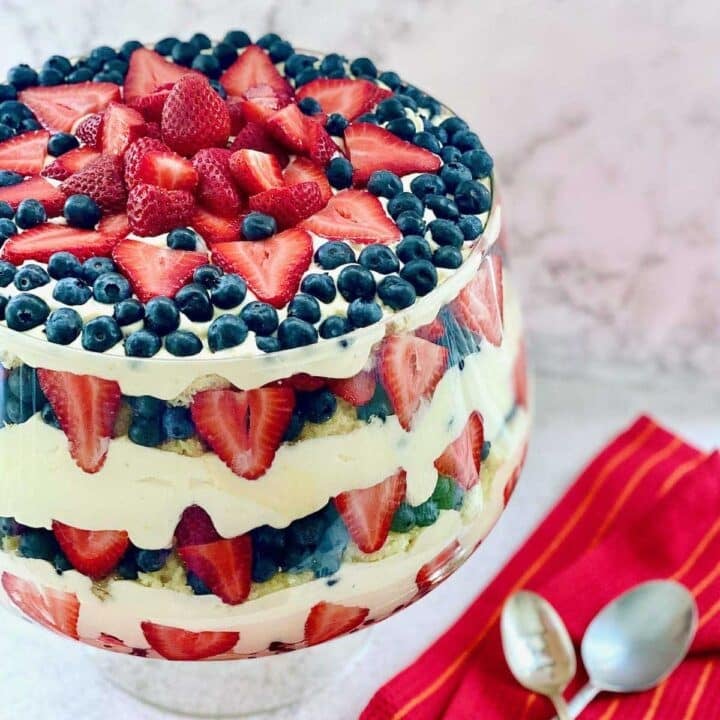 If you've never had trifle, now's the time to change that! This Patriotic Berry Trifle consists of several layers of fresh berries, cake, and pudding! The recipe calls for pre-made cake, so no baking required!
---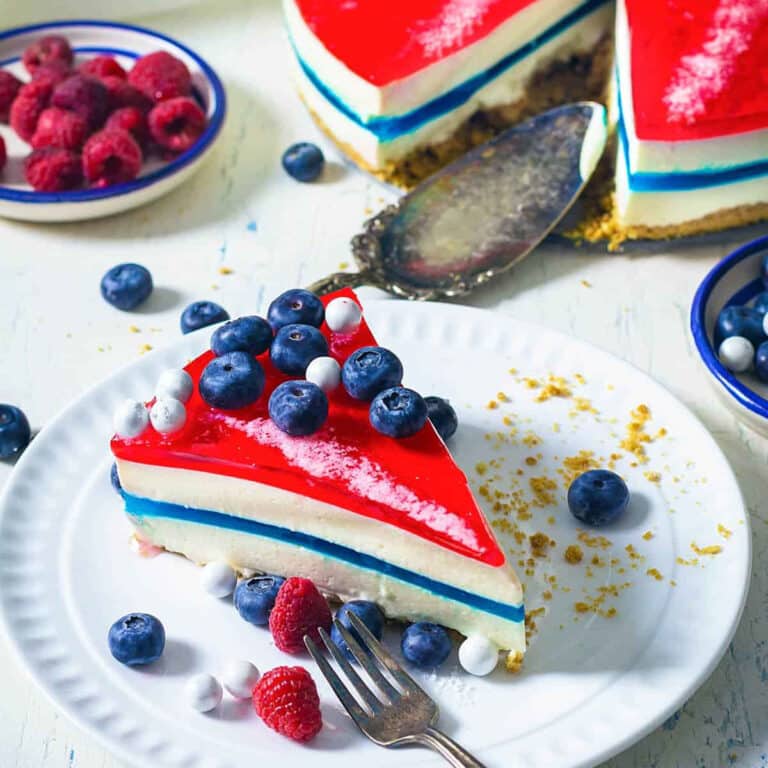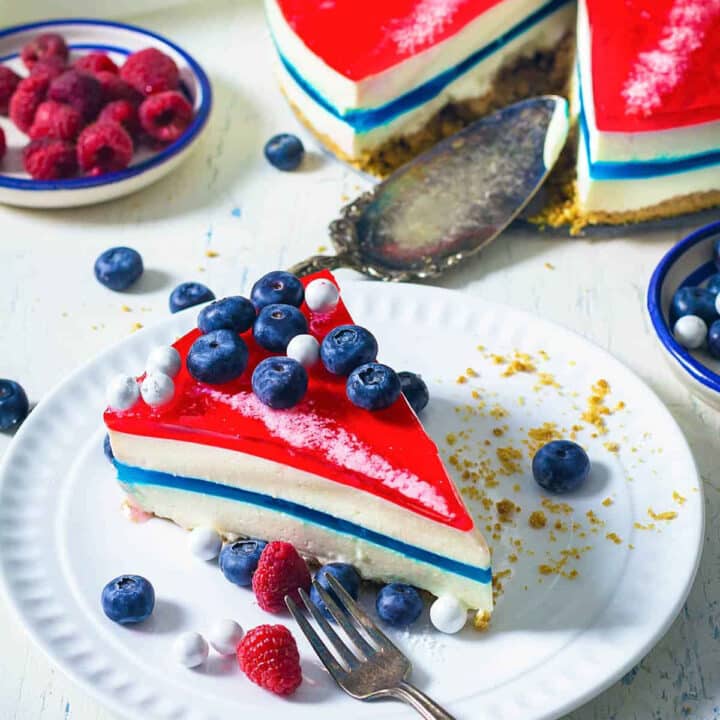 No-Bake Red White & Blue Jello Cheesecake is a fun and unique dessert that is budget-friendly and can be prepared ahead of time! I doubt you'll have leftovers, but if you do, you can freeze them!
---
Healthy Red White & Blue Desserts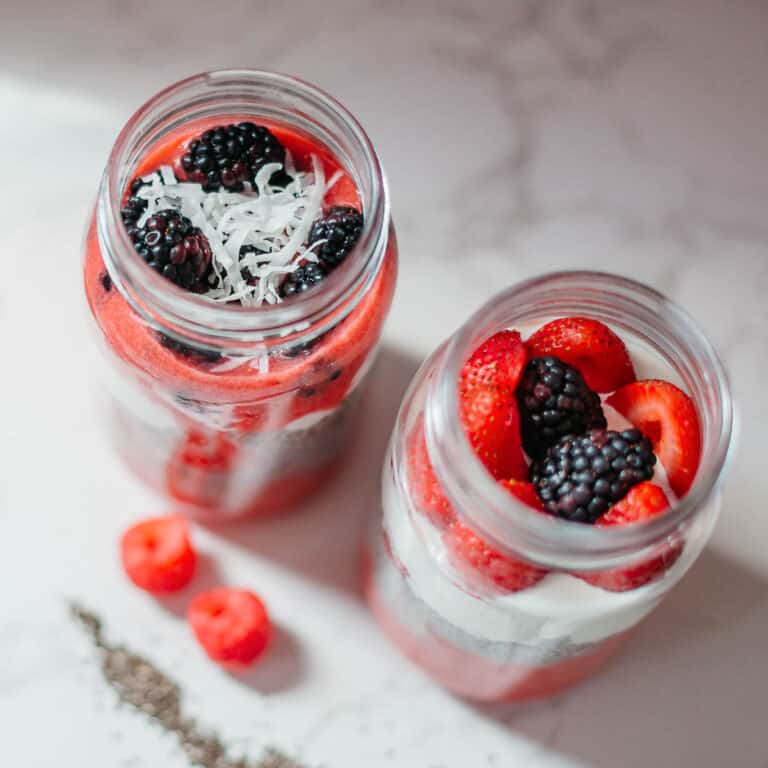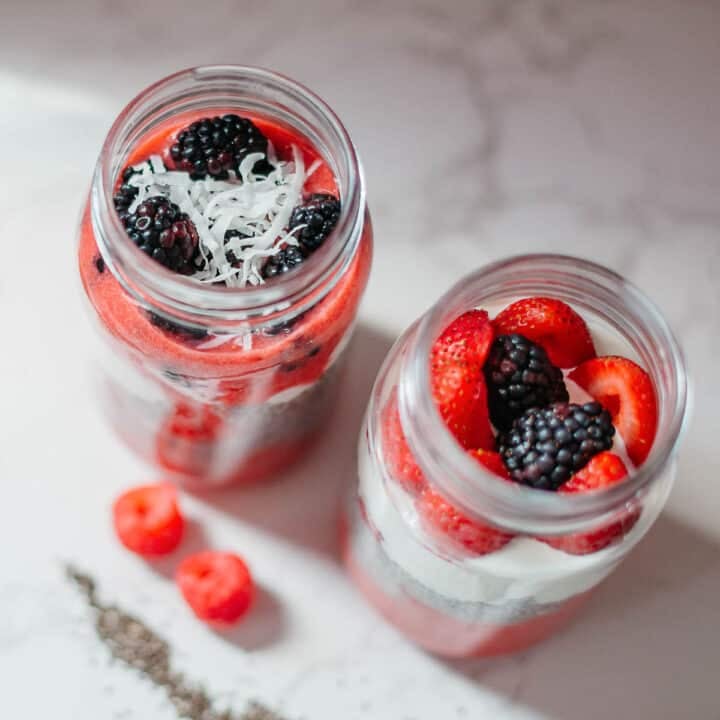 High Protein Chia Pudding is a sweet, fresh, and healthy dessert that can be made ahead of time or right before digging in! It's fruity, satisfying, and Keto-friendly too!
---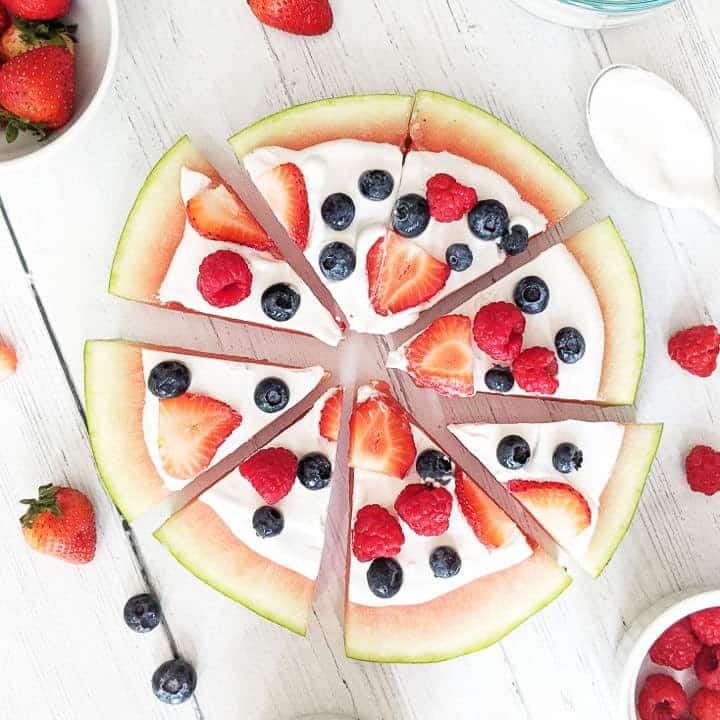 Watermelon makes a great dessert on its own, but on a special occasion like the 4th of July, why not doctor it up? This Watermelon Dessert "Pizza" is fruity, flavorful, gluten-free, and vegan-friendly!
---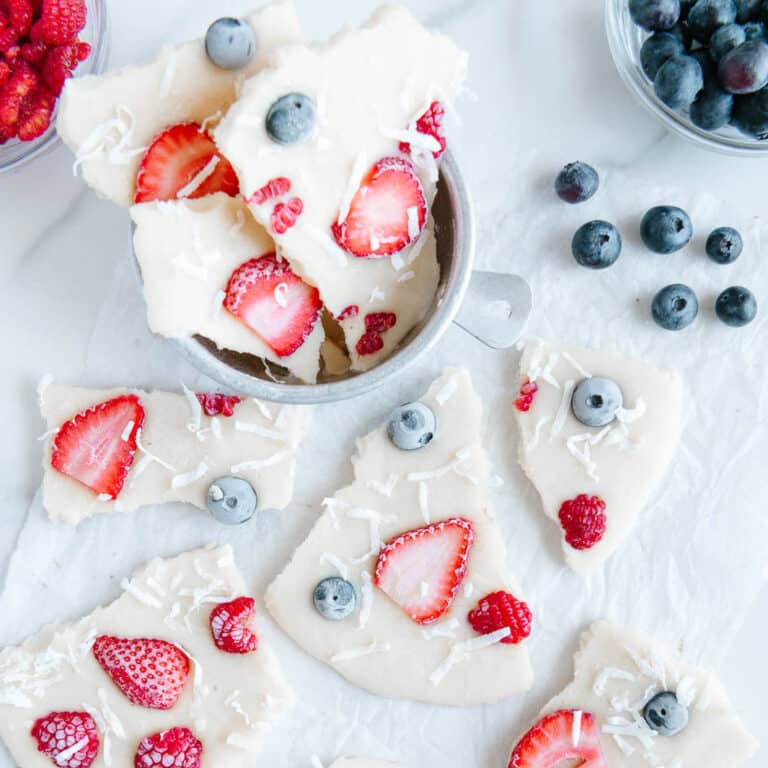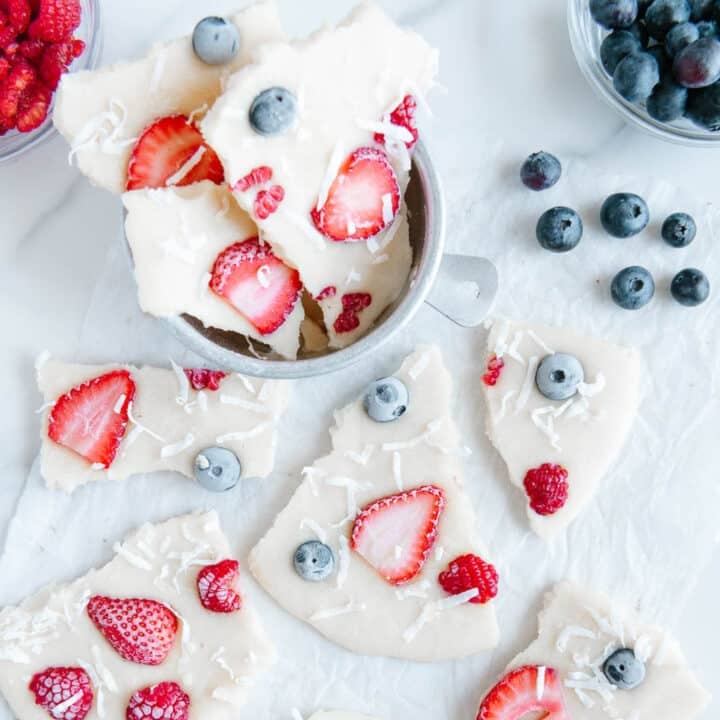 Vegan Frozen Yogurt Bark With Berries is a healthy and delicious dessert that both kids and adults will enjoy! You only need a handful of ingredients, and it's easily customizable!
---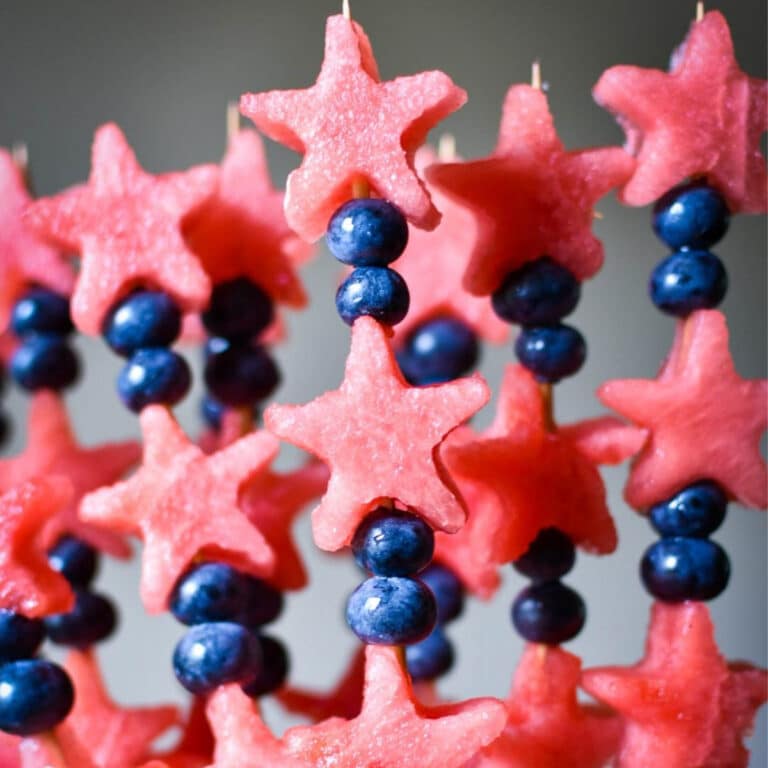 Patriotic Fruit Kabob Skewers are the perfect healthy party pleasers! Nothing quite encapsulates the taste of Summer like crisp, refreshing watermelon, and when paired with blueberries, it's the perfect light dessert!
---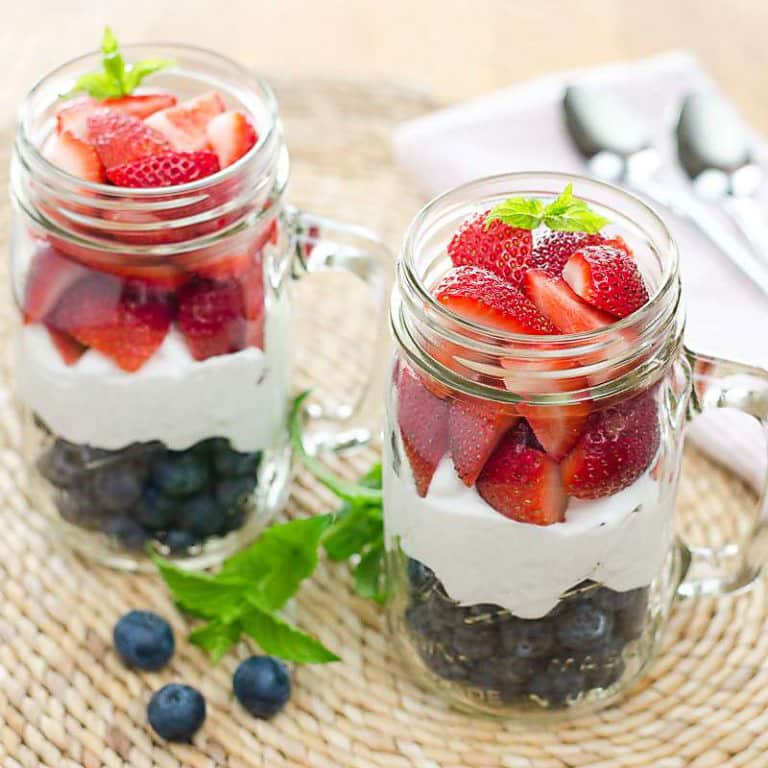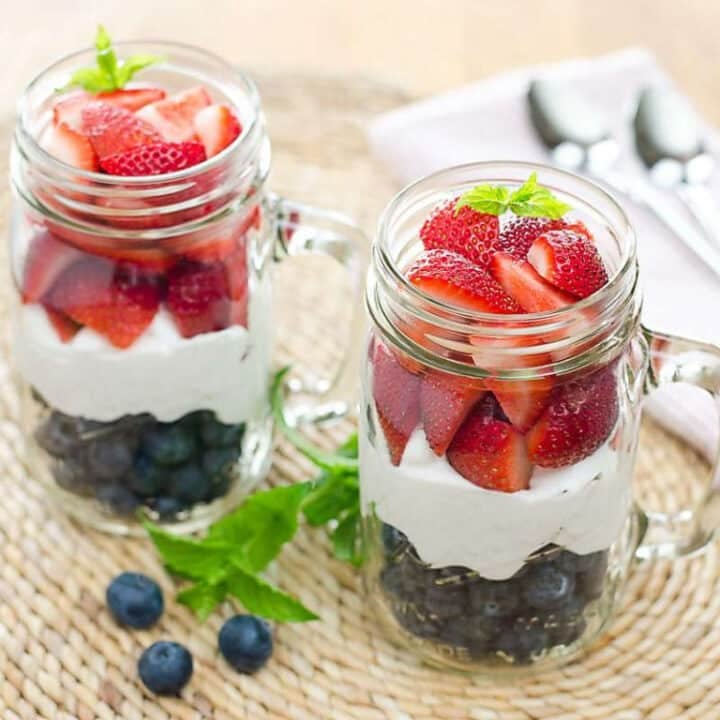 Red White and Blue Berries and Cream are another healthy dessert perfect for the 4th of July! This is truly a treat everyone can enjoy as it's dairy-free, vegan, gluten-free, paleo, keto, low-carb, and Whole30-friendly!
---
More Red White & Blue Desserts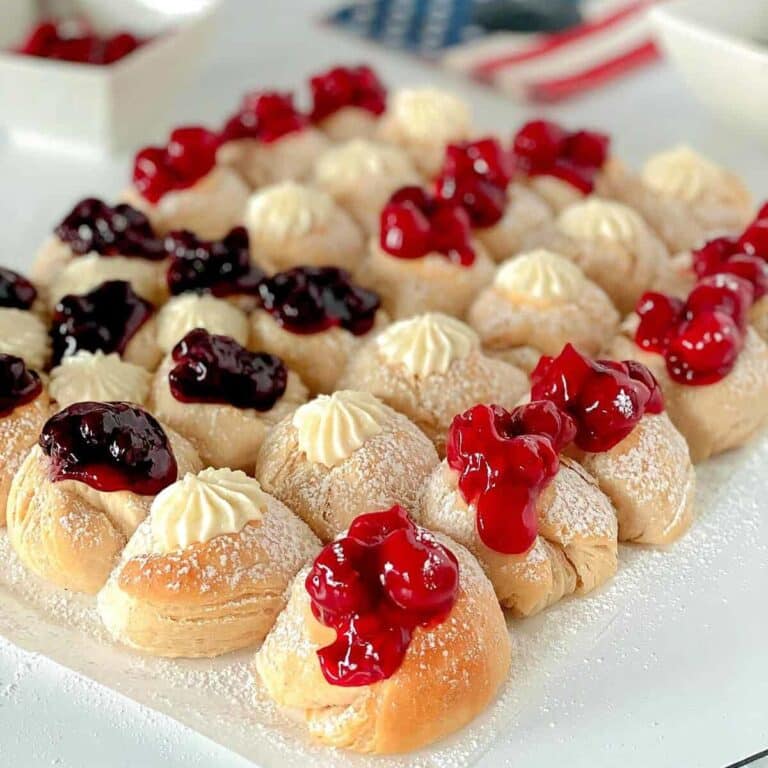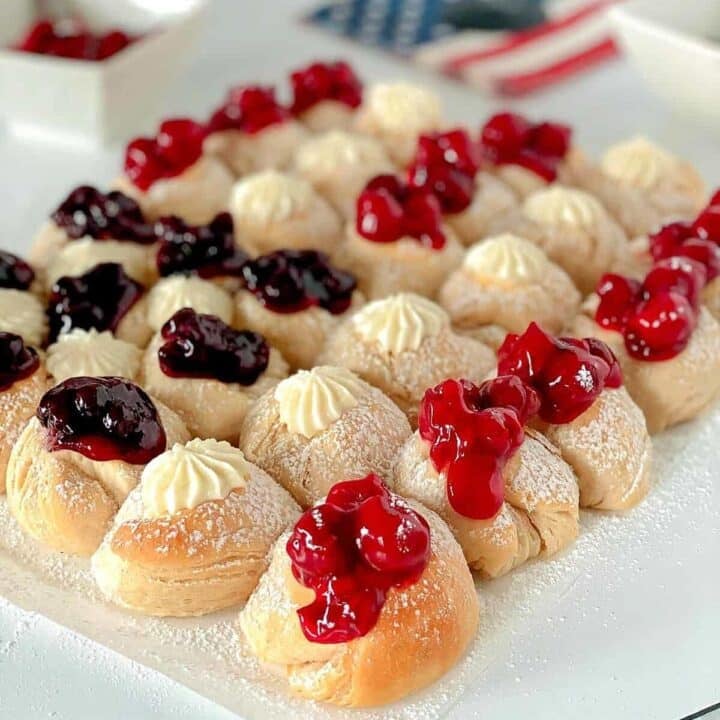 These American Flag Cheesecake Biscuit Bombs are a unique and delicious summer dessert perfect for Independence Day! They are so simple and take less than 30 minutes to make!
---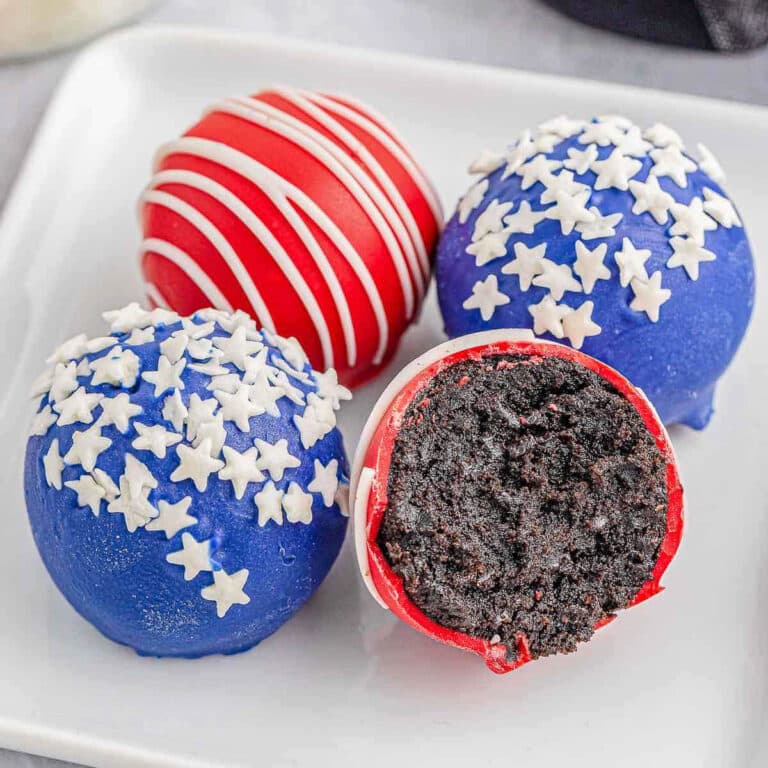 Red White and Blue Oreo Balls are pretty much the easiest dessert of all time, and they're so addicting! This recipe yields 30 delicious Oreo truffles, which can be frozen if you end up with leftovers!
---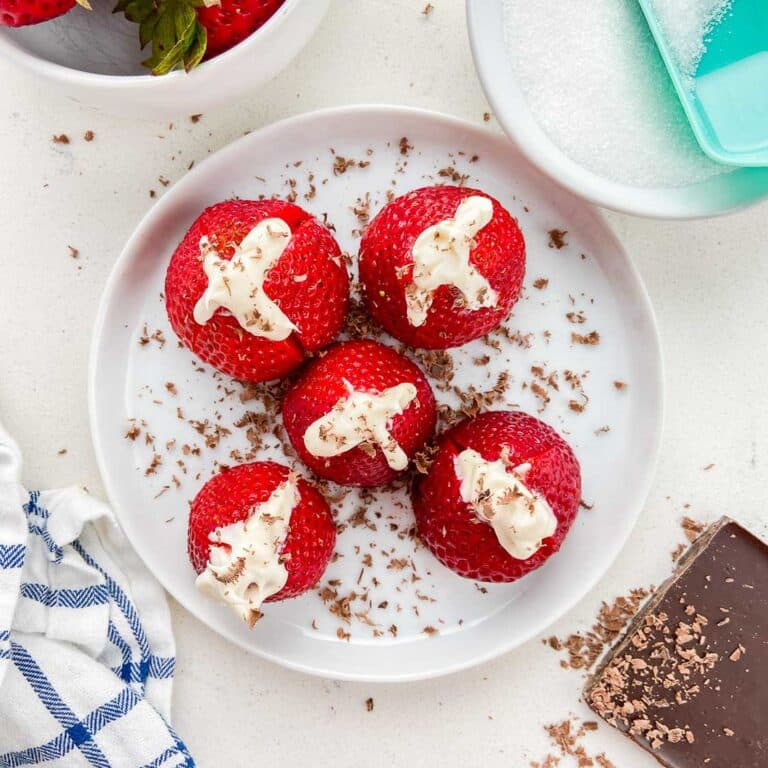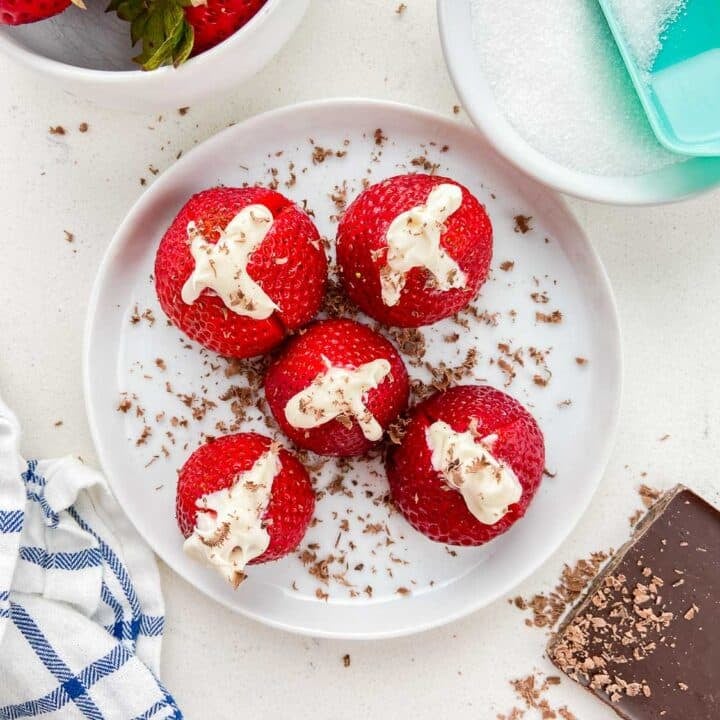 I love these Boozy Stuffed Strawberries! These are a great simple dessert if you're looking to impress your friends and family with something a little different. They're stuffed with mascarpone, chocolate liqueur, and sugar! So simple!
---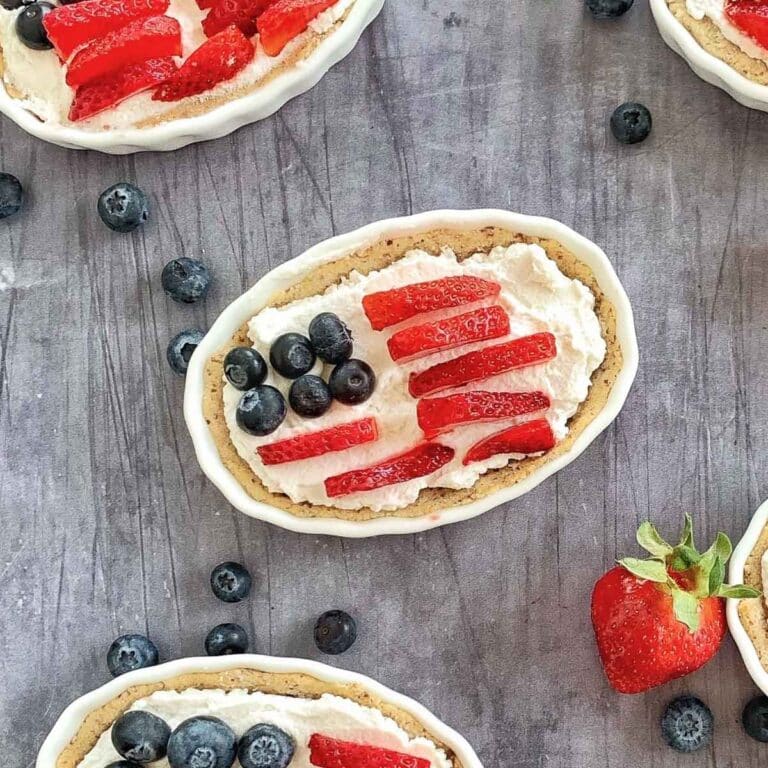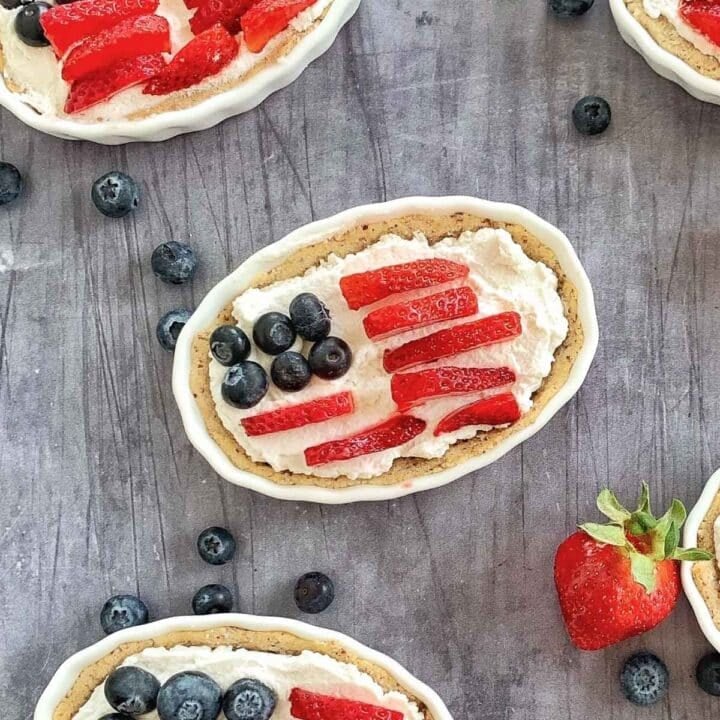 These Patriotic Mini Fruit Tarts are dairy-free, gluten-free, and vegan! But don't get me wrong, they're delicious whether you have dietary restrictions or not! Give them a try!
---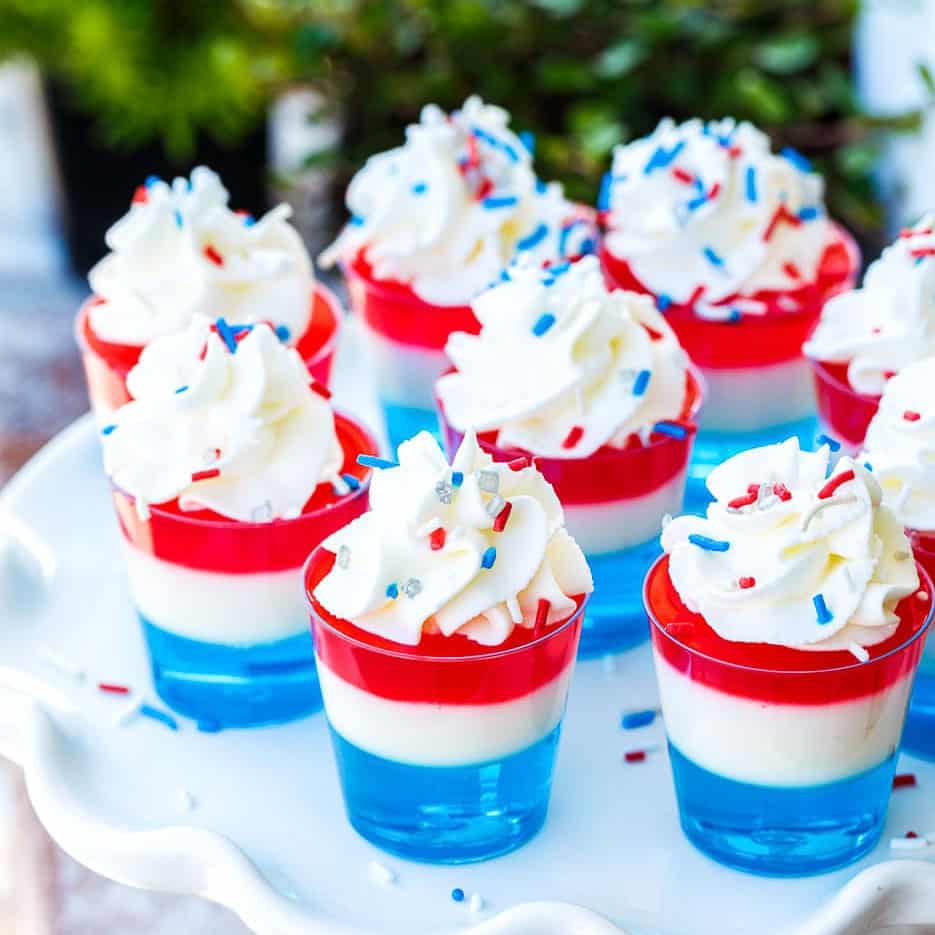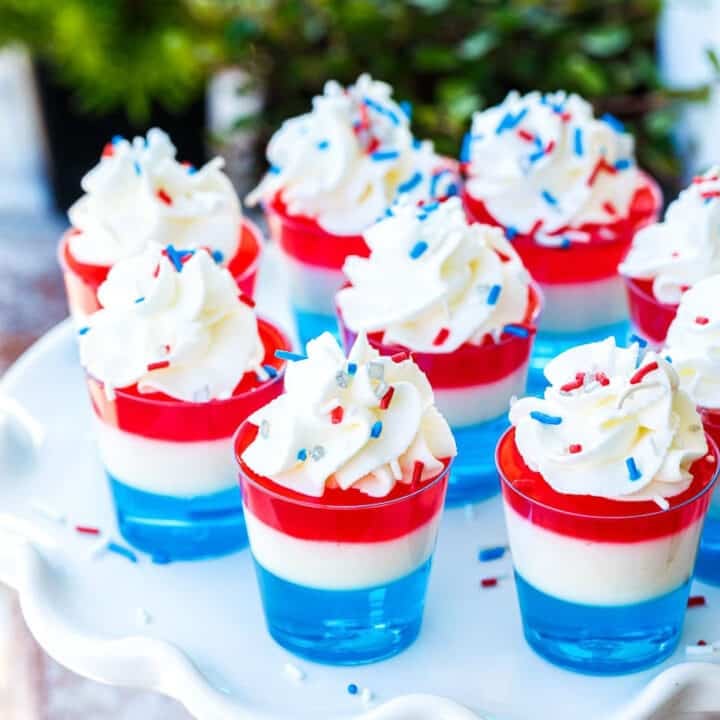 Related Recipes
Love this recipe? Please leave a 5-star 🌟🌟🌟🌟🌟rating in the recipe card below & a review in the comments section further down the page.

Stay in touch with me through social media @ Instagram, Pinterest, TikTok, and Facebook. Don't forget to tag me when you try one of my recipes!