Mulberries are not only delicious freshly picked from a mulberry tree, but they are also wonderful to cook with. In this post, you'll find some must try mulberry recipes, including my personal favorite, mulberry jam!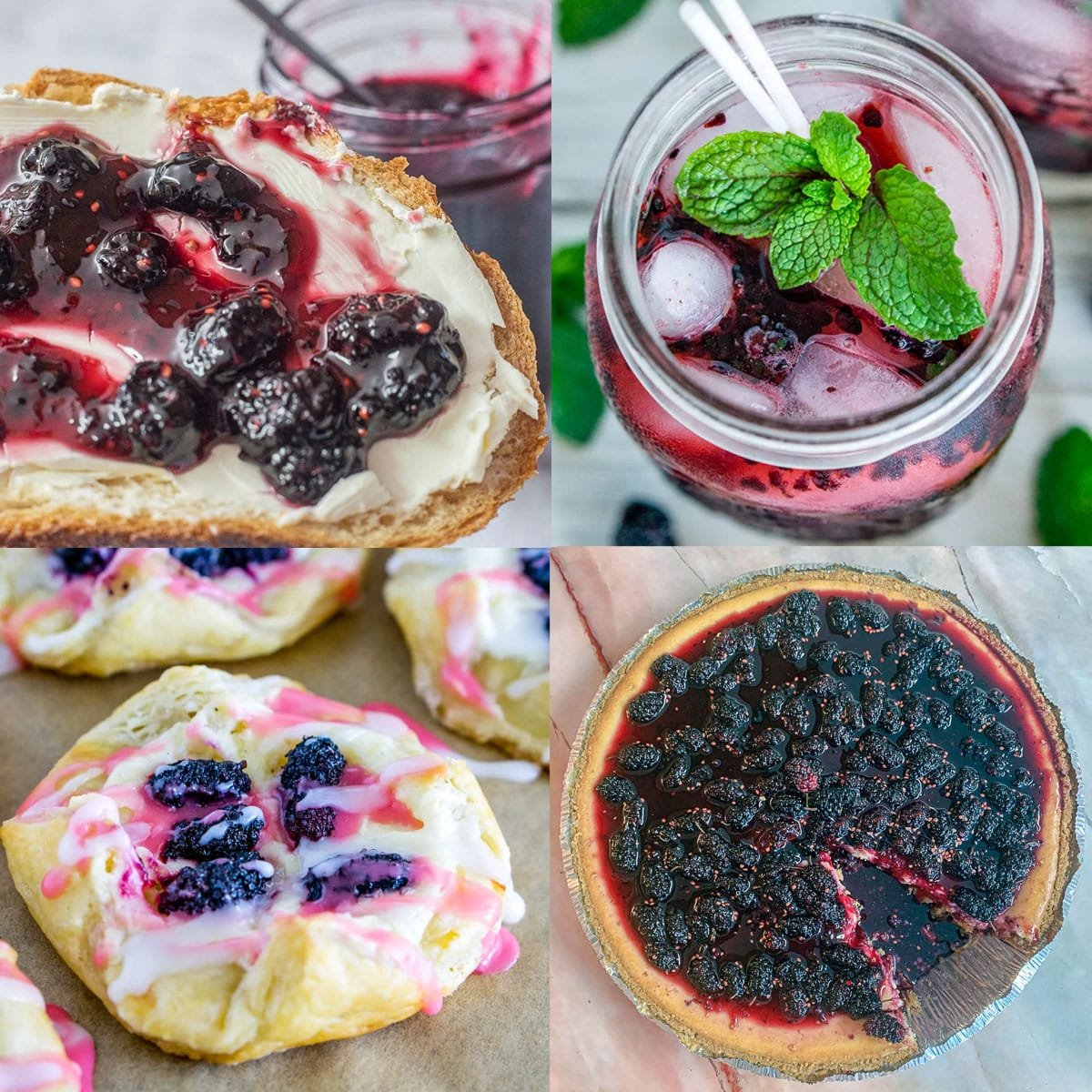 Mulberries are plump, juicy, sweet, and slightly tart. They are loaded with nutrition and make a wonderful, healthy snack. Besides just plucking them off of the mulberry bush and gorging yourself on them, there are actually so many ways to enjoy them!
For example, have you ever heard of mulberry wine? Yeah, me neither, but it's a thing, and I can't wait to make some! You can also make dried mulberries by dehydrating or freeze-drying mulberries so that you can enjoy them even when they're not in season!
Mulberries can easily be transformed into mulberry pies, muffins, crumbles, mojitos, and so much more! Scroll through the following mulberry recipes and see what jumps out at you, then get into the kitchen and start creating!
Jump to:
🍇Mulberry Recipes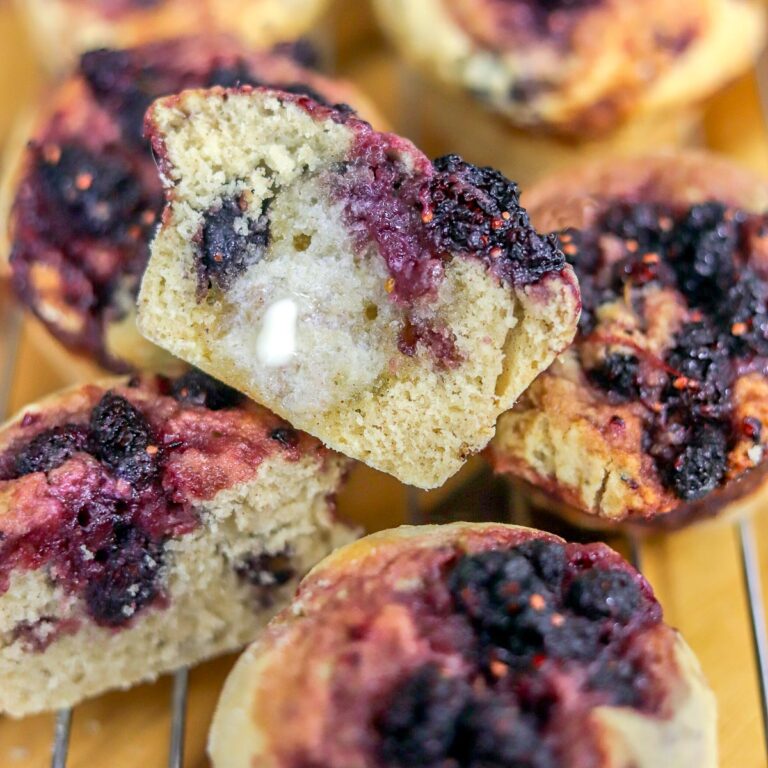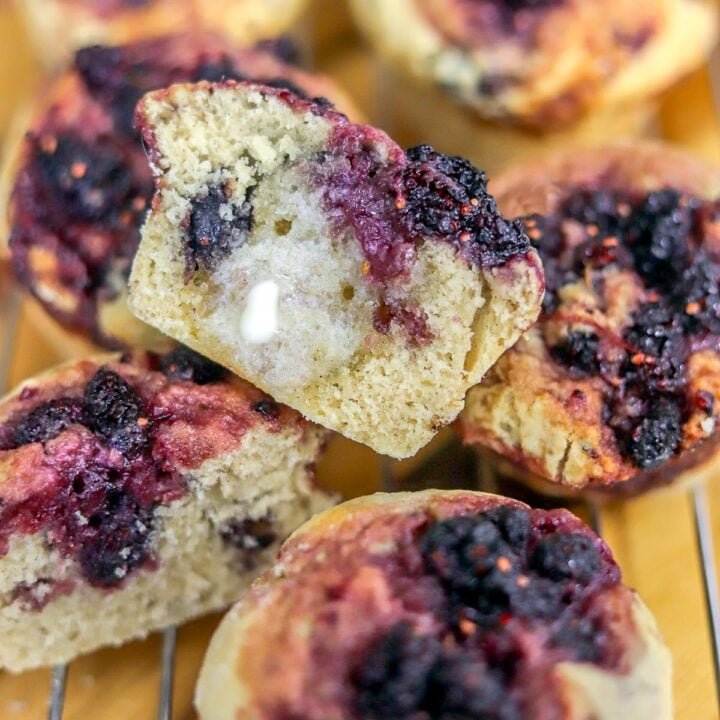 Mulberry Muffins
Moist, tender, and delicious, these Mulberry Muffins are perfect to enjoy with your morning coffee or anytime you want to indulge in a delicious portion-controlled treat.
---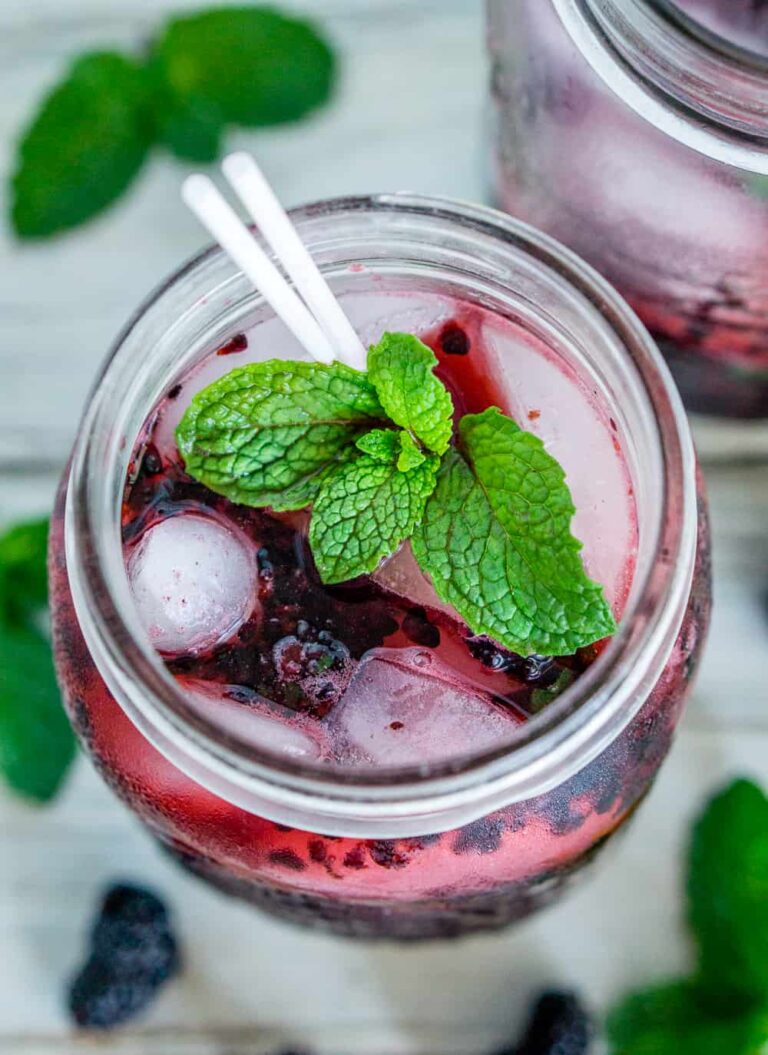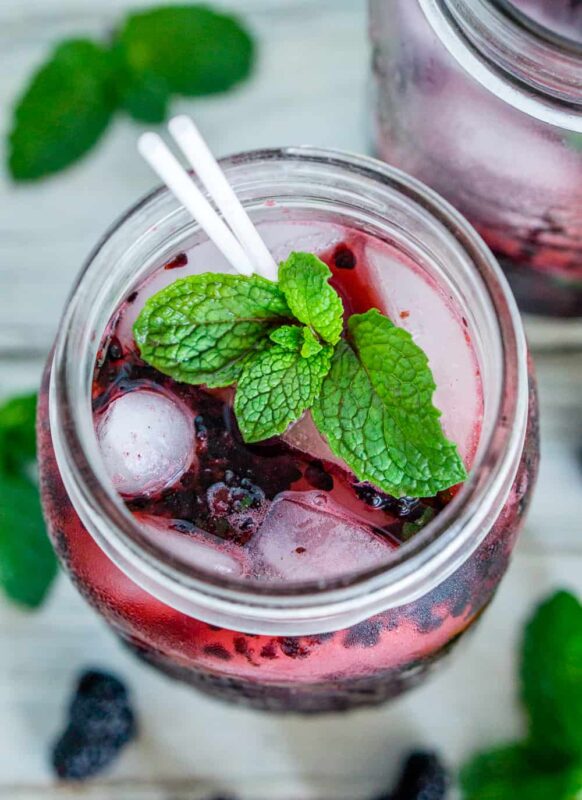 Mulberry Mojito
Cool off with a refreshing Mulberry Mojito! You'll love this fruity twist on the classic mojito. Psst! You can make this mojito with blackberries or blueberries if you can't find mulberries!
---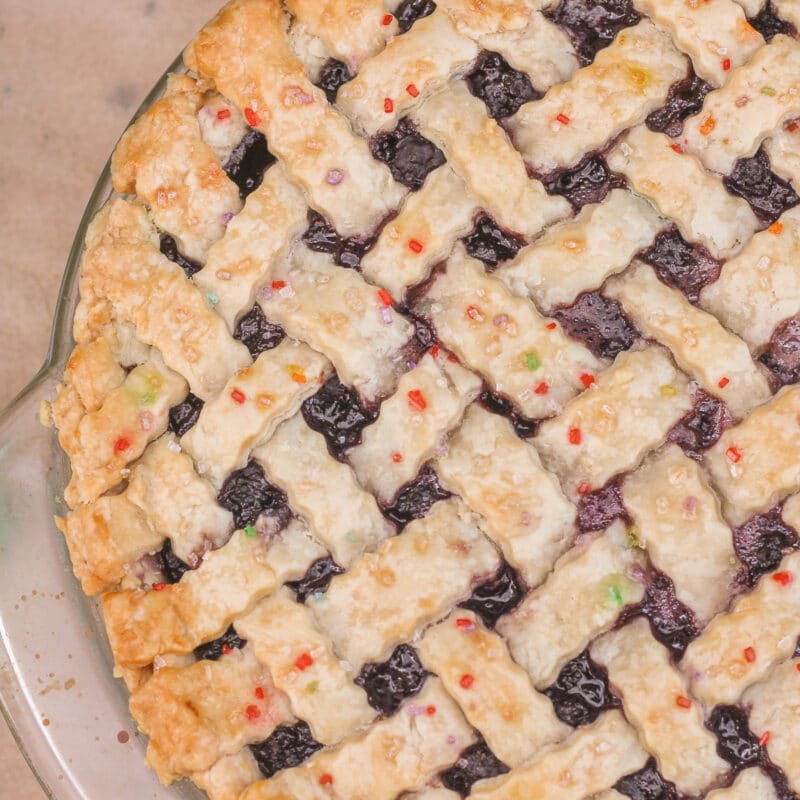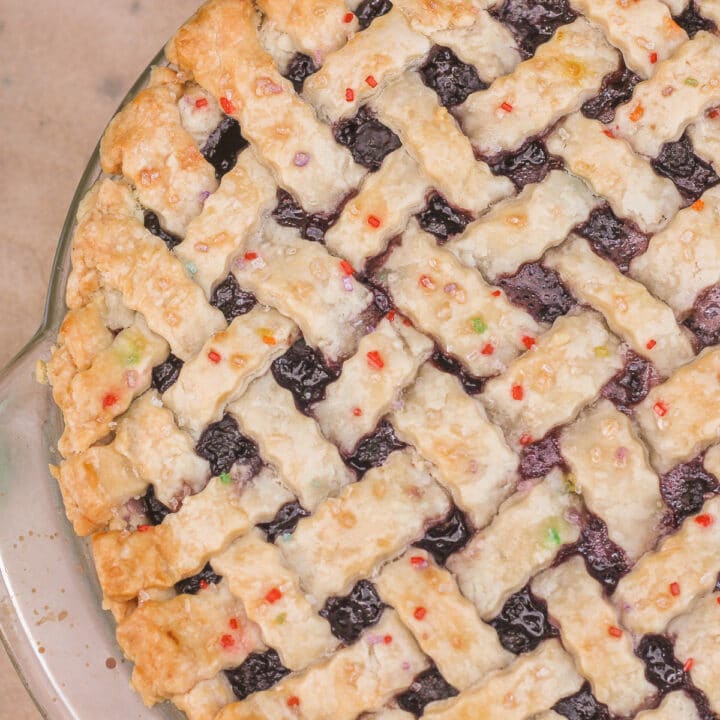 Mulberry Pie
Have you ever had Mulberry Pie? If not, let's change that right now! This Mulberry Pie recipe is just what you need to showcase these juicy and flavorful berries.
---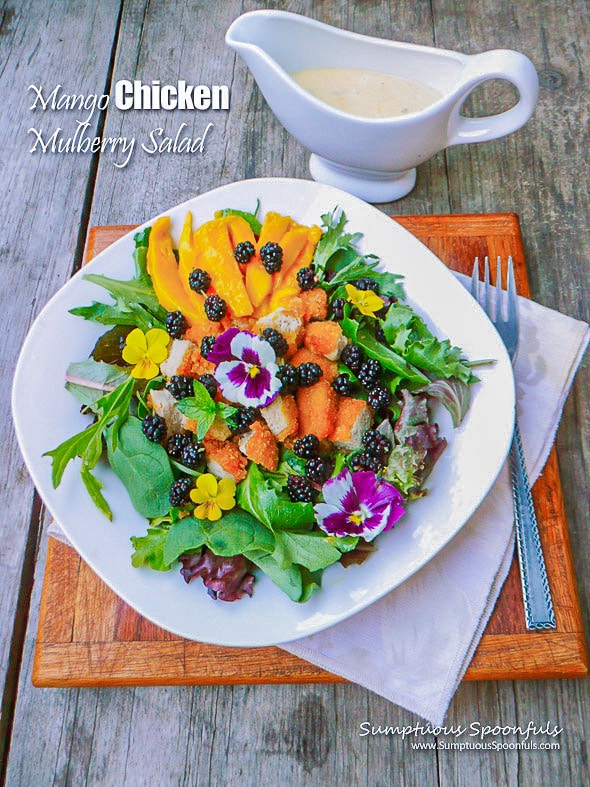 ---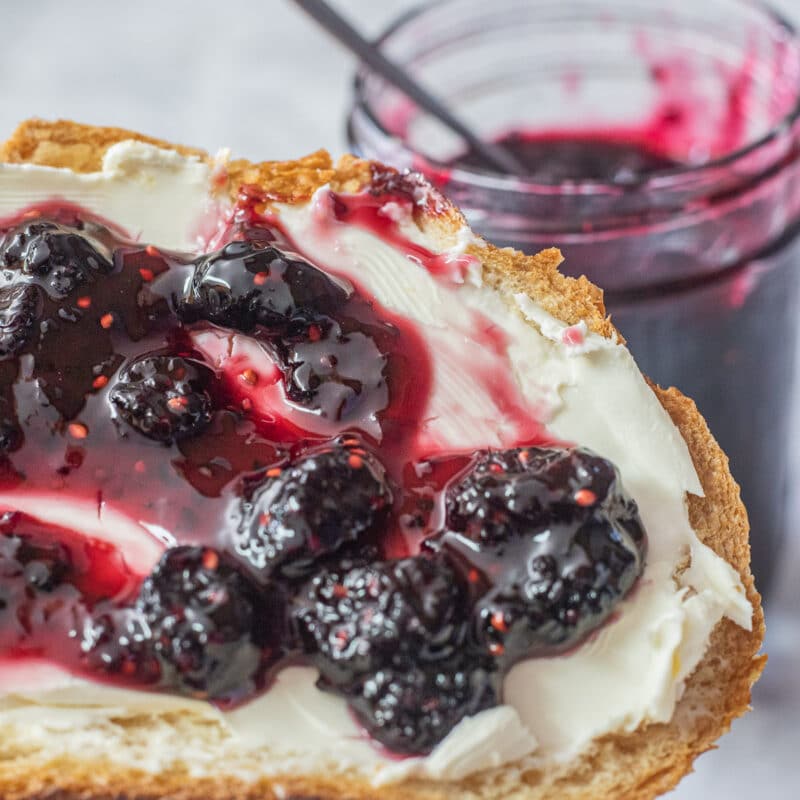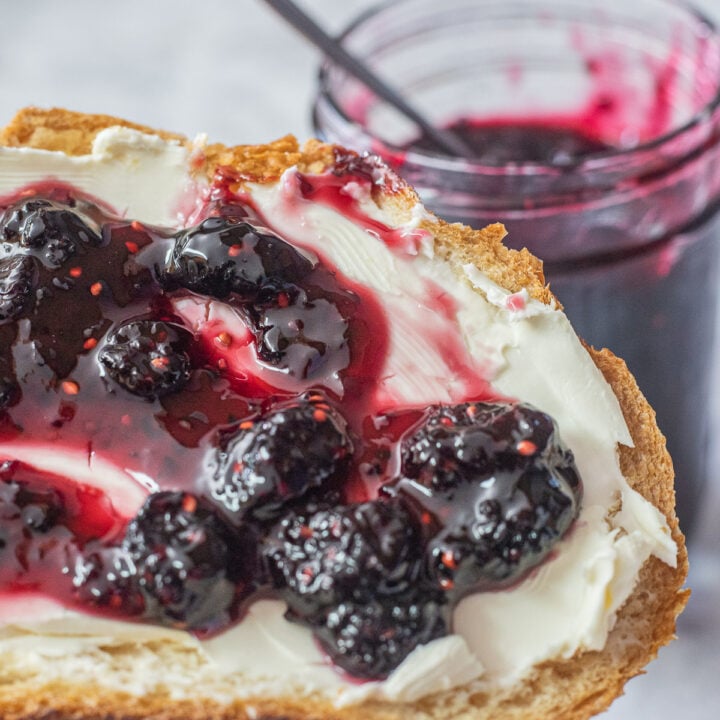 Mulberry Jam
This homemade Mulberry Jam recipe is easy to prepare and absolutely delicious! Try it on toasted sourdough and cream cheese or drizzle it over ice cream!
---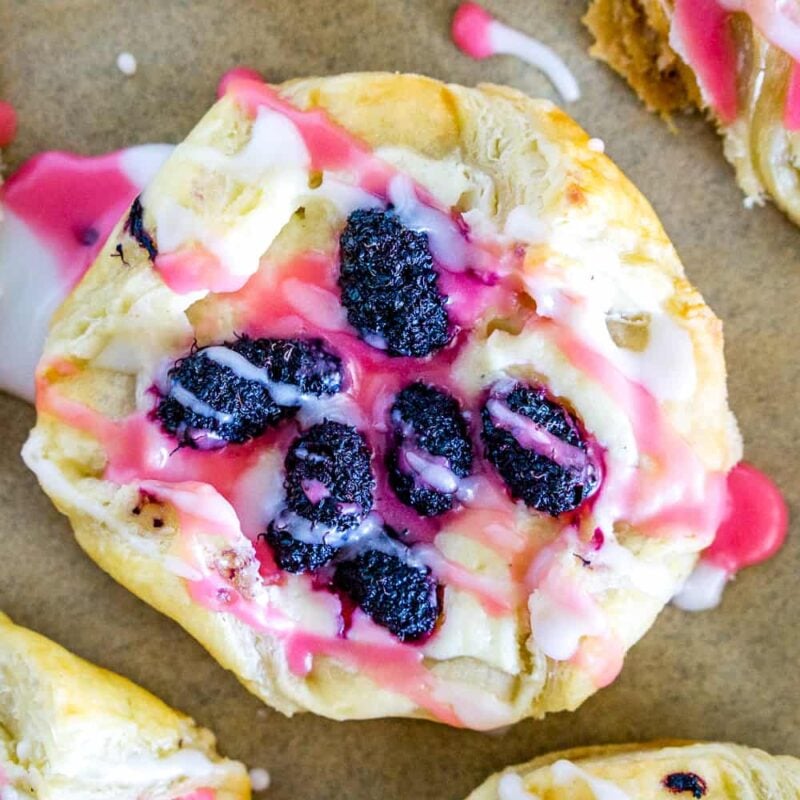 Mulberry Puff Pastry Danishes
These Mulberry Puff Pastry Danishes are the perfect fun-sized dessert made with an easy cheesecake filling and fresh mulberries, yum!
---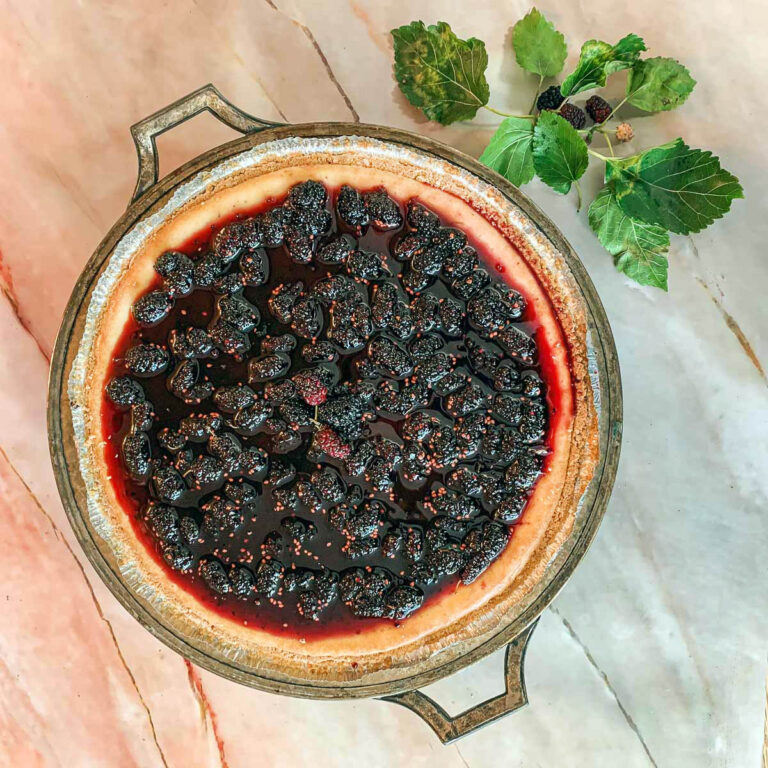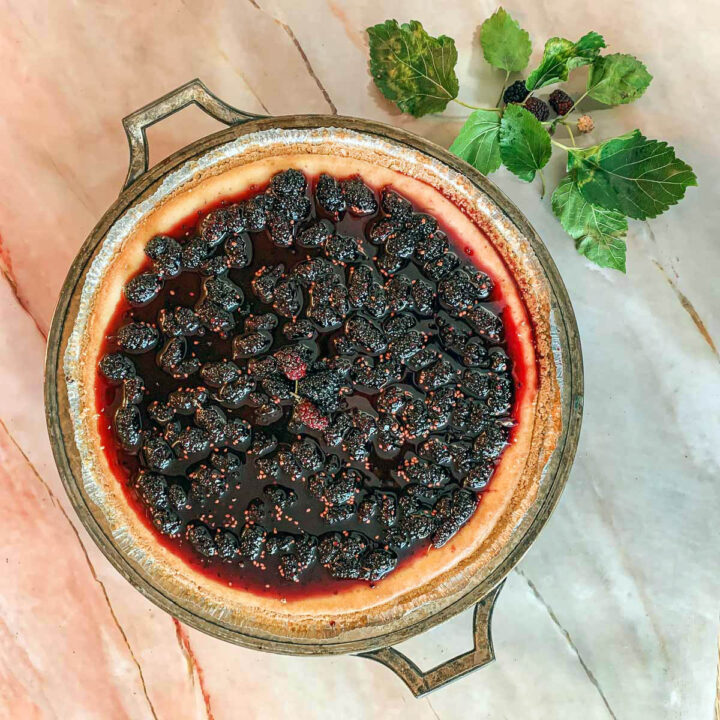 Mulberry Cheesecake
This decadent Mulberry Cheesecake will be a new favorite! Mulberry jam is swirled into cheesecake and also used as a topping, it's so easy!
---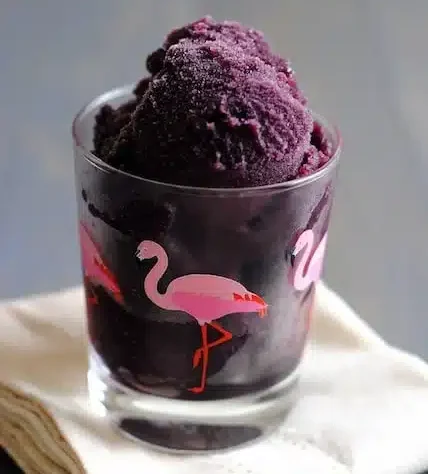 Mulberry Ginger Sorbet
Lori, from FoxesLoveLemons shares this beautiful, Mulberry-Ginger Sorbet and says when life hands her mulberries, she makes this free dessert!
---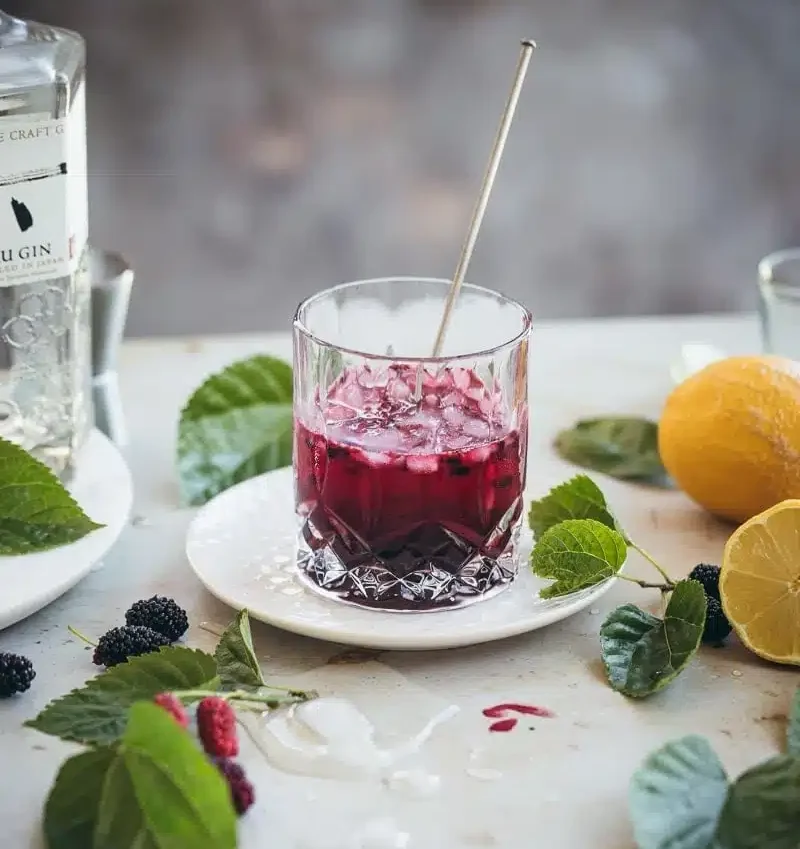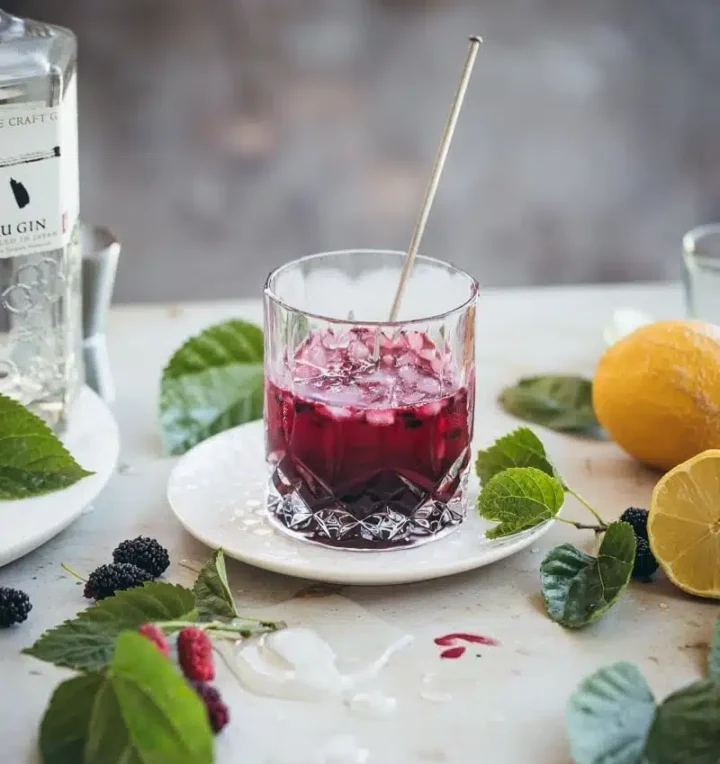 Fresh Mulberry Bramble
A fruity gin-based cocktail made with mulberry liqueur. Isn't it gorgeous? Try it and let me know what you think!
---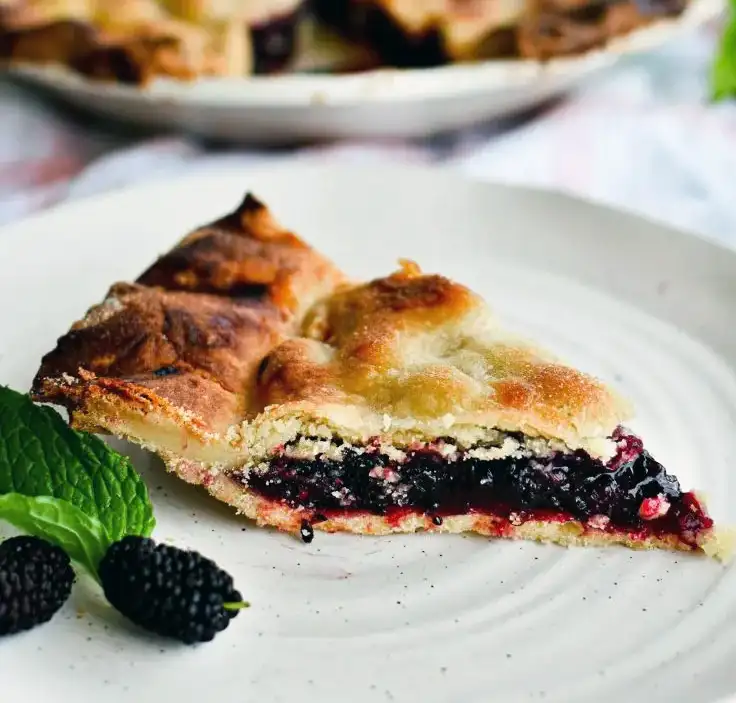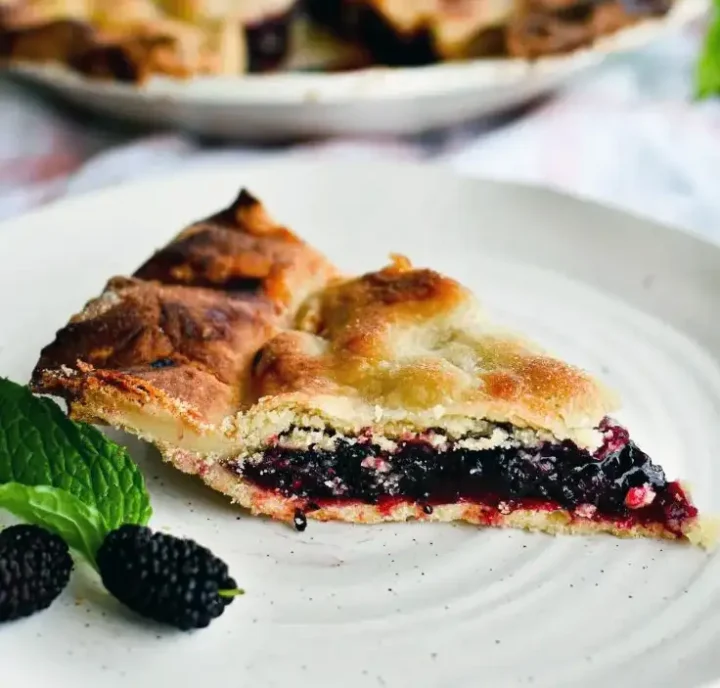 Mulberry Pie Recipe
This Mulberry Pie recipe delivers a rustic dessert that captures the sweetness of fresh mulberries and memories of days gone by!
---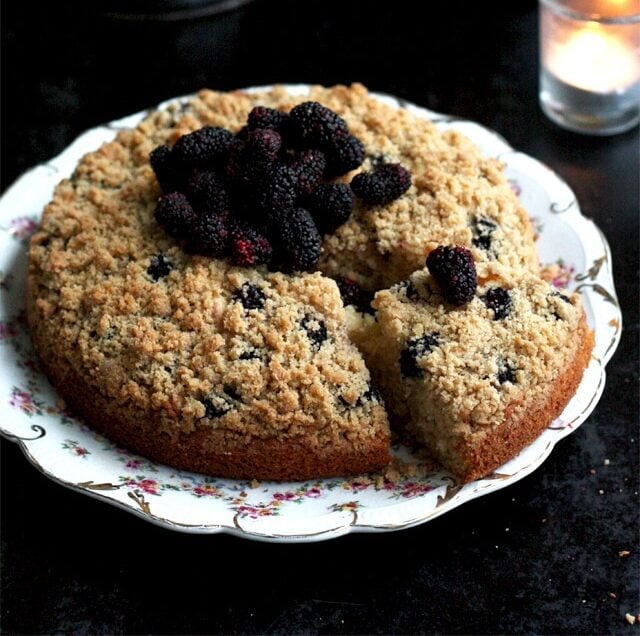 Mulberry Crumble Cake
A bucket of juicy and plump mulberries is used to make this beautiful Mulberry Crumble Cake. So if you have an abundance of mulberries on your hands, give this recipe a try!
---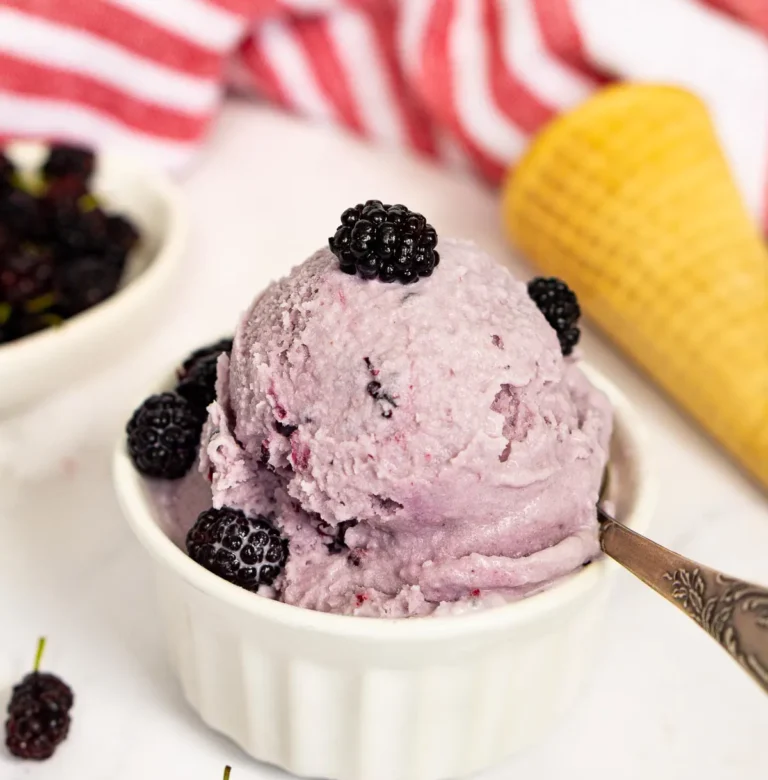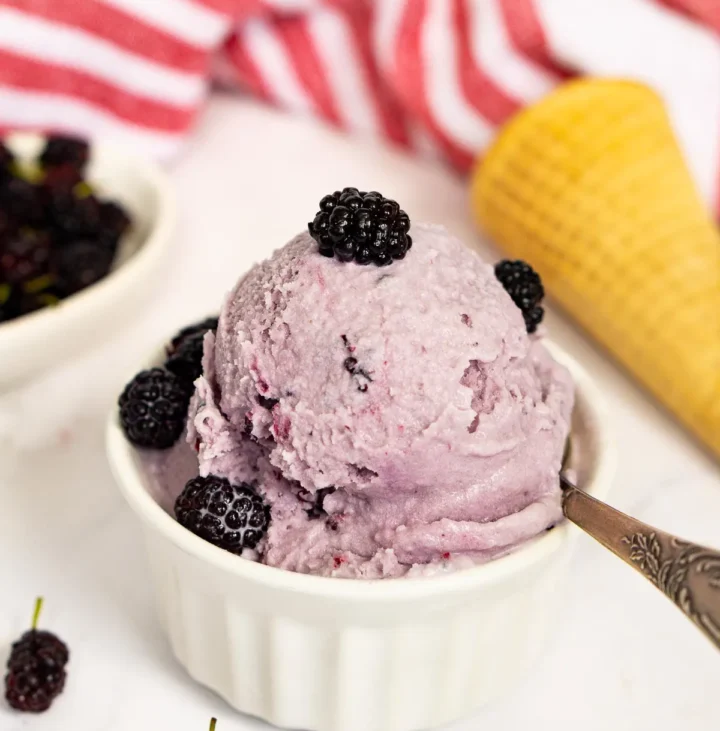 Easy Mulberry Ice Cream
This delicious and simple Mulberry Ice Cream recipe is prepared with a concentrated mulberry syrup, so you know it has to be loaded with flavor!
---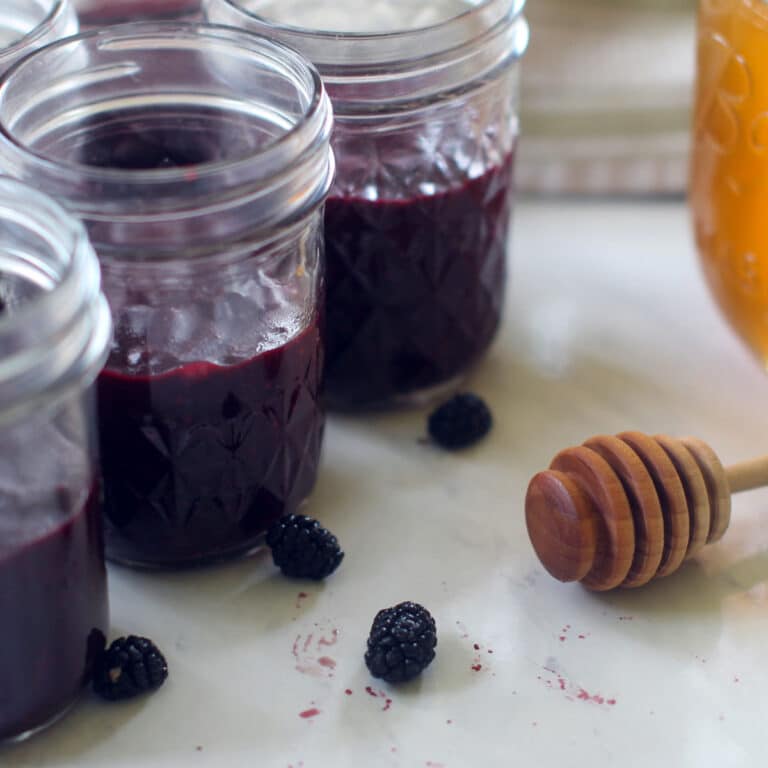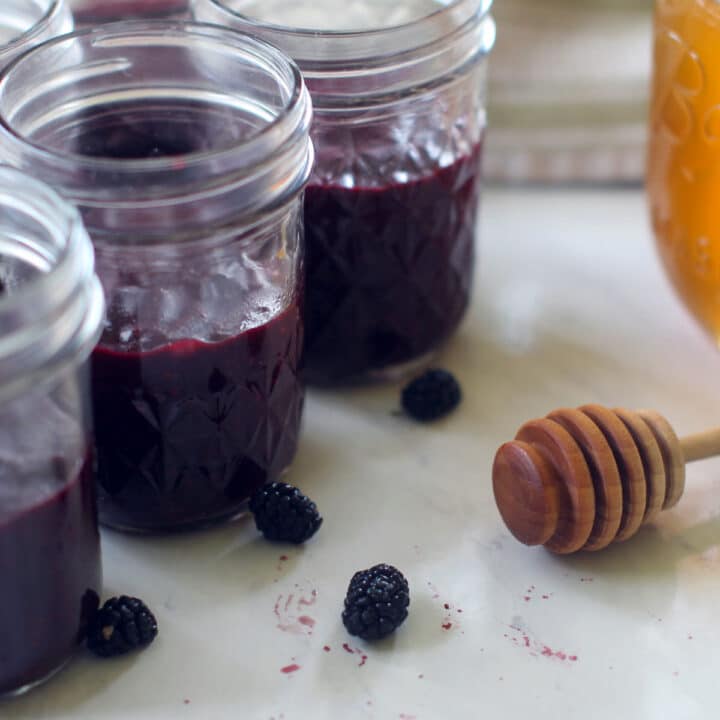 Mulberry Freezer Jam
If you don't want to mess with the canning process, this easy Mulberry Freezer Jam is for you! It doesn't require sugar or pectin and is sweetened with honey!
More Mulberry Recipes!
🤷🏻‍♀️FAQS
How do you remove mulberry stems?
The quick answer is you don't! Mulberries are impossible to pick without their tiny stems staying attached. If you try to pull the stem off, you will end up with a smooshed berry in your hand.

Luckily, you can cook the mulberries along with their stems. If the stem really bothers you, you can just cut the stems off with scissors or clippers. But trust me, it's not necessary!
Can you freeze mulberries?
You can absolutely freeze fresh mulberries! Frozen mulberries can be used in smoothies, milkshakes, adding to baked goods, or to make jam, syrup, wine, or pie.
What is the best thing to do with mulberries?
Mulberries can be eaten straight off the tree or you can try one of the many mulberry recipes out there. For starters, try mulberry jam, mulberry pie, mulberry bread, mulberry muffins, and mulberry juice, just to name a few!
In what zones can you grow mulberries?
There are 13 growing zones in the U.S. and mulberries grow in 9 of them! If you live anywhere from zone 3 through zone 11, there is a mulberry variety that's right for you. Pakistan, Turkeyi, Shah Reza, Black Beauty, and Wildlife Mulberry Tree are just some of the varieties available! Check with your local nursery to see which is best suited for your area.
What are the 3 types of mulberries?
Morus alba (white mulberries) are native to Asia. Their leaves are an important source of food for silkworms! Morus rubra (red mulberries) are native to North America and the largest of the genus, growing up to 70 feet high! Morus nigra (black mulberries), are native to Western Asia and said to be the most flavorful mulberries of the 3.
👩🏼‍🍳Pro Tips
If you plan on hand-picking mulberries, it's a good idea to bring some rubber gloves with you. Similar to huckleberries, mulberries are infamous for staining hands, clothes, feet, or anything they come in contact with!
The easiest way to pick a large amount of mulberries is to lay an old sheet under the mulberry tree and shake the tree or branches until the mulberries fall onto the sheet. Then simply gather the sheet's corners and carry your loot to where you will process them.
Before freezing mulberries, make sure they are thoroughly washed and patted dry with paper towels. Spread the berries in a single layer on a large cookie sheet and freeze for a few hours. This will help to keep them from freezing into a solid block. Once frozen, store them in freezer bags for up to a year!
🍒Related Recipes
Love this recipe? Please leave a 5-star 🌟🌟🌟🌟🌟rating in the recipe card below & a review in the comments section further down the page.

Stay in touch with me through social media @ Instagram, Pinterest, TikTok, and Facebook. Don't forget to tag me when you try one of my recipes!