Elk is one of my favorite game meats; It's right up there with bison and moose. So when I decided to come up with an Elk Burger recipe, I knew it had to be something special.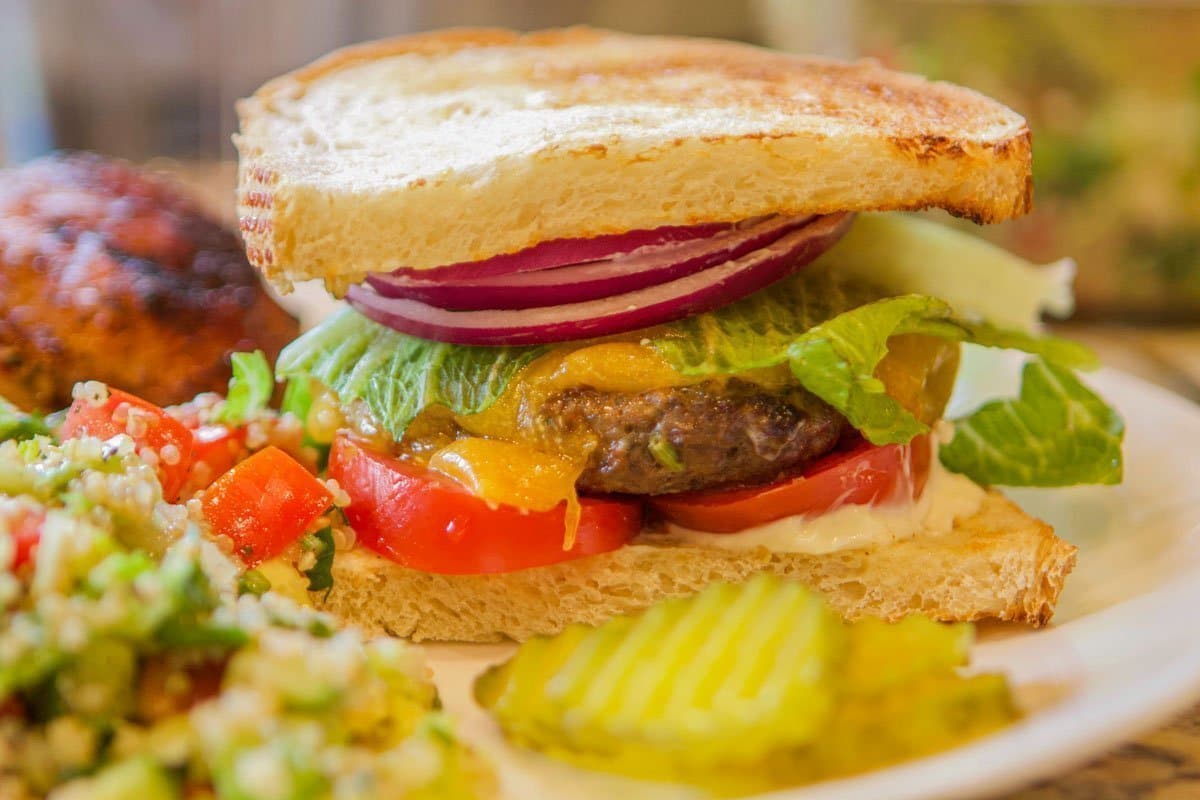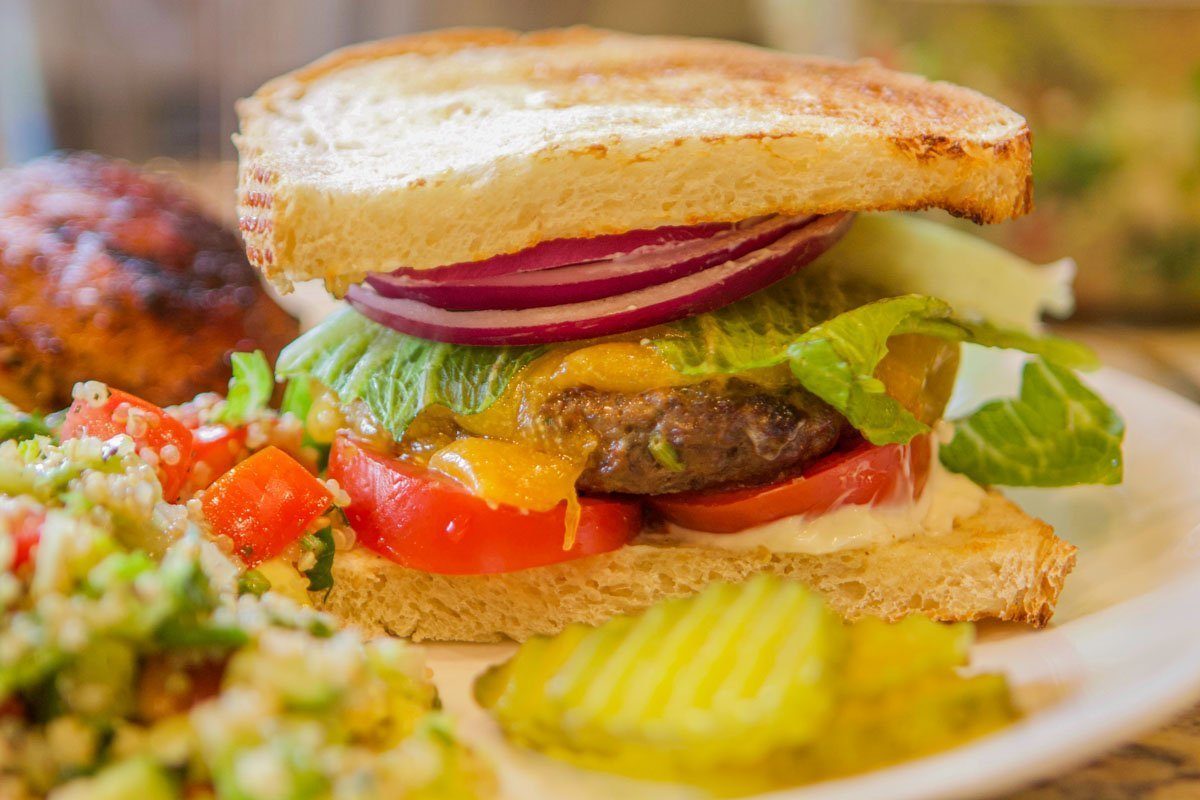 Let me just warn you that these Elk Burgers are not your average burgers. As a matter of fact, if you were to buy this burger at a fancy restaurant, it would probably be listed as a "Gourmet Elk Burger."
The ingredient list might or might not be familiar to you. But don't let that scare you. This just might end up being your favorite Elk Burger recipe!
Elk's on the Menu
We are currently spending a month in our Montana home. We plan on going back and forth between Montana and San Diego until we make our final move to Montana within a year or so.
During our last stay, our neighbor, Neil, gave us a package of elk burger. I had forgotten all about it until this morning. I woke up to elk all around our bedroom windows!
Although they had been hanging around the last time my husband came up, this was my first time seeing them.
I was reminded of the elk meat in the freezer and decided then and there that elk would be on tonight's menu.
Frequently Asked Questions
Is Elk Meat Healthier Than Beef?
According to Montanelk.com, 22% of the meat energy from elk is derived from fat, compared to 33% of beef.
Not only that, but elk meat is lower in cholesterol than beef, pork, and lamb. Further, being leaner also means it's lower in calories.
When we consider how wild game meat compares to hormone-ridden beef sold in stores, it's easy to see that elk is the obvious choice.
For all these reasons, elk meat is becoming more popular, especially with health-conscious individuals.
So do what you need to do to get your hands on some elk burger and try this exotic Elk Burger Recipe soon.
Do you need to add Fat to Ground Elk Meat?
Because ground elk meat is so lean, the butcher will usually mix in some suet when processing the elk. This is done to help bind the meat together.
If, however, you are grinding your own elk burger, consider getting some beef fat from your local butcher. Most butchers will give it to you free of charge, or for a reduced price.
You will want to mix in approximately 10% of cow fat with the elk meat. For example, for every pound (16 oz) of elk meat, mix in 1.6 ounces of fat.
If you don't have one already, get yourself a kitchen scale; I love mine!
If you don't want to hassle with a butcher, add one to two tablespoons of olive oil to one pound of ground elk burger.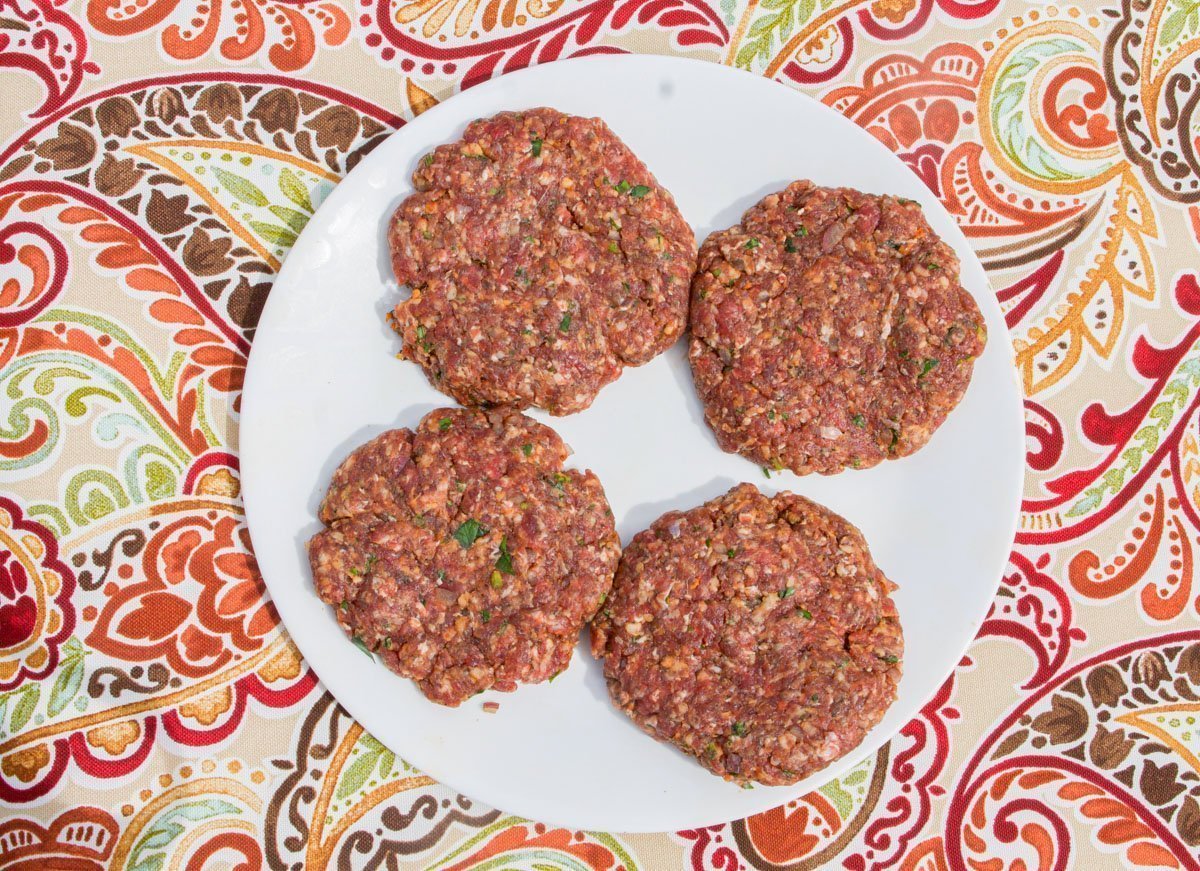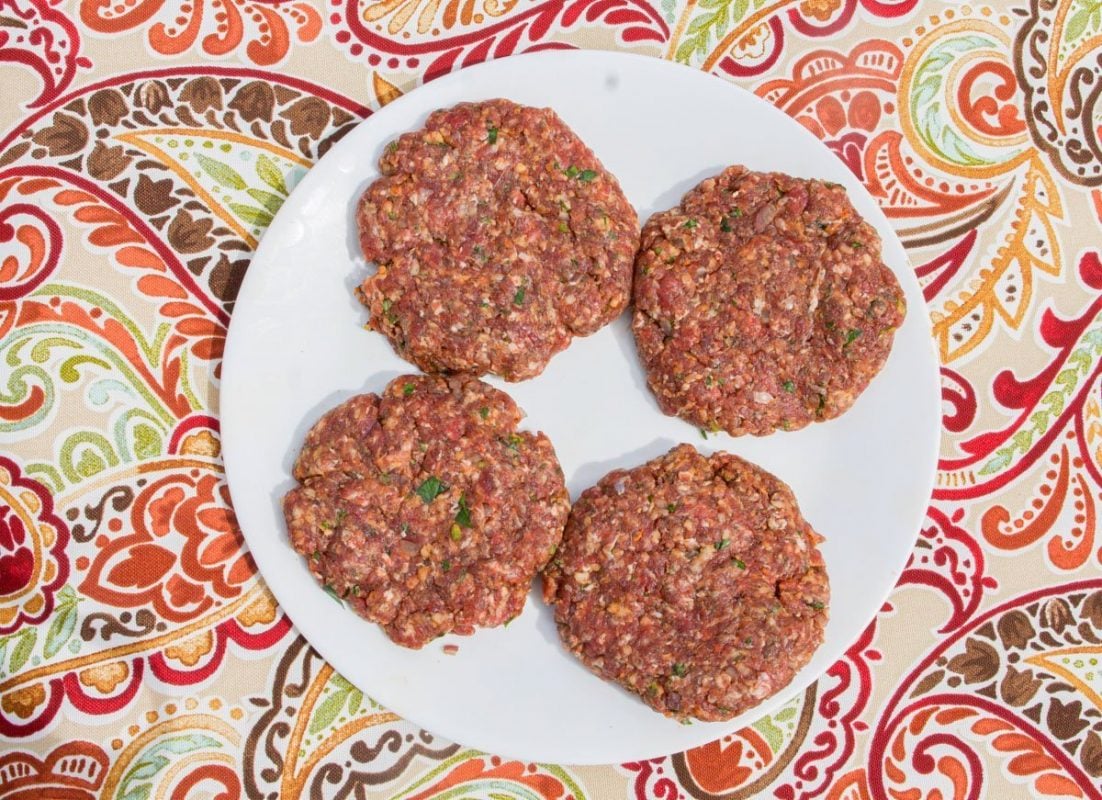 What Does Elk Meat Taste Like?
Did you know that although people think of deer meat when they hear the word "venison" but in fact, elk meat is also considered venison? The things you learn when you do just a little research...
Elk meat really does not taste that different than beef. However, it is slightly sweeter than beef. Surprisingly, it does not taste gamey like deer meat and is perfect for making venison stew.
Unfortunately, elk meat can be hard to find in your local grocery store. If you do find it, it will most likely be pricy.
If you have a hunter who stocks your freezer with elk meat, be sure to give them a little extra love!
Elk Burger Seasoning
So how is the seasoning for me Elk Burgers different than the average burger recipe? Let's just say it has some of the same ingredients used in my Kofta Kabob recipe.
The truth is, when I was planning my elk dinner, I wanted to make Elk Kabobs. It then dawned on me that my Kabob skewers were back in San Diego.
I morphed my elk kabobs recipe into elk burgers instead.
Some of the ingredients I used are salt, pepper, sumac, cloves, onion, and parsley. Let's just say the end result was amazing. If you don't believe me, just ask Scott!
Elk Burger Serving Suggestions
Because of the unique ingredients in this recipe, I don't recommend the usual ketchup and mustard with these burgers.
Instead, I would pick from the following: mayonnaise, lettuce, tomatoes, onions, and pickles.
I served these burgers on grilled sourdough, topped with sharp cheddar cheese. Surprisingly, it all came together beautifully!
To keep with the Kebab theme, I served these burgers with Tabouli, Tasty Mashed Potatoes, or Hummus!
You may be interested in the following game recipes:
Stay in touch with me through social media!
Tried this Elk Burger Recipe? Snap a picture and tag #hildaskitchenblog on Instagram. 
Like my page on Facebook.
Do you Pinterest? Pin & share this recipe!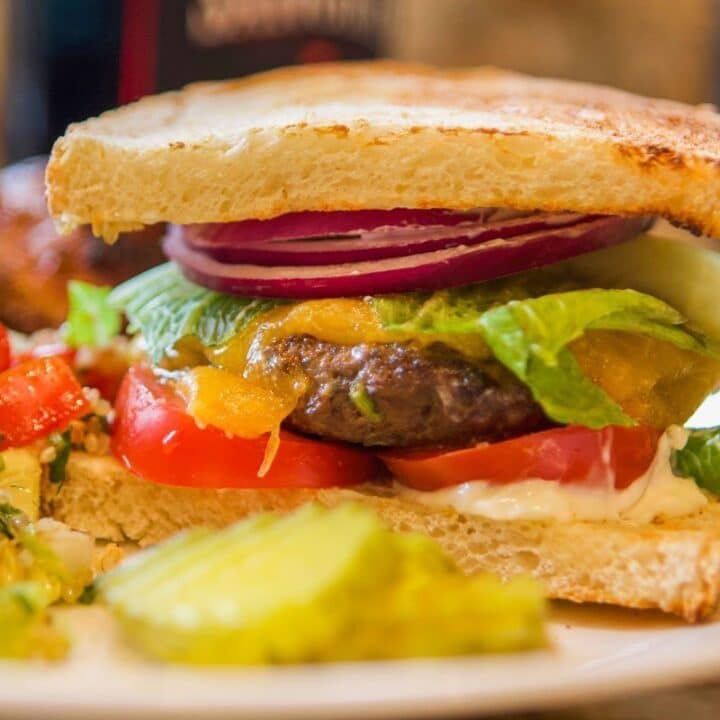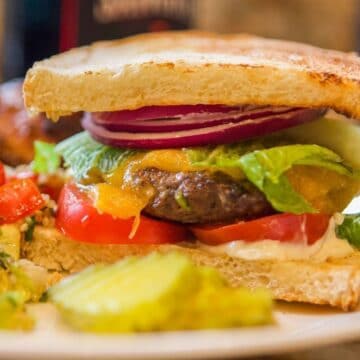 Elk Burger Recipe
Gourmet Elk Burgers that are far from the ordinary burger!
Print
Rate
Ingredients
1

lb.

ground elk meat

3/4

tsp.

salt

1/2

tsp.

black pepper

1/2

tsp.

paprika

1

tsp.

sumac powder

1/4

tsp.

cayenne pepper

(optional)

1/8

tsp.

ground cloves

3

T.

minced parsley

2

T.

minced red onion
Instructions
Defrost elk meat if frozen, and add to a medium-sized bowl.

Mince parsley and onion and add to the bowl.

Work all the ingredients together, using your hands, until completely blended.

Cover the bowl and refrigerate for at least a couple of hours.

Form meat into four burger patties. Cook over medium flame on barbecue grill for four minutes. Flip over and cook for three additional minutes. Add a slice of cheddar cheese and cook for one more minute.
Notes
The cooking time yields a medium-cooked burger. If you prefer your burger to be cooked less, adjust the cooking time accordingly.
Nutrition
Serving:
1
patty
|
Calories:
116
kcal
|
Protein:
24
g
|
Fat:
4
g
|
Saturated Fat:
0
g
|
Sodium:
544
mg
|
Fiber:
1
g
|
Sugar:
0
g