Have you ever tried a good Buffalo Burger Recipe? If not, no time like the present! Although bison meat is quite lean, there are still ways to make it juicier, which I share in this recipe.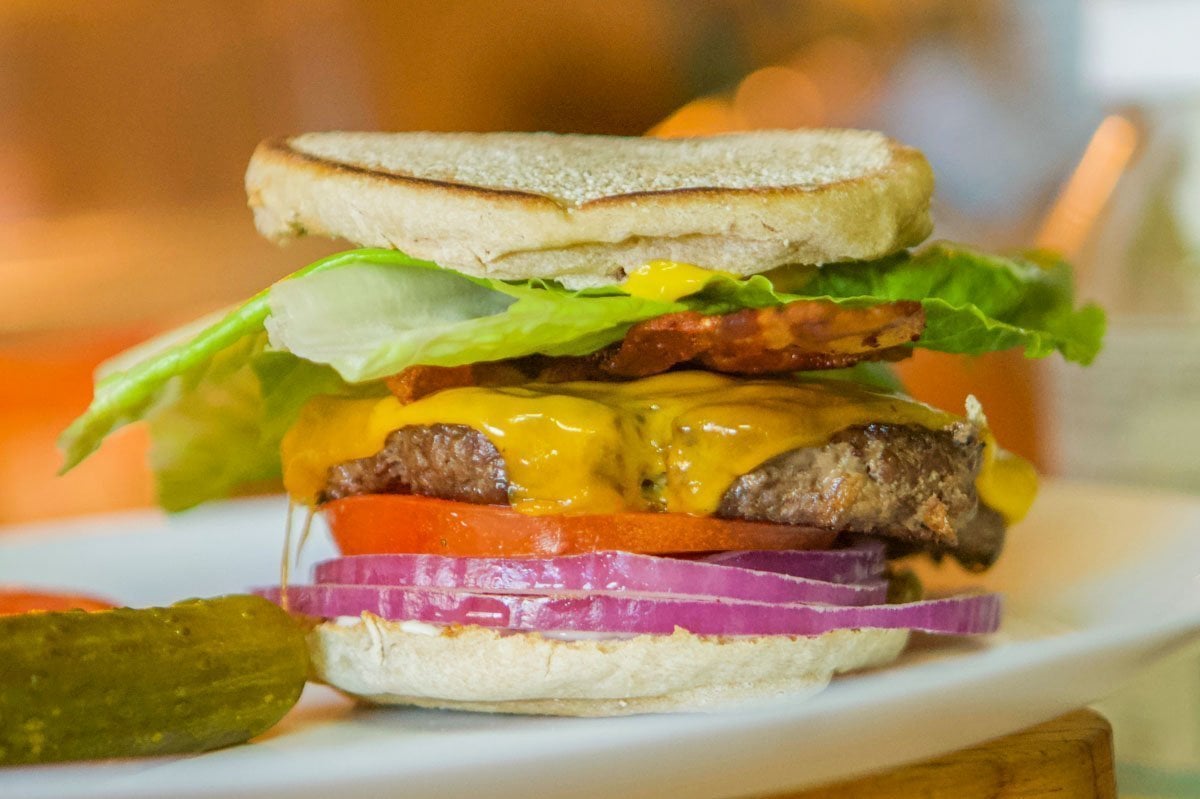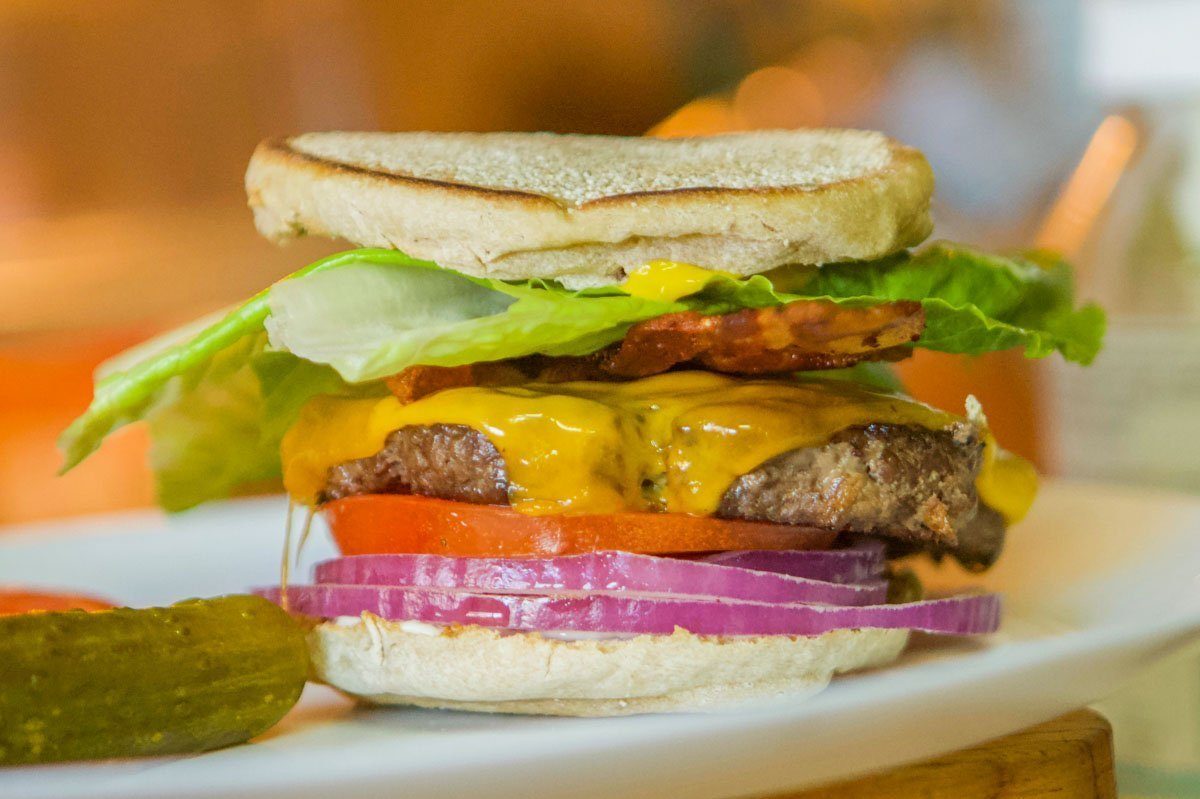 Of all the game animals Scott has brought home over the years, bison meat more closely resembles the taste of beef (but way healthier). This includes venison, elk, antelope, and moose.
For the last three years, I've been trying to perfect this buffalo burger recipe (technically bison). It's been that long since Scott brought home 440 pounds of bison meat from one of his hunts.
After many tries, I am finally happy with this "buffalo burger recipe." Who knew the missing ingredient was bacon grease? But don't worry, I only use one tablespoon.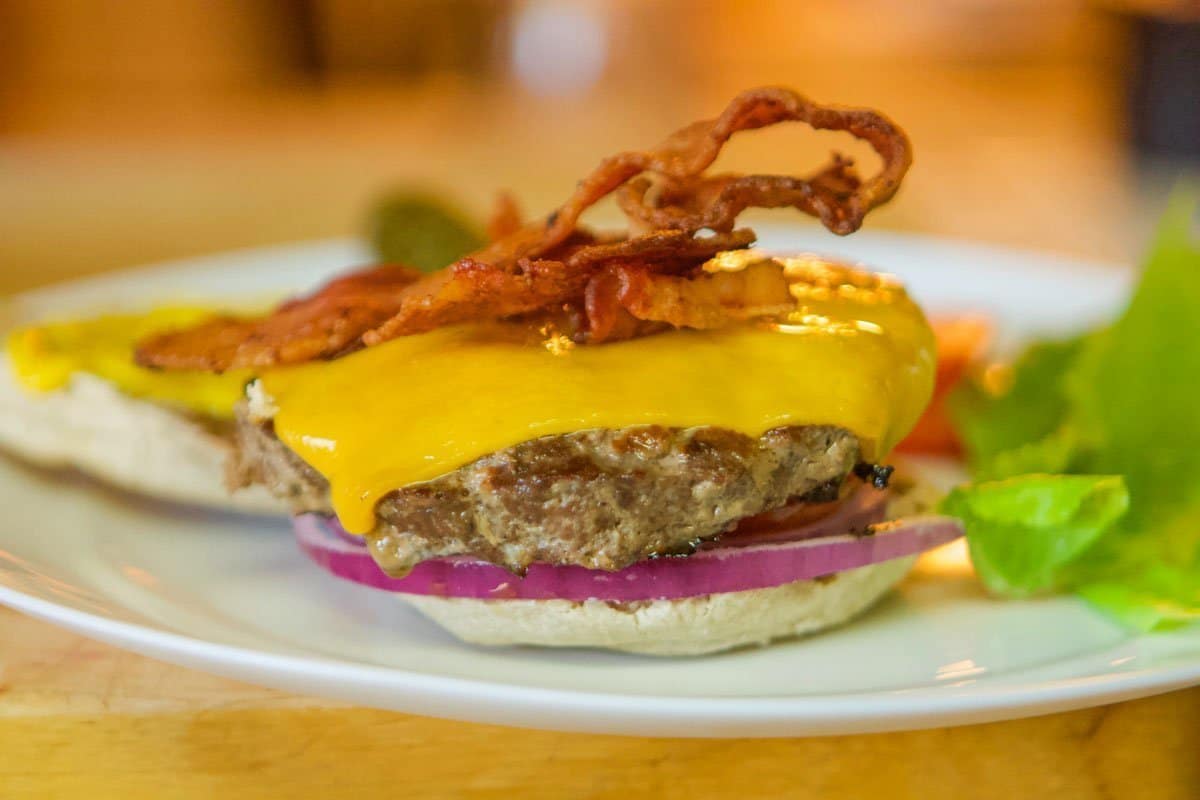 The Best Buffalo Burger Recipe!
Now, let's talk about the combination of ingredients that make up the absolute best bison burgers. Bison meat is very lean, so lean in fact that suet is usually added to the ground meat as a binding agent.
Because the meat is so lean, I always add olive oil to my bison burgers. This time, however, I had a bowl of bacon grease on the counter from that mornings' bacon and eggs. I decided to roll the dice and add some to the meat mixture. Boy, am I glad I did!
To further bind the ground bison, I added an egg, and a slice of bread. I didn't have breadcrumbs on hand and remembered that mom used to add a slice of bread to her kofta kabob mixture. I also added some roasted garlic. You can read about a quick method of roasting garlic in my kitchen hacks post.
What's the Difference between buffalo and bison?
Did you know that there is a difference between buffalos and bison? It seems that most people use the two names interchangeably, which is what I do in this post. This way people searching for either term will find this recipe!
However, bison and buffalo are two different creatures altogether; residing in different continents in fact. This fact has been drummed into us ever since Scott brought home the bison meat.
Any time one of us would accidentally say "buffalo meat" our son, Scott, would correct "you mean bison." Now we just refer to it as "Tatanka," (Dances with Wolves reference). Let's take a quick look at the differences between these two animals:
Buffalo vs. Bison
Buffalo can be found in Asia, North Africa, and Southern Europe, while bison reside in America and Europe. Although some have been domesticated, there are other species, like the Cape buffalo, which can be dangerous. Have you seen the size of those horns?
Other differences in their appearance include their coat. Buffalo are not wooly like bison and don't have the beard that bison are known for. Another difference is that bison have a hump, and buffalos don't. In fact, once you compare the two, you'll see they look nothing alike.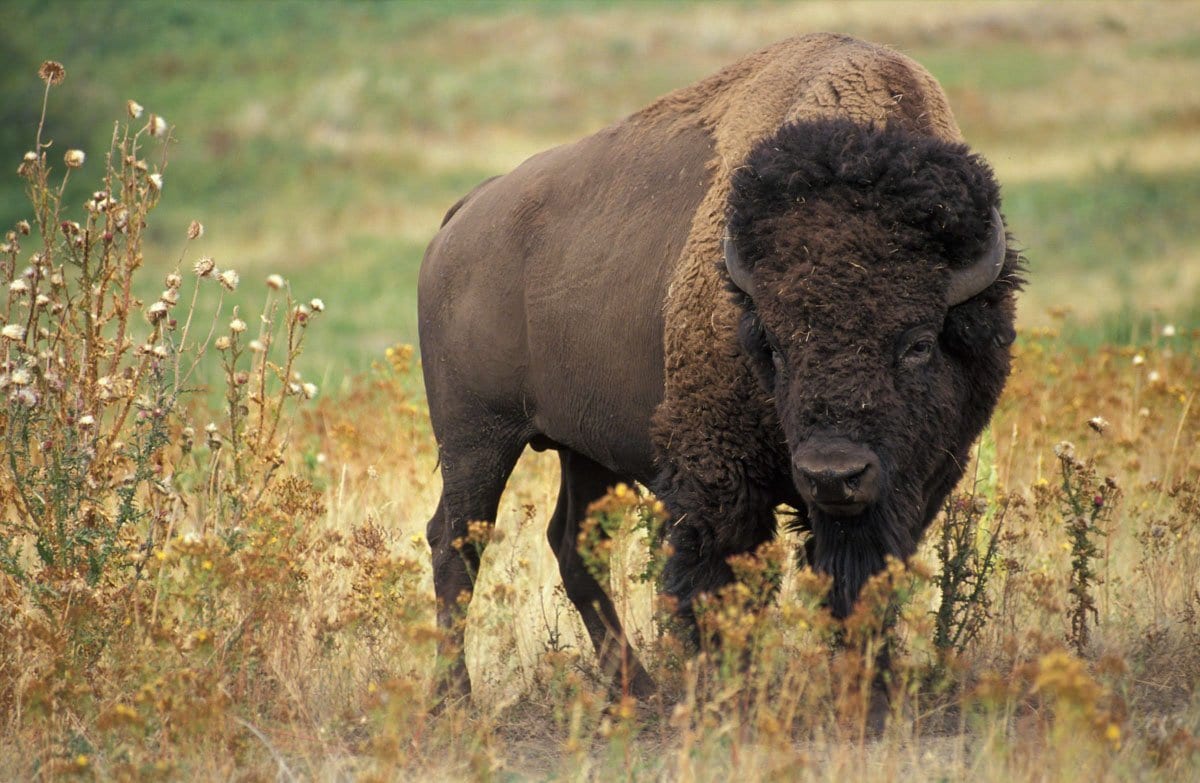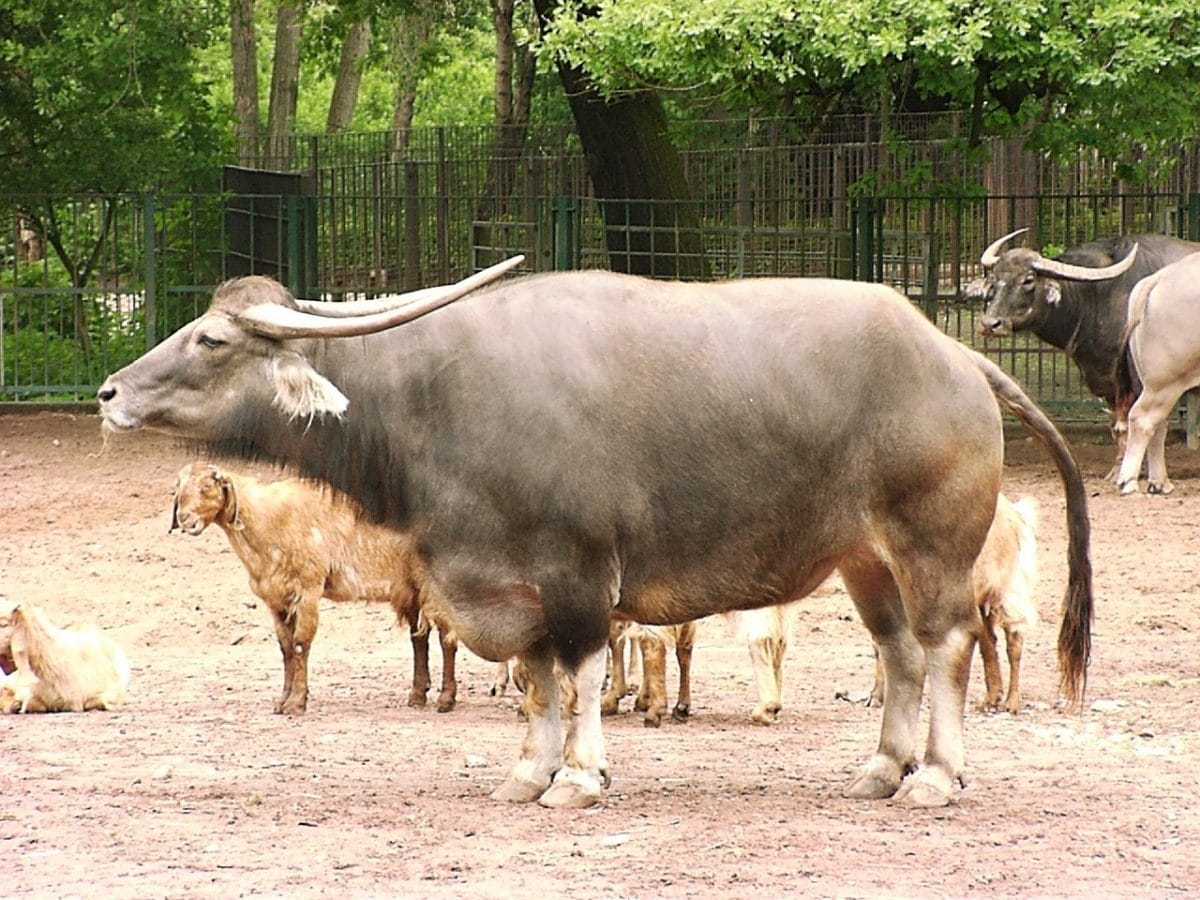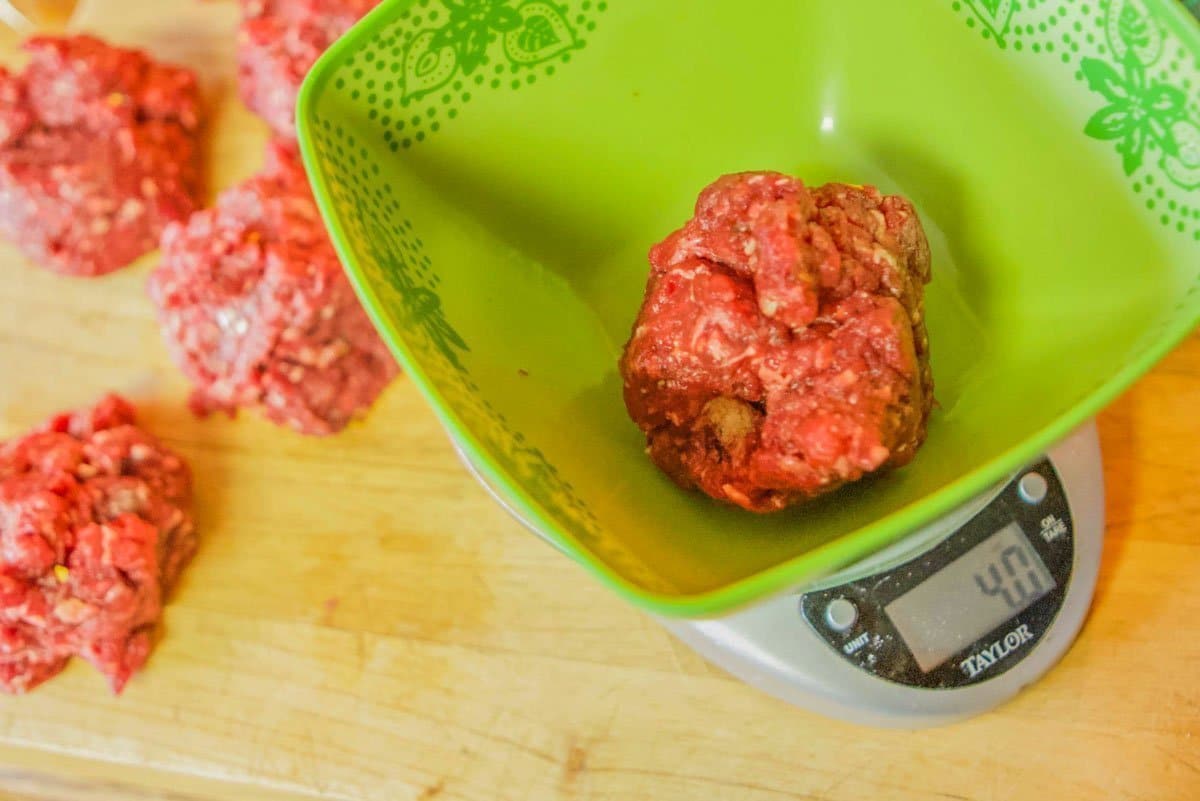 Are Bison/Buffalo Burgers Healthy?
Bison is lean in fat and high in protein. The fact that it tastes so good is definitely an added bonus. There are many ways to make this bison burger recipe even healthier.
One way to make the recipe healthier is by replacing the bacon grease with olive oil. Or grill the burgers, instead of frying them. Another idea is to replace the cheese with low-fat cheese or skip it altogether.
You'll notice in the picture that I served my burger with bacon, but turkey bacon is another great option. Or leave the mayo off and replacing it with mustard instead. But my favorite way of cutting down on calories and carbs is to use Thomas' Lite English muffins instead of hamburger buns.
However, if you're really cutting down on carbs, just serve the burger wrapped in butter lettuce. The soft leaves are the perfect shape and size for burgers.
You may also be interested in the following recipes: Gourmet Elk Burgers, Spicy Game Jerky, and Bison Chili Recipe.
STAY IN TOUCH WITH ME THROUGH SOCIAL MEDIA!
Tried this recipe? Snap a picture and tag #hildaskitchenblog on Instagram.
Like my page on Facebook.
Do you Pinterest? Pin & share this recipe!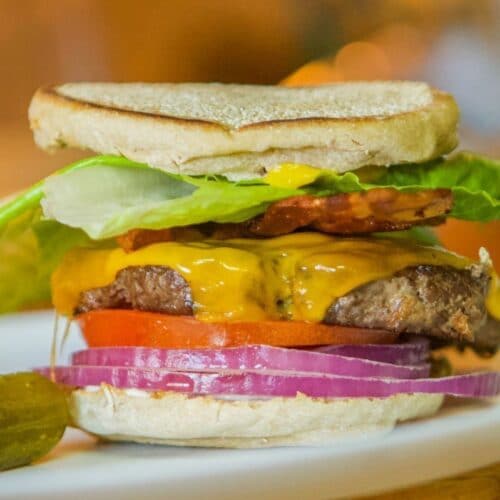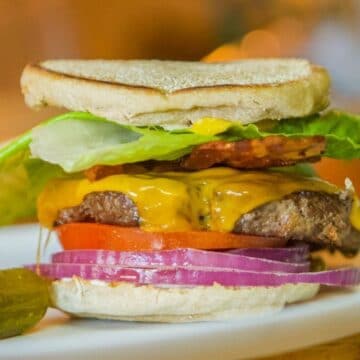 Best Bison Burgers
The best bison burgers you'll ever have!
Print
Rate
Ingredients
2

lbs.

bison burger

1

tsp.

salt

1

tsp.

Montreal Steak Seasoning

3

cloves

roasted garlic

pressed

1

tsp.

crushed red pepper

1/2

tsp.

black pepper

1/4

tsp.

liquid smoke

1

T.

bacon grease

(or olive oil)

1

slice

white bread

(torn in small chunks)

1

egg
Instructions
Mix all the ingredients in a large bowl, using your hands. Make sure the ingredients are thoroughly combined

Divide the meat in half, then in fourths, and finally into nine equally-sized portions. You should have enough for nine 4 oz patties.

Form the meat into patties using your hand, or a hamburger press. Place wax paper between the patties and freeze until ready to eat.

Cook for approximately five minutes per side (either in a frying pan or on the grill).

Do not press down on the burgers as they cook, this releases all the juices, resulting in a dry burger.

Top with your favorite hamburger fixings and serve.
Notes
Nutrition info is for one burger patty without the bun or fixings.
Nutrition
Serving:
1
patty
|
Calories:
251
kcal
|
Carbohydrates:
2
g
|
Protein:
20
g
|
Fat:
18
g
|
Saturated Fat:
8
g
|
Cholesterol:
92
mg
|
Sodium:
383
mg
|
Fiber:
1
g
|
Sugar:
0
g