Before we look at my turkey pot pie recipe, a few words about Thanksgiving. I love it, don't you? I don't necessarily love turkey, but I do love gathering with family and friends, giving thanks, and of course, cooking!
Unfortunately, when I finally sit down to my loaded plate, I'm always left a little disappointed. I guess I'm just not a huge Thanksgiving food fan, but the idea of having leftovers to create something new with leaves me excited!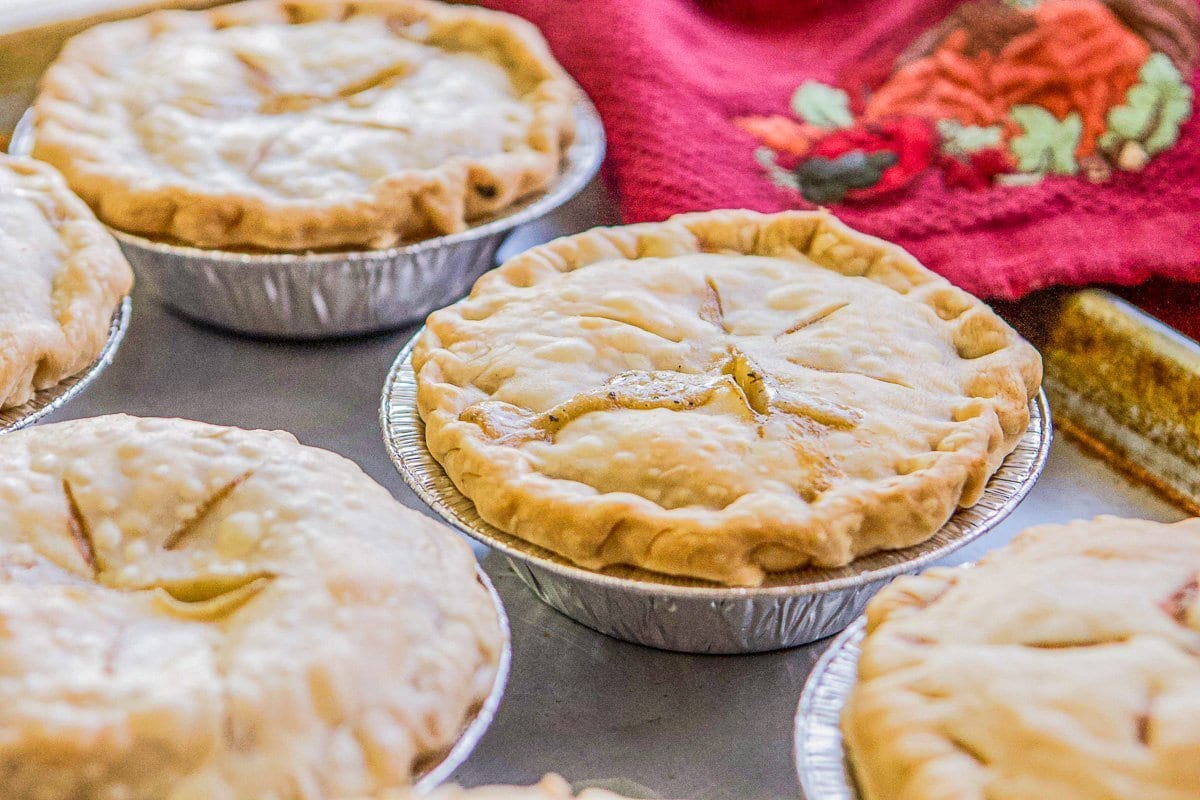 Creamy Turkey Soup Day
Black Friday is known as the day when eager shoppers wake up early to fight the crowds in hopes of getting some great deals. But not in our house; to me, it's soup-day! Creamy turkey soup, to be exact. I share the recipe on my Facebook page yearly, and everyone seems to love it.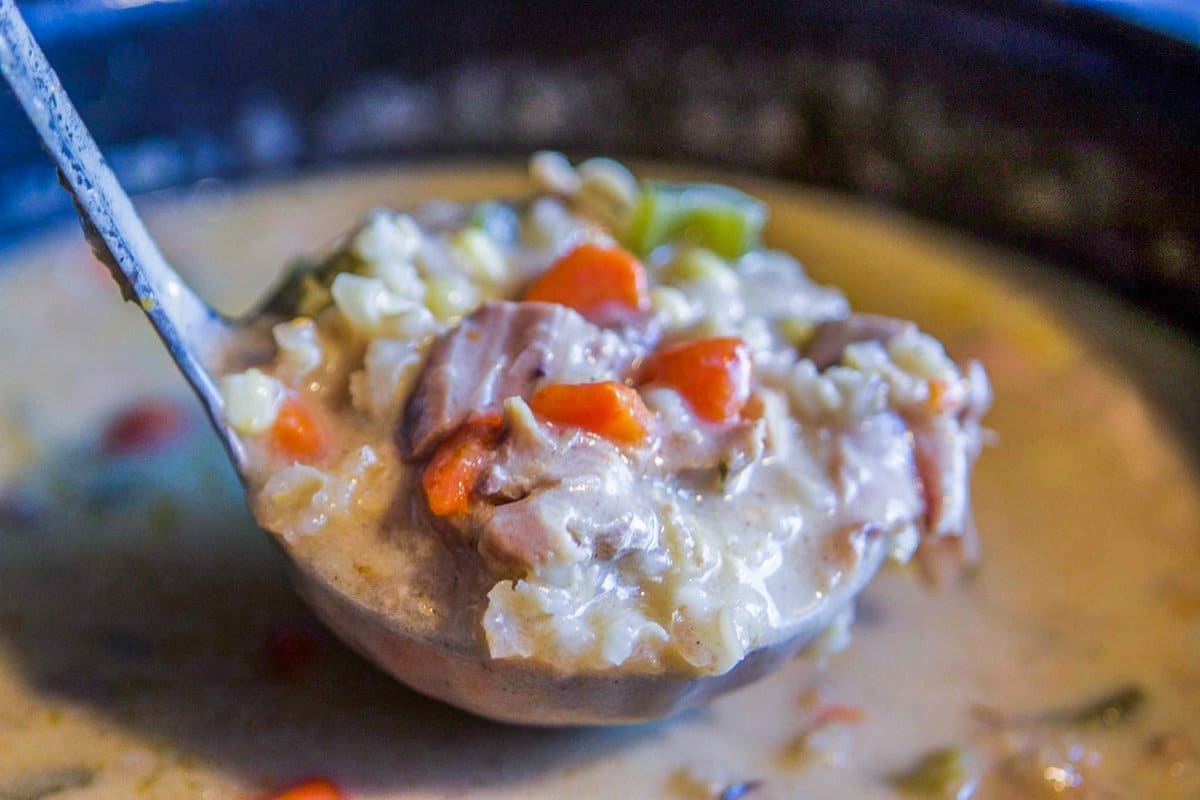 The Best Turkey Pot Pies
Soup Day is usually followed by Turkey Pot Pie Day. Using the soup and the remaining Thanksgiving leftovers, I make a turkey pot pie or mini pies. I leave a few out for us to eat, and freeze the rest for Scott to take to work for lunch.
Once frozen, these mini pies just pop right out of the aluminum pie pans and can be microwaved and enjoyed. Scott's favorite way of eating them is with cottage cheese and sliced avocados on the side. Maybe that sounds a little strange, but it's actually quite good!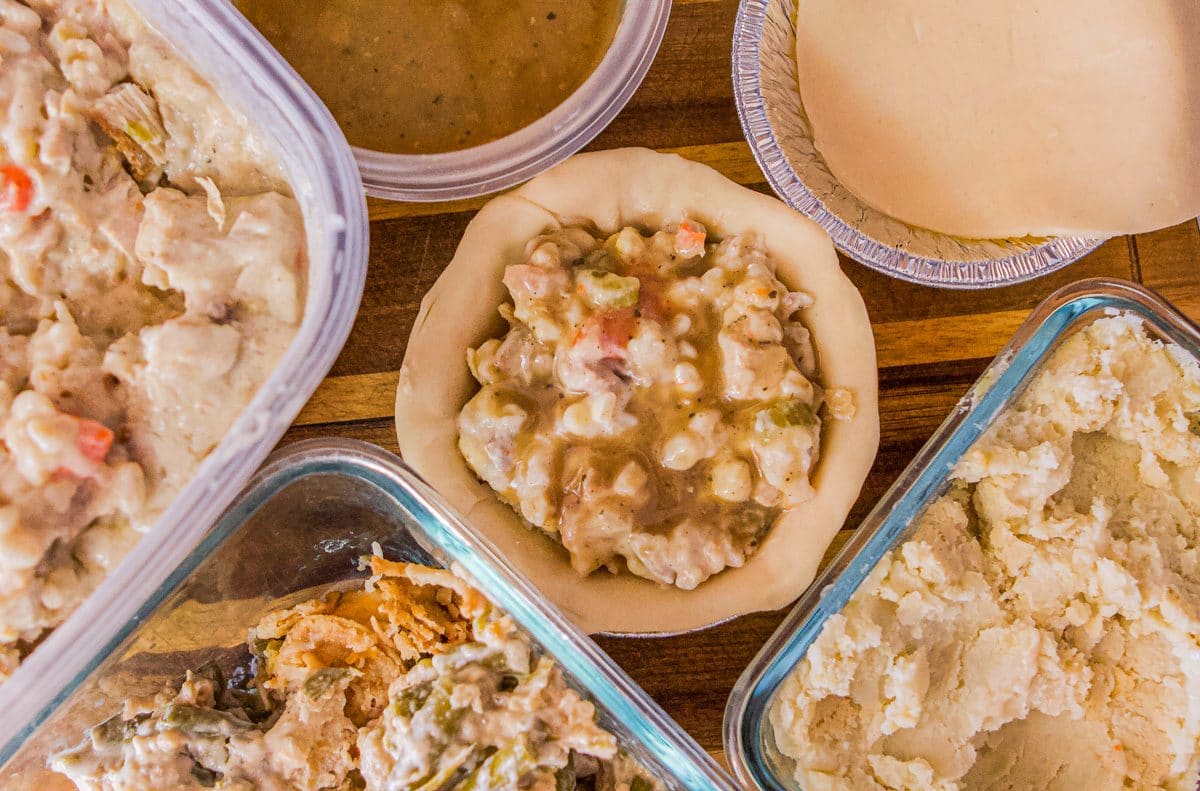 How to Make Turkey Pot Pies From Scratch
You'll Notice that there are no measurements for the filling ingredients. This is because everyone will have different leftovers. This is your chance to not only to get creative but to put your own spin on this recipe! The only ingredient that's required and makes this turkey pot pie so special is my creamy turkey soup.
Other filling ideas include stuffing, green bean casserole, scalloped potatoes, gnocchi, peas, and cranberry sauce. I'm sure there are many other ingredients that would be great to include. I'd love to hear what ingredients you came up with!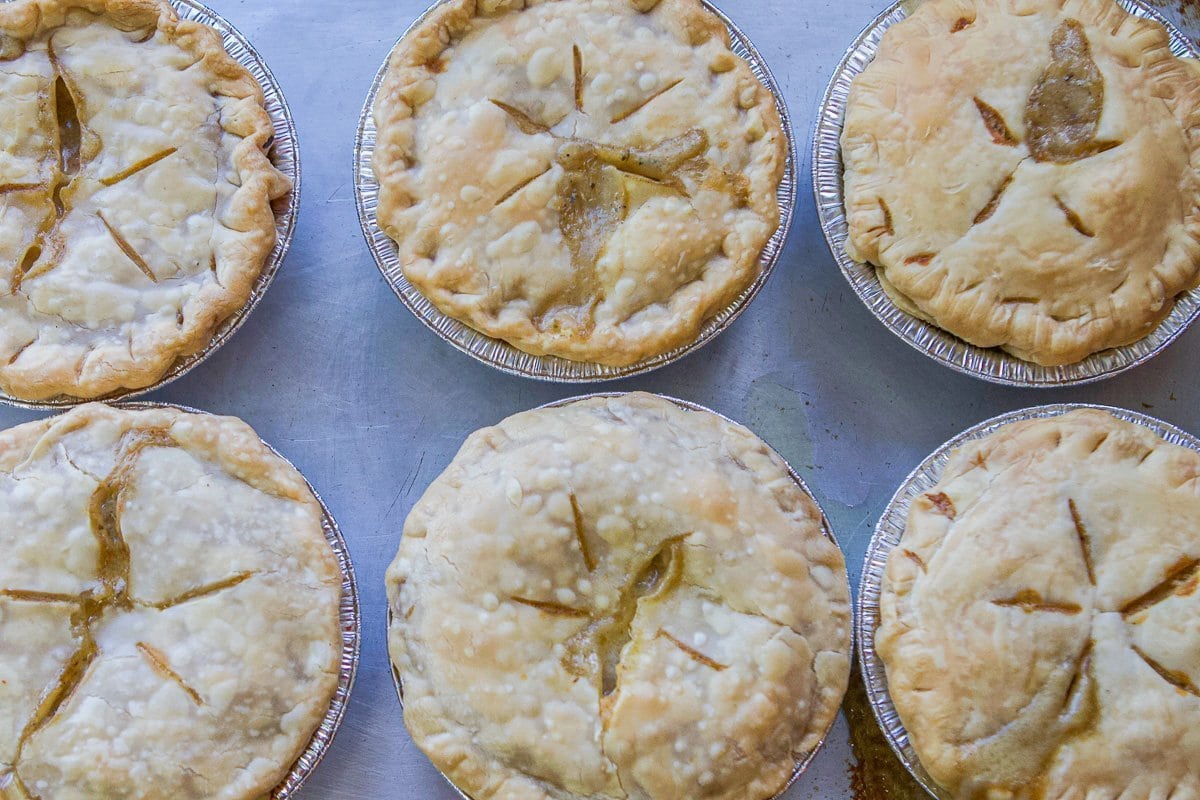 Do you Pinterest? Please pin & share this Turkey Pot Pie recipe!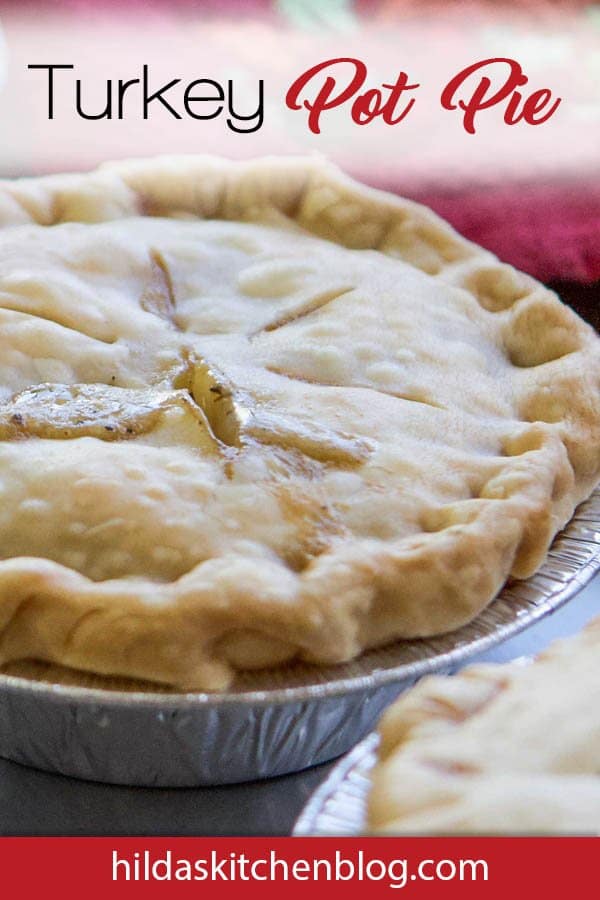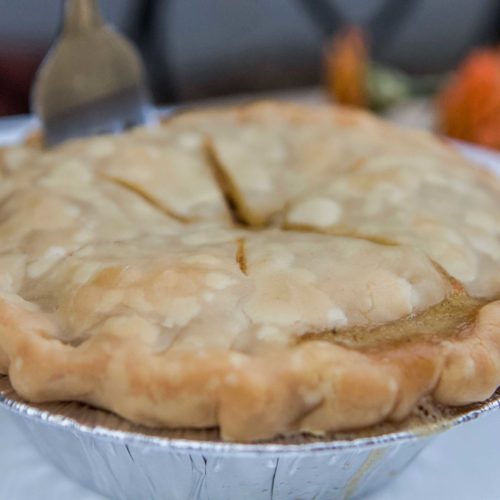 Turkey Pot Pie with Thanksgiving Leftovers
Yummy min (5″) turkey pot pies using Thanksgiving leftovers.
Print
Pin
Rate
Total Time:
1
hour
45
minutes
Ingredients
Pie Crust (or use store bought pie crust)
1-1/3

cups

cold unsalted butter

(cubed)

4-1/2

cups

all purpose flour

1-1/2

tsp.

salt

1/4

tsp.

nigella sativa seeds

(optional)

1-1/4

cups

ice water
Filling Ingredients
mashed potatoes

green bean casserole

extra turkey meat

corn

Black Friday Creamy Turkey Soup

gravy
Instructions
Crust
Mix salt and flour in a medium-sized bowl.

Cut in the chilled butter using a pastry cutter until the dough is crumbly. Add nigella sativa seeds, if using.

Gradually add the ice water, a few tablespoons at a time, as you gently stir the mix with a fork. Do this until the dough begins to come together and can be pressed with your hands to form a ball.

Divide the dough into four portions. Leave one out, wrap the rest, and refrigerate.

Use a pastry scraper to divide the portion you left out into fourths. Place three of the portions back in the fridge to keep chilled.

Preheat oven to 375 degrees F.

Roll dough out onto a floured surface. Cover with a 5″ pie pan, then cut around the pan with a knife. Leave approximately 1/2″ extra dough from the edge of the pan. Refrigerate scraps, to use later as needed.

Place the dough into the pie plate, making sure it fits snugly into the pan. Press the edges of the dough along the rim of the pan.

Begin layering the ingredients: potatoes, green bean casserole, soup, and gravy.

Roll out another portion of dough, and cut into a circle. Cover the filled pie with the dough and press all around the edges to seal.

Crimp the edges, then make slits in the center of the pie. If you prefer, use fork tines to press down on the edges, instead of crimping.

Continue with these steps until you have made four pies. Place the pies on a cookie sheet and bake for 45-60 minutes, or until the pies are browned and bubbly. While these pies are baking, continue making the remaining pies.

Cook the remaining pies while the first batch is cooling off. If you plan on freezing some, allow them to cool completely, then wrap in aluminum foil and freeze.

Don't forget to share with your friends and neighbors, especially if they're elderly! Gotta spread that love around, especially this time of year!
Notes
As mentioned in the post, you can microwave the frozen pies, or if you want a crisper crust, reheat in the oven.
The calories are estimated from the same-sized Marie Calendar's Turkey Pot Pies
Nutrition
Serving:
1
pie
|
Calories:
580
kcal