You knew it had to happen, after all, it's August. I think I've shown enough restraint. But with "pumpkin spice everything" season upon us, you had to know that I would be sharing some pumpkin recipes. To kick things off, I would like to share my favorite extra moist pumpkin bread recipe.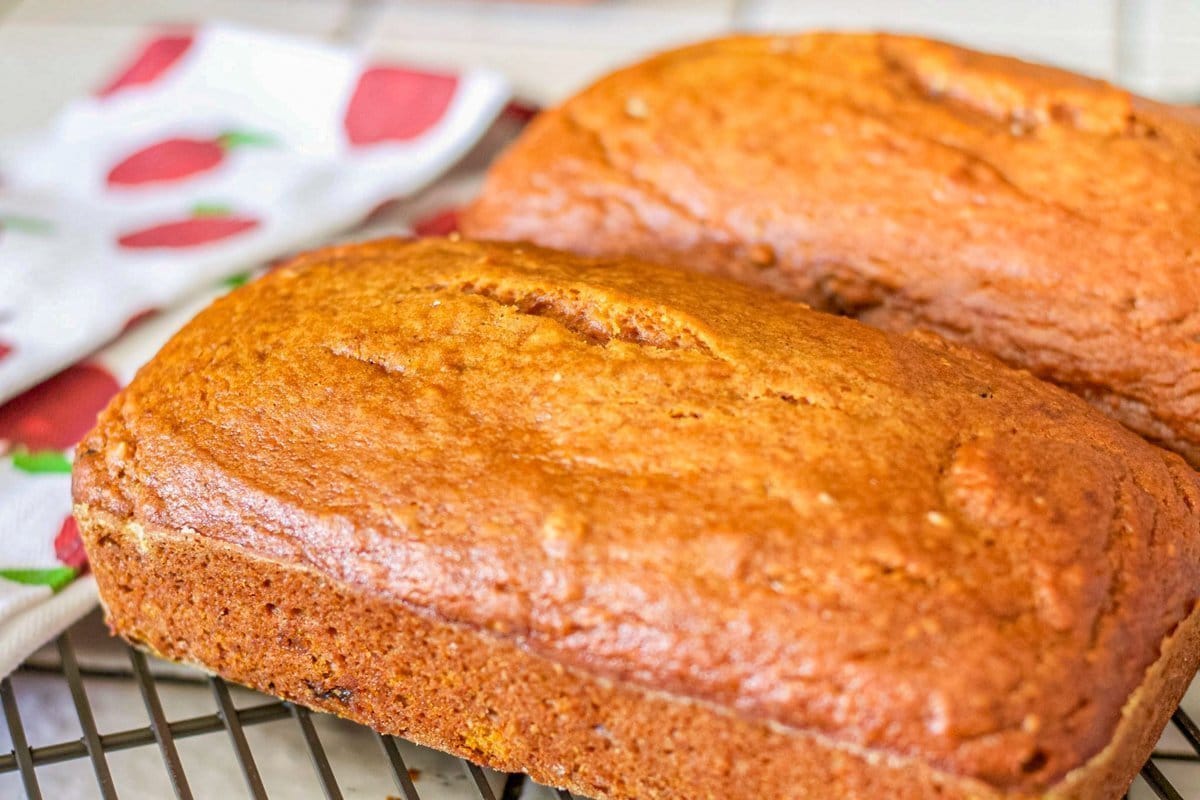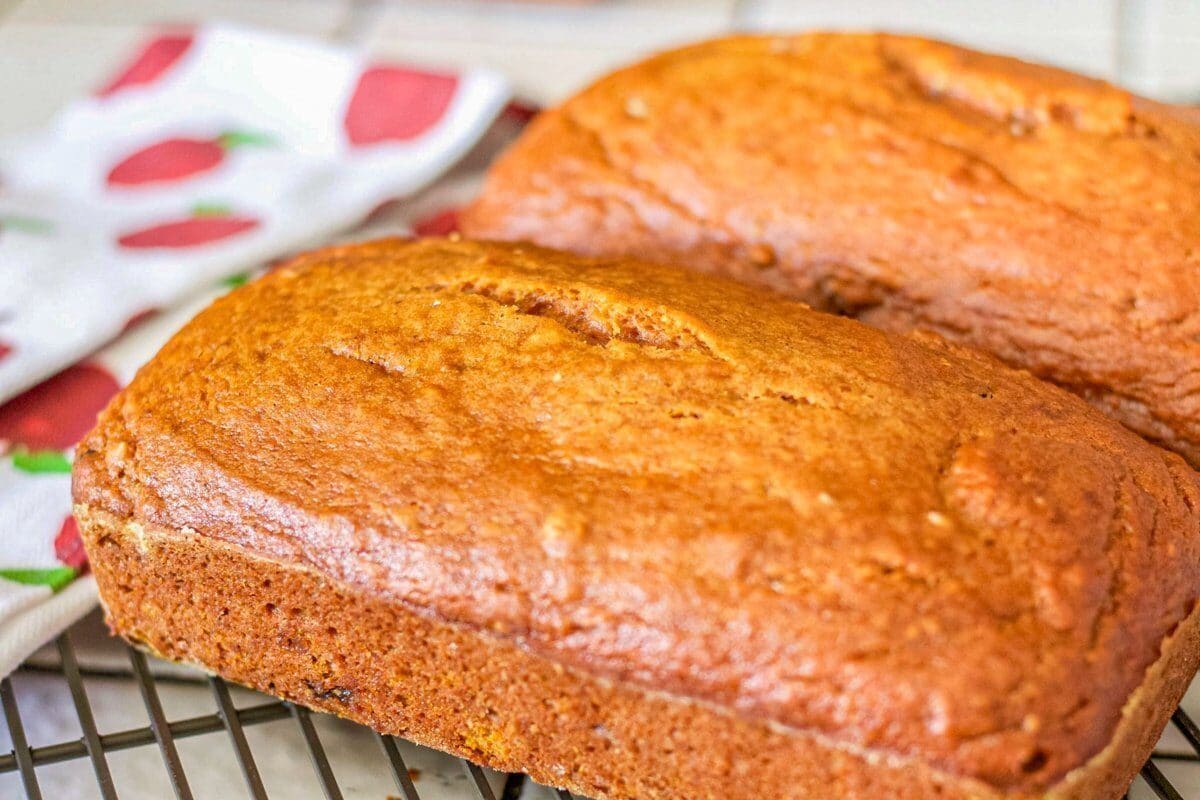 In my opinion, pumpkin bread needs to be moist, spicy, and not overly sweet. That's what I was going for when I created this recipe.
I like that this recipe makes two loaves because my family doesn't like nuts in their baked goods (crazy people)! Because of this, I make one loaf with nuts for myself (yes, I get the whole loaf, don't judge). The rest of the family gets to share the other loaf.
Spices Used in my Moist Pumpkin Bread Recipe
If you compare different pumpkin bread recipes, you'll notice that they all differ in the spices used.
The majority will have cinnamon, but I think cinnamon alone doesn't do pumpkin bread justice.
Personally, I prefer to be slapped with the taste of Fall when I take my first bite of pumpkin bread, don't you? I use similar spices in my Persimmon Bread recipe.
To accomplish this, consider adding any of the following: ginger, cloves, cardamom, and nutmeg. Speaking of nutmeg, please, for the love of all that is holy, toss out your nutmeg powder right now.
When it comes to nutmeg, grating your own makes a huge difference. Don't believe me?
Just take a whiff of your powdered nutmeg (you might have to dig it out of the trash, sorry)!
Now, using a Microplane (please tell me you have one), grate a nutmeg seed and take a whiff of that. Notice the difference? Isn't it heavenly?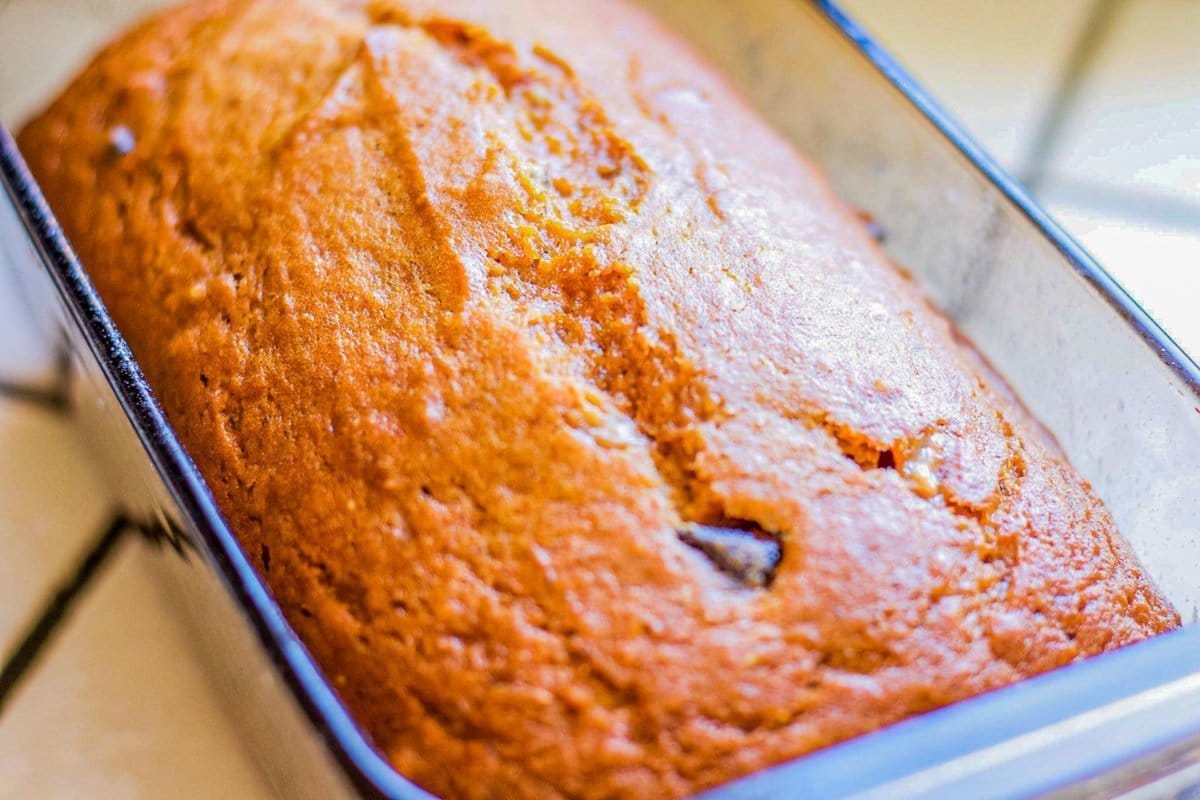 Other Recipe Suggestions
Although my personal philosophy is "if it ain't broke, don't fix it," I've been asked about replacing some or all of the oil with applesauce in baked goods. Others want a good frosting suggestion. Let's start with applesauce.
Pumpkin Bread with Applesauce?
One of the things that makes this pumpkin bread so moist is, of course, the oil. However, I know that oil comes at a cost... added calories.
Although I already replace some of the oil in this recipe with applesauce, you can, in fact, replace all of the oil in this recipe with applesauce. Try it both ways and see which way you prefer.
Pumpkin Bread with Cream Cheese Frosting
We've already talked about reducing calories by replacing the oil with applesauce.
If you're not worried about added calories, let's talk about splurging with cream cheese frosting.
In fact, my daughter, Nena, won't even bother with pumpkin bread unless it has cream cheese frosting.
If you agree with Nena, here's an easy and delicious cream cheese frosting recipe.
Beat 1 (4 oz) package of softened cream cheese, along with 1/4 cup softened butter with an electric mixer until smooth and fluffy.
Mix in 1 tsp. of vanilla extract.
Gradually add 3 cups of powdered sugar, while mixing.
Spread frosting over cooled pumpkin bread and enjoy!
If you enjoy this recipe, you might also enjoy my favorite fig bread recipe. Be sure to check out my Caramel Apples Recipe. Not only are they delicious, but also fun to make with the little ones!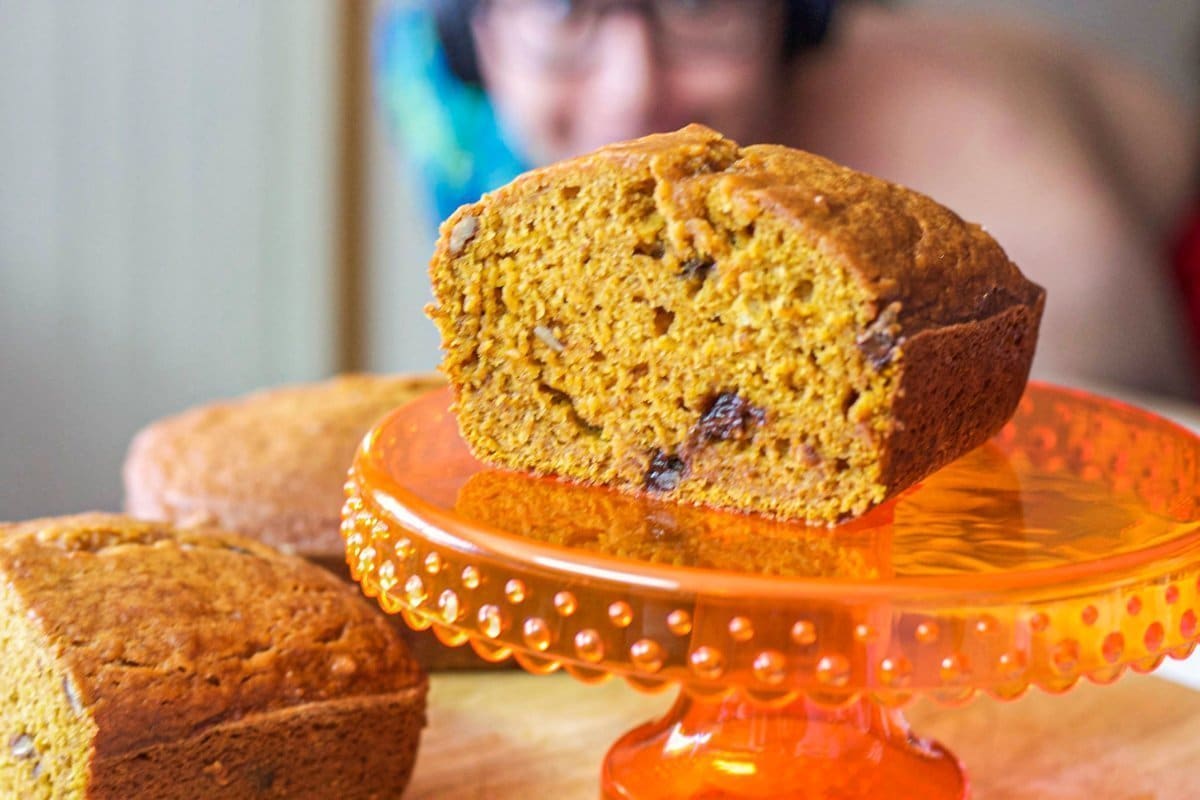 For more pumpkin recipes, check out these posts: Turkey Pumpkin Chili, Spicy Roasted Pumpkin Seeds, Roasted Pumpkin Soup, and Pumpkin Ravioli.
STAY IN TOUCH WITH ME THROUGH SOCIAL MEDIA!
Tried this recipe? Snap a picture and tag #hildaskitchenblog on Instagram.
Like my page on Facebook.
Do you Pinterest? Pin & share this recipe!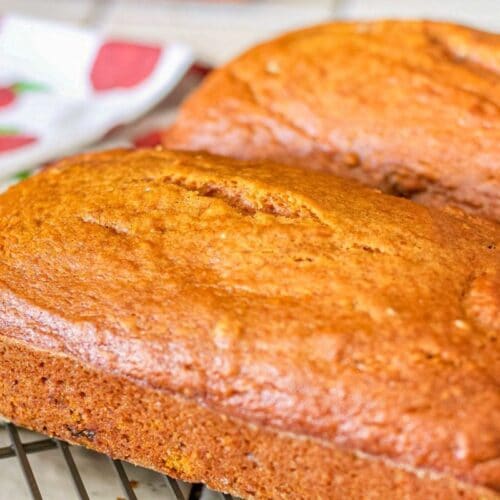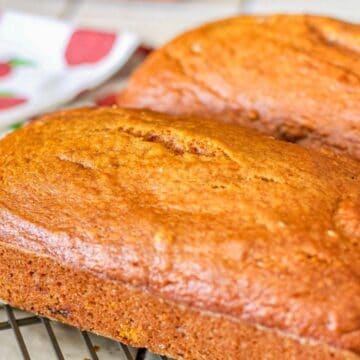 Moist Pumpkin Bread Recipe
Easy to follow, moist pumpkin bread, using canned pumpkin.
Print
Rate
Ingredients
2 ¼

cups

flour

1

tsp.

cinnamon

1

tsp.

baking powder

1

tsp.

baking soda

½

tsp.

salt

½

tsp.

ginger powder

⅓

whole

nutmeg

(grated)

½

cup

chopped pecans

½

cup

chocolate chips

(white or dark)

½

cup

oil

1

4 oz

cinnamon applesauce

3

large

eggs

1

tsp.

vanilla extract

1

15 oz

canned pumpkin

1

cup

sugar

½

cup

brown sugar
Instructions
Preheat oven to 350 degrees F.

Grease and flour two 9x5 bread loaf pans.

Thoroughly mix flour, cinnamon, baking powder, baking soda, salt, ginger, and nutmeg in a large bowl.

Stir in the pecans and chocolate chips.

In a separate bowl, whisk oil, applesauce, eggs, vanilla, canned pumpkin, and both sugars.

Add the dry ingredients to the pumpkin mixture. Mix gently until combined.

Pour into loaf pans and bake for one hour, or until a toothpick inserted into the center comes out clean
Notes
The nutrition info for this recipe is for the original recipe (with oil, and without cream cheese frosting).
Nutrition
Serving:
1
slice
|
Calories:
265
kcal
|
Carbohydrates:
40
g
|
Protein:
4
g
|
Fat:
13
g
|
Saturated Fat:
3
g
|
Cholesterol:
35
mg
|
Sodium:
199
mg
|
Fiber:
4
g
|
Sugar:
24
g