This Fig Preserves recipe has always been my favorite! I have made many jams and preserves over the years, yet nothing comes close to Fig Preserves, except maybe my Strawberry Fig Preserves.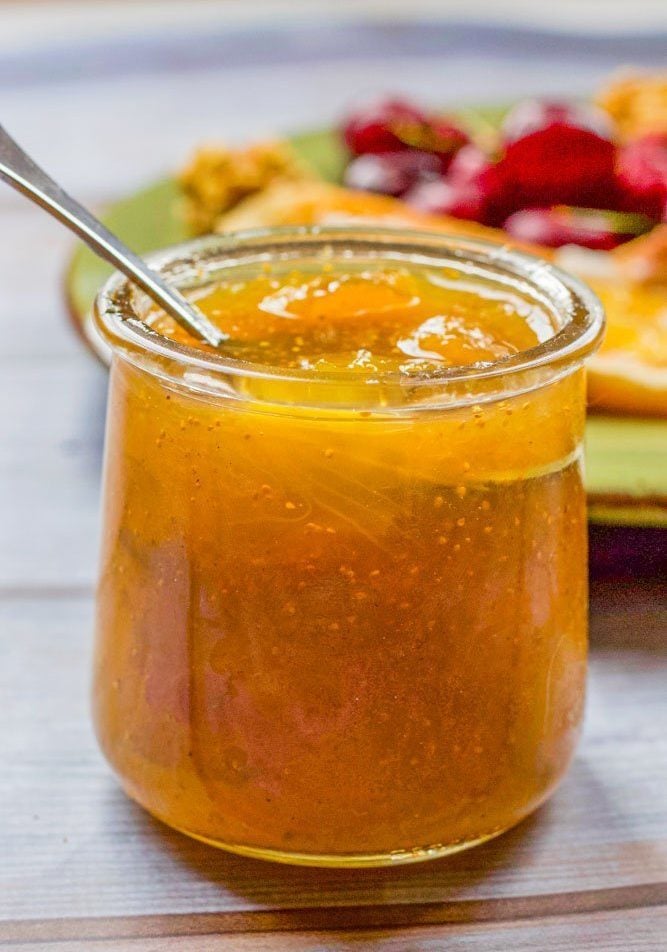 I guess I can blame it on my Middle Eastern roots. We tend to go nuts over figs! Even Jesus loved figs and cursed the fig tree that was not producing figs.
"Fig Preserves" is called "Moorabeh't Teeneh" in the Assyrian language. However, in most Middle Eastern Fig Preserves Recipes the figs are kept whole.
I actually make it both ways, but in this recipe, the figs are chopped. So if you love figs as much as I do, grab your figs and follow me into the kitchen!
What Figs Are Best To Use in This Fig Preserves Recipe?
Living in Southern California all these years, I've been spoiled by having access to all kinds of fig trees. Not only the Calimyrna fig tree in my own back yard but also my neighbor, Chuck's, fig tree.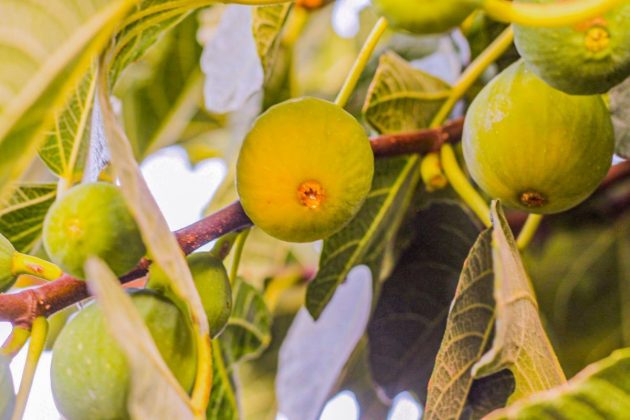 Come late Summer, I'm swimming in Mission, Kadota, Adriatic, and Brown Turkey Figs, given to me by friends.
I wouldn't have it any other way! I gladly accept the figs and give them fig jam and Fig Cake in return.
I've made jam with all of these varieties with great results. So whatever variety you're lucky to have can be used to make this Fig Preserves recipe.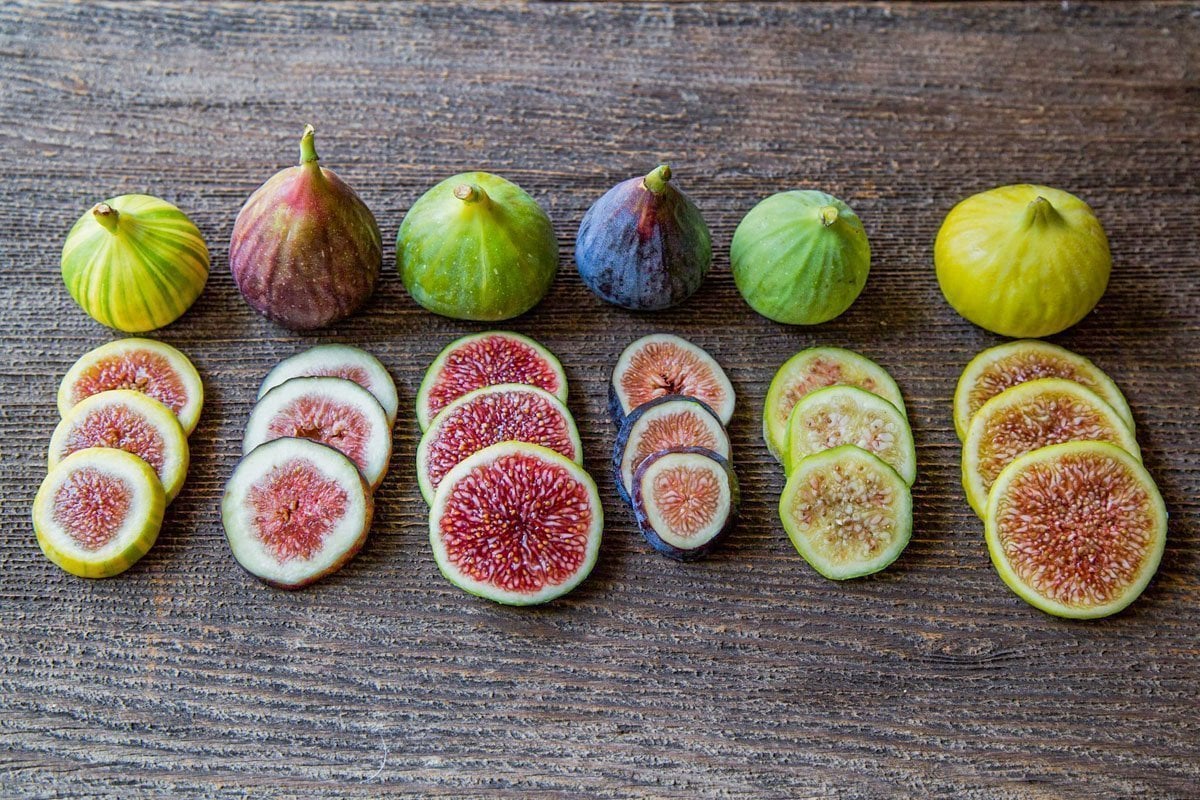 Do You Need to Add Pectin to Fig Jam?
Back when I wrote Mom's Authentic Assyrian Recipes cookbook, I still had a lot to learn about cooking.
For example, I used to think that fig jam needed pectin to thicken. This is why the fig jam recipe in my cookbook calls for pectin.
Since then, I've learned a lot of things. For example, although figs are low in pectin, you can still make excellent preserves without adding pectin.
However, I have found that chopping the figs and releasing the seeds makes the preserves thicker than keeping the figs whole.
For this recipe, you will need three main ingredients: Figs, sugar, and lemons. However, cardamom is highly recommended, while cinnamon is optional.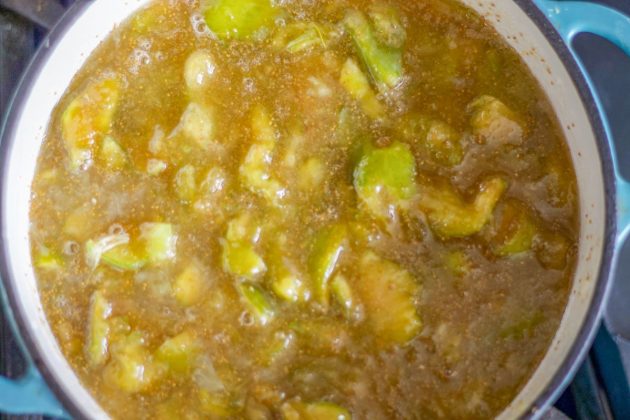 Can You Use Frozen Figs to Make Jam
When the figs on my tree are ripe, I find it hard to control myself. I can stand there and eat one after the other, right off the tree.
At some point, it gets hard to keep up with the ripening figs.
Once picked, ripe figs need to be consumed right away. If not, they need to be frozen, otherwise, they spoil rather quickly.
To keep from being buried in figs, I usually freeze a large amount, which I use throughout the year.
Not only do I use the frozen figs to make Fig Jam, but I also make Fig Bread and Fig Scones.
As a matter of fact, this recipe was made with figs I froze last year. I wash and slice the figs in half, then divide them into 1-½ cup portions to freeze in Ziploc bags.
I also freeze whole figs for my Candied Figs recipe.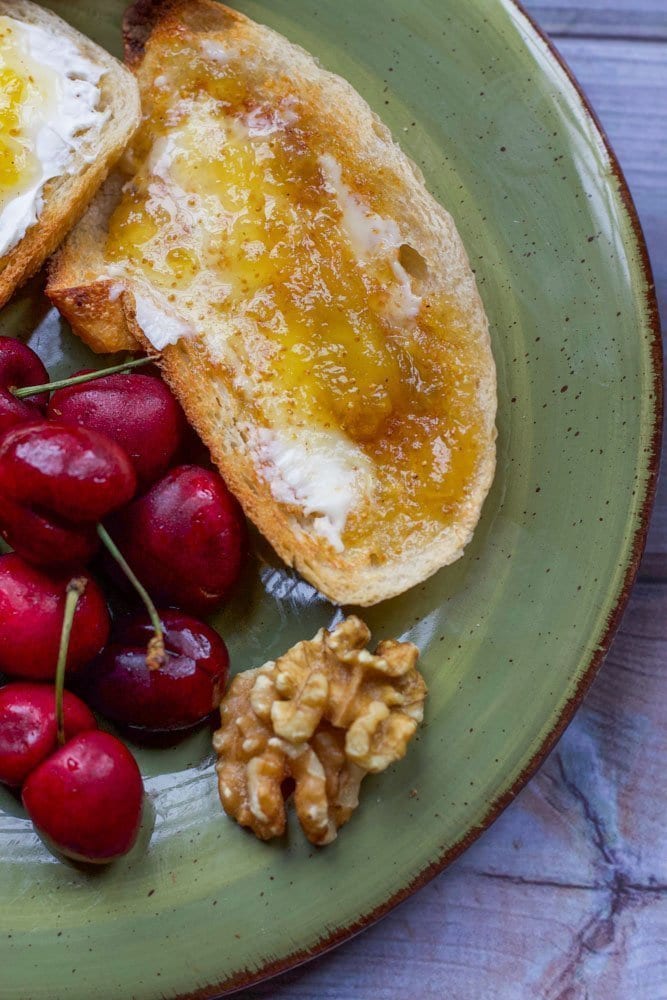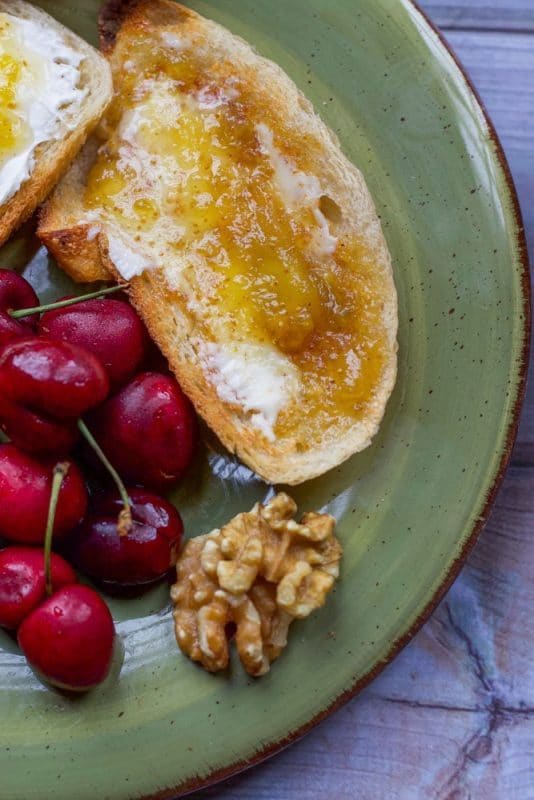 How to Serve Fig Preserves
Fig Preserves or Fig Jam is not only scrumptious, but it can be enjoyed in a variety of ways.
For starters, spread some on toasted sourdough loaded with cream cheese, or butter. Ok, maybe that is a bit too obvious.
One of my other favorite ways to enjoy this recipe is over vanilla ice cream. In my opinion, it's way better than chocolate, or even caramel sauce.
Fig Preserves and goat cheese are a match made in heaven. I use these complementary ingredients to make Gourmet Pizza.
You can also use this Fig Preserves as a filling for Thumbprint Cookies or Fig Newtons.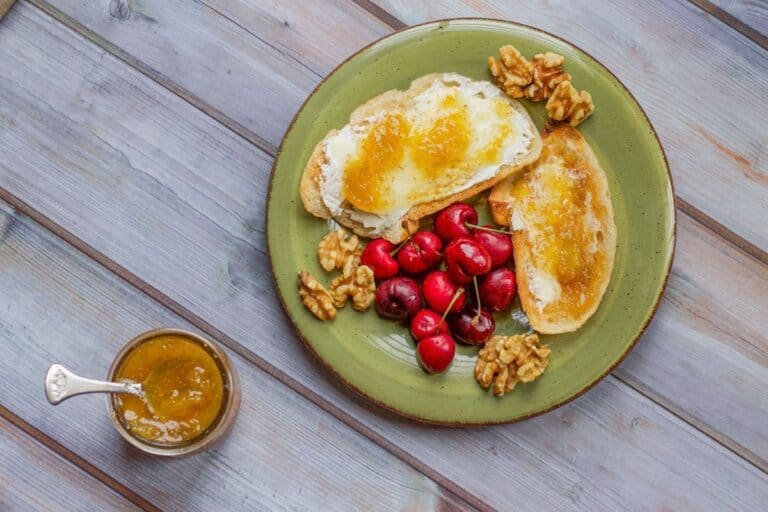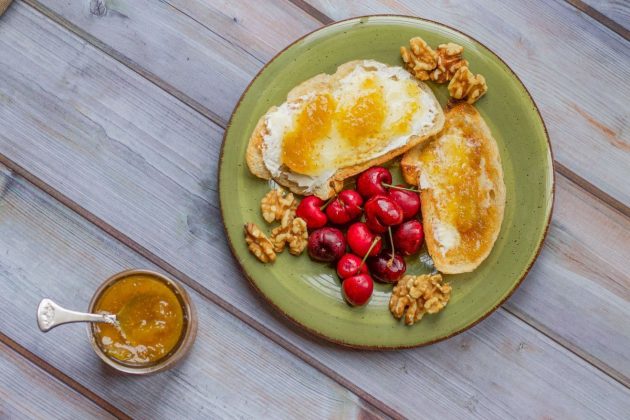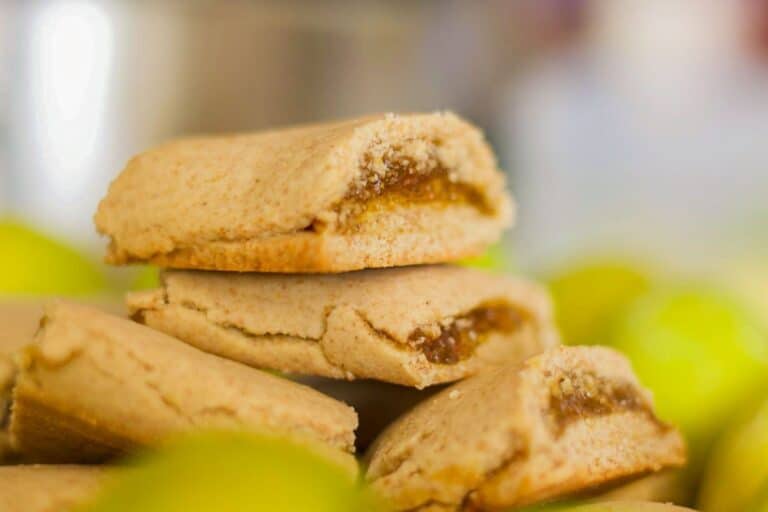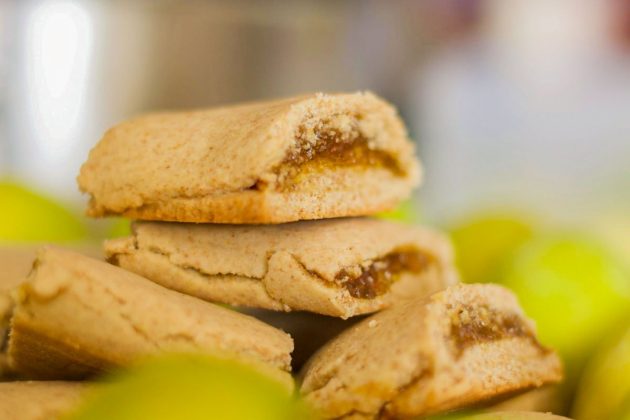 Stay in touch with me through social media!
Tried this recipe? Snap a picture and tag #hildaskitchenblog on Instagram.
Like my page on Facebook.
Do you Pinterest? Pin & share this recipe!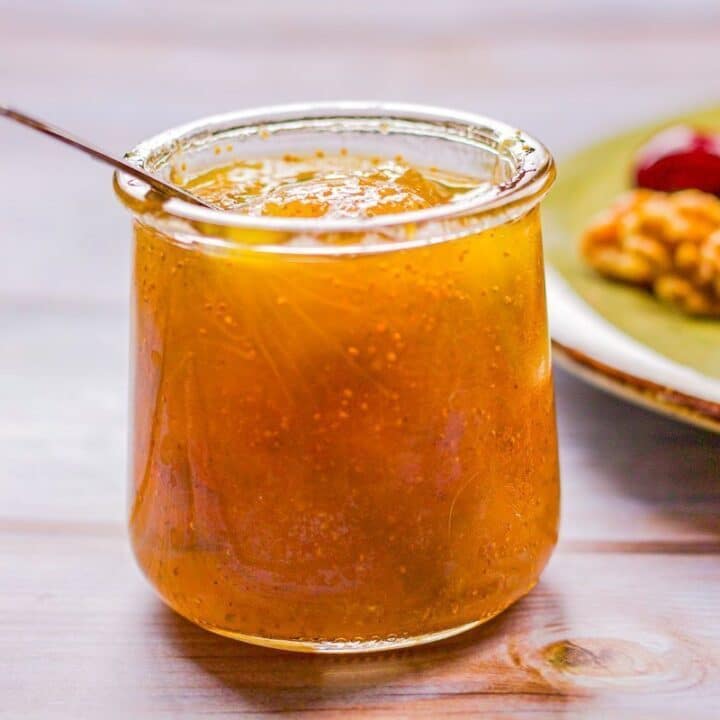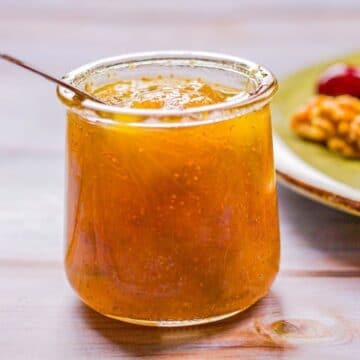 Fig Preserves Recipe
Easy Fig Preserves, made without pectin, and a touch of cardamom.
Print
Pin
Rate
Equipment
Canning Equipment

six - 8 oz jars
Ingredients
3

lbs

fresh or frozen figs

3

cups

sugar

zest from one lemon

½

tsp.

cardamom powder

½

tsp.

cinnamon powder

(optional)

3

T.

lemon juice
Instructions
Wash and trim ends off of the figs, then slice in half.

Place figs in an eight-quart Dutch oven, top with sugar.

Add lemon juice, zest, cardamom, and cinnamon (if using).

Cook over low heat, uncovered, allowing the sugar to melt slowly, as you gently stir.

When the mixture begins to boil, lower the temperature and allow the preserves to simmer for 30 to 40 minutes, or until thickened.

Meanwhile, place the jars and lids in a large pot filled with enough water to fully submerge the jars. Boil for approximately ten minutes to sterilize.

Carefully pour the preserves into the steralized jars, leaving a ¼" headspace.

Wipe off the lids and sides of the jars, then seal tightly with the caps.

Process in the boiling water for an additional ten minutes, if desired.

Store in the panty up to a year.
Nutrition
Serving:
2
T.
|
Calories:
71
kcal
|
Carbohydrates:
18
g
|
Protein:
0
g
|
Fat:
0
g
|
Saturated Fat:
0
g
|
Cholesterol:
0
mg
|
Sodium:
1
mg
|
Fiber:
1
g
|
Sugar:
17
g