Today we're making homemade fig newtons that will redefine what fig newtons should taste like. In one of my recent blog posts, I shared about the time I dug up my friend's fig plant from her yard. I did that while attending her house-warming party. If you're curious about that story, you can find it here.
That was many years ago, and now that little plant is a huge fig tree that I treasure. Come late Summer, the tree is loaded with delectable figs that I use to make many wonderful treats. Some of these recipes include preserves, scones, bread/cake, and candied figs.
Homemade Fig Newtons Filling
One of my favorite things to make with the figs is Fig Preserves. Every year I send many jars to my siblings, and other relatives to enjoy. At some point in Fall, I end up making these homemade fig newtons to share with my friends. This year is no exception. You can also substitute Strawberry Fig Preserves as a filling, or chop up some Candied Figs to use as a filling.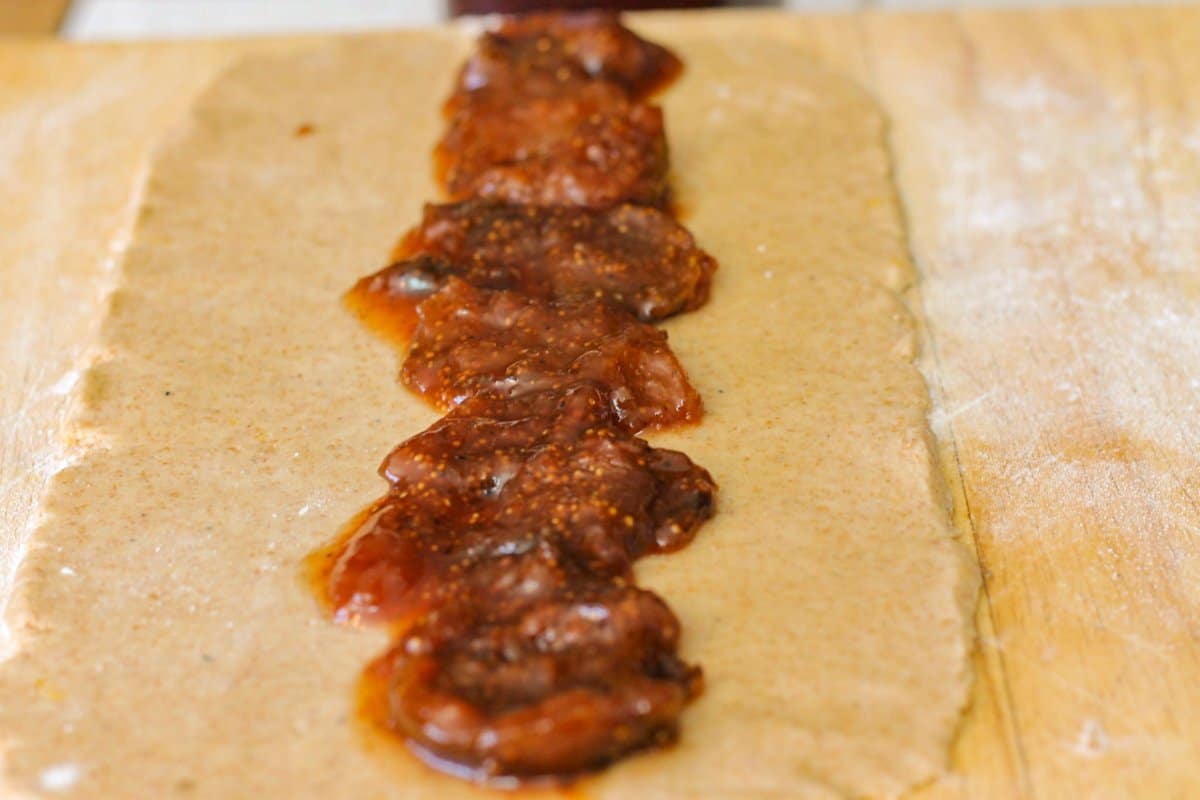 Working with the Dough
One little warning before you start; this dough can be a little difficult to work with. It has a tendency to stick to the rolling pin. Make sure you generously flour your working surface to keep the dough from sticking.
The dough might even split as you fold it over the filling, but don't worry. It will not take away from the amazing flavor! They might not look perfect, or store-bought, but I promise that their taste will not disappoint!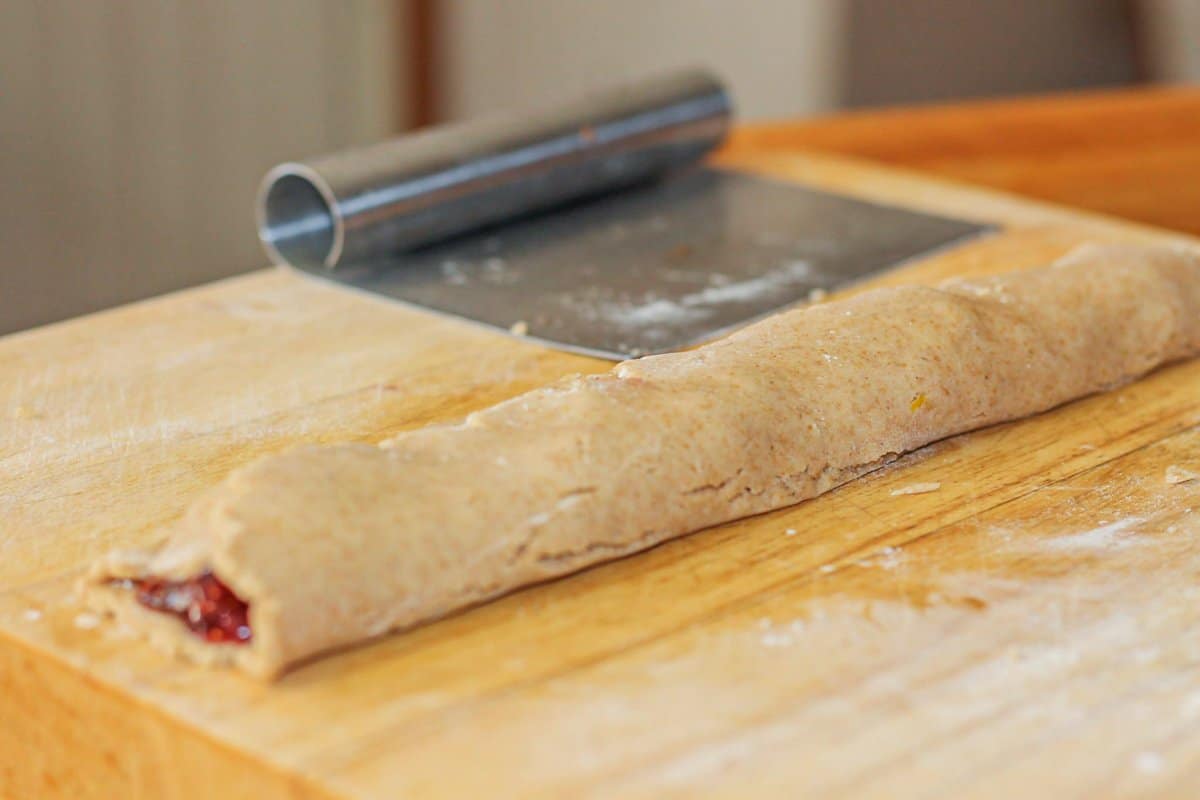 As a matter of fact, that most common comment I hear when people try these homemade fig newtons is that they are the best fig newton they've ever had. So don't worry so much about how they look. In the cooking world, we just call it "rustic."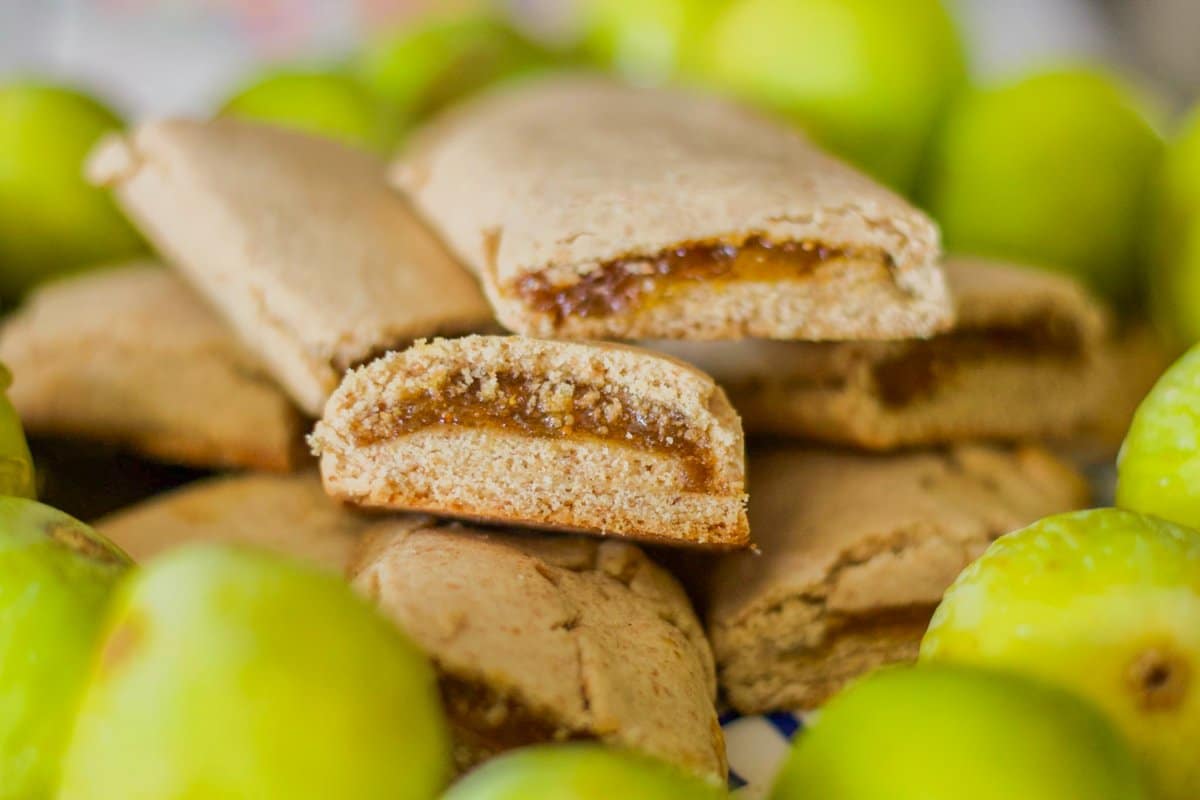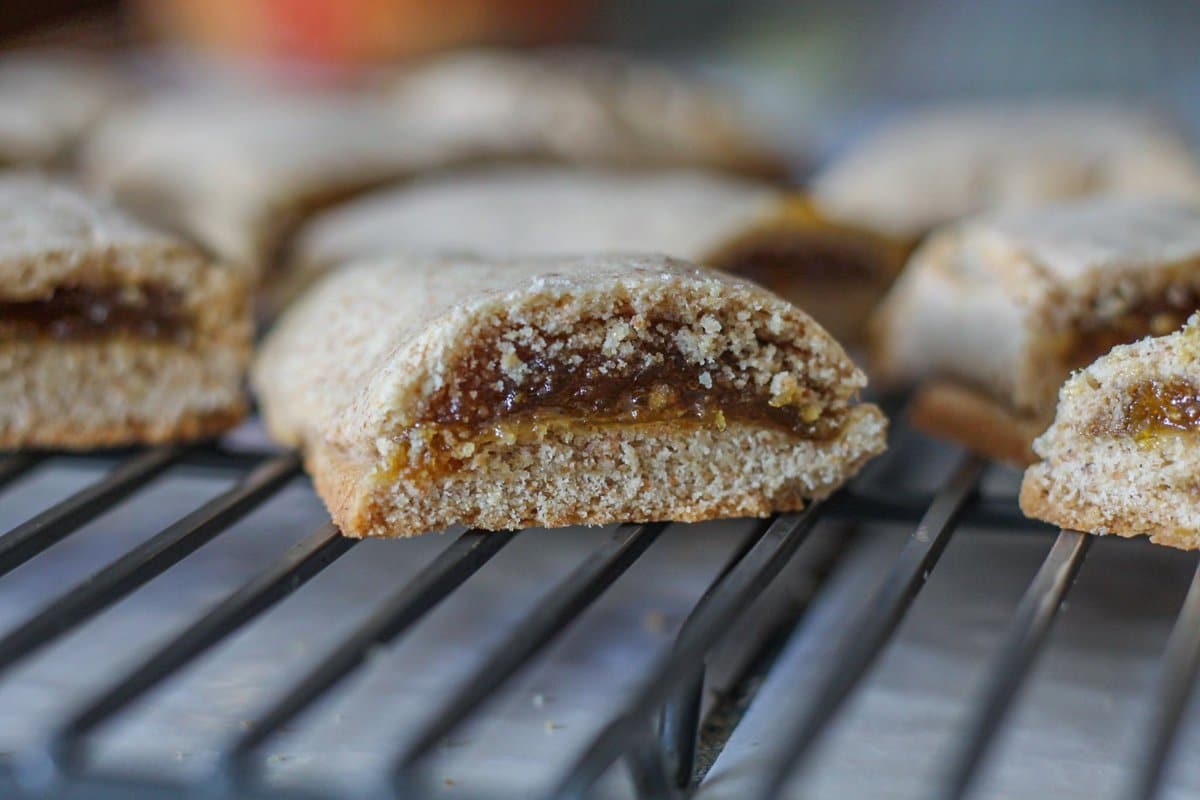 Do you Pinterest? Please pin & share!
If you love this Homemade Fig Newtons recipe, please give it a 5-star rating!
Fig Newtons
The best fig newtons you'll ever have!
Ingredients
1/2

cup

salted butter

softened

1/4

cup

sugar

1/4

cup

brown sugar

1

medium

egg

1

tsp.

vanilla

1

tsp.

lemon zest

3/4

cup

whole wheat flour

1 1/4

cup

white flour

1/4

tsp.

cinnamon

1/4

tsp.

cardamom

1

tsp.

baking powder

1

cup

fig or strawberry-fig preserves
Instructions
Cream butter, using an electric mixer. Add both sugars and mix until creamy.

Add egg, vanilla, and lemon zest. Mix until blended.

Add flour, cinnamon, cardamom, and baking powder to the same bowl and mix until the dough comes together.

Divide the dough into fourths using a pastry scraper, which happens to be one of my favorite kitchen gadgets! Cover the plate with plastic and refrigerate for 30 minutes.

Preheat oven to 375 degrees F

Remove one piece of dough from the fridge at a time. Using a well-floured surface, roll out the dough into a 7″ x 10″ rectangle, then slice down the middle to make two 3.5″ x 10″ rectangles. Add approximately three to four tablespoons of preserves down the center of the dough.

Using the pastry cutter, carefully lift one side of the dough at a time and fold over the preserves. If you prefer, you can first cut the dough into two 3.5″ x 5″ pieces, which will make it easier to work with.

If you haven't cut the log in two yet, do so now, and flip it over onto a cookie sheet covered with either a silicone mat or parchment paper. Don't overcrowd the cookies. Either work in batches or use more than one tray.

Bake in the oven for 15-17 minutes, or until golden brown. Allow to cool before using the pastry cutter to cut each log into four pieces.
Nutrition Facts
Fig Newtons
Amount Per Serving (1 cookie)
Calories 62
Calories from Fat 18
% Daily Value*
Fat 2g3%
Cholesterol 9mg3%
Sodium 26mg1%
Carbohydrates 9g3%
Protein 1g2%
* Percent Daily Values are based on a 2000 calorie diet.