These Fresh Fig Scones are tender, crumbly and perfect for breakfast, brunch, or to serve with tea when entertaining friends.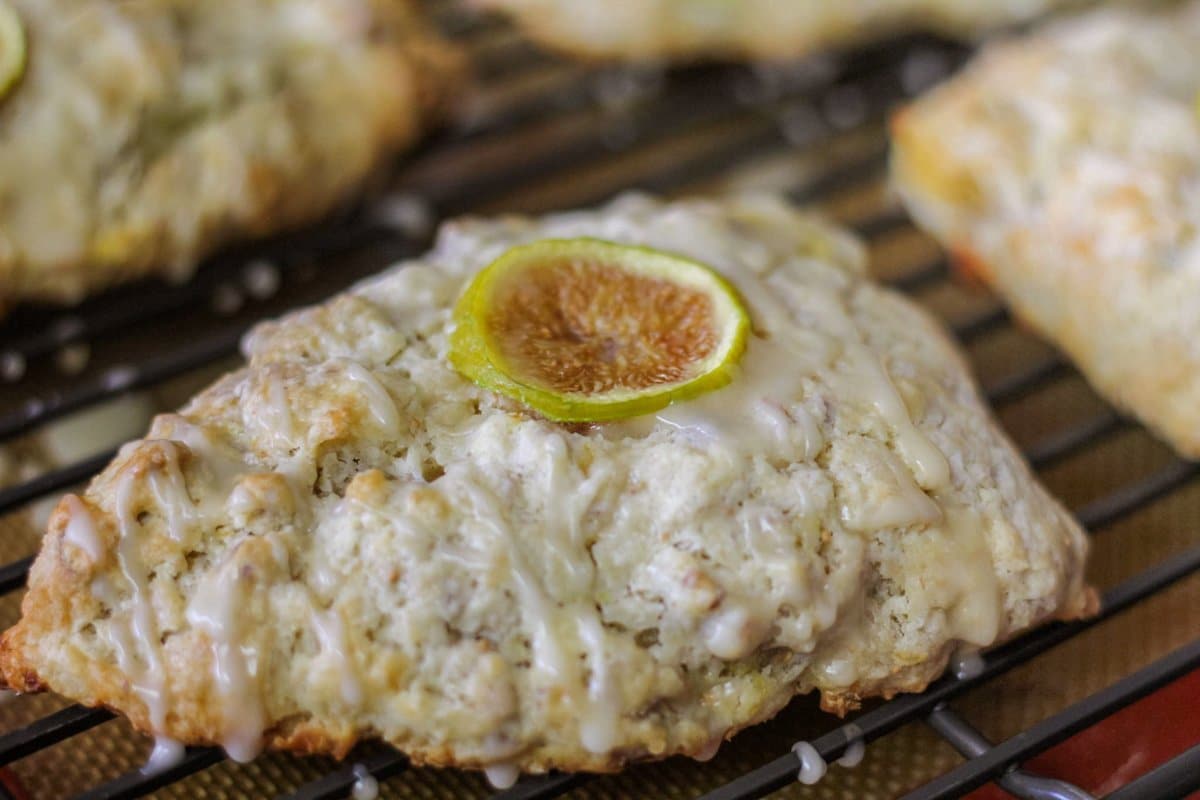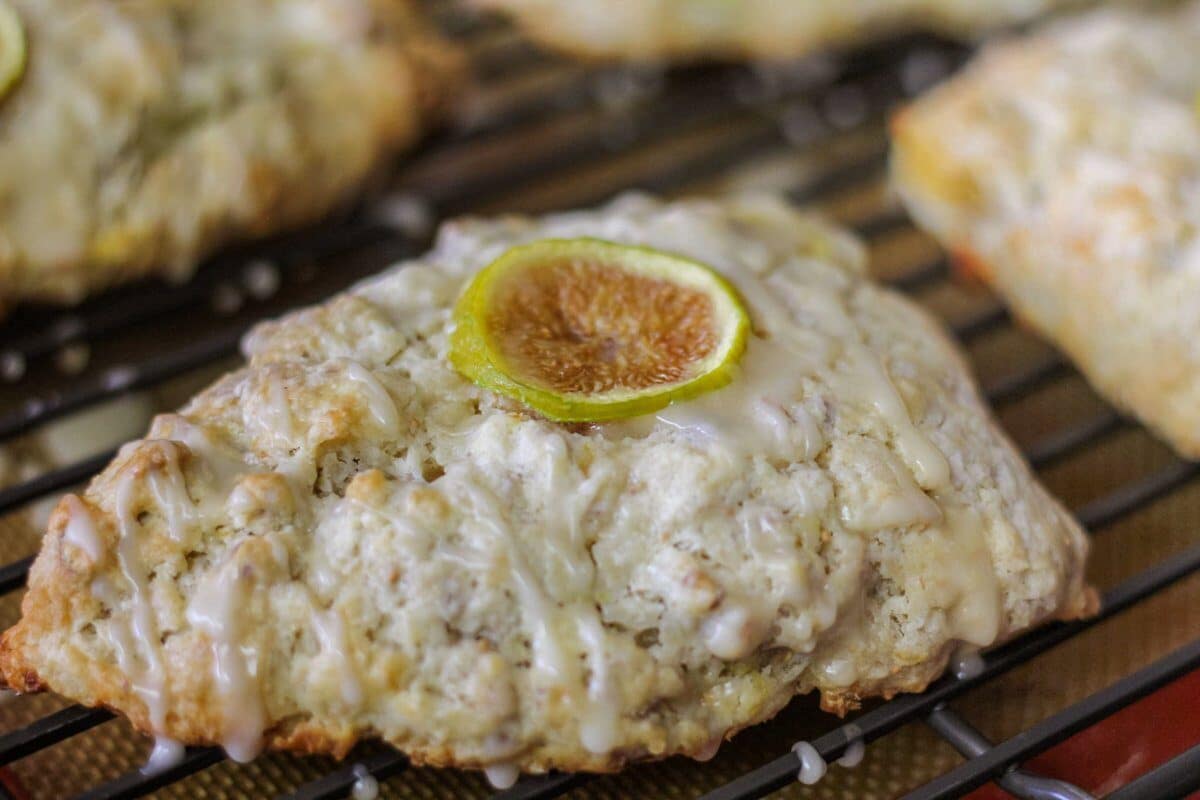 Fall has always been my favorite season. When I bake these Fig Scones, it always reminds me that Summer is coming to an end. Not only that, but that glorious Fall is close at hand.
For those who don't know, figs ripen at the end of Summer, at least here in San Diego. And when they ripen, look out; you end up having an explosion of figs that have to be used all at once.
I always start with eating the figs right off the tree. Eventually, I start using them in my favorite fresh fig recipes.
These fresh fig recipes include Fig Preserves, Fig Newtons, Fig Bread, Candied Figs, and of course, these delicious Fig Scones with cardamom and orange glaze.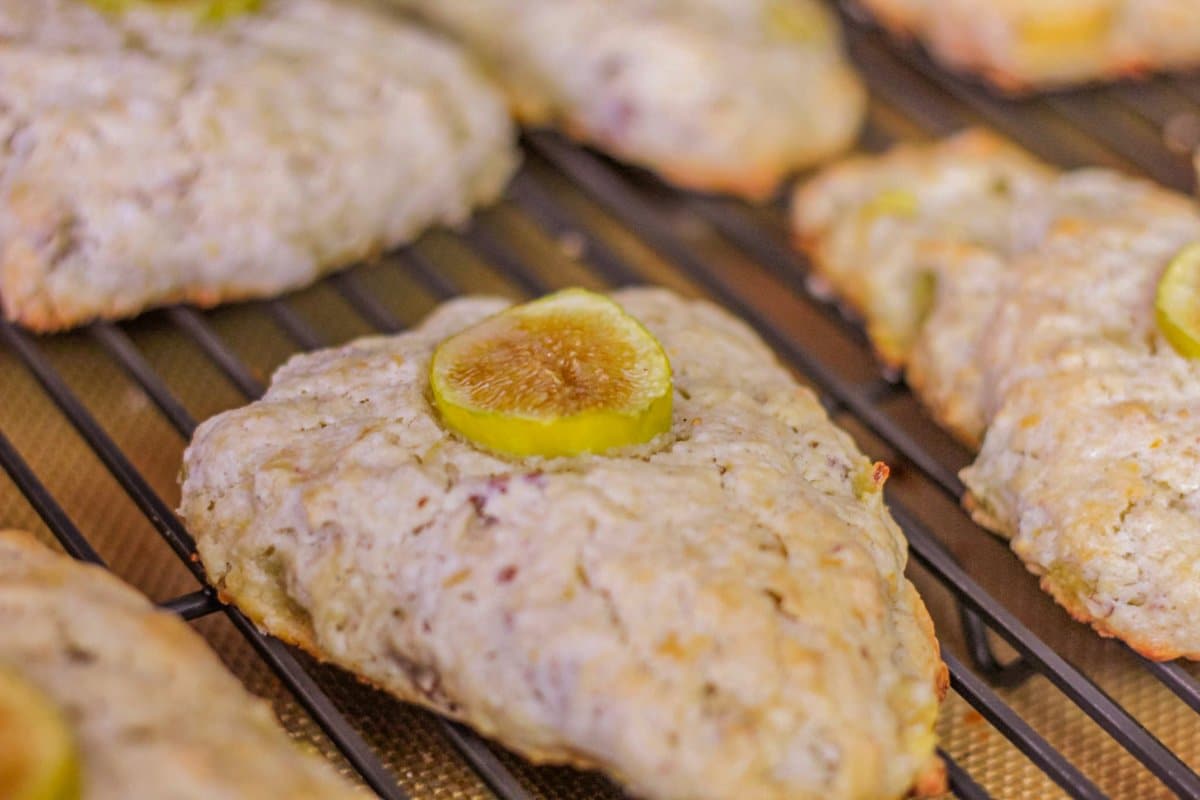 How to Make Fresh Fig Scones
I think people assume baking scones is a difficult process. But actually, it's very simple! Just follow these simple steps.
Ingredients
Scones
2-1/2 cups flour
1/3 cup sugar
1 T. baking powder
1 tsp. cardamom powder
1/4 tsp. salt
1 T. orange zest
1/2 cup unsalted butter chilled
1/2 cup pecans chopped
1 cup fresh figs chopped
1/2 cup buttermilk
1 T. orange juice
1 tsp. vanilla
1 egg beaten
2 T. half and half (to brush the tops with)
Glaze
1/2 cup powdered sugar
2 tsp. orange juice
1/2 tsp. vanilla
Mix the dry ingredients.
Cut in the butter.
Incorporate the wet ingredients.
Form into a round mound.
Slicing the dough into sections (similar to cutting a pizza) and place on a cookie sheet.
Bake until golden in color.
Glaze & enjoy!
Having Scones in Christchurch
I've always wanted to visit the UK, and while there, have tea and scones. So when I finally visited the UK a few years ago for my 50th birthday, tea and scones were on top of my list.
While we were strolling the streets of Christchurch, I saw a quaint tearoom straight out of my imagination. Of course, we had to go inside to investigate. Not only was it just like I imagined, but the scone was huge and delicious!
The New Forest Perfumery Tearooms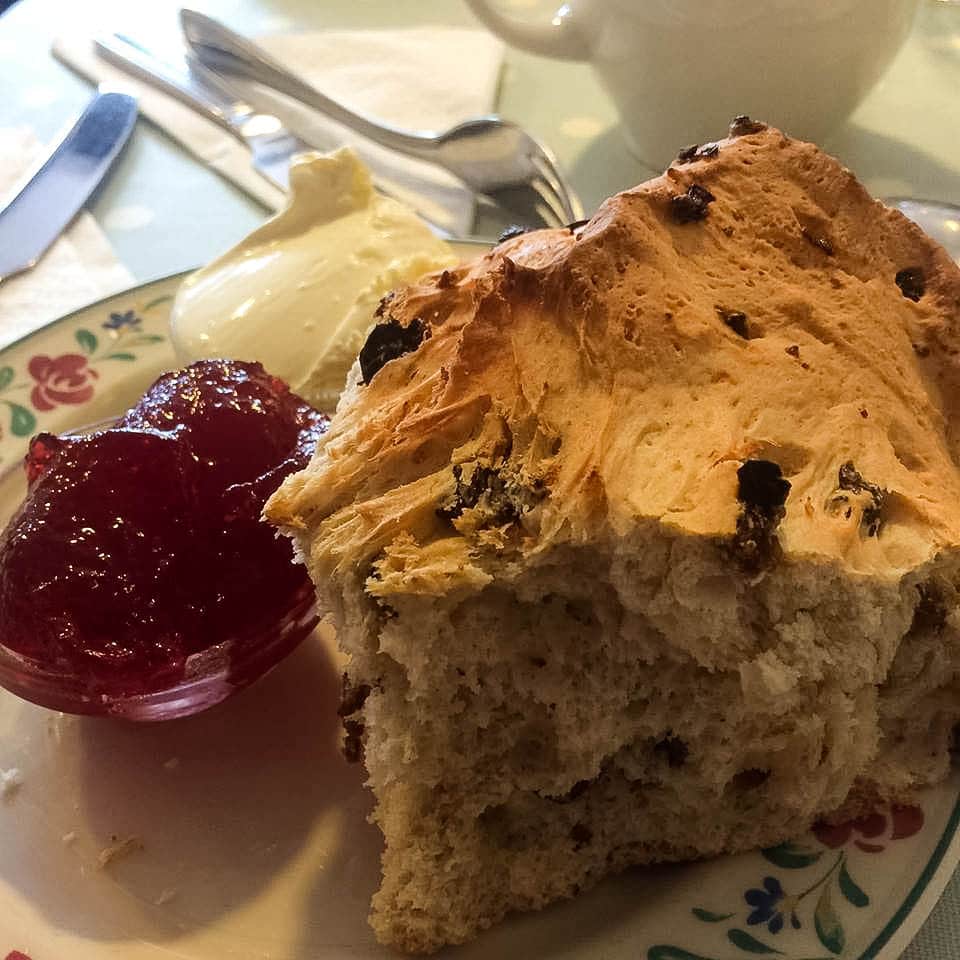 My huge scone was not a "Fig Scone," but it certainly was delicious, and yes, I ate every bite!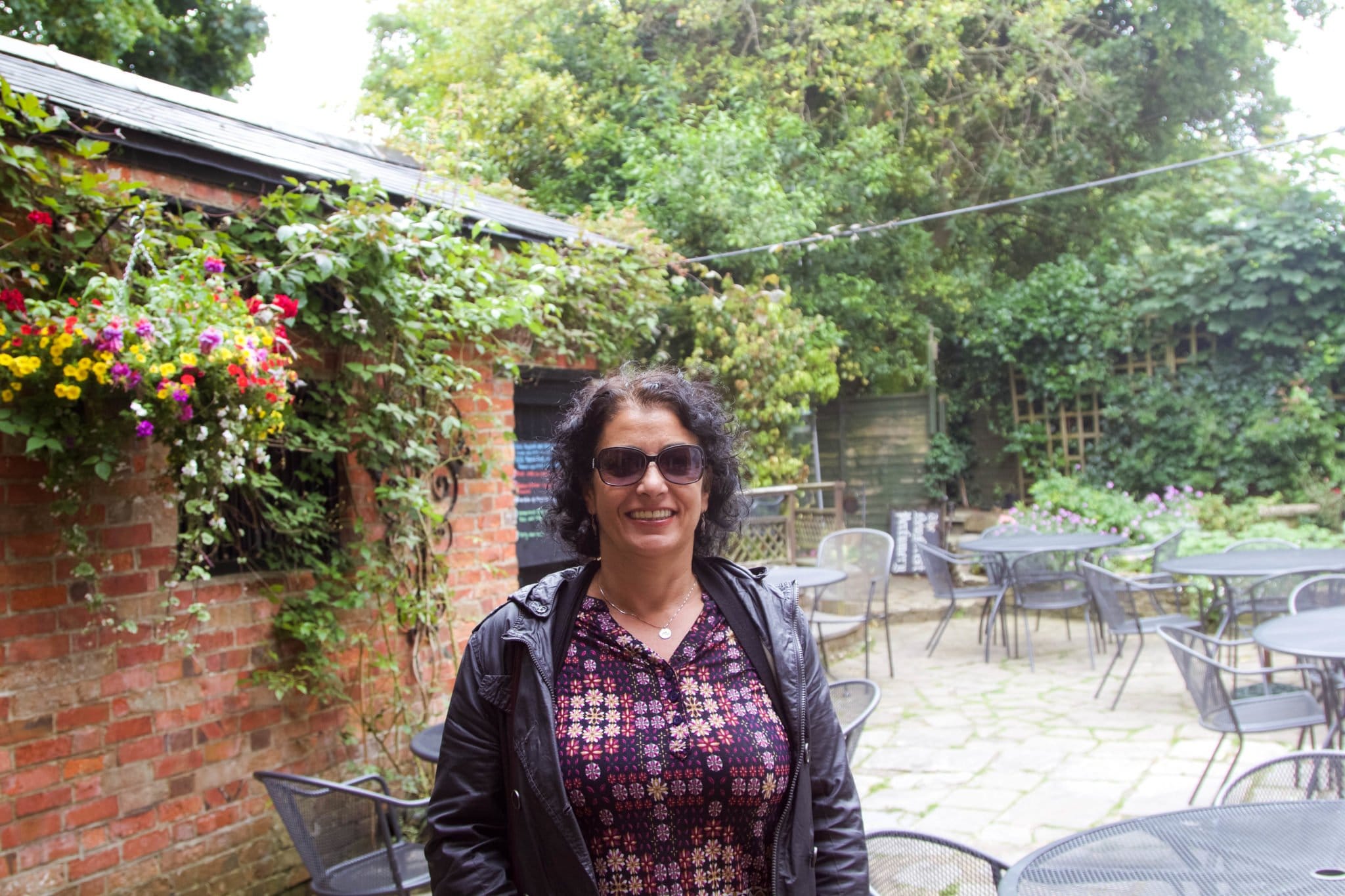 Even though we weren't allowed outdoor seating, I managed to sneak out there for a quick picture.
Interesting Scone Related Facts
The word "scone" made its appearance in the 1500s. Scones originated in Scotland, where they were cooked in a griddle, like a pancake, then divided into sections after they were cooked.
It wasn't until the mid-1800's when baking powder became available, that scones were cooked in the oven. Scones are generally lightly sweetened and served with jam and clotted cream.
Some add-ins include raisins, dates, and currants. There are also savory scones with ingredients like cheese, bacon, chives, and potatoes.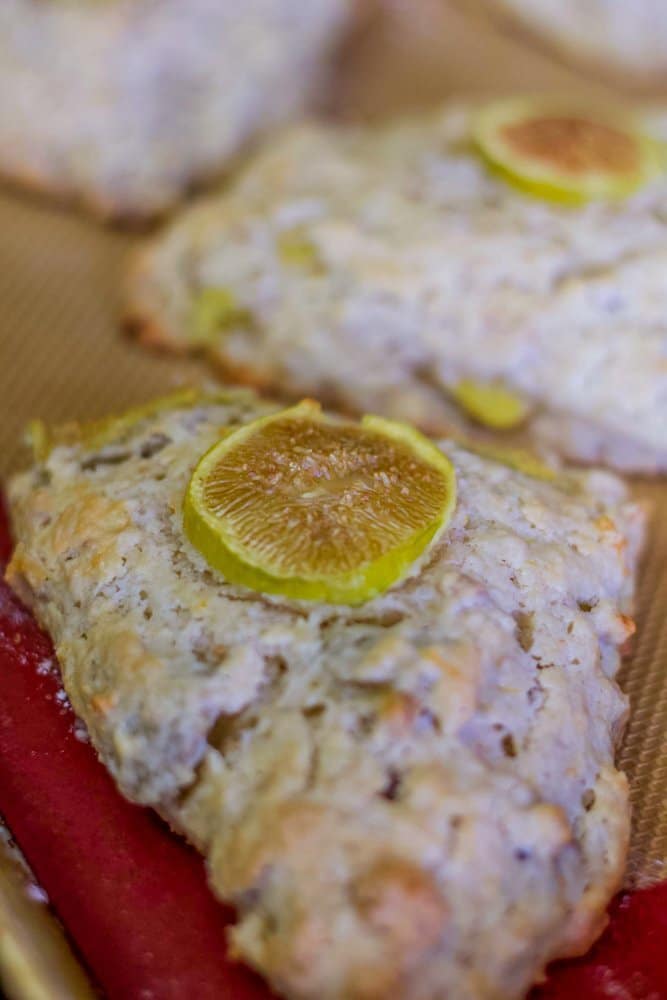 If you love scones, you have to try my Lemon Blueberry Scones. They're to die for!
Stay in touch with me through social media!
Tried this recipe? Snap a picture and tag #hildaskitchenblog on Instagram.
Like my page on Facebook.
Do you Pinterest? Pin & share this recipe!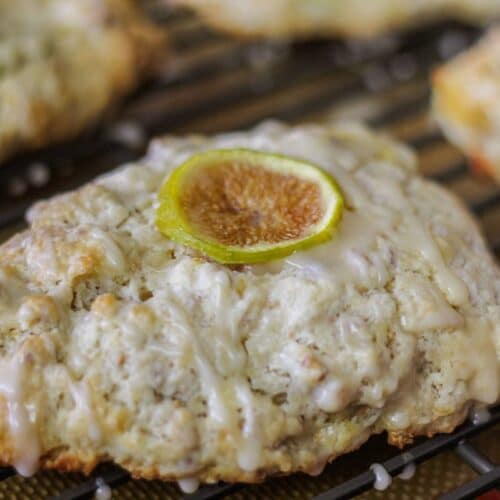 Cardamom and fig scones
fresh fig scones with a delicious orange glaze
Print
Rate
Ingredients
Scones
2-1/2

cups

flour

1/3

cup

sugar

1

T.

baking powder

1

tsp.

cardamom powder

1/4

tsp.

salt

1

T.

orange zest

1/2

cup

unsalted butter

chilled

1/2

cup

pecans

chopped

1

cup

fresh figs

chopped

1/2

cup

buttermilk

1

T.

orange juice

1

tsp.

vanilla

1

egg

beaten

2

T.

half and half

(to brush the tops with)
Glaze
1/2

cup

powdered sugar

2

tsp.

orange juice

1/2

tsp.

vanilla
Instructions
Preheat oven to 400 degrees F

In a large bowl, combine the flour, sugar, cardamom, baking powder, salt, and orange zest. Using a pastry knife, cut in the butter until the mixture is crumbly.

Mix in pecans and figs, until they're evenly coated. This keeps the pecans and figs from sinking to the bottom of the scones.

Whisk buttermilk, orange juice, vanilla, and egg. Make a well in the center of the flour mix and pour the liquids in the center.

Use a fork to gradually mix the liquids into the flour. Don't overwork the dough.

Transfer the dough onto a floured surface, and form into an 8" circle.

Divide dough into 8 sections using a dough scraper. If dough is too sticky, dip the scraper in flour. Press a slice of fig into each piece.

Transfer to a baking sheet, covered with parchment paper or a silicone mat. Leave plenty of room between them, as they will expand. Brush with half and half and bake for 20 to 25 minutes, or until they start to brown.

Cool scones on a cooling rack while you make the glaze.

Glaze: Mix glaze ingredients until you reach a smooth consistency.

Drizzle glaze over cooled scones, and enjoy!
Nutrition
Calories:
283
kcal
|
Carbohydrates:
31
g
|
Protein:
3
g
|
Fat:
17
g
|
Saturated Fat:
8
g
|
Cholesterol:
56
mg
|
Sodium:
275
mg
|
Fiber:
2
g
|
Sugar:
25
g
This Fig Scones post was originally posted on 8/7/2018 and edited on 11/12/2019 by editing the post's copy, but not the recipe.