It's that time of year when kids are headed back to school, while I'm up to my elbows in figs! The good thing is I just LOVE figs, don't you? One of my favorite ways to eat them is candied. Have you tried Candied Figs? They are AMAZING!
I'm the only one if my family that loves figs, so I get an entire fig tree to myself. Not to mention, Chuck's tree (my San Diego neighbor next door). I talk more about Chuck in my Fig Cake/Bread recipe.
With so many figs on my hands, I decided to try a new recipe this year; Candied Figs. If you like figs as much as I do, one taste and you'll think you've died and gone to heaven!
Fig Varieties
Did you know that there are hundreds of fig varieties? But, don't worry, I won't be discussing all of those varieties. I will focus on the three most common varieties found in America: Calimyrna figs, Brown Turkey, and Black Mission.
Before I get into the fig varieties, I would like to highlight the fact that figs originated in the Middle East. In fact, figs are mentioned throughout the Bible; some believe that they might have been the "forbidden fruit" but I hold on to my theory that quince is the forbidden fruit.
Calimyrna
One of the most common fig variety is Calimyrna figs. This is the variety that I have in my backyard. They were originally known as Smyrna figs, which was the name of an ancient city in Turkey.
When they began growing them in California, they changed the name to Calimyrna. These figs are green and turn lighter in color as they ripen. The sweet, nutty flesh on the inside is pink.
Calimyna figs are delicious right off the tree but can be purchased dried as well. I use them to make Fig and Goat Cheese Pizza, Fig Preserves, Fig Cake, Fig Scones, and fig newtons.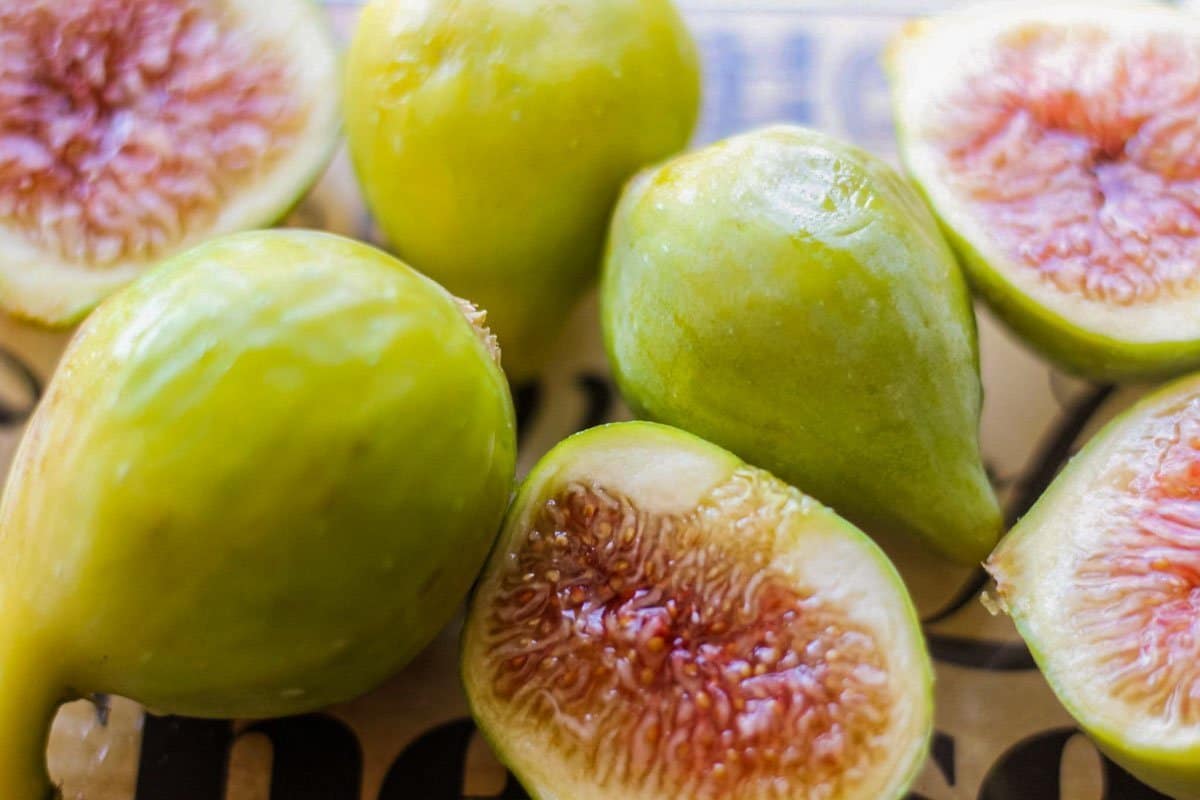 Brown Turkey Figs
Brown turkey figs have a rust-colored exterior, and a pale pink interior. Compared to most figs, they are milder in flavor and sweetness.
I love figs, but I'm not crazy about Brown Turkey figs. However, Turkey Figs are perfect for baking, or to use for make jam.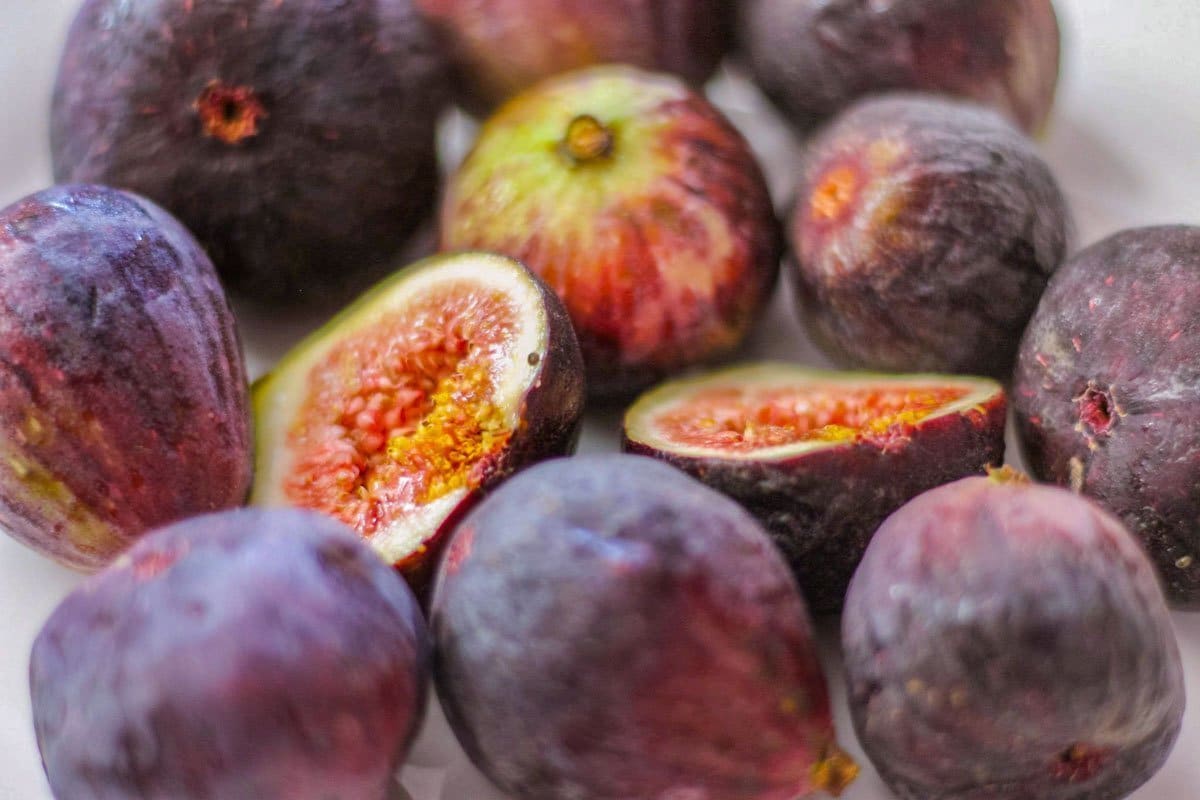 Black Mission Figs
Have you ever wondered where black mission figs got their name? Well, Spanish Franciscan missionaries are responsible for bringing this variety of figs to southern California.
In 1769, the same year San Diego was founded, the figs were planted at the San Diego Mission. As a result, these figs became known as black "mission" figs.
These figs have a dark, purplish-black exterior, and a strawberry-colored interior. This variety is very sweet and can be usually found both fresh, and dried.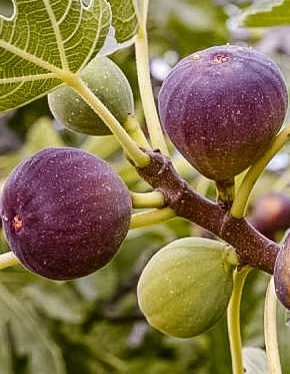 Candied Figs (also known as Glacé Figs)
So what are candied figs? Let's first look at the definition of Candied Fruit: Crystallized fruit, or glacé fruit, is when whole fruit, pieces of fruit, or peel, are cooked over a long period in a sugay syrup.
Over time, the syrup absorbs the moisture from the fruit and preserves it. In most candied figs recipes, the figs are cooked for a long period of time (sometimes up to a week). Eventually, they are dried, or semi-dried, and sometimes dredged in more sugar.
I can't recommend candied figs if you are diabetic, or watching your sugar intake. But, if you are in good health, and want to indulge occasionally, you have to try them!
They are delicious by themselves, or as a topping over vanilla ice cream. Drizzle some of the leftover syrup (once you strain the candied figs) over the ice cream, if you're really brave!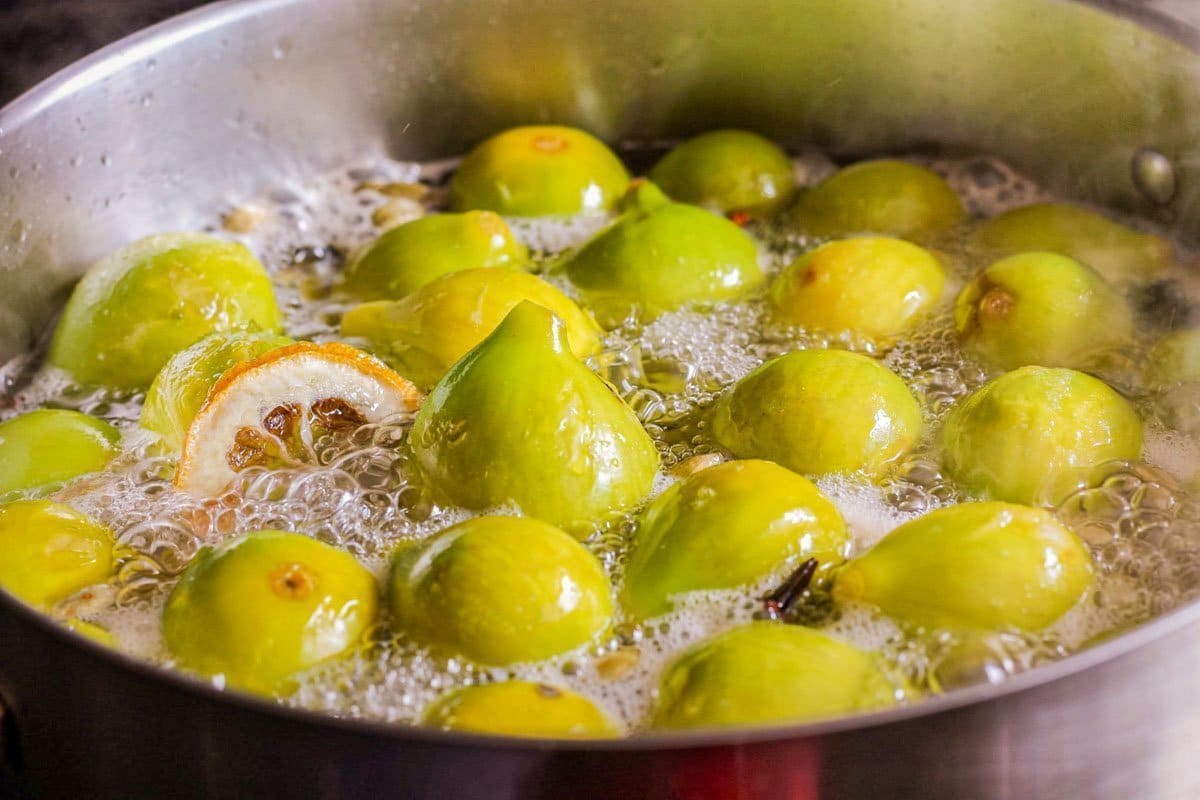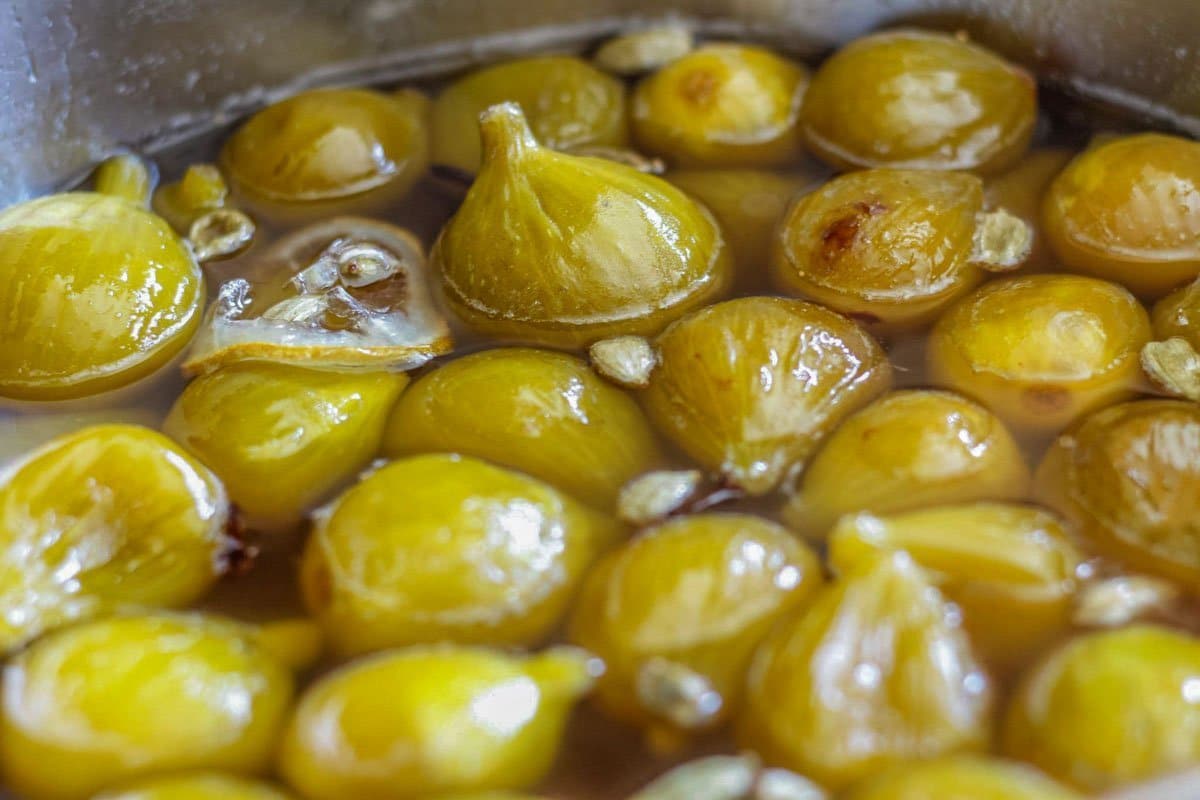 Tools Required for Making Candied Figs
The only required tools for this recipe are a saucepan for cooking the figs in, and a dehydrator for drying them in. As far as storing them goes, you can put them in mason jars, in your fridge, or give them out as gifts to your family and friends. I find that half the fun of cooking is sharing the results with others.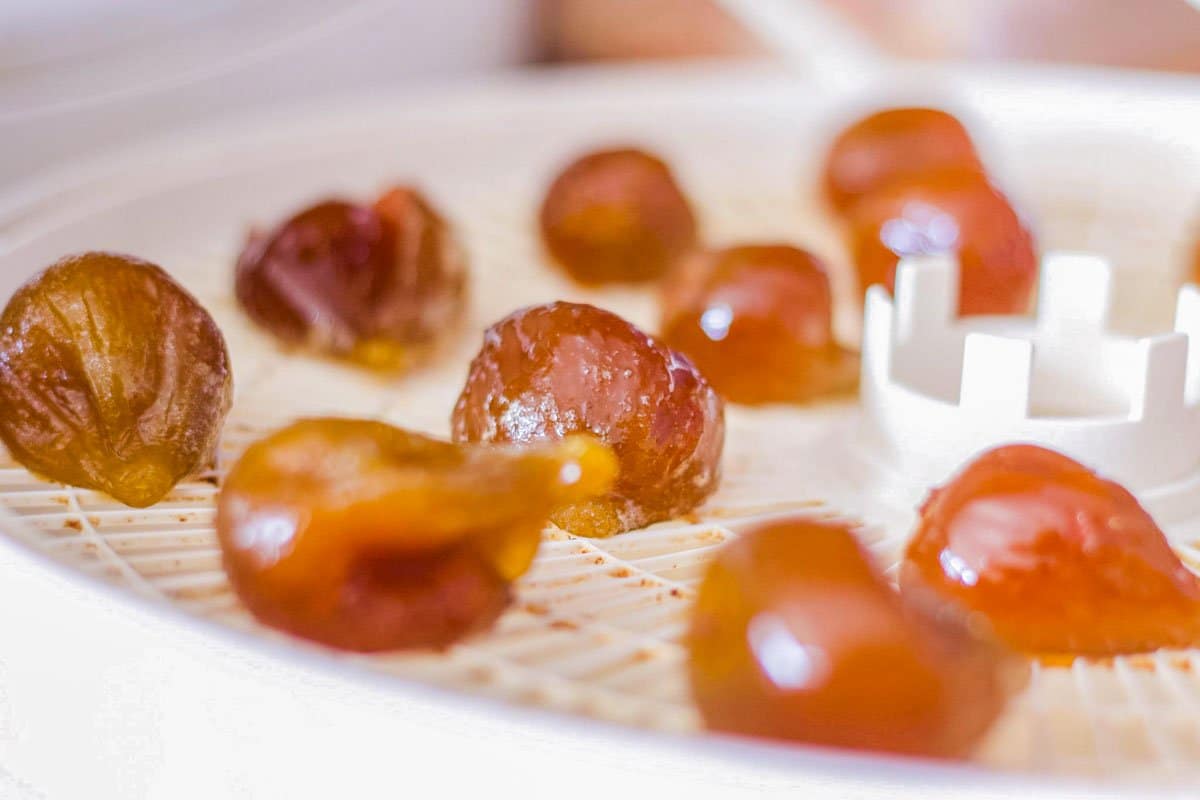 You may also enjoy the following fruit-based sweets: stuffed dates, fig newtons, Gourmet Caramel Apples, and quince paste.
Do you Pinterest? Please pin & share!
Candied Figs
Decadent candied figs; perfect for when you need a touch of sweetness!
Print
Pin
Rate
Ingredients
3

cups

water

3

cups

sugar

3

sliced

fresh or dehydrated lemon

1

tsp.

cardamom pods

1/2

tsp.

whole cloves

1

inches

cinnamon stick

3

lbs.

whole figs
Instructions
Stir water and sugar in a medium-sized saucepan, over medium heat, until sugar is dissolved.

Add the remaining ingredients, except the figs, and bring to a boil.

Place whole figs in a strainer and gently wash, then carefully drop individually into the saucepan.

Continue to boil over medium heat for 60 minutes.

Rest for at least 12 hours or overnight.

Bring the mixture to a gentle boil and allow to boil for 1-1/2 to 2 hours.

Leave the in syrup until completely cooled, or overnight.

Drain figs (retaining the syrup for other uses).

Place drained figs on dehydrator trays, leaving plenty of space for air circulation.

Set the temperature to 125. Dehydrate until desired texture or dryness is achieved.
Nutrition
Serving:
1
fig
|
Calories:
86
kcal
|
Carbohydrates:
22
g
|
Protein:
0
g
|
Fat:
0
g
|
Saturated Fat:
0
g
|
Cholesterol:
0
mg
|
Sodium:
2
mg
|
Fiber:
1
g
|
Sugar:
21
g