Strawberry Fig Preserves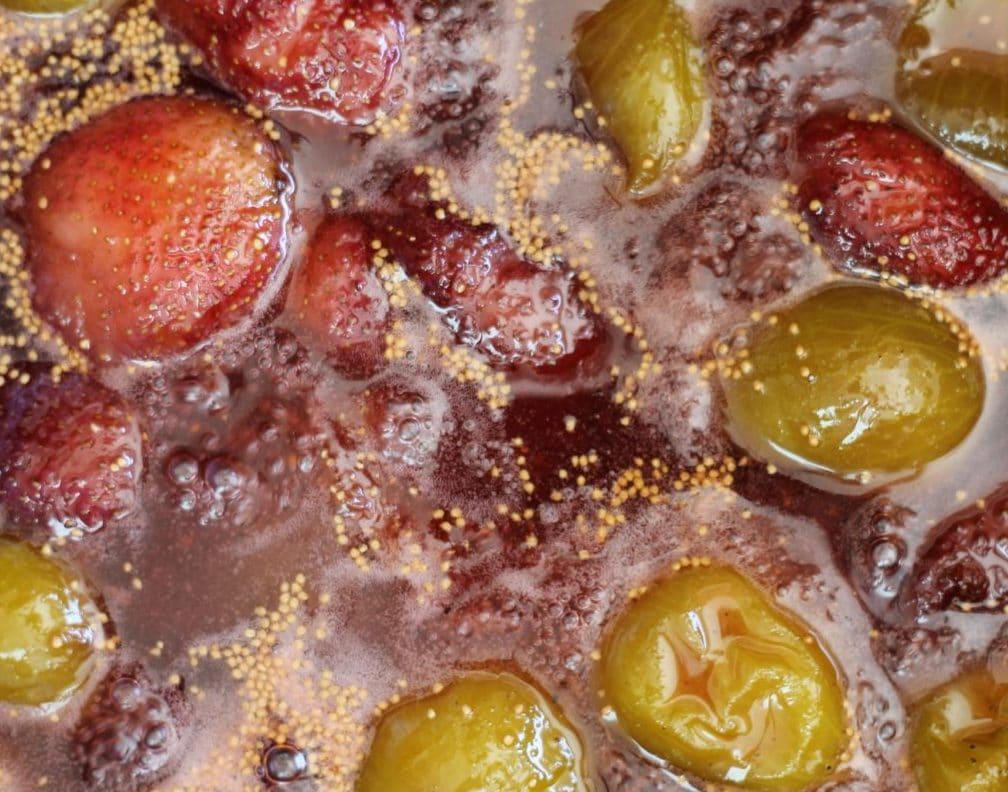 I remember the first time I ate strawberry fig preserves. It was in the 1990s when I worked at a women's jail here in San Diego. One of the older ladies that worked there always made preserves and brought them in for the deputies to enjoy. Her strawberry and fig preserves was the best concoction of them all! Because she knew how much I enjoyed it, she would make me a jar to take home. She was such a doll! I feel bad that I don't remember her name, but I'd like to think that she'd be proud of my efforts!
The Best Strawberry Fig Preserves
In the early '90s, I wasn't much of a cook. I was too busy enjoying my youth and partying with my friends. I didn't even consider asking her for the recipe (dumb move)! Fast forward 25+ years, and I'm now a cookbook author and a food blogger. I have even been described as a  jam-making-machine. Over the years, I watched my mom make her delicious plum preserves, apricot preserves, and many other jams and jellies. I use the basics of what she taught me to create my jam and preserve recipes. After some trial and error, I came up with my own strawberry fig preserves recipe.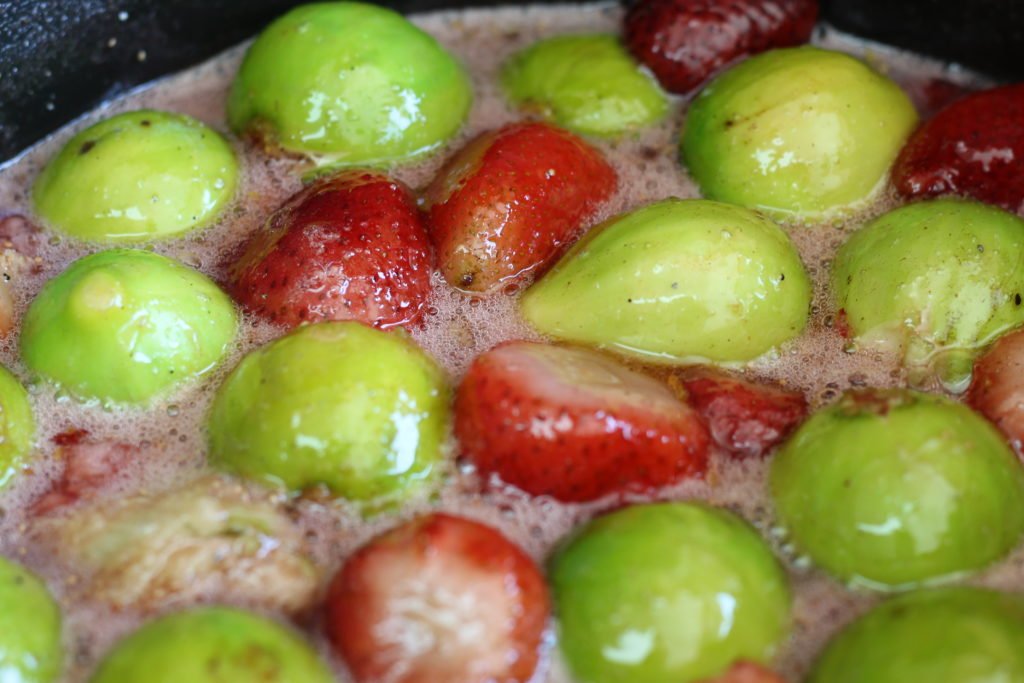 Other Jam and Preserves Recipes
In my cookbook, "Mom's Authentic Assyrian Recipes," I share a recipe for my fig jam. Each Fall, my relatives request a shipment of fig jam. Since I live in California and have a fig tree, I get to make the jam for the relatives who live in Chicago and can't grow their own figs due to the cold weather. Because I love fig jam as much as I do, it was the first one I learned to make. Since then I've made many other jams and preserves including quince jam, plum preserves, and pear-apple preserves. Check out the "Jams and Preserves" category under the recipes menu to see the rest!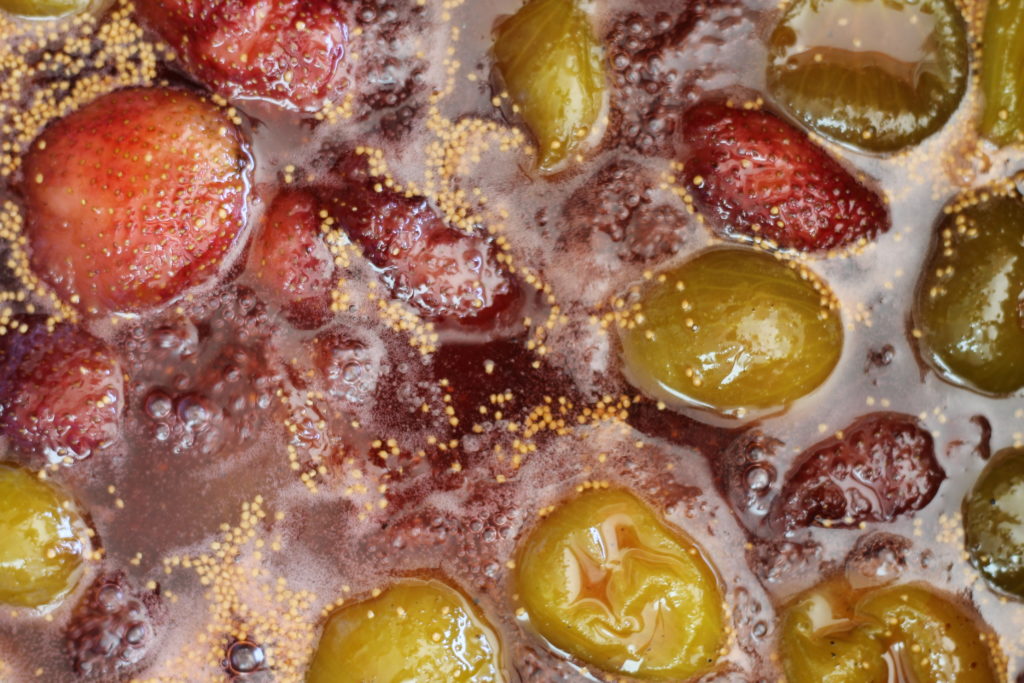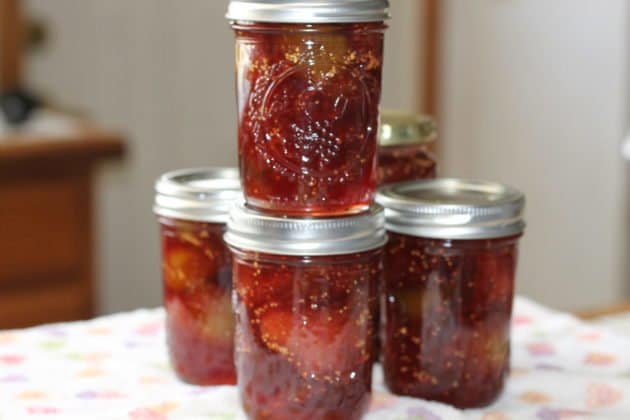 Do you Pinterest? Please pin & share!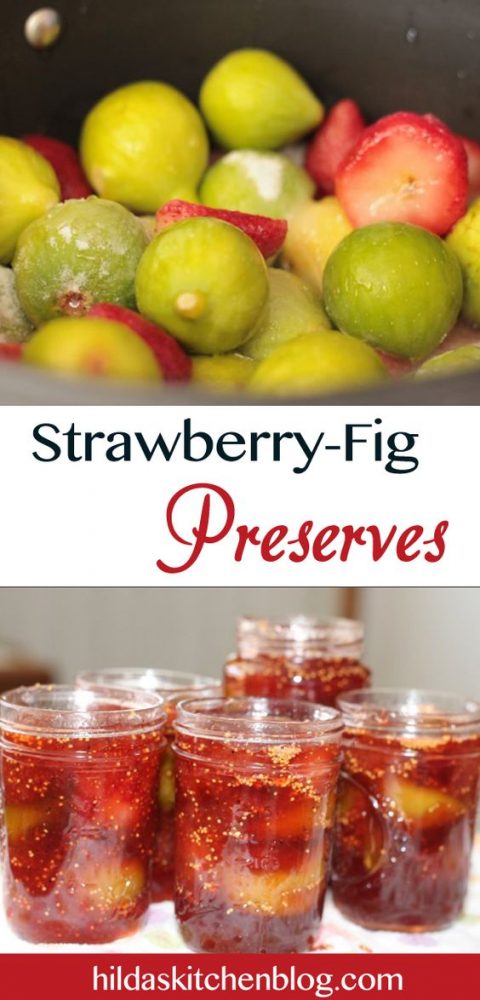 ---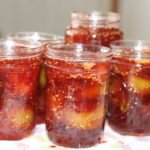 Strawberry Fig Preserves
What's better than strawberry preserves? Strawberry fig preserves!
Course:
Appetizers, Dessert, Snacks
Ingredients
1 1/2

lbs

fresh figs

1 1/2

lbs

strawberries

fresh or frozen

4

cups

sugar

zest from one lemon

1

tsp.

cardamom

1/2

tsp.

cinnamon

4

T.

lemon juice

1

box

Sure Jell Pectin
Instructions
Wash, then trim ends off of the figs. Prepare strawberries by slicing off the end with the leaves. If the strawberries are very large you can slice in half.

Place half of the fruit in an eight-quart Dutch oven. Then sprinkle with two cups of sugar. Repeat with the remaining fruit and sugar.

Add lemon zest and spices, gently mixing them in.

Place the pot over low heat, uncovered, allowing the sugar to melt slowly.

Once the sugar begins to liquify, gently stir so that the fruit does not get scorched.

When the mixture begins to boil, lower the temperature and allow the preserves to simmer for 30 minutes.

Meanwhile, place the jars and lids in a large pot filled with enough water to fully submerge the jars. Boil for approximately ten minutes to sterilize.

After the preserves has simmered for 30 minutes, add lemon juice and pectin, and mix quickly to completely dissolve the pectin.

Simmer, uncovered, for an additional ten minutes.

Carefully pour the preserves into the jars, leaving a 1/4" space from the top of the jar. A canning funnel really helps with this step.

Wipe off the lids and sides of the jars, then seal tightly with the caps.

Process in the boiling water for an additional ten minutes.

Store in the panty up to a year.
Nutrition Facts
Strawberry Fig Preserves
Amount Per Serving
Calories 74
% Daily Value*
Total Fat 0g 0%
Cholesterol 0mg 0%
Sodium 1mg 0%
Total Carbohydrates 19g 6%
Protein 1g 2%
* Percent Daily Values are based on a 2000 calorie diet.
---
---