It's Fall, my favorite time of year! We don't get much Fall weather in San Diego; in fact, it's October 15th, and it's 98 degrees today! This nasty weather doesn't keep me from wanting to partake in my favorite Fall activities. One of those activities is making preserves. What says "Fall" more than apples and pears? Yesterday, I made my first batch of pear-apple preserves. All I can say is, "Lord have mercy, this stuff is amazing!" This preserves not only goes great on buttered toast but makes a great dessert topping as well.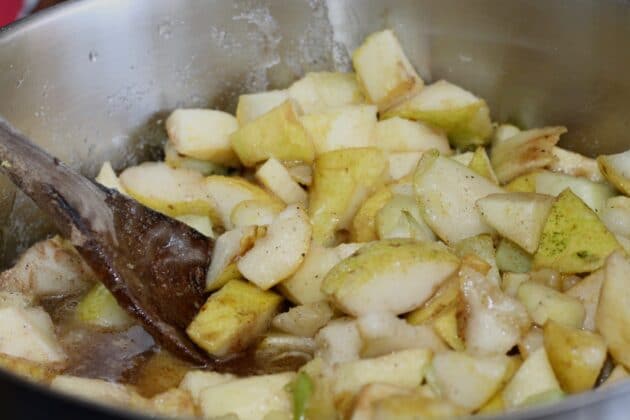 Pear-Apple Preserves
When I lived in Chicago, we had an enormous pear tree; the squirrels ate most of them, unfortunately. I wish I loved cooking back then. When I think of all those pears I didn't turn into pies, tarts, and jam, I get a little sad. I'm also really surprised that mom didn't make pear preserves. She was known for her preserves, especially her plum preserves, fig preserves, peach preserves, and orange marmalade. But, not time to dwell on the past. The present is ticking along, and I have a lot of catching up to do!
Easy Preserves Recipes
Recently, it occurred to me that making preserve is a breeze! For every pound of fruit, I add a cup of sugar. Add to that some lemon juice, zest, and a few spices when needed, and you've got some delicious preserves in the making. Using this simple technique, I've achieved some delicious jams and preserves. This includes the following recipes: cardamom apple pie preserves, Loquat Jam, persimmon jam, and quince jam. If you are going to get into making jams and preserves, I highly recommend investing in the right tools, including a canning set.
Do you Pinterest? Please pin and share!
Pear-Apple Preserves
Apples and pears are the perfect fall treat, and go great together in this pear apple preserves recipe.
Ingredients
1.5

lbs.

apples

peeled and chopped

1.5

lbs.

pears

chopped

3

cups

white sugar

1

medium

lemon

zested and juiced

1/2

tsp.

vanilla extract

1/2

tsp.

cinnamon

1/2

tsp.

cardamom

1/4

tsp.

nutmeg

freshly grated

1/4

tsp.

cloves
Instructions
Place diced fruit in a dutch oven. Cover with the sugar and spices. Add the lemon juice, zest, and vanilla.

Cook over low heat, uncovered, until the sugar begins to dissolve. Stir and allow to come to boil over medium heat.

Meanwhile, prepare the jars by sterilizing them in boiling water.

When the fruit mixture comes to a boil, set the timer for 30 minutes.

As the preserves cooks down, you may need to mash some of the fruit into smaller pieces.

Continue to stir occasionally to keep the mixture from burning.

When the time is up, the fruit should be translucent, and the syrup should be pretty thick. If the preserves is still too watery, it may need to be cooked a little longer.

Pour into sterilized jars, using the proper canning tools (funnel, tongs, etc.) Once the lids are screwed on tightly, Place the jars back into the boiling water and process for ten additional minutes.
Nutrition Facts
Pear-Apple Preserves
Amount Per Serving
Calories 51
% Daily Value*
Total Fat 0g 0%
Cholesterol 0mg 0%
Sodium 0mg 0%
Total Carbohydrates 13g 4%
Protein 0g 0%
* Percent Daily Values are based on a 2000 calorie diet.