Although you came here to check out my Fuyu persimmon preserves recipe, I'd like to tell you a little story first. This Fall, I was blessed with an abundance of fruit, thanks to my wonderful friends. My good fortune actually started back in the Summer. A good friend, Leslie, invited me to stop by and pick some nectarines and grapefruit off her fruit-laden trees. That just happens to be my favorite kind of invitation! I enjoyed the delicious grapefruit for breakfast and used the nectarines to make some amazing preserve. So good that I think even mom would've approved!
Beautiful Pomegranates…
A few months later, I got a text from my friend, Christina, asking if I wanted to come to her house to pick pomegranates. Most of my friends know that I never turn down an invitation to pick fruit, so off I went. I picked pomegranates to my heart's content, only stopping to eat some to regain my strength (a slight exaggeration). A few weeks later, Scott brought a huge bag of pomegranates home from work. I wondered to myself what I had done to deserve such good fortune? I used some of them to develop this amazing pomegranate and quinoa salad.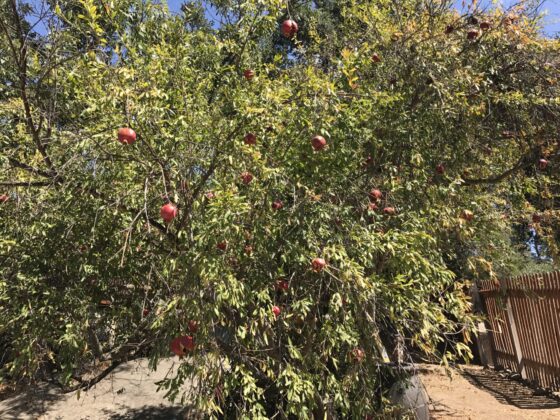 Purple Figs…
Weeks later, I posted on Facebook, asking if anyone had access to purple figs. My friend, Norma, came to my rescue; her friend had a purple fig tree. Before I knew it, we were setting up a rendezvous, where she gave me a five-gallon bucket full of purple figs!  I made many jars of fig preserves and strawberry-fig Preserves. I dehydrated some of the leftover figs and made fig newtons with the rest. How am I going to live without figs in Montana?
Fuyu Persimmons…
A month later, I got my yearly gift of Hachiya persimmons from my friend, Roselyn. I used them to make persimmon jam and ate some as-is. I also developed a delicious recipe for persimmon-pumpkin bars. Then Scott brought home limes and Fuyu persimmons (I always feel like I'm swearing when I say that word…Fuyu). I had never tasted Fuyu persimmons, so I was excited to try them!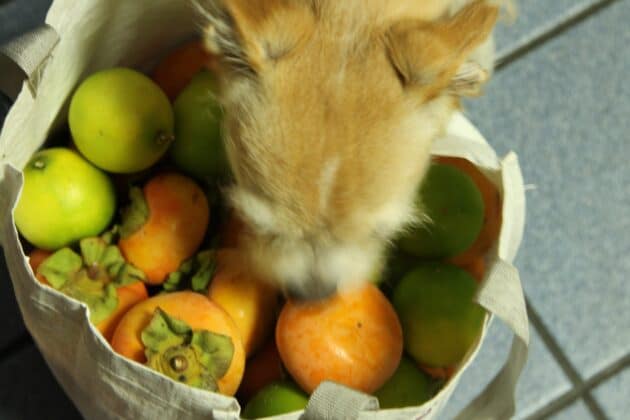 Fuyu Persimmons vs. Hachiya Persimmons
I learned that Fuyu persimmons are a lot milder in taste than the Hachiya variety. Hachiya persimmons aren't fit to be eaten until very ripe, due to the high tannin content. By the time they're ripe, the flavor is quite intense! Fuyu persimmons, in comparison, can be eaten when they're still firm, but have a milder taste. What I was surprised to find out is that if you let them continue to ripen, they will reach the same consistency and intense flavor as the Hachiya persimmons!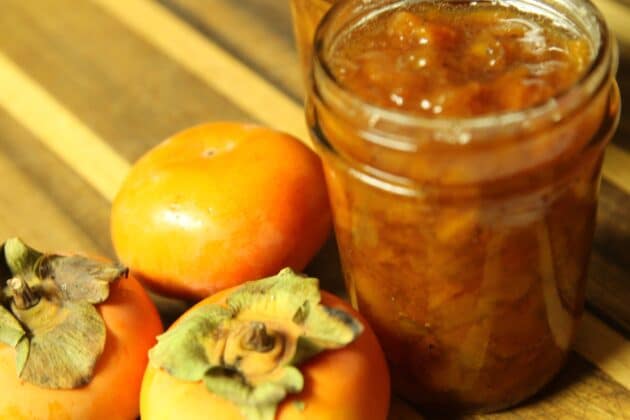 How to Make Persimmon Preserves
It took me a few tries to perfect this recipe. In my first attempt, I peeled and sliced the persimmons, then cooked them in the sugar/lemon mixture. The end result was a little disappointing. Although the persimmon preserves had great flavor, the persimmon slices were not very tender. I achieved better results on my second attempt. I boiled the persimmons first, then cooked them with the sugar and spices. So without further delay, let's get to the persimmon preserves recipe!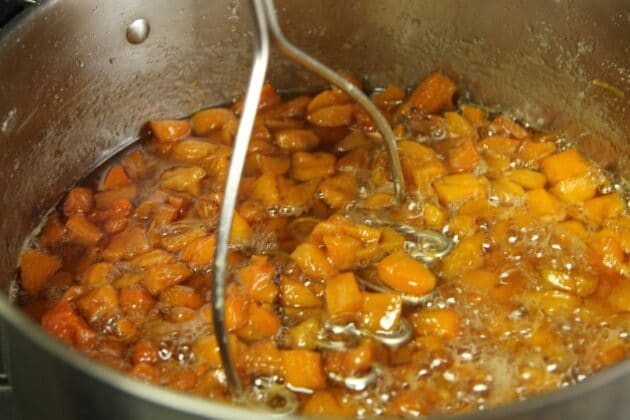 Do you Pinterest? Please help a girl out by pinning and sharing the recipe!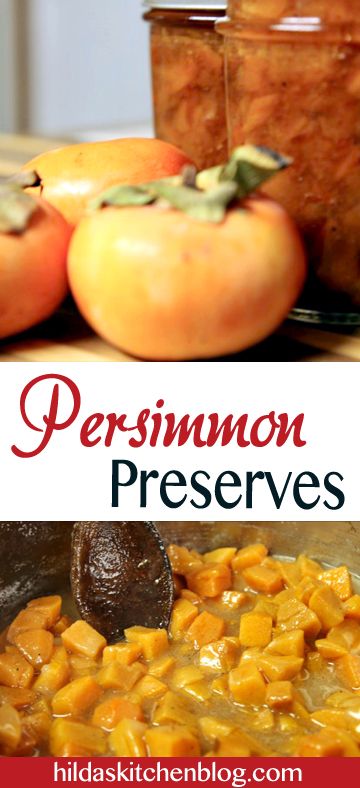 ---
Fuyu Persimmon Preserves
Delicious Fuyu Persimmon Preserves.
Ingredients
2

lbs.

fuyu persimmons

peeled and chopped

1/4

tsp.

cinnamon

1/4

tsp.

cardamom

1

medium

lemon

(juiced and zested)

2

cups

sugar

1/4

cup

lemon juice

freshly squeezed
Instructions
Wash, peel, and chop the persimmons; add to a medium-sized pot. Cover with five cups of water and bring to a boil. Simmer for 20 minutes over low heat, until tender.

Drain all the liquid, then add the cinnamon, cardamom, and lemon zest.

Sprinkle with two cups of sugar, then heat over low to medium heat until the sugar begins to dissolve.

Stir frequently to prevent burning. Once the mixture comes to a boil, lower the heat and cook for an additional 30 minutes, stirring occasionally.

Add the lemon juice halfway through the cooking process. Mash with a potato masher to get the consistency that you prefer.

Remove from heat when the syrup is thickened. This should take approximately 30 minutes.

Ladle the preserves into two eight oz. sterilized mason jars. Run a knife along the edges of the filled jars to bring any bubbles that might have formed up to the surface. Tighten the lids on the jars and process in hot water for ten additional minutes.
Nutrition Facts
Fuyu Persimmon Preserves
Amount Per Serving (1 T.)
Calories 35
% Daily Value*
Total Fat 0g 0%
Cholesterol 0mg 0%
Total Carbohydrates 9g 3%
Protein 0g 0%
* Percent Daily Values are based on a 2000 calorie diet.