This Quince Jam Recipe is extra special. Not only because it's so delicious, but also because quince isn't available all year round. This makes this recipe something I look forward to when my favorite time of the year is here, Fall! So grab some quince and fall me into the kitchen!
What's the Difference Between Jam, Jelly, and Preserves?
Have you ever wondered what the difference is between jam, jelly, and preserves? I know I have! For that reason, I sit here pondering what to name this recipe; quince jam, or quince preserves? As you can see, I finally decided on "Quince Jam."
Jelly is made with fruit juice and has a firm and smooth jello-like consistency. As a result, I have never been a big fan of jelly, I prefer big, tasty chunks of fruit.
Jam, on the other hand, is made with crushed fruit. It has an even consistency, neither too smooth or too chunky. Jam falls somewhere between jelly and preserves.
Preserves is chunkier than both jelly and jam. The fact that preserves contain large chunks of fruit makes it an easy favorite.
Quince Jam Texture
Keeping the facts that I mentioned above in mind, I suppose this recipe can be called Quince Jam Recipe, or Quince Preserves Recipe. It all depends on whether you emulsify the quince at the end of the recipe, or leave them chunky.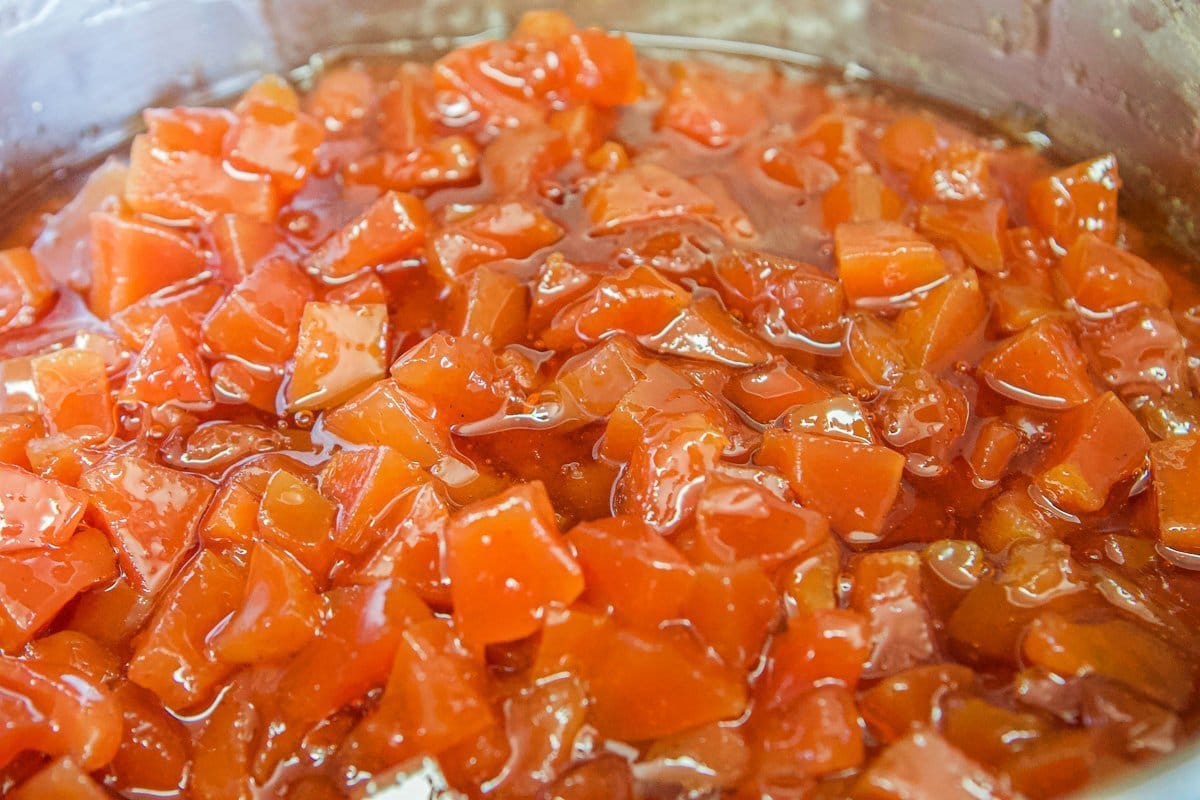 The ingredients are the same, the only difference is the texture. If you prefer the consistency of jam, use one of these handy emulsifiers to achieve the results you're after. Otherwise, leave it as is.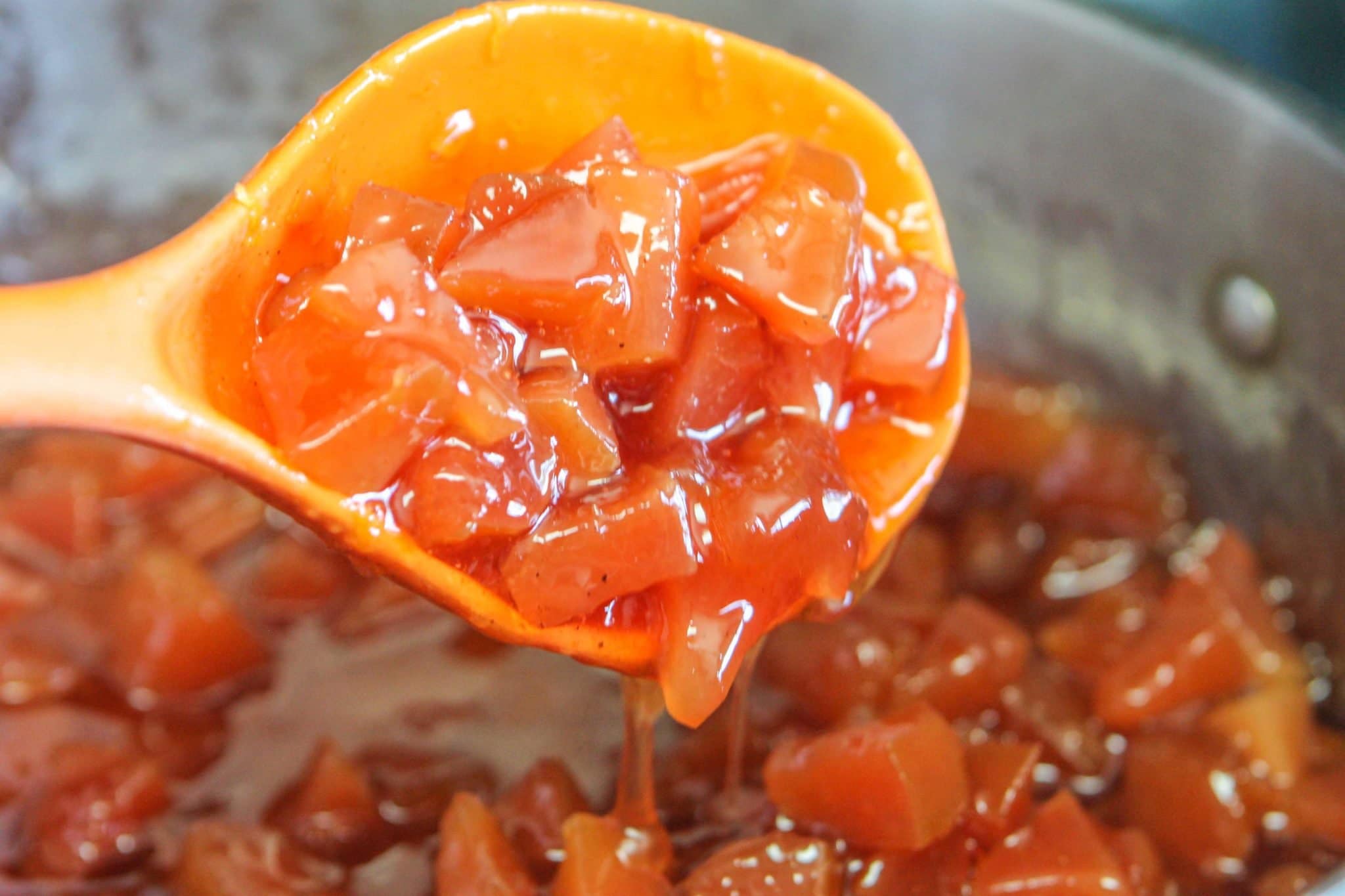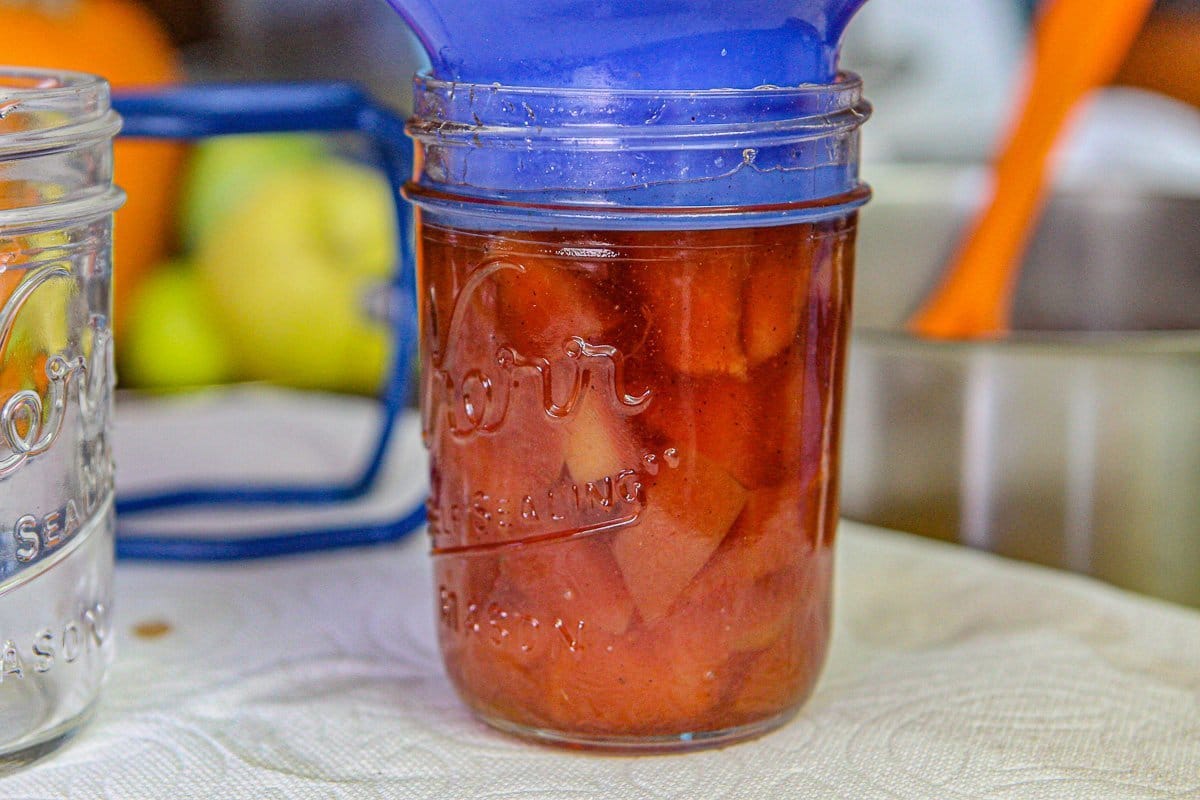 When is Quince Available?

 
Unless you have access to a quince tree, the fruit is pretty hard to come by. I'm looking forward to growing them on our property in Montana, as they can tolerate colder climates. But for now, I'll have to purchase them in Fall.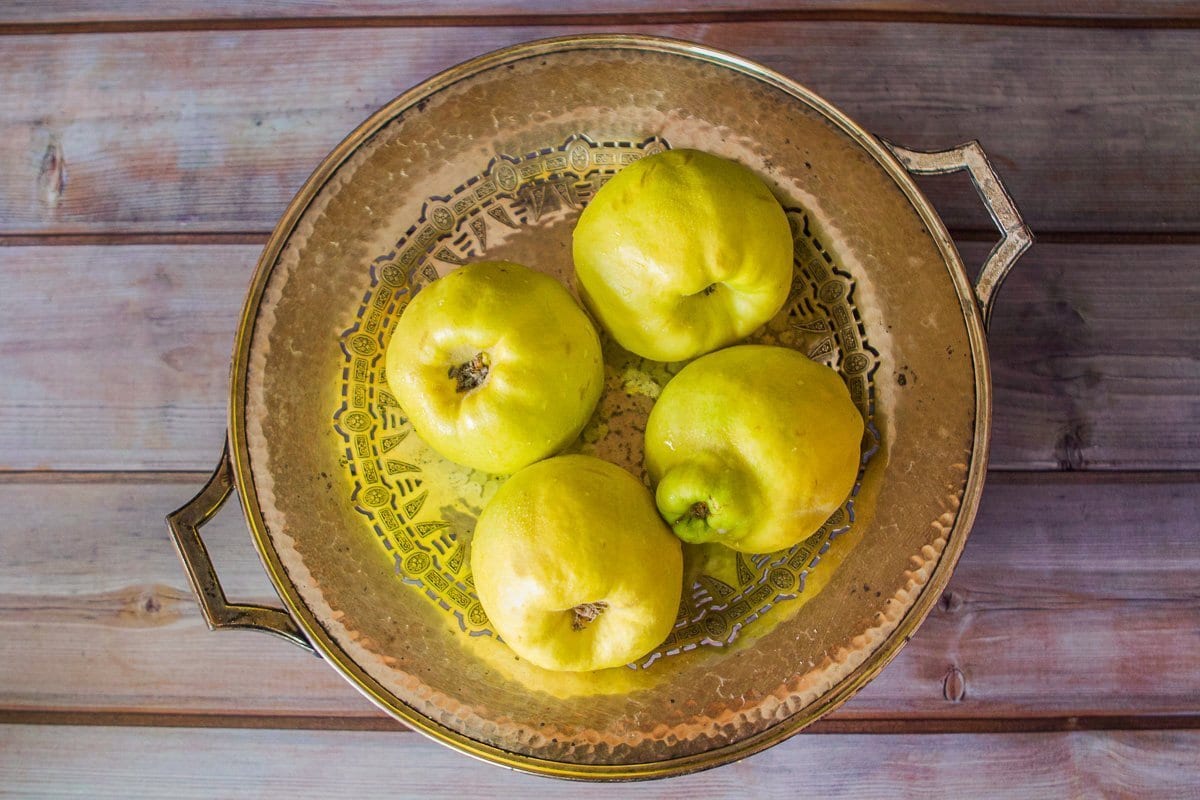 If you think that you might be interested in trying this quince jam recipe, please don't wait too long. Before you know it, your window of opportunity will have slipped by. While you're at it, buy a few extra so that you can also make some Quince Paste. It goes great with cheese and wine. You may also want to try this Quince Candy recipe.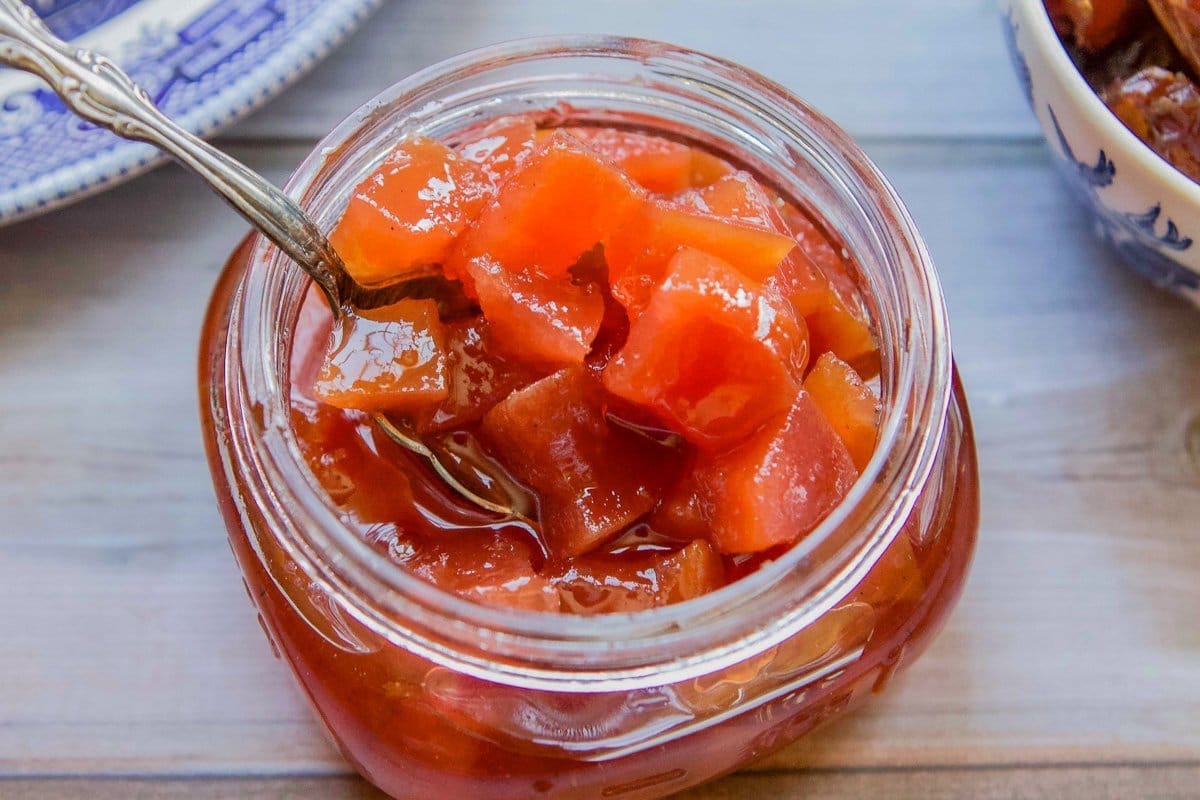 Do you Pinterest? Please pin and share!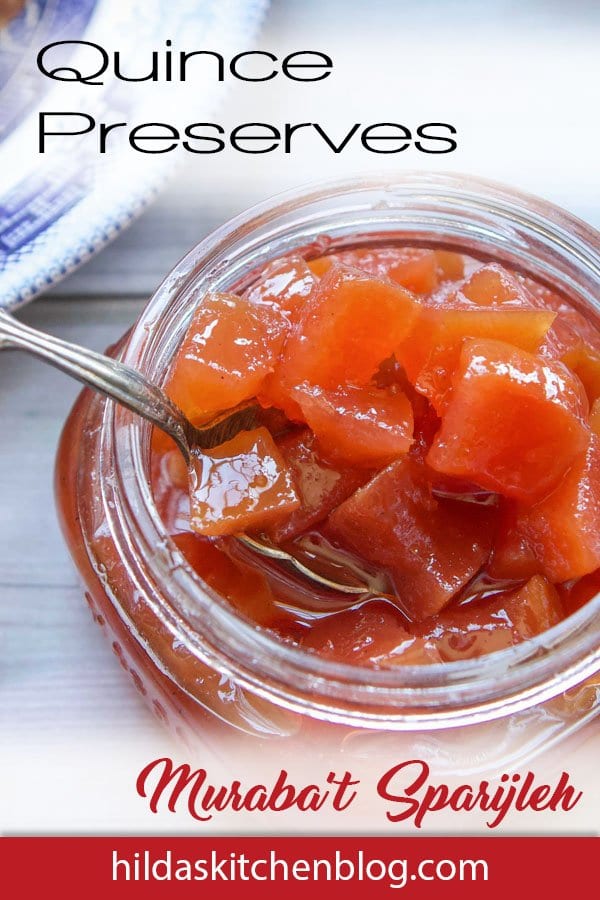 Be sure to check out these other jam recipes: Loquat Jam, Strawberry-Fig Preserves, and Persimmon Jam.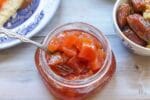 Quince Jam Recipe (Muraba't Sparijleh)
Assyrian quince jam recipe, just like mom used to make!
Cuisine:
Assyrian, Middle Eastern
Ingredients
4

large

quince

(chopped, approximately 4 cups)

4

cups

sugar

1/4

tsp.

cinnamon

1/4

tsp.

cardamom

1

lemon

(zested and juiced)

2

cup

water

(drained from cooked quince)

1-1/2

tsp.

rose water

(optional)
Instructions
Wash the jars and lids in hot, soapy water and rinse. Sterilize the jars by boiling them for 10 minutes. Keep them in the hot water until needed.

Wash and chop the quince into 1″ pieces. If you prefer, you can dice the quince into smaller pieces. Later in the process, I use a handheld immersion blender to break the quince down to the consistency that I like. If you don't want to do this, you can just dice them into smaller pieces now.

Place quince in a five qt. Dutch oven. Add enough water to completely cover the quince. Bring to a boil, then simmer for 15 minutes.

Place a strainer over a bowl and drain the quince, capturing the liquid. Reserve two cups of the liquid. This liquid will be used in the recipe instead of plain water because quince have a high pectin content. This will aid in the jelling process.

Place the quince back into the empty Dutch oven and add the remaining ingredients, including the reserved liquid. Bring to a boil, while stirring over medium heat.

Simmer anywhere from 30 to 40 minutes, stirring occasionally, until the syrup thickens. Keep in mind the preserves will thicken further upon cooling off. At this point, you can use the immersion blender to break up the jam so it's less chunky, or leave it as is. Please be cautious so that you don't burn yourself from the inevitable splatter.

Ladle the hot jam into hot jars, leaving 1/4" headspace.

Tighten the caps on the jars and place back into the boiling water, process for 10 minutes.

Use jar lifting tongs to remove the jars from the boiling water. Cool, then store up to a year.
Nutrition Facts
Quince Jam Recipe (Muraba't Sparijleh)
Amount Per Serving (2 Tablespoons)
Calories 81
% Daily Value*
Fat 0g0%
Cholesterol 0mg0%
Sodium 0mg0%
Carbohydrates 22g7%
Protein 0g0%
* Percent Daily Values are based on a 2000 calorie diet.