The loquat is a delicious, plum-sized fruit that can be picked and eaten right off the tree. However, this unique fruit can also be enjoyed in various loquat recipes, like this Loquat Jam. Other loquat recipes include loquat wine, cobbler, pie, chutney, and barbecue sauce. They can also be brewed in hot water to make loquat tea. Loquats can be somewhat sour. Luckily, this makes them ideal for loquat jam or preserves. Adding a pinch of cardamom really balances out the flavor of this unique jam.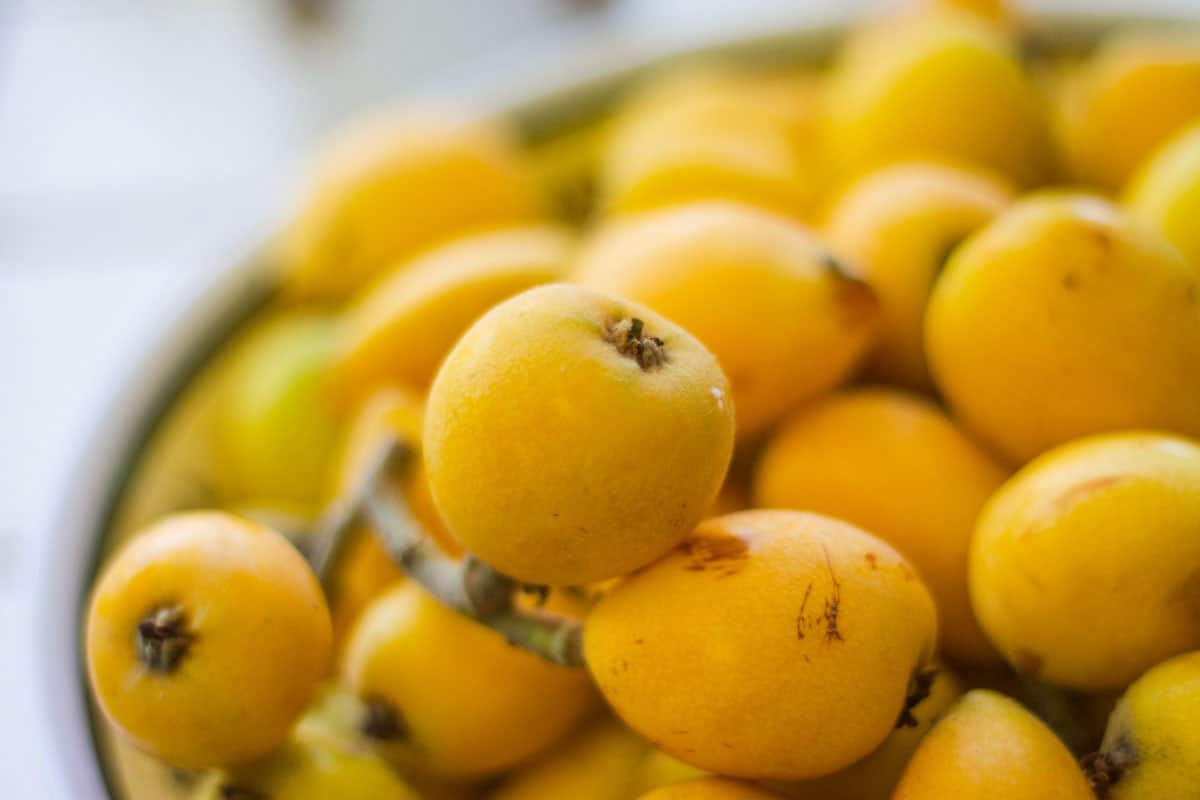 What Are Chinese or Japense Plums?
Loquats are originally from China, and are commonly referred to as either "Chinese Plums" or "Japanese Plums." They are also known as "Japanese medlar." Loquats are often confused with Kumquats. Although they are nothing alike in taste or appearance. I imagine the reason for the confusion is that both fruits end with "quat" and are somewhat obscure. One difference between the two is that loquats grow in clusters. Although both fruits originated in China, Kumquats are, in fact, citrus. They look like pecan-sized oranges. Kumquats are eaten along with their peel. This is because the fruit itself is quite sour. Moreover, the peel is sweet, which balances out the flavors beautifully.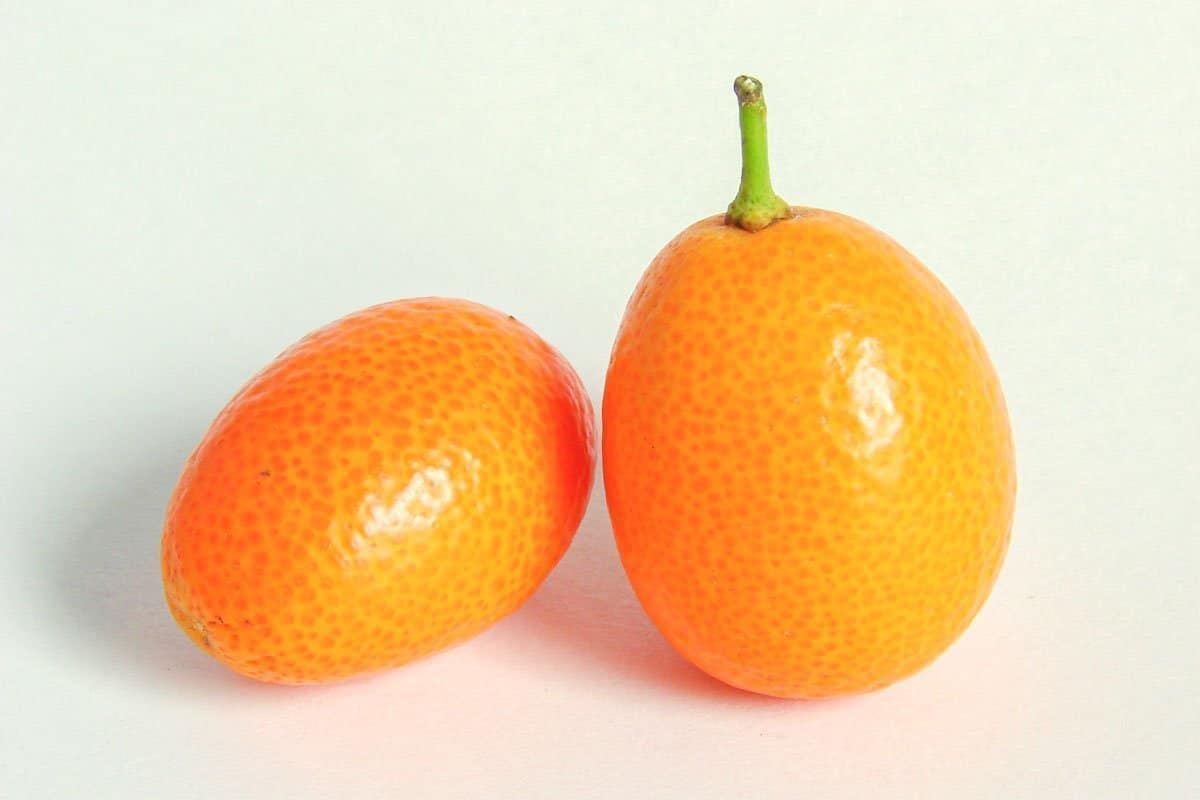 What Do Loquats Taste Like?
Loquats have thin, smooth skin that can be easily peeled when the fruit is ripe. However, the fruit can also be eaten with the skin on. When ripening, Loquats go from green to yellow and eventually develop a deep orange hue.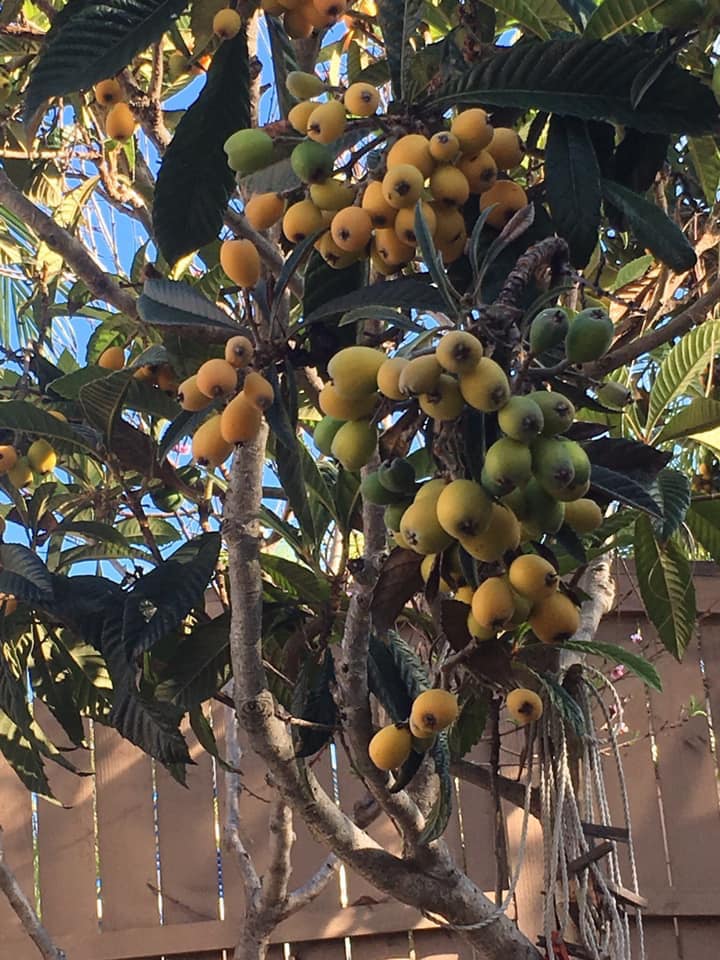 When picked too soon, they taste sour. However, if you allow them to fully ripen they are as juicy as a ripe pear. I've seen the flavor described as a mix of citrus, apple, cherry, and plum. I guess everyone has their own way of describing it. For me, however, a loquat tastes like a mango/peach combination. Each loquat has one to four large shiny, brown seeds. These seeds pop out easily when the fruit is cut, or a taken a bite out of. Loquat seeds are poisonous if consumed in large quantities, so be sure to keep them out of the reach of pets and children.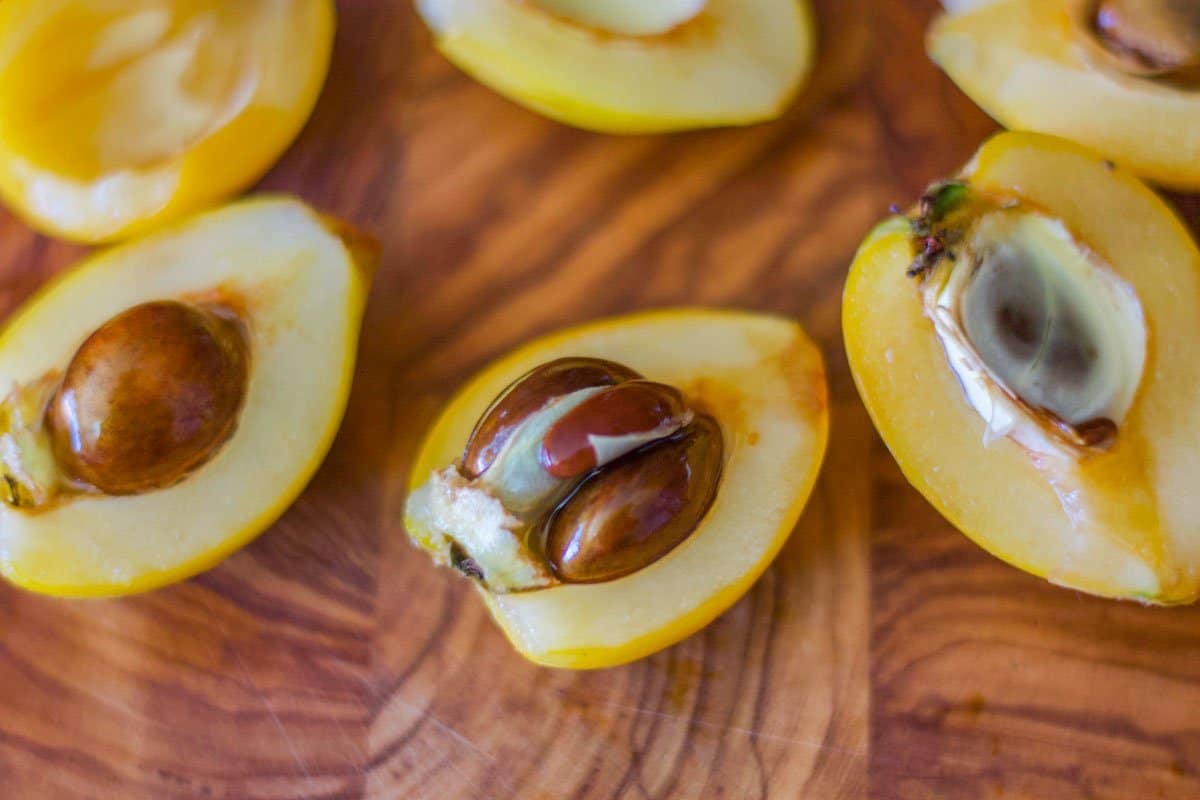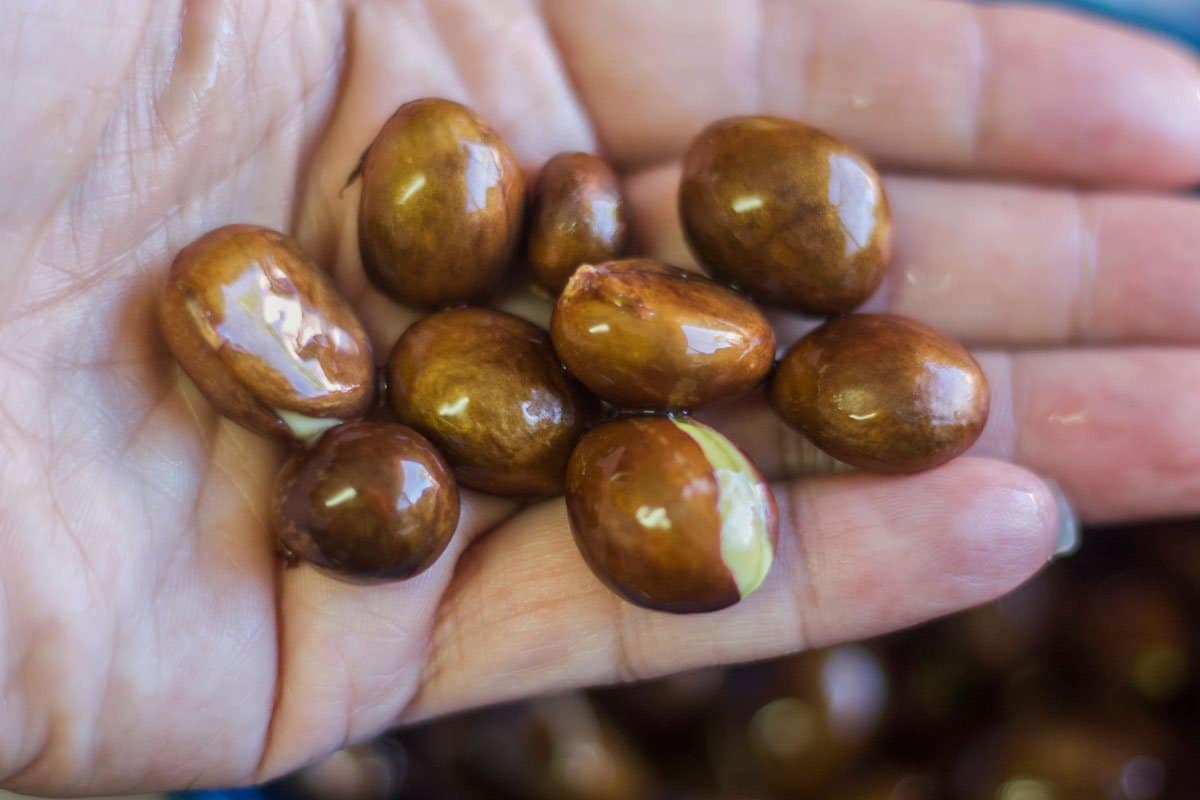 What Does Loquat Jam Taste Like?
To me, Loquat Jam tastes similar to Peach Jam. It has a definite sour flavor, similar to other jams including plum and apricot jam. One of the things that affect the flavor of this jam is the flavoring added. Because loquats are sour, to begin with, very little lemon juice is required. Other flavorings include vanilla and cardamom. I can't decide which of the two is my favorite. For this reason, I make it both ways. If you don't have vanilla beans on hand, just use 1 teaspoon of vanilla extract.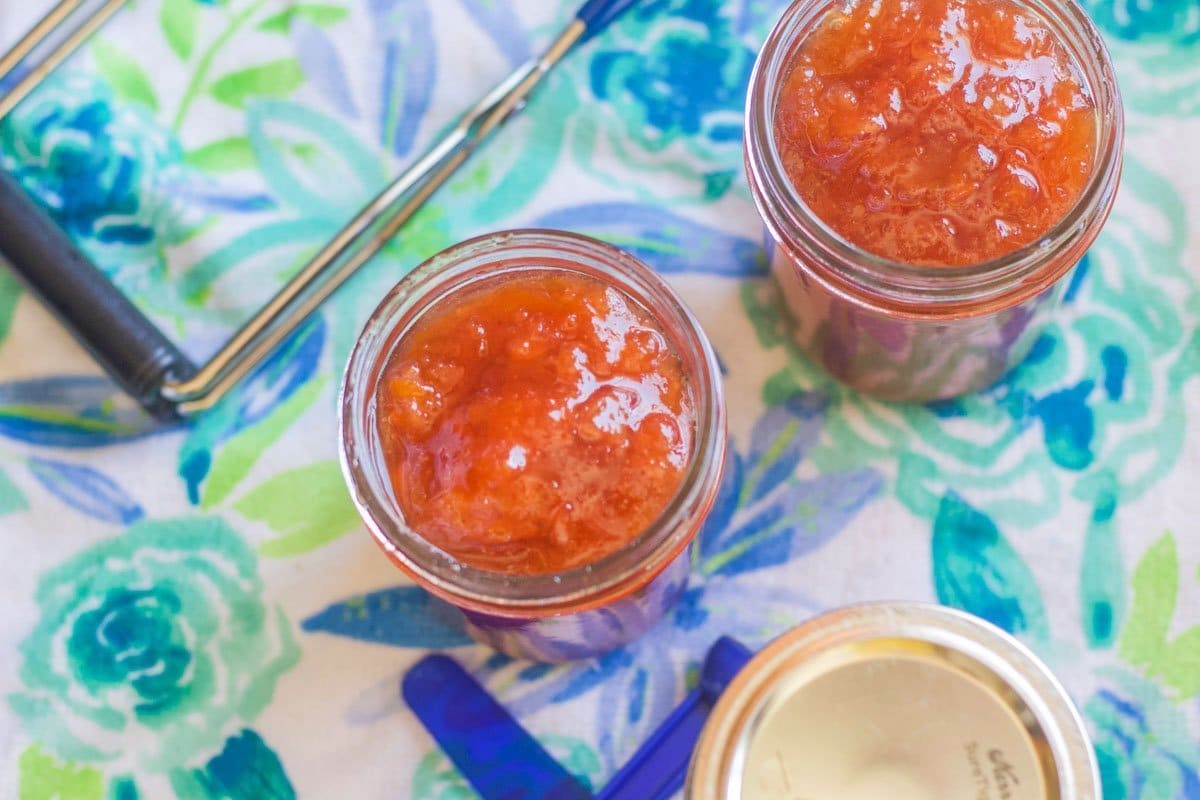 Is it Hard Growing Loquats?
I remember eating loquats as a child in Iraq. They were called "Yenjeh it Doonyeh" I attempted to find out what "Yengeh" means, but was unsuccessful. One of my Facebook group members mentioned it was a Persian word, which would explain why I don't know the meaning of the word. However, "Doonyeh" means "world" in Assyrian. These days, loquats can be found in many countries, including the U.S., where they can be grown in zones 7-10. The plant does well in full sun, as well as partial shade. Loquats thrive when planted in well-draining soil, and are watered regularly. Although loquats can be grown from seeds (like the one my mom planted in her San Diego home), they do better when planted using a cutting. For more information on growing loquats, check out this Loquat Fact Sheet.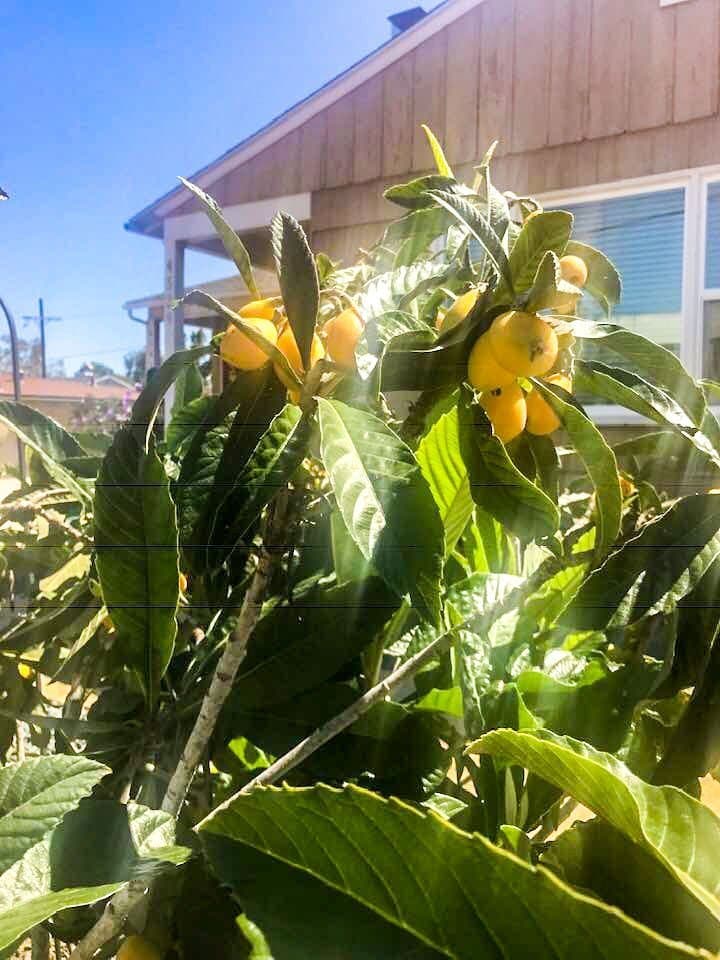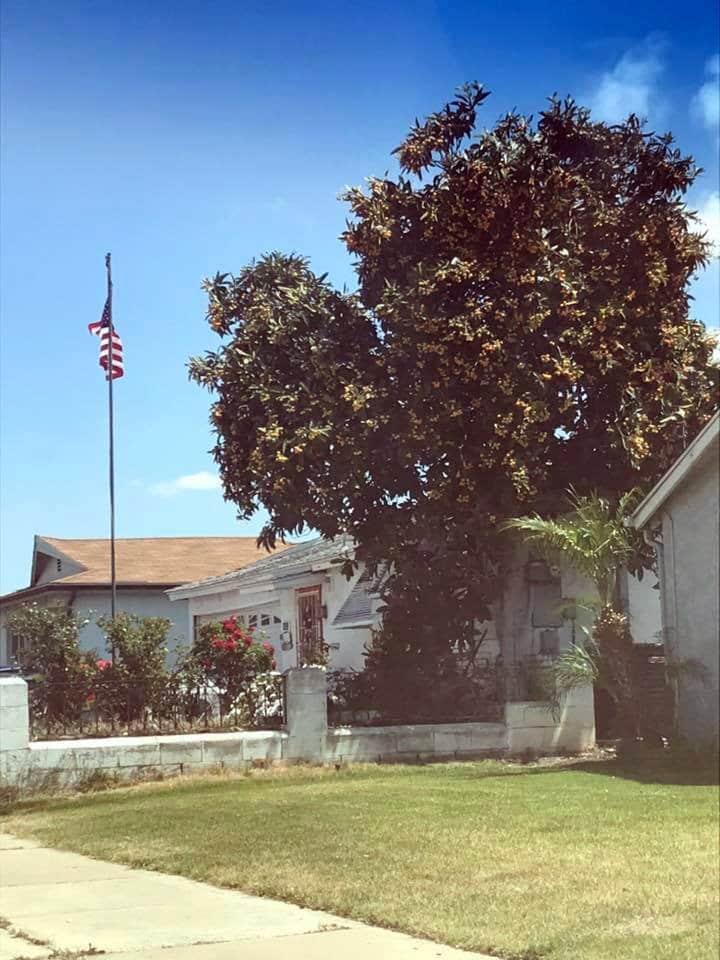 Are Loquats Good for You?
Not only are loquats delicious, but they are also full of health benefits. Some of the health benefits reaped from the consumption of loquats cab be found below.
Loquat Health Benefits
Regulating blood pressure
Reducing the risk of cancer
Lowering cholesterol levels
Aids circulation
Maintains vision
Aids in digestion
Boosts immunity
Loquats are also relatively low in carbohydrates. A large loquat contains right around 2 to 2.5 grams of carbohydrates. So feel free to enjoy this tasty fruit without the guilt!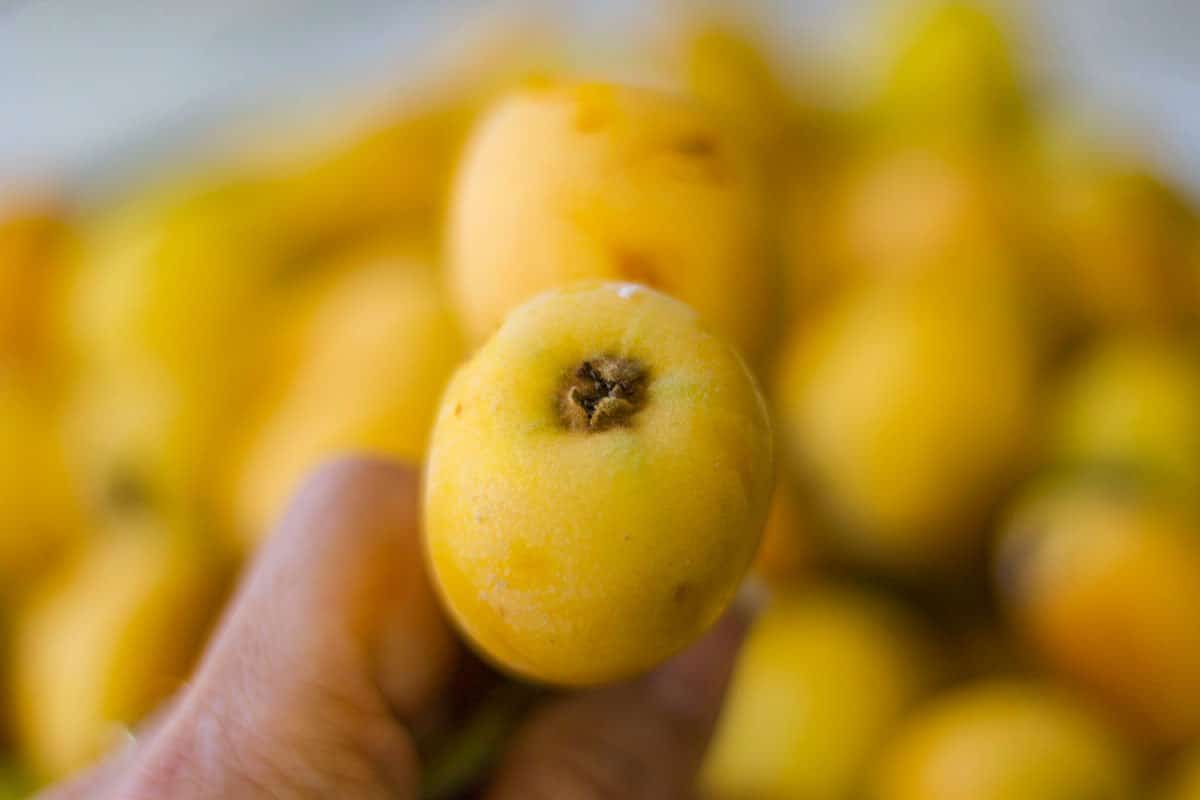 Easy Loquat Jam
This Loquat Jam recipe is super simple and requires just a little preparation. All that's needed is the loquats, sugar, and a splash or lemon juice. Pectin is not needed for this recipe since Loquats are naturally high in pectin. For a little extra "something-something" consider adding 1/2 of a teaspoon of ground cardamom. If you don't like cardamom, you can use a vanilla bean instead. Be sure to save a jar of this jam to make some Loquat Cheesecake!
Loquat Jam Instructions
Wash the loquats thoroughly and cut off the blossom end. Next, cut the fruit in half, and discard the seeds.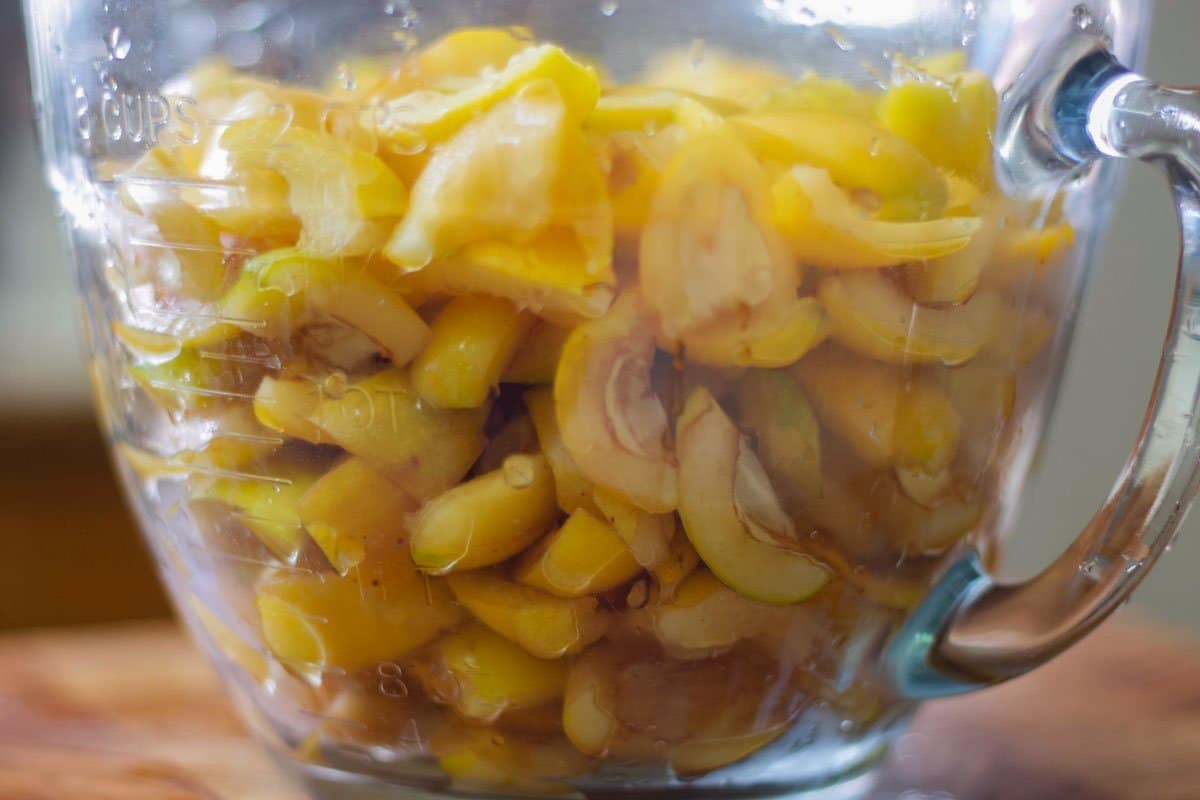 Add prepared loquats to a Dutch oven and cover with sugar.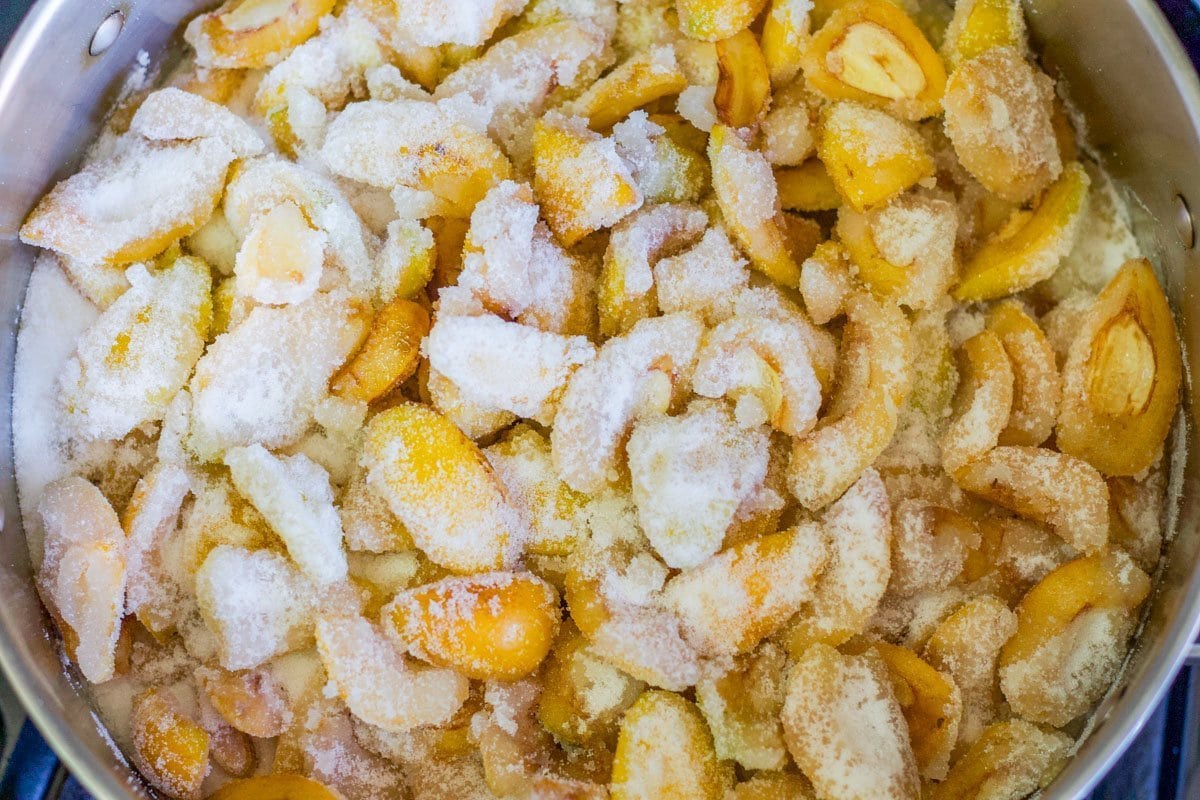 Allow to rest for approximately 30 minutes, until the loquats release their juices, and the sugar begins to liquefy.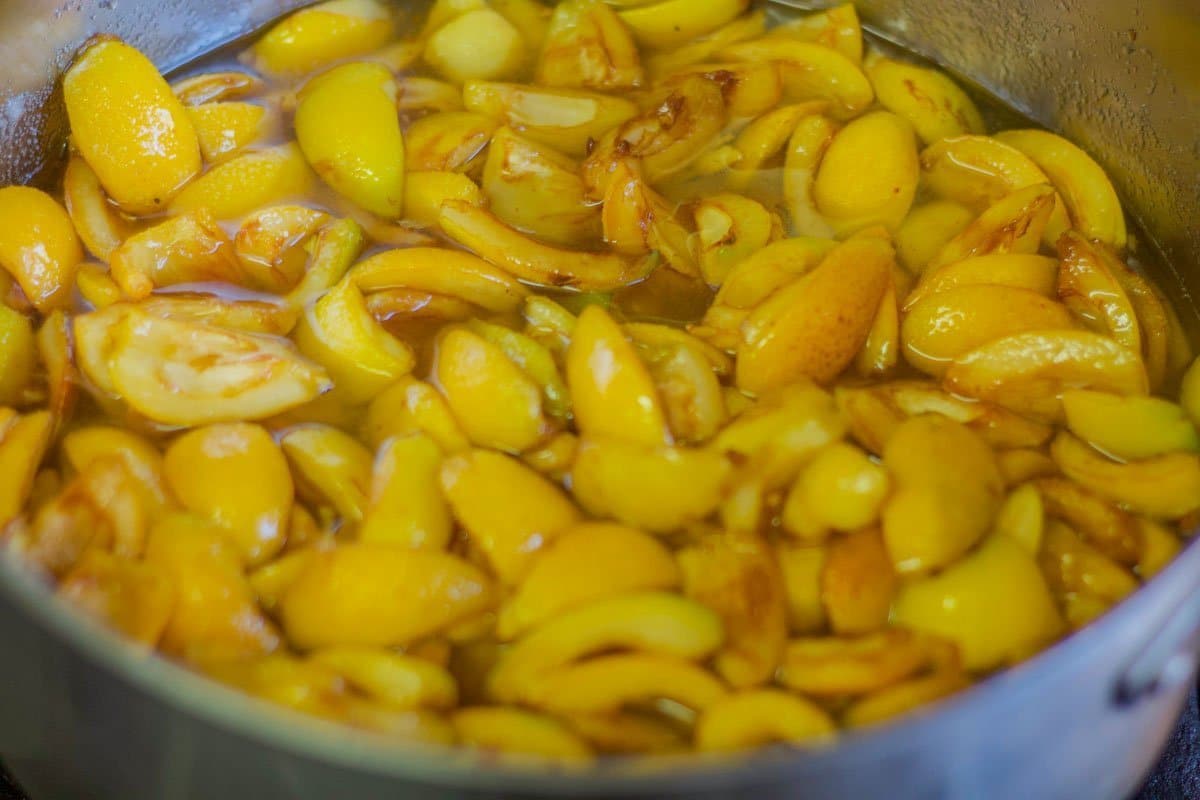 Stir in lemon juice, and cardamom. Slowly bring to a boil, then simmer over low to medium flame, stirring frequently. After approximately 35-40 minutes, the color should change do a dark amber, and the jam will be thicker.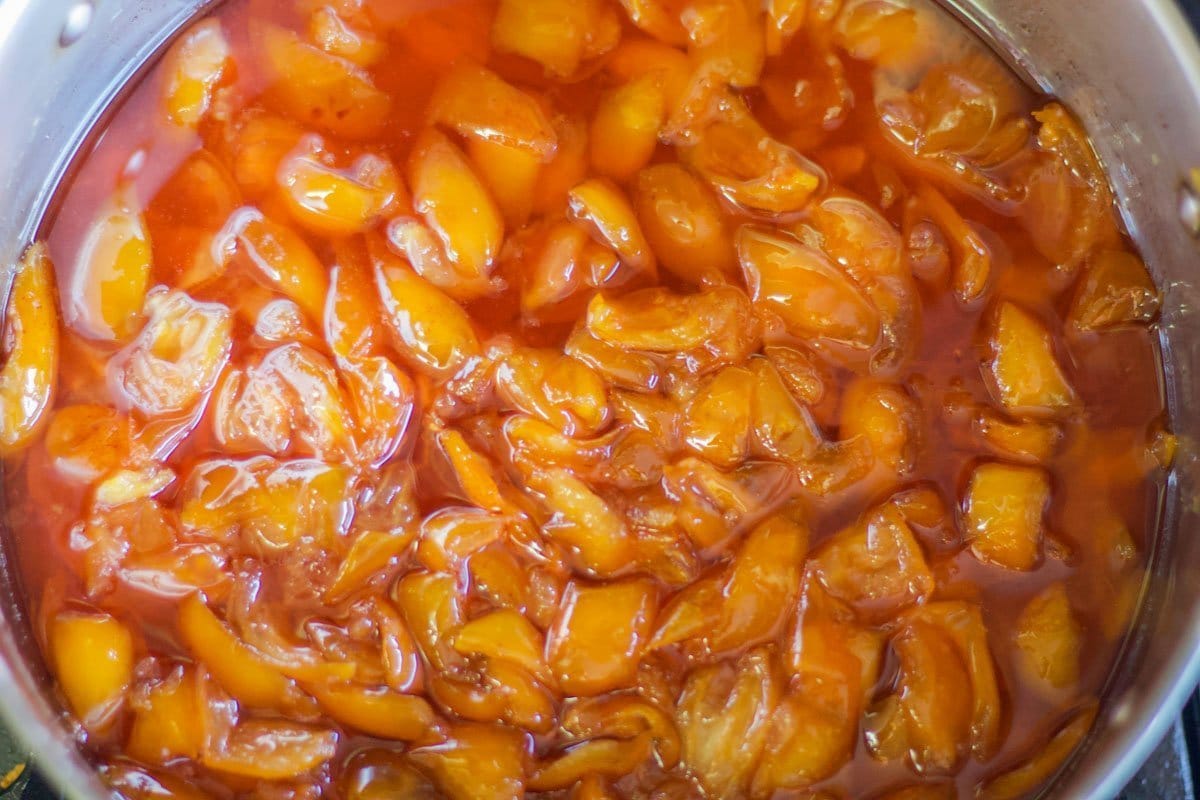 Use a hand-held immersion blender to blend the jam until you achieve the desired consistency. Keep the immersion blended fully submerged to avoid being splashed with the hot liquid!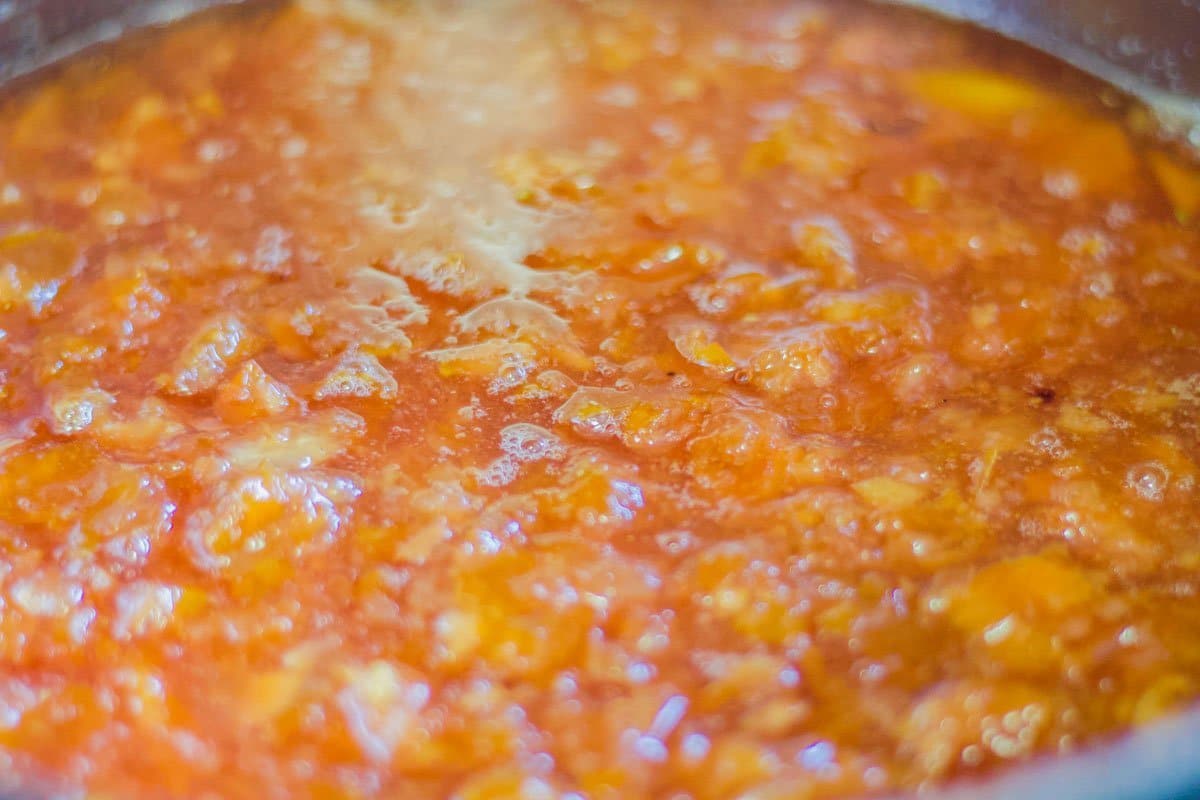 Fill in sterilized jam jars, leaving 1/4″ headspace.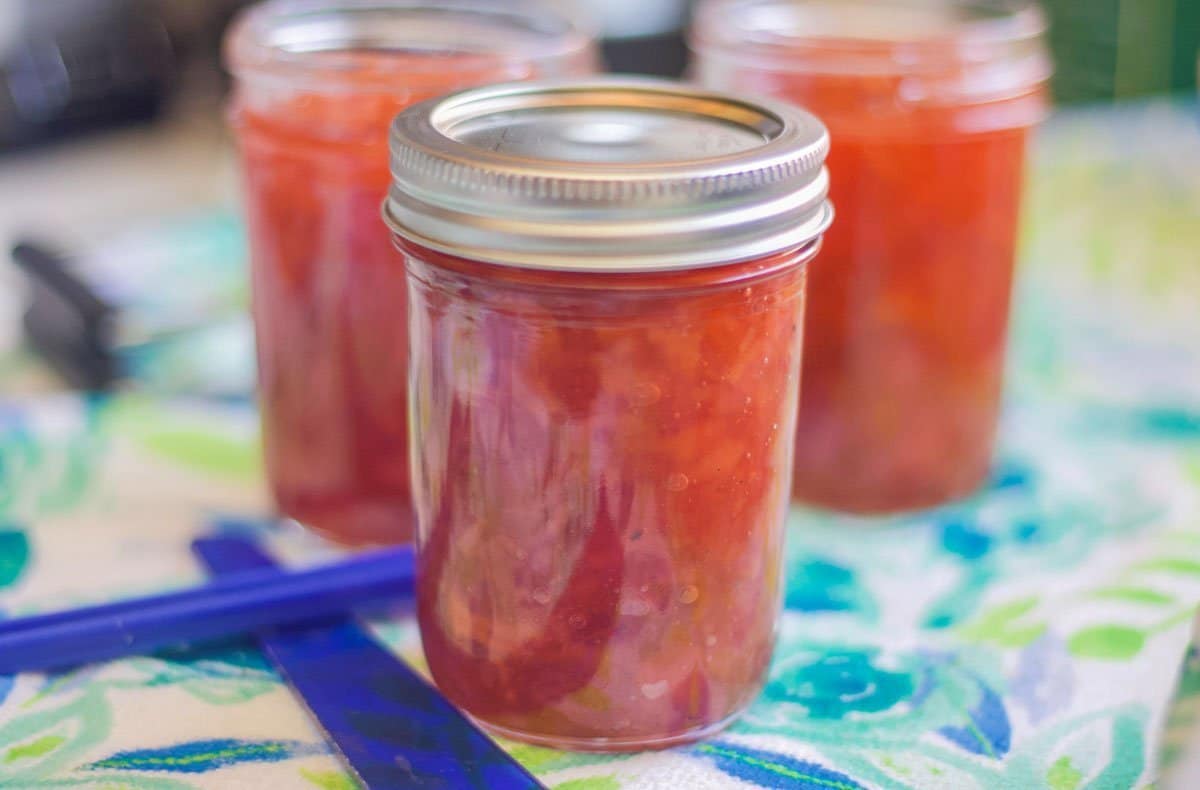 Other Jam and Preserves Recipes
One of the things I enjoy the most is making jam or preserves. I then get the joy of giving them to family and friends. That might explain why I have an ever-increasing jam and preserves category on my blog. If you like this loquat recipe, you might want to check out some of these blog posts: Fig Preserves, Cardamom Apple Pie Preserves, Fuyu Persimmon Preserves, Quince Jam, and finally, my Plum Preserves Recipe. Looking for other loquat recipes? Check out this Loquat Bourbon Smash recipe!

You may also be interested in my new Loquat Cheesecake and Loquat Fruit Salsa recipes!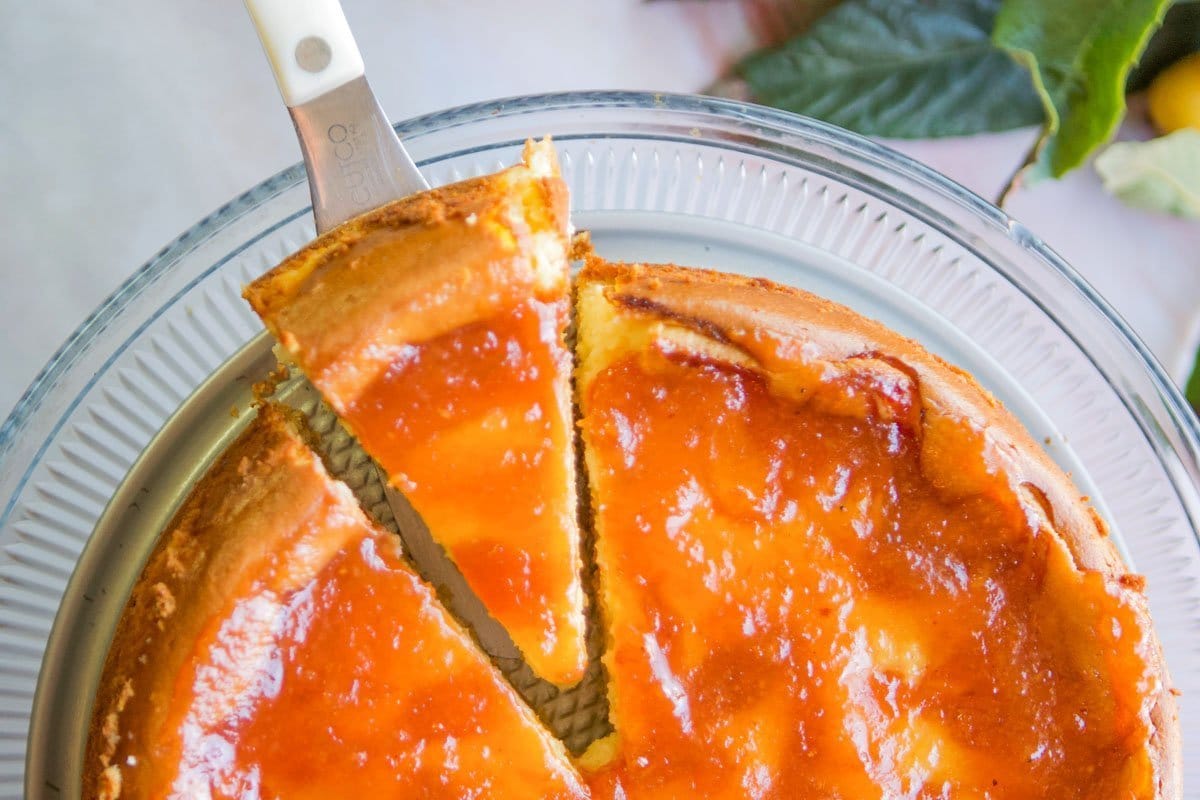 Do you Pinterest? Please Pin and share this post!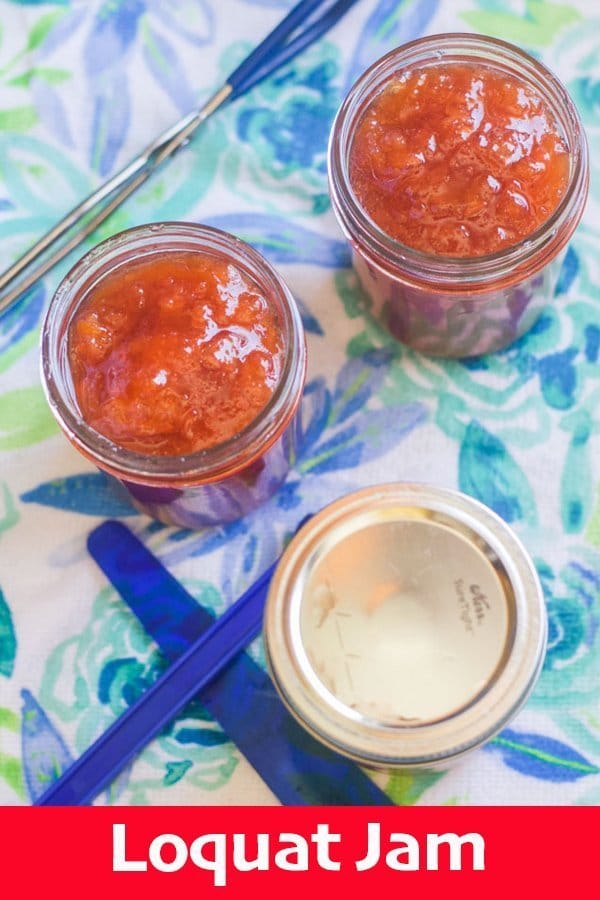 Loquat Jam Recipe
Delicious Loquat Jam with a hint of cardamom.
Ingredients
8

cups

loquats

(seeded and quartered)

4

cups

sugar

1

T.

lemon juice

1/2

tsp.

cardamom
Instructions
Remove the blossom end of the loquats, then cut in half. Remove the seeds, and quarter.

Add prepared loquats to a 6-quart Dutch oven.

Cover with sugar, and allow to rest for approximately 30 minutes. The resting time allows the loquats to release their juices and liquifies the sugar.

Stir in lemon juice and cardamom. Bring to a boil, then reduce the temperature to low-medium.

Cook for 30-40 minutes, stirring frequently.

Spoon thickened jam into sterilized jam jars, leaving 1/4″ headspace. Seal lids tightly, then process in boiling water for ten minutes.
Nutrition Facts
Loquat Jam Recipe
Amount Per Serving (1 Tablespoon)
Calories 57
% Daily Value*
Total Fat 0g 0%
Cholesterol 0mg 0%
Sodium 0mg 0%
Total Carbohydrates 15g 5%
Protein 0g 0%
* Percent Daily Values are based on a 2000 calorie diet.