Say what? You've never heard of "Mountain Berry Jam" before? Well, I can't say I'm surprised. Especially since I made up the name. What else could I call this dark purple jam, made with Huckleberries, Saskatoon Berries, and Oregon Grapes?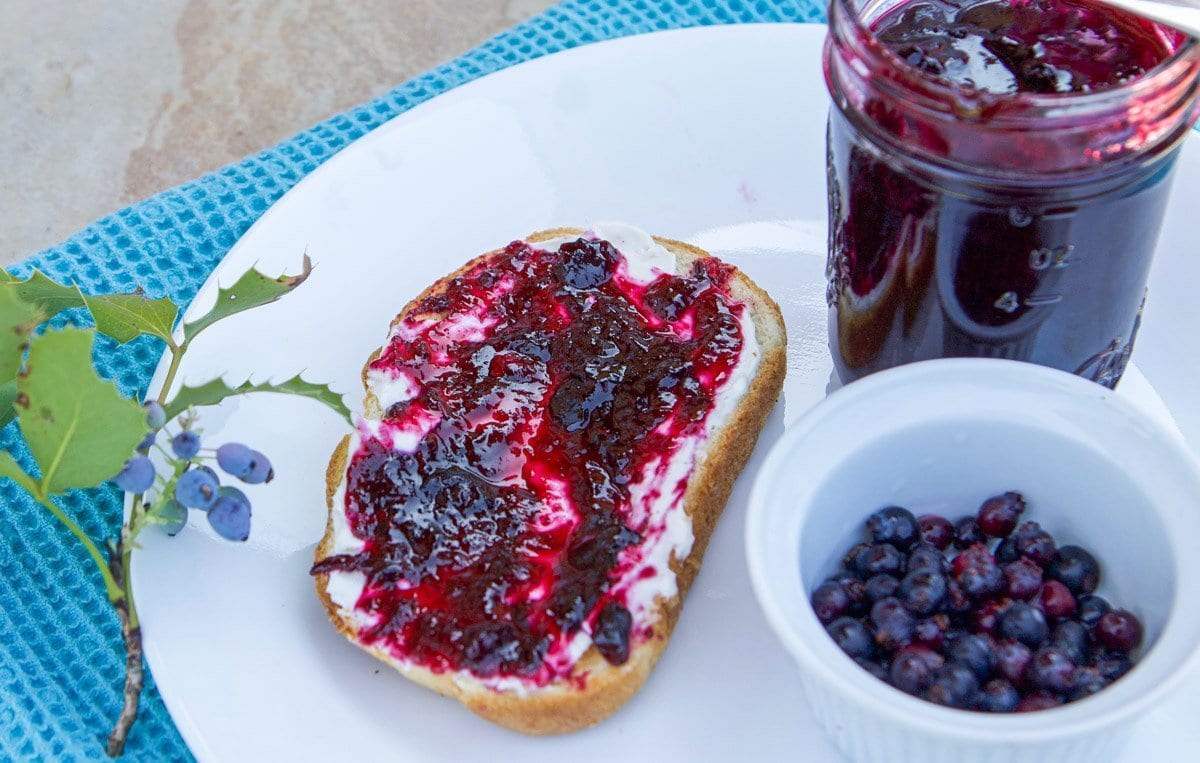 More than likely, you have to be from the Northwest, Canada, or Alaska to have access to all these berries.
But if you can't get your hands on them, feel free to use blueberries, raspberries, and strawberries instead.
If you do, I'd love to hear how it goes! But if you're one of the lucky ones who have access to these berries, do yourself a favor and try this recipe!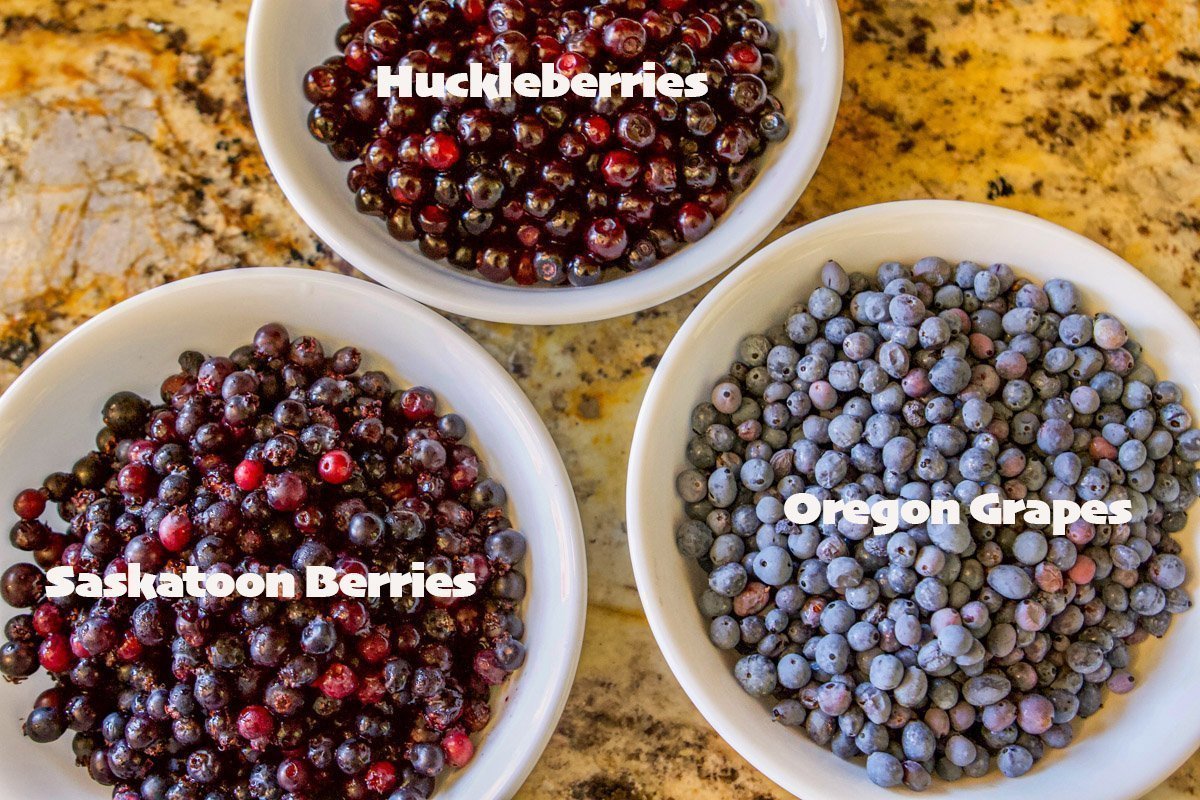 My Wild Berry Jam Recipe
Ever since I discovered that Oregon Grapes were edible, I've wanted to use them to make jam. Most people, however, use them to make jelly. This is because they're too seedy (no, they're not disreputable, just full of seeds).
I've never liked jelly, I prefer lots of chunky goodness! So when I decided to go foraging this morning, I contemplated what to do with the two cups of Oregon Grapes that I picked.
I decided to add them to the two cups of Saskatoon Berries, which were ripening on my counter.
Since Saskatoon berries are also seedy, I extracted their juice, along with the Oregon Grapes.
I added the Huckleberries last for some yummy texture. I measured out three cups of sugar (one for every two cups of berries I used).
In the end, I only used two cups of sugar with excellent results!
Directions
Add Saskatoon Berries and Oregon Grapes to a medium saucepan. Add one cup of water and cover. Simmer for 10 minutes.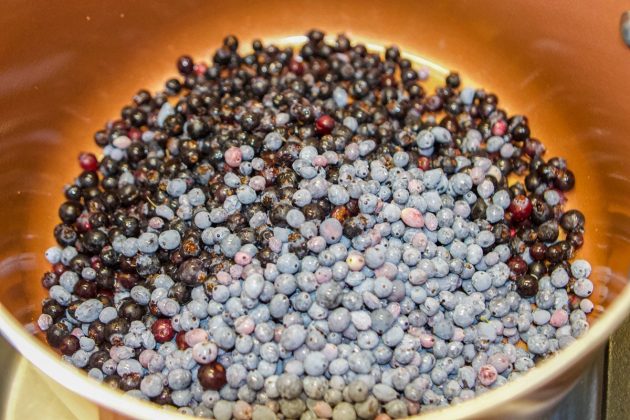 Mash berries with a potato masher, or a food processor, then work to extract their juice using a sieve. I was able to get two cups of juice. If you get less, just add a little water to the pulp to get more juice.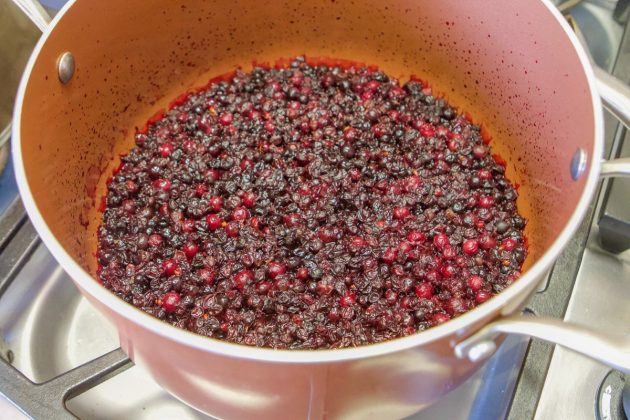 Return strained juice to the pot and add huckleberries. Boil for ten minutes, stirring occasionally.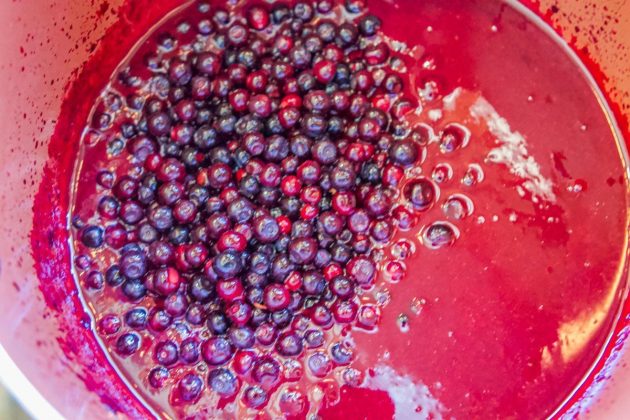 Add sugar and limoncello (or orange juice), and spices. Cook for an additional five to ten minutes, or until thickened.
Pour into sterilized jars and process in boiling water for five additional minutes.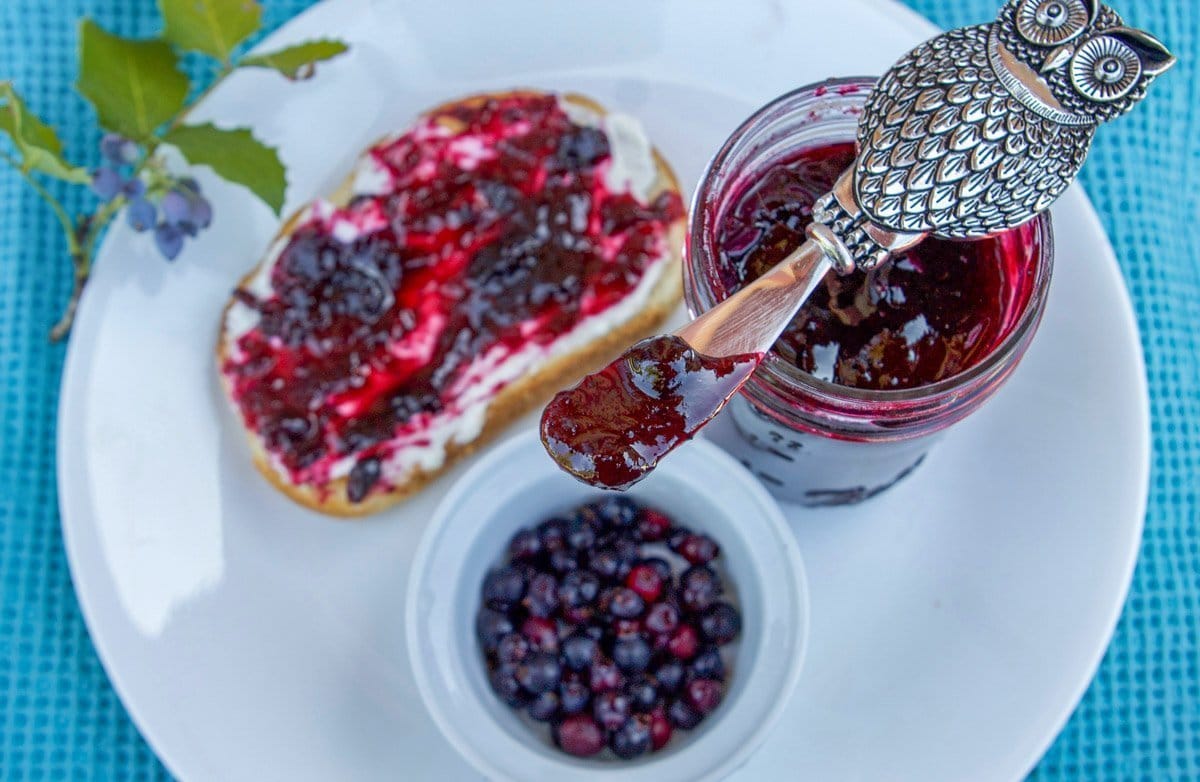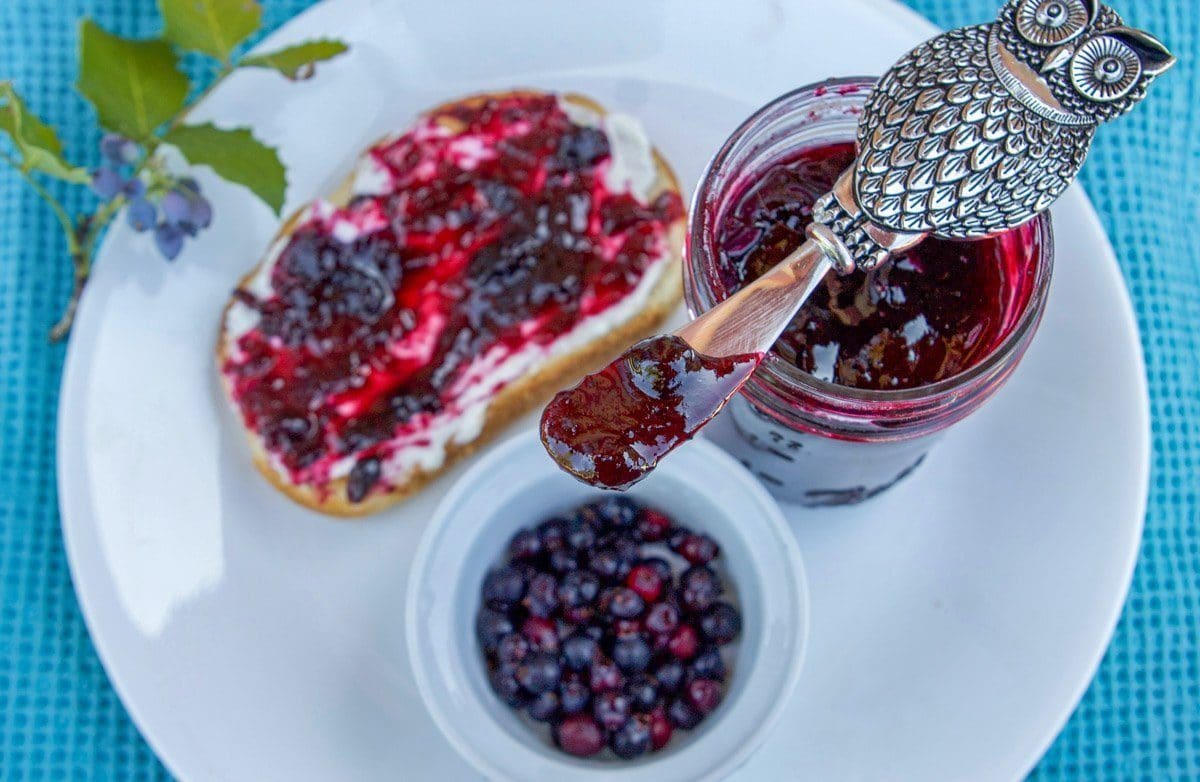 Frequently Asked Questions
What Are Huckleberries?
You might have read my recent Wild Huckleberry Pie post where I discussed huckleberries in detail.
I wrote about where they grow, how to pick, clean, and store them. There's a reason why Huckleberries are referred to as "Purple Gold."
Huckleberries are hard to come by and grow in the mountains, at elevations of 3,000 to 9,000 feet.
In order to pick them, you have to compete with wild animals, especially bears. This is also why studious pickers can charge as much as $70 for a gallon of huckleberries.
In the last month, I've gone huckleberry picking on three different occasions. I'm hoping to get out there at least one more time before the season is over.
People around here stock up for the lean months and use them to make huckleberry sauce, bread, wine, and more!
To learn more about huckleberries, check out this great post:
Huckleberries: Fun Facts About the Unofficial State Fruit of Montana
What are Saskatoon Berries?
Another berry used in this recipe is Saskatoon Berries. They're known by other names too, including Juneberries, and Serviceberries.
These delicious berries grow in abundance on our Montana property. They are ready to harvest in July through August.
I've found that many of my Montana friends seem to shun these tasty berries, but the deer know what's up!
Perhaps it's because unlike Huckleberries, Saskatoon Berries grow in abundance at lower elevations.
But in all honesty, I don't mind if they're overlooked. That just leaves more for me!
Yes, they are seedy, but so are raspberries and they still make excellent jam, don't they?
When fully ripened, Saskatoon Berries are actually sweeter than Huckleberries. So get out there and harvest them before they're all gone!
What Are Oregon Grape Holly?
The Oregon Grape Holly plant is native to the Pacific Northwest. It is also Oregon's State Flower.
They are, in fact, neither grapes nor holly.
However, they do grow in clumps that resemble grapes. They also have leaves that look like holly leaves, with sharp, thorny edges.
Although there are both tall and short varieties, we have the short variety on our Montana property.
Oregon Grapes are very nutritious and rich in Vitamin C. The plant's bark and roots have long been used for their medicinal value.
Their pretty yellow flowers blossom in Spring, followed by tiny green berries that turn purple as they ripen in late Summer.
The ripe berries are very tart on their own. This is why they are mostly used in recipes that call for sugar, such as jam, pie, or wine.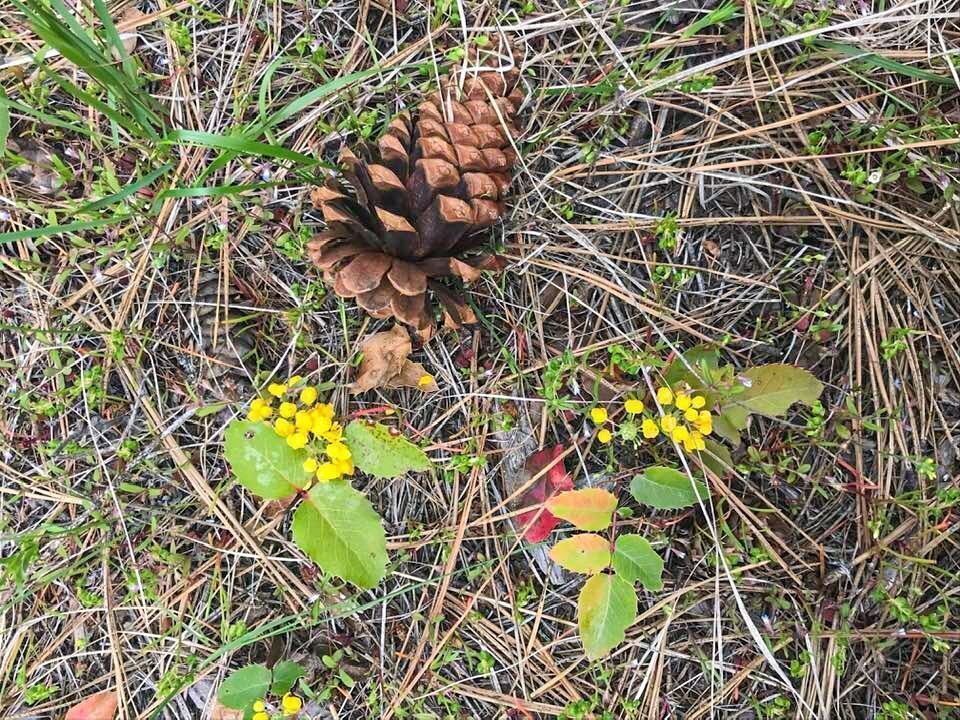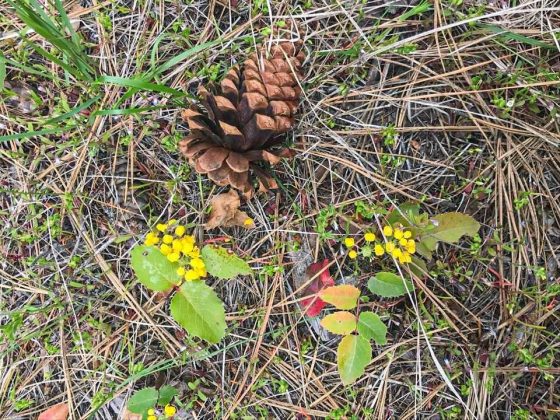 Stay in touch with me through social media!
Tried this Mountain Berry Jam recipe? Snap a picture and tag #hildaskitchenblog on Instagram. 
Like my page on Facebook.
Do you Pinterest? Pin & share this recipe!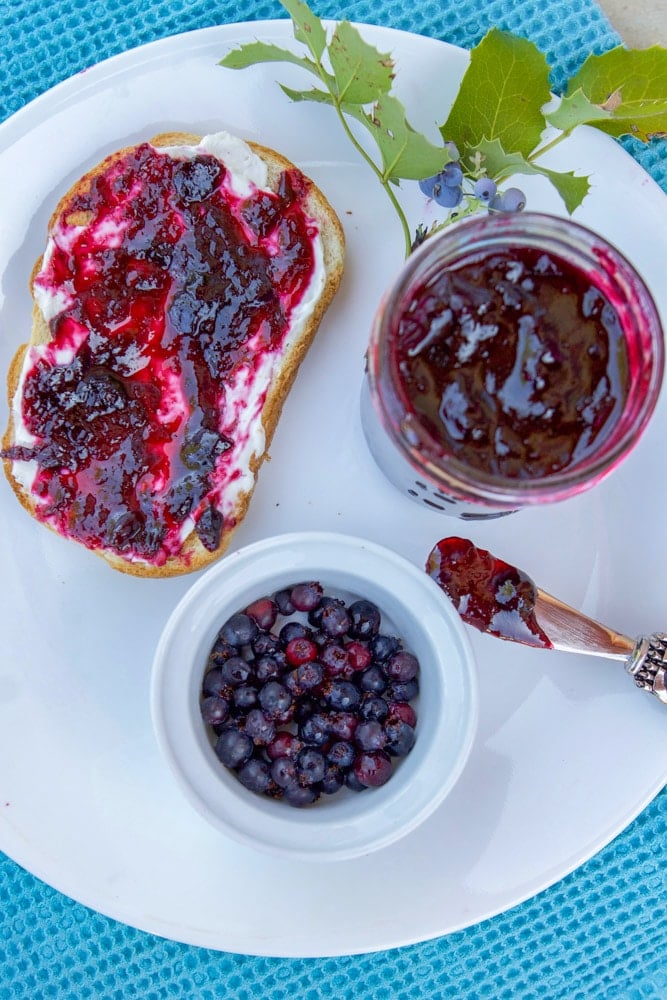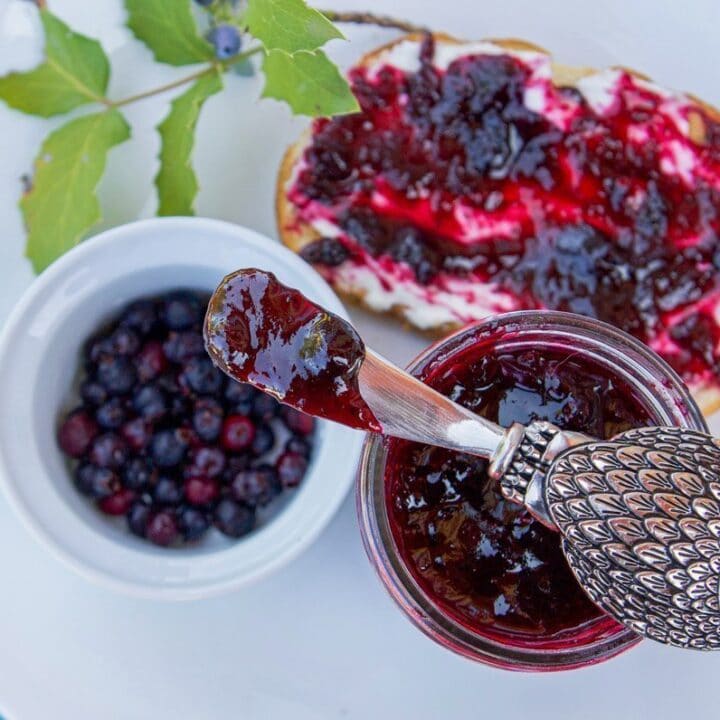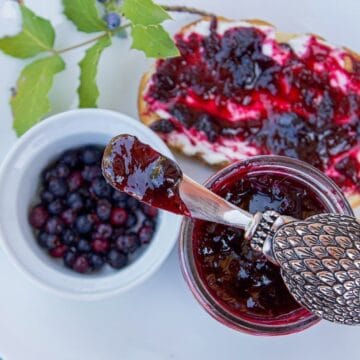 Montana Mountain Berry Jam
Berry Jam made with Saskatoon Berries, Oregon Grapes, and Huckleberries.
Print
Pin
Rate
Ingredients
2

cups

Saskatoon berries

2

cups

Oregon grapes

2

cups

huckleberries

1

cup

water

2

cups

sugar

¼

cup

limoncello (or orange juice)

⅛

tsp

cinnamon powder

⅛

tsp

cardamom powder
Instructions
Wash berries separately and drain.

Place Saskatoon berries and Oregon grapes in a medium pot and cover with once cup water.

Cover pot and cook over medium heat until the berries pop and release their juices, stirrring occasionally. This should take approximately 10 to 15 minutes.

Mash berries with a potato masher, or using a food processor.

Extract as much juice as you can using a sieve. Discard seeds and pulp. Add more water over the pulp, if needed, to get 2 cups of juice.

Return berry juice to the same pot and add huckleberries. Cook for ten minutes, stirring ocassionally, to keep from scorching.

Add sugar, limoncello (or orange juice) and spices. Boil for ten additional minutes, or until thickened, stirring occasionally.

Ladle in sterilized jar, tighen lids, and process for five to ten minutes in boiling water.
Nutrition
Serving:
1
T.
|
Calories:
45
kcal
|
Carbohydrates:
11
g
|
Protein:
0
g
|
Fat:
0
g
|
Saturated Fat:
0
g
|
Cholesterol:
0
mg
|
Sodium:
2
mg
|
Sugar:
9
g