I've always loved plum preserves. Especially since mom made the BEST plum preserves I've ever had! But I have to admit, this recipe is a close second.
I wish I had written down mom's plum preserves recipe, but I'm sad to say I never did. But having mom's instinct for cooking, I knew I could come up with my own amazing plum preserves recipe.
A few days ago I bought a large bag of plums at the 99 cent store. I thought I was getting a great deal, but unfortunately, the joke was on me. The plums were quite lacking in the flavor department.
I guess it's true what they say, you get what you pay for. But I don't like throwing food away. Something else I picked up from my mom, perhaps? It was time to get creative!
Amazing Plum Preserves Recipe
What was I to do with three pounds of so-so tasting plums? Make preserves, of course! There is something about cooking down the plums with sugar and orange juice that really enhances their flavor, or adds flavor where it did not already exist.
Obviously, if you start with great tasting plums, you'll have even better results! Although some recipes call for peeling the plums, I prefer to leave the skin on. It's actually one of my favorite elements of this flavorful plum preserves recipe.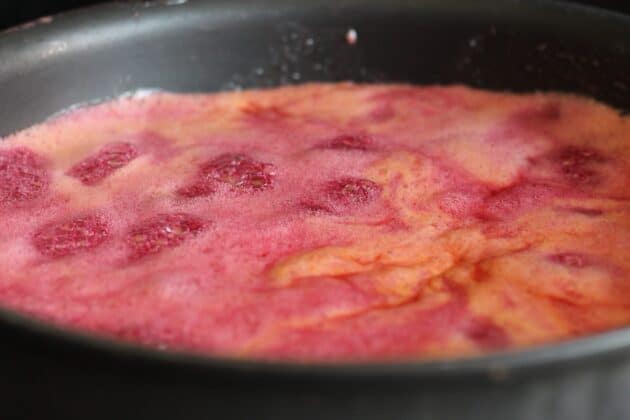 Can Plums Be Frozen?
In case you're wondering, yes, plums can be frozen. If I had started with tasty plums, I would have considered freezing the plums. I love snacking on frozen fruit. I also use them to make delicious smoothies. But freezing tasteless plums was out of the question.
Another thought that ran through my head was using my dehydrator to dehydrate the plums. Since dehydrating fruit usually intensifies their flavor, this wasn't a bad option. But then I came up with a much better idea, this tasty plum preserves recipe.
Be sure to try this jam with some clotted cream. If you enjoy making jam and preserves, you might also enjoy the following recipes: Persimmon Jam, Strawberry Fig Preserves, Fuyu Persimmon Preserves, and Quince Jam and last but not least, Pear-Apple Preserves.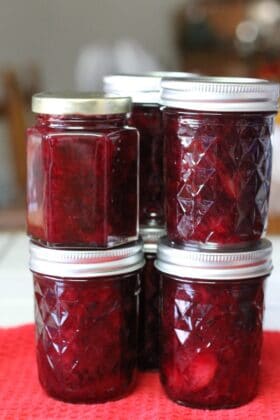 Do you Pinterest? Please pin and share!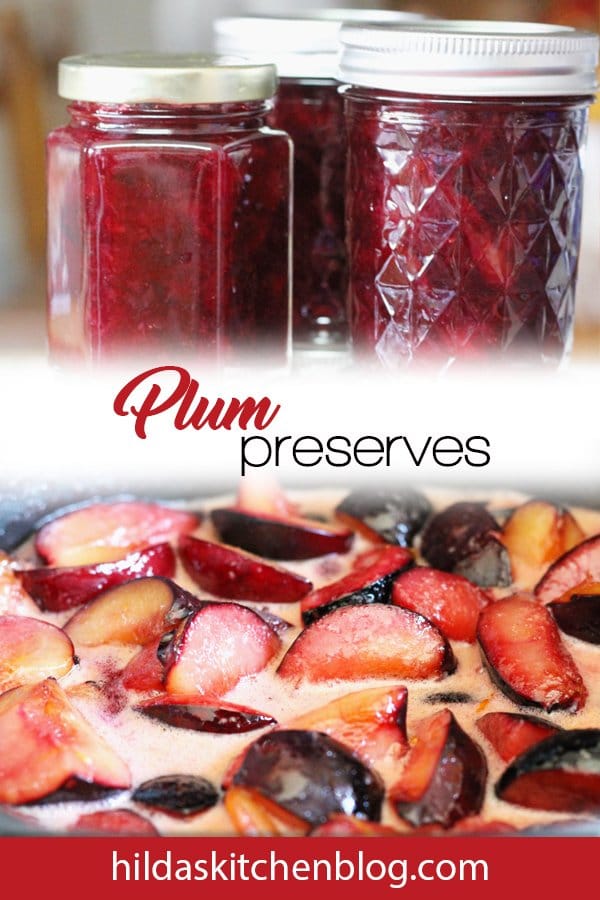 ---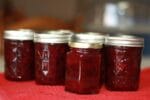 Plum Preserves Recipe
Plum preserves, just like mom used to make!
Course:
Appetizers, Snacks
Cuisine:
American, Assyrian
Ingredients
3-1/4

lbs.

plums

(pits removed)

3

cups

sugar

1

medium

lemon

zested

1

medium

orange

zested

1/2

cup

orange juice

freshly squeezed
Instructions
You will need seven 8 oz mason jars for this recipe.

Chop each plum into quarters and discard the seed. Weigh the plums with a kitchen scale to get three pounds.

Place 1/3 of the plums in a Dutch oven. Sprinkle with one cup of sugar. Repeat layering until all the sugar and plums are added. Sprinkle with the lemon and orange zest.

Heat over low flame until the sugar begins to dissolve, stirring occasionally.

Juice enough oranges to get half a cup of orange juice. In my case, it took two oranges to get a half a cup of juice.

Stir the orange juice into the plums and bring to a rolling boil. Lower the flame and set a timer for 30 minutes.

Eventually, the liquid will begin to rise and could boil over if you're not paying attention.

When you notice the liquid rising to the top of the pot, stir vigorously with a wooden spoon until the liquid recedes.

After cooking for 30 minutes, your preserves should reach the right consistency or gelling point. When that happens, ladle into sterilized jars, leaving 1/4 inch head-space and process for 15 minutes in boiling water.
Nutrition Facts
Plum Preserves Recipe
Amount Per Serving (2 oz)
Calories 54
% Daily Value*
Fat 0g0%
Cholesterol 0mg0%
Sodium 0mg0%
Carbohydrates 14g5%
Protein 0g0%
* Percent Daily Values are based on a 2000 calorie diet.