Last night, I had an amazing dinner. I'd ask you to guess what I had, but the odds are stacked unfairly against you. My dinner consisted of perfectly toasted sourdough bread, smeared with butter, and topped with cardamom apple pie preserves. I was home alone and didn't feel like cooking. A shocker, I know! Although I don't consider myself a breakfast person, I do enjoy breakfast for dinner once every blue moon. Or as the Assyrian saying goes "choot motah it khmara" which translates to "every time a donkey dies." I guess donkeys don't die too often?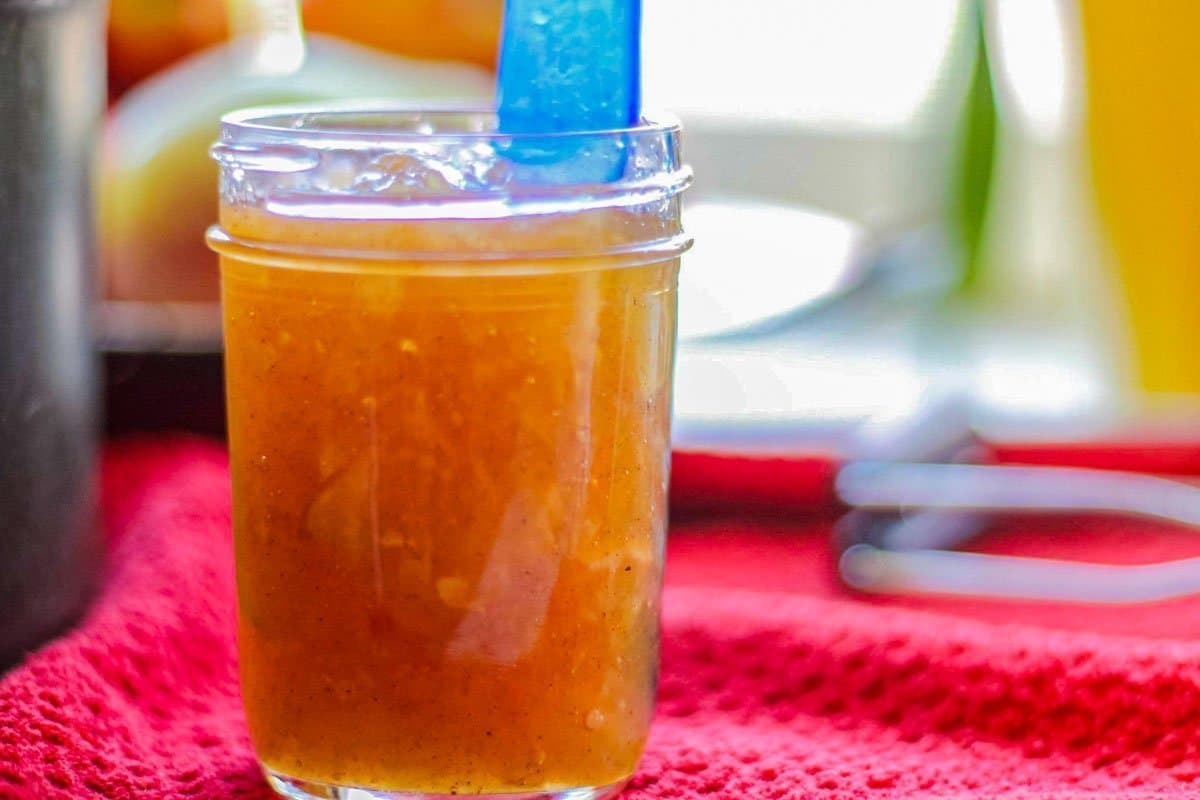 Apple Recipe Ideas
I've shared previously regarding all the fruit my husband, Scott, has been bringing home from work lately. His friends Darren, and Kirstin purchased a house a while back. They have a variety of fruit trees in their backyard. As a result, we've received a large number of persimmons, lemons, and most recently, apples. Anna apples to be precise. Although the apples are delicious enough to eat as-is, I'm only one woman. There are only so many apples that I can consume. I used some of the apples to make Darren, and his family, my caramel apple pie; I also made some dehydrated apples with my dehydrator. After shoving as many apples as I could in the fruit drawer of my fridge, I made this tasty apple pie preserves with the rest of the apples.
Apple Pie Preserves…Say What?
I'll never forget the first time my mom made some apple pie preserves. She had some old apples that she didn't want to toss out. Being the resourceful woman that she was, she chopped them up, added some sugar, lemon juice, and cinnamon. Boom, just like that, a great recipe was born! I named it apple pie preserves because it tasted just like apple pie, minus the pie crust. Of course, I had to add some cardamom to the recipe, it is my favorite spice after all. Notice I don't add pectin to the preserves. Apples are naturally high in pectin, making the addition of pectin unnecessary.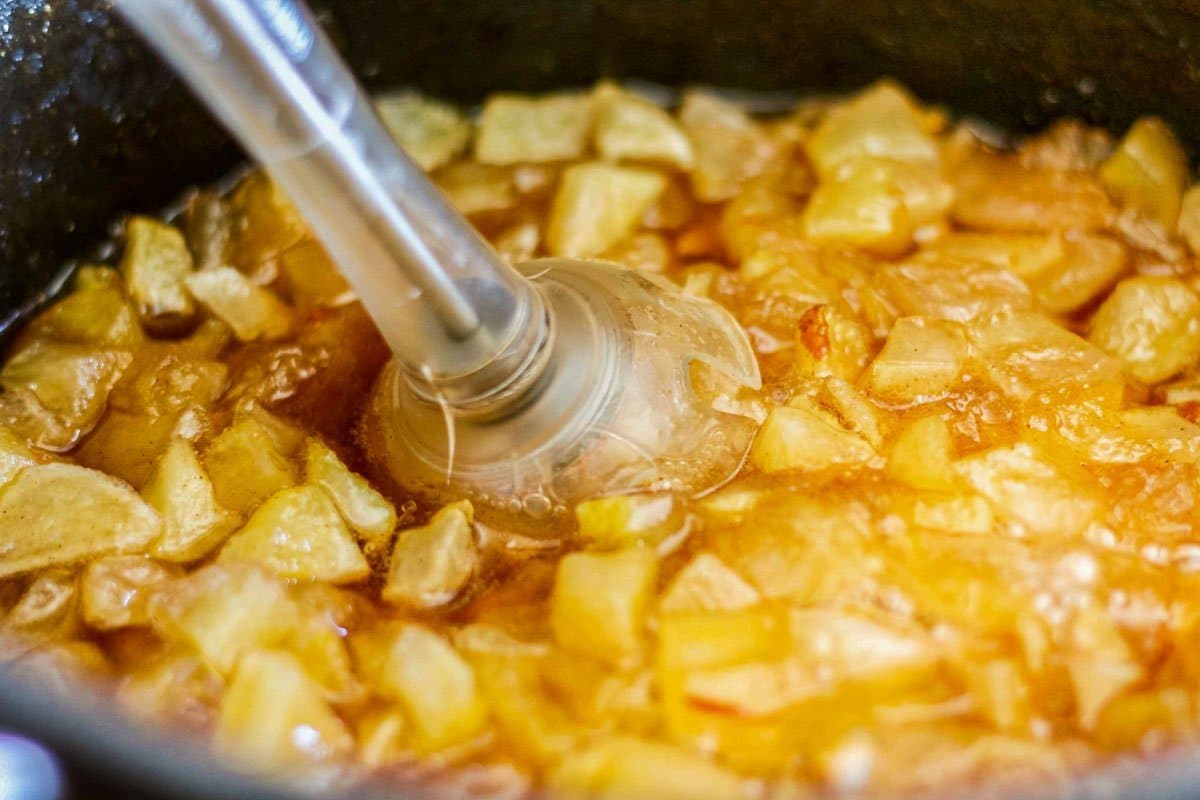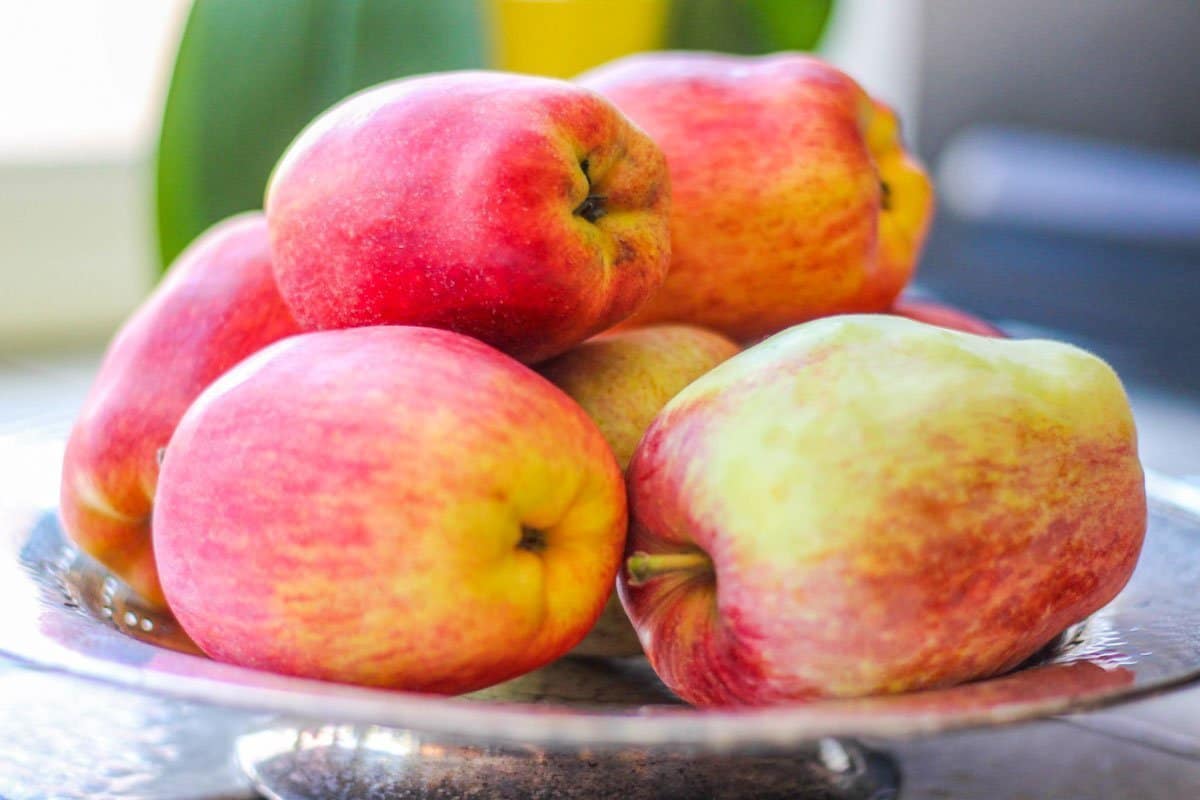 Do you Pinterest? Please pin & share!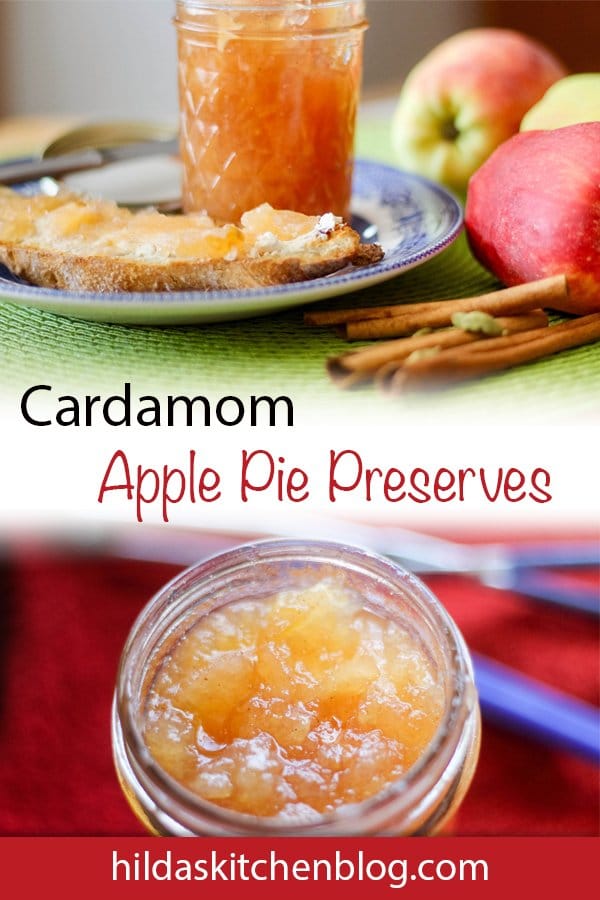 Cardamom Apple Pie Preserves
Cardamom apple pie preserves, with flavors reminiscent of apple pie.
Cuisine:
American, Assyrian
Servings
:
5
1/2 pint jars
Ingredients
3

lbs.

Anna apples

(or your favorite variety)

3

cups

sugar

1/4

tsp.

cinnamon

1/4

tsp.

cardamom

1/4

cup

lemon juice

zest from one lemon

1

tsp.

vanilla extract
Instructions
Peel, core, and dice the apples. Add to a 6 quart Dutch oven

Pour sugar, cinnamon, and cardamom over the apples.

Stir lightly and allow to rest for 30 minutes until the apples release their juices.

Add lemon zest, lemon juice, and vanilla, stirring to combine.

Bring mixture to a boil, then cook over medium heat, stirring occasionally, for approximately 20 minutes, or until the syrup thickens. Remember that it will thicken further as it cools!

While the preserves is cooking, sterile the jars and lids by boiling them in a large pot of water.

When the preserves is ready, use an immersion blender to emulsify to the desired consistency.

If you prefer a chunkier consistency, do not emulsify.

Fill sterilized jars with the preserves, leaving a half inch headspace.

Place jars in water bath for 15 minutes. Remove the jars, and allow to cool on the counter. Store in a dark, cool place, or share them with your family and friends!
Nutrition Facts
Cardamom Apple Pie Preserves
Amount Per Serving (1 T.)
Calories 40
% Daily Value*
Fat 0g0%
Cholesterol 0mg0%
Carbohydrates 10g3%
Protein 0g0%
* Percent Daily Values are based on a 2000 calorie diet.