Have you ever thought about using zucchini in the place of pasta, when making lasagna? The idea might sound strange at first, but don't toss it out just yet. I am a pasta-loving fool, but I'm so glad I developed the following recipe for Low Carb Zucchini Lasagna. It's almost as tasty as "real lasagna."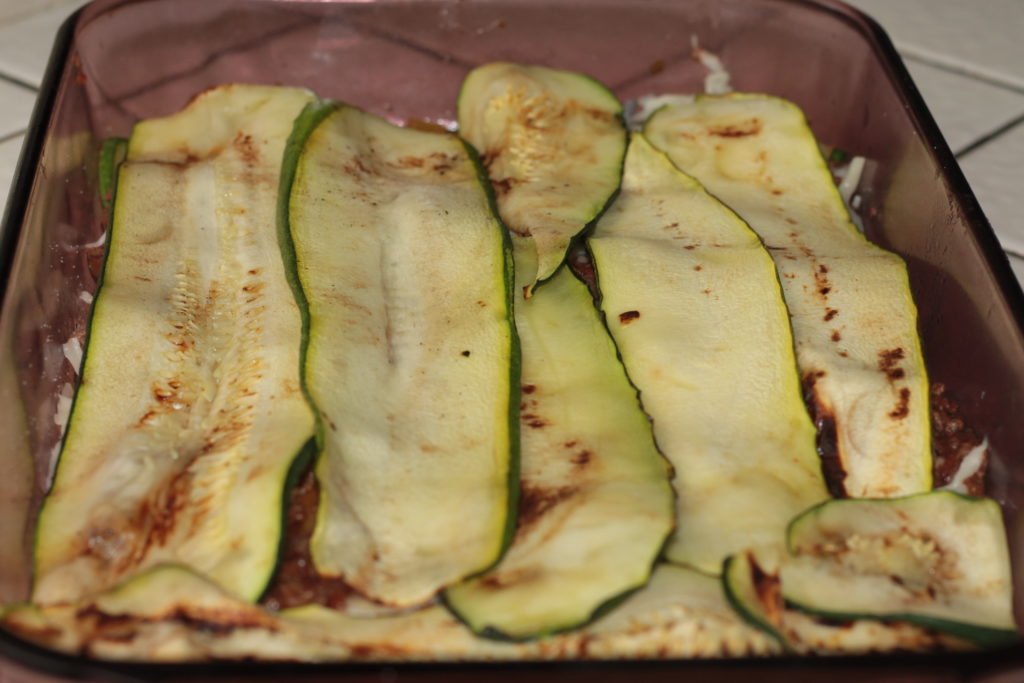 Zucchini Recipe Ideas
A friend recently gave me three huge zucchini. The zucchini was grown by her husband, Tim. The reason the zucchini got so huge is Tim is a firefighter and was away fighting fires, instead of tending to his garden. Poor Tim expected Cindi to be minding the garden. Unfortunately, gardening is not one of Cindi's strong suits— shopping is! By the time Tim came back home, the zucchini he had so lovingly tended to, were as large as baseball bats! And that's how this low carb zucchini lasagna came about…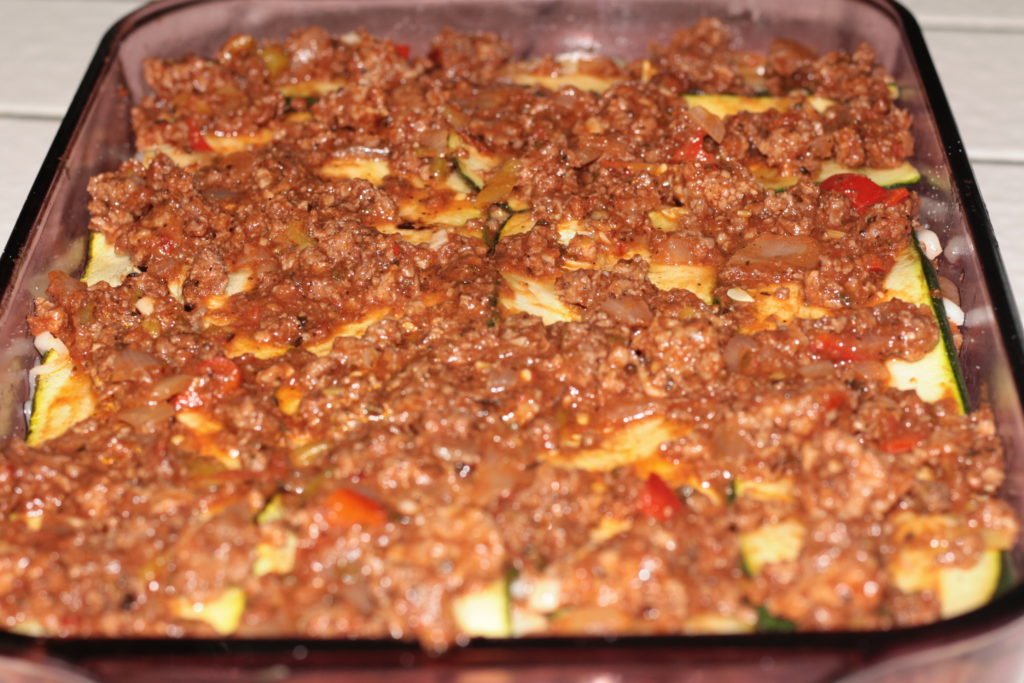 Low Carb Zucchini Lasagna
In the past, if someone had given me zucchini, I would have immediately thought of making zucchini bread; one of my all-time favorites! But now that I'm eating healthier, I decided to use the zucchini to make a healthier recipe. I decided to go with this low carb zucchini lasagna. Aren't you proud of me? You should be because that was not an easy decision.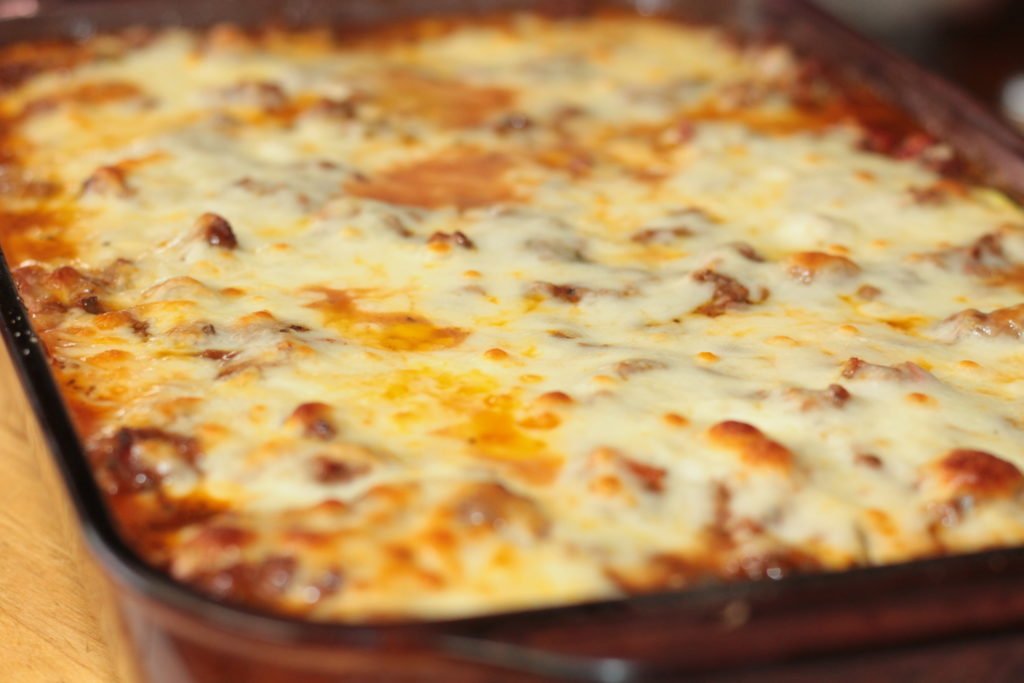 Great Tasting Lasagna, without All the Carbs!
Scott didn't look too happy when I told him what I had prepared for dinner. He quickly changed his tune after taking the first bite. Not only did he loved the lasagna, but he also ended up eating the leftovers for dinner the following night. Not bad for someone who claimed he didn't like zucchini, right? What about you? Do you have someone that you can surprise with this healthy, yet delicious dish?
If you're on a low carb diet, check out the following low carb recipes: Low Carb Jalapeno Poppers, Low Carb Grilled Chicken, and Low Carb Peanut Butter Cookies. To learn more about a low carb lifestyle, check out this great resource.
Do you Pinterest? Please do this girl a favor by pinning and sharing!
---
If you love this low carb zucchini lasagna recipe, please give it a 5-star rating!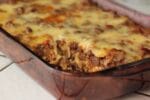 Low Carb Zucchini Lasagna
Low carb doesn't have to be boring, this zucchini lasagna proves it!
Ingredients
3

lbs

zucchini

extra large

1

lb

ground beef

3

links

Italian Sausage

1

medium

onion

chopped

4

cloves

garlic

minced

1/2

medium

green pepper

chopped

1/2

cup

sliced mushrooms

chopped

1

tsp

dried oregano

1

tsp

black pepper

1

tsp

dried basil

1

tsp

Italian seasoning

1

tsp

crushed red pepper

2

14.5 oz cans

chopped stewed tomatoes

1/4

cup

red wine

cooking spray

7

cups

shredded jack cheese
Instructions
Wash zucchini and slice off both ends. Slice into long strips using the thick setting (1/8") on a mandolin.

Place zucchini slices over a napkin-covered baking sheet and sprinkle with 1 tsp. salt. Set aside to allow the zucchini to release some of it's moisture.

Meanwhile, add the ground beef to a large, deep pan. Remove casing from sausage and add to the pan.

Break up the sausage with a wooden spoon as you stir and cook the meat over medium heat. Add the onion, garlic, bell pepper and mushrooms, along with all the spices. Cook until the meat is no longer pink.

Empty the two cans of stewed tomatoes into a blender and pulse until liquified.

Pour the liquified stewed tomatoes over the meat and vegetables, along with the 1/4 cup of red wine. Stir, then simmer over low heat for 30 minutes.

While the sauce is simmering, blot out the liquid off of the zucchini slices with additional paper towels.

Spray a large skillet with non-stick cooking spray and brown the zucchini strips on both sides and set aside.

Preheat oven to 350 degrees F. Pour half a cup of sauce on the bottom of a 9" x 13" baking dish.

Cover the bottom of the pan with a layer of zucchini strips.

Top the zucchini with two cups of sauce followed by 21/2 cups of mozzarella cheese. Repeat these steps one more time. ​

Use the small or uneven pieces of zucchini for this middle layer, saving the larger pieces for the top layer​.

Add the third layer of zucchini, followed by the remaining sauce. Cover with foil and cook in the oven for 30 minutes.

Remove lasagna from the oven and raise the oven temperature to 375 degrees.

Top the lasagna with the remaining mozzarella cheese and place back in the oven, uncovered, for an additional 20 minutes.

Allow to stand for 15 minutes or so, before serving.​
Nutrition Facts
Low Carb Zucchini Lasagna
Amount Per Serving
Calories 372
Calories from Fat 198
% Daily Value*
Total Fat 22g 34%
Cholesterol 74mg 25%
Sodium 735mg 31%
Total Carbohydrates 16g 5%
Protein 27g 54%
* Percent Daily Values are based on a 2000 calorie diet.