Are you looking for a Lemonade recipe that has the perfect ratio of sour to sweet flavor? In my opinion, this is a must in any worthwhile lemonade recipe. This recipe is definitely the only recipe you will ever need!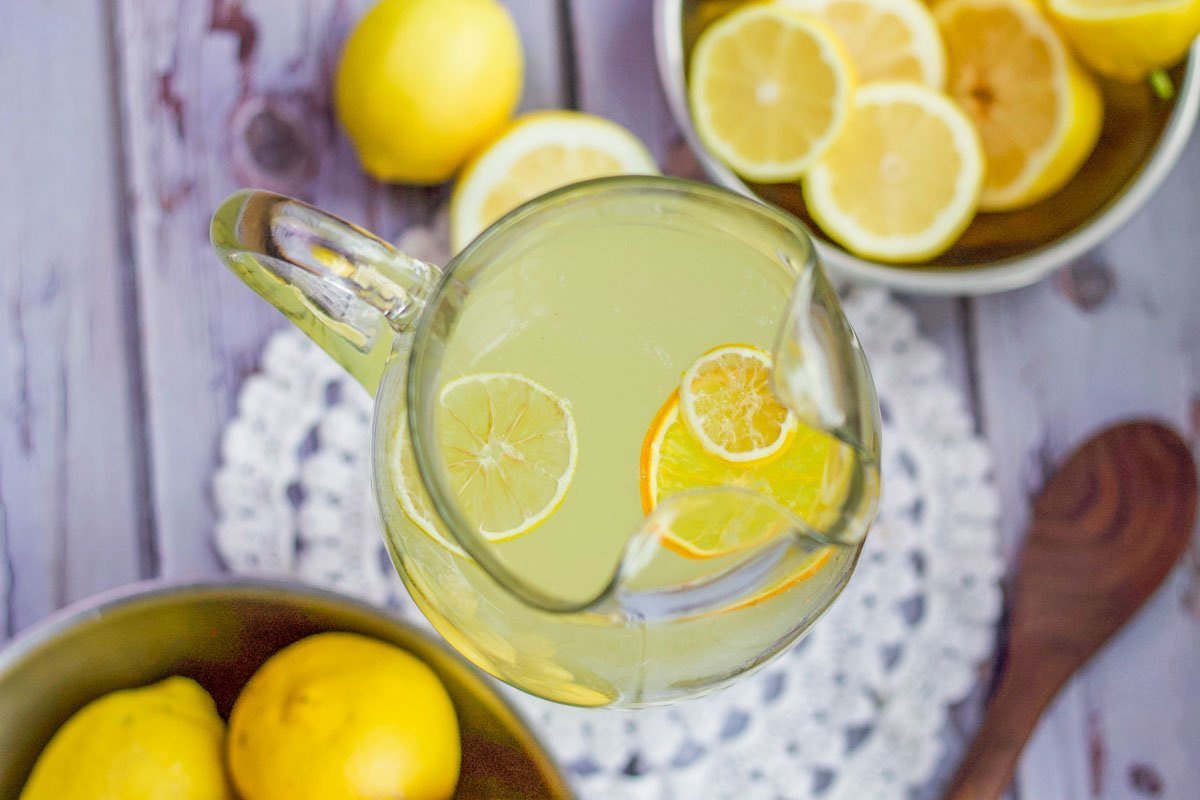 When my son was little and wanted lemonade, he went straight for the Country Time Lemonade container. Back then, I didn't have this super easy lemonade recipe.
What we did have was an amazing lemon tree in the back yard with hundreds of lemons just waiting to be squeezed! What a waste; It makes me sad just thinking about it. Especially since we no longer have that lemon tree.
Then one glorious day, my friend, Linda, gave me this Easy Lemonade Recipe. It has been my go-to lemonade recipe ever since.
Why This Recipe Works
So, what is Linda's easy to remember lemonade formula? Glad you asked: One cup freshly squeezed lemon juice, one cup white sugar, and five cups of cold water.
This 1-1-5 formula has never failed me. So follow along with these steps to make this easy lemonade recipe:
How to Make This Recipe
1. Squeeze enough lemons to yield one full cup of lemon juice.
2. Measure one cup of white sugar.
3. Add lemon juice and sugar to a pitcher and mix.
4. Pour five cups of cold water into the pitcher.
5. Stir until the sugar is completely dissolved. Chill until ready to serve.
6. Add a few fresh lemon slices (or dehydrated orange slices) and serve.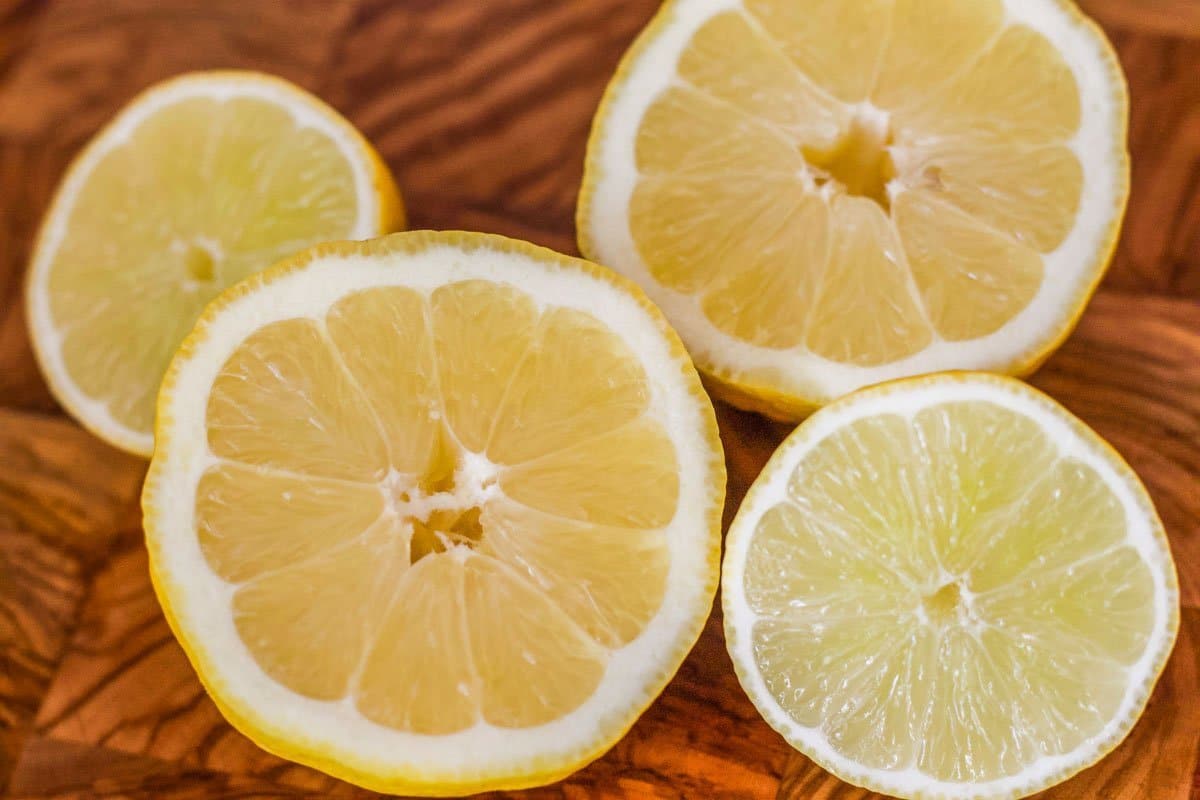 Lemonade Made with Simple Syrup
Making lemonade with simple syrup is yet another option. The main advantage of this method is that the sugar is dissolved prior to mixing it with the lemon juice.
Therefore, the sugar will not sink to the bottom of the pitcher. Just follow these easy steps, using the same proportions in the original recipe.
Add sugar and one cup of water in a small saucepan.
Stir over medium heat until the sugar is completely dissolved.
Remove simple syrup from heat, pour into a serving pitcher.
Stir in one cup of lemon juice and the remaining four cups of water.
Chill before serving.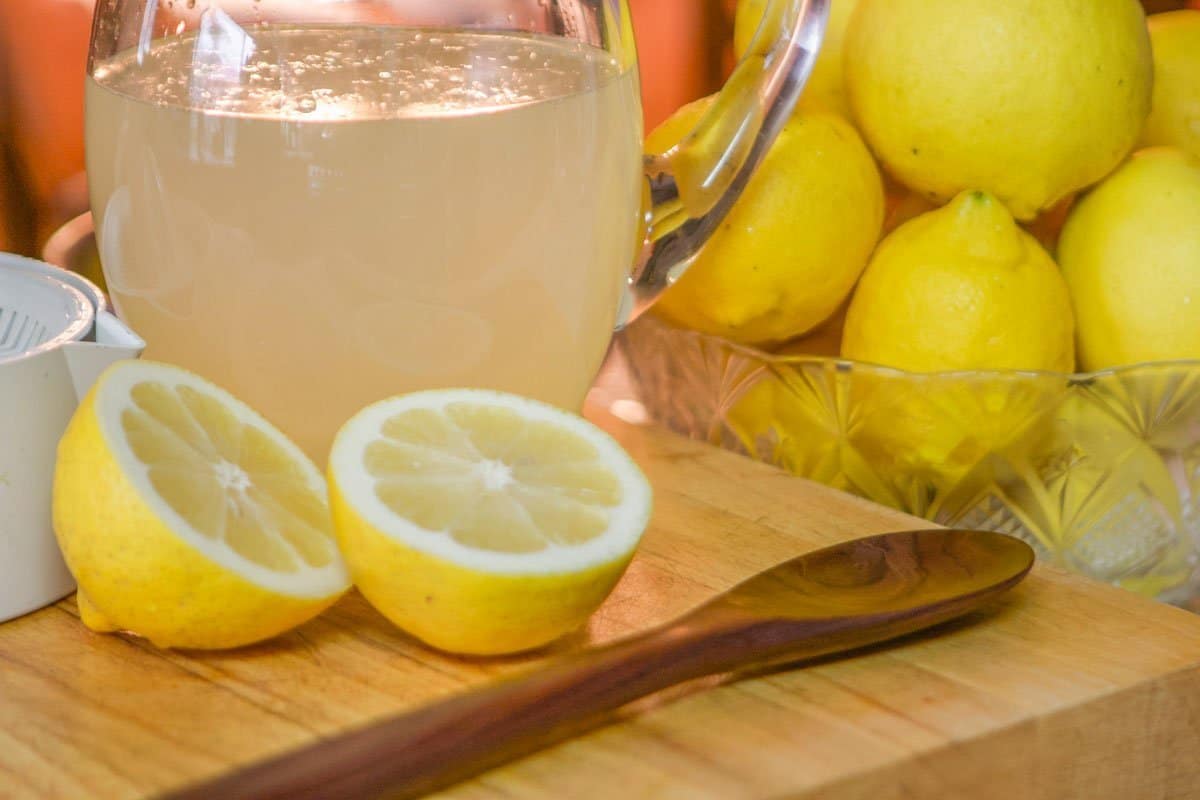 Recipe FAQs and Expert Tips
How Many Lemons Make A Cup of Lemon Juice?
The amount of lemon juice that can be extracted from a single lemon is dependent on many factors. The most obvious factor is the size of the lemon.

Generally, the larger the lemon, the more juice it will yield. The variety of lemon also makes a difference. "Meyer" lemons are juicy, sweet, and thin-skinned (they can't take a joke)!

"Eureka" lemons, on the other hand, have thicker skin and may contain more seeds.

Still, another determining factor is the ripeness of the fruit. A riper lemon will yield more juice than a lemon that was picked too early. The juicer used (a hand-held juicer or an electric juicer ) can also affect the amount of the juice output.

Keeping all these facts in mind, a medium-sized lemon will yield approximately ¼ - ⅓ cup of lemon juice.

So, four medium-sized lemons should yield approximately one cup of lemon juice.
What is the pink in Pink Lemonade
I was curious about the origins of pink lemonade and my research landed me on this smithsonianmag.com article: The Unusual Origins of Pink Lemonade. 

This article offers two possible origins: The first suggests that in 1912, Henry Allott, a circus owner, accidentally dropped red-colored cinnamon candy in a vat of plain lemonade.

Allott went with it and sold the pink-lemonade, which was a big hit!

The second possibility is a bit more disturbing. In 1857, while Pete Conklin was selling lemonade at a circus, he ran out of water which he needed to make more lemonade.

Conklin found a bucket containing red-tinted water (a circus performer had wrung her red stocking in the bucket).

In desperation, he decided to use this dirty, tinted-water to make more lemonade, and thus pink lemonade was born!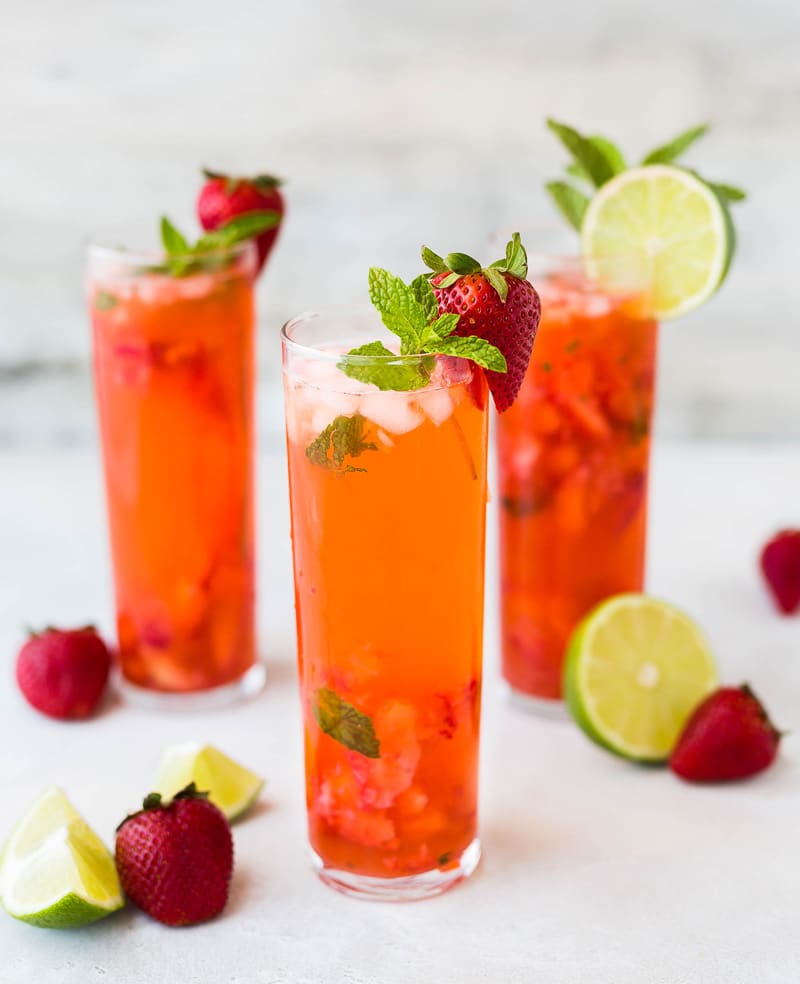 How Long Does Homemade Lemonade Last?
Homemade lemonade has never lasted longer than a week in my fridge. In fact, it's usually consumed the same day.

Keep in mind this recipe yields four 12 oz servings, so you'll probably go through the lemonade just as quick as my family does.

However, if the lemonade isn't consumed right away, it should keep for at least one week, if not longer.
How to Make Pink Lemonade
If after reading that disturbing story, you still want to make pink lemonade, here are some options:
Add a few drops of red food coloring into the lemonade.
Mix ½ cup of cranberry juice into the lemonade.
Cook down a few cups of strawberries or raspberries with the sugar and water (in step one of this recipe). You can either emulsify the fruit and mix it in with the other lemonade ingredients, or strain the fruit out of the lemonade once it is tinted.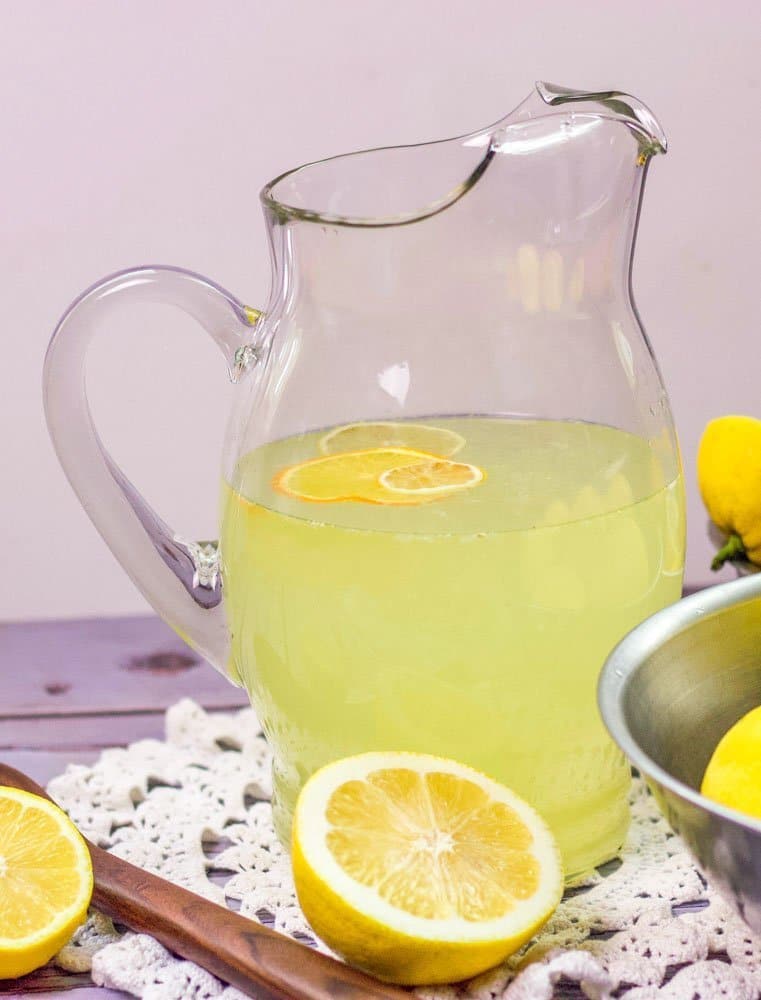 Related Recipes
If you have a lot of lemons on your hands, you can make more than lemonade! Be sure to check out these other lemon-inspired recipes:
Love this recipe? Please leave a 5-star 🌟🌟🌟🌟🌟rating in the recipe card below & a review in the comments section further down the page.

Stay in touch with me through social media @ Instagram, Pinterest, TikTok, and Facebook. Don't forget to tag me when you try one of my recipes!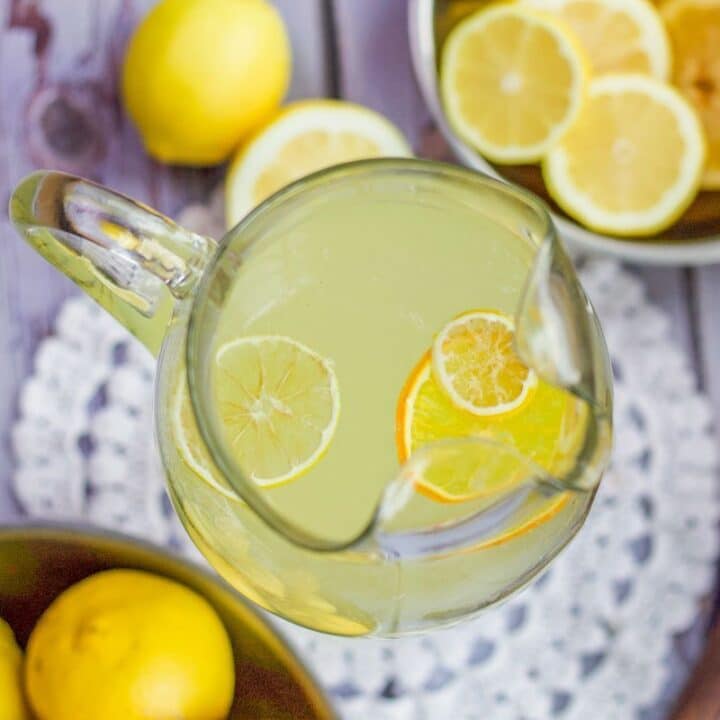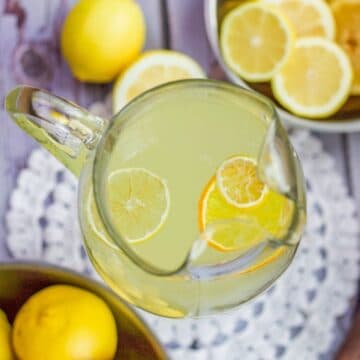 Easy Lemonade Recipe
Simple, easy to remember formula for amazing lemonade!
Print
Pin
Rate
Ingredients
1

cup

sugar

1

cup

freshly-squeezed lemon juice

5

cups

water
Instructions
Mix sugar and lemon juice in a pitcher.

Add five cups of water and stir until sugar is completely dissolved.

Add ice to pitcher, along with some lemon slices, and serve.
Nutrition
Serving:
12
oz
|
Calories:
207
kcal
|
Carbohydrates:
54
g
|
Protein:
0
g
|
Fat:
0
g
|
Saturated Fat:
0
g
|
Cholesterol:
0
mg
|
Sodium:
13
mg
|
Fiber:
0
g
|
Sugar:
54
g