Preserved lemons, popular in North African Cuisine, are not only beautiful to look at, but a delight to taste! This Preserved Lemons Recipe is a great way to make use of lemons.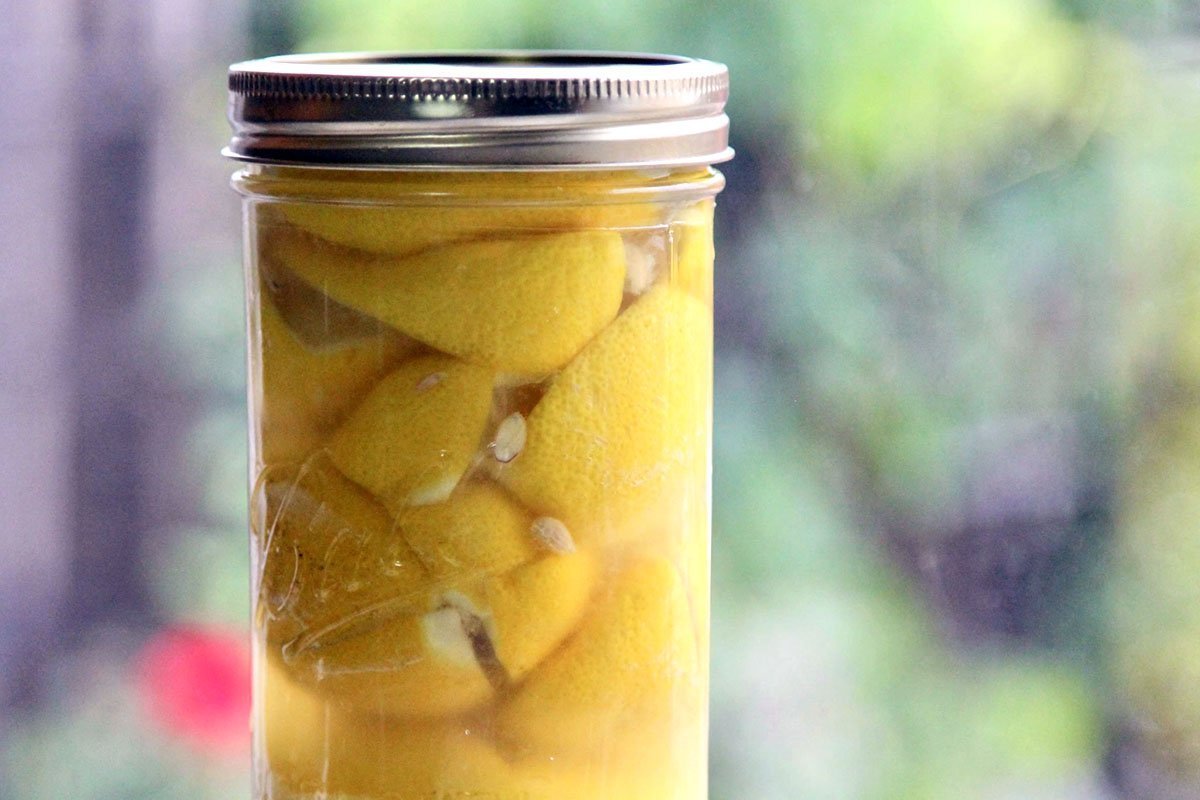 Marinating lemons in salt and their natural juice has been done for centuries. This was done as a way of preserving the lemons to be used during the months when they were no longer in season.
The wonderful thing about this method is that not only are the lemons preserved, but their flavor is greatly intensified. In fact, the rind tastes like lemons on steroids! They are a great addition to most savory recipes where lemon is needed.
How to Use Preserved Lemons
As mentioned earlier, preserved lemons are a staple in North African cuisine. They are a prominent part of a popular dish named "Tagine" or "Tajine" (it is spelled both ways). Tagine is a slow-cooked lamb or chicken stew. Tagine is also the name of the pot that is used to prepare the stew in.
Although the lemon's flesh is a great addition to soups, sauces, and stews, the best part of the preserved lemons is the rind. To eat, simply rinse the excess salt off of the lemons, dice, and use in pasta dishes, salad dressings, sauces, and soups.
Not enough options? How about adding some to your favorite cocktail, or blending some in your homemade hummus? I've given you some ideas to get you started, but feel free to get creative!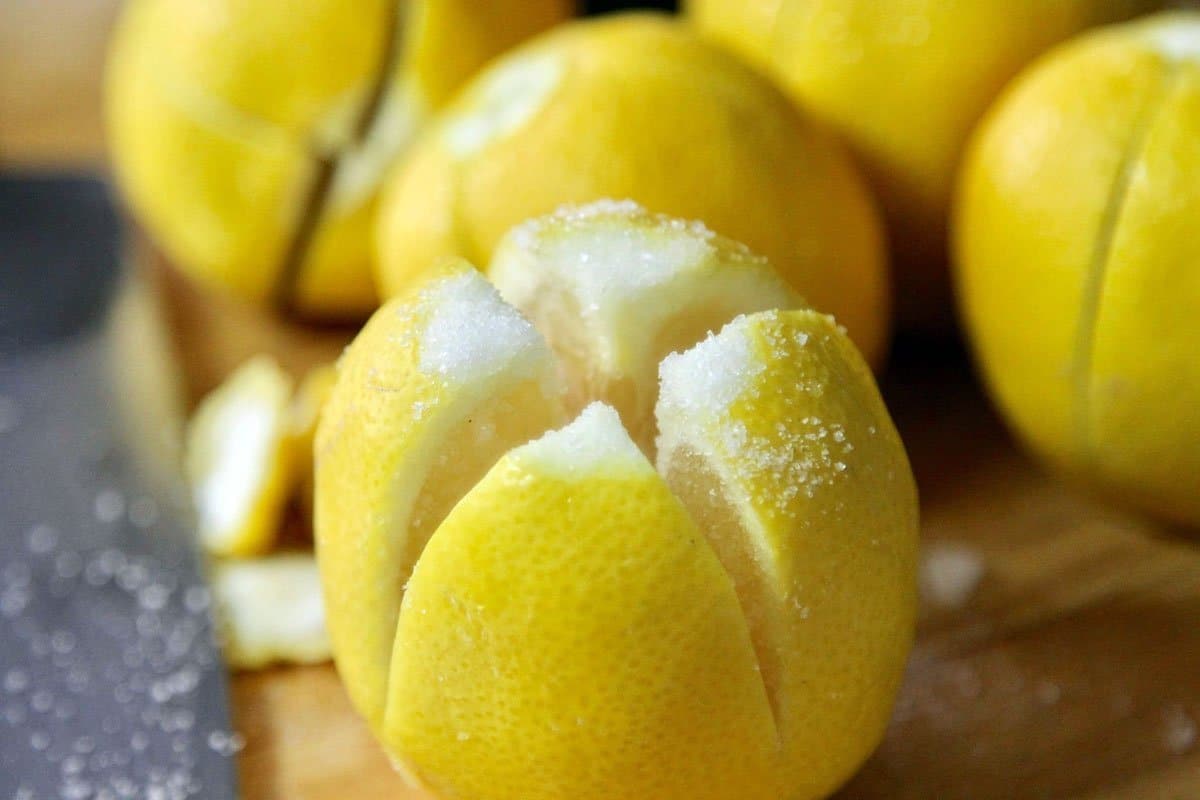 Do You Need to Refrigerate Preserved Lemons?
When following this Preserved Lemons Recipe, allow the lemons to pickle for three weeks in a cool, dark location. After which they should be refrigerated. The jar should be shaken every few days, or whenever you remember.
After three weeks, the preserved lemons are ready to eat! The refrigerated preserved lemons have a shelf-life of six months or longer. Given the fact that there are so many uses, they will probably not last that long!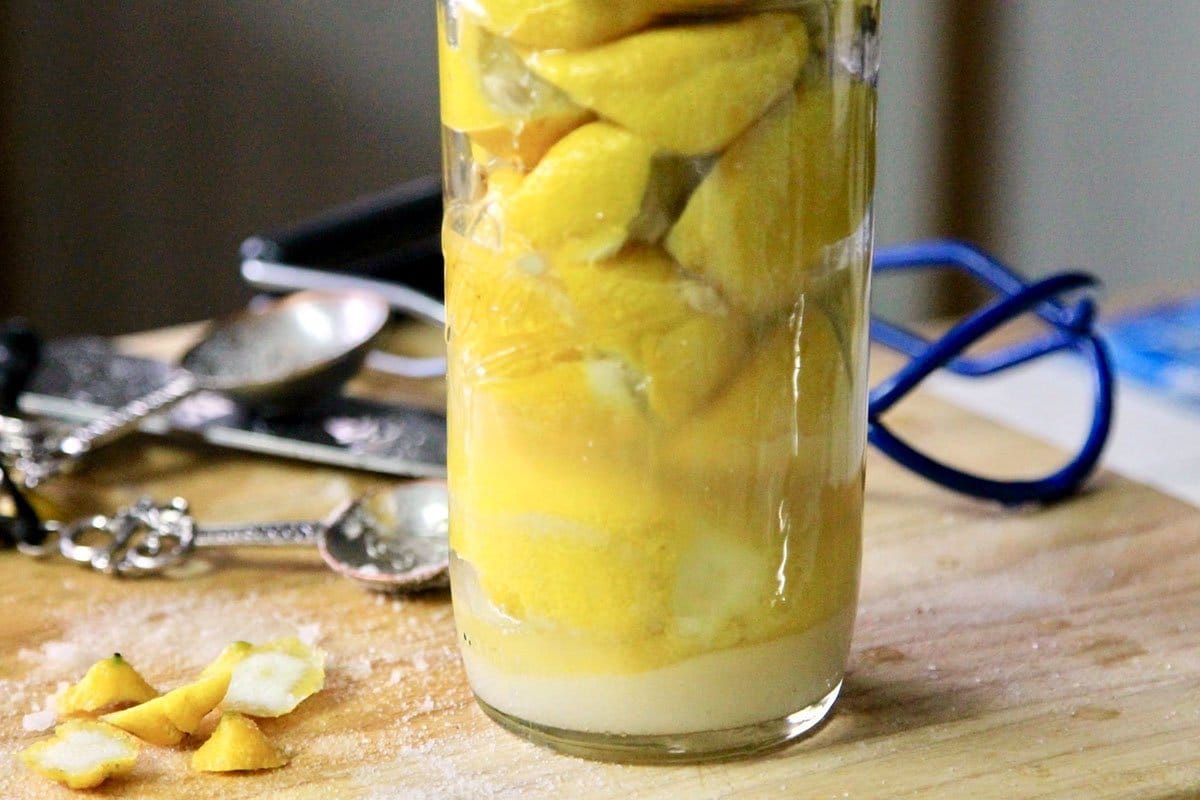 Tools Required for Making Preserved Lemons
There are only three things you need for this recipe; lemons, salt, and a wide-mouthed mason jar. There are some optional ingredients, as seen in the ingredients list.
Depending on how you plan on using the preserved lemons, you can keep the recipe simple, or add one or a combination of the following spices; cardamom pods, cinnamon sticks, cloves, and bay leaves. The spiced lemons would be a perfect addition in recipes like Tajine, or other soups and stews.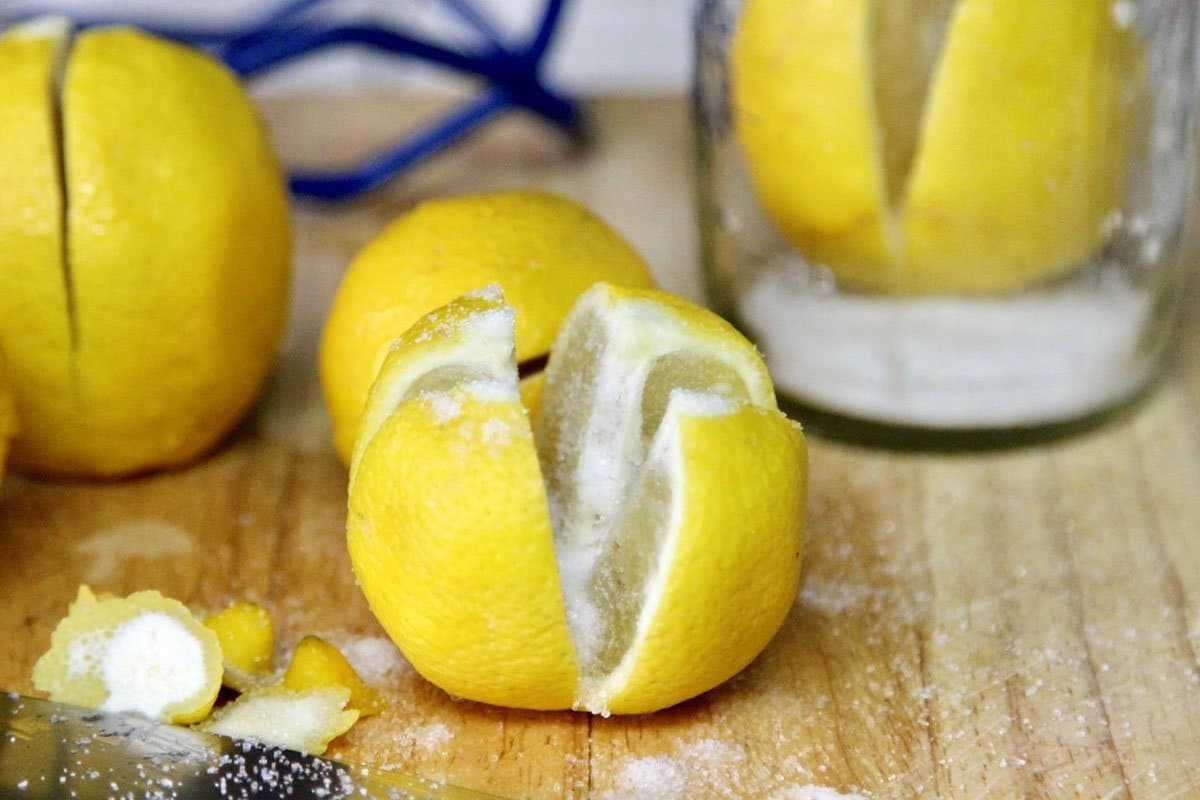 For other great lemon recipes, check out the following posts: Easy Lemonade, Italian Limoncello, Citrus Salad Dressing, Easy Lemon Bars, and Lemony Dolmathes.
STAY IN TOUCH WITH ME THROUGH SOCIAL MEDIA!
Tried this recipe? Snap a picture and tag #hildaskitchenblog on Instagram.
Like my page on Facebook.
Do you Pinterest? Pin & share this recipe!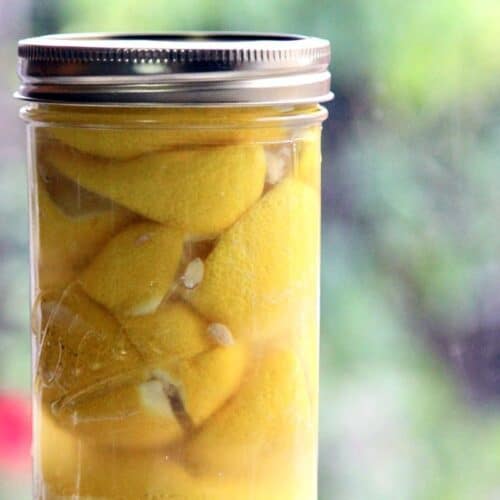 How To Make Moroccan Preserved Lemons
Beautifully preserved Moroccan lemons.
Print
Rate
Ingredients
6-8

small

lemons

(Myers preferred)

sea salt

3

cardamom pods

(optional)

1/2

cinnamon stick

(optional)

4

cloves

(optional)

2

bay leaves

(optional)
Instructions
Before you begin, place 1 (16 oz) wide-mouth mason jar in a Dutch oven and cover with fresh water. Bring to a boil and sterilize for 10 minutes, while you prepare the lemons.

Start by selecting 6 to 8 small lemons with no imperfection if possible.

Slice the pointy nub off the lemon, then slice the lemon down the middle, but not all the way through. Slice again in the opposite direction. You want to be able to pull the sections apart in order to salt them, without the sections coming off.

Generously salt the inside of each lemon, making sure that you get the salt to cover every section.

Remove the sterilized jar and add approximately 1 tablespoon of salt on the bottom.

Start adding the salted lemons inside the jar, squeezing them as you add them to release their juices.

After each lemon is added, sprinkle approximately one teaspoon of salt over it.

If you are adding the optional ingredients, you will want to distribute those throughout the jar.

Make sure to push down on the lemons as you add them, to crowd them into the jar as much as possible.

If the liquid released from the lemons does not cover them entirely, you can add more lemon juice, or boiled water. Finish by adding 1 tablespoon of salt on top.

Tighten the sterilized lid over the jar, and give it a few good shakes. Leave the jar in a cool, dark location, shaking every couple of days to redistribute the juices. After the two week period, store in the fridge and use as needed.
Nutrition
Calories:
10
kcal
|
Carbohydrates:
25
g
|
Protein:
0
g
|
Fat:
0
g
|
Saturated Fat:
0
g
|
Cholesterol:
0
mg
|
Sodium:
995
mg
|
Fiber:
0
g
|
Sugar:
15
g