Finally, it's happened! After blogging for almost a year, I've reached my 100th blog post! I started Hilda's Kitchen Blog back in July of 2017. It's hard to believe that it's already been a year! Since this post has a special place in my heart, I thought I'd share an extra special recipe; my Middle Eastern baklava recipe. Baklava might seem too intimidating to tackle, but you're about to find out that it requires more patience than skill. So clear a couple of hours from your schedule, and get ready for a special treat!

Middle Eastern Baklava vs. Greek Baklava
So, who is responsible for this tasty treat, the Greeks, or the Turks? I guess it depends on who you ask. Most would agree that the Turks are responsible for this sinfully delicious dessert. But I'm sure your Greek friend would disagree. No matter who is responsible for this yumminess, there are some distinct differences between the two. In the Middle East "baklava" is pronounced "baklawa." But besides the name variation, there's also a variation in the ingredients. While Greeks drench their baklava in honey, a simple syrup is used in the Middle East. Greek baklava is flavored with cinnamon. Middle Eastern baklawa is flavored with cardamom and rose water. There's no arguing that both are delicious, however, I'm partial to Middle Eastern baklava.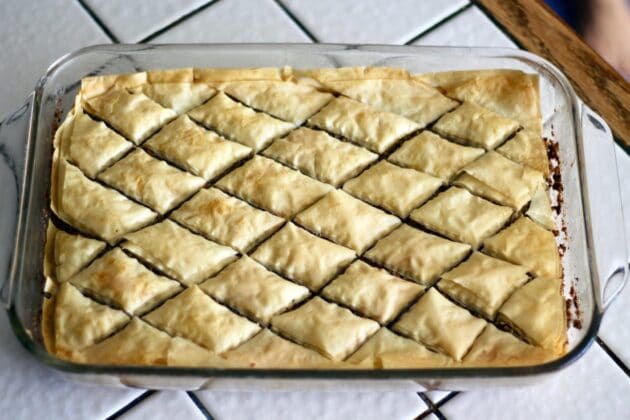 Tools Needed For This Recipe
Luckily, you don't need any fancy tools or kitchen gadgets to pull off the perfect home-made Middle Eastern baklava. All you need are a few items: a 9″ x 13″ lasagna pan, and a pastry brush for buttering the fillo dough. Oh yes, you'll also need some kitchen towels to keep the fillo dough covered as you work. This keeps the fillo dough from drying out. So, have another cup of tea or coffee, gather the needed ingredients, and let's do this!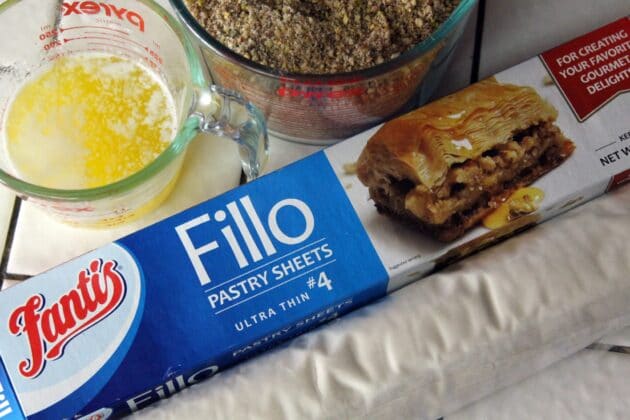 You may also want to check out the following dessert recipes: Mann Al Sama, Fillo Delights, Orange Cake, Zalabia, and Stuffed Dates. Don't forget to check out my  Classic Middle Eastern Food Combinations.
Do you Pinterest? Please Pin & Share!
---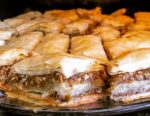 Flaky Middle Eastern Baklava
Authentic Middle Eastern baklava that's to die for!
Cuisine:
Assyrian, Greek, Middle Eastern
Ingredients
Syrup
1

cup

water

1

cup

sugar

1/3

cup

honey

1

tsp.

lemon juice

1 1/2

T.

rose water
Baklava
1

1 lb. package

fillo dough

3

cups

nuts

(a mix of pistachios, walnuts, and almonds)

1/3

cup

sugar

2

tsp.

cardamom

1/2

tsp.

cinnamon powder

3/4

cup

butter

clarified
Instructions
Syrup: Mix the syrup ingredients (except for the lemon juice and rosewater) in a saucepan until the sugar is dissolved. Bring to a boil, then simmer for 25 minutes. Mix in lemon juice and rosewater and cook for 5 more minutes. Set aside to cool.

Preheat oven to 350 Degrees F

Defrost fillo dough according to package instructions. Keep in mind you will need to defrost frozen dough in the fridge overnight before you can use it.

This recipe calls for a 9" x 13" casserole pan. Depending on the brand you use, some fillo dough might need to be cut to size in order to fit in the pan.

Finely grind the nut mixture in a food processor, then mix in sugar, cardamom, and cinnamon.

Melt butter in the microwave, then clarify the butter by skimming the white foamy surface.

Brush the bottom of the pan with melted butter.

Place one fillo sheet carefully into the buttered dish. Gently brush the layer with melted butter.

If your sheets aren't long enough to fit the pan, you can alternate the sheets to reach the top, bottom, or the sides of the pan.

Continue to butter and layer the sheets until you have used up approximately 1/3 of the sheets. If you have imperfect sheets, use them in the middle of the baklava, so that the undamaged sheets can be used on top

Evenly spread 1/2 of the nut mixture over the layered sheets.

Cover the nut mixture with another 1/3 of the buttered sheets. Top with the remaining nut mixture, and smooth out into an even layer.

Add the remaining sheets of fillo dough, buttering each sheet as you go. Make sure to butter the top layer well. If you have any butter remaining, you can pour it evenly over the last layer.

Using a sharp, non-serrated knife, cut the baklava into diamond shapes. If that seems too difficult to attempt, you can cut it into squares.

Once you are done slicing the baklava, place the tray in the oven. Bake for approximately 45 minutes, or until golden in color.

Remove the baklava from the oven. Pour the cooled syrup slowly over the hot baklava. Make sure to cover every piece of baklava.

Allow the baklava to come to room temperature before serving. Now go make some friends!