The greeks call this dessert Galaktoboureko, in the Middle East it's known as Kahi. No matter what the name, you'll call it delicious. Seriously, how can you go wrong with fillo dough layered with butter and filled with custard? Do I have your attention yet? If so, continue reading to learn more!
My Greek Friend, Jenny
Like most people, I love Greek food. Growing up in Chicago, I had a best friend who was Greek. Jenny's family even owned a Greek restaurant. Sometimes I think My Big Fat Greek Wedding was based on her family. If you haven't seen it, stop what you're doing, and go watch it now! Although I tried a lot of delicious Greek food in my childhood, galaktoboureko was not one of them. But as the saying goes, "better late than never!"
Galaktoboureko Origin
I'll never forget when Jenny and I first discovered how similar our food and recipes are. When I shared that my favorite Assyrian dish was dolma (stuffed grape leaves), she replied: "we make the same dish, it's called dolmathes!" I then told her about a dish called "fasolia" (long bean stew). She nodded knowingly, "fasolada." I asked if they made "Kofta" (kabobs). Jenny exclaimed, "keftethes!" So when I discovered that there is a Middle Eastern version of this recipe called "kahi," I was not surprised in the least! It was my sister, Nina, who introduced me to kahi, after a friend shared the recipe with her.
Galaktoboureko Recipe
I thought I was a Greek food expert, thanks to Jenny. Then a friend that I follow on Instagram (Cooking For Fun) shared a recipe for "Galaktoboureko." Although I'd never heard of this dessert before, I decided to make some for a women's church event that I attended last night. I guess it was a big hit because I came home with an empty platter!
You may also enjoy the following sweets: Qamardeen,  Zalabia (Mini Funnel Cakes), Middle Eastern Baklava, and Muakacha (Fillo Delights).
Do you Pinterest? Please Pin & share!
---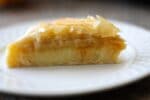 Galaktoboureko or Kahi (Buttery Fillo Dough with Custard Filling)
A flaky International dessert of fillo dough, filled with a creamy custard filling.
Cuisine:
Assyrian, Greek, Middle Eastern
Ingredients
Filling:
4

cups

whole milk

2

large

eggs

2

tsp

vanilla

1/8

tsp

salt

2/3

cup

sugar

2/3

cup

semolina

1

tsp.

rose water

2

T

unsalted butter
Other Ingredients:
1/2

cup

butter

(8 Tablespoons)

1

package

fillo dough

1/4

cup

toasted and ground almonds or pistachios
Syrup:
1

cup

water

1

cup

sugar

1/4

cup

honey

5

cardamom pods

1

tsp

rose water

1

tsp

lemon juice
Instructions
Fillo dough can usually be found in the freezer section of most grocery stores. Make sure you defrost it for a few hours before using.​ Fillo dough comes in different sizes. If you find the sheets are too large for the 9" x 13" pan, just slice the sheets in half so that they fit in the pan.

Whisk together the first seven filling ingredients over low to medium heat.

Continue whisking for approximately 5 minutes until the custard mixture is thick and bubbly. Turn off the stove, and stir in the butter until melted.

Place in the refrigerator to cool.

Next, stir all the syrup ingredients over medium heat until boiling.

Turn the heat down to low, and continue to simmer for approximately 25 minutes. Remove cardamom pods and allow to cool.
Preheat oven to 400°F
Microwave 1/2 cut of butter until melted (approximately 1 minute.) Brush a 9"x13" ceramic dish with the melted butter. 

Unroll fillo dough, lay flat on a cookie sheet, and cover with a washcloth to prevent it from drying out. ​

Place one sheet of dough into the pan, and brush with melted butter.

Fold fillo dough as necessary in order to make it fit in the pan.

Gently brush each layer with the melted butter. Continue to do this until you have used up half of the sheets.

Using a rubber spatula, spread the cooled custard over the fillo sheets.

Cover with the sheets, buttering each as you go.

Slice into squares, or diamonds, and pour any remaining butter over the top.

Bake for 30 minutes, or until golden brown.

Allow to cool before slicing, and don't forget to share with your friends!
Nutrition Facts
Galaktoboureko or Kahi (Buttery Fillo Dough with Custard Filling)
Amount Per Serving
Calories 223
Calories from Fat 72
% Daily Value*
Fat 8g12%
Sodium 155mg7%
Carbohydrates 33.5g11%
Protein 4g8%
* Percent Daily Values are based on a 2000 calorie diet.