This Easy Spanakopita recipe is my take on this popular savory Greek pastry. The flakey fillo dough is packed with spinach, cheese, garlic, and dill, among other delicious ingredients. I use a few eggs to bind all of this goodness together. Serve with some Creamy Greek Pasta Salad for a delicious combo!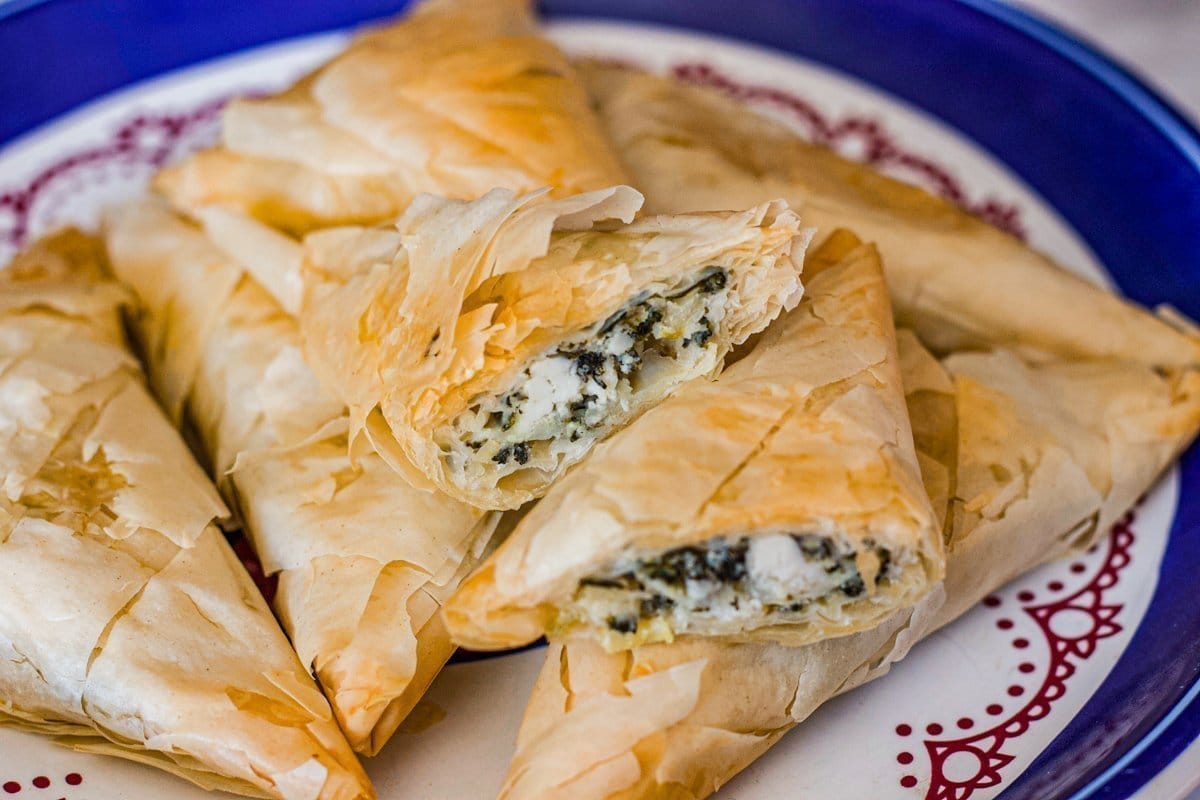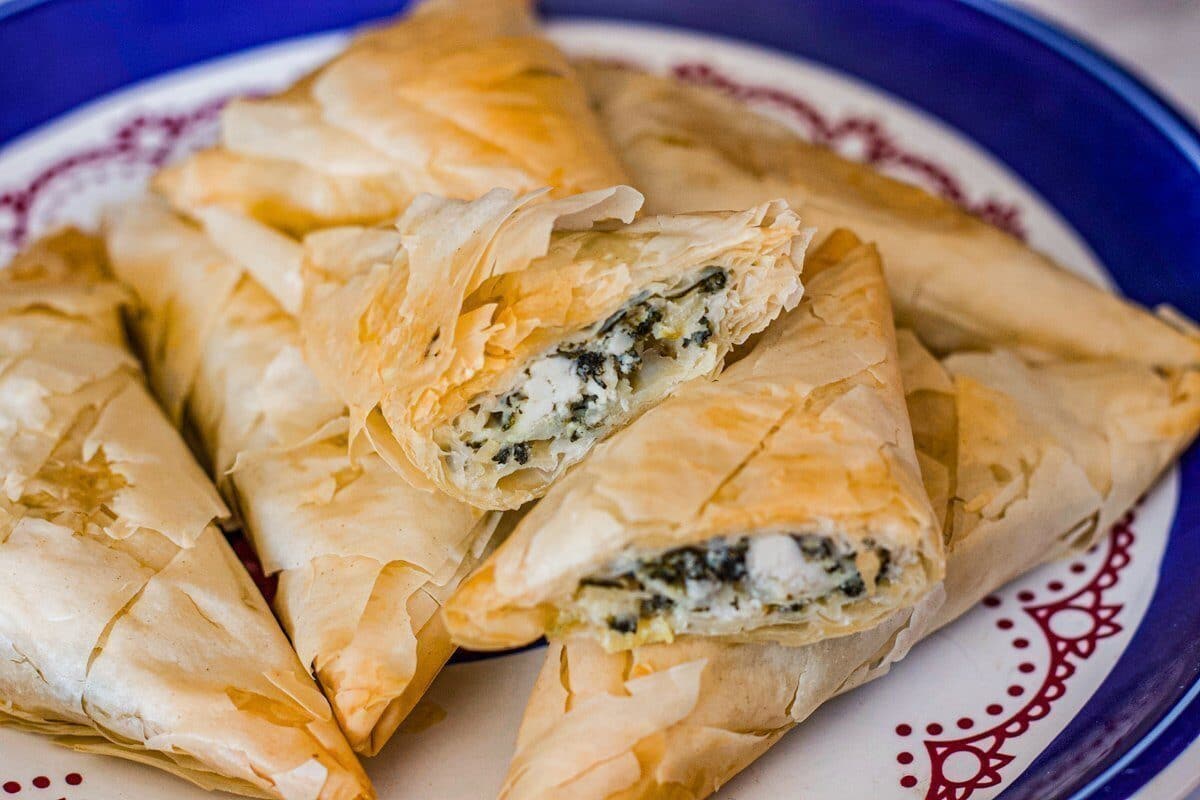 What is Spanakopita?
So, what is Spanakopita and what does the word mean? "spanáki" is the Greek word for "spinach." While "píta" means "pie." So the literal translation for Spanakopita is Spinach Pie.
In Assyrian, "spinach" is called "spanakh." The similarities between Assyrian and Greek food names still amazes me.
What is in the Spanakopita Filling?
Obviously, not all Spanakopita recipes are the same. However, the following ingredients are generally found in most Spanakopita recipes.
spinach
feta cheese
onion
garlic
salt
pepper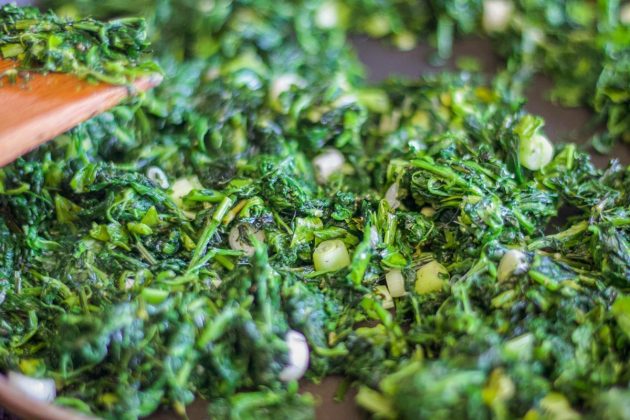 Sometimes these additional ingredients can be found in Spanakopita recipes too:
fresh dill
fresh Italian parsley
eggs
scallions
nutmeg
mozzarella
parmesan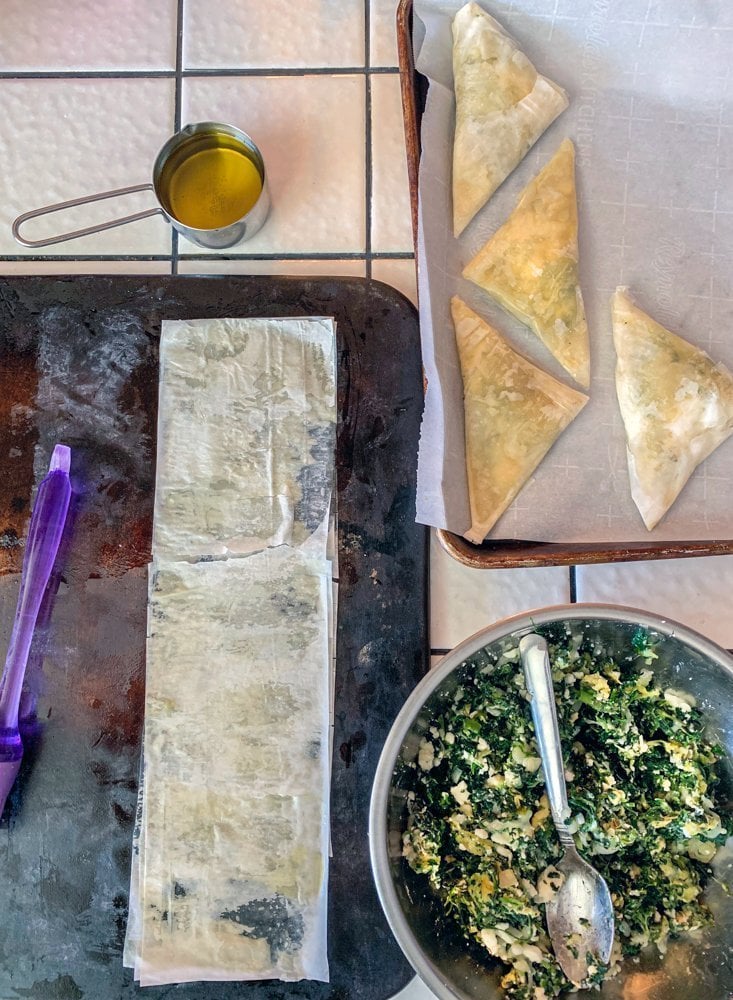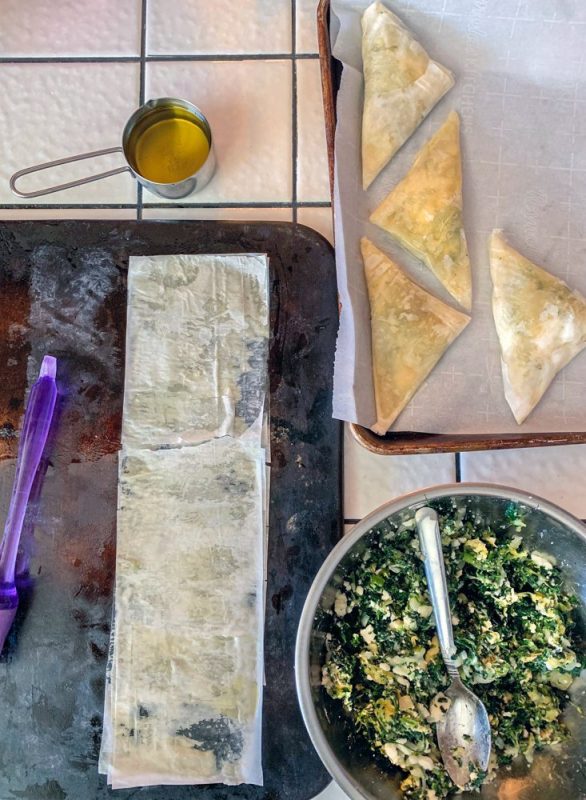 Besides the two lists above, I recommend giving some of the following ingredients a try too!
lemon zest or juice
black olives
mushrooms
crushed red pepper flakes
kale
leeks
If you know anything about me, then you know that I'm big on flavor. For this reason, you'll notice I use a lot of these ingredients in my Easy Spanakopita Recipe.
As always, I encourage you to leave out, add, or substitute ingredients based on your personal preference. As you can see, there's a lot of options!
Can You Prepare Spanakopita in Advance?
Spanakopita can be prepared in advance. However, if possible, prepare it as close to when you plan to serve it as possible. This will ensure that the fillo dough is crispy, instead of limp and soggy.
If you absolutely have to prepare the Spanakopita ahead of time, you can refrigerate the triangles overnight. If preparing them farther in advance, consider freezing them.
How to Cook Unbaked Frozen Spanakopita
To cook frozen Spanakopita, line a cookie sheet with parchment paper or silicone baking mats.
Distribute the spanakopitas evenly on the tray. Bush with olive oil and bake at 375-degrees F for approximately 30 minutes.
How to Cook Baked Frozen Spanakopita
If reheating frozen cooked Spanakopitas, bake in a 350-degree F oven for 15 minutes.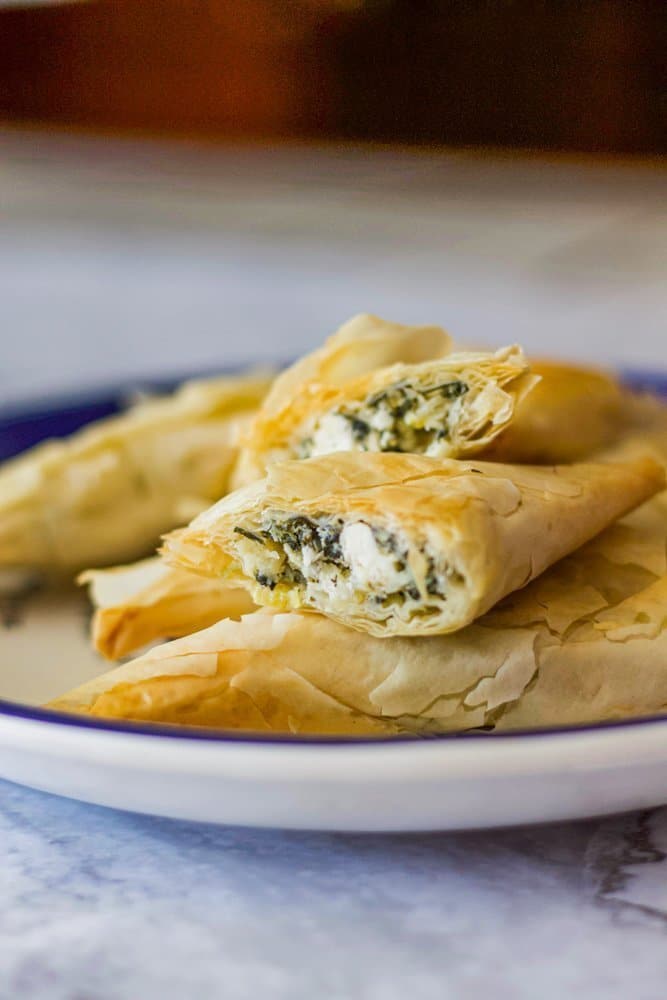 Reheating Refrigerated Spanakopita Leftovers
To reheat spanakopita, skip the microwave. You'll only end up with, you guessed it, limp and soggy Spanakopitas. Instead, place in a 350-degree F oven for approximately ten minutes until heated through.
My Easy Spanakopita Recipe, Even Easier
Want to make this Easy Spanakopita recipe even easier? Just layer half of the fillo dough into an oiled 9" x 13" pan, oiling each layer as you go.
Add all of the filling and distribute it evenly. Add the remaining fillo sheets, oiling all the layers. Cut into squares or triangles and bake until golden. See the Baklava recipe as an example.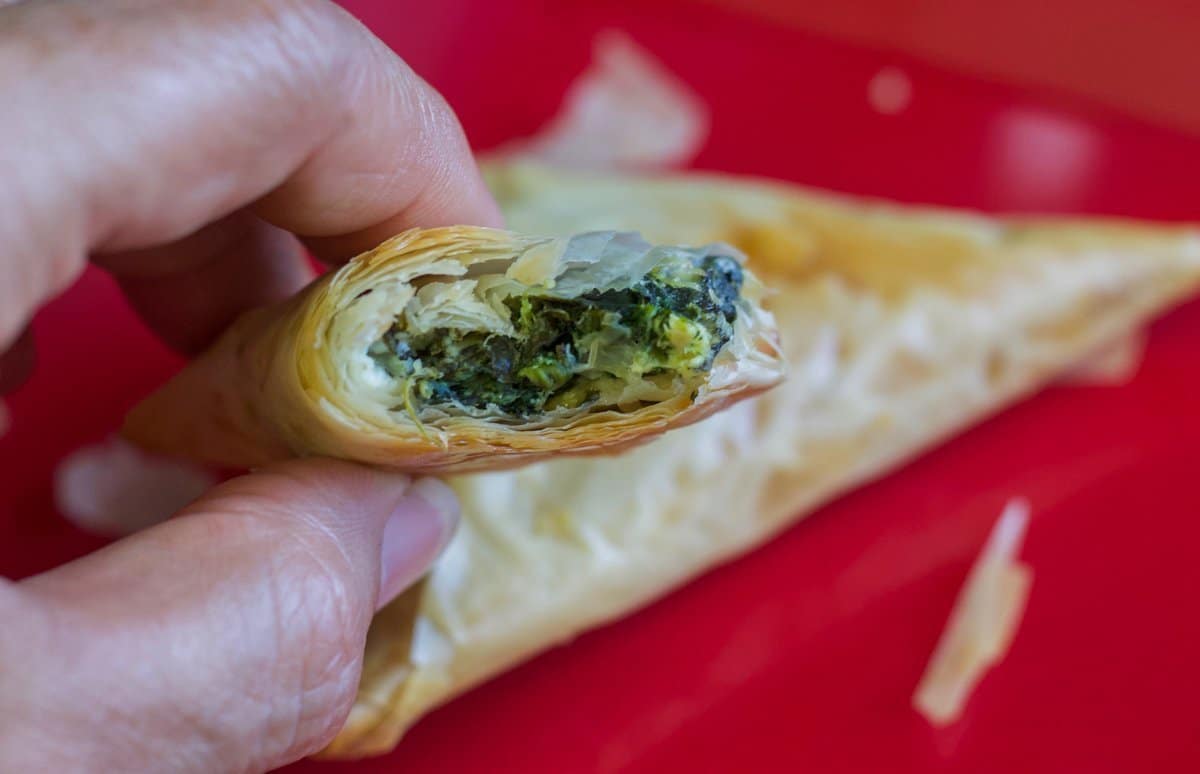 You may also love the following recipes:
Stay in touch with me through social media!
Tried this recipe? Snap a picture and tag #hildaskitchenblog on Instagram.
Like my page on Facebook.
Do you Pinterest? Pin & share this recipe!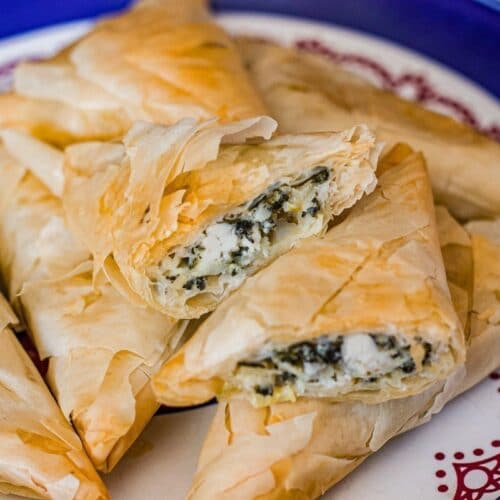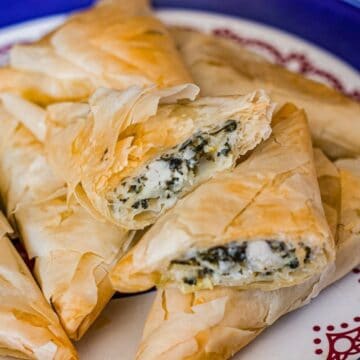 Easy Spanakopita Recipe
Easy Spanakota Recipe, with spinach, garlic, parsely, scallions and dill.
Print
Pin
Rate
Ingredients
1

T

butter

6

scallions

(chopped)

12

oz

frozen spinach

⅓

cup

Italian parsley

(chopped)

¼

cup

fresh dill

2

clove

garlic

(pressed)

4

large

eggs

½

tsp.

nutmeg

(freshly grated)

½

tsp

salt

¼

tsp.

black pepper

¾

cup

mozzarella

1

cup

crumbled feta cheese

1

fillo dough

½

cup

olive oil
Instructions
Defrost fillo dough if frozen, according to package instructions.

Defrost frozen spinch and squeeze out as much of the liquid as possible.

Melt butter in a non-stick pan, and sauté scallions, spinach, parsley, and dill for a few minutes.

Add garlic and eggs and continue to cook until the eggs have set.

Lastly, mix in the seasoning, and both cheeses. Stir to combine, then allow to cool.
Spanakopita Assembly
Carefully unroll the fillo dough, and set it on a cutting board width-wise. Cut through all the layers down the middle, then cut each half into 2 or 3 sections, depending on how large you want the spanakopita triangles to be. I ended with 6 sections, giving me 40 portions.

Be sure to cover the fillo dough with a kitchen towel to keep it from drying out.

Uncover one section at a time. Place a strip on a clean, dry, surface. Brush with olive oil. Cover with two more layers, oiling each.

Add a heaping tablespoon of the filling on the bottom right corner of the dough.

Take the bottom right corner and fold the dough over the filling to make a triangle. Fold the bottom left corner up to make another triangle. Continue in this manner, similar to folding a flag.

If the filo dough feels too dry, brush with additional oil as you continue to fold until all the dough is folded over the filling.

Preheat oven to 375-degrees F

Arrange the spanakopita on a parchment-covered cookie sheet.

Bake for 25 to 30 minutes, or until golden brown.
Nutrition
Serving:
1
pie
|
Calories:
74
kcal
|
Carbohydrates:
4
g
|
Protein:
3
g
|
Fat:
5
g
|
Saturated Fat:
2
g
|
Cholesterol:
25
mg
|
Sodium:
132
mg
|
Fiber:
0
g
And stay in touch with me on Facebook, Pinterest, and Instagram for the latest updates!