Kubba't Mosul" translates to "Kubba from Mosul." You might already know Mosul is a city in Iraq, but did you know it's known for making this meat-filled savory pie?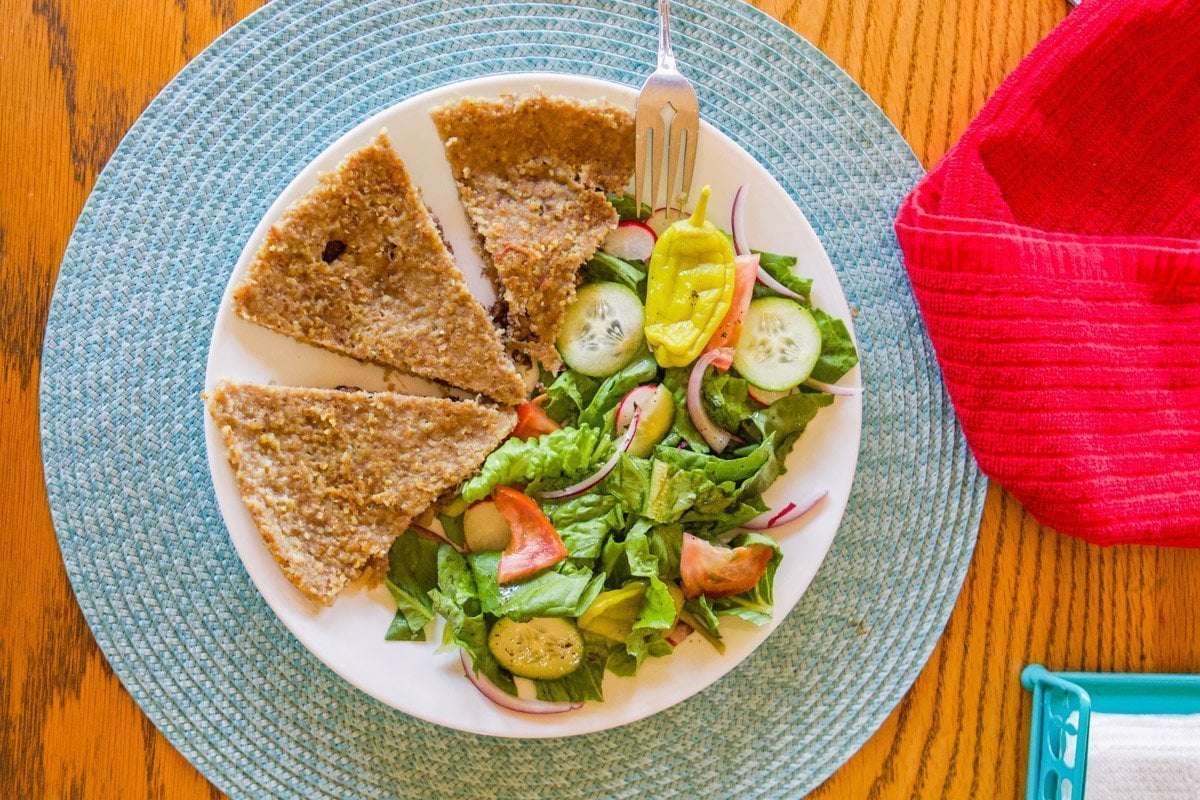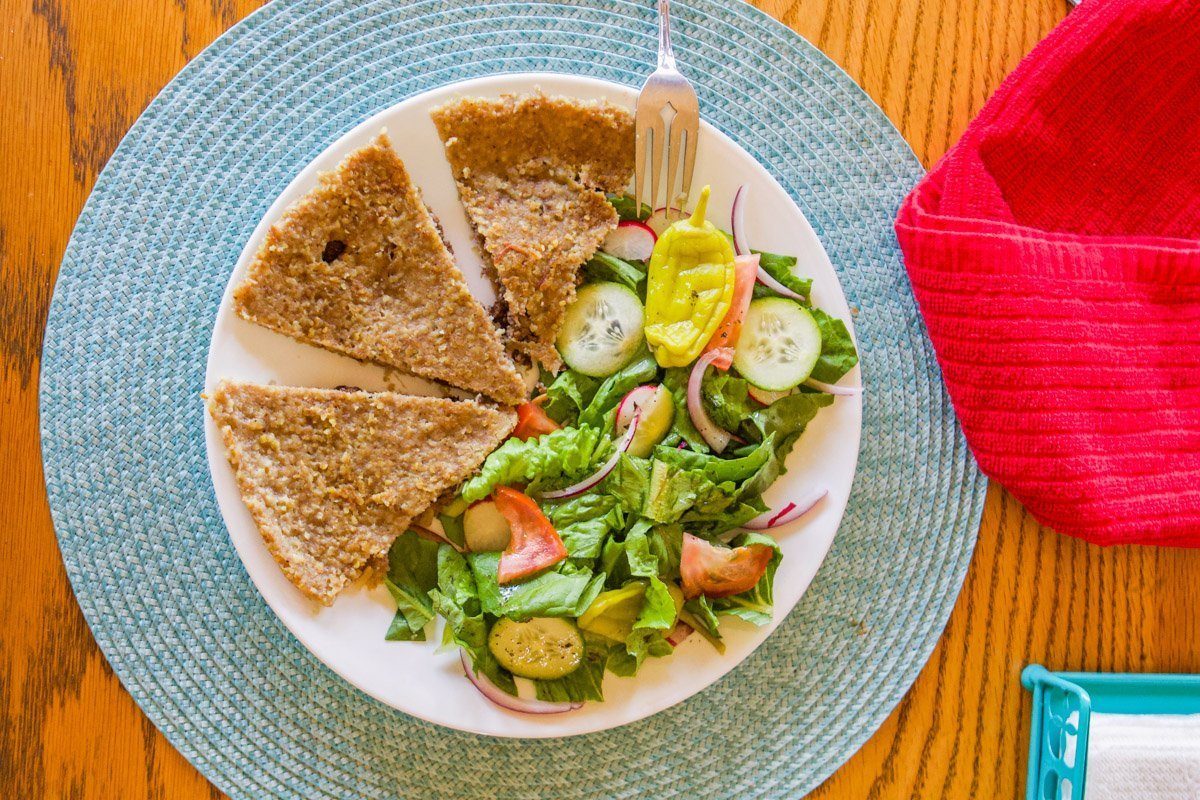 Kubba's outer shell is made with a mixture of fine bulgur, semolina, and ground beef (or lamb). Sometimes ground onion is also added.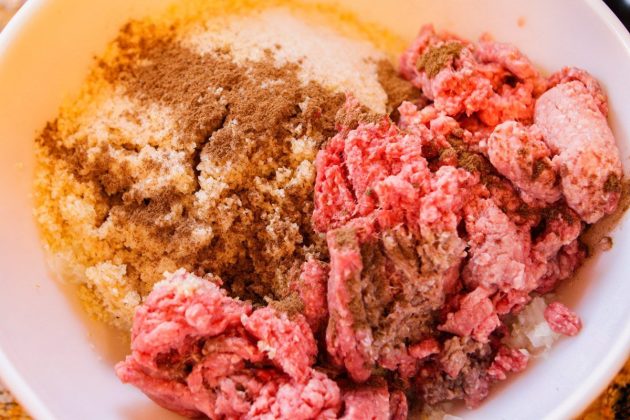 The filling is a delicious mixture of ground beef (or lamb), onions, and a perfect blend of spices. Toasted raisins, almonds, or pine nuts are sometimes added in the filling.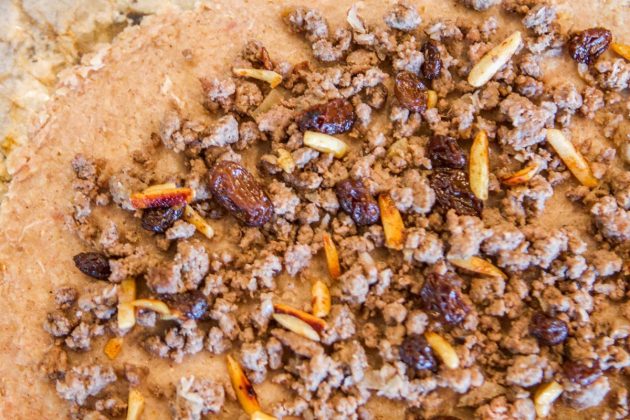 I would categorize this as an intermediate recipe. There are a lot of steps involved. However, once you clear a few hours to make these delicious meat pies, you'll be able to stock your freezer with 4 to 8 meals, depending on the size you make.
Not bad for a few hours of work, right?
My Kubba Mosul Recipe
Mom knew how to cook everything, except Kubba Mosul. However, her best friend, Lucy, made the best Kubba Mosul around. I guess you could say Kubba was her specialty.
I always looked forward to Lucy's visits. Yes, she was a sweet lady. However, I was anticipating the heavenly taste of her kubba. They were always loaded with plenty of pine nuts and raisins.
Back in 2007-2008, I was working on my cookbook (Mom's Authentic Assyrian Recipes). Sadly, I didn't have a family recipe for Kubba Mosul to include in the book.
As a result, I had to come up with my own recipe. Luckily, I managed to impress mom. That was good enough for me!
Over the years, I've changed the recipe slightly. However, this recipe is still very close to the original recipe found in my cookbook. Here's to hoping you love it as much as my mom did!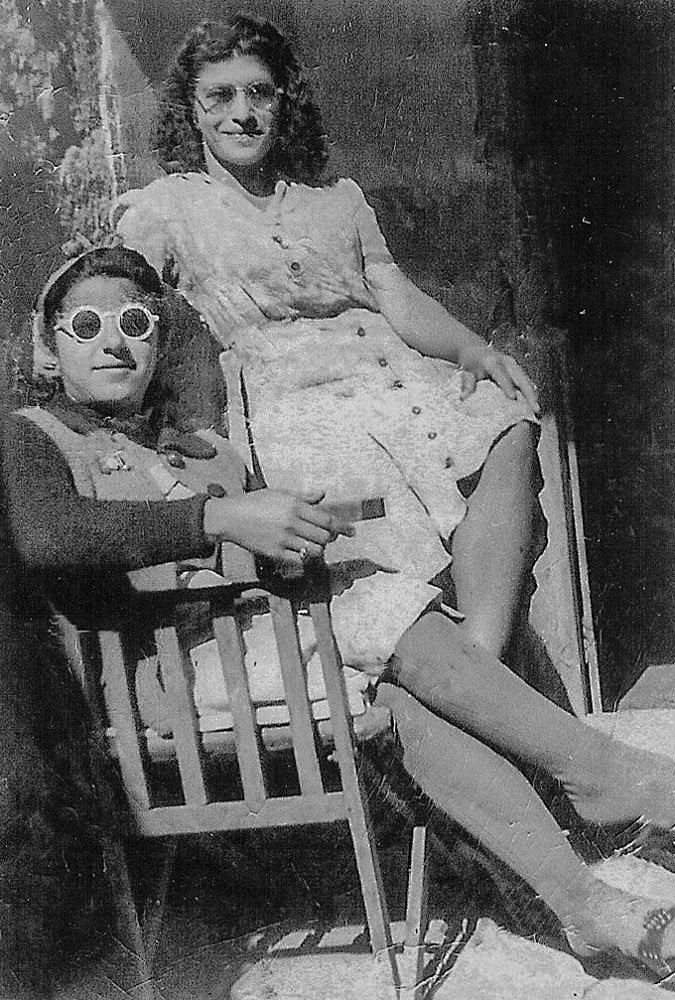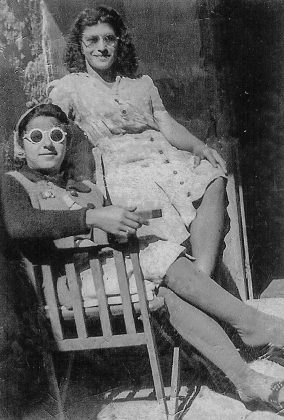 Kubba Comes in Many Variations
Did you know that Kubba or "Kibbeh" comes in all shapes and sizes? For example, small football-shaped "dumplings," 3" flat discs, golf-sized balls, and 10" platter-sized Kubba, known as Kubba Mosul.
Kubba Mosul
If I had to pick one type of Kubba as my favorite, it would have to be Kubba't Mosul.
Although making them is time-consuming, the payoff is having a delicious quick meal for those times that I'm hangry.
No, that's not a typo. "Hangry" refers to being hungry enough to be angry. Have you ever gotten that hungry?
Baked Kibbeh
Another way to make Kubba is in a pan, like a lasagna, the Kubba is then sliced into individual servings. This Kubba is known as "Baked kibbeh."
Of all the Kubba recipes, this is by far the easiest to prepare.
Simply divide the paste in half and spread half in an oiled casserole dish. Next, add the filling, followed by the remaining paste that has been rolled out into a sheet the same size as the pan.
Finally, rub the top layer with oil and bake!
Kubba Hamouth
Smaller sized kubba, similar to dumplings, are cooked in a deliciously-sour soup called Kubba't Hamouth (or sour kubba).
Alternatively, they can be frozen for later use. Besides being used in the soup, they can also be boiled for a quick meal.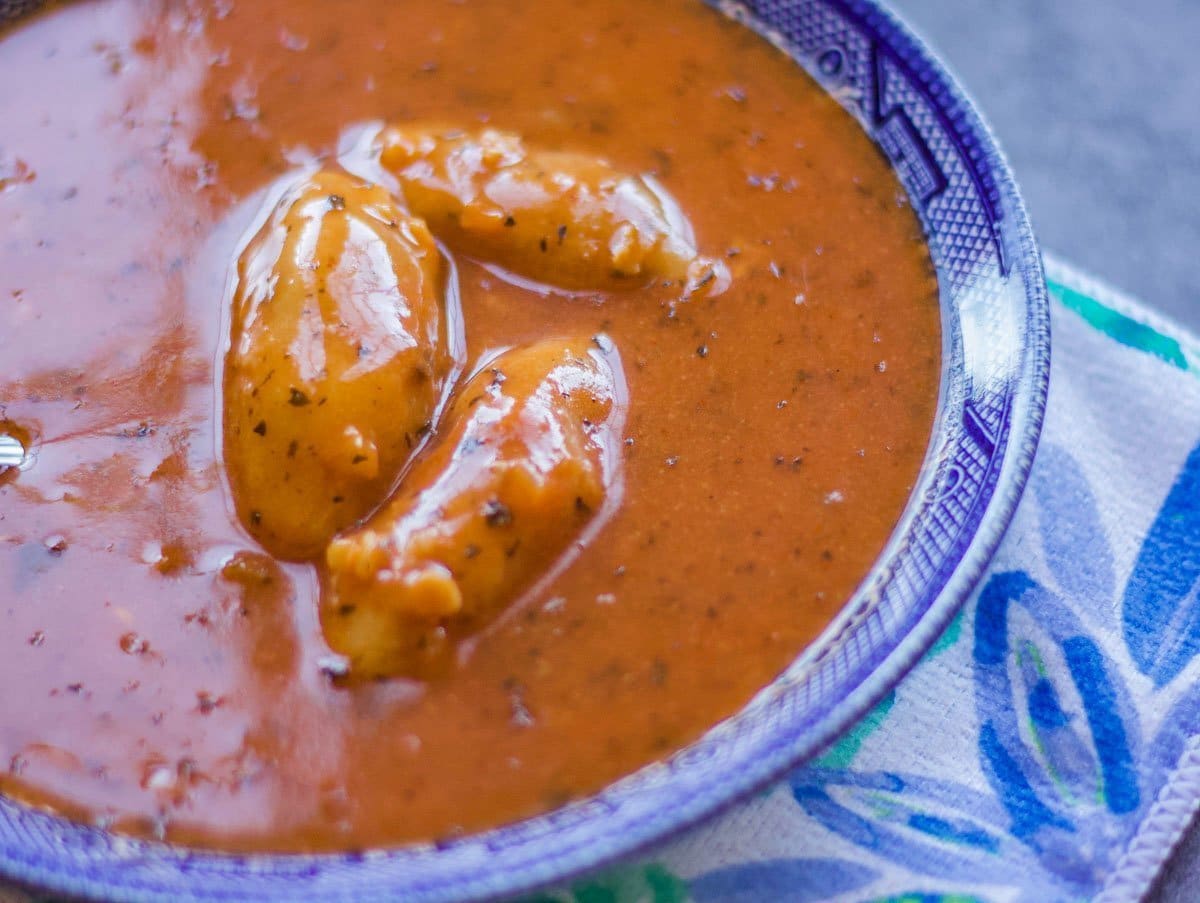 Kubba Halab
The paste to make Kubba is sometimes made with rice, instead of bulgur. For a change, these little dumplings are deep-fried.
This football-shaped kubba is known as "Kubba Halab" or "Kubba from Halab." "Halab" is the Arabic name for the Syrian city known as "Aleppo." Unlike Gary Johnson, you've heard of it?
Kibbeh Nayeh
Finally, the Lebanese have a version of "Kibbeh" that's served raw. Known as Kibbeh Nayeh.
I suppose it's the Middle Eastern equivalent to beef tartare. The word "nayeh" means "raw" not only in Lebanese but also in Assyrian.
Ground lamb is mixed with fine bulgur and various spices. This mixture is sometimes formed into a loaf and decorated with indentations.
Next, the loaf is rubbed with olive oil and accompanied by fresh mint, parsley, and chopped onions.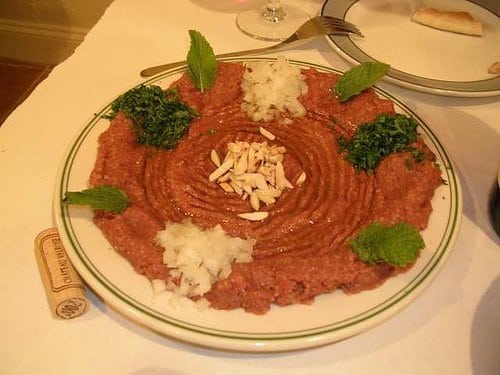 Vegan Lentil Kibbeh
Get ready to fall in love with this delicious Vegan Kibbeh Recipe. These flavorful football-shaped patties are made with a mixture of red lentil, bulgur, peppers, onions, and spices. This makes them both nutritious and quite addicting!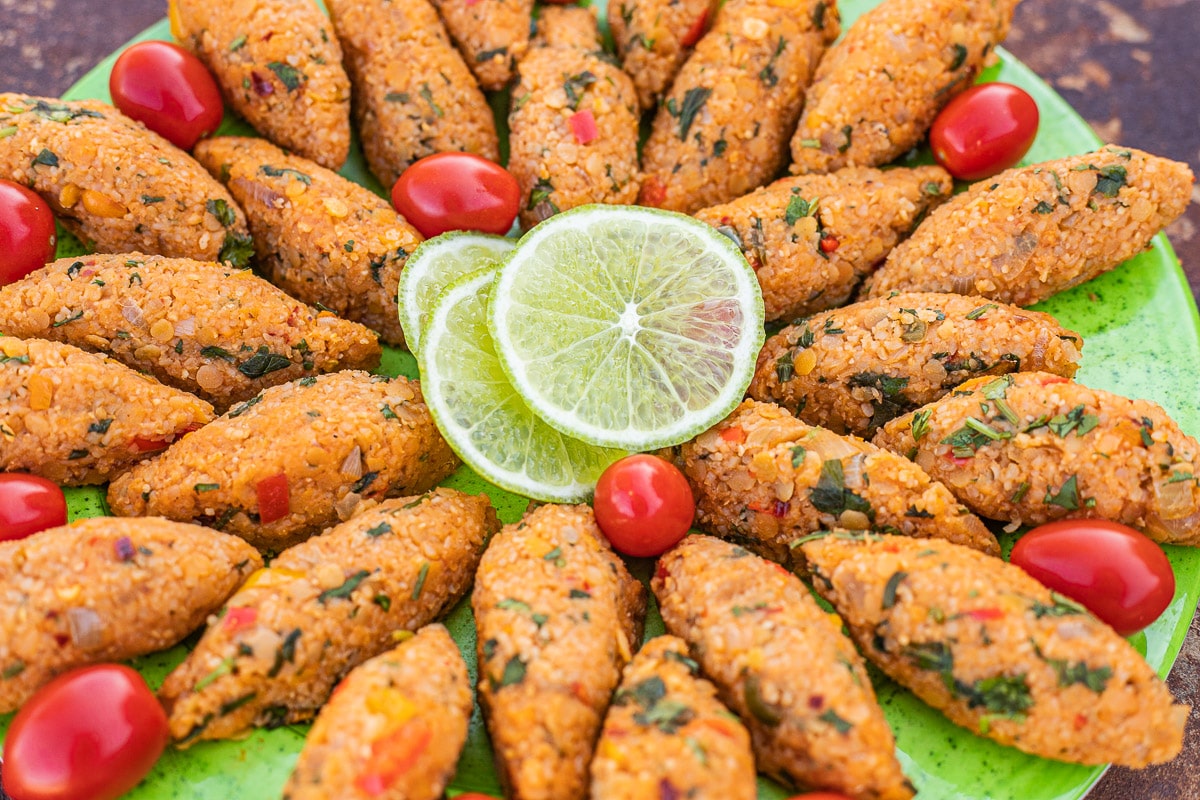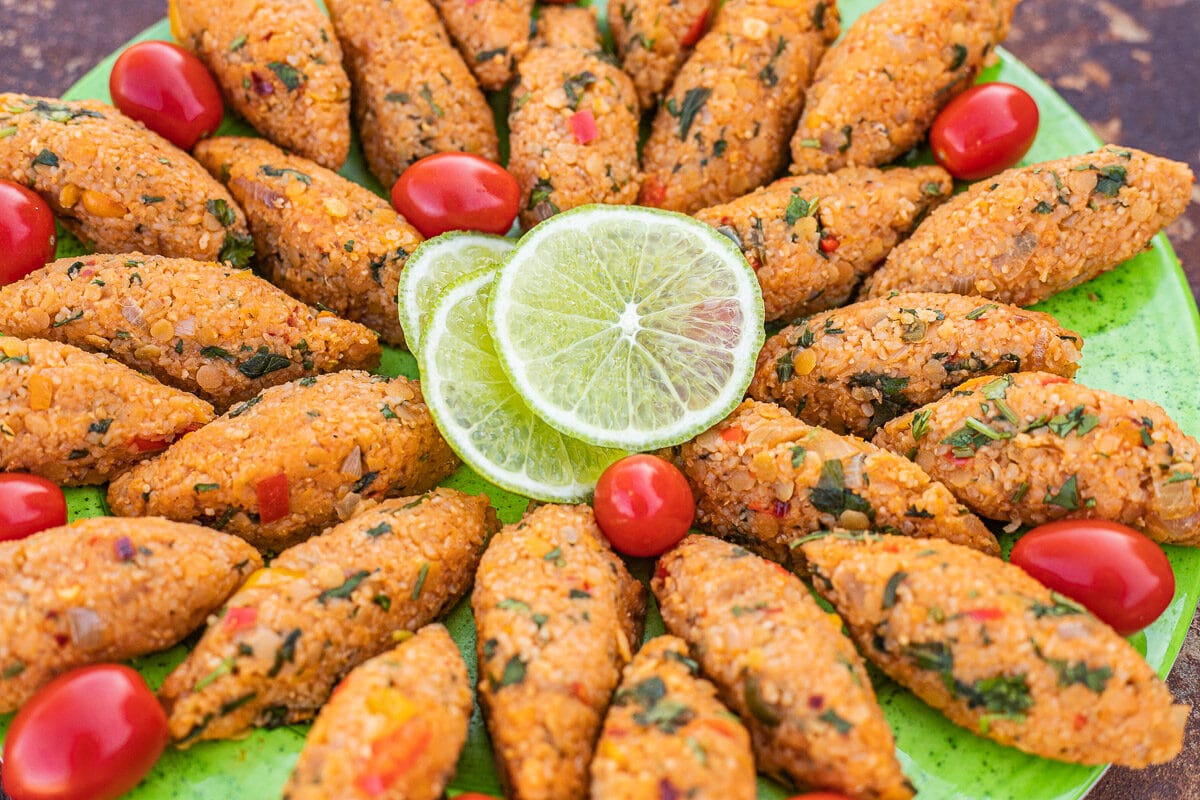 Tools Required to Make Kubba Mosul
You will need two large ziplock bags, Saran Wrap, and a rolling pin to make Kubba Mosul. Occasionally, I like making individual-sized Kubba. To do this, I use a smaller plate or a tortilla press. If you try the tortilla press method, you will need quart-sized bags.
Preparing the Bags
Split open the sides of two large ziplock bags. Cut off the part that seals the bag. Rub the inside of the bags with a small amount of oil. This will keep the paste from sticking to the bags.
Using the Saran Wrap
The Saran Wrap will be used to lay the finished Kubba onto go dry them out. Next, you will wrap the Saran Wrap over the Kubba before freezing them.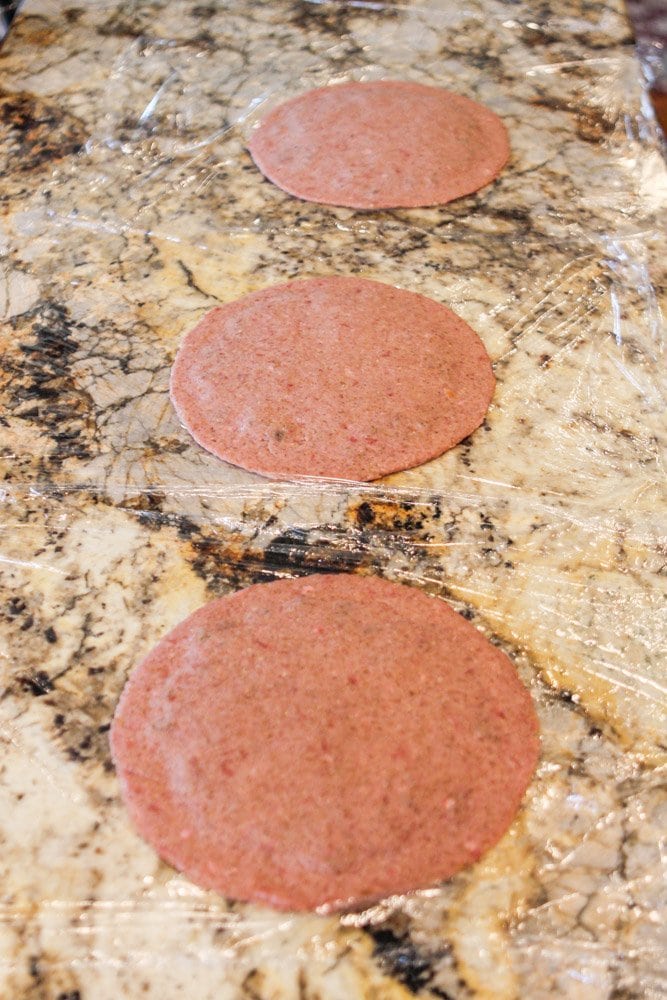 The Rolling Pin
A rolling pin will be used to flatten the paste into discs or shells that you will use to make the Kubba.
How to Cook Kubba Mosul
There are a few different ways that you can cook the Kubba. These options include boiling, frying, and baking. My favorite method is the last one.
Boiling
Boil water in a pan large enough to fit the kubba into. Next, add Kubba, cover, and cook for 5 to 10 minutes.
Carefully use a few spatulas to remove the Kubba from the pan. Alternatively, while leaving the pan cover partially on, drain the water, and slide the Kubba out of the pan and into a plate.
Frying
Add a few tablespoons of oil to a pan and fry the kubba for a few minutes on each side or until the Kubba is brown and crispy.
Baking
Brush both sides of the Kubba with oil. Preheat oven to 400-degrees F. Next, wrap in aluminum foil and bake for 20 minutes if fresh, or longer if frozen.
Steaming and Frying
In my opinion, the best way to cook Kubba Mosul is by first steaming the kubba, then frying it.
To do this, boil one and a half cups of water in a non-stick pan. Next, add the Kubba to the boiling water, cover, and cook for approximately three minutes if fresh (longer if frozen).
When the time elapses, drain any remaining water and add a tablespoon of oil to the pan. Fry Kubba on one side for one or two minutes, then flip and fry on the other side.
What to Serve with Kubba Mosul
Kubba is usually sliced in quarters and served with a Middle Eastern Salad and Pickled Mangos (known as Amba).
Here's another option, grab a slice in your hands and eat like a sandwich. But whatever you do, don't spill any of that yummy filling!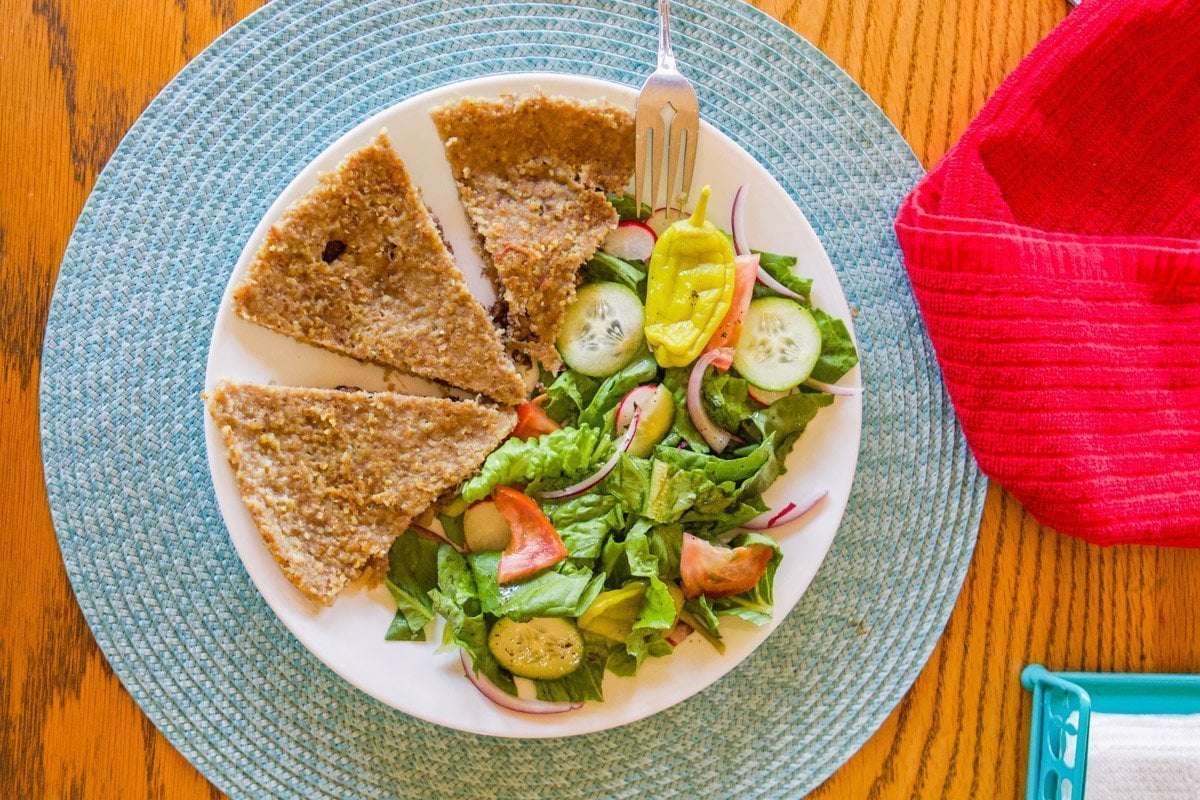 Stay in touch with me through social media!
Tried this recipe? Snap a picture and tag #hildaskitchenblog on Instagram.
Like my page on Facebook.
Do you Pinterest? Pin & share this recipe!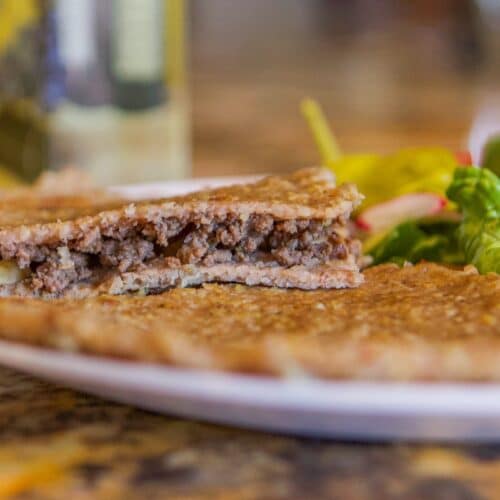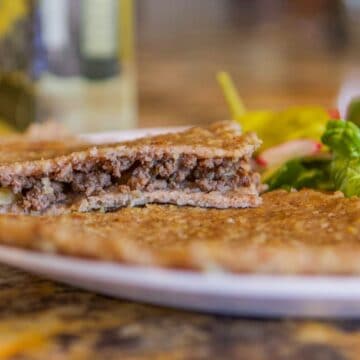 Kubba Mosul Recipe
Iraqi meat-filled pies, including raisins and almonds, known as Kubba Mosul.
Print
Pin
Rate
Servings:
16
1/4 slice servings
Ingredients
Shell / Paste
1½

cups

Bulgur

(#1, fine grind)

1

cup

semolina or rice flour

1

lbs.

ground beef or lamb

2

tsp.

salt

1

tsp.

allspice
Filling
1

lb.

ground beef or lamb

1

medium

onion

(minced)

1

tsp.

salt

1

tsp.

allspice

1

tsp.

black pepper

½

tsp.

cardamom

¼

tsp.

cinnamon

¼

tsp.

cloves

¼

tsp.

cayenne pepper

(optional)

1/3

cup

sliced onions or pine nuts

(optional)

1/3

cup

raisins

(optional)

1

tsp.

oil

(for oiling the plastic bags)
Instructions
Filling
Cook meat, onion, and filling spices in a pan. Transfer to a plate to cool.

If you want to include raisins, almonds, or pine nuts, toast in the same pan and add to the filling mix.
Shell/Paste
Place the bulgur in a bowl and pour one cup of warm water over it. Set aside for 10 minutes to soften.

Add semolina (or rice flour), meat, salt, and allspice to the bulgur. Mix thoroughly with your hands until completely mixed.

Run the paste through a meat grinder or food processor (if available). If the paste is too sticky, add a little more semolina or rice flour until it's managable.
Assembly
Split open both sides of two large ziplock bags. Cut off the part that seals the bag. Rub the inside of the bags with a small amount of oil.

Mold ⅛ portion of the paste into a ball. Place in the center of the plastic bag. Cover with the other half. Flatten into a thin circle using a rolling pin. If wrinkles form in the plastic and paste, just lift up and re-adjust.

Lift up on the plastic that's covering the paste. Use a 10" plate to trace out a circle. You can also use a bowl, pot cover, or smaller saucers if you prefer. It just depends on the size you're making.

Go around the edges with your finger, removing the extra dough.

Grab the edges of the plastic bag and set aside. Repeat with another portion of paste, on the remaining plastic bag.

Add filling over one of the circles, leaving 1/2″ to 1″ border uncovered.

Align the other shell over the one with the filling. Press down on the plastic-covered disc, beginning in the center and working your way toward the edges. This is done to remove any air bubbles, and to seal the kubba.

Flip the kubba over to the other side and do the same.

Carefully peel back one of the plastic bags. Use the sides of your pointer fingers to build up the edges by lightly pushing the edges towards the center of the kubba.

Cover the finished kubba with a piece of Saran Wrap that's long enough to eventually wrap all the way around it.

Flip the kubba over so that the Saran Wrap is on the bottom. Carefully peel back the plastic bag and allow the kubba to dry out on the Saran Wrap. After approximately 30 minutes, fold the saran wrap over it.

Repeat with the remaining ingredients. Any leftovers meat or shell mixture can be frozen and used some other time.

Stack the dried and wrapped Kubba on a flat plate, or tray and place in the freezer. Once frozen transfer in large freezer bags.

Boil one and a half cups of water in a non-stick pan. Next, add the Kubba to the boiling water, cover, and cook for approximately three minutes if fresh (longer if frozen). Drain any remaining water and add a tablespoon of oil to the pan. Fry Kubba on one side until crispy, then flip and fry on the other side. Slice in quarters and serve with a salad and pickled mangos.
Notes
I personally prefer freezing all the kubba before cooking them. This makes them not as fragile and flimsy to handle. 
Nutrition
Calories:
269
kcal
|
Carbohydrates:
22
g
|
Protein:
17
g
|
Fat:
13
g
|
Saturated Fat:
6
g
|
Sodium:
461
mg
|
Fiber:
4
g
|
Sugar:
1
g