Semolina Cake (Nammoura)
"A rose by any other name would smell as sweet…" Shakespeare was on to something when he penned those famous words. The fact that semolina cake is known by so many different names doesn't diminish the fact that it's quite delicious! We can thank the Egyptians for this wonderful creation. Semolina cake has various names throughout the Middle East. Assyrians call it "nammoura," while others refer to it by its Arabic name, "basbousa." In Greece, this cake is known as "ravani." Still, other Middle Eastern regions refer to it as "harissa." One thing everyone can agree on is the fact that this unique cake is surprisingly scrumptious!
Semolina Cake Variations
There are many variations of this recipe. For example, if you are fasting from dairy, you can substitute the yogurt with 3/4 cup of orange juice. Some add eggs, while others choose to omit them. Orange blossom water may be used in the syrup, but more commonly, rose water is used. Most mix the coconut in the batter, still others sprinkle the coconut on top. The shape can vary as well. Occasionally you'll see this cake baked in a round pan, and cut into wedges. However, traditionally, it's cut into squares. Each square will have one almond in the center.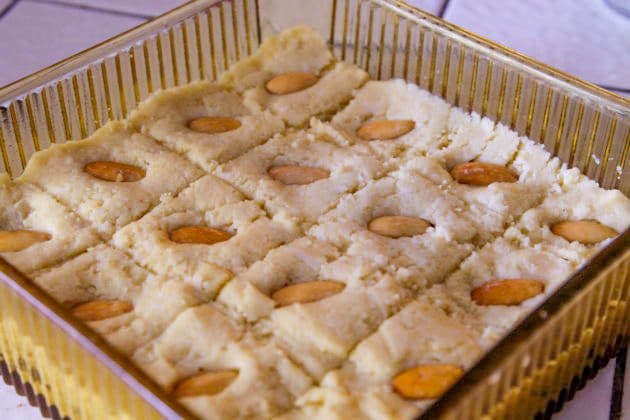 Semolina Cake Texture
You might be used to cake having a moist or delicate texture. Get that expectation out of your head. Semolina cake is very unique, and unlike any cake, you've ever had. In fact, this cake is quite dense and has a texture that is reminiscent of cornbread. That's right, cornbread, only sweeter and drenched in syrup!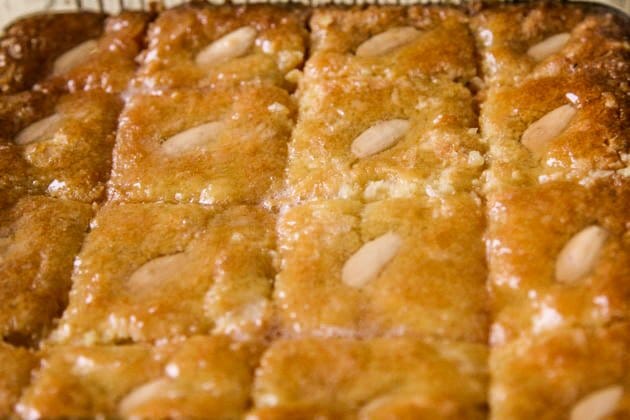 Serving Suggestions
Semolina cake is usually served alongside a perfectly-brewed, cup of tea, or "chai" as we call it in the Middle East. I'm not talking about tea made with a seeped teabag, no thank you! I'm referring to loose leaf (earl grey) tea, perfectly seeped, with extra cardamom. I don't know what it is about cardamom, but it makes everything better in my opinion. Chai beautifully complements the dense texture of this cake. Try it for yourself to see what the fuss is all about!
You may also want to try my Orange Cake recipe. It's to die for!
Do you Pinterest? If so, please pin & share
---
Semolina Cake (Nammoura)
Semolina cake is known as "nammoura," and "basbousa" drenched in a sweet syrup.
Cuisine:
Assyrian, Greek, Middle Eastern
Instructions
Batter
Before you start on the batter, blanch 16 whole almonds. To do this, pour boiling water over the almonds. Allow the almonds to soak for a few minutes. Drain the almonds when their skin can be easily removed. Remove the skins from all the almonds; set aside until needed.

Mix semolina with baking powder and baking soda.

Mix yogurt, butter, sugar, vanilla, and coconut.

Add the yogurt mixture to the semolina. Mix until combined.

Spray an 8"x8" glass pan with non-stick cooking spray. Spread the batter in the pan; score into 16 squares. Add one almond in the center of each square. Bake for 45 minutes.
Syrup
Once the cake is in the oven, mix syrup ingredients and stir over medium heat until the sugar dissolves. Boil for 15 minutes, or until thickened. The syrup will thicken further as it cools.

Remove the cake from the oven once browned; cut into 16 squares.

Drizzle the cake with the syrup. The syrup will soak in as the cake cools off. Serve with a hot cup of chai!
Nutrition Facts
Semolina Cake (Nammoura)
Amount Per Serving
Calories 253
Calories from Fat 99
% Daily Value*
Total Fat 11g 17%
Cholesterol 16mg 5%
Sodium 116mg 5%
Total Carbohydrates 36g 12%
Protein 3g 6%
* Percent Daily Values are based on a 2000 calorie diet.
---
---