Basturma | Middle Eastern Cured Breakfast Sausage
As the title suggests, basturma is Middle Eastern breakfast sausage. It is usually served with fried or scrambled eggs. The recipe I'm sharing is a quick method of making this tasty Middle Eastern sausage. The traditional way requires a lot of time and patience. Not sure about you, but I don't have an abundance of either.
Basturma Recipe
A choice cut of fillet is covered with a thick layer of salt and cured for a few days. This is done in order to remove as much moisture from the meat as possible. The salt is then rinsed off, and the meat is patted dry. A paste is prepared using a mixture of spices. This paste is slathered all over the meat to form a thick crust. The meat is then pierced with a hook and hung up in a cool location to air dry. The entire process can take anywhere from two weeks to a month to complete. You know what I say? Ain't nobody got time for that!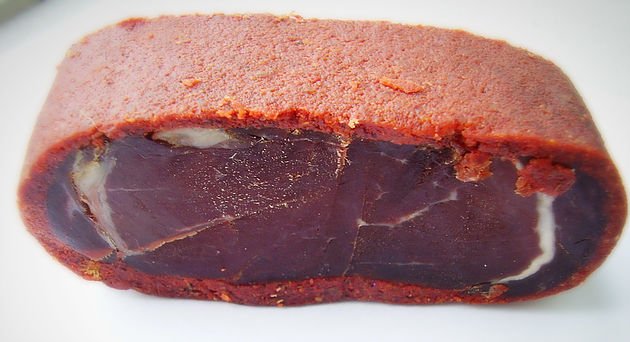 Iraqi Basturma 
I don't have many memories of my childhood in Iraq for some reason. The memories I do have usually revolve around food. Big surprise, right? I have wonderful memories of eating masgouf, and memories of my aunt Alice's delicious custard. I also have memories of my dad bringing home basturma. My siblings and I would be excited because it wasn't something we had all the time. The fact that mom didn't make her own basturma made it even more special. These days you can buy it on Amazon, but I myself have not tried it. On the other hand, I can vouch for this recipe. So, give this recipe a try and let me know what you think!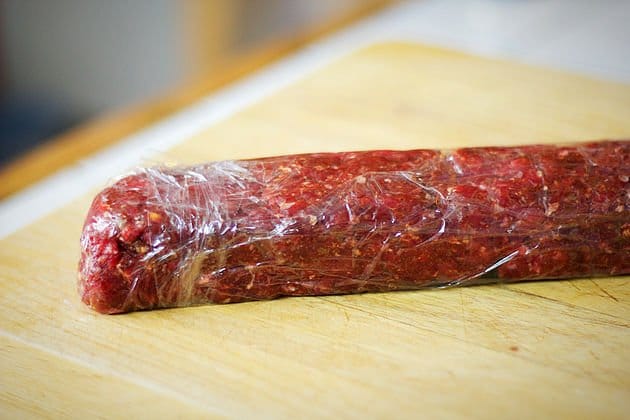 Homemade Basturma 
A few helpful items in making this breakfast sausage is a meat grinder, with a sausage making attachment, and some sausage casings. If you don't have these items, just follow the directions in the recipe below.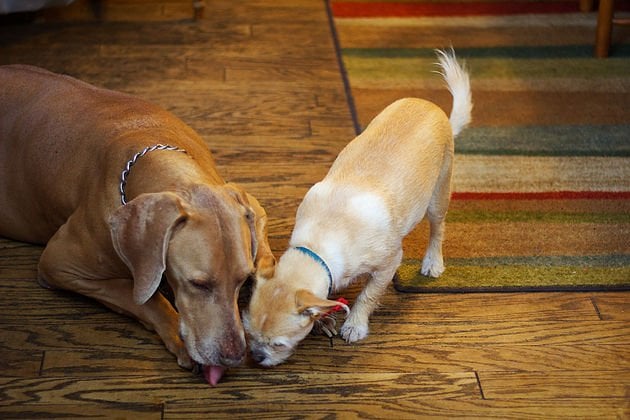 Do you Pinterest? Please pin and share!
---
Middle Eastern Breakfast Sausage (Basturma)
Homemade Iraqi Basturma recipe (breakfast sausage)
Cuisine:
Assyrian, Middle Eastern
Instructions
Run garlic cloves through a garlic press, and add to the meat. Mix the spices and sprinkle over the meat. Use your hands to mix all the ingredients, making sure the spices are distributed within the meat.

At this point, I suggest frying a little of the meat and adjusting the spices if necessary.

If you're lucky enough to have some sausage casings on hand, you can feed the meat through the casings. If you're like the rest of us, wrap the meat in saran wrap, and freeze partially to make slicing easier.

I like to place the slices on a tray and freeze them before storing them in a ziplock bag.

To cook, simply defrost a few slices, and fry in an oiled pan, along with some eggs.
Nutrition Facts
Middle Eastern Breakfast Sausage (Basturma)
Amount Per Serving (8 g)
Calories 168
Calories from Fat 99
% Daily Value*
Total Fat 11g 17%
Cholesterol 0mg 0%
Sodium 485mg 20%
Total Carbohydrates 1g 0%
Protein 17g 34%
* Percent Daily Values are based on a 2000 calorie diet.
---
---