A few days ago, I made Chili Verde for dinner to surprise my husband, Scott. It happens to be one of his favorite dinners. Actually, he loves most Mexican food. In fact, I often tell him that he should have married a Mexican woman instead of an Assyrian one. I didn't follow a written recipe, I just threw it together, like I usually do. Fortunately, I decided to take notes and a few photos while I cooked yesterday. I thought that maybe I would blog about it at some point. Then Scott came into the kitchen and announced that the Chili Verde was "off the charts" and that he had to have a second helping. I decided I might as well blog about it now since the ingredients and steps were still fresh in my mind.
What Exactly is Chili Verde?
You're probably familiar with salsa verde, but have you had Chili Verde? "Chili Verde" simply means "green chili" in Spanish. It's a slow-cooked Mexican stew made with a mixture of tomatillos, peppers, onion, garlic, chicken broth, and spices. All this goodness is simmered to perfection with tender chunks of pork. Is your mouth watering yet?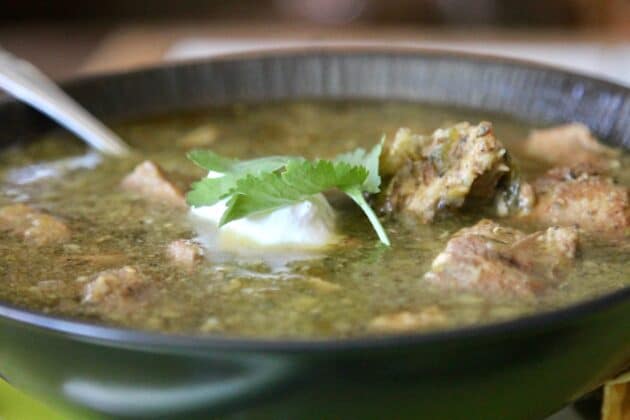 How Do You Roast Tomatillos For Chili Verde?
I've seen recipes where for the sake of ease, skip roasting the vegetables, but don't make the same mistake. When it comes to cooking, quicker is definitely not better! Roasting the vegetables adds a deep, rich flavor that really enhances the flavor of this dish. I don't know about you, but I definitely prefer roasted garlic over plain garlic. So please, no cutting corners. Crank up the tunes, pour yourself a margarita, and enjoy the process!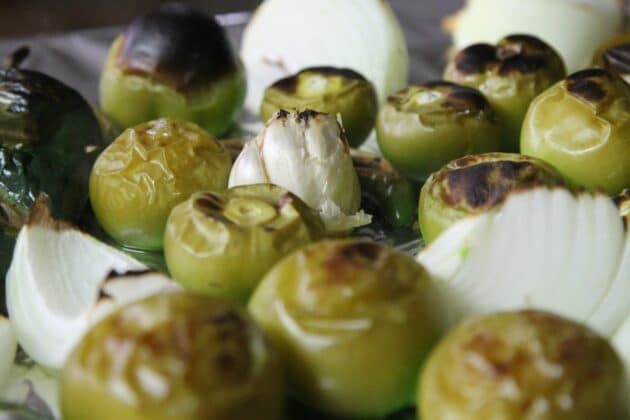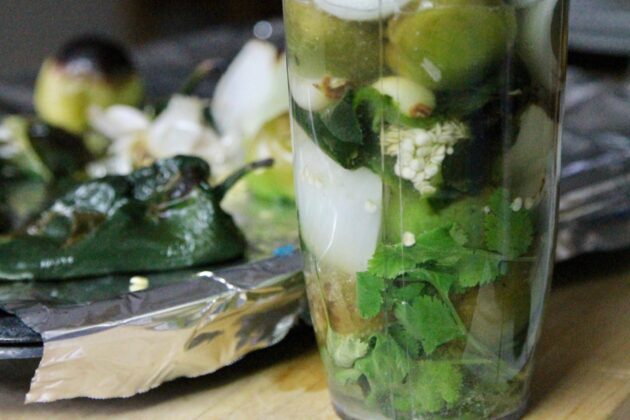 Serving Suggestions
Chili Verde can be enjoyed in a bowl, just like regular chili. But that's just one possibility. This tasty dish can also be served over some Mexican rice. But why stop there? My personal favorite way of enjoying Chili Verde is in tacos. Use a slotted spoon to drain most of the liquid, then serve with corn tortillas, sour cream, and shredded cheese. Chili Verde quesadillas are also a great possibility. If you are lucky enough to have leftovers, you can use some to make Mexican scrambled eggs the following morning.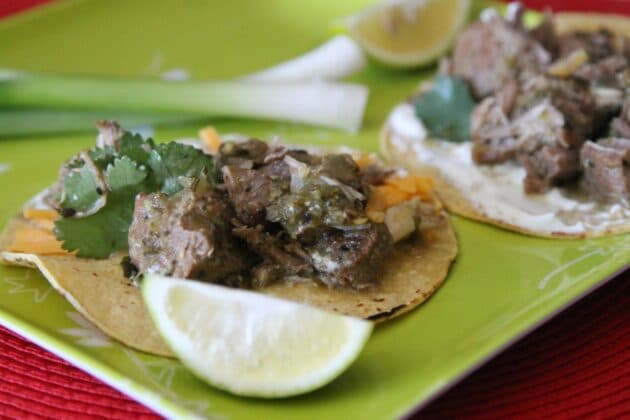 Do you Pinterest? Please help a girl out by pinning & sharing!
---
"Off the Charts" Chili Verde
Off the charts chili verde, even better than what you get at your favorite restaurant!
Ingredients
1-1/2

lbs.

tomatillos

3

poblano chilis

2

serrano peppers

1

large

yellow onion

1

head

garlic

1/4

cup

cilantro leaves

2

cups

chicken broth

3

lbs.

pork

cubed

1

T.

salt

2

tsp.

black pepper

2

T.

olive oil

1

tsp.

cumin seeds

1

T.

dried oregano
Instructions
Peel and rinse tomatillos. Arrange on a foil-lined sheet. Add poblanos and serranos. Roughly chop the onion and add to the tray. Slice the top off of the garlic bulb and add the bulb to the tray. Drizzle the garlic with one teaspoon olive oil. Broil the vegetables on high until charred.

While the vegetables are in the oven, salt, and pepper the cubed pork. Heat the remaining oil in a cast-iron skillet. Sear the meat, working in batches. Add the seared meat to a crockpot, including the pan juices.

Peel the skin off of the charred poblano chilis and serranos, once they're cool enough to handle.

Add the charred vegetables to a blender, along with the cilantro, and chicken stock. Depending on the size of your blender, you might have to do this in batches.

Pulse the vegetables until roughly chopped.

Pour the mixture over the meat in the crockpot. Stir in the cumin seeds and oregano. Cover the crockpot and cook for four to six hours.

Serve in a bowl, with a dollop of sour cream and a side of tortilla chips.
Nutrition Facts
"Off the Charts" Chili Verde
Amount Per Serving
Calories 275
Calories from Fat 153
% Daily Value*
Total Fat 17g 26%
Cholesterol 151mg 50%
Sodium 1317mg 55%
Protein 15g 30%
* Percent Daily Values are based on a 2000 calorie diet.