Foul Medames, also spelled "Fulmudammas," "Foule Mudammes," and "Ful Medames" is a tasty fava bean dip of Egyptian origin. However, it's also quite popular throughout the Middle East in general. Sometimes this dish is served for breakfast, while other times it's served as an appetizer.
Is Ful Medames Healthy?
"Fava beans," sometimes called "broad beans," are a staple in the Middle East. Besides being very good for you, they are also quite delicious! Fava beans are high in protein (packing nine grams in a half-cup serving). But the exciting thing is they are also low in carbs. More detailed nutrition info can be found here.
Why is it that more people don't include these nutritious legumes in their diet? Sadly, if it wasn't for Anthony Hopkin's mention of them in the movie "Silence of the Lambs," most Americans wouldn't know they even exist. I'm hoping to do my part in changing that with this Foul Medames recipe.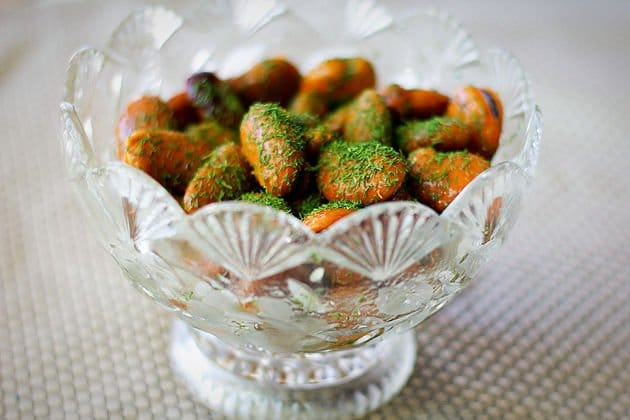 What is Foul Medames made of?
You've probably caught on that the star of the show in Ful Medames is fava beans, but what other ingredients are included in this dish? The following are common ingredients found in this dish:
fava beans
garlic
lemon juice
olive oil
salt and pepper
dill weed, mint, or parsley
diced tomatoes
cumin
How is Foul Medames Served?
"Foul Medames" is served in a few different ways. In this recipe, I leave the fava beans whole. But in some recipes, the beans are mashed and mixed with olive oil and lemon juice.
Traditionally, Foul Medames is served as "Mezza," which refers to a variety of appetizers served with alcohol. Other Mezza dishes include Hummus, Tabouli, and Bourak (Assyrian egg rolls). As mentioned earlier, it can also be enjoyed for breakfast.
Foul Medames is one of those dishes that makes me think of my dad, who passed away when I was in boot camp when I was eighteen years old. Whenever he entertained his friends, mom would put out a delicious Mezza spread that always included Foul Medames. Isn't it funny how food can be tied to so many memories?
Are Fava Beans the Same as Lima Beans?
Fava beans come in various sizes, and colors. Although they get mistaken for lima beans, they are definitely not the same thing. It's true that they both grow in pods, but they taste nothing alike!
Fresh fava beans are green, while the canned variety are brown. I wish it was easier to find the fresh variety. Unfortunately, I've only been able to find them in Middle Eastern markets. Luckily, canned fava beans are pretty readily available.
Fava beans have a skin covering them, and lima beans do not. The thin "skin" covering fava beans can either be peeled off or eaten. Personally, I prefer eating the skin, I mean who doesn't need a little more fiber in their diet, am I right?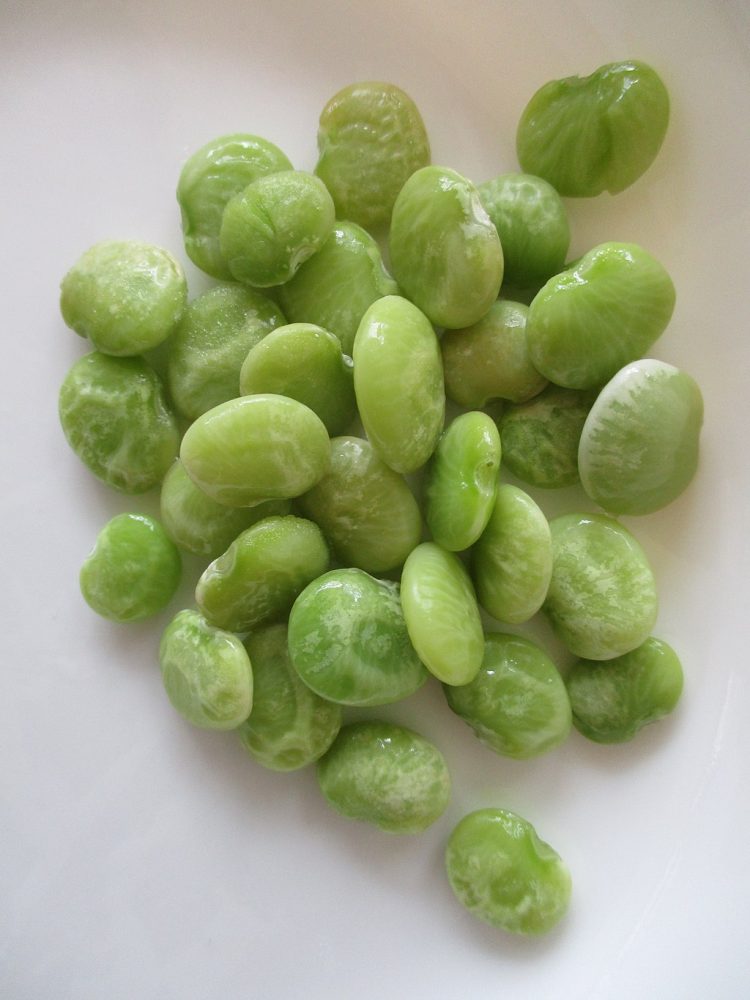 Do you Pinterest? Please pin and share!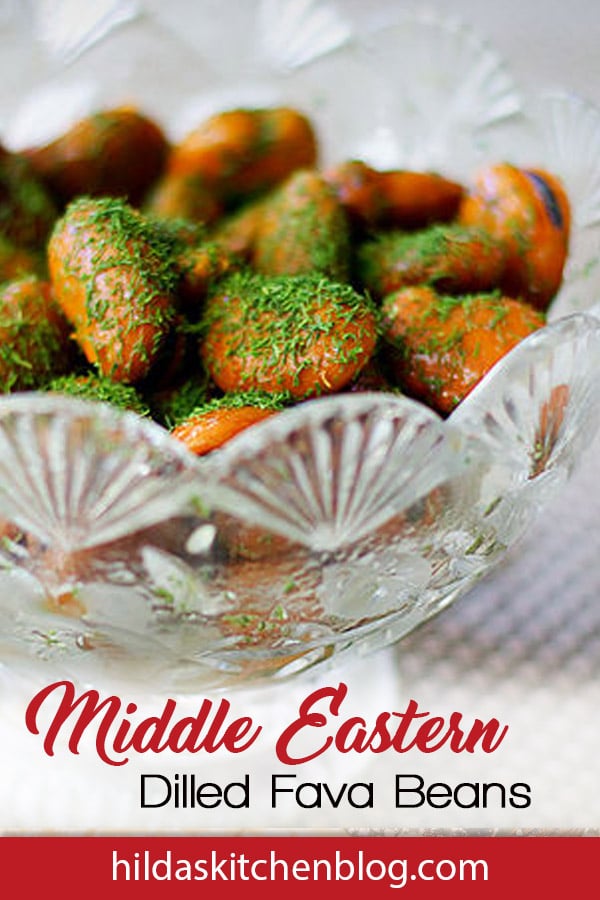 Middle Eastern Dilled Fava Beans (Bagila)
Middle Eastern mezza/appetizer. Fava beans with a delicious lemony dill dressing.
Print
Rate
Ingredients
20

oz. can

large fava beans

1

medium

lemon

juiced

3

T.

olive oil

2

cloves

garlic

pressed

1

tsp.

salt

1 1/2

tsp.

dill weed

1 1/2

tsp.

dried mint

(optional)
Instructions
Drain and rinse fava beans and add to a medium-sized bowl.

Whisk together lemon juice, olive oil, garlic, and salt. Pour the lemon and olive oil mixture over the Fava beans, and stir to combine.

Sprinkle with dill weed, and mint, if using. Mix in to incorporate the flavors.

Allow to marinate for at least an hour before serving.
Nutrition
Calories:
252
kcal
|
Carbohydrates:
29
g
|
Protein:
11
g
|
Fat:
11
g
|
Saturated Fat:
2
g
|
Cholesterol:
0
mg
|
Sodium:
584
mg
|
Fiber:
8
g
|
Sugar:
3
g