Spiced Almonds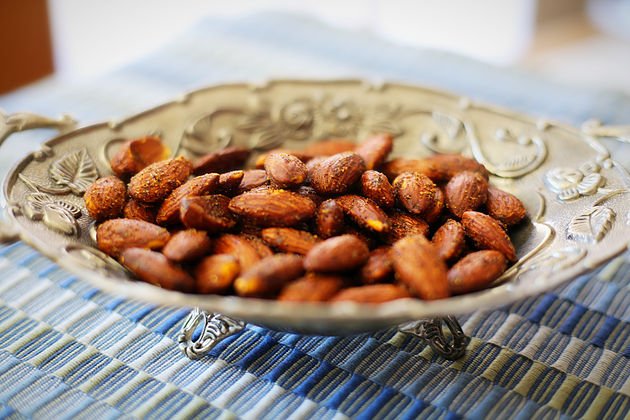 I don't know about you, but I hate the fact that most delicious food is bad for you. No wonder we can't stick to diets for very long. Luckily, that does not apply to this Spiced Almonds recipe. They're both delicious and nutritious!
Almond Trees
Did you know that almond trees are native to the Middle East? They thrive in hotter climates such as the Middle East and here in California. The trees are "deciduous," meaning they shed both their leaves and drop the ripe fruit, which happens to be in the Fall. Technically, the almonds is not a nut but a "drupe." This refers to any fruit that has a fleshy exterior, with a seed that's surrounded by a hard shell, such as a peach.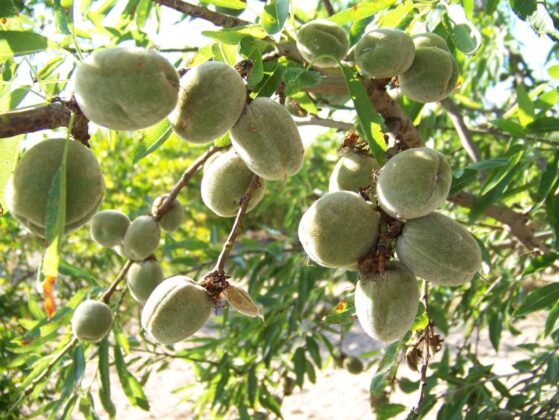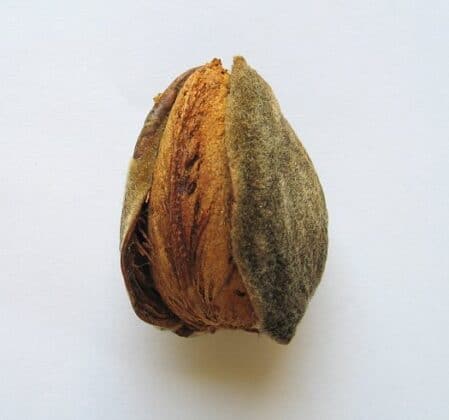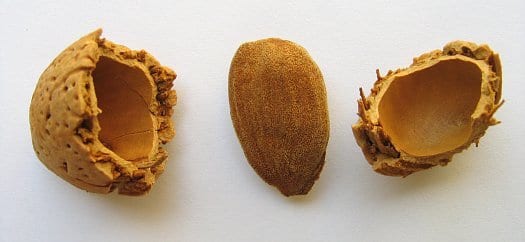 Spiced Almonds
I've been snacking on almonds a lot lately. But like anything, too much of a good thing can eventually get boring. In an effort to spice things up, I came up with this Spiced Almonds recipe. See what I did there? When developing this Spiced Almonds recipe, I chose spices that I personally like. Don't feel like you have to use the same exact spices that I used. Please feel free to substitute my suggested spices with any spices that you love. I plan on doubling the amount of cayenne next time, but then again, I am seriously addicted to spicy food. Give this recipe a try and let me know how it goes. Happy snacking!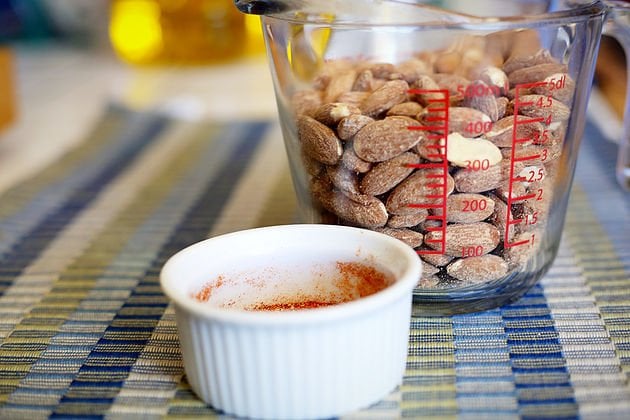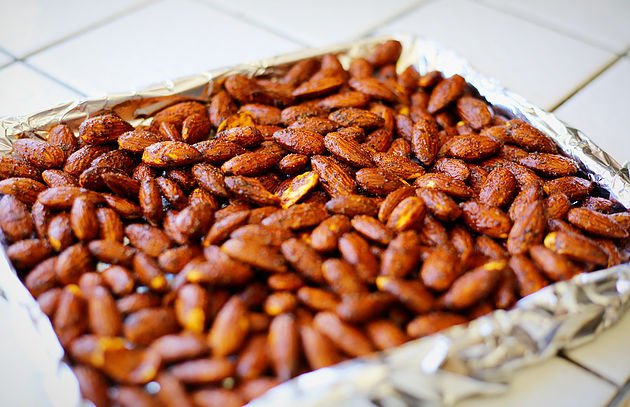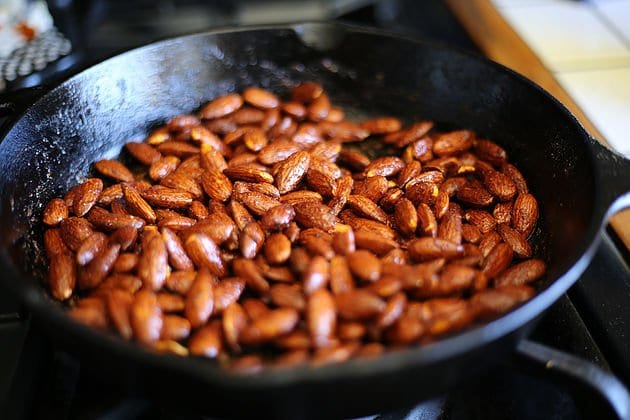 You might also want to try these other healthy snack recipes: Low Carb Seed Crackers, Smoked Salmon Pin Wheels, and  Pineapple Chips.
Do you Pinterest? Please pin and share!
---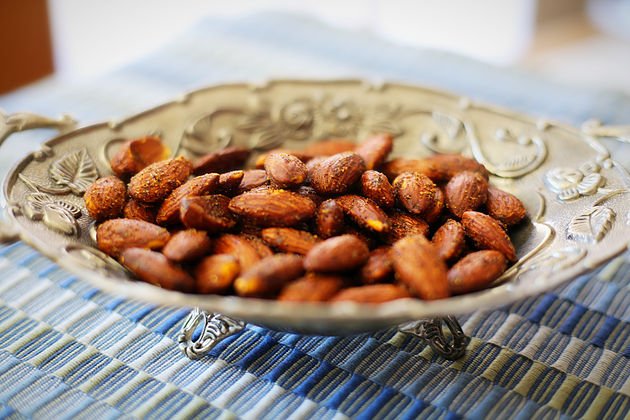 Spiced Almonds
Spiced almonds, the perfect healthy snack to curb your snack cravings.
Servings
:
8
1/4 cup servings
Ingredients
2

T

olive oil

1/2

tsp.

salt

1/2

tsp.

cayenne pepper

1/2

tsp.

paprika

1/2

tsp.

chipotle pepper

1/2

tsp.

garlic powder

1/2

tsp.

cumin

2

cups

dry roasted almonds
Instructions
Measure out two cups of almonds and set aside. Mix all the spices in a small bowl.

Heat oil in a cast iron skillet, if you don't have one, it's about time you did. I don't spend money on shoes, purses, or getting my nails done. I do, however, invest in anything that makes my time in the kitchen more productive and fun! Meanwhile, you can use whatever pan you have.

Add the spices to the oil, and mix over medium heat for a few minutes, or until aromatic.

Add almonds, and stir to coat them entirely with the spices. Cook over medium heat for a few minutes.

Add the coated almonds to a foil-lined baking tray. I was in a hurry and used the toaster oven, but the almonds were too crowded. I recommend using your oven instead. In other words, do as I say, not as I do!

Bake in the oven for approximately 20 minutes at 250 F degrees. Allow the almonds to cool before diving in. Here's to healthy snacking!
Nutrition Facts
Spiced Almonds
Amount Per Serving
Calories 202
Calories from Fat 162
% Daily Value*
Total Fat 18g 28%
Cholesterol 0mg 0%
Sodium 248mg 10%
Total Carbohydrates 5g 2%
Protein 6g 12%
* Percent Daily Values are based on a 2000 calorie diet.
---
---