Tangy, creamy, and oh so good; a description for this savory Peanut Dipping Sauce. The perfect balance between salty, sweet, and spicy flavors!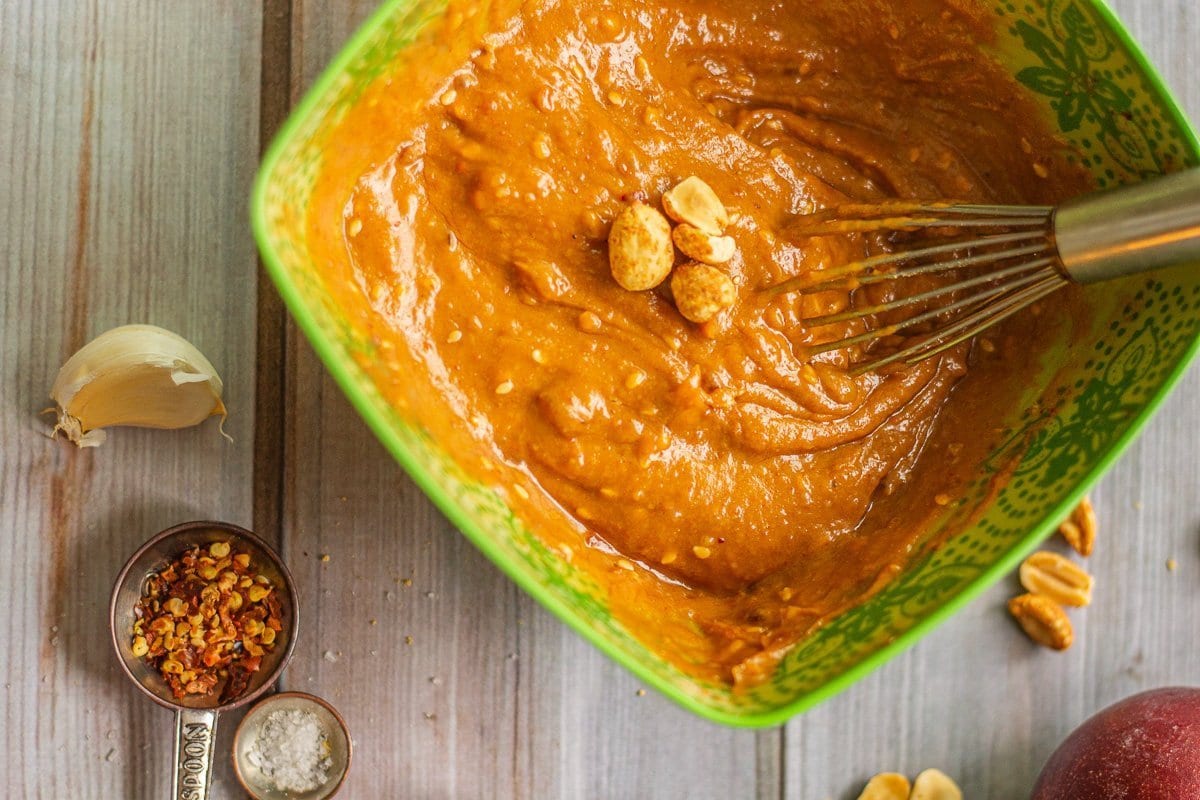 My Peanut Dipping Sauce Recipe
Ingredients
½ cup creamy peanut butter
1 T. sesame seed oil
2 T. soy sauce (low sodium)
3 T. apple cider vinegar
2 T. Sriracha
3 T. water
1 T. plum jam (or other jam)
1 tsp. crushed red pepper flakes
2 tsp. sesame seeds
1 clove garlic (crushed)
½ tsp. ginger powder
¼ tsp. salt
Directions
Whisk all ingredients in a small bowl, until thoroughly blended.
Enjoy with spring rolls, veggies, as a salad dressing, or mixed with pasta.
Frequently Asked Questions
What Do You Eat with Peanut Sauce?
I created this peanut sauce to go with Vietnamese Spring Rolls but it would also go perfectly with my Filipino Lumpia recipe. But it's so addicting, you'll want to pour it on everything!
The uses for this sauce are endless. Here are just a few examples...
Dipping Sauce for Veggies
Instead of serving the same old ranch dressing with your chopped veggies, why not mix things up a bit? This Peanut Dipping Sauce is just the thing to serve with broccoli, cauliflower, carrots, and snap peas.
Sauce for Grilled Meats
Besides spring rolls, you can serve this Peanut Dipping Sauce with grilled chicken. Try it with these two wonderful chicken recipes, Jerk Chicken and Low Carb Grilled Chicken.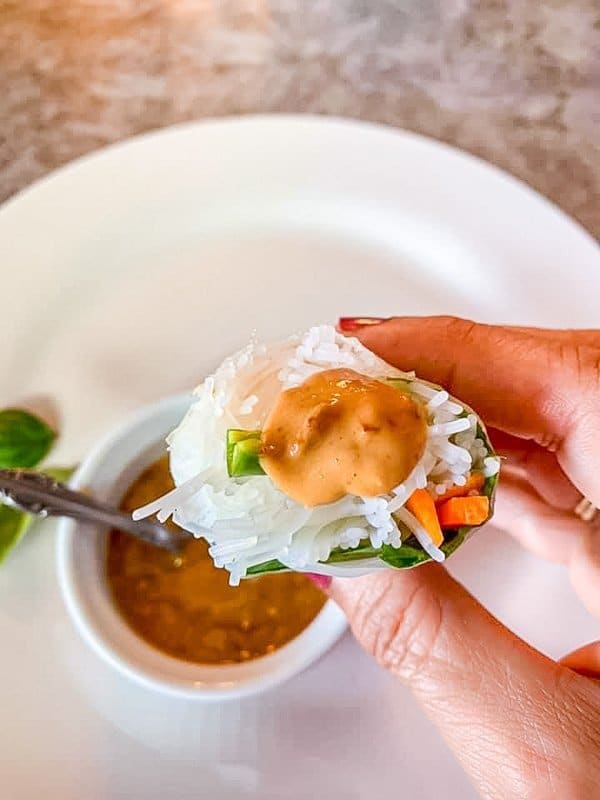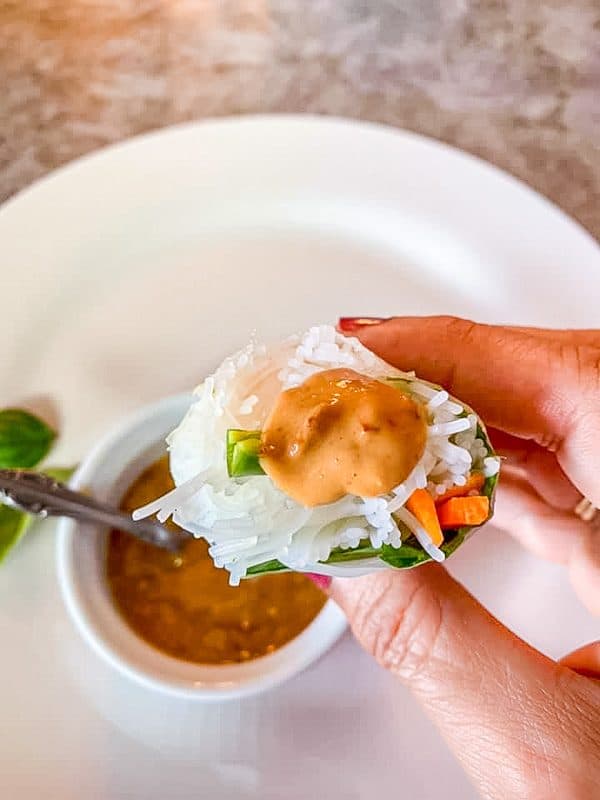 Pad Thai Sauce
Another great use for this dipping sauce is to mix it in with cooked noodles to make Pad Thai. Just cook noodles according to package instructions, then mix in the Peanut Dipping Sauce, along with cooked shrimp.
Scallions, sprouts, and other sautéed veggies would also be excellent choices. Or stir it into protein noodles, for a lower carb option.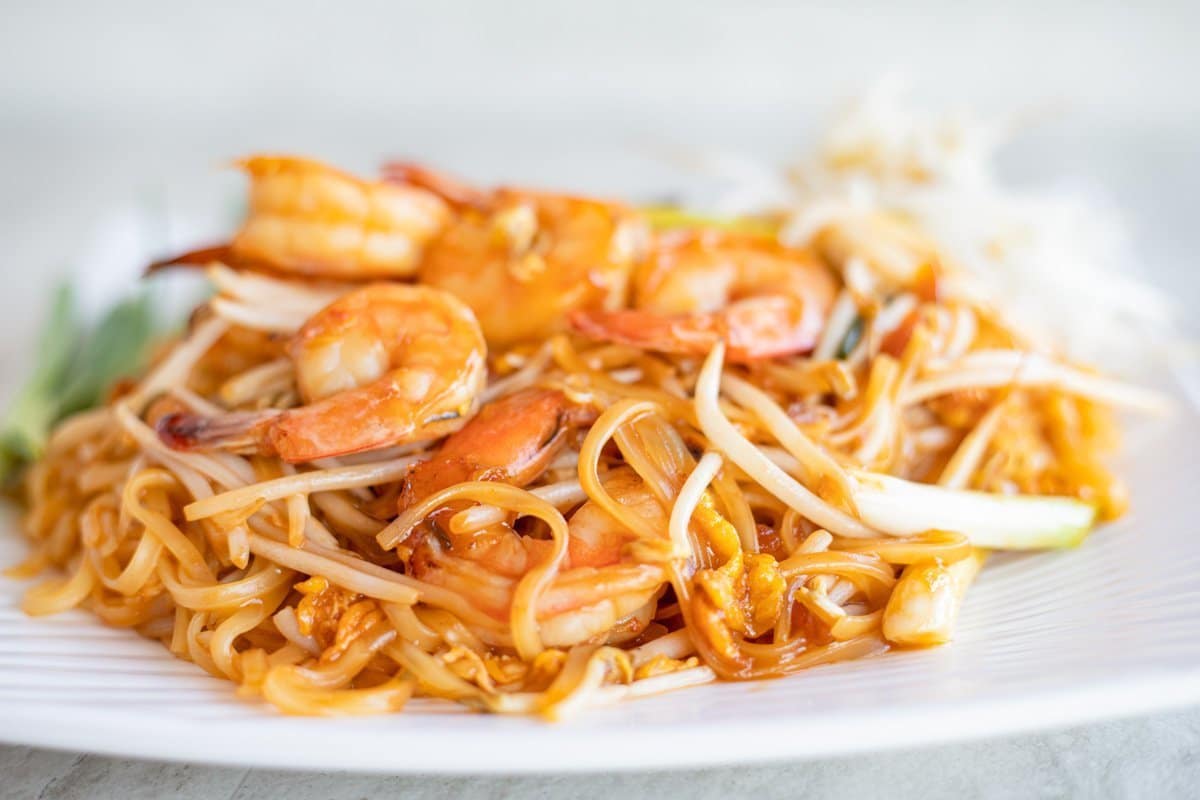 Photo by Alyssa Kowalski on Unsplash
Don't forget pork and grilled steak. They too long to be smothered in this creamy sauce!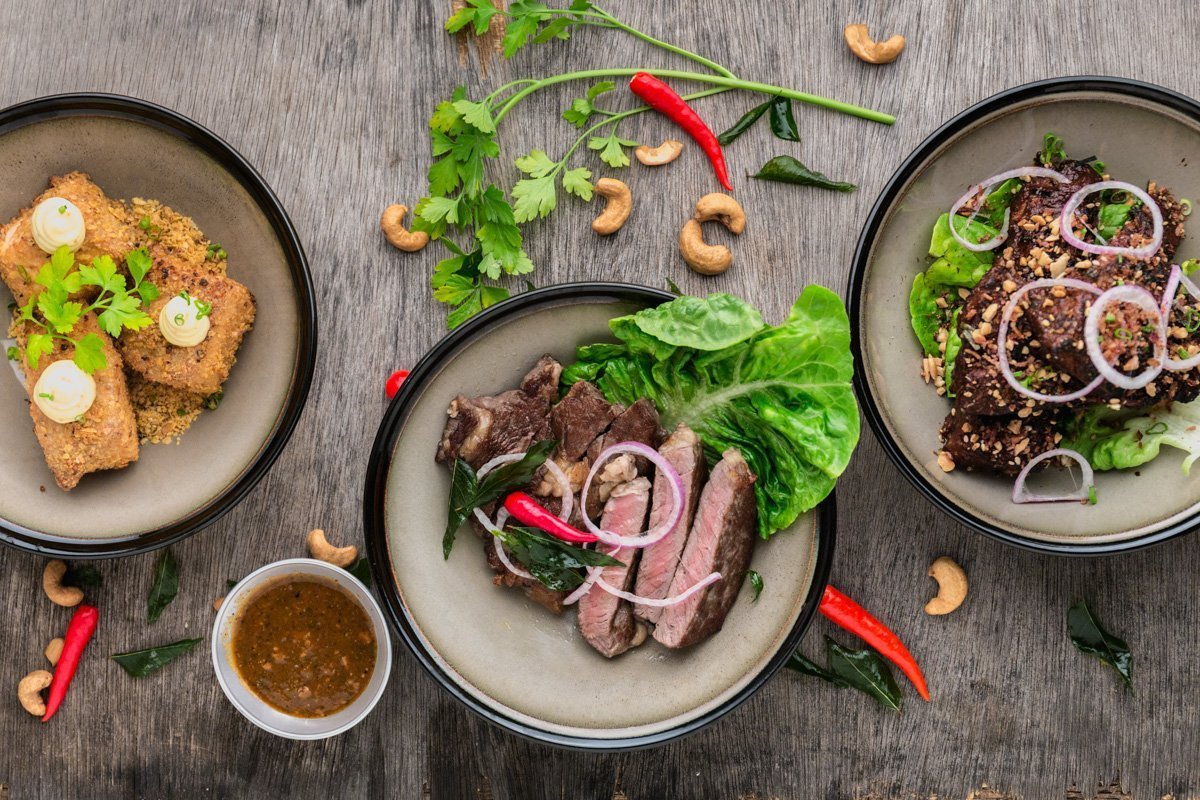 Photo by Lily Banse on Unsplash
Asian Salad Dressing
Finally, you can use this dipping sauce as a salad dressing to go with a chopped Asian salad. Not sure how to do this? Easy, peasy! First, start with my Oil and Vinegar Coleslaw, but skip the dressing.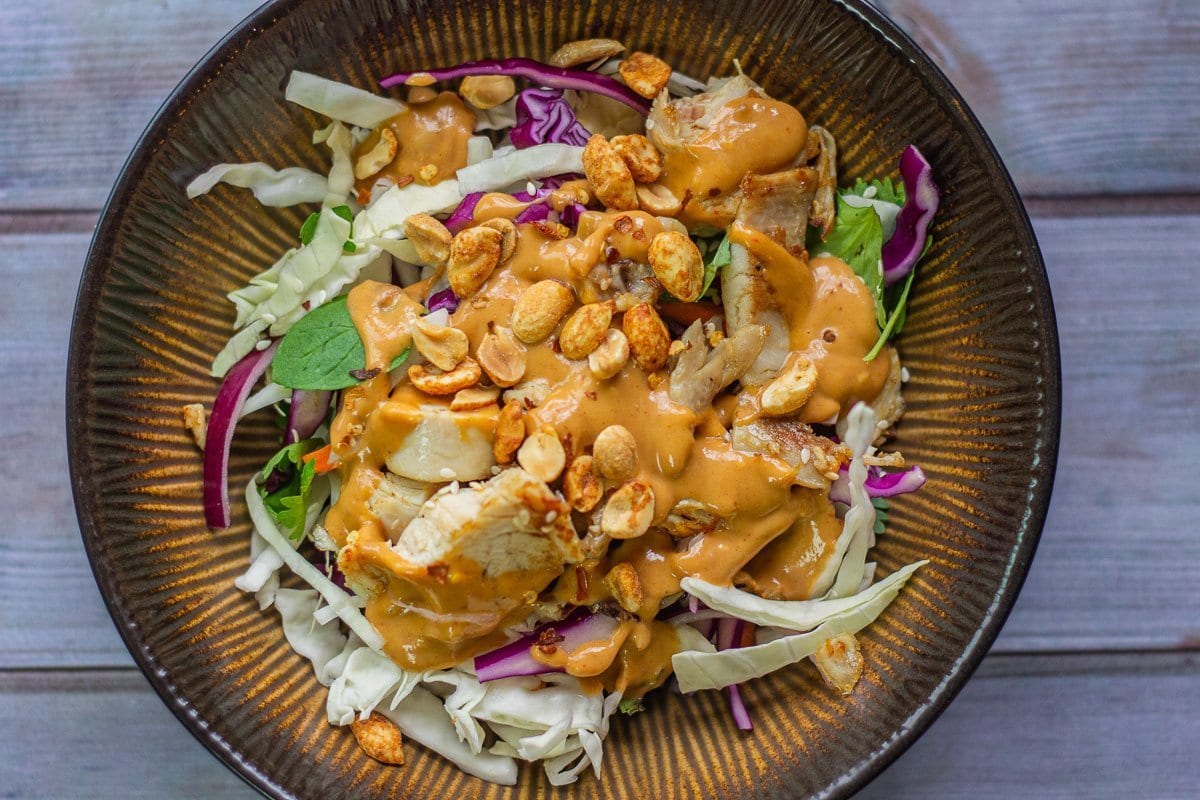 Next, add some grilled chicken breast, or cooked shrimp. Finally, dilute the sauce with one tablespoon of water at a time, until you reach the right consistency. Mix in with the coleslaw, top with dry-roasted peanuts and enjoy!
How Do You Dilute Peanut Dipping Sauce?
This peanut sauce is rather thick, which is just how I love it! However, if you need to dilute it, there are a few ways of doing this.
The easiest way is to whisk in one tablespoon of warm water at a time until the desired consistency is reached.
Another option is to use milk instead of water. Although regular milk would be acceptable, you might consider adding coconut milk instead.
Coconut milk is a staple in Asian cooking, so it only makes sense, don't you think?
How do you Thicken Peanut Sauce?
This Peanut Dipping Sauce thickens as it sits, so all you have to do is wait!
But seriously, the most obvious way to thicken peanut sauce is by adding more peanut butter, or less liquid.
However, if you don't want to alter the original flavor by messing with the ingredient ratios, use tapioca instead.
Just mix the tapioca with boiling water to dissolve it. Then stir into the peanut sauce to thicken.
For other great low carb recipes, check out the following posts: Low Carb Zucchini Lasagna, Easy Stuffed Mushrooms, and Low Carb Seed Crackers.
Stay in touch with me through social media!
Tried this recipe? Snap a picture and tag #hildaskitchenblog on Instagram.
Like my page on Facebook.
Do you Pinterest? Pin & share this recipe!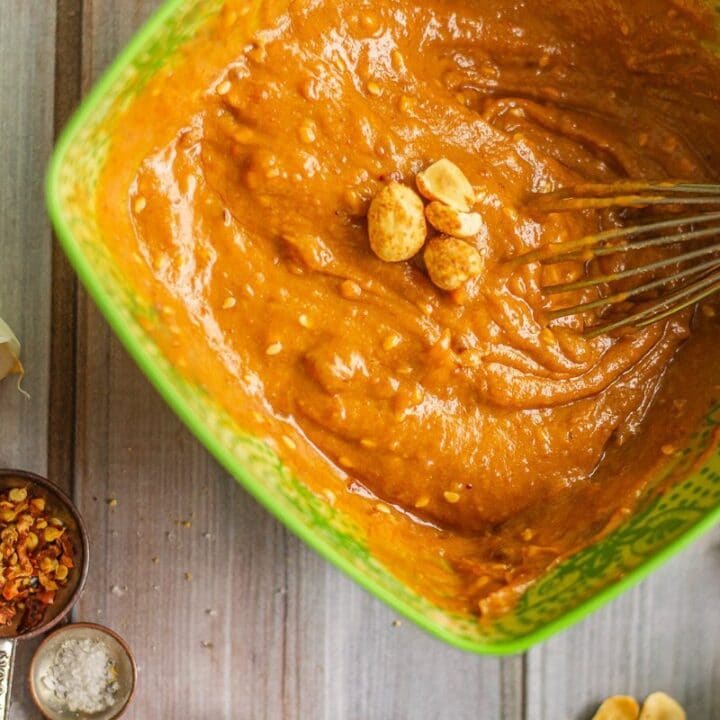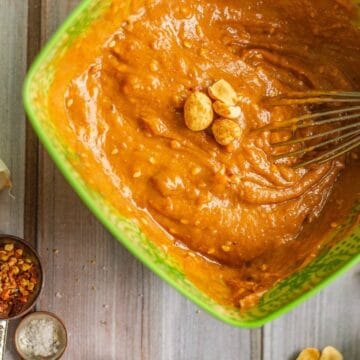 Peanut Dipping Sauce
Sweet, spicy, and salty, the perfect peanut dipping sauce!
Print
Pin
Rate
Ingredients
½

cup

creamy peanut butter

1

T.

sesame seed oil

2

T.

soy sauce (low sodium)

3

T.

apple cider vinegar

2

T.

Sriracha

3

T.

water

1

T.

plum jam

(or other jam)

1

tsp.

crushed red pepper flakes

2

tsp.

sesame seeds

1

clove

garlic

(crushed)

½

tsp.

ginger powder

¼

tsp.

salt
Instructions
Whisk all ingredients in a small bowl, until throughtly blended.

Enjoy with spring rolls, veggies, as a salad dressing, or mixed with pasta.
Nutrition
Serving:
2
T.
|
Calories:
121
kcal
|
Carbohydrates:
6
g
|
Protein:
4
g
|
Fat:
10
g
|
Saturated Fat:
2
g
|
Cholesterol:
0
mg
|
Sodium:
427
mg
|
Fiber:
1
g
|
Sugar:
3
g