This Easter, try some new and exciting Easter recipes, instead of the same old tired dishes. In this Easter Round-Up, you'll find 35 unique and delicious Easter recipe ideas that you can proudly serve to your family and friends on this special holiday!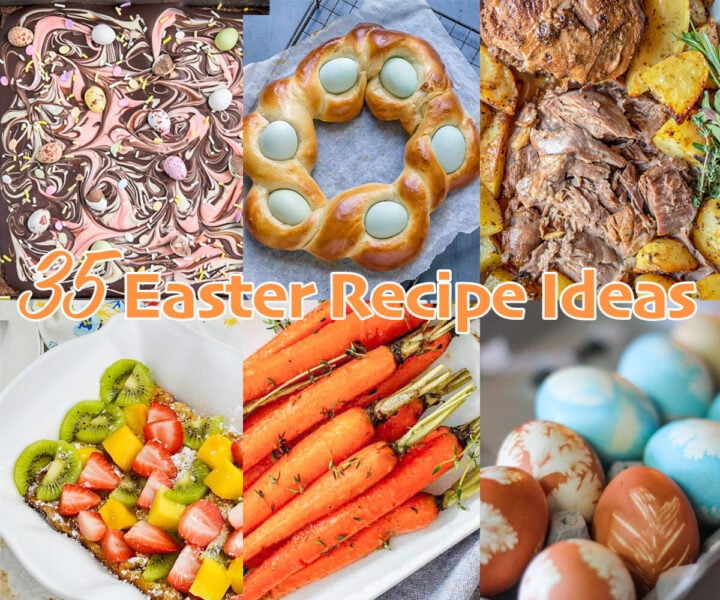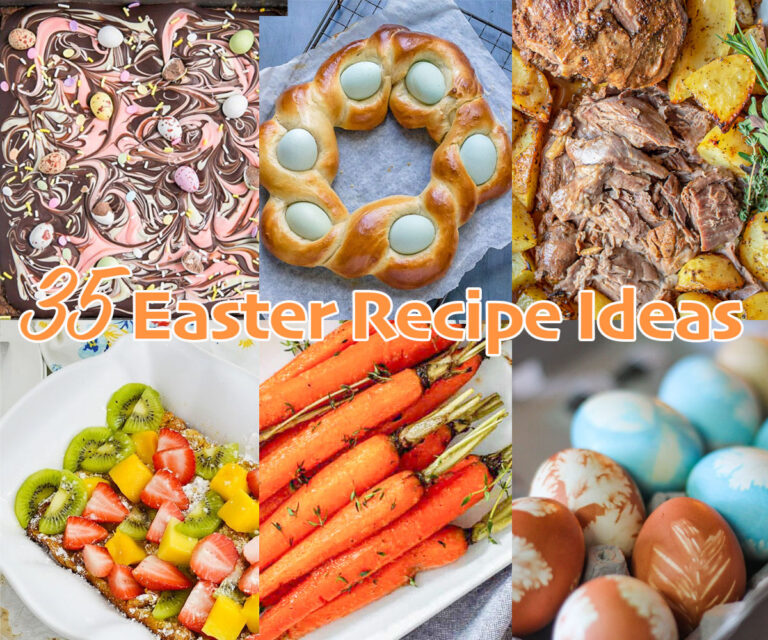 Easter Breakfast Dishes
Whether you're hopping out of bed and heading to Easter Services, or enjoying an Easter broadcast in bed, here are 5 easy Easter breakfast recipe ideas sure to start your day off on the right foot.
French Toast Casserole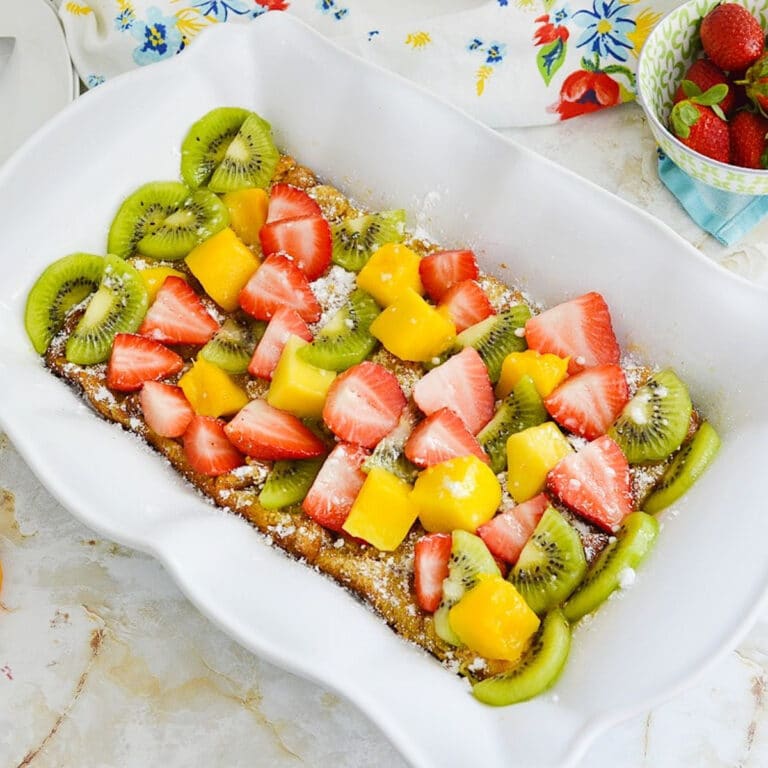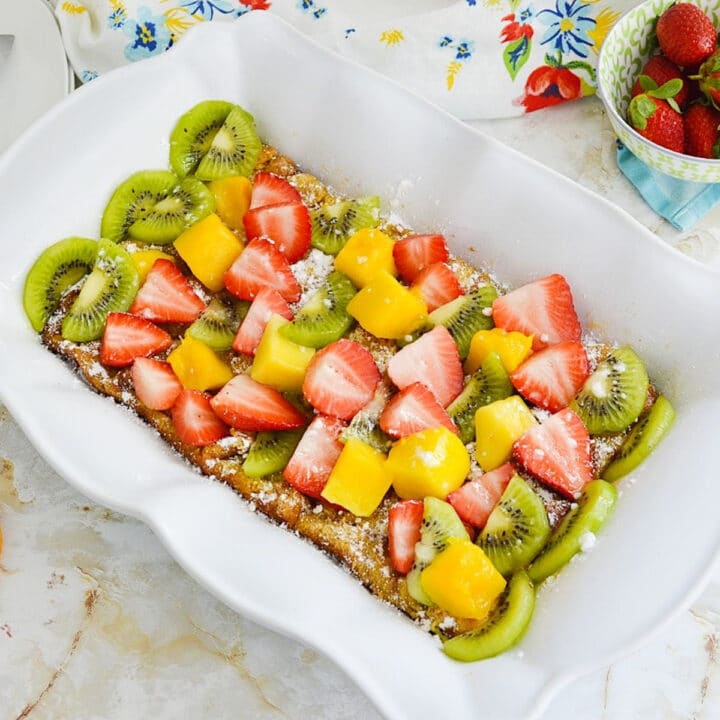 Start your Easter morning with this bright and cheerful French Toast Casserole. It can even be made the night before so you just pop it in the oven when you wake up.
ATasteForTravel.ca
---
Lemon Mascarpone Pancakes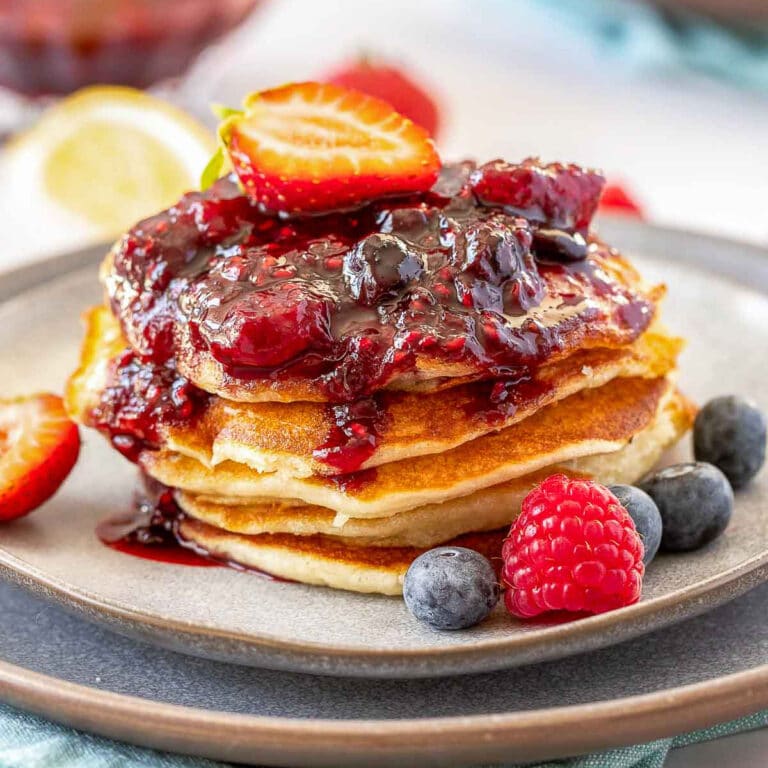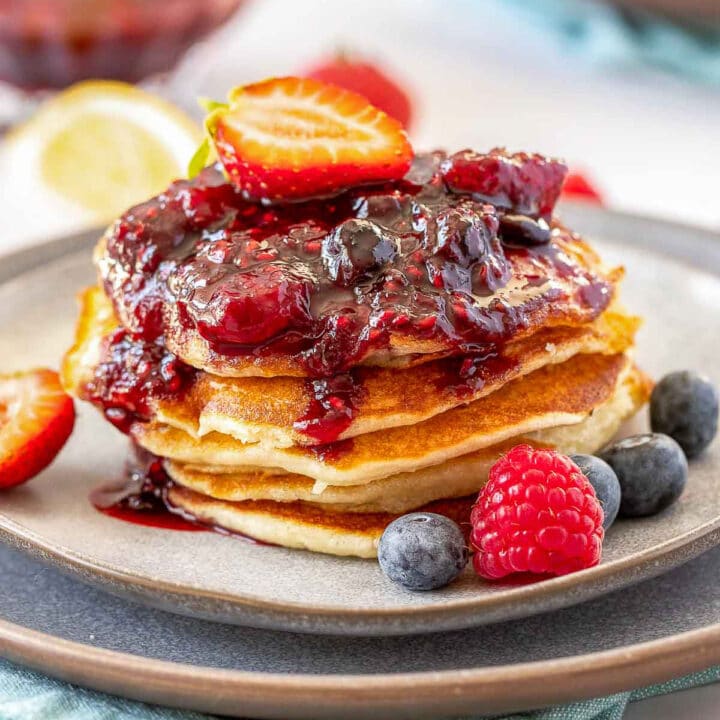 A recipe for fantastically fluffy and marvelously moist Lemon Mascarpone Pancakes. An elegant twist to the classic pancake breakfast.
ChocolatesAndChai.com
---
Almond Flour Carrot Cake Scones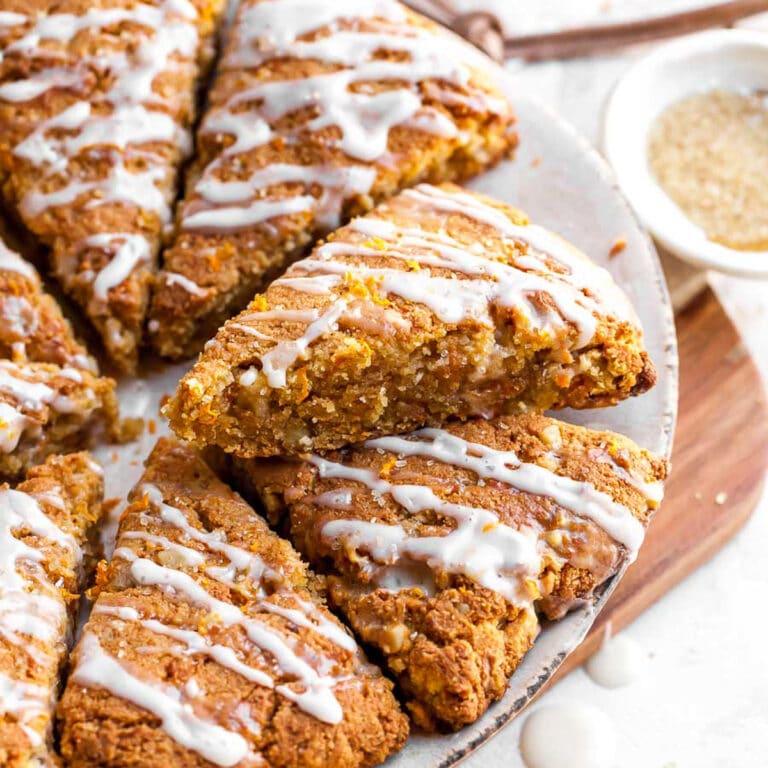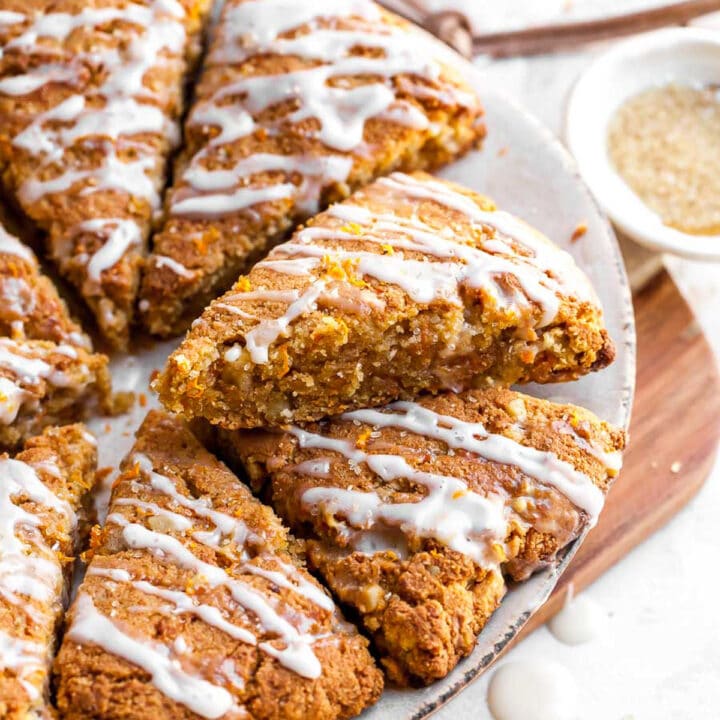 Almond Flour Carrot Cake Scones are a gluten-free, low-carb breakfast, rich in heart-healthy fats. Incredibly moist and decadently delicious, these scones are the perfect addition to any Easter brunch spread.
DishingOutHealth.com
---
Keto Frittata with Bacon, Sausage, and Cheddar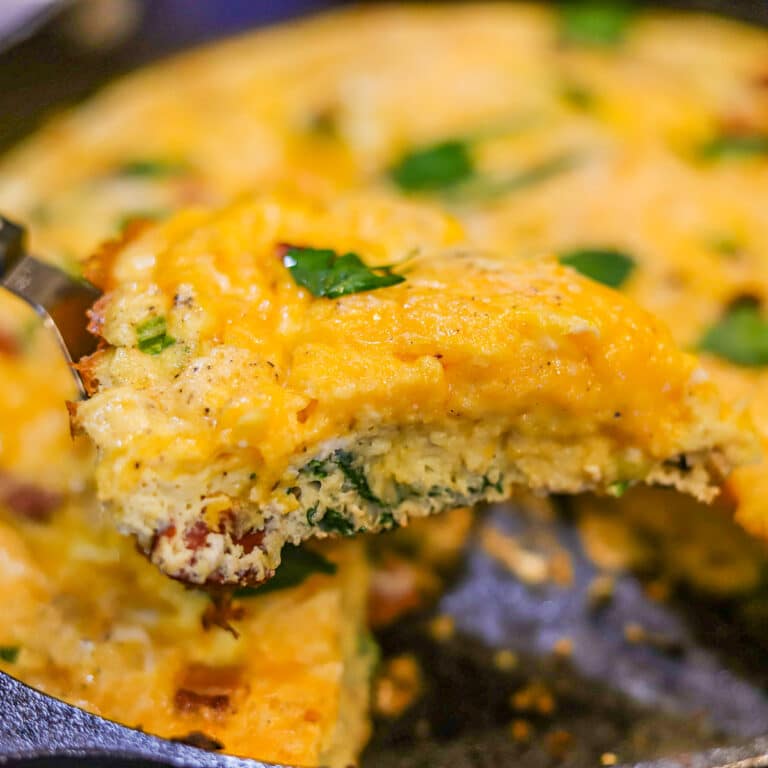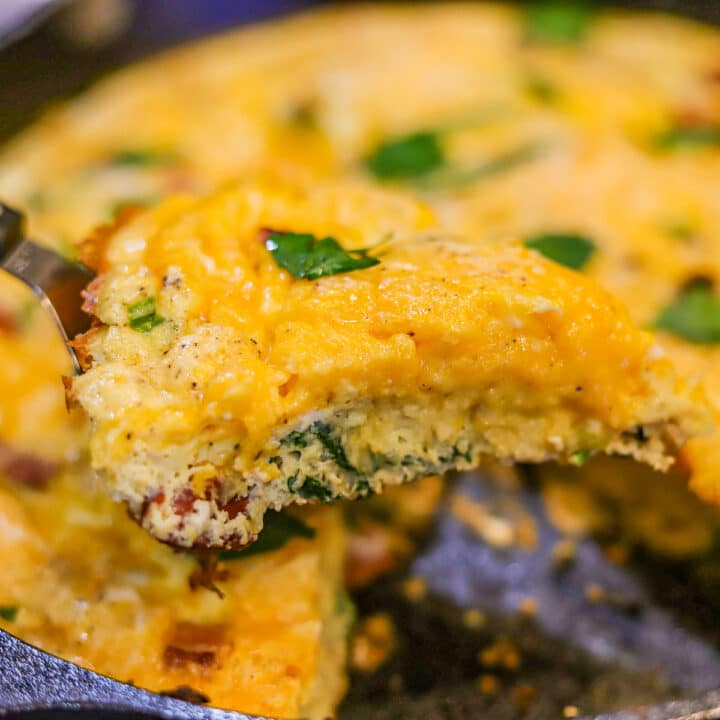 This delicious Keto Frittata can be enjoyed by anyone, not just those on KETO. It's packed with smoked sausage, thick-cut bacon, mushrooms, spinach, and sharp cheddar cheese. Your whole family will love it!
HildasKitchenBlog.com
---
Easy Healthy-ish Carrot Cake Waffles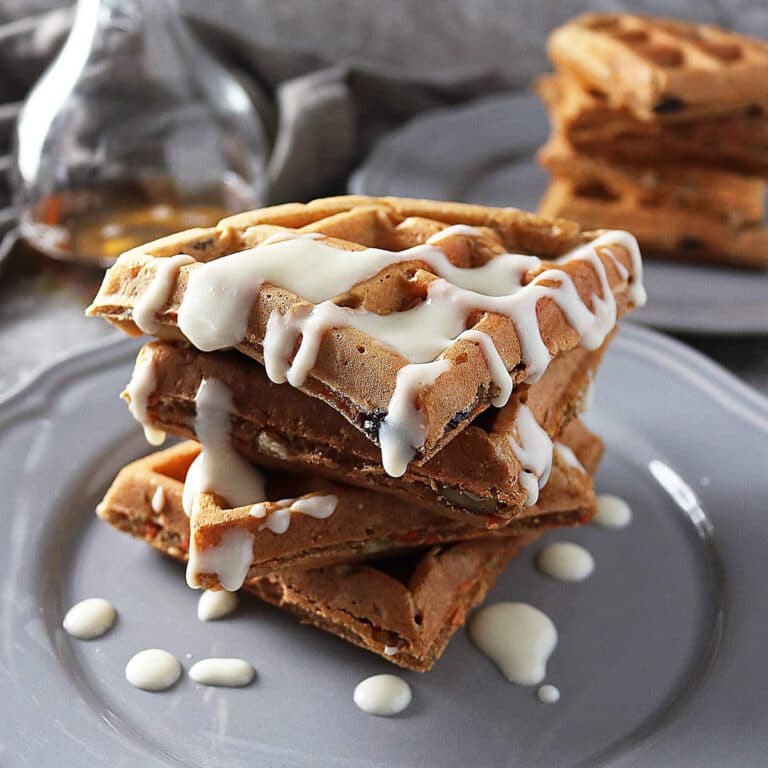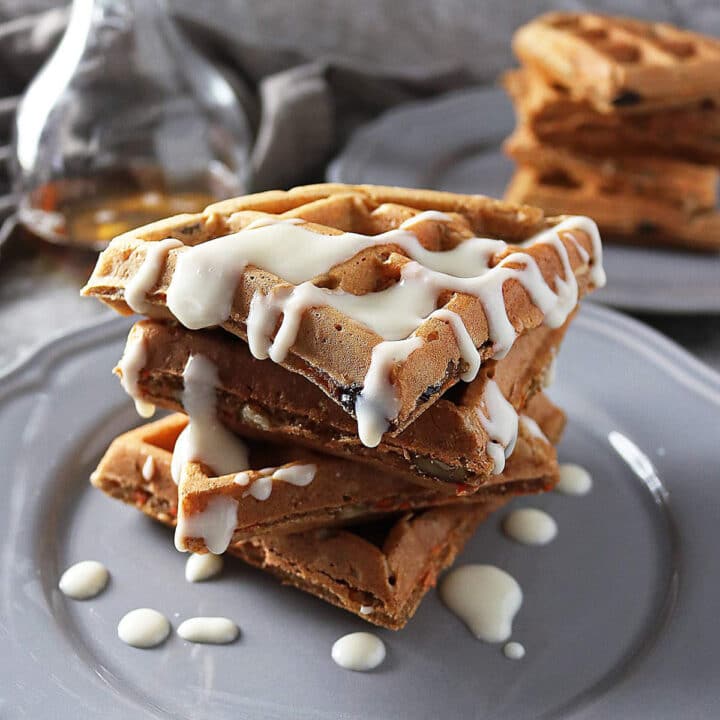 These Easy Healthy-ish Carrot Cake Waffles are loaded with raisins, walnuts, and a boatload of spices. Enjoy them with some maple syrup or with a cream cheese drizzle this Easter.
SavorySpin.com
Easter Breads
Easter is celebrated with various traditions throughout the world. Many involve Easter eggs, which symbolize rebirth. Greeks, Italians, and Russians are just some of the nationalities that add or weave eggs into their Easter Bread. Maybe Easy Hot Cross Buns are more your speed? We have that covered too!
Italian Braided Easter Bread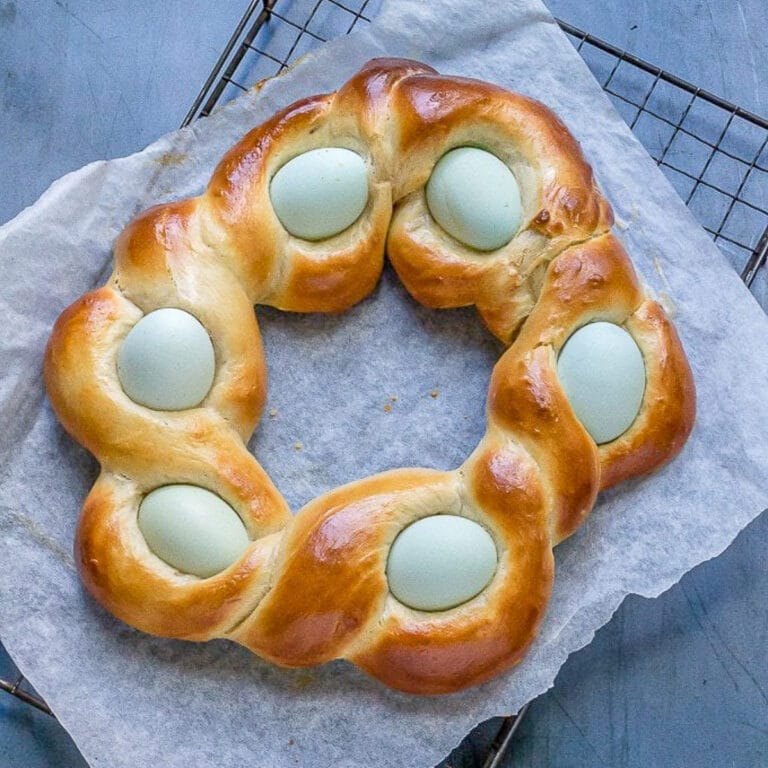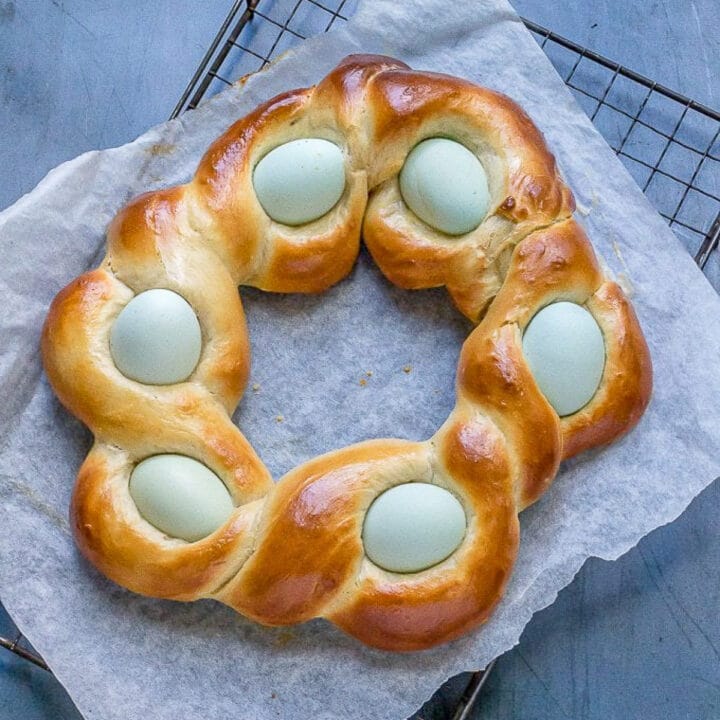 This traditional Italian Braided Easter Bread is a show-stopping centerpiece. The light and fluffy sweet bread is very easy to make and tastes incredible.
VeggieDesserts.com
---
Easy Hot Cross Buns Recipe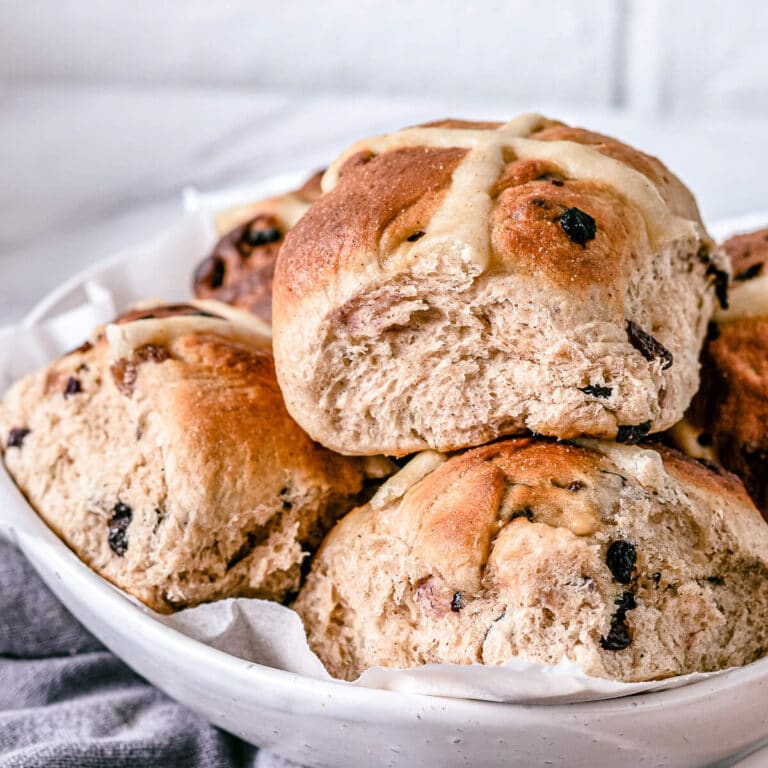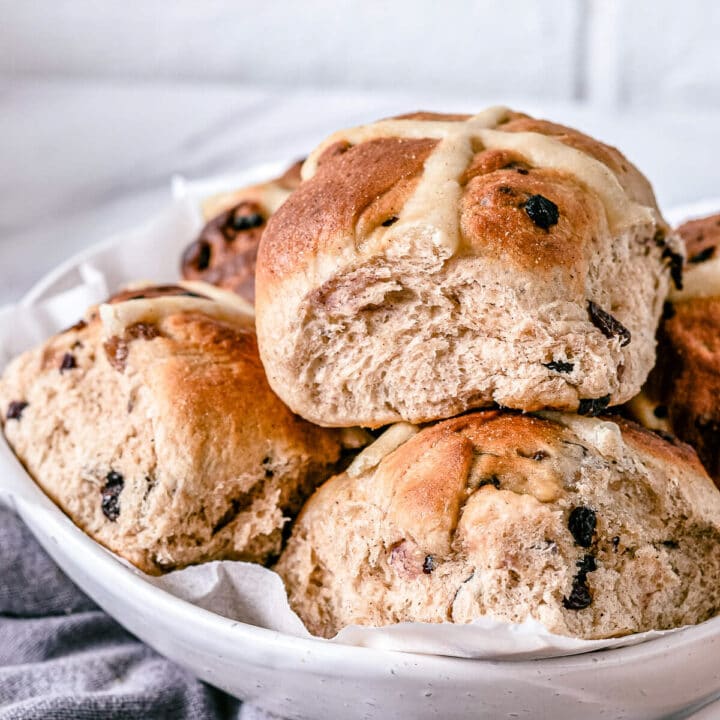 Made using yeast, currants, and fragrant spices, complete with a sweet and sticky glaze, these incredibly soft and fluffy Easy Hot Cross Buns are the perfect way to celebrate Easter!
TheCookingCollective.com
---
Homemade Resurrection Rolls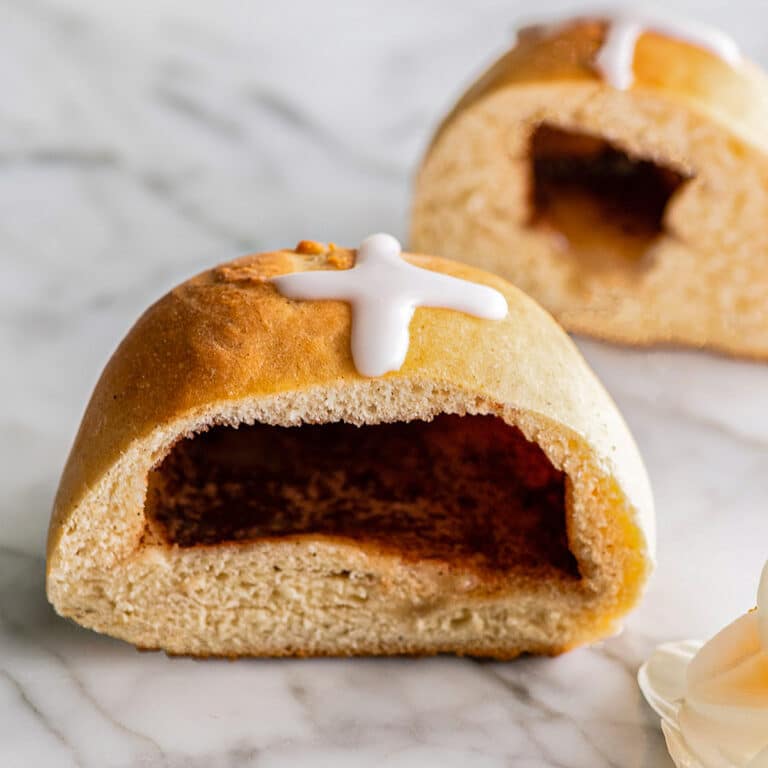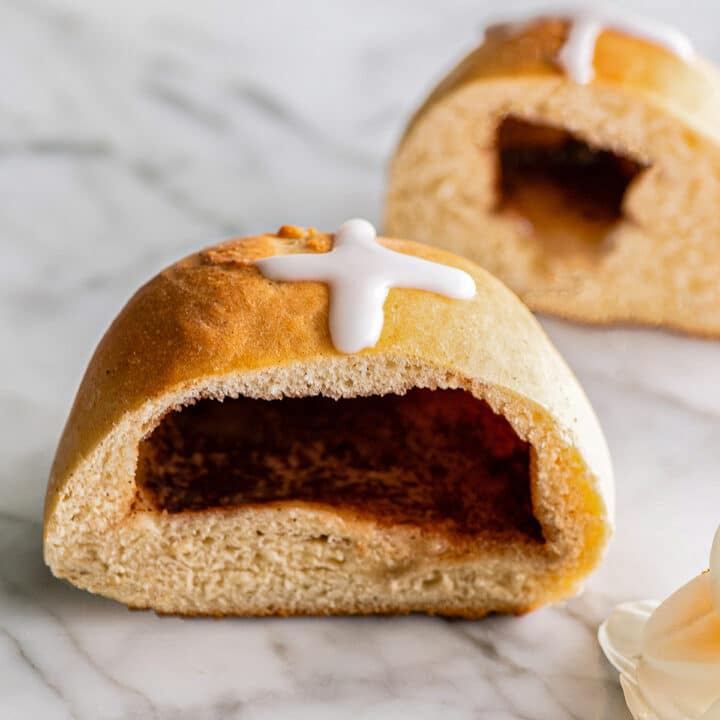 Celebrate the true meaning of Easter by making these Homemade Resurrection Rolls from scratch! They really look like empty tombs and taste amazing!
JoyFoodSunshine.com
---
German Rosinenbrot (Raisin Bread)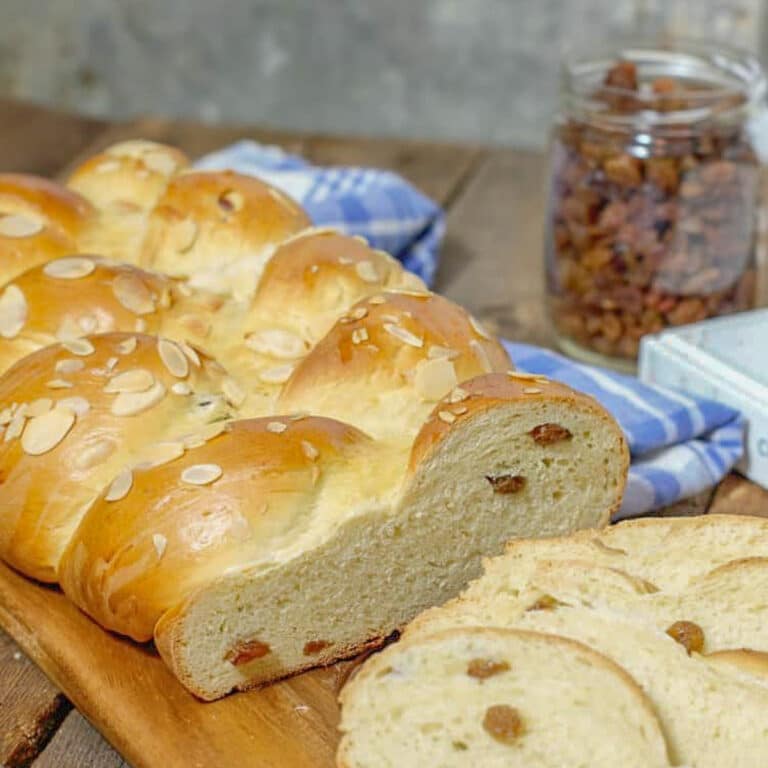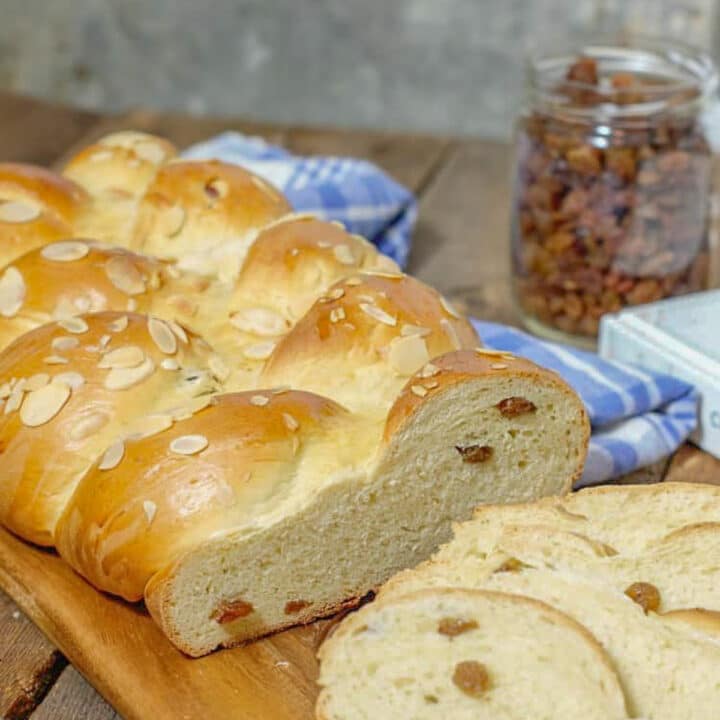 A traditional Easter treat in Germany, this fresh raisin bread is known as Rosinenbrot and is usually served for breakfast on Easter morning.
EarthFoodAndFire.com
---
Paska (Ukrainian Easter Bread)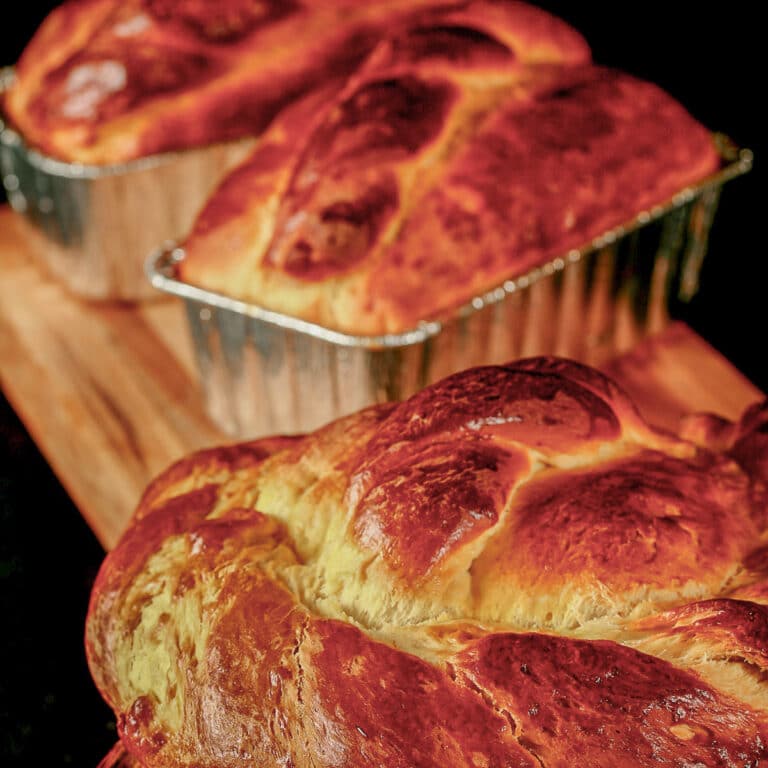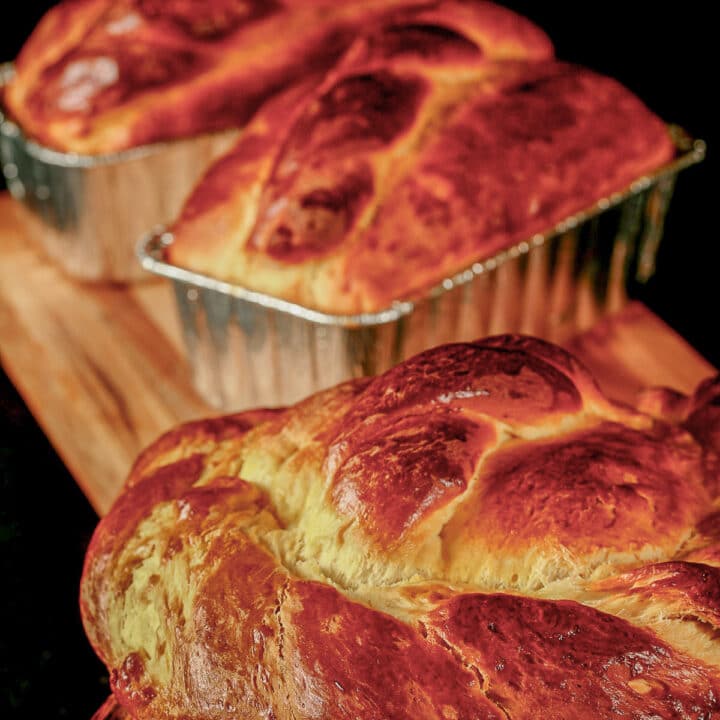 Paska is traditionally served at Ukrainian Easter celebrations. The bread is often braided or decorated with Christian symbols (for example, crosses) right into the bread.
CelebrationGeneration.com
---
Main Dishes
As far as I can remember, I've served Ham with Honey Mustard Sauce for Easter. This year, I think I'll take my own advice and try something new. This Greek Instant Pot Leg of Lamb has my undivided attention. It looks exactly like something my mother would have served for Easter, including the potatoes. I encourage you to try some of the other Easter recipe ideas in this Main Dishes section ranging from beef, poultry, pork, and lamb.
Greek Instant Pot Leg of Lamb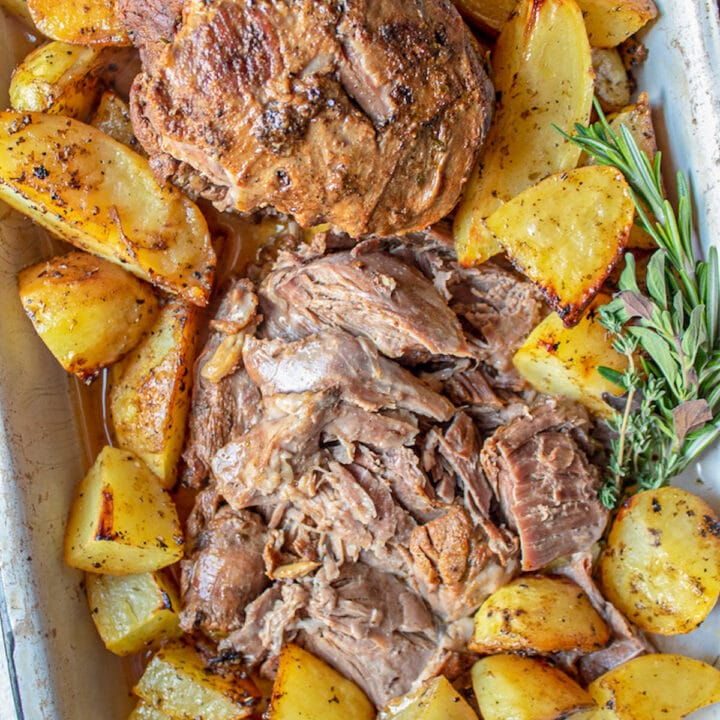 This Greek Instant Pot Leg of Lamb has all the flavors you'd expect, garlic, lemon, oregano, rosemary, and thyme, braised in the Instant Pot with wine and stock.
TheHungryBluebird.com
---
Pizza Rustica (Italian Easter Pie)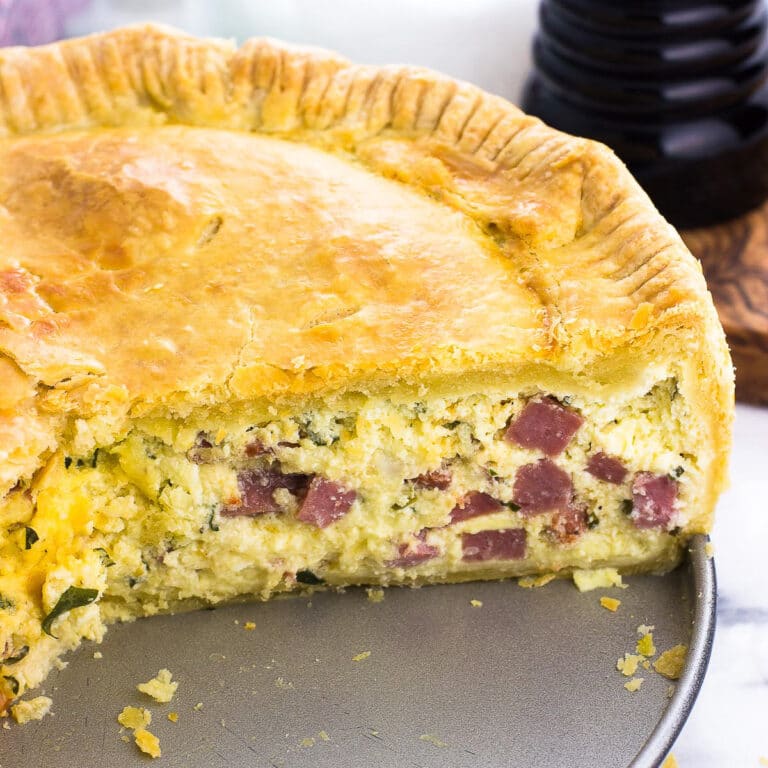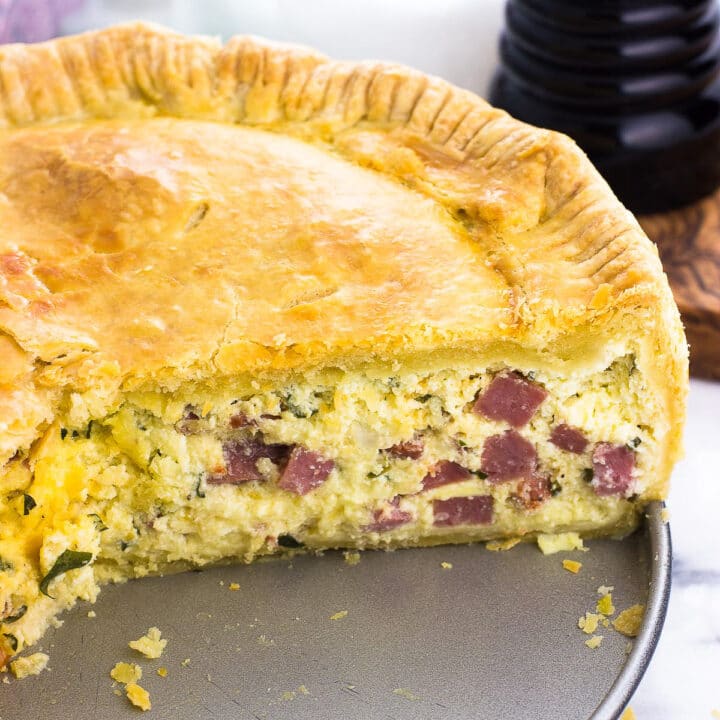 Traditionally served on Easter, Pizza Rustica is a savory Italian meat pie that features an easy homemade crust and serves a hungry crowd!
MySequinedLife.com
---
Juicy Oven Tri-Tip Roast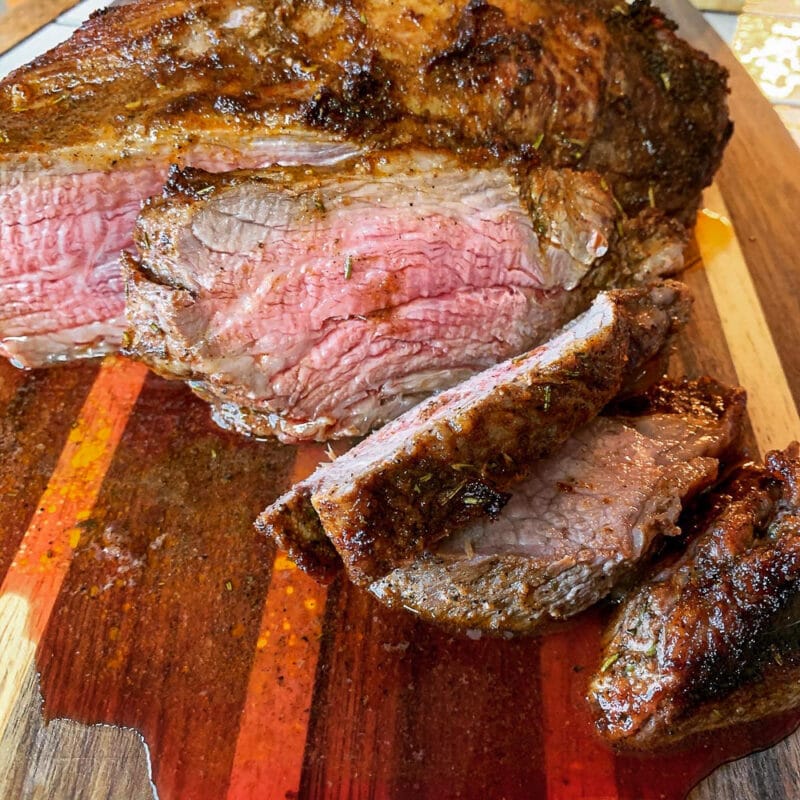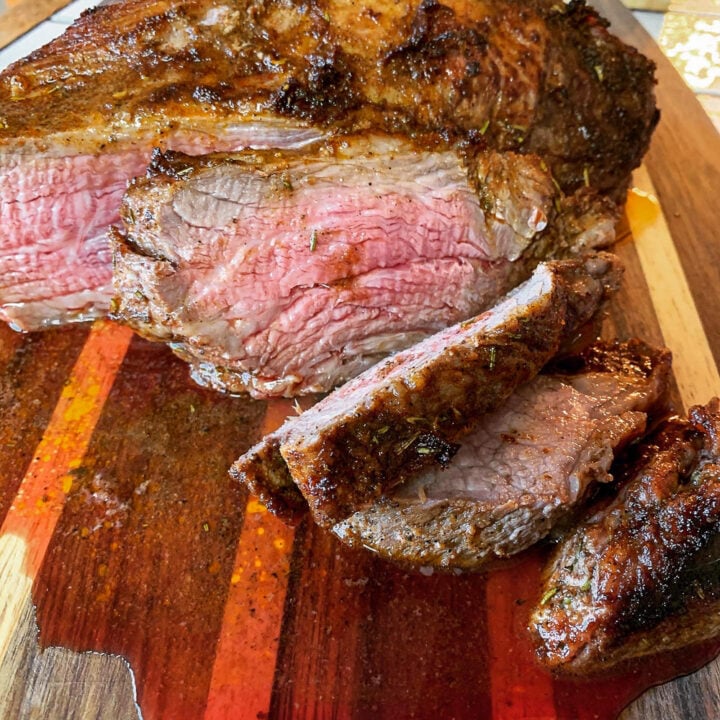 This perfectly seasoned Oven Tri-Tip Roast has an incredible flavor, thanks to the Santa Maria Rub. It's fully cooked in around 30 to 45 minutes in the oven.
HildasKitchenBlog.com
---
Honey Glazed Ham Steak for Two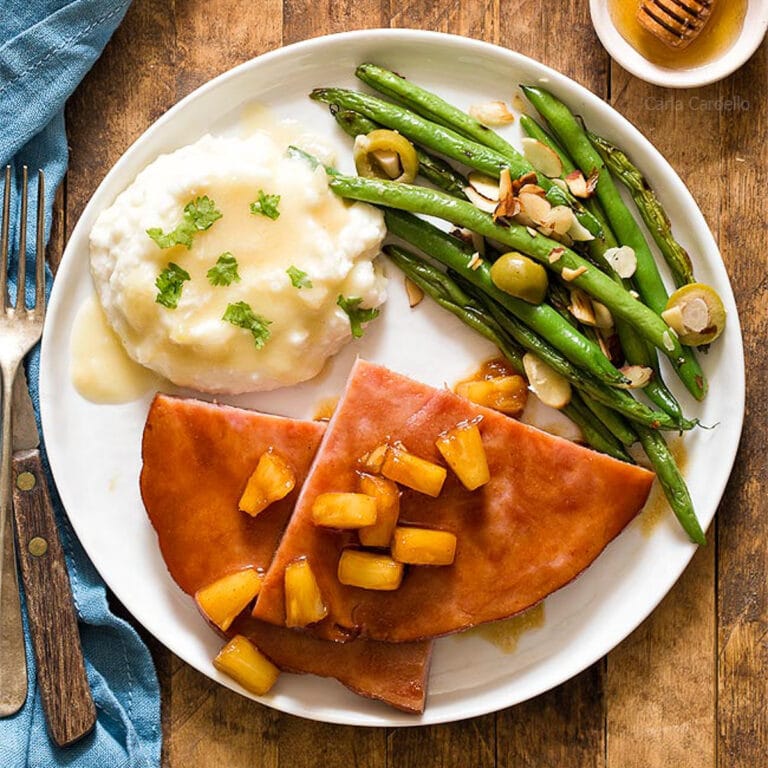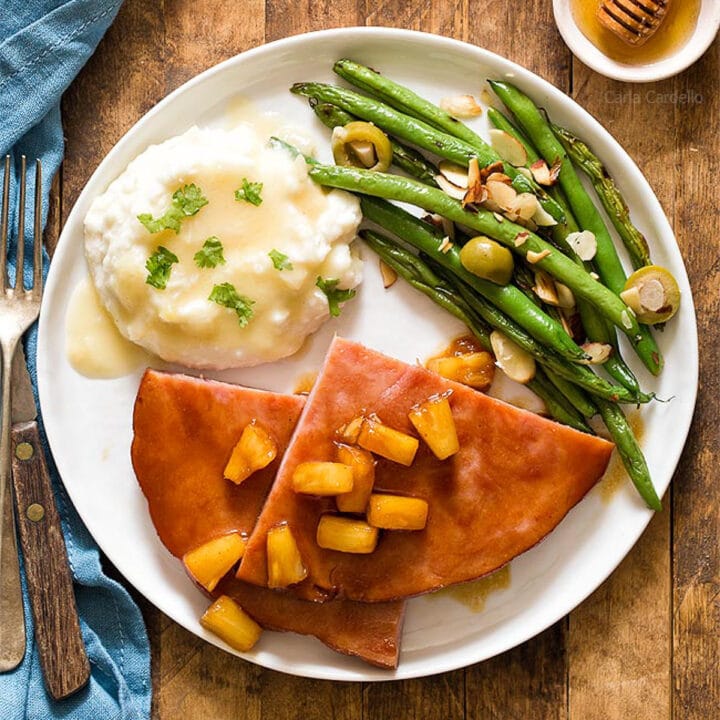 Get ready for Easter with this Honey Glazed Ham Steak recipe, which is sweetened with yummy pineapple and honey!
ChocolateMoosey.com
---
Air Fryer Whole Chicken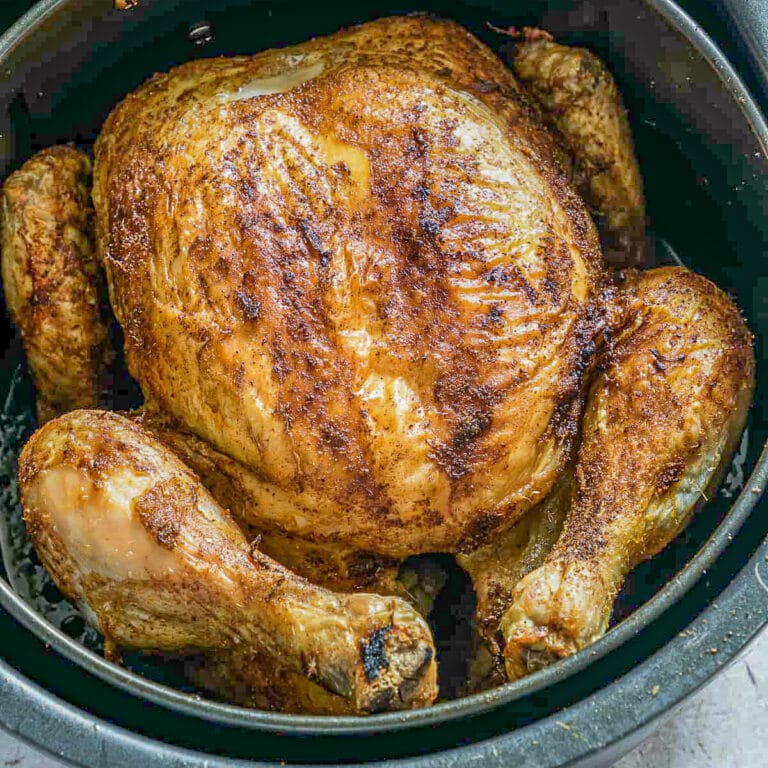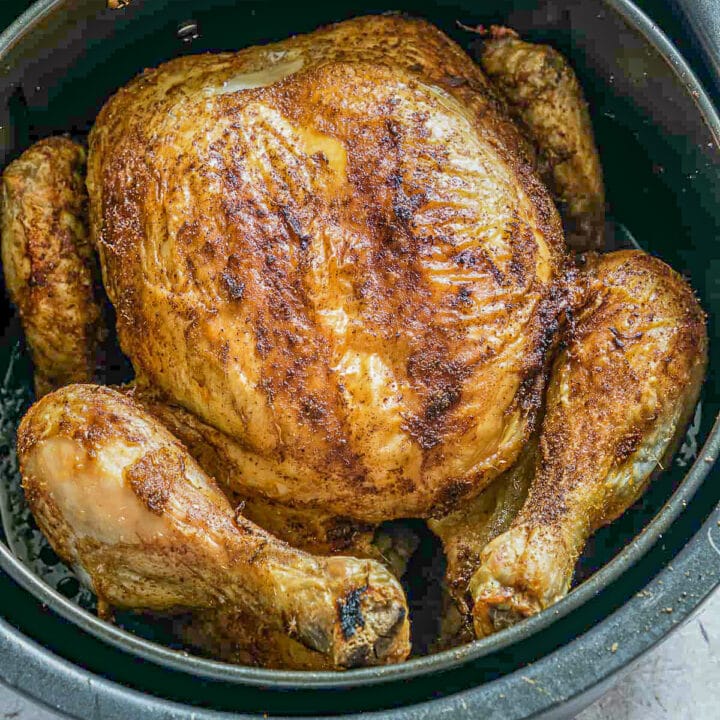 This no-fail Air Fryer Whole Chicken recipe is faster than the traditional oven method, and gives you a perfectly cooked chicken every time!
BudgetDelicious.com
Easter Dinner Sides
What Easter dinner spread is complete without an array of splendid side dishes? If you're craving creamy Scalloped Potatoes, I've got the perfect recipe for you. You can prepare them in an Instant Pot to free up the oven, however, oven directions are also included. Or maybe you want something simple like Brown Butter Honey Garlic Roasted Carrots? You can even create a fun Easter Charcuterie Board!
Brown Butter Honey Garlic Roasted Carrots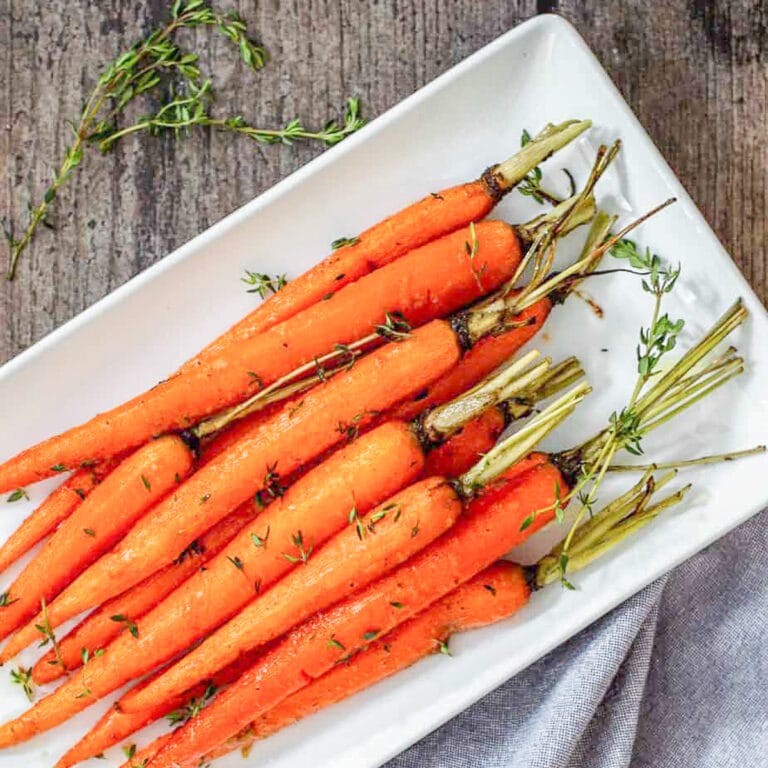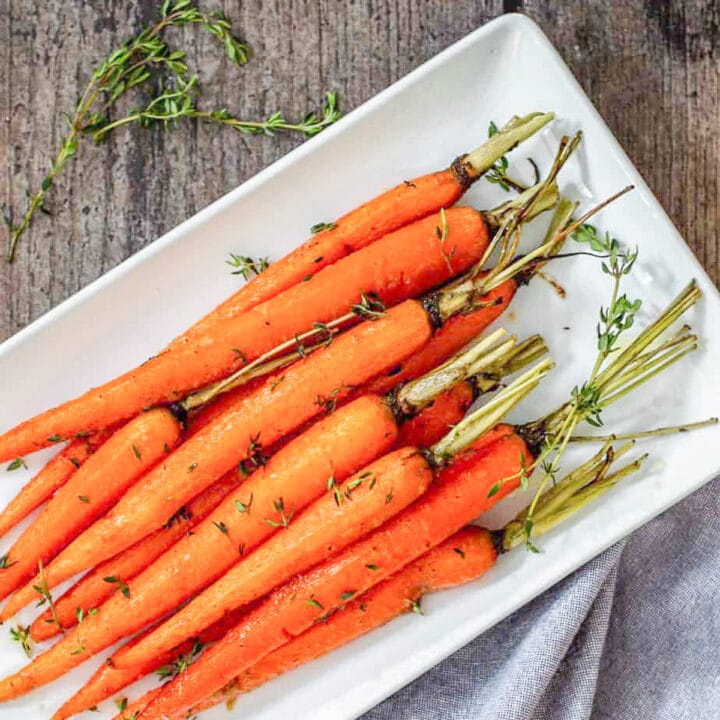 Between the brown butter, honey, thyme, and garlic, these carrots are SO delicious. You absolutely want these Brown Butter Honey Garlic Roasted Carrots on your Easter table.
ANerdCooks.com
---
Classic Deviled Eggs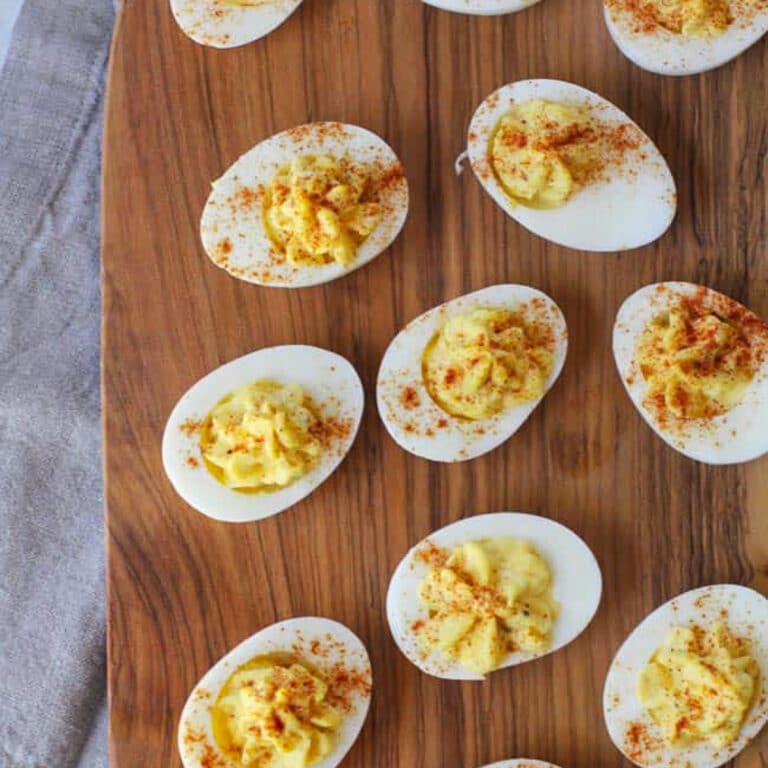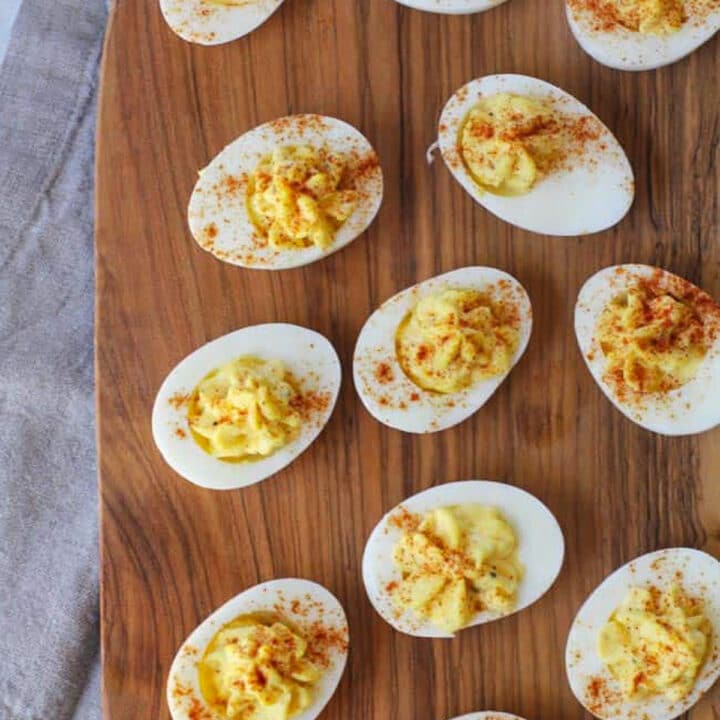 Classic Deviled Eggs are made with just a few simple ingredients. A quick and hard-to-resist appetizer that's a hit any time of the year, but especially on Easter!
SueBeeHomemaker.com
---
Easy Scalloped Potatoes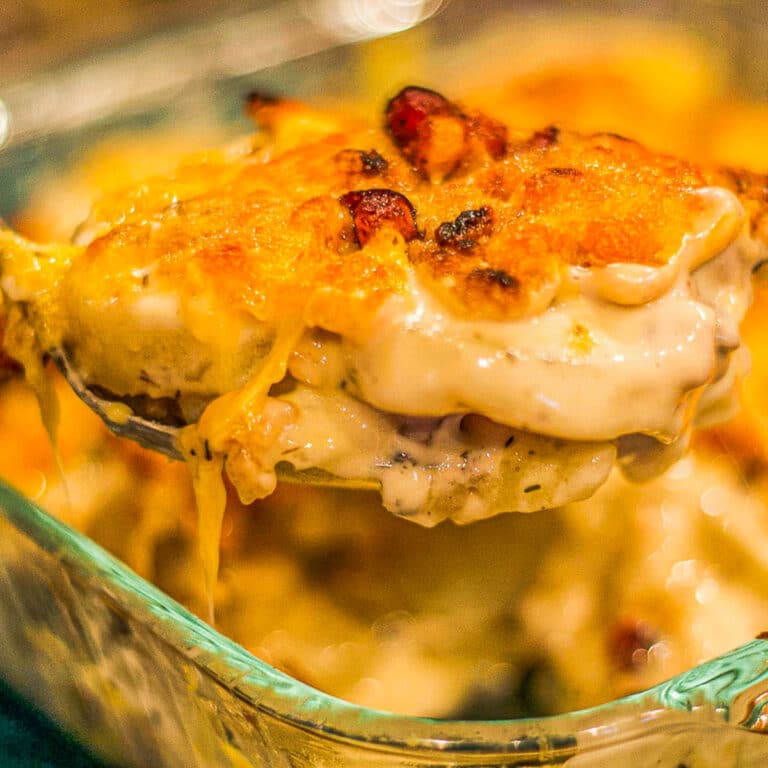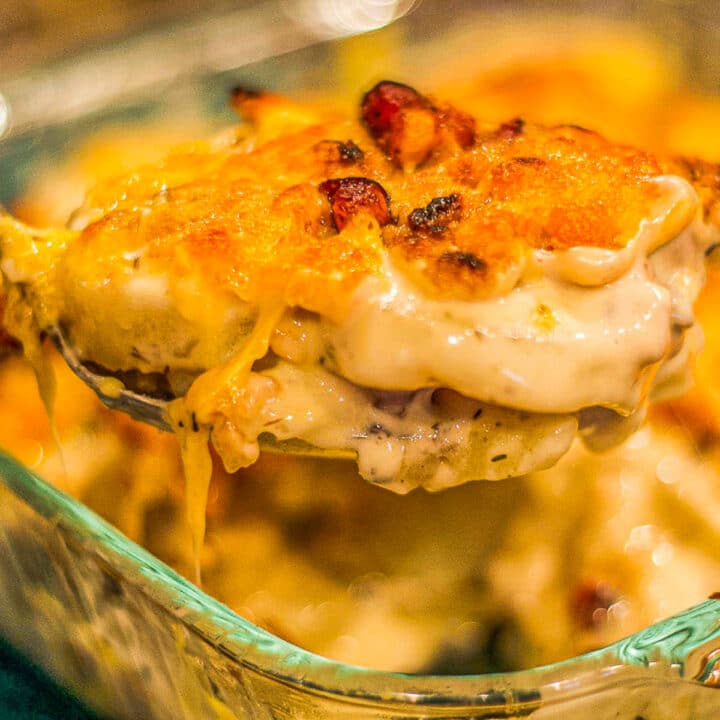 A rich and creamy Easy Scalloped Potatoes Recipe that doesn't require flour to thicken. This cream of mushroom soup-based dish can be prepared in an Instant Pot or the oven.
HildasKitchenBlog.com
---
Cheesy Asparagus Bake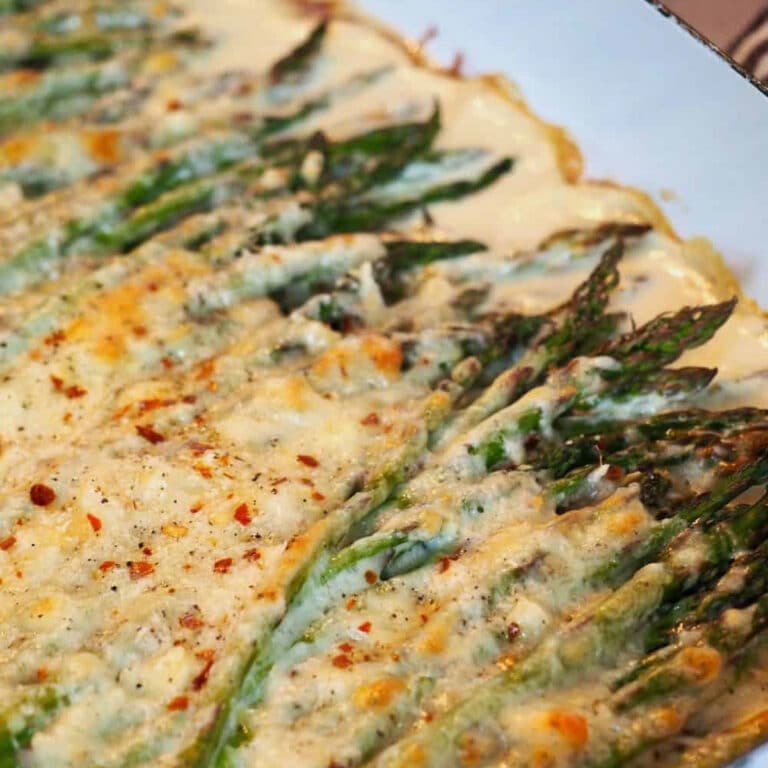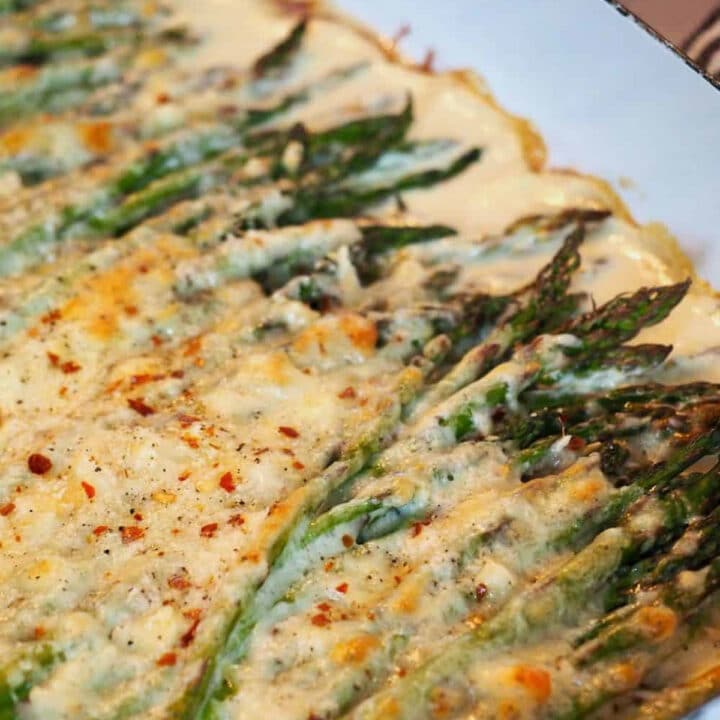 Even non-asparagus lovers will love this easy, dump-and-go Cheesy Asparagus Bake, plus it's gluten-free and low-carb as a bonus!
TheFreshCooky.com
---
Easter Charcuterie Board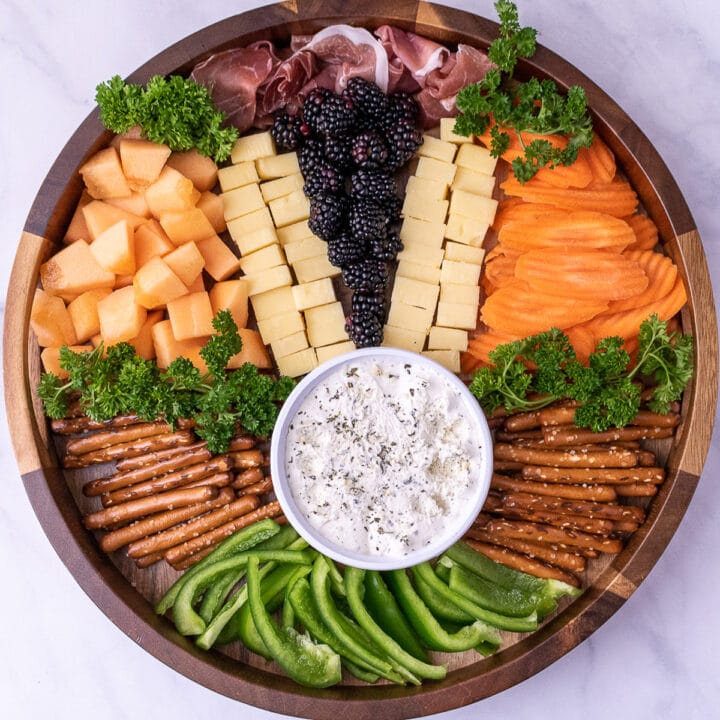 A make-ahead Easter Cheese Board with spring ingredients that travels well and is great for Easter brunch, lunch, or dinner.
SmackOfFlavor.com
Easter Desserts
Now for my favorite part, DESSERT! No Easter Round-up is complete without Easter desserts. You can dress up brownies with fun Easter candy, or keep your guests laughing with Easter Bunny 🐰 Butt Cupcakes. As for me, I think I'm going for the Easter Egg Cheesecake!
Chocolate Bark Easter Brownies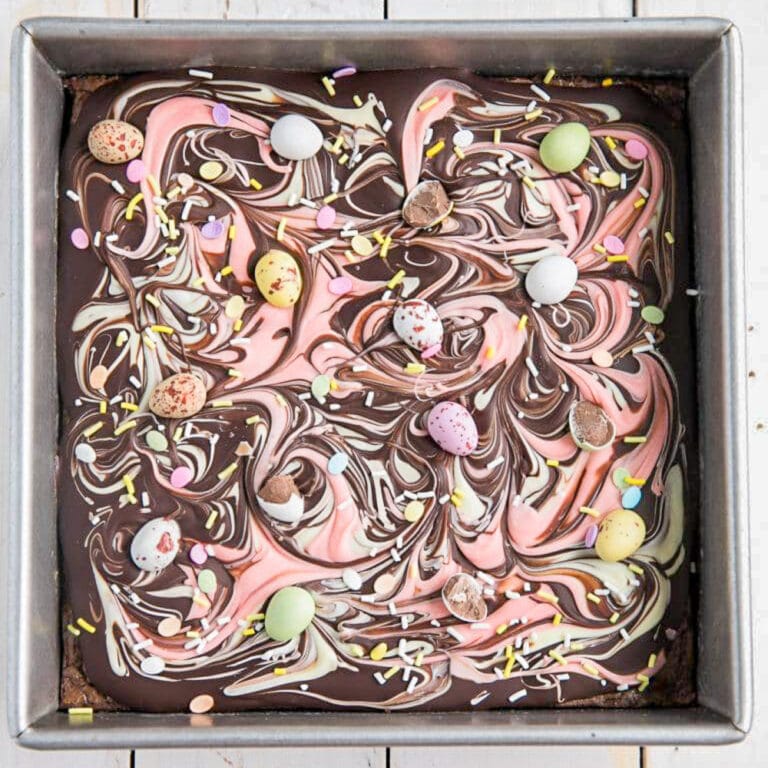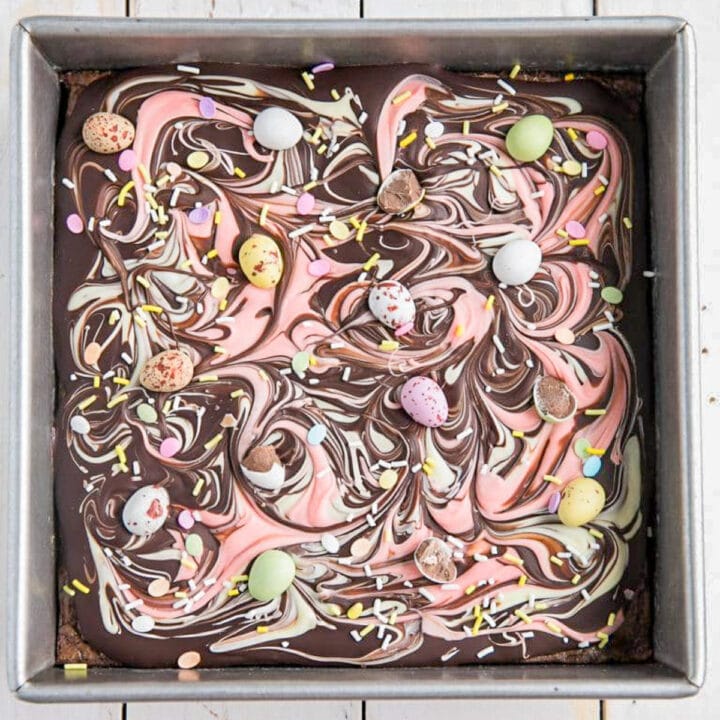 When you can't decide if you want a chocolate bar or gooey chocolate brownies, there's always Chocolate Bark Brownies. The best of both worlds and perfect for Easter!
TheForkedSpoon.com
---
Carrot Cake with Pineapple & Toasted Coconut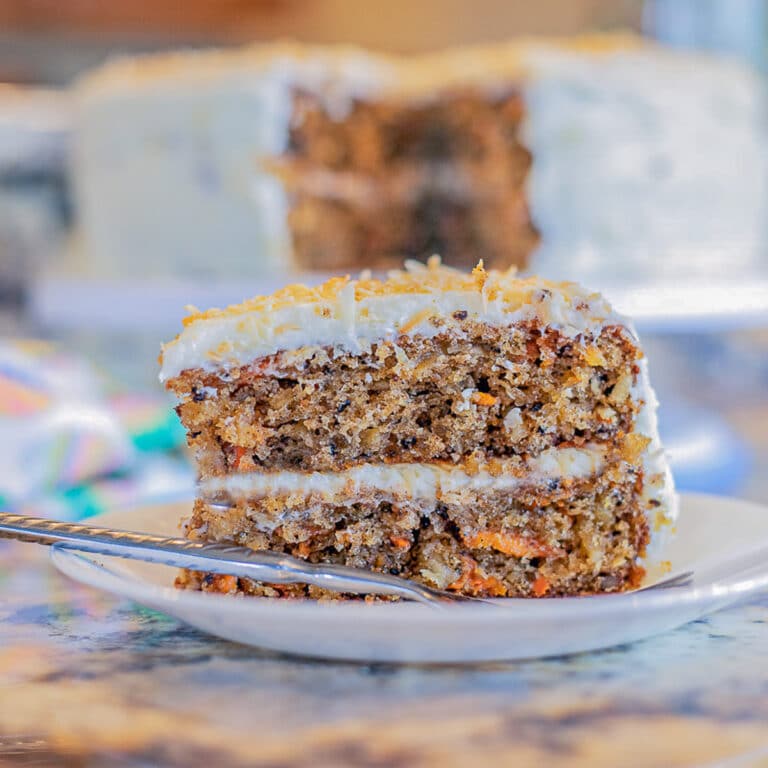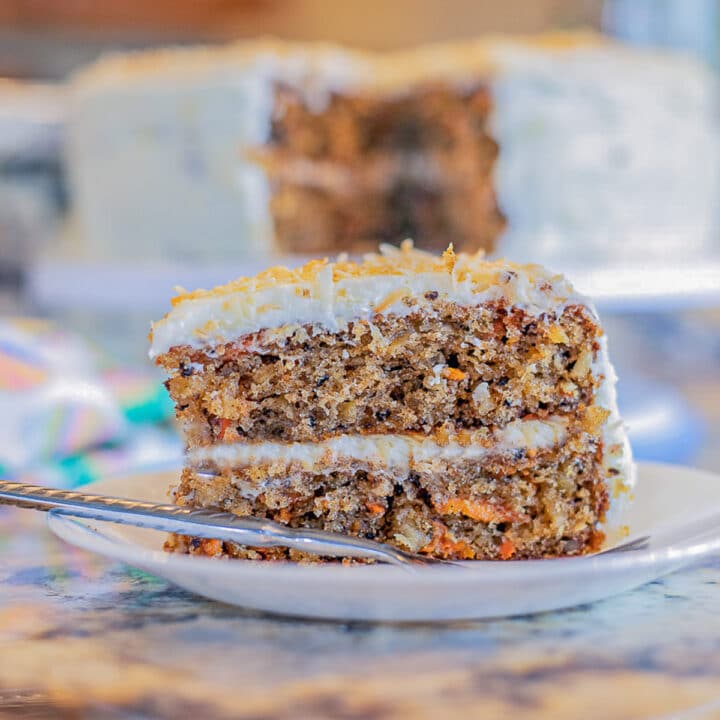 This Easter, serve this ultra-moist and perfectly spiced Carrot Cake, either as a dessert or as part of an Easter brunch!
HildasKitchenBlog.com
---
Easy Lemon Ice Cream For Easter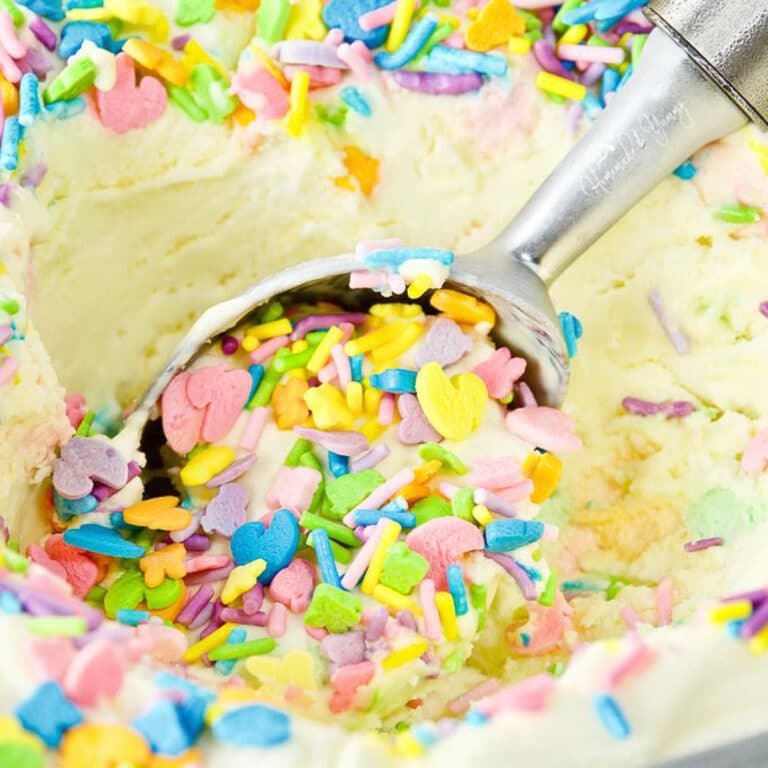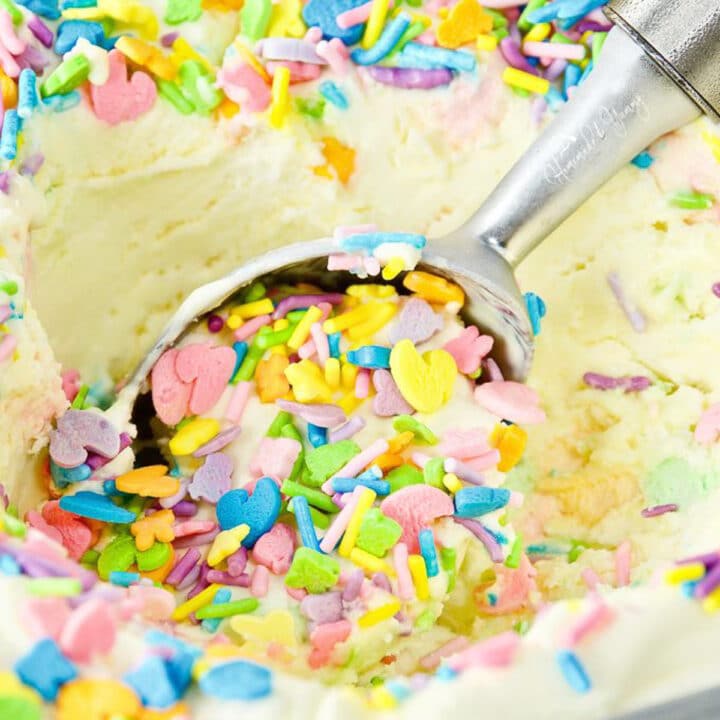 This Easy Lemon No-Churn Ice Cream is the perfect Easter treat. A fun and easy way to make homemade ice cream without a machine.
HomemadeAndYummy.com
---
Bunny Butt Cupcakes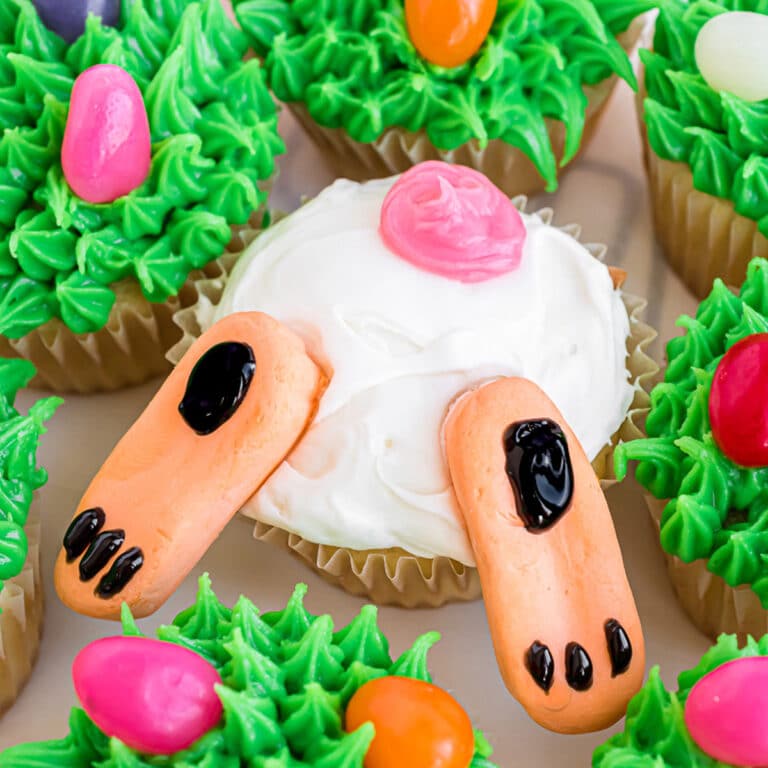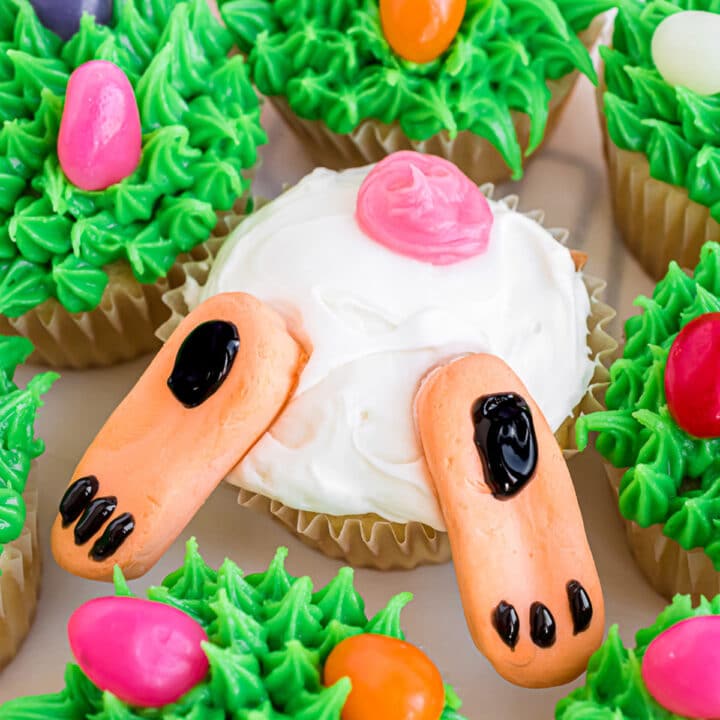 Perfect as dessert and a cute centerpiece, these easy to decorate Bunny Butt Cupcakes are going to make everyone at your table chuckle.
SavoryExperiments.com
---
Easter Egg Cheesecake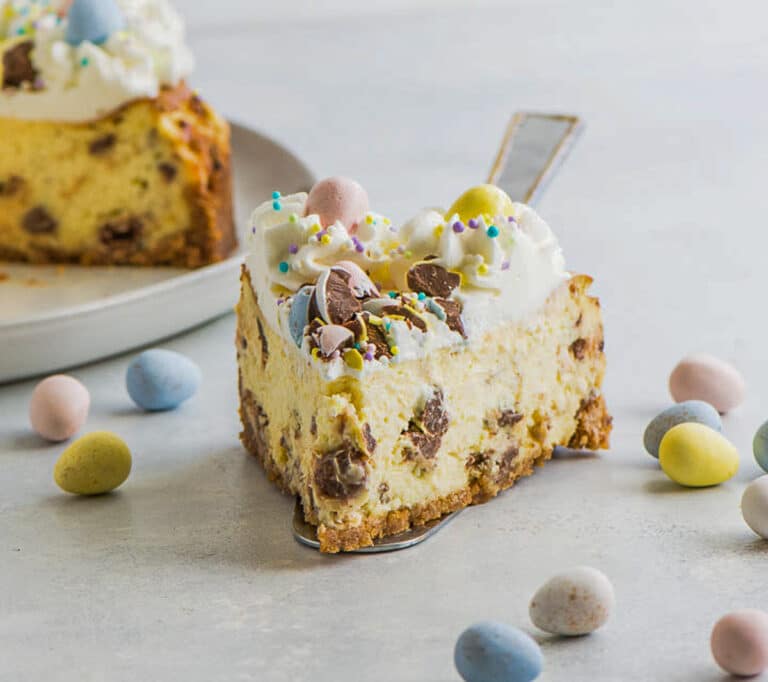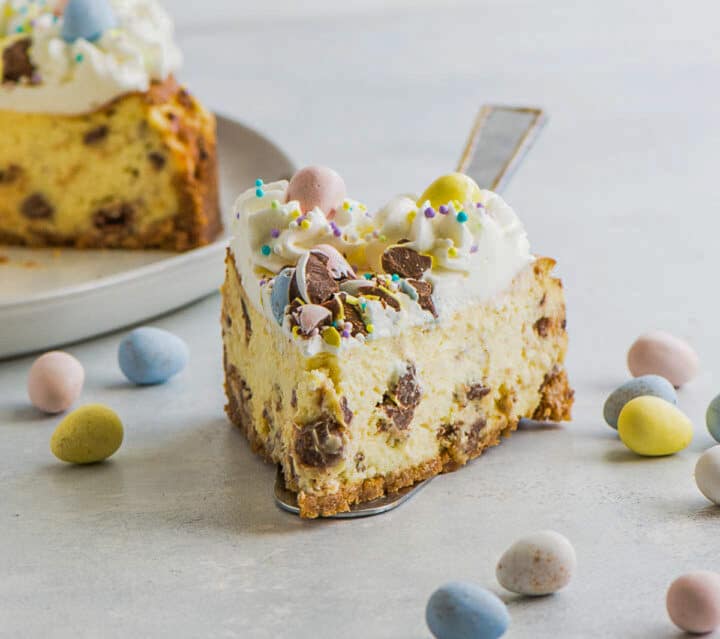 This Easter Egg Cheesecake is packed with chocolate mini eggs. It's the perfect dessert for spring and Easter!
ItsyBitsyKitchen.com
Fun, Child-Friendly, Easter Recipes
Easter is a great time to involve the kids in the kitchen. Whether it's explaining the reason we celebrate Easter with the Tomb in Empty Resurrection Cookies or making birds nests full of Easter candy. These activities are what you will look back on with a smile (or a tear) when the kids are long gone. Yes, I speak from experience.
So make sure to make time for these Easter recipe ideas. Which reminds me, if you've never used Resurrection Eggs to tell the Easter story to your little ones, I highly recommend it!
The Tomb is Empty Resurrection Cookies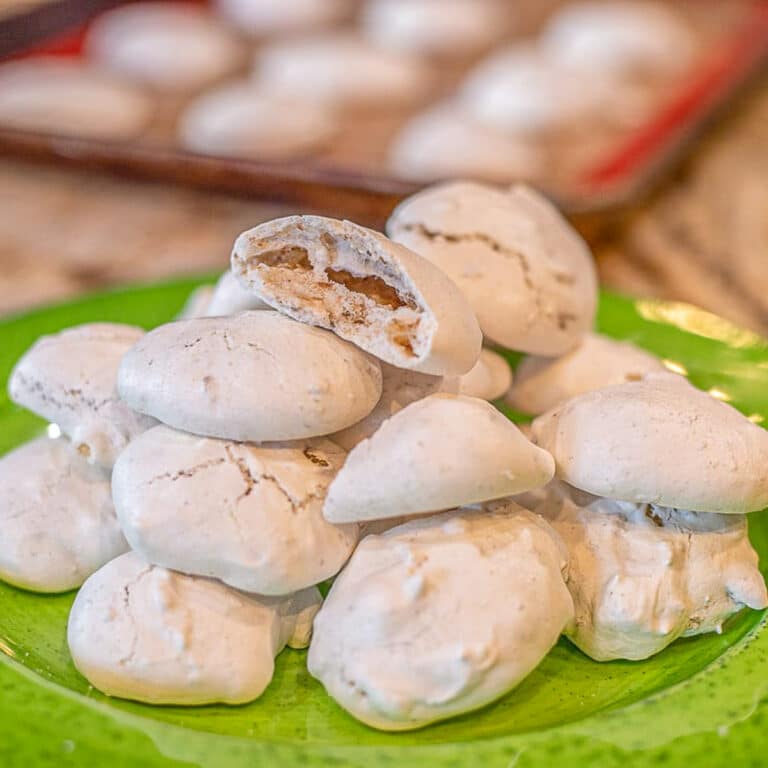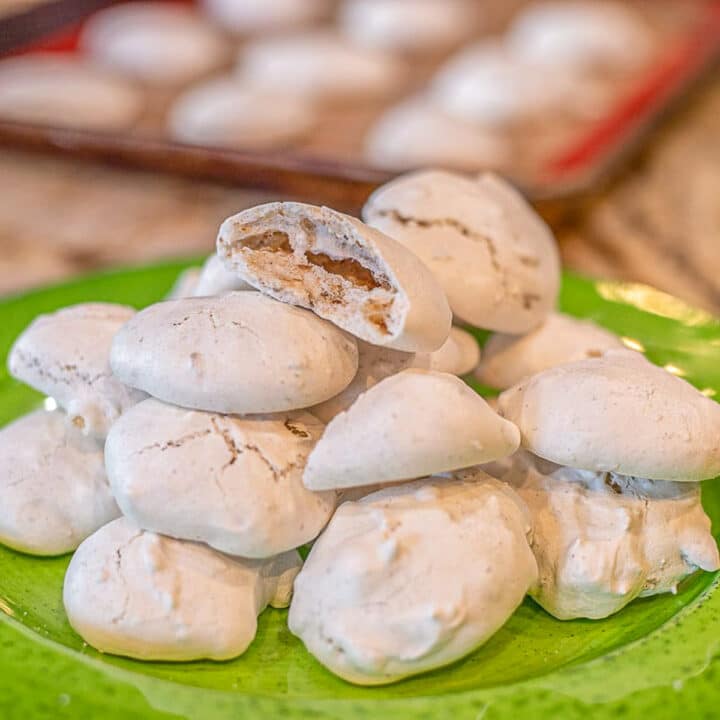 Create lasting Easter memories with The Tomb is Empty Resurrection Cookies. This easy and interactive meringue cookie recipe really brings the Easter story to life!
HildasKitchenBlog.com
---
No-Bake Birds Nest Dessert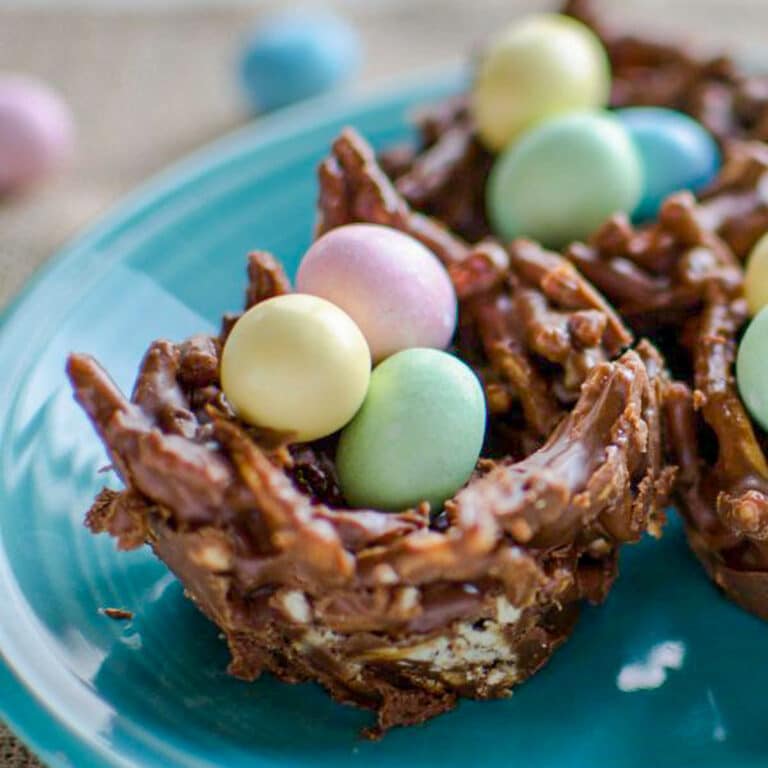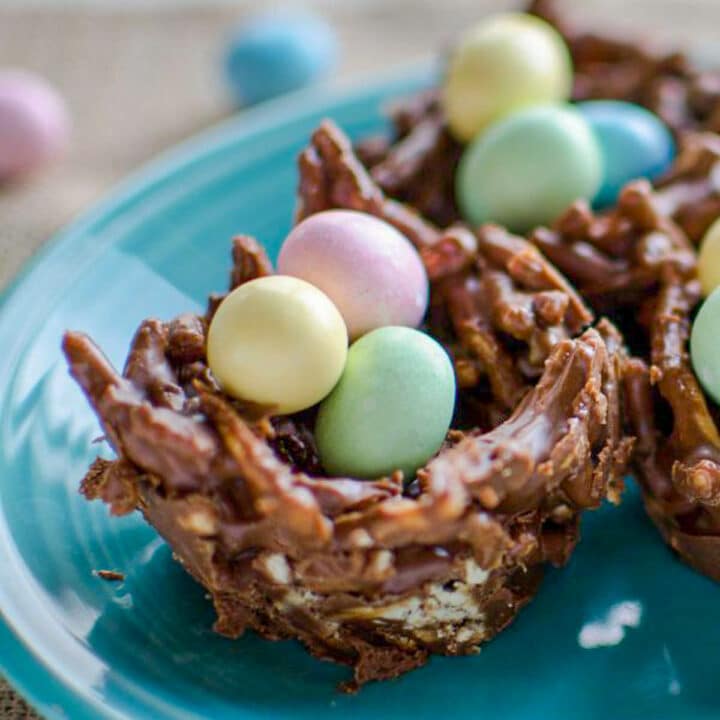 These Bird's Nest Easter Desserts are adorable! The no-bake cookies are topped with mini chocolate eggs. I can't stand the cuteness!
ArtFromMyTable.com
---
Naturally Dyed Easter eggs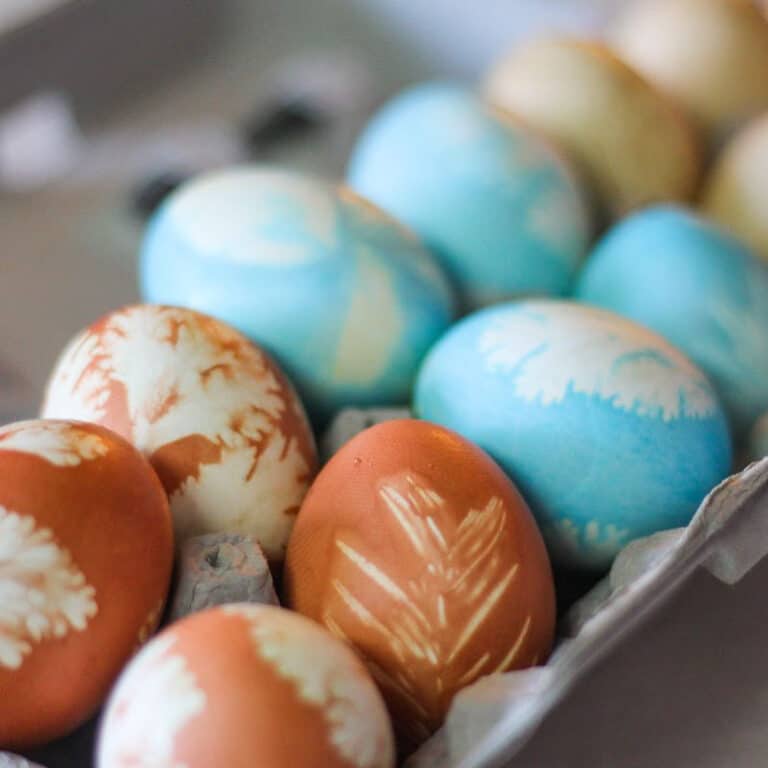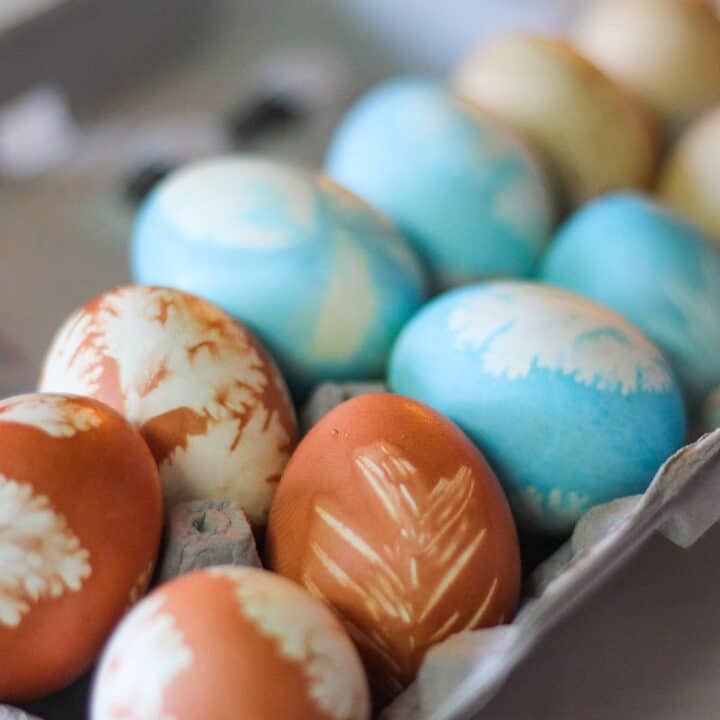 Learn how to use Natural Egg Dye to dye your Easter eggs. Onion skins, tea, turmeric, and purple cabbage are just some of the ingredients we'll use to make Naturally Dyed Easter Eggs.
HildasKitchenBlog.com
---
Easter Bunny Shortbread Cutout Cookies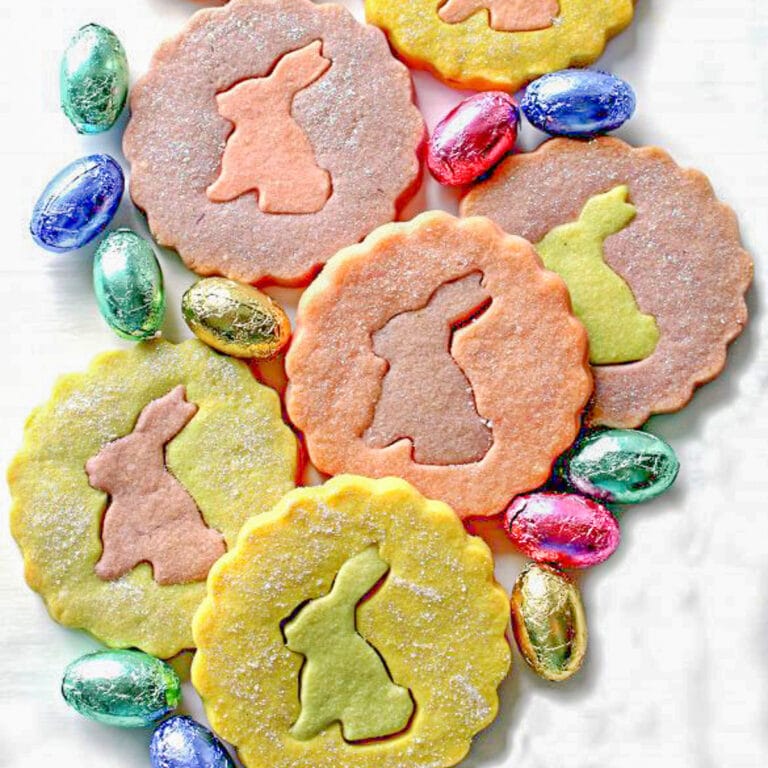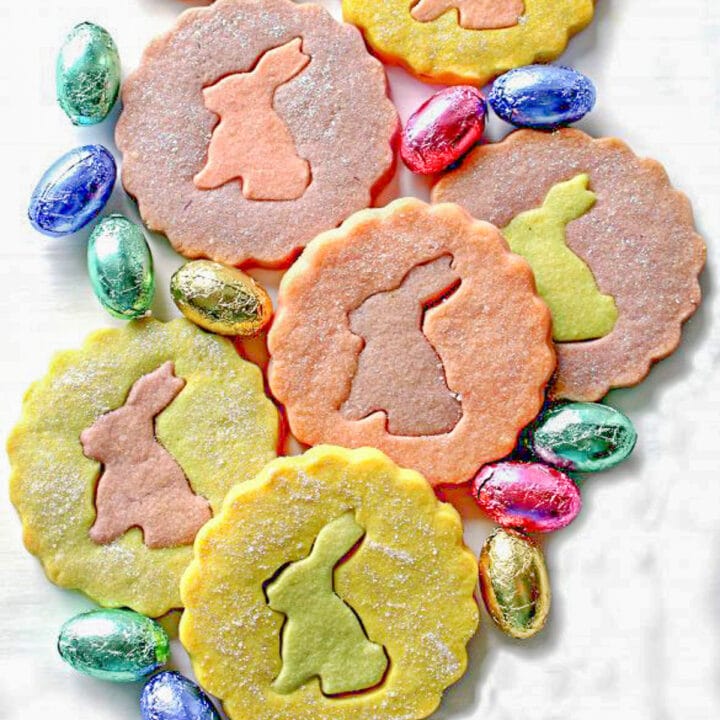 Easter Bunny Shortbread Cutout Cookies are lightly sweet, buttery shortbread, that melts in your mouth. Pastel-colored dough and edible glitter transform plain cookies into a sparkling Easter treat.
TheMondayBox.com
---
Krispie Easter Nests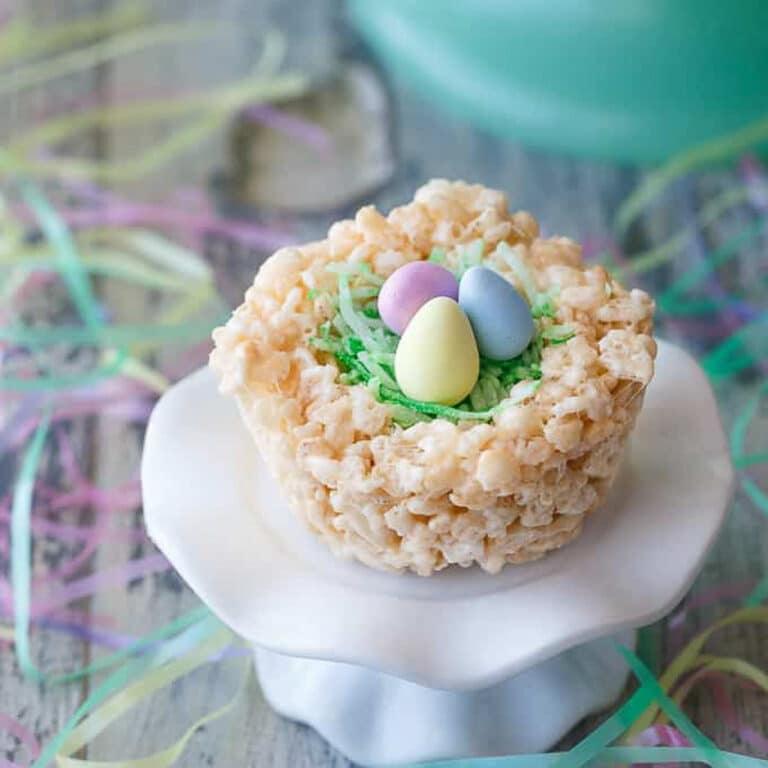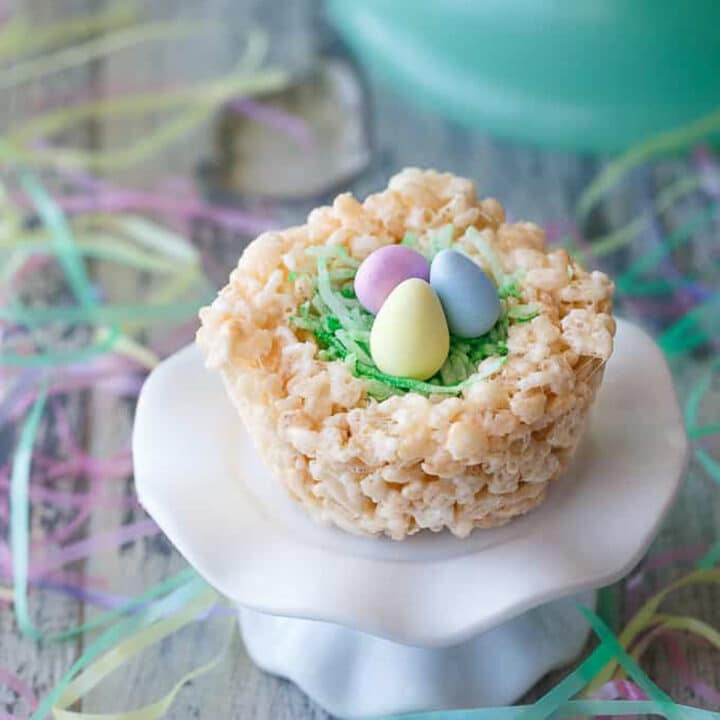 These Krispie Easter Nests are fun to make and eat! Kids love to help decorate the nests with colorful green grass and top them with Easter chocolate candy.
SimplyStacie.com
Easter Drinks
After you eat all that food, you'll need something to wash it all down with. Serve the kids my Easy Lemonade recipe, but you may need a glass of Lemonade Prosecco Punch or a Bunny Mary (not a typo 😉) after a looooong day spent with quirky relatives, am I right?
Easy Lemonade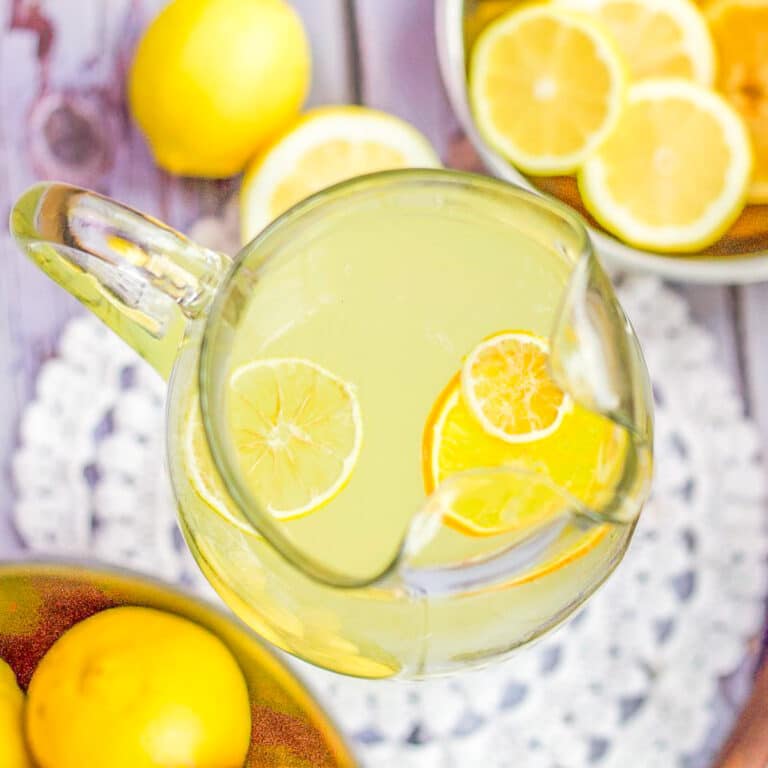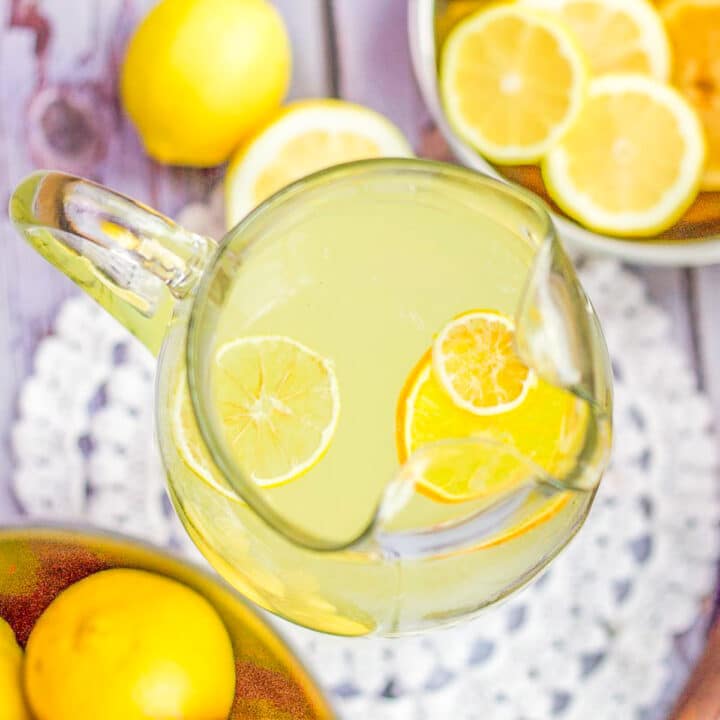 With just the right amount of tang and sweetness, be sure to include this tasty Easy Lemonade in your Easter holiday menu!
HildasKitchenBlog.com
---
Lemonade Prosecco Punch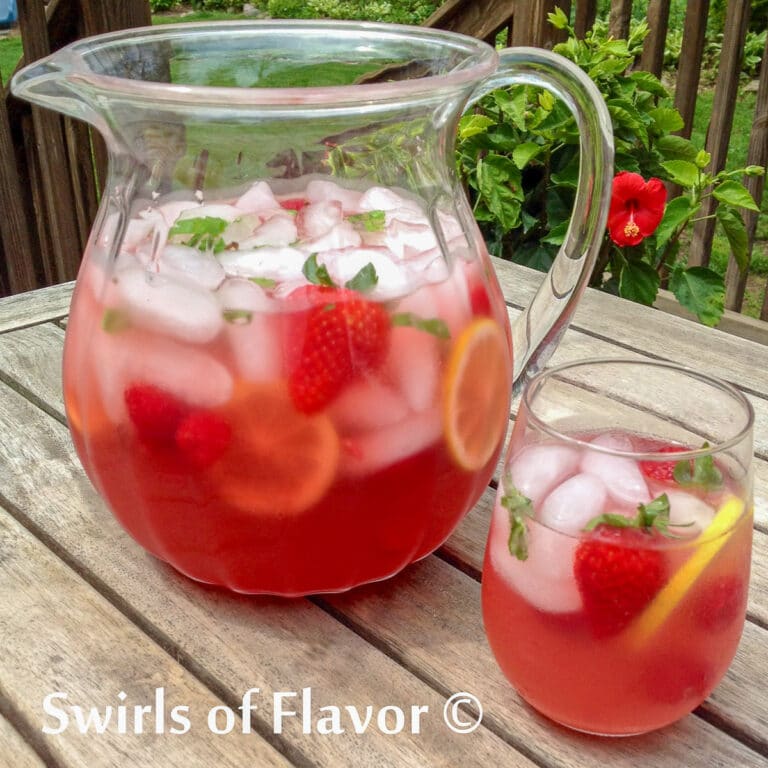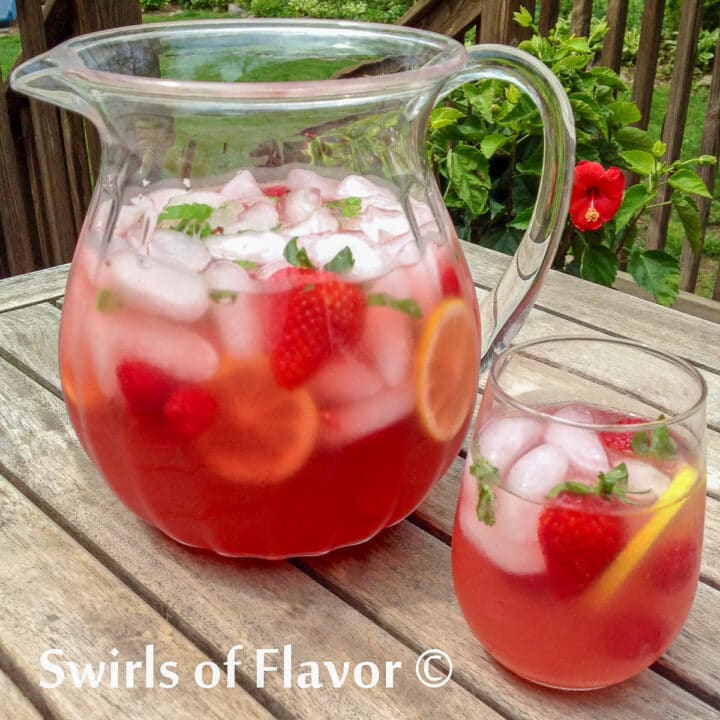 Lemonade Prosecco Punch is a delicious and easy recipe that will make your holidays festive!
SwirlsOfFlavor.com
---
Easter Hot Cocoa Bombs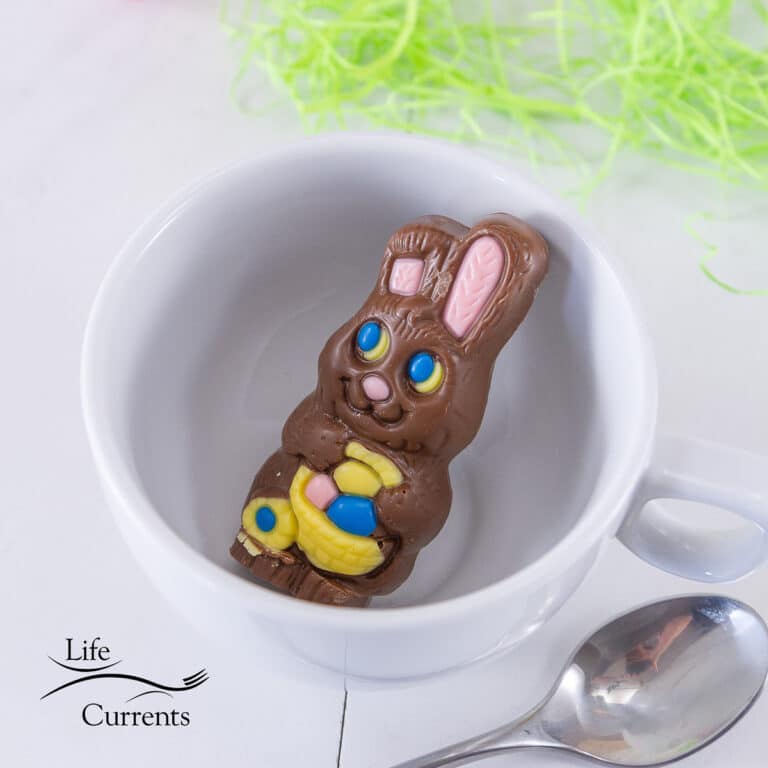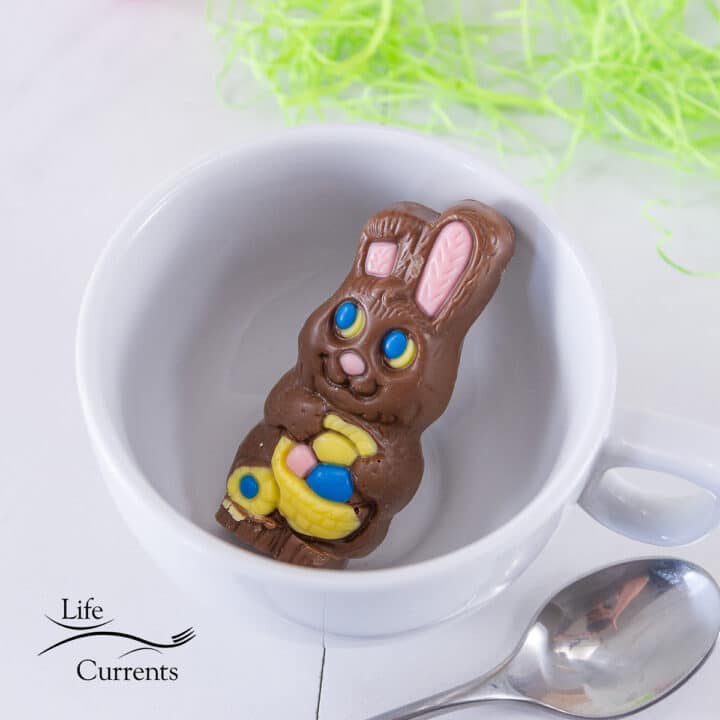 Make Easter Hot Cocoa Bombs using hollow chocolate Easter Bunnies filled with hot cocoa mix, mini marshmallows, and colorful sprinkles. Drop them into a mug of hot milk and they melt into a delicious mug of hot chocolate.
LifeCurrentsBlog.com
---
Bunny Mary (Carrot Juice Bloody Mary)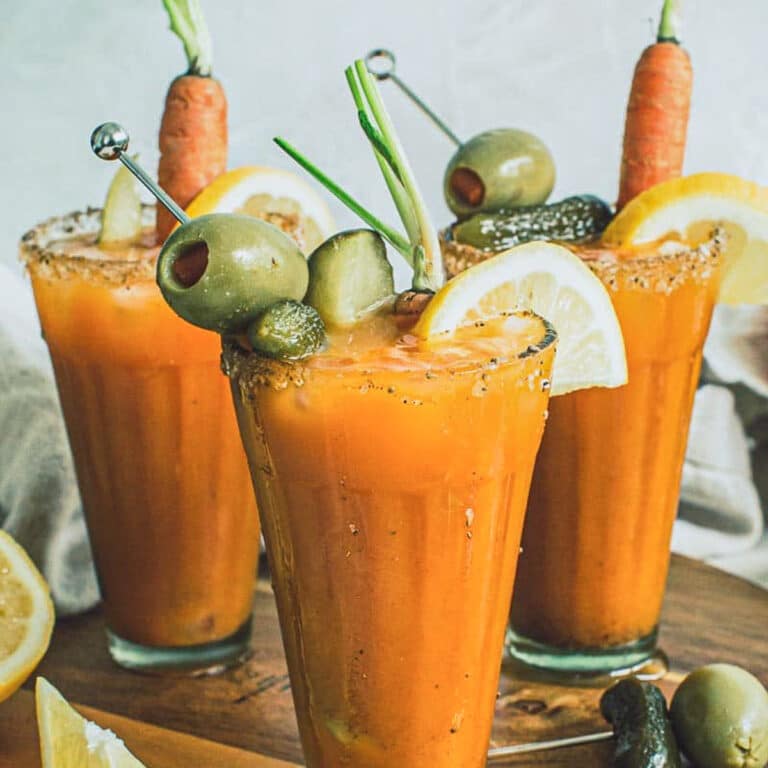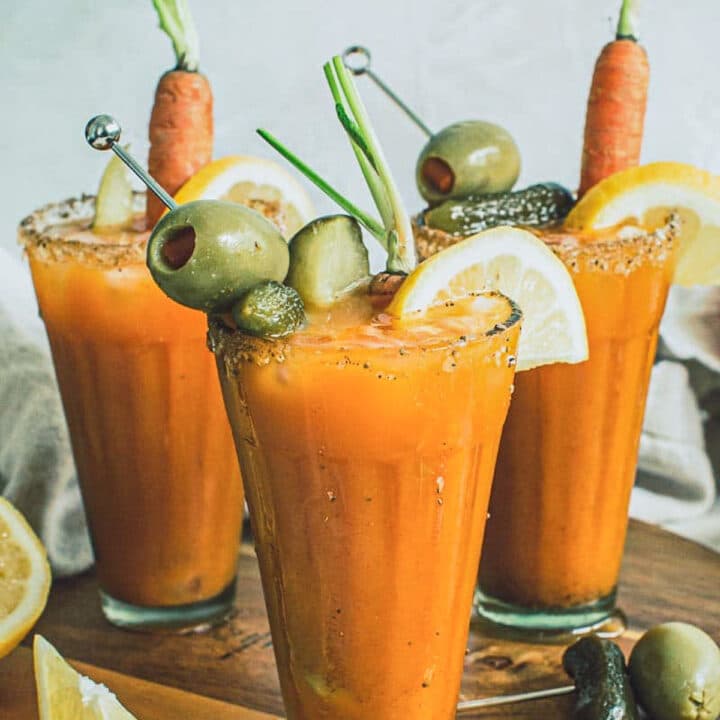 Similar to a Bloody Mary this Carrot Juice Bloody Mary, known as a 'Bunny Mary' is made using carrot juice and all the familiar spices and add-ins. Perfect for a spring or Easter brunch
AimeeMars.com
---
Limoncello Martini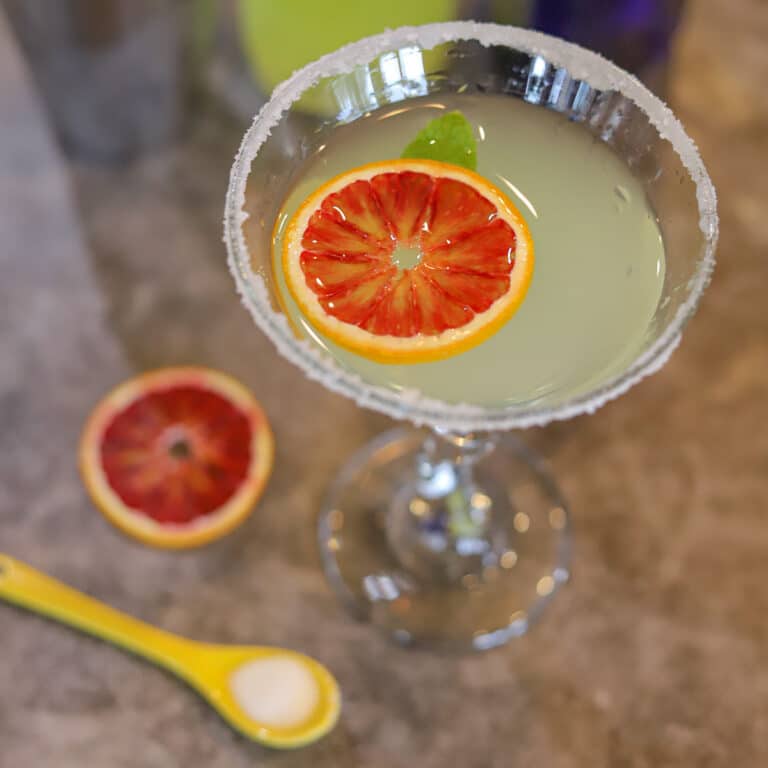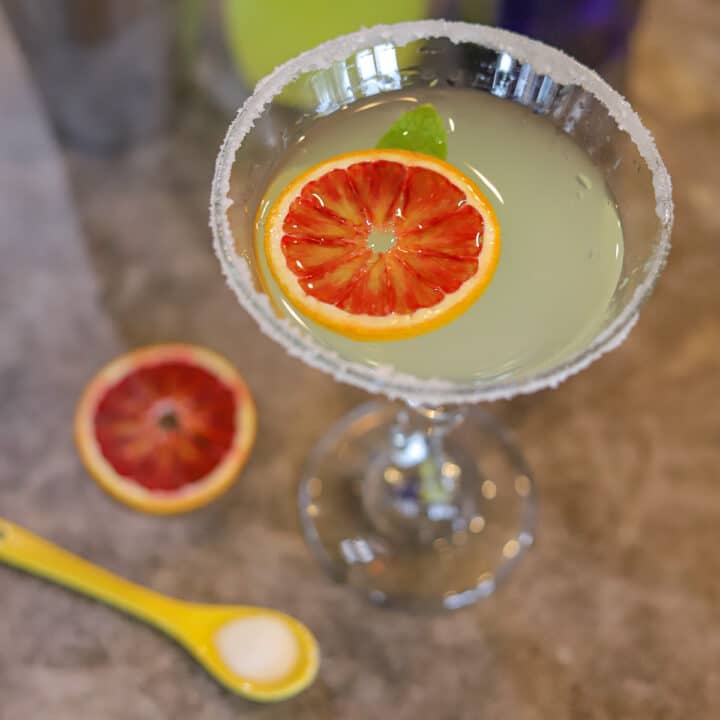 Similar to a Lemon Drop Martini, Limoncello Martini is lemony and goes down smooth. Perfect to serve for brunch or an after-dinner cocktail.
HildasKitchenBlog.com
---
I hope you've enjoyed this Easter Round-up. Give some of these Easter recipe ideas a try and share them with your family and friends! I wish you and your family a very blessed Easter. He is risen!!! ✝️
Related Recipes
Love this recipe? Please leave a 5-star 🌟🌟🌟🌟🌟rating in the recipe card below & a review in the comments section further down the page.

Stay in touch with me through social media @ Instagram, Pinterest, TikTok, and Facebook. Don't forget to tag me when you try one of my recipes!